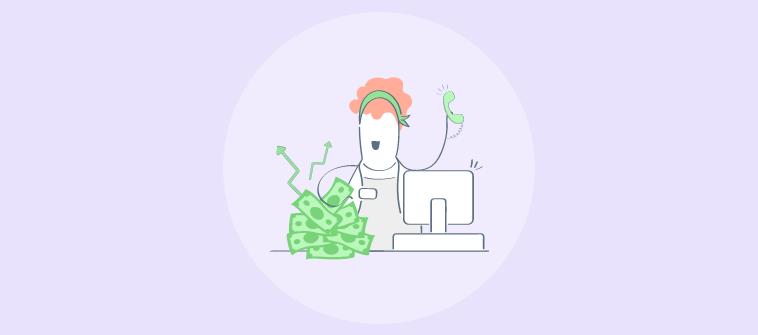 In the business world, you need to make relevant investments to make profits and taste success. Similarly, to offer delightful customer service, you must invest in the latest technology such as AI-powered help desk software.
But there is a challenge.
How do you increase ROI with help desk software? While help desk tools are quite affordable, they might take a significant proportion of your budget, especially, if you have a big team. It becomes all the more important to ensure your investment does not go down the drain and customers can enjoy reliable 24×7 support.
If you are looking for maximizing help desk ROI, this blog is for you. We will discuss the top ways through which help desk software can help you maximize and calculate your return on investment.
Let's go!
8 Ways Help Desk Software Helps You Get the Best ROI
There are multiple features in a help desk system that can help your business reduce costs, enhance productivity, and increase return on investment (ROI). Let's explore some of the top ways to maximize help desk ROI:
1. Reduce Call Volume With a Knowledge Base
Each support call is costing your business a significant amount of money. The labor cost ranges from anywhere $1.11 to $3.29 for a three-to-four minute direct customer call.
But that's not all. There are additional costs of infrastructure, call center equipment, software, etc., that your business has to incur to support customers via the phone. So how does your business avoid this increasing cost?
With dedicated help desk software, you can create a self-service knowledge base and deflect up to 80% of your support tickets. Fewer calls to your help desk would mean a significant reduction in support costs and more time for agents to focus on urgent tasks.
How to optimize your knowledge base for delightful self-service
Identify the top reasons why customers call and create FAQ pages or articles on the same topics
Include videos, images, or animations to add a visual appeal to your help content
Optimize your knowledge base for multiple devices – laptop, PC, mobile, tablet, etc.
Make it easier for customers to search and read relevant solutions
A knowledge base is a great example that shows how help desk software increases your ROI. Your business can encourage self-service, reduce agent workload, delight customers, and save more in the long run.
Read More: How to Create a Knowledge Base: Step by Step Guide
2. Capture More Leads
There might be thousands of people visiting your website every day. But what's the point if they do not end up making a purchase?
The live chat plugin of a help desk system can help you capture reliable leads on your website. So instead of people visiting your website once and vanishing into thin air, you can get hold of their crucial information.
For example, you can share pre-chat forms with visitors to capture their basic details such as name, mobile number, email address, gender, age, etc. All this data can be directly synced with your CRM tool so that you can conduct successful marketing campaigns in the future.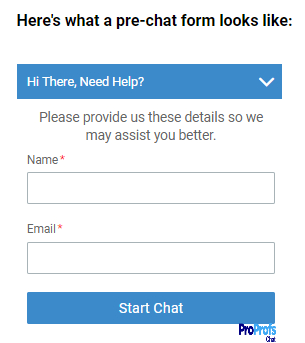 In addition to this, you can even share proactive notifications with prospects and existing customers via live chat. For example, you can ask them to share their email address to register for your newsletters. Similarly, you can even encourage customers to register for upcoming events or webinars.
Read More: How to Use Live Chat Software for Lead Generation
3. Assist Customers in Real-Time & Increase Sales
In addition to lead generation, help desk software even allows you to increase your business revenue. Let's dig a little deeper to see how this works.
Imagine a customer lands on your website looking to buy a gift for his friend's birthday. After browsing the product range, he has a question related to the delivery of the product. The customer goes to the chat icon on your website and shares his concern. A chat agent joins the chat soon, helps him make the best purchase decision, and addresses his worries. A win-win situation for everyone!
Real-time live chat conversations can help your business assist customers during their buying process. This means that chat operators can recommend higher-priced products or even recommend other complementary products.
When done right, such upselling and cross-selling strategies will eventually help your business increase business revenue and delight customers at the same time. However, you must train your agents to avoid being pushy and use smart persuasion techniques instead.
4. Prevent Customer Churn
Customer churn refers to the percentage of customers that stopped using your product or service during a given time period. For any business, a high churn rate is nothing short of a nightmare.
American companies lose $136.8 billion every year due to avoidable consumer churn.
So what are the leading causes of churn? According to a Statista report, 78% of customers said that poor customer service experience is one of the leading reasons they would switch companies.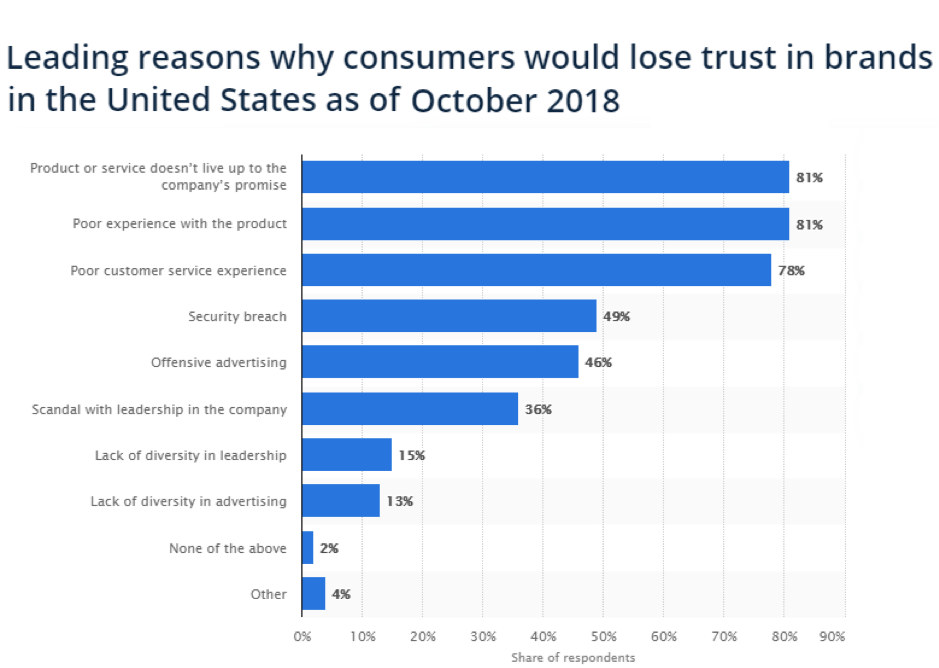 Help desk systems can help you improve customer service quality, deliver personalized experiences at scale, and prevent customer churn. For example, agents can refer to the ticket history to gain context, understand the reason for present contact, and deliver a personalized support experience.
Read More: How Customer Service Solves Churn Problems
5. Increase Customer Satisfaction
You spend countless hours choosing the best combination of customer service channels and the latest tools for improving your support. But are customers happy with the service you provide?
According to a study, 84% of companies that work to improve their customer experience and customer satisfaction report a significant increase in their revenue.
For measuring your real help desk ROI, you must monitor your customer satisfaction or CSAT score. With a help desk system, you can share automated CSAT surveys with your customers right after their support interaction.
Your CSAT survey can include one or multiple questions and can be shared via email, live chat, SMS, social media, etc. You can include questions such as, "How satisfied were you with our customer service?" "On a scale of 1-5, how satisfied are you with your recent support interaction with agent X?"
A good CSAT score can help your business make customers keep coming back for more and even recommend your brands to others.
6. Reduce Costs With Powerful Automation
Are you tracking support tickets using spreadsheets? Do your agents assign tickets among themselves manually? If your answer is "yes," it's high time you leverage automation.
For maximizing help desk ROI, you need a tool that offers powerful automation capabilities. Automating customer service processes will help you rise above mundane tasks, speed up issue resolution, avoid human errors, and reduce costs.
For example, you can build powerful chatbots to automate your customer service. Well-designed bots can help you handle routine customer questions round-the-clock even when your team is unavailable to take chats.
So instead of hiring a 24×7 support team, you can use automated help desk software to create chatbots and reduce the costs of hiring, employing, and training a big team. But that's not all. There are multiple processes that you can automate such as ticket assignment, ticket notifications, email surveys, and more.
Read More: 10 Service Desk Automation Ideas that Boost Performance and Quality
7. Identify Loyal Customers Using NPS Surveys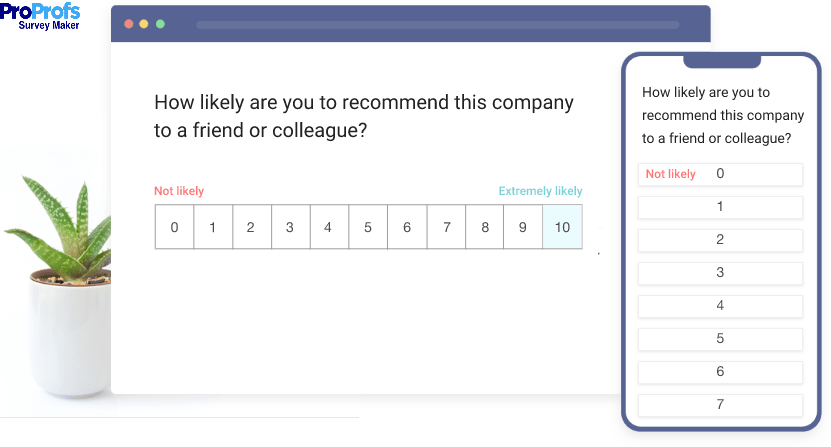 If you want to increase ROI with help desk tool, you must share NPS or Net Promoter Score surveys. Modern help desk tools allow users to either create NPS surveys from scratch or use pre-designed templates.
But what exactly is NPS?
NPS is considered the gold standard of CX metrics. It is used by businesses worldwide to gauge customer loyalty and monitor customers' perceptions of their brand.
How does an NPS survey work?
NPS helps you measure customer loyalty using a simple question:
"How likely are you to recommend our product/service/business to a friend or colleague?"
Customers use the NPS scale to give a rating between 0 and 10 (where 0 denotes not at all likely and 10 denotes extremely likely). Customers who respond 9 or 10 are called Promoters as they are your most loyal customers. Promoters enthusiastically promote your product or service to their social circle and help you with word-of-mouth referrals.
By identifying promotors, you can encourage them to share online reviews, bring in more prospects, and grow your business.
Read More: How to Create Net Promoter Score Surveys
8. Happy Agents Are More Productive
Help desk systems can make your agent's life easier and their work a breeze. No wonder they will be able to perform better, delight customers, and be their happiest selves.
Studies after studies have shown that happy employees are more productive. According to research by the University of Warwick, happiness makes people around 12% more productive than their counterparts.
How to take care of your customer service employees and make them happier:
Prioritize Work-Life Balance: Agents' work-life balance plays an essential role in their happiness at work. You need to offer more flexibility to your workers to prevent burnout at work and reduce their stress. For example, you can allow work-from-home facilities for agents depending on their shifts.
Reward Your Top Performers: With smart help desk reports and analytics, managers can keep a firm tab on individual performances. Based on metrics such as total tickets resolved, average ticket rating, etc., you can identify your top performers and reward them accordingly.
Take Regular Feedback: How do your support heroes feel about work? How often do they feel tensed or stressed at work? You can know answers to these questions through employee surveys. Moreover, taking regular feedback makes agents feel that your business prioritizes their overall happiness and well-being.
Read More: 16 Tips for Managing a Remote Customer Service Team
Increase ROI With the Best Help Desk Software
Whether you make an investment in stocks or help desk software, you want the best returns. But monitoring your investment is easier said than done.
There are multiple steps you can take to increase ROI with help desk software. For example, you can create a 24×7 knowledge base to reduce call volume, increase sales by assisting customers via live chat, identify at-risk customers to prevent churn, and many more.
Affordable and powerful help desk software such as ProProfs Help Desk can help your team reap the best return on investment. You can enjoy features such as ticket prioritization, knowledge base, surveys, chatbots, automated workflow, shared inbox, etc., and delight your audience.
Do you want a free Help Desk?
We have the #1 Online Help Desk Software for delightful customer support