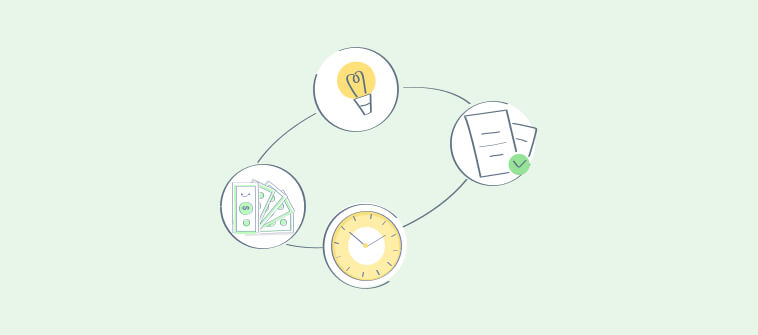 While looking for ways to improve your IT and non-IT business services, you must have stumbled upon short yet heavy terms such as ESM or ITSM.
You must have thought to yourself, "What exactly is Enterprise Service Management (ESM)? And, can it really help my business in the long run?"
It's alright if you still don't know the answer. You are not alone.
More and more modern businesses are adopting well-established service management practices to run their operations more efficiently. In this blog, we will discuss what enterprise service management means and how enterprise help desk software can help your business avoid service blunders.
Let's dive right in.
What Is Enterprise Service Management?
Enterprise Service Management (ESM) is an approach that seeks to offer services to users through the adoption of service management practices. ESM is an operational architecture where each service provider within the organization- whether HR, Accounts, or Facilities, is considered a service domain that offers services to employees of the organization.
The service management definition helps us realize that such services improve the operational efficiency of an organization and enable employees to deliver results for external customers.
How ESM Transforms Business Service Delivery
The vision of ESM is to turn every business department into a proactive system that detects problems and helps you deliver top-quality services both internally (for employees), as well as externally (for customers). Let's take a look at some key functions of ESM.
Streamlines communication between multiple departments
Ensures the desired services are delivered right and most importantly, delivered fast
Increases process efficiency to keep the cost of execution as low as possible without compromising on the quality
Despite being a decade-old trend, many experts are confident that ESM is here to stay. Even statistics point to this trend.
As per the State of Enterprise Service Management, an overwhelming majority (94%) of organizations are either currently using, currently implementing, or planning to implement an ESM solution.
What are the some ESM Examples?
As discussed above, the benefits of ESM are not limited to a single user, department, or business. ESM can enhance the day-to-day operational efficiency of multiple business departments such as customer service, human resources, finance, and others.
Let's understand this better with the help of some service management examples:
ESM for Customer Service
No matter if you sell your products or services online or through your brick-and-mortar store, you need to manage endless customer requests and issues. An ESM tool acts as a central platform to track, organize, and resolve such issues. Moreover, your customer service employees can communicate with each other about complex support issues and resolve them faster.
ESM for Human Resources
Almost every business with a sizable team has a human resource department. An ESM solution can be set up for employees to share their grievances or make requests. Employees can even check for crucial information such as their leave balance, holiday calendar, salary, tax, or other details. Similarly, the HR help desk software can offer videos and articles for smooth employee onboarding.
Decoding the Difference: ESM VS ITSM
Are ITSM and ESM one and the same? Or are they different? Let's find out.
Information Technology Service Management (ITSM) refers to the various practices and policies designed to plan, execute, and manage all IT-related services. So, if you look closely, while ITSM is IT-focussed, ESM has a broader perspective and caters to multiple Non-IT services.
Although service management practices have been inherently kept confined to IT, a shift is happening.
More and more organizational departments outside of IT are adopting service management practices to boost their overall operations.
The reason is simple- A modern service delivery experience should not be kept limited to IT. Every business department needs to become more efficient by automating manual processes to improve user satisfaction.
So what business drivers are influencing the expansion of service management outside of IT?
Out of all the organizations using ESM, 77% of them are using it for improving the customer experience. Other drivers such as 'improving employee satisfaction' and 'meeting specific business challenges' have also taken center stage.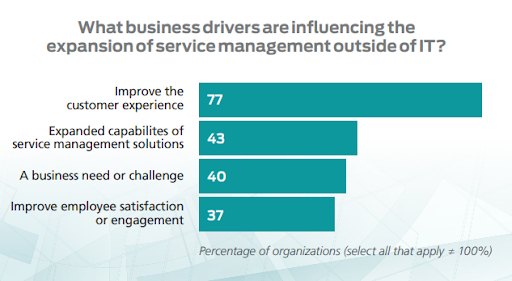 What Is ESM Software?
An ESM software is a business application that helps align internal departments, track the status of user requests, and improve the quality of non-IT services within an organization.
ESM tools have got the attention of many modern entrepreneurs, and the demand is soaring.
When we talk about non-IT services, 58% of organizations want to implement service management software in HR, compared to 43% of organizations that want an ESM solution for their customer service operations.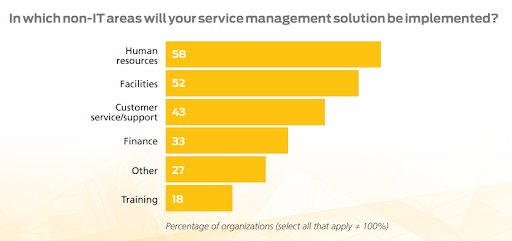 Benefits of Enterprise Service Management Software
After adopting ESM software, you will not only be implementing new technology, but also improving your service quality and user satisfaction. Let's discuss the benefits of enterprise service management tools in detail
1. Increased Control & Monitoring
Most business functions, if not appropriately monitored, can create havoc for your company. Imagine if you had no control over key HR processes such as onboarding and offboarding of employees. You would have no idea about the number of people who left your organization and what really pushed them to switch to another company.
With the right ESM tool, you will have all the data you need right at your fingertips. You can have greater control over the information generated in your business, and monitor key business processes would be a breeze.
2. Improved Quality of Services
If you observe customer feedback in general, you will find that most customer complaints are centered around poor service delivery. By offering top-quality services to your employees as well as customers, you can make their life a lot easier and significantly improve their satisfaction.
Adopting ESM software can help your business deliver superior services consistently.
With a central ESM tool, you can leverage the collaborative capabilities of all your employees (from different departments) to offer a seamless customer experience.
3. Increased Accountability
Every business department, be it HR, accounts, facilities, or customer service, must be held accountable for their key responsibility areas (KRAs). By adopting a single point of contact for all internal departments, you increase the visibility and communication within your organization.
You can easily track service requests made to specific individuals or departments and see the live status of that request. An ESM software can help you create a productive workflow where people are well aware of their roles and responsibilities.
Read More: How to Communicate with Customers Effectively
4. Facilitates Informed Decision Making
ESM software offers real-time reports and analytics in the form of statistics, charts, or graphs, that can help you detect problems in advance and reduce risks. Managers can easily spot the overall strengths and weaknesses of their respective departments and will have a clear understanding of the areas that need improvement.
With all the right data at hand, it becomes easier for the management to make data-driven business decisions and ensure optimum user satisfaction.
5. Self-Service Capabilities
One of the best aspects of adopting an ESM solution is that most platforms offer integration capabilities that make your services all the more impactful. Whenever you add a new service to your portfolio, you would not have to invest in a new system.
The ESM tool will perfectly integrate with other business tools such as CRM (for sales) and help your business achieve more. By integrating more tools with your ESM, you not only significantly reduce costs but also keep the familiarity of a common platform alive.
6. Better Communication & Collaboration
ESM tools provide all the features you need for communicating with members of your own team as well as other departments. Most enterprise management tools have multichannel capabilities that ensure internal as well as external communication is not limited to a single channel.
Moreover, with the help of collaboration tools, your team can collaborate even when working remotely. For instance, if there are remote team members working on a project, they can easily track each other's tasks and view progress in a single dashboard.
7. Gain Visibility Within Your Organization
When you adopt an enterprise service management system, you can gain better visibility into every nook and corner of your business processes. On one hand, employees can view each other's progress, on the other hand, managers can track projects and requests. Such visibility gives valuable insights that your team needs to carry on with their day-to-day tasks and achieve goals.
Moreover, with the reporting functions of an ESM tool, leaders can get a holistic view of where resources are being used, productivity levels, and improvement areas.
8. Standardize Service Delivery
Service management software allows you to curate a service catalog for the entire organization. A service catalog refers to a collection of all business services (IT & Non-IT) that are offered within an enterprise. This ensures that the quality of services is standard and consistent across the organization.
Moreover, you can even set relevant service level agreements (SLAs) specific to departments. For instance, the maximum time to respond to a customer issue can be 6 hours for support teams. Similarly, the HR team should complete employee onboarding within 7 days.
9. Enhance and Measure the User Experience
When employees are able to track service delivery, monitor SLAs, and customers are able to search for the right answers at the right time, it results in a delightful experience for everyone involved.
In addition to this, modern service tools allow you to share automated surveys with end-users when their issue or request is resolved. This way, you can capture their feedback, understand what needs to be improved, and most importantly – measure user satisfaction.
10. Embrace Innovation
No enterprise operates to be in the same place forever. You want to make this world a better place for your employees, customers, investors, business partners, and other key stakeholders.
By embracing enterprise service management technology, you take the first step to transforming your business processes. In a nutshell, ESM can help you transform your organization from a cumbersome collection of departments into a well-oiled machine.
How to Implement ESM in Your Organization in 5 Steps
Implementing ESM is not rocket science and does not require you to be a Fortune 500 company. All you need to do is follow the steps mentioned below:
1. Understand Why Your Business Needs ESM
The first and foremost step to implementing ESM in your organization is to understand why you need it in the first place. Sit with different departments to understand what their challenges are and how they can be solved by ESM. Understand where you can save money, facilitate collaboration, reduce manual workload, improve efficiency, and reduce risks.
2. Get Multiple Departments Involved
Although ITSM was specifically designed for IT services and IT teams, ESM adopts a broader approach. Therefore, the benefits of ESM should not be limited to a single department but utilized for holistic service delivery across the organization. Each department must embrace what ESM can do for them specifically and adopt it at their own pace.
3. Design for a User-Centric Service Experience
Whether the end-user is a loyal employee or a valuable customer, mediocre experiences can destroy your service management efforts. Therefore, you need to design processes and workflows that are easy to implement and make service delivery and consumption effortless. For instance, an employee knowledge base should be designed with advanced search capabilities to help employees easily find relevant self-service information.
4. Testing Before Going Live
Before going live with any new system, testing should be done to see how well end-users interact with technology. Testing also puts you in a better position to spot and iron out any discrepancies, especially when they are in their initial stage. Once you are ready, you can go live and enjoy the ESM journey.
5. Share Success Stories Across the Company
Once you are able to see the benefits of enterprise service management practices, it is important to share them with the entire company. For instance, the customer service department can share how well they have automated manual tasks, leading to decreased average resolution times and an increase in user satisfaction.
How to Choose the Right ESM Software
Enterprises across the globe are switching to enterprise service management software to improve business processes and reduce costs. When choosing the right tools to support your ESM implementation, go for features such as:
Cloud Hosting: Cloud-based solutions are more secure, reliable, and effective compared to on-premise ones. Moreover, cloud hosting offers data mirroring, helping you keep your data secure. With quick data backup and recovery, your data is safe even in case of hardware failure.
Mobile Capability: All your employees and customers should be able to access their share of the ESM portal right from their mobile devices. This ensures that everyone can enjoy services while on the move.
Flexible Pricing: Although you might want a one-time payment option for your ESM tool, the best option is always to go for subscription-based pricing. This offers you the flexibility to pay for the software services only when you need them.
Self-Service Tools: Service management solutions should offer self-service capabilities such as a knowledge base. The major benefit of having a knowledge base is its 24/7 availability. All end-users can access help information when they need it from any device.
Ready to Offer Delightful Services?
Enterprise service management practices can help you improve the service delivery experience while providing a foundation for ongoing innovation.
In short, the advantages and benefits of an ESM solution are all about facilitating growth instead of hindering it. The right ESM tool can dramatically improve communication and provide the data you need to be smart about the next steps you take. To enhance your support operations, you can leverage a customer support tool like ProProfs Help Desk. This feature-rich tool allows your agents to stay on top of every customer communication and share lighting fast responses.
Do you want a free Help Desk?
We have the #1 Online Help Desk Software for delightful customer support