From freelancers to billion-dollar business owners – almost everyone is talking about the best SaaS tools in the market.
There is no doubt that the demand for SaaS products is at an all-time high. In fact, the software as a service (SaaS) market is estimated to be worth 171.9 billion U.S. dollars in 2022. But what exactly is fuelling this change?
Well, the best SaaS tools bring a plethora of benefits – they are cheaper, more flexible, and can be accessed 24×7 on the cloud. Moreover, your business does not need to worry about maintenance costs or never-ending software installations.
So if you're looking to invest in the SaaS tools for businesses but have no idea where to start, we are here to help. Right from the best SaaS help desk software to the best accounting systems, we have created a comprehensive list of 35+ tools.
Here is a table that includes their top features and pricing details.
What is a SaaS Tool?
SaaS (software as a service) tool is a software application that can be accessed 24×7 through a cloud-based system. A SaaS tool provides multiple features that can help you streamline one or multiple business processes. For example, a customer service SaaS tool can help you streamline support operations and track all customer service conversations in one place.
Why Does Your Business Need SaaS Tools?
SaaS tools are in great demand by freelancers, startups, and small-to-large businesses. By adopting the best SaaS tools, your business can enjoy streamlined focus and greater productivity. Here are some more benefits of using SaaS tools:
Instead of making a one-time investment, you can enjoy flexible payment plans
Access anytime on the cloud via multiple devices
Save time as there is no need for long software installations
Leverage high scalability and customization options
Tips for Choosing SaaS Solutions for Your Business
In addition to the obvious considerations such as price and features, here are four aspects that will help you choose the best SaaS solutions for your business.
Go for a Free Trial: Most SaaS platform providers offer a free trial of their products. The trial period ranges from anywhere between 7 to 30 days and can prove to be a blessing for your business. You can test the tool, explore features, and only invest if it matches your needs and expectations.
Check Online Reviews: Online reviews posted by genuine users can help you evaluate the pros of any tool. For this, you can refer to the leading software comparison platforms such as Capterra, Getapp, Trustradius, g2, etc.
Customer Service: Most entrepreneurs neglect this aspect when buying any tool and later, regret it when they run into a problem. Therefore, before investing in any SaaS solution, you must check the quality of customer service offered by the vendor.
Beware of Hidden Costs: Many times you might end up paying more for what you were asked earlier. You need to beware of any hidden costs or other terms and conditions so that there are no surprises during the payment process.
List of Best SaaS Tools
Now, it's finally time to explore some of the best SaaS platforms that can prove to be life-changing for your business. We have explored tools across multiple categories such as customer support, team collaboration, video conferencing, CRM, social media management, employee monitoring, and many others.
Customer Support Tools
ProProfs Help Desk is one of the best SaaS tools known for its ease of use and powerful features. With the help of its cloud-based capabilities, you can access this tool anytime and anywhere – all you need is an internet connection.
If you are looking to promote self-service, enhance productivity, and reduce ticket volume, you can easily create an online knowledge base. Your help center can involve FAQ pages, guides, video tutorials, documentation, or anything that help customers resolve their issues at their own pace.
Top Features of ProProfs Help Desk:
Access your help desk from any device – PC, laptop, tablet, or mobile phone
Collaborate with team members using private notes
Break complex parent tickets into multiple child tickets
Monitor metrics such as first ticket response time, ticket resolution time, etc.
Offer delightful support on the move with an intuitive mobile app
What we liked: The best part about ProProfs Help Desk is that it is offered as a complete customer service solution that involves ticketing, live chat, knowledge base, surveys, etc.
What could be better: The tool needs to offer integration with the leading social media platforms.
ProProfs Help Desk Plans Include:
Starts at $20/agent/month (billed annually).
ProProfs Chat is a popular SaaS for small business that can help you interact with website visitors in real-time. Whether visitors have a query about your returns policy or wish to register an issue, they can simply open the chat window and interact with an agent instantly.
ProProfs Chat allows your customer service agents to see what visitors are typing in real-time so they can respond faster. You can even equip your agents to share relevant knowledge base articles with customers and reduce your ticket volume.
Top Features of ProProfs Chat:
Create a collection of canned responses and answer faster
Welcome new visitors with chat invitation pop-ups
Track chat ratings and see how your operators are performing
Engage leads by sharing relevant product tours
Connect with your favorite CRM and store leads in a central place
What we liked: This tool allows you to create post-chat forms and makes it easier for your team to get feedback.
What could be better: The mobile app needs improvements.
ProProfs Chat Plans Inlcude:
Essentials: $10/operator/month
Premium: $15/operator/month
Enterprise: Custom pricing
Zendesk is a popular software as a service platform that helps you monitor customer service interactions and improve the customer experience. You can connect with customers on channels such as live chat, email, voice, social media, and more.
Zendesk also allows you to build an integrated help center so that customers can feel empowered and the ticket volume can be reduced. Moreover, AI-powered answer bots can ensure agents have the right context before they start interacting with a customer.
Top Features of Zendesk:
What we liked: With Zendesk, you can build a dedicated community forum and give the right platform for your growing customers to connect with one another.
What could be better: Zendesk's plans are quite expensive and therefore, it is not the best option for startups or small businesses.
Zendesk Plans Include:
Suite Team: $49/agent/month
Suite Growth: $79/agent/month
Suite Professional: $99/agent/month
Project Management Software
ProProfs Project is one of the best SaaS applications for managing your company-wide projects and tasks. The tool allows you to collaborate in real-time with team members and other departments. You can share files and ideas, and track the progress of all projects in one place.
With a shared calendar, project managers can easily allocate tasks, see who is working on what, and meet deadlines faster. ProProfs Project also offers multiple views such as Gantt Charts, Calendar View, Kanban Board, etc.
Top Features of ProProfs Project:
Track time spent by individual team members on assigned tasks and sub-tasks
Share feedback or discuss ideas using task comments
Keep team members on the same page with email notifications
Prioritize urgent tasks that are nearing their deadlines
Easily drag and drop projects to update their priority
What we liked: ProProfs Project is quite easy to use and anyone can get started in no time.
What could be better: The tool lacks the feature of automated time tracking.
ProProfs Project Plans Include:
Essentials: $2/user/month
Premium: $4/user/month
Basecamp is a modern team collaboration tool that can be accessed from anywhere – web, iOS, and Android. The tool allows you to easily break your work into projects that include all related conversations, team members involved, tasks, documents, important dates, etc.
Basecamp allows you to post work-related announcements, pitch ideas, or share feedback with team members. Moreover, with the Group Chat feature, you can chat casually with team members, ask questions, or simply share stuff.
Top Features of Basecamp:
Make to-do lists and assign items to relevant team members
Easily share docs, files, spreadsheets, and images
Create recurring questions to get updates about a project's progress
Monitor all overdue tasks and upcoming milestones
Share notifications with team members via email or in Basecamp
What we liked: The best part about Basecamp is that you can buy it for unlimited users at a flat price of $99/month.
What could be better: The is no means to generate reports for tracking a team member's availability.
Basecamp Plans Include:
Basecamp Personal: Free with limitations
Basecamp Business: $99/month
Trello is another SaaS tool that can help your team members collaborate, manage projects in one place, and achieve productivity peaks. The tool allows you to customize and automate workflows for smooth project completion.
You can use the Trello board to organize your work using lists and cards. Every card can contain crucial details in the form of checklists, attachments, due dates, conversations, and more.
Top Features of Trello:
Manage and allocate your time better using the calendar
Use the Table view to connect work across boards
Integrate with Slack, Dropbox, Google Drive, and other tools
Leverage dedicated apps for Android and iOS
Schedule task assignments so that every task as an owner
What we liked: You can use Trello to organize everything from daily tasks to time-consuming projects.
What could be better: The mobile interface needs a lot of improvement.
Trello Plans Include:
Free: Forever free plan
Standard: $5/user/month
Premium: $10/user/month
Enterprise: $17.50/user/month
Collaboration Tools
ProProfs Collaborate is a free team collaboration tool that helps you build a learning community. For example, you can set up Q&A discussions and chats to ensure your team members are constantly discussing ideas, exchanging knowledge, and growing.
Using ProProfs Collaborate, you can create unlimited public or private groups and organize conversations by threads or topics. No matter where your teammates are, they can easily access the files and answers they need at any time of the day.
Top Features of ProProfs Collaborate:
Centralize company-wide knowledge and important answers
Separate chat from Q&A sections and make knowledge easily accessible
Onboard new hires faster and introduce them to the team
Share instant notifications to keep everyone on the same page
Access the tool from desktop or mobile
What we liked: The mobile version of this tool is quite intuitive, light, and easy to navigate.
What could be better: The tool needs to add a feature where a team member can tag others and grab their attention.
ProProfs Collaborate Plans Include:
ProProfs Collaborate is free for all users.
Slack is one of the most popular SaaS products in the market that you must have already heard about. The tool organizes your conversations into dedicated spaces that are called Channels. You can create channels for different topics or projects.
With Slack, you can collaborate with team members live or on your own time and easily control how you receive your notifications. Moreover, you can make work conversations more fun by using emojis.
Top Features of Slack:
Use Slack Connect to get in touch with members of other companies
Create and share short audio, video, and screen recordings
Connect Slack with GoogleDrive, Office365, and other business apps
Share multiple files and documents without switching tabs
Use the search bar to easily search for past conversations
What we liked: The interface is quite user-friendly and anyone can get started without any trouble.
What could be better: The calling feature in Slack needs improvement.
Slack Plans Include:
Free: Forever free plan
Pro: $2.67/month
Business +: $5/month
Enterprise Grid: Custom plan
Chanty is an easy-to-use team collaboration tool that helps you connect with your team members from anywhere in the world. You can easily start a video conference meeting and share your screen for better collaboration.
You can turn any message into a task and track its progress in real-time. Moreover, with the Kanban Board view, you can easily organize tasks into rows and columns.
Top Features of Chanty:
Share multiple content formats such as videos, GIFs, etc. with team members
Ping and tag team members with a simple @mention
Save innovative ideas or important messages with a Pin
Filter your project tasks by status, dates, and people
Set due dates and manage the priority of any task or sub-tasks
What we liked: Chanty is quite affordable and can be a great option for freelancers, startups, or even small businesses.
What could be better: The tool only offers a storage limit of 20GB per team member and there is no way to increase this limit.
Chanty Plans Include:
Free: Forever free plan
Business: $3/user/month
Video Conferencing Tools
Zoom is another remarkable SaaS tool that grew leaps and bounds during the COVID-19 pandemic. You can hold HD audio or video meetings and invite up to 1000 participants in a single session.
Zoom allows your team members to share and present their screens for a great virtual meeting experience. Moreover, polls, hand raising, customizable transparent backgrounds, music sharing, etc., can make meetings more fun and engaging.
Top Features of Zoom:
Schedule and start meetings from Outlook, Gmail, or iCal
Easily record meeting videos on your local storage or in the cloud
Download the Zoom app for Windows, Linux, Android, macOS, iOS
Set presentation slides as your virtual background
Enjoy clear audio with advanced background noise suppression
What we liked: Even if your meeting has a large number of attendees, the audio and video quality are not affected.
What could be better: Sometimes when a user is disconnected due to poor internet, they need permission to join the meeting again. This can be very frustrating for participants as well as the host.
Zoom Plans Include:
Free: Forever free plan
Pro: $149.90/year/license
Business: $199.90/year/license
Enterprise: $240/year/license
Skype is one of the best SaaS tools known for its robust video conferencing and voice calling features. You can easily conduct one-to-one or group calls and enjoy crystal clear audio and HD video.
You can easily share presentations, holiday pictures, design layouts, etc., during a call with the help of integrated screen sharing. Another remarkable feature of Skype is its live subtitles that allow participants to read words that are being spoken.
Top Features of Skype:
The desktop version of Skype is available for Windows, Linus, and macOS
Easily record calls to capture special moments or important meetings
Use @mentions to tag team members and grab their attention
Keep sensitive conversations private with end to end encryption
Simply create a meeting link and share it with the people you want to join
What we liked: The chat/instant messaging feature is quite impressive.
What could be better: Skype's user interface has been the same for years and should be updated frequently.
Skype Plans Include:
Skype is free for users. However, if you wish to make a call to a phone or landline number you will need Skype Credit or a subscription.
Microsoft Teams is the ultimate video-conferencing application that can help your team members stay connected and collaborate from any part of the world. You can schedule online meetings for later or start an instant meeting in a matter of seconds.
No matter how many chats or files you share before, during, or after a meeting, they can be easily found in one place. Moreover, Microsoft's high-level data encryption ensures that your sensitive data is always protected.
Top Features of Microsoft Teams:
Host an interactive webinar for up to 1000 attendees
Share presentations, review notes and see live reactions
The together mode allows you to focus on the person talking and pick up non-verbal cues
Share files and edit content with team members in real-time
Meet and collaborate with people outside of your company
What we liked: You can easily integrate with other Microsoft tools such as OneNote, Project, etc.
What could be better: Compared to other video-conferencing tools, Microsoft Team's audio and video quality need improvements.
Microsoft Teams Plans Include:
Microsoft Teams Free: Forever free plan
Microsoft Teams Essentials: $4/user/month
Microsoft 365 Business Basic: $6/user/month
Microsoft 365 Business Standard: $12.50/user/month
CRM and Email Marketing Software
BIGContacts is a CRM, email, and contact management software designed for small businesses. You can easily sort and view contacts by opportunity or last communication and improve the quality of customer relationships.
Based on the stage of a prospect in the sales cycle, you can share automated emails and increase sales. Moreover, the tool offers multiple ways to add contacts to your list – via emails, spreadsheets, web forms, or manually.
Top Features of BIGContacts:
Get a 360-degree view of all customer activities in one place
Use custom fields to store additional information about your customers or prospects
Set user roles and permissions to control access to sensitive data
Create custom reports to view any crucial information you need
Track important meetings, files, tasks, and to-dos
What we liked: BIGContacts offers 24×7 support via phone, email, and chat.
What could be better: The mobile app needs a lot of improvement.
BIGContacts Plans Include:
Big: $5/user/month
Bigger: $15/user/month
Biggest: $25/user/month
Enterprise: Custom plan
Salesmate is one of the best email marketing software designed to streamline the sales, marketing, and customer support process. It enables businesses to automate their email marketing campaigns, allowing them to send targeted and personalized messages to their subscribers based on specific triggers or events.
Additionally, it offers great insights and analytics related to your sales pipeline. For instance, you can create custom reports, and monitor how successful your agents are in meeting their sales targets.
Top Features of Salesmate:
Engage prospects with automated follow-up emails
Set up a virtual phone system and convert more leads into customers
Connect with MailChimp, Zoom, Shopify, Slack, and multiple other tools
Leverage intelligent sales forecasting and estimate your future revenue
Monitor the health of each contact in real-time
What we liked: The shared inbox feature of Salesmate makes team collaboration effortless.
What could be better: In addition to the subscription plans, there are multiple add-ons that can confuse users.
Salesmate Plans Include:
Starter: $12/user/month
Growth: $24/user/month
Boost: $40/user/month
Enterprise: Custom plan
Zoho CRM SaaS tool that helps businesses across the globe engage with customers, convert more leads and grow their revenue. The tool allows you to monitor customer communications so that you can find the best time and channel to reach your audience.
With the help of Zoho CRM, your team can reach customers via multiple communication channels such as email, live chat, telephone, and even social media. As customers interact with your business, you can get real-time notifications.
Top Features of Zoho CRM:
Create powerful workflows to automate follow-ups
Monitor your company's territory-wise sales performance
Receive suggestions about the best time to contact your prospective customers
Host a one-on-one session or a meeting with up to 50 participants
Stay connected with clients and colleagues with the Zoho CRM's mobile app
What we liked: Zoho allows you to locate any information you need from CRM data with the help of Zia – the AI-powered sales assistant.
What could be better: There are limited workflows in low-tier plans.
Zoho CRM Plans Include:
Standard: $14/user/month
Professional: $23/user/month
Enterprise: $40/user/month
Ultimate: $52/user/month
Marketing Automation Tools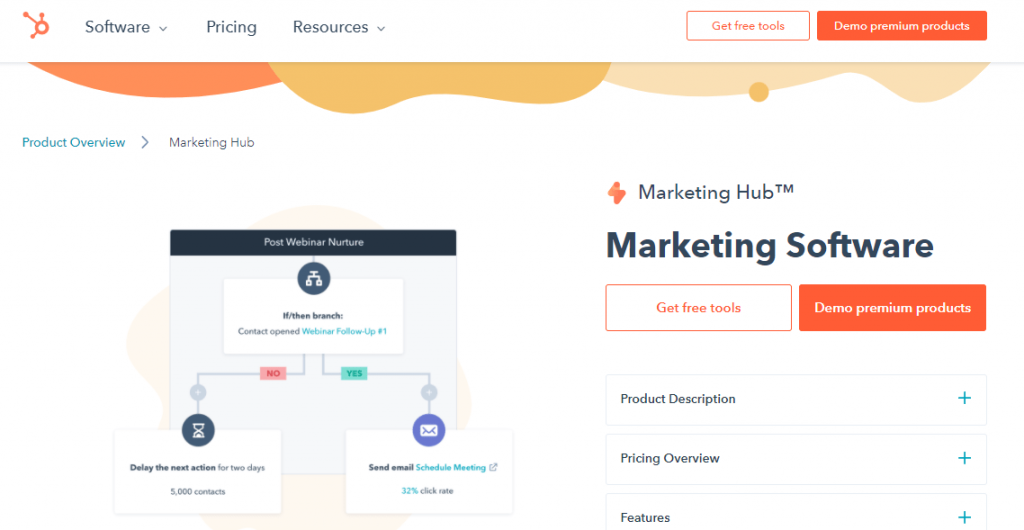 HubSpot is a leading marketing automation software that allows you to access multiple marketing tools and data on a single, powerful platform. You can create meaningful and valuable content to grab the attention of your target audience.
HubSpot makes it easy for your team to build forms. You can design forms and upload them on your website to convert anonymous visitors into high-quality leads.
Top Features of HubSpot Marketing Hub:
Create mobile-optimized email campaigns to grow your sales
Modily and design landing pages without any help from developers
Automatically score leads for your sales team
Optimize your content for SEO and improve search rankings
Publish and monitor your campaigns on social media platforms
What we liked: You can send outbound marketing emails with a high delivery rate.
What could be better: The Starter plan is only limited to 1000 contacts. You will have to pay extra for additional contacts.
HubSpot Marketing Hub Plans Include:
Starter: $45/month
Professional: $800/month
Enterprise: $3200/month
Zapier is another popular SaaS tool for startups and small businesses. The tool allows you to monitor your brand's mention on social media channels like Instagram, Twitter, and Reddit.
Zapier can help you connect the multiple apps you use on a day-to-day basis and automate workflows. For example, you can connect Gmail with Dropbox and automatically copy all email attachments to your Dropbox account.
Top Features of Zapier:
Link web apps in just a few clicks and allow data sharing
Build your Zap (workflow) without the need for any coding skills
Automatically publish Facebook posts to Instagram
Integrate Google calendar with Slack and receive alerts about meetings
Get notified about leads from multiple channels
What we liked: Considering how complex it can be to integrate two different tools, Zapier is still quite easy to use.
What could be better: There are still thousands of popular tools that Zapier does not include.
Zapier Plans Include:
Free: Forever free plan
Starter: $19.99/month
Professional: $49/month
Team: $299/month
Company: $599/month
Adobe Marketo Engage is a marketing automation tool that helps you with aspects such as email marketing, lead management, revenue insights, and more. As customers begin their journey with your brand, you can help them learn more about your products and services
Marketo offers you a 360-degree view of your customers across the web, email, social, and mobile. In addition to this, you can create inbound and outbound programs to attract top-of-the-funnel traffic.
Top Features of Adobe Marketo Engage:
Engage customers and prospects with email campaigns
Build automated marketing campaigns across multiple channels
Determine how different marketing channels impact your revenue
Identify your best performing content for buyers
Integrate with leading CRM platforms such as Salesforce, SugarCRM, MS Dynamics, and more
What we liked: Adobe Marketo offers great customer segmentation and personalization features.
What could be better: There should be more options/designs for landing page templates.
Adobe Marketo Engage Plans Include:
You will have to contact their sales team for the exact pricing information.
SaaS Analytics Tools
Google Analytics is undoubtedly the most widely used SaaS analytics tool in the market. The tool helps you analyze your app users to better understand the performance of your website, marketing, content, and more.
With machine learning capabilities, you can understand your website traffic and the return on investment of your paid ads. Moreover, you can even see how customers interact across your website or app throughout their lifecycle.
Top Features of Google Analytics:
Predict future actions that people might take on your website
Use the search bar to quickly find any metric, report, or insight
Monitor your campaign performance for Google ads
Generate shareable reports and send to key stakeholders
Understand the value of a user over the lifetime
What we liked: With live analytics, you can see where people are clicking on your website.
What could be better: Google Analytics offers too many data points that can confuse new users.
Google Analytics Plans Include:
Free: Forever free plan
Analytics 360: $150,000/year
Baremetrics is another leading analytics tool that offers all the insights you need to make profitable decisions and steer your business towards growth.
Baremetrics help you monitor multiple metrics from a single dashboard. For instance, you can track your company's cash flow, monthly recurring revenue, new subscriptions, churn, reactivations, and a lot more.
Top Features of Baremetrics:
Discover your most profitable customer segments and their attributes
Divide your customers into segments and make meaningful comparisons
View the location of your customers to improve the CX
Keep a firm track of every failed payment and understand what went wrong
Send essential updates from Baremetrics to your Slack channels
What we liked: Baremetrics can help you understand why customers cancel their subscriptions and share automated emails to get them back.
What could be better: The tool is heavily focused on metrics designated for SaaS businesses.
Baremetrics Plans Include:
Metrics Base Features: $129/month
Metrics with Recover: $198/month
Metrics with Cancellation Insights: $258/month
Metrics with Everything: $327/month
Mixpanel is a product analytics tool that can help you engage and retain your customers. You can easily understand your most popular product features and identify the ones that are used the least.
Mixpanel allows you to segment your customers based on any attribute, cohort, or actions taken by them. You can understand the differences between the various segments and see how it affects customer engagement, retention, and conversion.
Top Features of Mixpanel:
Receive alerts when there are significant changes in metrics
Automatically fix duplicate and inaccurate data
Easily export Mixpanel data to other tools that you use
Customize your analytics dashboard to focus on the data you need
Set up weekly emails so that stakeholders have relevant information
What we liked: Mixpanel is quite affordable and offers a free plan too.
What could be better: The user interface is not much intuitive and needs improvement.
Mixpanel Plans Include:
Free: Forever free plan
Growth: $25/month
Enterprise: Custom plan
Social Media Management
Buffer is the most popular SaaS tool for managing your brand's social media presence. With the help of this tool, you can quickly see which content is working on social media and which is not so that you can improve your messaging.
Buffer allows you to schedule your posts for different platforms making it easier for you to focus on other important tasks. Moreover, you can easily skip to important comments to see what customers or prospects are talking about.
Top Features of Buffer:
Track the growth of social media followers, reach, and engagement
Leverage ML to identify if a post has questions or negative comments
Use smart emojis to interact with your social media followers
Include the first comment when you schedule Instagram posts
Drive traffic to your online store from your Instagram account
What we liked: Buffer offers some incredible team collaboration features. For instance, you can create drafts, capture feedback, and edit content as a team.
What could be better: There is no way to create reports around social media brand mentions.
Buffer Plans Include:
Free: Forever free plan
Essentials: $5/month/social channel
Team: $10/month/social channel
Agency: $100/month/10 social channels
Hootsuite helps small and large businesses manage their social media accounts in one place. The best part about this tool is that it allows you to manage all your content in a single collaborative calendar.
With Hootsuite, you can even monitor the performance of your online posts and track competitor activities in one place. Social media experts can even monitor the number of posts shared across different social channels and their relative engagement.
Top Features of Hootsuite:
Create a vast library of branded content for your business
Manage a high-performing social sales team and grow your revenue
Easily filter out messages that require urgent attention
Create chatbots to engage with your audience even when your team is offline
Integrate with other social listening tools such as Brandwatch and Talkwalker
What we liked: For social media enthusiasts, the Hootsuite Academy offers multiple resources and certification courses.
What could be better: Hootsuite does not offer a free trial for its higher-end plans.
Hootsuite Plans Include:
Professional: $49/month (1 user)
Team: $129/month (3 users)
Business: $739/month (5 users)
Enterprise: Custom plan
Sprout is one of the best SaaS tools for social media management. With a simple and intuitive interface, your team members can plan, organize, schedule, and post content across multiple social media platforms.
Sprout Social's engagement features help you better address customer needs and build brand loyalty. You can easily access essential customer data and profile information to get all the context needed to create memorable experiences.
Top Features of Sprout Social:
Avoid duplicate work using real-time collision detection alerts
Create approval workflows so that only the right content is posted online
Monitor conversations around relevant topics to understand consumer sentiments
Create a long-term social strategy using a visualized calendar
Analyze the return on investment of your published content
What we liked: Sprout social offers a smooth and modern interface.
What could be better: Sprout Social's plans are quite expensive and may not be a great option for startups or small businesses.
Sprout Social Plans Include:
Standard: $89/user/month
Professional: $149/user/month
Advanced: $249/user/month
Employee Monitoring and Productivity Tracking Tools
DeskTime is an easy-to-use and affordable SaaS tool that can help your business track employee hours, attendance, productivity, and much more. The tool makes it easier for managers to plan employee shifts, manage absences, and track their minute-by-minute productivity.
With DeskTime's time tracking app, you can keep an eye on your remote staff with regular screenshots of their work. Moreover, you can even calculate project costs, create invoices, and bill your clients accordingly.
Top Features of DeskTime:
Monitor the computer or laptop usage of your staff members
Create and schedule staff shifts to manage different work hours
Monitor the time dedicated to specific tasks or projects
Scan through captured screenshots and ensure your company's time is not wasted
Generate timesheets and share them with your clients
What we liked: DeskTime allows you to monitor different time metrics such as time at work, productive time, effectiveness, arrival time, and more.
What could be better: Sometimes the tool fails to track online time when your internet gets disconnected.
DeskTime Plans Include:
Lite: Forever free for one user
Pro: $7/user/month
Premium: $10/user/month
Enterprise: $20/user/month
Teramind is a computer monitoring software that can help you keep an eye on your staff members during their work hours. The tool makes it easier for your business to monitor productivity at multiple levels – team, department, and individual.
By adopting Teramind, you can monitor the social media use of your staff members during work and calculate their time spent on specific projects, tasks, or apps. You can even gain insights into how staff members use email during their shifts.
Top Features of Teramind:
Restrict user activity based on internal security policies and regulations
Share real-time alerts with users when they perform non-compliant actions
Track web activity including file uploads or downloads
Block or limit access to certain websites that may be harmful to your business
Monitor incoming and outgoing staff emails
What we liked: You can easily monitor which apps are being used and generate reports on the same.
What could be better: A large number of features can be confusing for new users.
Teramind Plans Include:
Teramind Starter: $10/user/month
Teramind UAM: $20.83/user/month
Teramind DLP: $25/user/month
Time Doctor is an employee-friendly tool that helps you track time as well as productivity. Unlike other tools, you can recognize your top performers and appreciate them to boost team morale.
Staff members can easily view their time spent on tasks and gain knowledge about their strengths or weaknesses. Moreover, managers can see how much time is spent by team members on their computers vs away.
Top Features of Time Doctor:
Track time to increase accountability, pay staff members, and bill clients
Identify productivity patterns using daily and weekly email reports
Allow managers to view and approve timesheets
Choose multiple payment methods including PayPal, Payoneer, TransferWise, etc
Send automated alerts to users when they spend excessive time on social media
What we liked: Managers can get insights into a team member's mouse and keyboard activity levels.
What could be better: Many users may find webcam screenshots as an invasion of their privacy.
Time Doctor Plans Include:
Basic: $7/user/month
Standard: $10/user/month
Premium: $20/user/month
Appointment Scheduling System
Calendly helps your business schedule meetings with clients, business partners, or other stakeholders in a professional manner. You can easily share meeting links with your guests or upload them on your website.
The tool allows your colleagues or clients to select open meeting times from your work schedule. Calendly users can even bok events for multiple people such as webinars and training sessions.
Top Features of Calendly:
Automatically share reminder emails with meeting attendees
Create a poll for attendees to identify the best time for meetings
Use the Calendly mobile app to get notifications on the move
Streamline payments with the help of PayPal or Stripe
Connect your calendars to check real-time availability
What we liked: The tool is extremely user-friendly and anyone can get started in minutes.
What could be better: The Basic and Essential plans offer limited calendar connections.
Calendly Plans Include:
Basic: Forever free plan
Essentials: $8/seat/month
Professional: $12/seat/month
Teams: $16/seat/month
Enterprise: Custom plan
SimplyBook is an online booking system that can help you book appointments and meetings. Whenever appointments are booked, rescheduled, or canceled, you can share reminders via push notifications.
SimplyBook also allows users to personalize their booking website with images from Instagram. Moreover, you can even upload images of your business, services, or any other images related to your business offerings.
Top Features of SimplyBook:
Accept online payments via multiple payment partners such as PayPal or Stripe
Create forms to capture client information during booking
Leverage a drag-and-drop email editor to customize your emails
Allow customers to sign up for a spot on your waiting list
Integrate with Zoom, Facebook, Instagram, and multiple other tools
What we liked: Compared to its close competitors, SimplyBook offers extremely affordable plans.
What could be better: Integration options are quite limited and should be improved.
SimplyBook Plans Include:
Free: Forever free plan
Basic: $8.25/month (15 users)
Standard: $24.9/month (25 users)
Premium: $49.9/month (50 users)
10to8 is an appointment scheduling tool that helps you better organize your team's schedule and bring your staff and clients together in one place. You can share automated reminders via SMS, email, and voice calls, and ensure clients never miss their appointments.
You can create an online booking page that is consistent with your brand and allow customers to book and manage their own appointments.
Top Features of 10to8:
Leverage intelligent reminders and reduce appointment no-shows by up to 90%
Specify whether you are available for physical or virtual appointments
Easily integrate with Zoom, Microsoft Teams, and Salesforce
Take online payments using PayPal and Stripe
Generate reports on bookings and no-shows
What we liked: The tool allows you to capture bookings from your Facebook business page with a "Book Now" button.
What could be better: There should be more options to customize the scheduling page.
10to8 Plans Include:
Basic: $9.6/month (2 users)
Grow: $20/month (3 users)
Bigger Business: $40/month (6 users)
Enterprise: Custom plan
Document Management Tools
Bitrix24 Drive can help your team store and organize important business documents in one place. Your team can collaborate in real-time to edit documents and easily share them across the team or with external stakeholders.
Whenever you are working on a project, you can create a group folder and invite your project members to collaborate online. Moreover, with Bitrix24 Drive, you can restrict access to important files and lock them to avoid any accidental changes.
Top Features of Bitrix24:
Enjoy 24×7 online or offline access from any device
Set access permissions to secure your sensitive business information
Integrate with Google Docs, Office 365, and multiple other tools
Easily migrate your files from other online data storage services
Receive automated notifications upon changes in files
What we liked: The tool offers options for safe cleanup so that you can enjoy more storage space.
What could be better: The Basic plan offers just 24 GB of storage space which is quite less for a paid plan.
Bitrix 24 Plans Include:
Free: Forever free plan
Basic: $39/month (5 users)
Standard: $79/month (50 users)
Professional: $159/month (unlimited users)
Templafy is a document management platform that brings multiple features to the table. The tool allows you to take control of all staff-created documents across the company.
With the help of document automation, Templafy helps your team create better performing and more compliant documents. Bu integrating with your tech stack, you can enable team members to find relevant documents whenever they need them.
Top Features of Templafy:
Easily share documents with internal employees or external stakeholders
Receive feedback on created documents from colleagues
Get automated notifications when people use your content
Leverage enterprise-level security and keep your data secure
Manage multiple email signatures for individual users
What we liked: Templafy offers multiple ready-to-use document templates to help your team get started quickly.
What could be better: Templafy does not offer clear and transparent pricing information on its website.
Templafy Plans Include:
For specific pricing information, you need to make a request on their website.
DocuWare is a cloud-based document management software that allows you to secure your business information and access it on any device at any time. You can avoid data entry by automatically processing all your incoming invoices with this cloud solution.
In addition to this, DocuWare offers multiple smart productivity tools to file, search, and track documents. You can quickly classify documents, index information, and share them with relevant stakeholders.
Top Features of DocuWare:
Control access to your docs and monitor who gets to view them
Allow team members to edit or comment on documents
Make quick searches to easily locate your important business files
Keep track of documents with action dates and never miss a deadline
Allow users to approve or reject documents
What we liked: Use DocuWare's mobile apps for Android and iOS to upload or access your documents on the move.
What could be better: The user interface of this tool looks quite outdated.
DocuWare Plans Include:
Pricing information is not available for this tool.
Redactable is the ultimate tool for protecting sensitive data and meeting compliance requirements. Even if you have a limited budget, the tool will provide you with a huge array of features. Redactable removes sensitive information from your documents with a single click.
With Redactable, preventing unauthorized access to sensitive information has become a piece cake.
Top Features of Redactable:
Your sensitive data will be permanently redacted if you use Redactable. Metadata and hidden data will also be removed.
The intuitive interface allows you to complete your redaction project quickly.
If you're sick of getting messages like "file too large to upload" or "you've reached the maximum number of redactions per day," Redactable is your best friend.
What we liked: Redactable is a cloud-based Automated redaction tool that is more accurate than manual processes. Redaction can be done in 4 easy steps.
What could be better: Free version offers limited features
Redactable Plan Includes: $49/month/seat for
Unlimited Redactions
Unlimited Documents
Automated Redaction Features
Best Accounting Tools
Quickbooks is a popular accounting SaaS for small businesses and large enterprises. You can easily track all your expenses across different accounts and monitor your business income.
Quickbooks even allows you to check which projects are making money and which projects are actually costing you. All of your credit card and bank transactions automatically sync to QuickBooks so that you can track all your financial transactions in one place.
Top Features of Quickbooks:
Create professional invoices and receive payments faster
Allow employees to clock in or out, take a break, or make other updates
Approve timesheets and automate your payroll process
Generate cash flow statements, profit and loss statements, and other documents
Create employee shift schedules and share them with your team
What we liked: Quickbooks offers multiple options to customize your invoices and statements.
What could be better: The integration options offered by this tool are limited.
Quickbooks Plans Include:
Simple Start: $12.50/month
Essentials: $25/month
Plus: $40/month
Advanced: $90/month
FreshBooks is another accounting software that offers multiple features for business owners and accountants. The tool allows you to generate professional-looking invoices and receive payments from your clients faster.
Now, a lot of businesses waste their time manually keeping track of their expenses. With FreshBooks, you can upload a picture of a receipt and the tool will automatically capture details such as totals and taxes.
Top Features of FreshBooks:
Track the time spent by staff members on multiple tasks or projects
Create, edit, and share proposals with your clients
Offer multiple payment options to your clients
Integrate with Stripe, MailChimp, Slack, and other tools
Stay connected with your clients using Freshbooks' mobile apps
What we liked: You can start a timer and easily log your hours to invoices.
What could be better: With large volumes of information, this tool can be slow to load.
FreshBooks Plans Include:
Lite: $6/month
Plus: $10/month
Premium: $20/month
Select: Custom plan
Bill.com is a popular accounting tool for small businesses, mid-sized companies, and accounting firms. You can bring invoices from email, drag and drop them from your desktop, and mobile app into a single platform.
Bill.com allows users to create approval policies, automate approval workflows, and approve invoices or bills with just a few taps. In addition to this, multiple payment options such as ePayments, credit card, check, international wire, etc. make it easier for you to get paid.
Top Features of Bill.com:
See the real-time status of incoming or outgoing payments
Easily integrate with other accounting tools such as Quickbooks, Tallie, Xero, etc.
Customize your invoice fields to suit your unique business needs
Share automated reminders with customers for payments
Receive payments directly to your bank accounts
What we liked: Bill.com automatically processes most information on the invoice making your life much easier.
What could be better: A lot of users have complained about their poor and unresponsive customer service.
Bill.com Plans Include:
Essentials: $39/user/month
Team: $49/user/month
Corporate: $69/user/month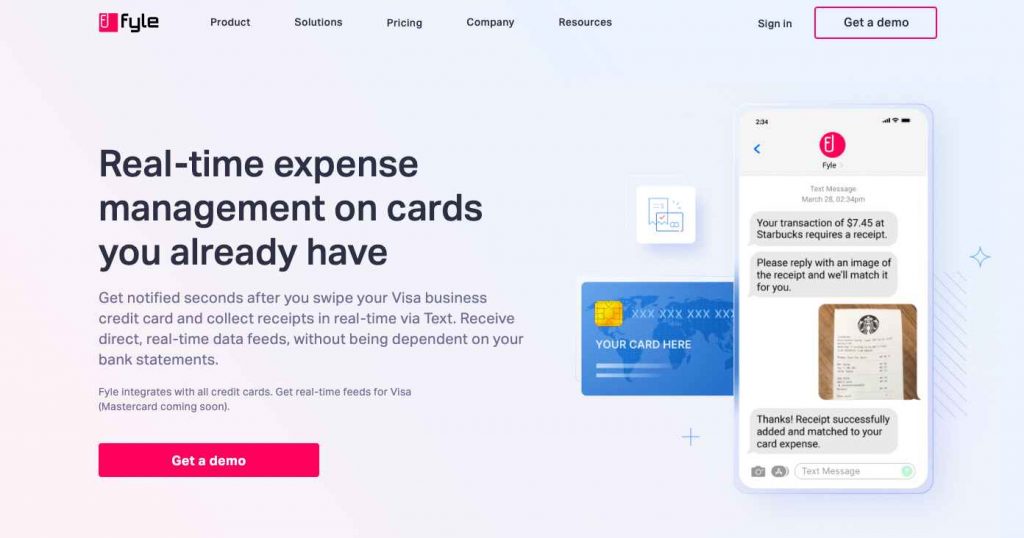 Fyle is an innovative expense management software that boosts employee and financial productivity for SMBs worldwide. In addition, it helps businesses efficiently manage their expenses and credit card reconciliations. With Fyle, finance teams and employees achieve seamless expense reporting, real-time card feeds, effortless card reconciliations, and much more.
Top Features of Fyle:
Real-time corporate card feeds on cards you already have – Direct transaction feeds for VISA and Mastercard.
Seamless user experience – Easy employee expense reporting and automatic compliance for approvers and accounting teams.
Direct self-serve integrations – With accounting software like Xero, QuickBooks, Sage Intacct, NetSuite, TravelPerk, and more.
What we liked: Fyle is the first expense management software to offer real-time expense management cards businesses already have! This means companies can enjoy real-time credit card reconciliations and real-time feeds without switching cards for it.
What could be better: Because of its complex offerings, it could be a learning curve.
Fyle Plans Include:
Standard: $6.99/user/month
Business: $11.99/user/month
Enterprise: Custom pricing
Observability tool
39. Middleware
Middleware is a full-stack cloud observability platform designed to boost operational efficiency, minimize downtime, and enhance user satisfaction.
It enables development and operations teams to expedite issue resolution by consolidating metrics, logs, traces, and events onto a unified timeline. Middleware also leverages AI to offer improved insights into infrastructure and applications.
Top Features of Middleware:
Issue Detection: AI finds problems in infrastructure and apps, suggesting solutions.
Instant Monitoring: See live metrics, logs, and traces on the dashboard.
Efficient Agent: Fast results, minimal resource usage.
Unified View: View metrics, logs, traces, and events together on a single timeline.
Data Ownership: They can exercise control over data collection and achieve a cost reduction of 5x to 10x by storing it in their cloud.
Enterprise-Level Security: Middleware boasts GDPR, CCPA compliance, and SOC 2 type II certification.
Middleware Plans Include:
Trial: Free Forever Developer Account
Paid Plans: Their usage-based pay-as-you-go model is designed to be agile and scalable.
Pick the Best SaaS Tools for Your Business
With the current market flooded with the latest tools and over-promising features, choosing the best SaaS tools is no easy feat. However, we have already done the heavy lifting to help you out.
You can refer to the best SaaS platforms shared across multiple categories so that your team members can become more productive and managers can have the right insights at their fingertips.
However, before fully committing to any SaaS tool for businesses, you must consider factors such as pricing, features, integrations, customization options, the customer support offered by the vendor, mobile app availability, and much more. The right combination of tools will surely set your business up for success.
Do you want a free Help Desk?
We have the #1 Online Help Desk Software for delightful customer support