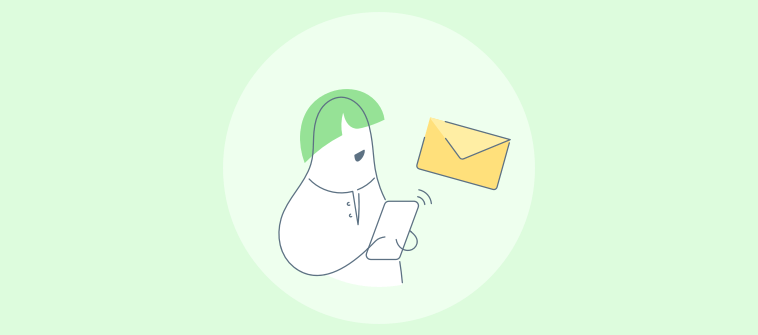 Customer interactions with your brand continue even after you make a sale. Right from the time a prospect visits your website to the time they need assistance even after years of making a purchase, your brand needs to be available.
But can you really care for your customers when your agents have no idea how to track support tickets? Or when they are using dozens of different tools to communicate with customers?
If you are going through the same troubles, help desk software can actually help!
But before you rush to purchase one, you need to know the top help desk benefits. The ideal help desk software can help your agents communicate with each other, collaborate on complex tickets, manage conversations on multiple channels, and automate almost 80% of your customer service tasks.
For entrepreneurs and managers, a help desk system has great things to offer as well. You can measure agent performance, track metrics that are important to your goals, and identify customer experience trends.
In this blog, we will discuss the top advantages of help desk system and tell you how to make the most of these benefits. Ready to delight your audience?
What is Help Desk Software?
Help desk software is a popular customer service tool that is designed to convert support issues and requests into tickets. Help desk agents can track the progress of these tickets, prioritize urgent issues, and respond to them on time.
Furthermore, some modern tools even offer robust automation features to help you streamline your workflow and avoid slow and manual work. For instance, with the help of chatbots, you can assist prospects as well as existing customers 24×7 and answer their queries related to product price, returns, stock availability, and more.
Who Uses Help Desk Software?
No matter if you run a small B2C startup or a large B2B enterprise, you can enjoy help desk ticketing system benefits. Any modern organization that needs to manage multiple customer service issues can go for this tool. You can not only automate your manual tasks but also allow agents to manage customer conversations (phone, email, chat, help center, etc.) from a single tool.
Here are some key professionals who interact the most with a help desk system:
SMB owners
Enterprise owners
Help desk agents
IT support technicians
Customer service managers
Customer success managers
Business partners
Read More: 15 Free Help Desk Software for 2022 (Free Trials Included)
Top 10 Benefits of Help Desk Software
What can help desk software bring to the table? Let's find out. Here are 10 advantages of help desk system that can take your customer service to the next level.
1. Assign Tickets to the Right Members of Your Team
A help desk tool allows you to assign support tickets to members of your team who are best suited to handle them. For instance, a technical support ticket can be assigned to an agent with relevant technical expertise.
One of the top benefits of a help desk system is that there is complete accountability of work. Every incoming support ticket has an owner responsible for resolving it in the shortest turnaround time.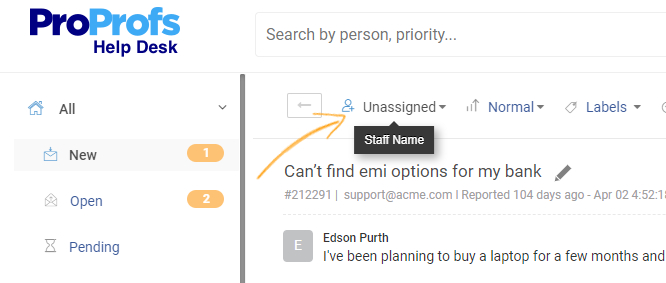 But why is accountability so important?
Greater accountability in your customer service team ensures that tickets never slip through the cracks. Accountability also gives agents a greater sense of ownership over their work. They know exactly what needs to be done and care more about the quality of their work.
So no matter if a customer contacts your team via email, live chat, or web forms, they can rest assured that an expert agent will handle their case and answer all their questions.
2. Avoid Duplicate Replies
When you are managing your customer requests and issues using email, there are always instances when a customer receives 2-3 different responses from your team. Not only can that be embarrassing for your brand, but it can also raise questions about your team's reliability.
With features such as Agent Collision Detection, your agents can be alerted when someone else is responding to a ticket. This prevents duplicate replies and ensures your team members are always on the same page.
Without a centralized solution in place, your organization can lose track of both customer messages and their respective responses. However, with the right help desk tool, there is complete transparency of work. Your agents can easily see who is working on what and adjust their daily tasks accordingly.
3. Resolve Tickets Faster With Internal Collaboration
Delightful customer service requires a team effort. In fact, Tony Hsieh, the former CEO of Zappos said, "Customer service shouldn't be a department; it should be the entire company." But how do you create a system where different departments can work together?
With the internal collaboration features of a help desk system, customer service agents can communicate with each other right from their dashboards. They can even tag members of other departments and seek their expertise.
Whenever an agent needs help to resolve a complex ticket, he can discuss it with other agents using internal notes. These notes are only visible to your internal team members and not to the customer.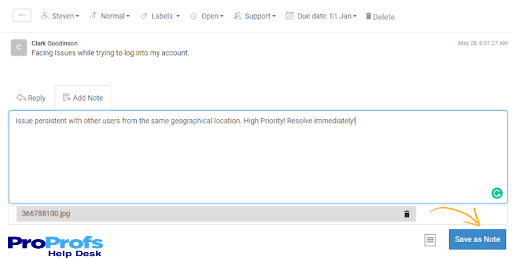 Moreover, you can even assign tickets to other departments whenever their involvement is required. For instance, if a customer inquires about upcoming product updates, the ticket can be assigned to the product team to share relevant information.
4. Keep Agents & Customers Updated
Your customer service reps need regular updates during different stages of the ticket lifecycle.
Not just reps, even customers can bombard your support team with endless calls or emails if they do not get timely updates.
One of the most important benefits of a customer help desk is that you can keep your agents on their toes. They can receive regular alerts and notifications right from the moment a ticket is received to when it gets closed.
But what exactly are notifications in a help desk?
Notifications or alerts are automated messages sent to the customers and agents when a certain predefined condition is met. For example, agents can get a 'New Ticket Notification' whenever a new customer request comes. Similarly, customers can get a notification when their ticket is resolved or when some additional information is required from their end.
5. Operate From Any Part of the World
COVID-19 has impacted how modern businesses and teams operate across the globe. In fact, according to the 2021 State of Remote Work by Buffer, forty-five percent of the respondents worked remotely due to COVID-19. So how can customer service teams adapt to this new normal?
Cloud-based help desk software can be accessed from any part of the world using multiple devices such as PC, laptops, and mobile phones. So no matter if your customer service team works remotely or from the office, they can resolve issues in a jiffy.
Remote access to the ticketing system can be a great feature, especially when an agent needs immediate inputs from a teammate or manager who is away from the office. Even when your agents are not at their desks, they can view and respond to customers using their help desk mobile applications.
6. Reduce Tickets With a Knowledge Base
There are a lot of issues that do not require an agent's intervention. For instance, if customers need to understand the return terms and conditions, they can simply visit your knowledge base instead of calling your support team.
According to a Microsoft study, 77% of customers report having used a self-service support portal. With the right help desk software, you can create a dedicated knowledge base and reduce your ticket volume by up to 80%.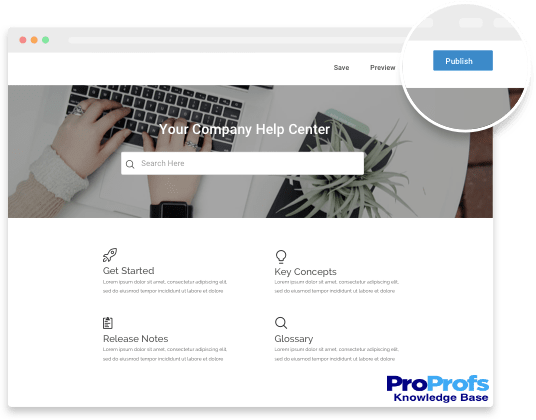 Now, You can make your knowledge base as rich as possible. It can cover how-to articles, video tutorials, case studies, FAQs, etc. on the most searched help topics. You can even grant your agents permission to edit, publish, and share support content. For instance, they can convert a ticket response into a help center article.
7. Automate Manual Tasks
Manually managing a majority of your customer service tasks can lead to a slow and sluggish process. Not just that, it can divert your agent's from focusing on more pressing tasks.
Automation is one of the best advantages of the help desk. You can not only streamline workflows but also avoid human errors that are a byproduct of manual work.
An automated help desk system can speed up your work in the following ways:
You can create canned responses which are saved templates for email or chat replies. Therefore, whenever customers share their common problems, there is no need to reinvent the wheel. Agents can simply modify the text in the template and reply to customers in seconds.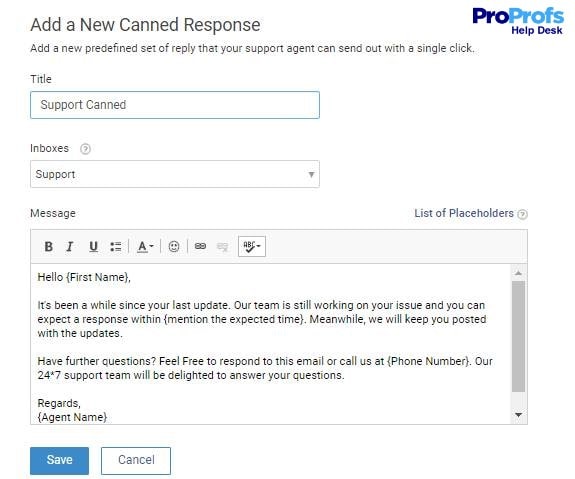 Many tools even offer customizable chatbots that are powerful enough to understand customer sentiments and can assist them with their basic queries or requests. Chatbots can even route chats to relevant human agents and also help your business generate reliable leads.
Read More: 10 Service Desk Automation Ideas that Boost Performance and Quality
8. Share Surveys With Customers & Employees
Surveys are a great way to see what customers think of your support operations. In fact, with regular surveys, you can capture valuable customer suggestions and make them realize that their opinions are valued by your business.
With a help desk ticketing system, you can create insightful surveys and share them with your audience. You can even create email surveys that are automatically shared with customers once their ticket has been resolved.
You can share Customer Satisfaction (CSAT), Net Promoter Score (NPS), Customer Effort Score (CES), and other types of surveys to improve the customer experience. Sharing regular surveys with employees is also a great way to gauge their happiness and understand any challenges they might be facing.
9. Measure Agent Performance & Reward Top Performers
How would you know if your team is moving in the right direction if you don't measure your team's performance? With a help desk, you can share surveys that give customers the option to rate the quality of their support interaction.
Another important benefit of the help desk tool is that it gives you a clear picture of your agent's performance. You can easily see how customers have rated them and reward your top performers.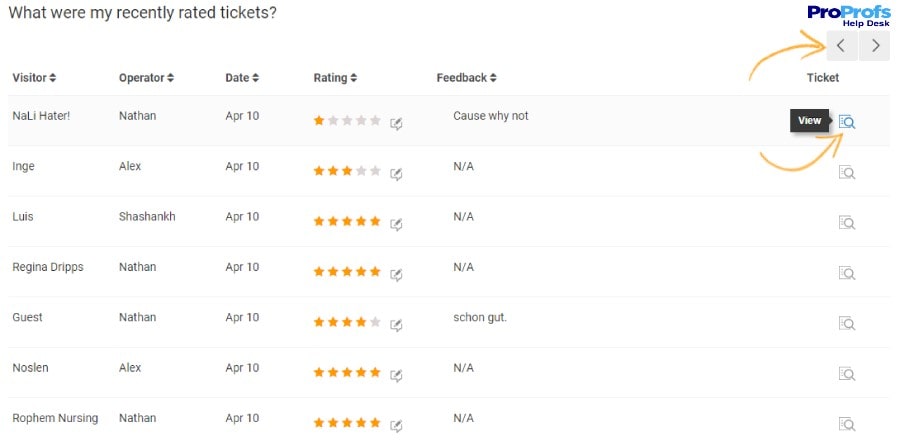 Now, simply measuring performance is not enough unless you take necessary measures. While it is important to identify and reward your top performers, you also need to encourage your bottom performers to improve their skills and work on improvement areas.
Remember, employee recognition can play a vital role in creating the right customer service culture. Showing your agents that you appreciate their efforts is a great way to enhance motivation, productivity, and employee happiness.
Read More: Ten Tips to Motivate Your Customer Support Team
10. Track Key Help Desk Metrics

The right help desk software will present you with all the data you need. You can generate insightful reports and track metrics that are important to your business objectives. For instance, if your goal is to respond to customers quickly, you can focus on your first response time.
Let's look at more such important help desk metrics:
Average first response time: Average first response time is the median time it takes your agents to share the first response with a customer. This metric can differ from one channel to the other. For instance, the average first response time in live chat will be just a couple of minutes compared to email, where it can range from a couple of hours to even one day.
Ticket backlog: Ticket backlog is another important metric that can highlight the number of tickets yet to be resolved. For superior help desk performance, you need to keep your ticket backlog at the minimum possible. A high ticket backlog can mean unproductive employees or manpower shortage in comparison to customer queries/issues.
Ticket resolution time: Ticket resolution time refers to the average amount of time taken by your agents to completely resolve a support ticket. Remember, simply sharing the first response or acknowledging the customer issue is different. Ticket resolution happens when a customer's queries are resolved, and the ticket is marked as closed.
Read More: 15 Help Desk Metrics to Improve Customer Support
Make the Most of Help Desk Benefits Today!
For modern organizations, customer satisfaction has become the primary goal. After all, happy and satisfied customers can help your business retain customers, surpass sales targets, and stand a step ahead of the competition.
To achieve this primary goal, the right help desk software can prove to be the only tool your support team requires. Help desk benefits such as automated ticket assignment, internal collaboration, instant alerts, customer feedback surveys, AI-powered reports, etc., can help your business offer delightful service.
Moreover, with powerful integrations such as live chat and a knowledge base, your team can finally look to offer 360-degree support experiences. If you are looking for a tool that offers all these benefits, your search ends right here. Take a product tour of the ProProfs Help Desk and unlock all the features your team needs!
Do you want a free Help Desk?
We have the #1 Online Help Desk Software for delightful customer support