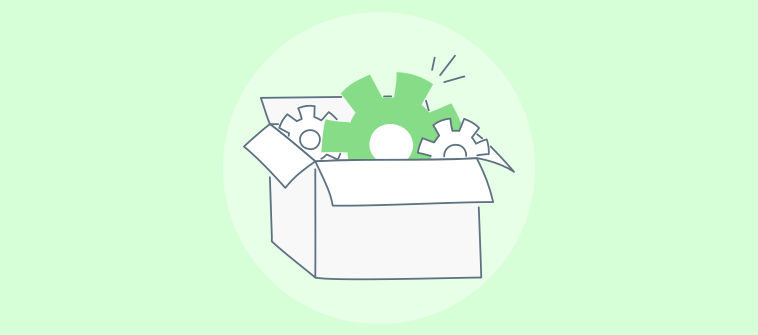 The recipe to bake awesome customer service is indeed very simple – be fast, accurate, and consistent with your responses. But why are businesses unable to cook what they had promised? What ingredient are they missing?
The missing ingredient can be automation technology. Even a simple feature such as automated ticket routing can help you create an effective workflow that leads to higher productivity, lower response times, and happier customers.
According to a report from McKinsey, 29% of customer service agent duties have the potential to be automated with technology.
The best help desk software can handle automated ticket distribution at scale. So instead of manually picking tickets, agents can focus on what's important – nurturing customer relationships.
In this blog, we will discuss the role of ticketing in customers service, understand the benefits of using an automated ticketing system, and explore simple steps to bring this incredible feature into action.
Here we go!
What is Ticket Routing?
Ticket routing, also known as ticket assignment, is the process of creating rules that determine how support tickets are assigned to agents or teams. Efficient ticket routing ensures that every issue or request that your team receives has a relevant owner.
Once the ticket has been assigned to agents, they can perform a wide range of tasks. For example, agents can prioritize tickets, add tags and filters, and offer a relevant solution before marking it closed.
Now, ticket routing can be manual, where you manually open a support ticket and assign it to an individual agent. However, manually routing tickets is repetitive, time-consuming, and can lead to human errors.
On the other hand, many modern help desk tools such as ProProfs Help Desk offer an automated ticket routing feature. In the next section, we will learn more about the same.
Read More: Help Desk Glossary: 60+ Terms to Better Understand Your Help Desk
What is Automated Ticket Routing?
Automated ticket routing is the process where tickets are automatically assigned to relevant agents based on their skills, experience, or knowledge. This is made possible using an automated ticketing system that helps you track all your support tickets in one place.
With automated ticket routing, your support agents don't have to scan the ticket queue to assign themselves cases constantly. They can simply log in to their dashboard and work on the tickets that have been assigned to them by the system. This feature works great for businesses that receive plenty of customer queries or requests regularly. You can save time, reduce costs, and allow agents to focus on more critical issues.
The Role of Ticket Routing in Customer Service
As soon as you step into your customers' shoes, you will realize that there is nothing more painful than the feeling of being avoided by your favorite brand. Long hold times, impatient agents, and being passed from one department to another can frustrate any sane person.
But why does this happen? Why even after years of training responses get delayed?
The reason can be the lack of automation technology. When tickets are assigned without a proper process, it can result in confusion among staff members, leading to overworked agents and unhappy customers.
With an automated ticket routing system, you can stay assured that every customer service issue or request will have an owner. The right ticket will always go to the right person at the right time. Although ticket routing is only a small help desk feature, it can play a huge role in determining customer service success.
Read More: 10 Service Desk Automation Ideas that Boost Performance and Quality
What Are the Benefits of Automated Ticket Routing?
Automated ticket distribution can positively impact your team's performance and your company's bottom line. Right from reducing ticket resolution times to enhancing customer satisfaction, there are multiple benefits you can expect. Here are four reasons that highlight the importance of automated ticket routing:
1. Reduce Ticket Response/Resolution Time
Ticket response time refers to the average time taken by an agent to share the first response with a customer. On the other hand, ticket resolution time refers to the average time to completely resolve an issue.
So how does automated ticket routing help you improve these metrics?
The most important benefit of automated ticket routing is speed and accuracy. We all know that scanning through a huge pile of tickets can be time-consuming. However, when you automate this process, agents can easily focus on the tickets that have already been assigned to them. By saving time, they can quickly respond to tickets and resolve them at the earliest.
2. Avoid Human Errors & Create a Fair Distribution Process
When tickets are manually picked and assigned, it can create a lot of confusion. Imagine an agent who assigns himself a technical ticket for which he has no necessary skill or knowledge.
An automated ticket routing system can help you avoid such blunders. Tickets are always distributed in a consistent manner so that mistakes could be avoided.
In addition to consistency, you can even create a fair ticket distribution process. Agents will no longer be able to "cherrypick" tickets so that they only take lower-priority or easy tickets to resolve. With the round-robin ticket assignment feature, tickets are evenly distributed among agents leading to a transparent and fair process.
3. Focus on Other Important Tasks
We all know that manual ticket assignment can be a productivity killer. Agents get so busy picking and sorting tickets that they can lose track of the most important thing – delightful customer service.
Now, with automated ticket routing in place, you can enhance the overall efficiency of your customer service team. Agents can better organize their work, quickly resolve their ticket queue and save enough time to focus on urgent tasks.
For example, with the saved time they can call a customer and share a sincere apology for a previously registered complaint. Similarly, they can even take some time off their stressful schedule and engage in some leisure activities.
4. Increase Customer Satisfaction
All these above-mentioned benefits finally lead to the main objective – customer satisfaction. When customers get faster responses to their queries, they can have a delightful support experience.
According to a Dimensional Research study, around 52% of consumers say they have made an additional purchase from a company after a positive customer service experience.
Therefore, when you have an automated help desk in place, instead of focusing on the next case, customer service reps can stay in the present and offer their undivided attention to the customer. This is a great way to boost customer satisfaction and increase repeat purchases.
How to Automate Ticket Routing
If you are using spreadsheets or email to manage tickets, automation might seem like a distant dream. To automate your process, you need the right help desk software that offers the "automated ticket routing functionality".
Here are some steps you can take to route tickets to agents using ProProfs Help Desk automatically:
Step 1: Go to your help desk account settings >> Inboxes. Now, here you can see all your inboxes such as billing@, info@, support@, contact@, etc.
Step 2: Choose any relevant inbox, scroll to the right and click on the More icon. Select Edit, and a new window will open.

Step 3: Now scroll down and go to Round Robin Ticket Assignment. Activate this feature by clicking on the On icon. You can even specify the maximum number of tickets you want to assign to an agent automatically. This ensures none of your agents are overburdened. Click Save and congratulations; your new changes have now been activated.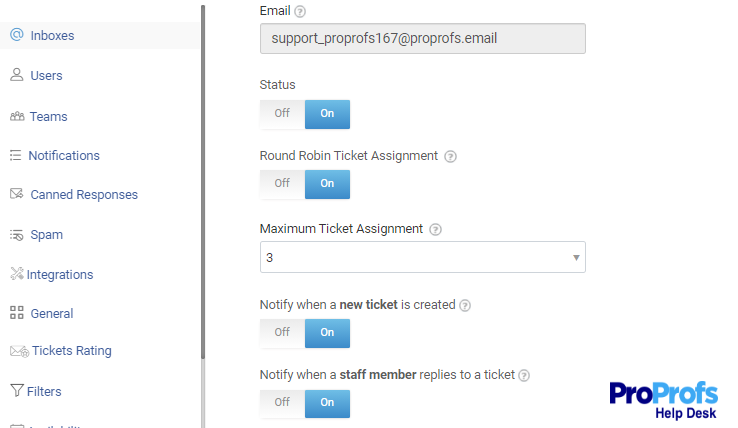 How to Manually Assign Tickets in ProProfs Help Desk
Although manual ticket assignment can be laborious and time-consuming, it can prove to be important in some cases. For example, you can manually assign easy or low-priority tickets to new agents who have just joined your team.
Here are the necessary steps you need to take to assign a ticket to an agent:
Step 1: Go to your help desk Inbox. Open the ticket you want to assign.
Step 2: Click on Unassigned and select the staff name you want to assign the ticket to. That's it; the agent will get a notification for the same and can start working on the ticket immediately.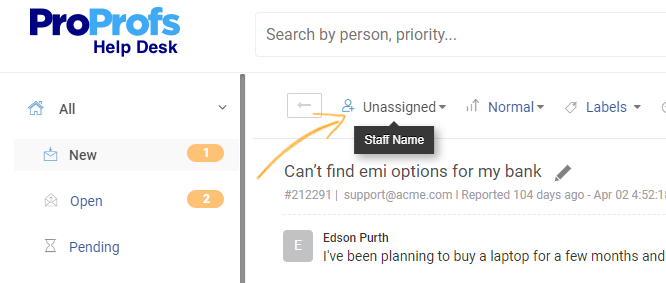 Reach 'Zero Tickets' With Automated Ticket Routing
No matter if your customer service team is run by one person or twenty, the ultimate goal is to reach zero tickets. However, without the right automation technology in place, this can seem like an ardent task.
Automated ticket routing is an incredible feature that has a direct impact on team performance and customer satisfaction. You can embrace speed and reduce the ticket resolution time, avoid human errors, give agents enough time to focus on important tasks, and enhance the customer experience.
While choosing help desk software for your business, go for the one that offers automated ticket routing functionality along with manual ticket assignment. The right combination of both will help you resolve tickets faster and meet customer expectations.
Do you want a free Help Desk?
We have the #1 Online Help Desk Software for delightful customer support