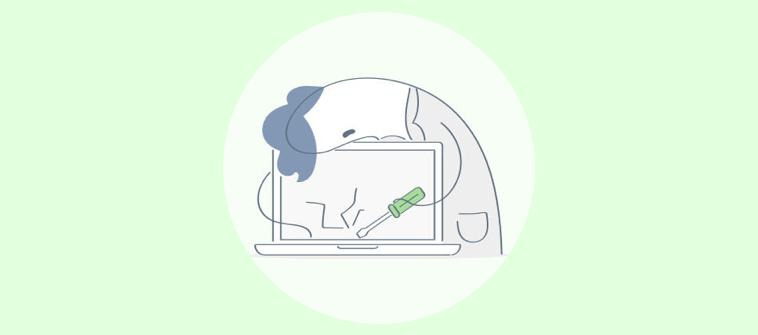 We all know that investing in a good help desk is a boss move. You can encourage team collaboration, resolve issues faster, and deliver top-notch customer service with absolutely no hassles.
But what about the next step? How do you set up your help desk for optimum productivity?
If you think that setting up your help desk will take long days, intensive training, or a dozen people, you might be wrong.
Modern help desks software are known for their user-friendly design and easy-to-use interface. You don't have to be a Harvard graduate or a tech entrepreneur to understand the nitty-gritty of this dynamic tool.
All you need are 5 minutes and some pure passion to deliver exceptional customer service.
This help desk guide reveals 5 super-simple steps that will help you get started and start addressing customer concerns almost instantly. Ready to wow your customers?
What is Help Desk Software?
Ask any entrepreneur about the most challenging aspect of customer service, and there are good chances you will hear them say-
"We have a hard time managing innumerable customer requests/issues. Customers often complain about our delayed responses."
We understand, managing customer issues is never easy. But, if you are using outdated spreadsheets to record and track customer issues, then things are only going to get difficult.
So, what's the way out?
A dedicated help desk offers the right platform for your team to join hands and manage all customer communications from a single platform. They can effortlessly track, assign, prioritize, and resolve tickets and offer the best solution to customers.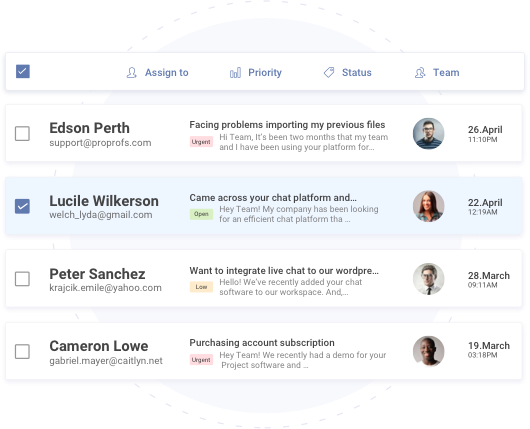 A good help desk software can allow you to achieve the following:
Convert every customer issue into a unique ticket and assign them to relevant agents
Track the entire ticket lifecycle from start to finish
Make your teams/departments collaborate to solve complex issues together
Internal help desk provide your internal customers with a fast & delightful support
Share faster responses and delight customers with an exceptional service experience
Now, let's see how proper planning will help you reap the maximum benefits of a help desk.
Read More: 15 Free Help Desk Software for 2022 (Free Trials Included)
Create a Plan of Action for Help Desk Deployment
"A Goal Without A Plan Is Just A Wish"- Antoine de Saint-Exupéry
Before you get your hands over a help desk, there are certain things you need to do to ensure a smooth sail. After all, you need to know the "Why" of a business application before you proceed to the "How".
We all know that the broader objective of a help desk is to improve customer service. However, you can always narrow down the bigger objective and set specific goals for your business.
You can decide if you want to use a help desk to keep your customer interactions well-organized, use it as a tool for team collaboration, notify customers about downtimes, or all of these. Well-defined goals will ensure that team members are on the same page and they have clarity around expectations.
Choose Communication Channels
Your business might be offering support on multiple channels- email, chat, social media, and more. A help desk can allow you to manage complete customer communications from different channels. Therefore, select the channels that you would like to take complete control of using a help desk. You might want to offer support to your customers via email, live chat, and also create a self-service knowledge base to reduce support tickets.
Tracking every customer service metric might do more harm than good and shift your focus from your priorities. However, key performance indicators (KPIs) such as Average Response Time, First Contact Resolution, Customer Satisfaction Score, etc. should always make it to your list.
Make sure you understand what you are trying to achieve and know what's important for your customers. It is also important to remember that KPIs are just indicators. Achieving these numbers does not necessarily mean you are doing a good job.
Help desks give you the option to categorize users as agents, admins, managers, etc. This hierarchy ensures that the right roles and permissions can be allocated to different team members. Therefore, before you learn how to set up a ticketing system, make sure your team has clarity about the different roles they need to play.
It's time to get to business.
How to Set Up Your Help Desk in 5 Easy Steps
Step 1: Configure Your Inbox
Help desk inboxes are designed to help you combine all your existing customer-facing emails (like support@, sales@, contact@, etc.) in a shared platform. This way, all important customer communications can be forwarded to a shared dashboard, so you never miss out on a ticket.
To add a new email account, navigate to Settings > Inboxes. Click + New Inbox.

Simply, enter your email address (support@company.com) from which you wish to forward customer emails to your help desk inbox. In the second text box, enter the name that the customer will see. For example, for a Customer Support inbox, you can simply use the name 'Customer Support.'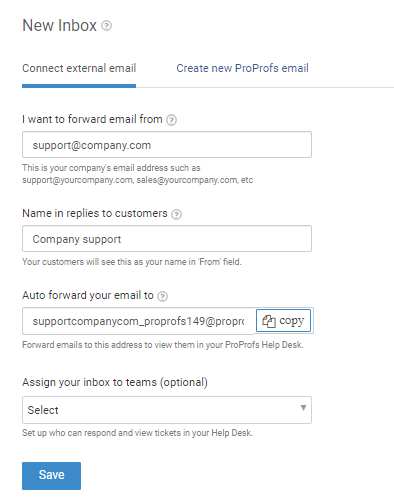 Step 2: Add Agents to Your Help Desk Account
Once your inbox is ready, it's time to add your support squad, or in other words, your agents who are responsible for resolving support tickets. To add a user, navigate to Settings >> Users and click the "+ New User" button.
You will be redirected to the 'Add a New User' form where you can add details like agent name, email, and phone number. You can also assign the right team and roles (Staff, Manager, or Admin) to agents based on their experience and expertise.
Roles permit various levels of access to the help desk. For instance, an admin has access to reports pertaining to the agents under him. These roles and permissions are granted while creating an agent, however, they can also be changed whenever you want.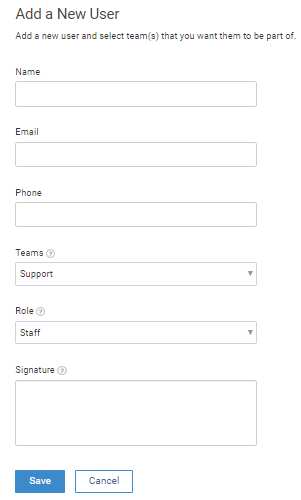 Step 3: Create Canned Responses
A canned response is a template that helps you save time and effort by sharing the same reply to common customer problems. You don't need to type the same replies again and again. With the canned response feature, your agents can type it once, save it, and reuse it for similar tickets.
To create a canned response, navigate to Settings >> Canned responses and click on the '+ New Canned Response' button. You can add a title to your canned response (for example, 'Thank you response') and select the inbox that will use this response.
Your agents can create as many canned responses as they like, the possibility is simply endless.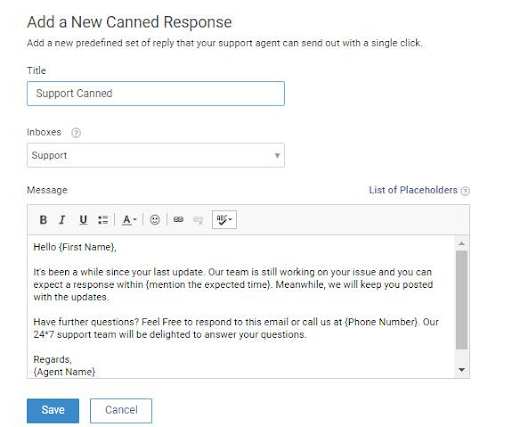 Read Also: 5 Help Desk Canned Responses for Your Customer Service Emails
Step 4: Set Up Automated Emails For Ticket Rating
Do you know what great businesses have in common? They are quick to capture customer feedback right after an issue has been addressed. With a help desk ticketing system, you can set up automated emails for ticket rating. These emails are automatically sent to a customer once a ticket has been closed and allows them to rate their support experience.

To set up an automated email for ticket rating, navigate to Settings >> Tickets Rating and enable the Status. You can also select the time period after which the survey email will be sent and draft the email as per your requirements.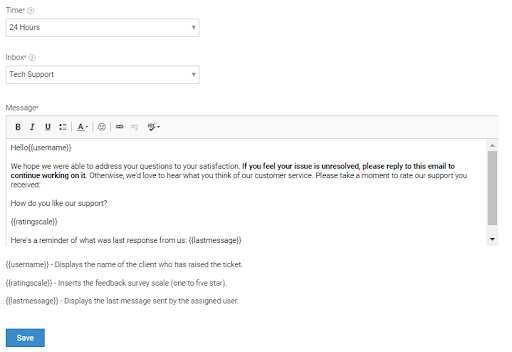 Step 5: Analyze Performance With Insightful Reports
Building a help desk setup is incomplete without measuring your overall performance. With the reporting features of a help desk, you can evaluate key metrics and gauge the overall effectiveness of your agents as well as teams.
To analyze your performance, navigate to "Reports," the "Summary reports" open up on default. You can see the number of new tickets, replied tickets, and tickets that have not been addressed yet.

Another type of report called "Rating Report" allows you access to all the rated tickets. You can see the rating customers give to your agents and examine their valuable feedback.

Well, these 5 steps were just a gist of what a help desk holds. Once you get the hang of it, you can explore more features and become a support pro.
Read More: Reduce Your Help Desk Calls in 10 Easy Ways
Help Desk Software Setup Checklist
1. Configure Customer Service Channels
Support Inboxes: Connect your multiple customer-facing email accounts such as (contact@, help@, support@, etc.) to your help desk inbox.
Self-Service Knowledge Base: Create a dedicated knowledge base for customers that hosts relevant self-help guides, FAQs, how-to videos, and more.
Live Chat: Integrate with the live chat tool and add a chat window on your website to offer real-time assistance to customers.
2. Incoming Requests
Check support request forms: Customers usually fill a simple form to register their issue with your business. Ensure the form is clear, concise, easy-to-understand, and only asks for necessary details.
Check all your inboxes: Sometimes you might be losing important customer emails due to spam settings or other reasons. Make sure you consistently check your Spam folder.
Review your 'Contact Us' page: You need to keep your contact page updated and check that correct contact information (phone number, email addresses, social media handles, etc.) is mentioned.
3. Team Management
Add Support Agents: You can add multiple users to your help desk solution and organize them based on their skills, knowledge, and technical expertise.
Add Departments: You can add your internal departments such as sales, finance, logistics, etc. such that tickets can be escalated to these departments in case the need arises.
4. Workflow Management
Create rules: You can create rules in a help desk to automate repetitive tasks and streamline your workflow. For instance, you can set automated alters and decide when automated survey emails are shared with customers.
Review roles and permissions: As we discussed, every member has different roles and permissions in a help desk. Check if they are able to access the tool based on the permissions granted to them.
5. Outgoing Support Messages
Check email best practices: Make sure every email that is shared has your logo and branding. Ensure the language is polite and friendly and your agents use the correct signatures.
Update your canned responses: Creating canned responses or saved email templates is not a one day job. You need to consistently update them for sharing faster responses.
6. Get Ready for Launch
Train Your Agents: Ensure your agents have received relevant training sessions and are well-versed with all the features of a help desk system.
Create an Internal Knowledge Base: You can create an internal knowledge base for your support agents. This will ensure they are well-equipped to offer the best solutions at the right time.
Test Your System: Before going live, you can share test emails and ask your agents to resolve them within a limited time frame.
Go Live: It's finally time to go live and resolve customer issues.
Download Help Desk Setup Checklist
Test Your Help Desk Setup
For a final help desk testing, you can begin by creating a 'sample customer email account'. Use that email account to share a couple of issues and ask your team to address them. You can test the following aspects:
Check if you receive any notification once a customer email is received.
Test if you are able to assign tickets to relevant agents or teams. Ask your team to get another department involved (such as sales or marketing) to resolve an issue.
Check if you are able to attach links to your knowledge base content (blogs, self-help guides, videos, etc.)
Check the report section and see how much time it took to share a response to the 'test emails'.
Once, you test all the nitty-gritty of a help desk and other crucial features discussed in this blog, you will be prepared to handle a huge chunk of customer issues.
Congratulations! You are now ready to offer awesome support.
The World's Simplest Help Desk Awaits You!
There was a time when entrepreneurs were intimidated by the complexity of business applications. However, there has been a massive shift since then. Aspects like simple design and easy-to-use interface are in the DNA of a well-built help desk solution.
By following the above steps you can configure your help desk and give your agents a kickstart to offer delight customer service. ProProfs Help Desk can be your customer support partner that offers a Gmail like user-interface so that resolving customer issues would seem familiar but only better.
Frequently Asked Questions
Q1. Can I set up a help desk software on my own?
Yes, you can set up your help desk on your own and that too in under 5 minutes. Watch this video to learn more.
Q2. How can I use help desk software?
To use a help desk, you need to sign up and create an account. Once you log in, you can configure your inbox, add agents, assign tickets to agents, and start resolving customer issues.
Q3. How much does a help desk cost?
Many help desk solutions offer pay-per-agent pricing plans and cost anywhere from $10 to $50/agent/month. Some help desks like ProProfs Help Desk come with a Forever Free plan and a free premium trial.
Q4. How to create a ticketing system?
A help desk software can help you automatically convert customer issues into unique tickets. All you need to do is login to your help desk account and enable email forwarding. Once that is done, every incoming customer email will be converted into a ticket and forwarded to your help desk account.
Do you want a free Help Desk?
We have the #1 Online Help Desk Software for delightful customer support