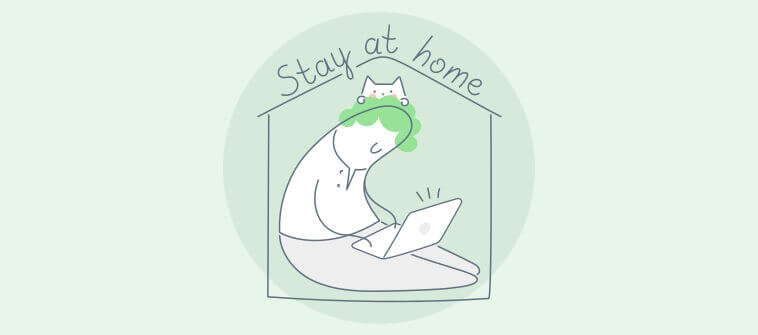 Just a couple of years ago, we were waking up early, hopping onto jam packed public transportation to reach the office, and religiously following the 9 to 5 schedule.
Fast forward to the present times and remote work has become the new normal. Employees are working in the comfort of their pyjamas, spending more time with their families, learning new skills, and yes of course, spending more time on Netflix.
Buffer's State of Remote Work 2021 highlights some intriguing statistics that reveal the rising inclination towards remote work:
Around 97.6% of employees would like to work remotely, at least some of the time, for the rest of their career.
Around 32% of professionals see the 'ability to have a flexible schedule' as one of the biggest benefits of working remotely.
97% of remote workers are willing to recommend remote work to others.
It is true that saving hours of time stuck in traffic and working next to your dog can be a pleasant experience.
But what has really enabled entrepreneurs to choose remote work over the traditional 'work from the office culture'? Well, the adoption of AI-powered remote work tools has made this dream a reality.
In this blog, we will explore 20+ remote working tools that will enable you to collaborate across the organization, communicate effectively, track work progress, and achieve superior results no matter where you work from.
Let's get started!
How to Easily Manage Remote Teams
If you are a first-timer, managing remote teams can seem like a mountain to climb. But it is one of the project manager's roles and responsibilities to make sure remote work can be a smooth process. Here are some effective tips to manage remote teams:
Set the right expectations from the start: Managers should set the right expectations for remote employees from the get-go. Every team member should have a clear understanding about their roles and responsibilities, reporting attendance and work hours, meeting schedules, project deadlines, and other important information.
Hold regular one-on-one and team meetings: The lack of real-time, face-to-face interactions can hamper the quality of communication among team members. As a result, you need to arrange regular meetings to understand employee pain points, challenges, or to simply have a casual interaction.
Leverage the right remote work tools: To prepare your team for all the unforeseen challenges of remote working, you must equip your employees with the right tools. Whether it is about collaborating across the organization, managing business spending, or tracking projects, remote work systems are a must.
Work on team bonding: It is not possible for remote teams to have casual interactions and outings. To enhance team bonding, you can arrange virtual games for them every now and then. You can also try to have a retreat once a year for fostering a strong connection among team members.
What Are the Top 5 Reasons Why Remote Working Is Growing?
More and more companies are embracing the remote work culture. But are they right in doing so? Let's look at the top reasons that make remote working an attractive option for both employers and employees:
1. Both Businesses and Employees Can Save Money
Anyone who has worked from home will tell you how they managed to save a good amount of money in a short span. After all, we all know how expenses incurred on commuting, office lunches or coffees, can all add up over time.
A study published by Global Workplace Analytics claims that remote professionals can save between $2,000-$6,500 per year.
On the other side of the spectrum, businesses can save on office rentals, furniture, electricity bills, hiring support staff, and more. In short, it's a win-win situation for all.
2. Avoid the Tiring Commute to the Office
Early morning city traffic or jammed up public transports, commuting to the office is nothing short of a nightmare for many professionals.
According to the data published by the U.S. Census Bureau, the average American commute time has increased to just over 27 minutes one way.
Remote workers can avoid tiring and expensive commutes to the office and instead kick start their day full of energy. Not only that, they can save anywhere from half an hour to an hour every single day.
3. Create the Right Work-Life Balance
Adult life is full of challenges and we all struggle to strike the perfect balance between work and our personal lives. From excelling at work to finding time for our family and friends to working on personal growth, we all have a lot on our plates.
According to a recent study, work-family conflict can contribute to $24 billion in additional expenditure.
Working from home can present you with the much-needed opportunity to achieve the right work-life balance. Depending on your type of work, you can create a flexible schedule and devote more time to your loved ones.
4. Productivity Levels Go Up and Up!
A single question has baffled most entrepreneurs – "Does remote working increase or decrease employee productivity?" Well, we have the right stats that will end this long debate.
According to a study, remote professionals work around 1.4 more days/month compared to employees who work in the office. This results in three additional weeks of work per year.
Thanks to remote working tools, teams can today work from any part of the world and get more done together. With all the time saved on commuting and short yet impactful meetings, working from home helps your team get more productive.
5. Improved Employee Health
It is true that the COVID-19 pandemic has caused a lot of uncertainty and stress among remote workers. However, that has more to do with the pandemic and lack of social interactions than remote work itself.
In a study conducted by Owl Labs, full-time remote employees said they are happy with their jobs 22% more than people who have never worked remotely.
When done right, remote workers can easily find time for exercise, go for a run, practice yoga, or learn a new skill. Additionally, home-cooked meals can lead to a healthier lifestyle.
What Is a Remote Working Software?
Remote working software refers to a business application that allows remote workers to operate from any part of the world. Team members can collaborate on projects, discuss ideas, hold virtual meetings, track work, communicate with customers, and a lot more using the right remote working tool.
The top remote work tools can be accessed anytime, anywhere, and do not cost a fortune. Depending on the nature of your business and the size of your team, you can choose the plan that best matches your needs. It is only because of remote work tools that companies are able to reduce costs, enhance productivity, and maximize profits even in a pandemic-affected economy.
20+ Remote Working Tools You Must Consider in 2021
For remote workers, project management tools are not enough. You will need different tools for scheduling meetings, video conferencing, storing data on the cloud, and assisting customers.
Here are some of the best remote working tools for teams that you can start using right away. Let's dive in, shall we?
Collaboration & Project Management
Real-time collaboration is one of those areas that remote teams often struggle with. The good news is – right from communication to project management, remote work tools can offer an abundance of functionalities. Here are some industry-leading project management tools that can help your team collaborate from any part of the world: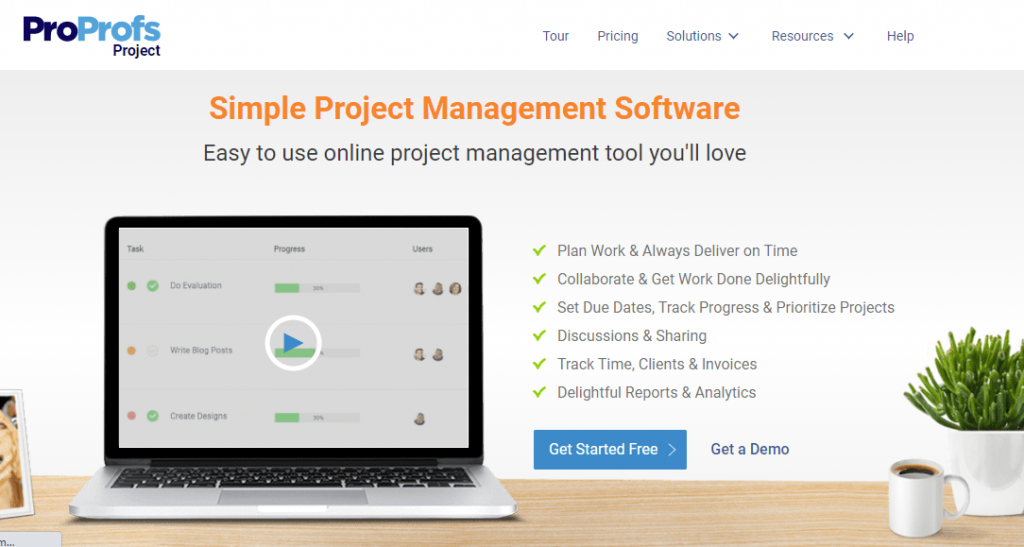 ProProfs Project is an easy-to-use project management software that allows you to keep both in-house and remote teams on the same page. You can plan your projects, create teams, allocate tasks, track progress, and see who is working on what – all from a shared dashboard.
Task comments or @mentions make working with remote teams as effortless as possible. By tagging team members to projects or tasks, you can share ideas, discuss covered milestones, or simply ask questions without the need for messy email threads. Project view options such as Gantt Charts, Kanban Board, Calendar view, etc. helps you stay on top of every single project.
Some top features of ProProfs Project are:
Prioritize projects with drag-and-drop functionality
Track time spent by each team member using timesheets
Calculate billable hours and generate invoices
Track progress and generate presentation-ready reports
Manage your projects with user-friendly mobile apps
Price: Starts at $2/user/month. You can try any plan free for the first 15 days.

ProofHub is again one of the top tools for working remotely and collaborating across departments from any part of the world. Project managers can easily assign tasks to individuals or teams and prioritize important tasks with deadlines, time estimates, or labels.
ProofHub allows you to start one-on-one or group chats with team members or clients. You even get a dedicated space to make announcements and recognize team achievements. With the help of daily, weekly, and monthly reports, you can get details of tasks and milestones completed in a project.
Some top features of ProofHub are:
Select from over 6+ languages for your interface
Get real-time in-app, desktop, mobile, and email notifications
Stay on track by setting up a daily agenda email
Visualize team capacity and assign work according to the team workload
Capture project-related queries with the help of request forms
Price: ProofHub offers a flat pricing instead of pay-per-user fees. The paid plans start at $45/month.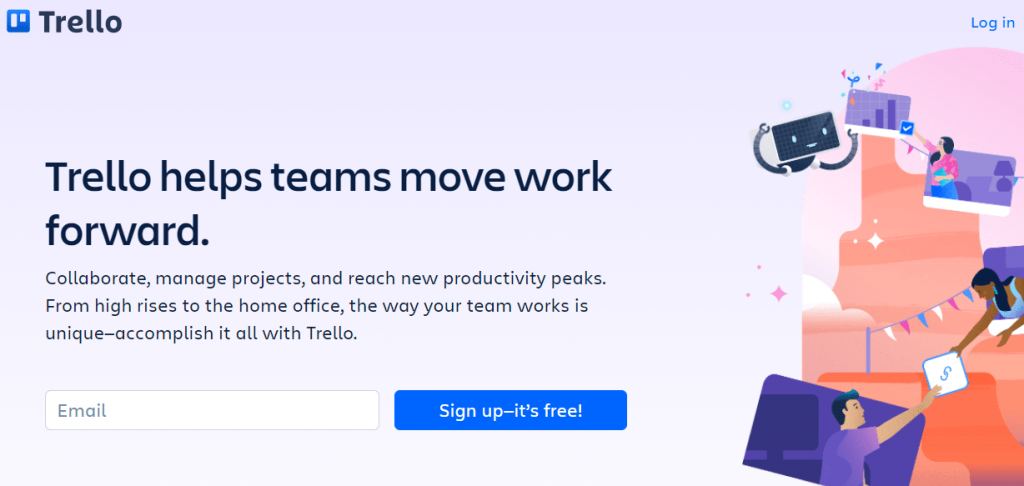 Trello is one of the most popular collaboration tools for remote teams that can help you manage projects, organize tasks, and keep your team's work well organized. You can use Trello cards to manage, track, and share tasks with your teammates. You can open any card to view due dates, attachments, conversations, and more.
Trello offers a built-in automation tool called Butler that can help you reduce the number of manual clicks on your project board by automating project workflows. You can even use Custom Fields to add additional information like costs, time estimates, mobile numbers, and more to cards.
Some top features of Trello are:
Share comments on cards to give feedback or updates with team members
Add Checklists to cards to make sure nothing falls through the cracks
Use the Trello chrome extension to avoid toggling between browsers
Know your team members better using the Team Directory
Add attachments from your computer or cloud storage services such as Dropbox, Google Drive, or OneDrive
Price: You can get started with Trello for free (up to 10 boards). If your team needs to track multiple projects, you can go for their paid plans starting at $10/user/month.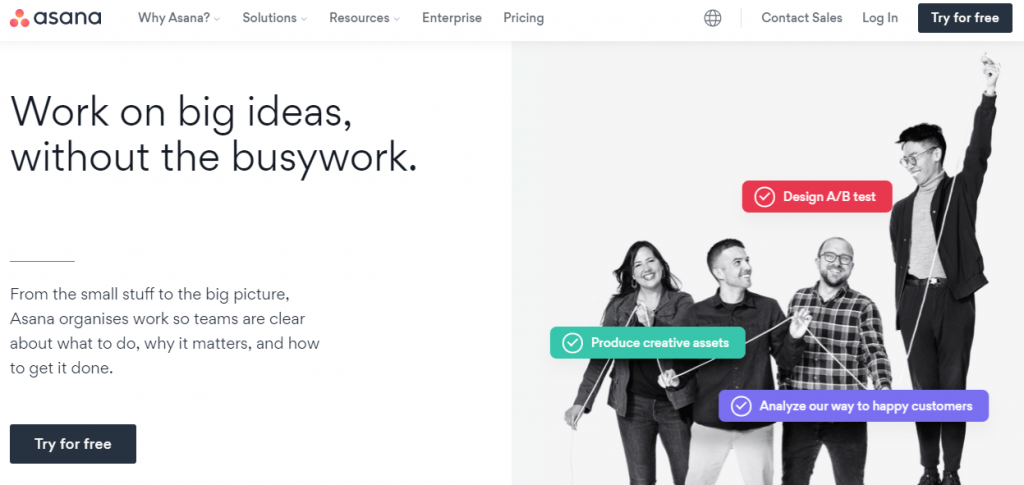 Asana is also one of the best tools for remote teams that allows you to bring your team's work together in one shared space. In order to automate common tasks and reduce human errors, you can create custom rules for automating repetitive tasks such as assigning work, setting due dates, and more.
In addition to team collaboration, Asana takes customization to a whole different level. For instance, you can choose from over 50+ project templates, fine-tune them to match the way you work and make handling projects a fun experience for everyone.
Some top features of Asana are:
Use Boards to keep your work more organized and transparent
Create a to-do list to capture every step of project work or processes in one place
Attach files to any task from your computer, Dropbox, Box, or Google Drive
Use easy-to-fill forms to share work requests in a formal manner
Sync tasks across multiple projects to avoid duplicating efforts
Price: Asana offers a free plan for individuals or teams just getting started with project management. If your business demands more features, you can opt for their Premium or Business plan starting at $10.99/user/month.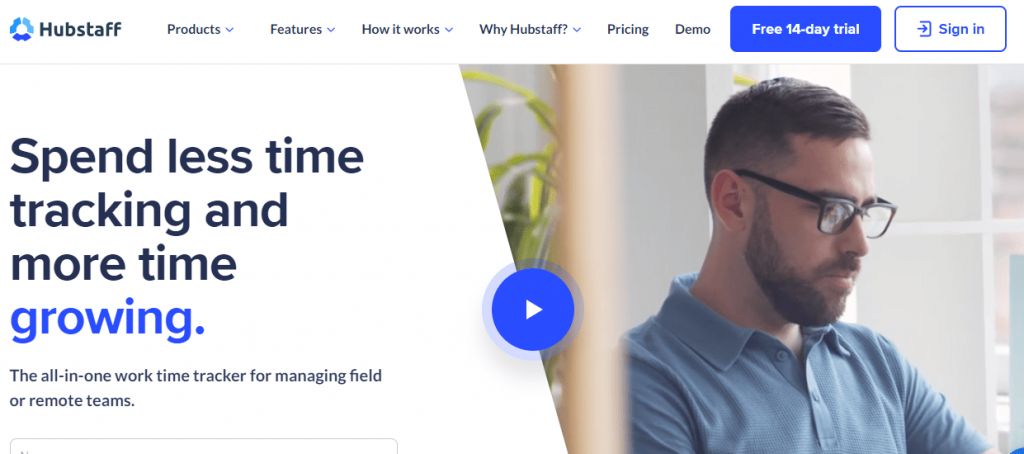 Hubstaff is an all-in-one work time tracking software that helps you manage field or remote teams with ease. The tool is available in the form of powerful yet lightweight apps for desktop, web, mobile, and Chrome and helps enhance team productivity as well as accountability.
Hubstaff makes it easier for project managers to keep a tab on their team's work and productivity. You can see what sites and apps your team members are using and use Activity Reports to spot who is struggling or needs help. In addition to this, you can even track expenses and set time limits for teams.
Some top features of Hubstaff are:
See who is working when and where with GPS time tracking
Get push notifications for no-shows or when projects go over-budget
Use online timesheets to keep track of employee hours
Build project budgets based on hours, bill rate, or pay rates
Sync timesheets with payroll for a faster and transparent payment process
Price: Hubstaff offers a forever free plan (limited features) for a single user. For more payments and integrations options, you can go for their paid plans starting at $7/user/month.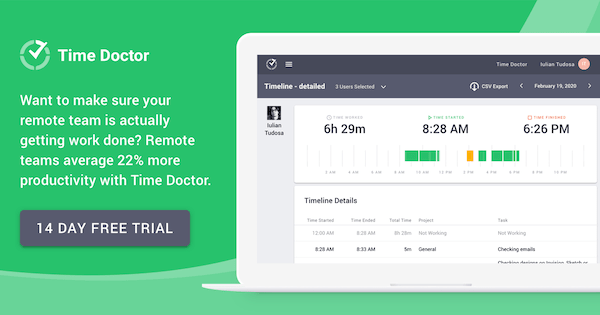 TimeDoctor is an effective tool to track your remote work productivity and keep your employees off unproductive websites or apps. Managers or supervisors can view at a glance who is working and who is slacking off and use pop-ups to alert employees for the same.
TimeDoctor can automatically take screenshots of your team member's monitors at specific intervals. Managers can receive daily or weekly reports to better understand hours, website, and application usage. In fact, employees can view their own time usage stats to quickly self-correct time-wasting behavior.
Some top features of TimeDoctor are:
Track breaks and time spent away from the computer
Approve timesheets and pay employees accordingly
Get alerts for excessive time spent on social media or non-work related sites
Track your progress even when you are offline
Compatible with all devices and supports Windows, Mac, Linux, Android, iOS
Price: TimeDoctor plans start at $7/user/month and goes up to $20/user/month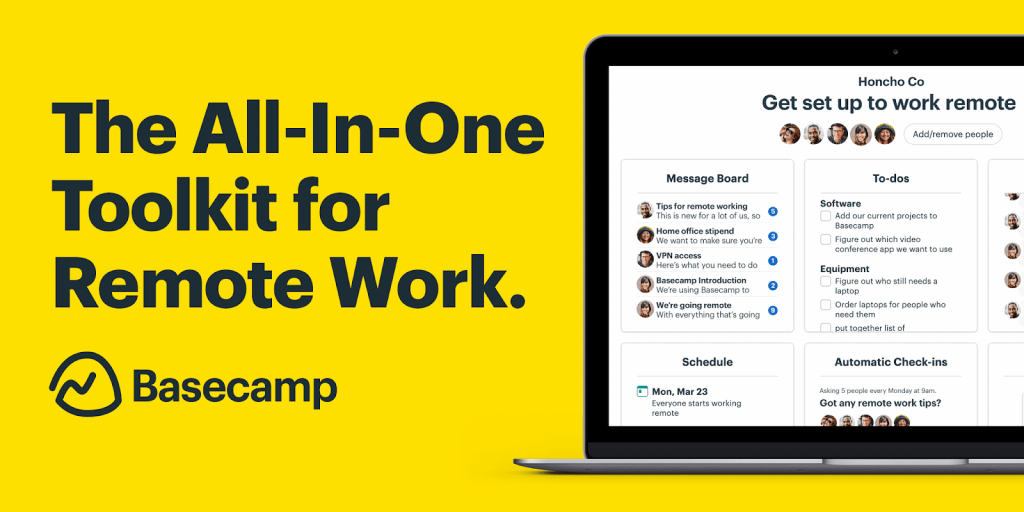 BaseCamp is an all-in-one software for working remotely. Project managers or team members can access Basecamp from anywhere – on the web, on iOS, and on Android. With the group chat feature, you can chat casually with group members, ask random questions, and foster an amusing remote work environment.
As one of the top tools for remote teams, BaseCamp can be used to share docs, files, images, or spreadsheets. You can even arrange your files in folders so they are easy to find. Moreover, by creating automatic check-ins or recurring questions, you no longer need to pester your team about what's going on.
Some top features of BaseCamp are:
Create to-do lists and assign tasks to team members
Use the Message Board to keep conversations about a specific topic on a single page
@mention team members to get their attention
You can choose to share to-dos, messages, and more with clients
Track your project's progress over time with history snapshots
Price: BaseCamp does not charge you based on how many users you add. Instead, you need to pay a flat price of $99/month.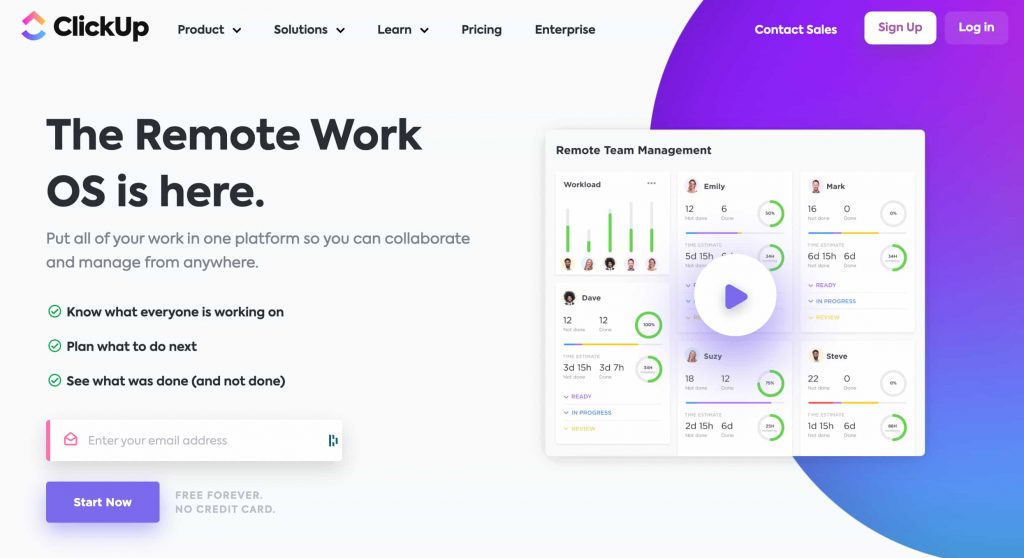 ClickUp is an all-in-one project management platform that is ideal for managing remote or hybrid teams. It offers a host of features that bring visibility to ongoing projects and track asynchronous work.
Offering a variety of views, ClickUp helps your team members visualize their work in a way that best suits their workflow. With assigned tasks and comments, it is easy to divvy out work to teammates – even if they are offline – and ensure nothing slips through the cracks. With Profiles, ClickUp also lets you see what your team is currently working on with a single click.
Some top features of ClickUp are:
Plan out projects with customizable views, including Gantt, Kanban, and Calendar
Assign tasks and comments to your team
Work across time zones with built-in time tracking
Set up recurring tasks for regular meetings
Build out custom forms for internal or external requests
Add a Doc anywhere to keep your team on the same page
Price: ClickUp offers a Free Forever plan as well as paid plans which start at $5/user/month.
Help Desk Software for Customer Support
With customer expectations at an all-time high, remote customer service teams need the right tools in their arsenal. Cloud-based help desk software can help you manage customer issues and requests from any part of the world. Here are the top 3 help desk software that your customer service team should consider: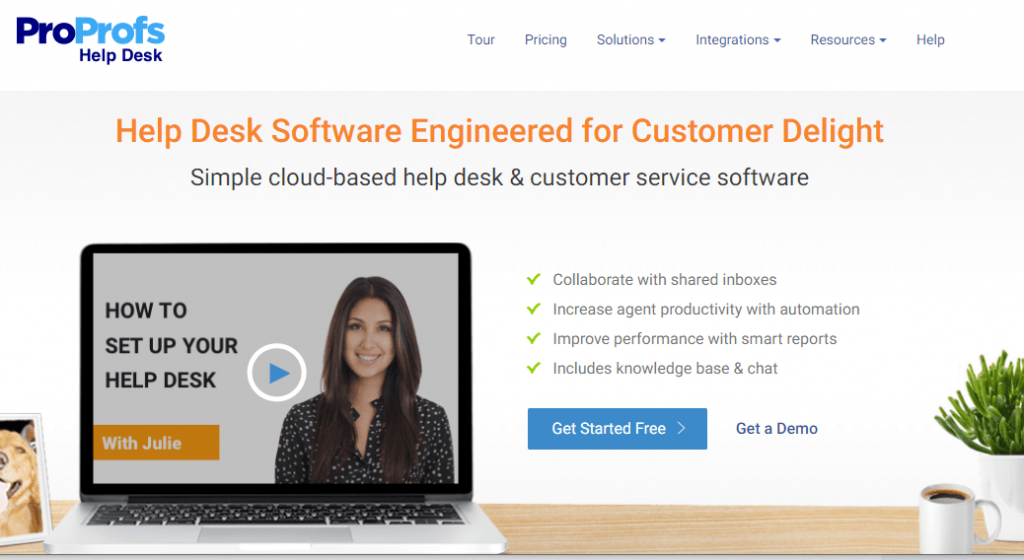 ProProfs Help Desk is undoubtedly one of the best remote customer service tools. The tool comes with a simple Gmail-like user interface and therefore, your team will not need any additional training sessions. Features such as shared inbox, ticket prioritization, knowledge base, canned responses, chatbots, agent collision detection, etc. make this a must-have remote customer service tool.
Moreover, ProProfs comes as a complete customer support suite that includes a powerful ticketing system, live chat, knowledge base, customer surveys, and more. A single software is all you need to rise above your customer service obstacles and challenges.
Some top features of ProProfs Help Desk are:
Assign tickets to relevant agents with automated ticket routing
Manage all email conversations using shared inboxes
Reduce ticket volume by building an extensive online help center
Share CSAT & NPS surveys to gauge customer satisfaction and loyalty
Monitor agent performance and analyze rated tickets
Price: ProProfs Help Desk offers a forever free plan for small service teams. To unlock more features, you need to opt for their pay-per-agent plans starting at $20/agent/month (billed annually).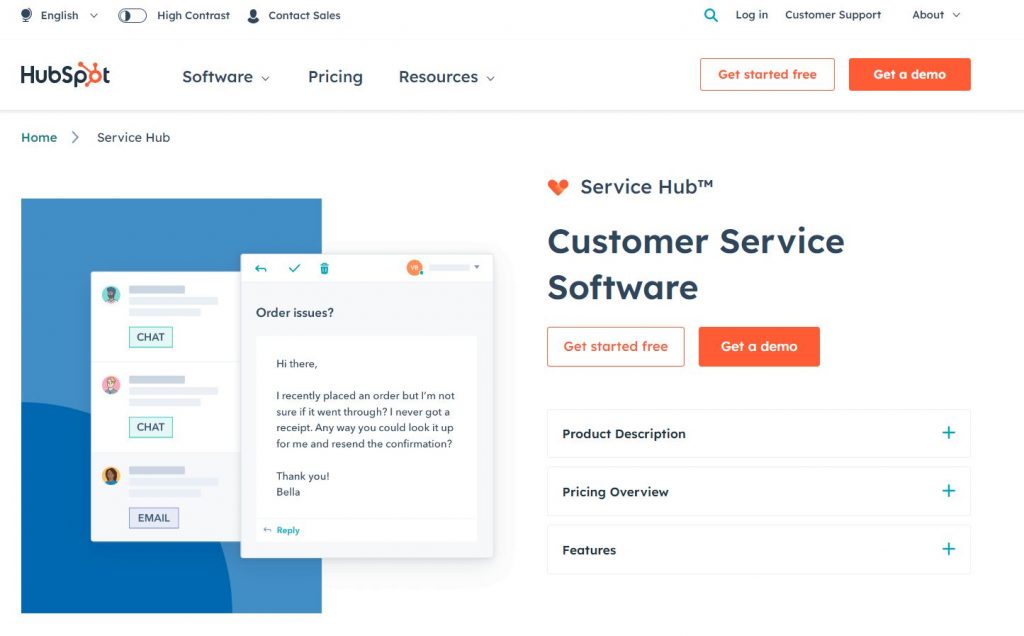 HubSpot's Service Hub centralizes your business's customer service and ticketing system to one convenient dashboard. Service professionals can see communications across every communication channel to seamlessly provide the highest level of customer service. Because Service Hub also connects to HubSpot's CRM, your team can access extensive customer relationship data to inform their communication.
The software also offers a customer self-service hub that can route common customer inquiries to your knowledge base, reducing the load on your customer service team. In addition, Service Hub also lets you create playbooks that act as guides for your customer service team, improving and standardizing your customer service.
Customer service leaders can use individualized customer service rep analytics to track productivity and find areas for further coaching. That includes AI-enhanced customer voice data that brings forward common frustrations and identifies performance patterns with each service rep.
Some top features of HubSpot Service Hub are:
Help desk ticketing and routing
Service analytics on wait time, rep productivity, and more
Secure customer-facing portal
Chat linked to knowledge base support
Connect through live chat, VoIP calling, and email
Price: HubSpot Service Hub offers a free plan with core features. Premium plans start at $45/month when billed annually.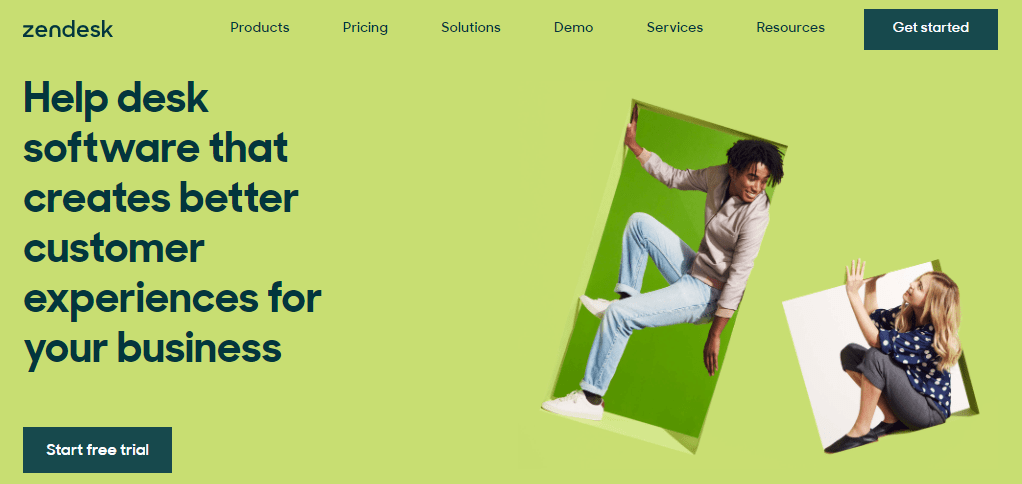 Zendesk's ticketing system is another remote software that can work great for your support team. The tool displays all customer service interactions in one interface for an efficient workflow. Support agents can collect customer requests and queries from almost any channel and leverage the customer ticket history to respond quickly with the right context.
With Zendesk, you can make the most of your knowledge pool. For instance, you can build a robust self-service portal, online community, and customer portal. While your agents interact with high-value customers, other prospects or users with their basic queries can be directed to self-help blogs and FAQs.
Some top features of Zendesk are:
Assist customers 24×7 on multiple channels
Leverage customer context to offer personalized support experiences
Saves your team's time with powerful automation
Easily integrate with other powerful business tools
Offer support from any part of the world with native Android and iOS apps
Price: Zendesk plans start at $49/agent/month.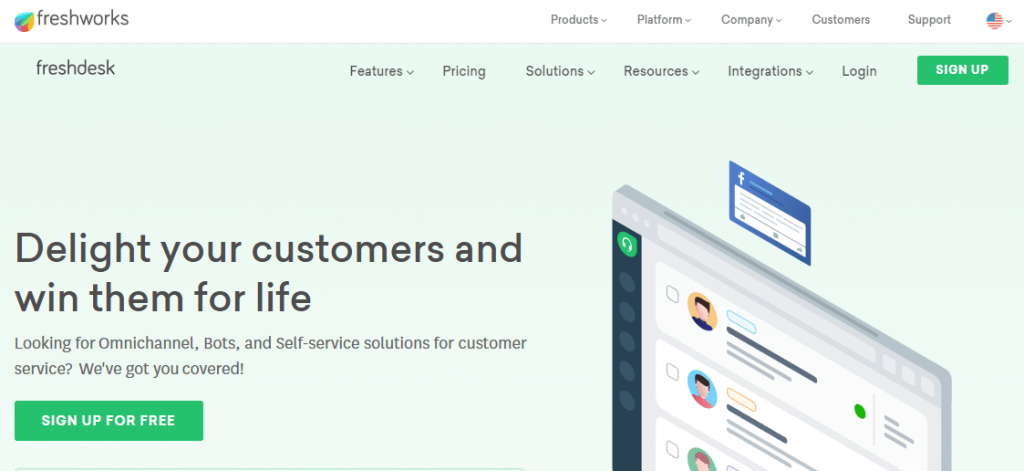 Freshdesk is one of the most popular tools for working remotely. Using this tool, organizations can broaden their reach through multi-channel support, manage day-to-day customer service operations using automation tools, enhance productivity through gamification, and delight customers with fast responses.
Moreover, Freshdesk's multi-channel support features ensure that your reps no longer have to rely on different tools to support customers. One tool is all they need for effective team collaboration, ticket management, and to ensure a huge chunk of support tickets can be resolved in an effortless manner.
Some top features of Freshdesk are:
Manage tickets from different channels using the Team Inbox
Interact with customers in real-time via live chat
Ensure tickets are resolved well in time with SLA management
Keep customer data safe with state-of-the-art data security
Link related tickets together for faster resolution
Price: Freshdesk offers a free plan (limited features) for unlimited agents. Paid plans start at $15/user/month.
Visualization Tools
Employees are required to create presentations, social media posts, product catalogs, and more. Thanks to visualization tools, you do not need to hire a separate design team. Here some important remote tools that can help you create visually engaging content: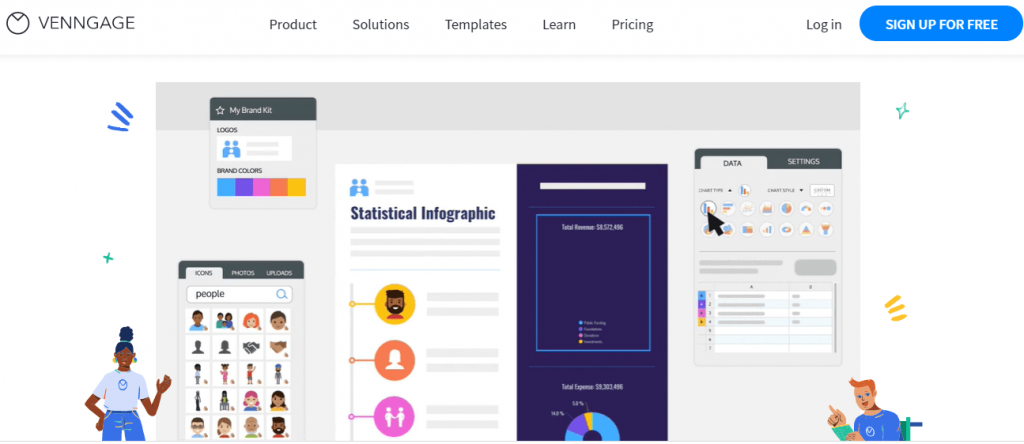 Venngage helps your team create better infographics, presentations, flyers, banners, etc. with the help of incredibly easy-to-use tools. In fact, your team can save up to 20+ hours of designing with the help of pre-designed infographic templates.
With the help of in-editor collaboration, you can edit infographics and presentations in real-time with your teammates. Moreover, you can pick from thousands of high-quality stock photography with the Unsplash integration (free).
Some top features of Venngage are:
Choose from over 7500+ pre-made infographic templates or create your own.
Drag and drop icons, photos, and text into your infographic
Easily download or share your infographic with relevant people
Stay organized and effective with team folders and subfolders
Import your data directly from CSV or Google Sheets and create attractive reports
Price: Venngage offers a free version with limited features. The paid plans start at $19/user/month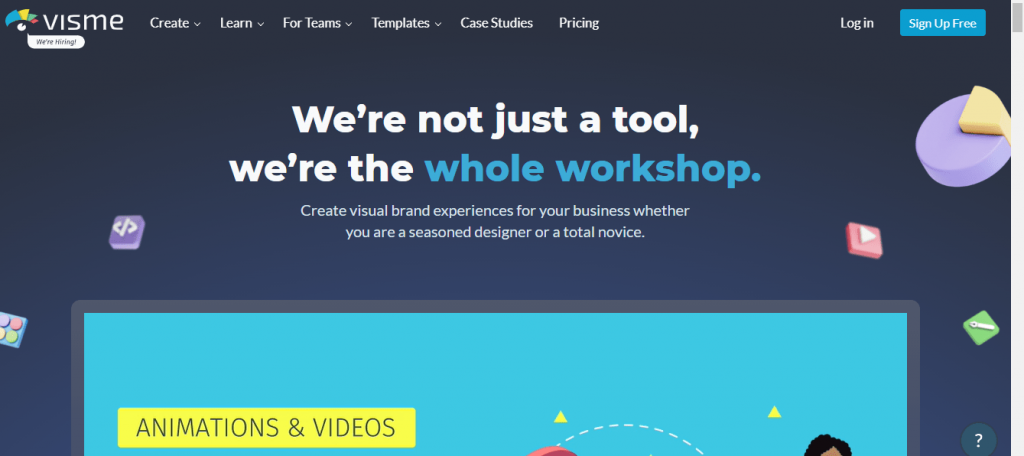 Whether you are gearing up for an investor meeting or sales pitch, Visme helps you stay on top of every interaction by creating highly engaging and impactful presentations. You can turn in-depth data figures or complex information into easy-to-understand and attractive infographics.
With Visme, your team can create breathtaking content for social media and enhance your brand's presence. You can even tell the story of your brand by creating short videos, animations and sharing them on your website, YouTube, or other platforms.
Some top features of Visme are:
Create presentations using a drag and drop interface
Use custom animations to create unique video content
Easily import and export powerpoint presentations, videos, images, etc.
Create posts for Facebook, Twitter, Pinterest, Instagram, and YouTube
Keep your infographics private or password protected
Price: Visme can be used for free for up to 5 projects. The standard plan starts at $15/month (for up to 15 projects).
Meeting Scheduling
The process of scheduling meetings can prove to be time-consuming and hamper productivity. Let's look at some meeting scheduler apps that can help you to conveniently schedule meetings from any location: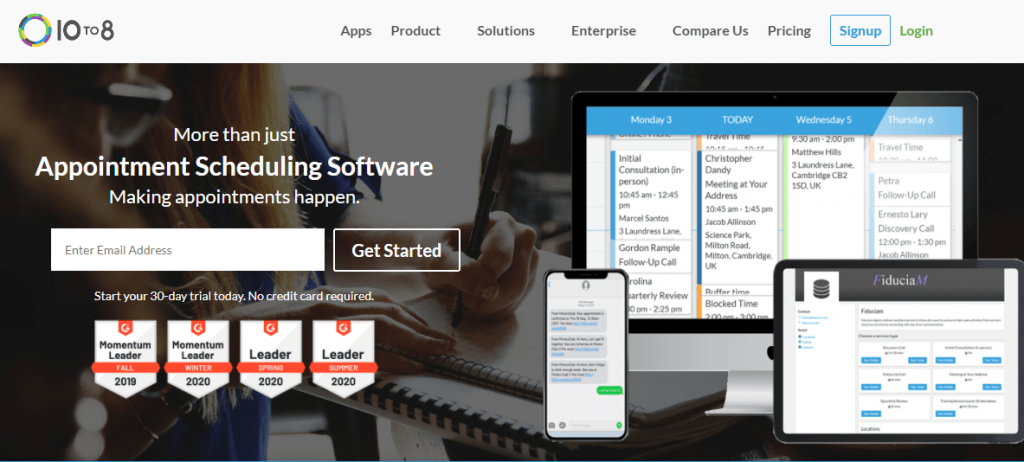 10to8 is one of the leading meeting scheduling software that can prove to be a blessing for any remote team. You can create an online booking page with consistent branding and allow customers to schedule and manage their appointments in easy steps.
You can significantly increase the client show-up rate and encourage them to be on time with the help of automated booking reminders shared via SMS, email, or voice calls. You can easily integrate the tool with iCal, Office 365, Outlook, Salesforce, Zoom video conferencing, and other tools.
Some top features of 10to8 are:
Allow clients to book, cancel, or reschedule appointments online 24×7
Track attendance, no shows, and more in real-time
Use live chat to follow up with customers or provide additional information
Collect payments during bookings with PayPal and Stripe
Take bookings from your Facebook page with the 'Book Now' button
Price: 10to8 offers a forever free plan allowing you to book up to 100 appointments per month. For more features, you will have to pay $9.6/month and so forth depending on your needs.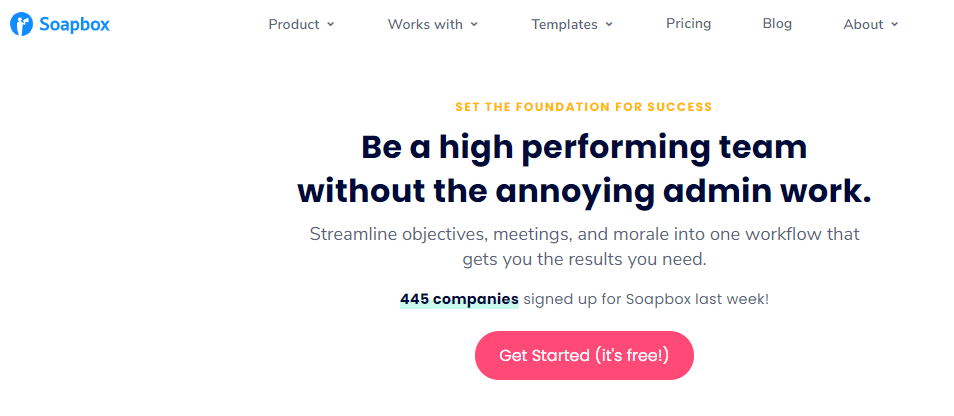 SoapBox offers remote working teams the right platform to collaborate on shared agendas, take notes, share feedback, plan the next steps, and run better meetings. You can collaboratively set measurable goals for each team member and foster the right culture of goal-setting and ownership.
SoapBox does a great job of recommending questions or resources based on the topics that your team fails to discuss during meetings. Moreover, you can effortlessly schedule one-on-one or team meetings with the tools you are already using such as Slack, Microsoft Teams, Google Calendar, and more.
Some top features of SoapBox are:
Create customizable meeting agendas and share them with your team members
Share post-meeting surveys to measure meeting effectiveness
Take meeting notes right within your agenda and automatically share them with all participants
Leverage conversational analytics for more meaningful conversations
Stay updated about meetings with the SoapBox Google Chrome extension
Price: SoapBox offers a forever-free plan for unlimited one-to-one and team meetings. However, for AI-powered conversation insights and reporting features, you need to pay $5.60/person/month and so forth.
Cloud Storage & Document Management
With the help of rapid digitization, companies are looking to reduce their paper-based work and access essential documents on the move. Here are some of the top cloud storage and document management tools for streamlined operations: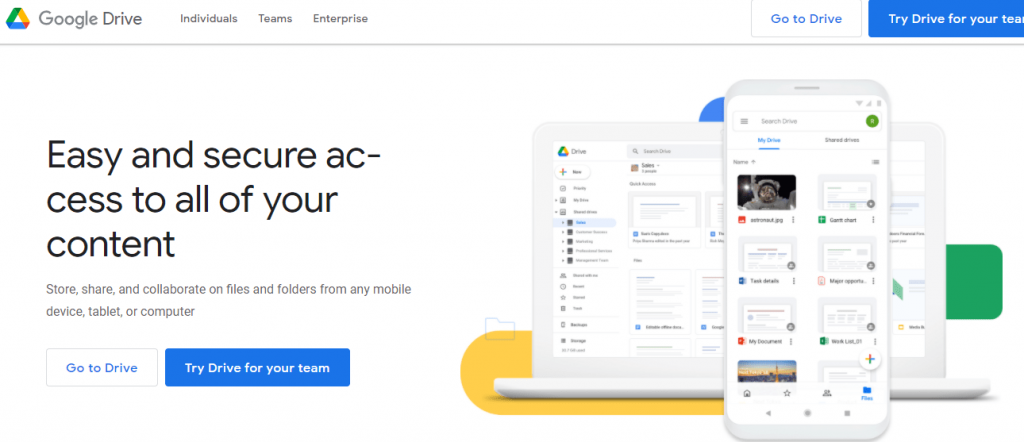 When we talk about the best technology for working remotely, we simply cannot ignore Google that has set the bar high in innovation. A great example is Google Drive, a popular file storage and synchronization tool that allows you to store, access, share, and collaborate on files from any part of the world.
Google Drive seamlessly integrates with Docs, Slides, Sheets, and other cloud-native apps that allow your team to work together in real-time. Moreover, Google's AI and search technology can predict what you're searching for and helps you locate your files faster.
Some top features of Google Drive are:
Prevent team members from sharing sensitive content with people outside of your team
Offline Access allows you to use your files even when you don't have access to the internet
Includes cloud-native apps such as Docs, Slides, and Sheets
Get up to 30 GB of free storage and scale as per your needs
Store files in the shared drive to give access to multiple team members
Price: Google Drive offers up to 30 GB of free storage. Paid plans start at $1.99/month (100 GB storage).

Xtensio offers an intuitive platform for teams to create, share, and manage documents, presentations, and business content. Whether it is about creating reports or sales presentations, your team members can collaborate to add images, videos, tables, charts, graphs, and more.
With Xtensio, you can create business documents that are not only attractive but are consistent with the style and philosophy of your brand. In fact, instead of email attachments, you can share a digital slideshow or a web link that adapts to multiple devices.
Some top features of Xtensio are:
Create, save, and reuse document templates to save time
Use channels to track topics, clients, or projects
Control who sees what and keep your team accountable
Easily revert to previous versions if a mistake is made
Monitor your team's progress with weekly insights and stats
Price: Xtensio offers a free plan limited to a single Folio (project). The paid plans start at $10/user/month.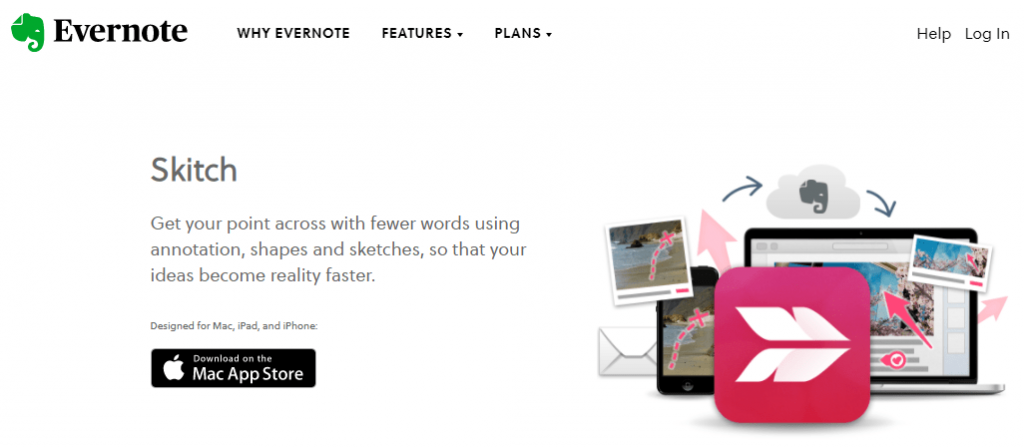 One of the biggest challenges of remote working is communicating creative ideas. To take on this challenge, Evernote introduced its compelling product called Skitch. With the help of this tool, users can get all the tools they need to visually communicate ideas, share feedback, and collaborate with co-workers.
For instance, you can upload an existing image or capture a new one, add shapes, arrows, or write your ideas with a pen. Once you have captured your ideas, you can share the final image with others to complete your projects in a fun way.
Some top features of Skitch are:
Mark up maps, screen captures, or images
Use the Arrow tool to bring attention to a particular part of an image
Easily add emoticons to images or PDF files
Intelligent tooltips help you learn better ways to use Skitch
Available only for Mac, iPhone, and iPad
Price: Skitch is available for free on the Apple app store
Video Calls & Conferences
Video conferencing tools are witnessing huge demand. In fact, the value of the global video conferencing market in 2021 is estimated to reach $6.03 billion. From one-on-one meetings to large conferences, here are some top remote conferencing tools that can get the job done for you: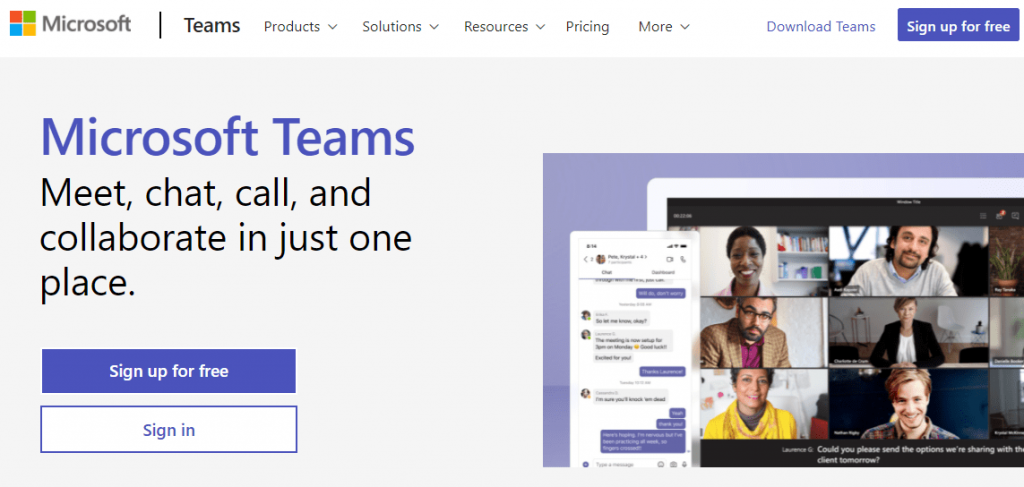 Microsoft Teams is a popular group chat and video communications platform that allows users to share documents, conduct online meetings, chat with team members and edit files in a collaborative manner.
Team members can easily make and receive calls directly in Microsoft Teams. In addition to this, advanced calling features such as group calling, cloud voicemail, and call transfers, give this tool a place above the rest. With the help of the Microsoft 365 phone system, you can make and receive PSTN phone calls (this requires additional licensing).
Some top features of Microsoft Teams are:
Host audio or video conference calls from any part of the world
Create custom greetings for callers waiting on hold
Easily add colleagues to turn a one-on-one call into a group video call.
Access voicemail messages and transcriptions from any device
Hold interactive virtual events and webinars for up to 1,000 attendees
Price: Microsoft Teams offers a free plan. More advanced plans start at $5/user/month.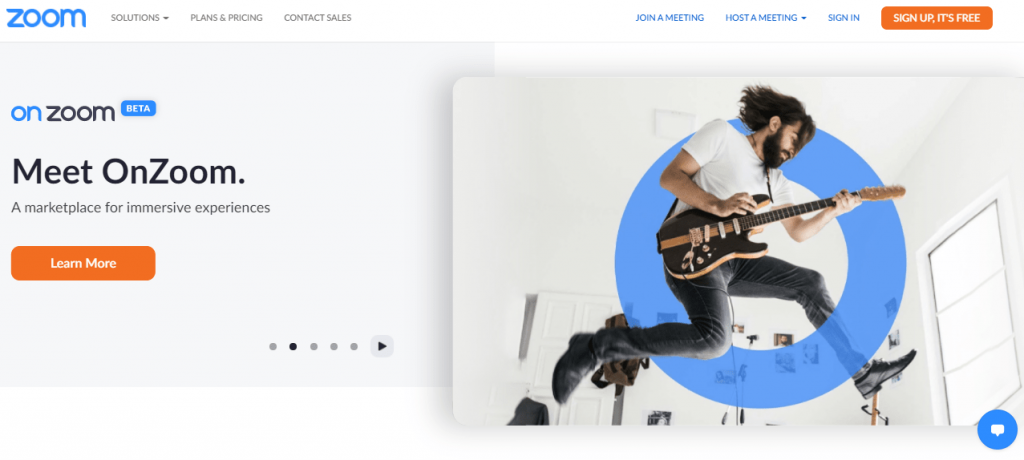 Unless you have been living under a rock or in outer space, you must have heard about Zoom. The video conferencing tool garnered a lot of popularity when teams went remote following the COVID-19 pandemic. The tool can be used to conduct meetings with up to 1000 participants (with the Large Meetings add-on)
Users can use Zoom's Virtual Background feature to modify their background, eliminate distractions, or simply highlight their brand. Moreover, with the Waiting Room feature, you can ensure you are aware of who comes into your meetings before you enable participants to join a meeting.
Some top features of Zoom are:
Use the Zoom Cloud to store, stream, and download video recordings
Connect directly with support engineers to diagnose problems via phone, chat, or email
Enjoy unlimited one-on-one meetings
Change your virtual background to match the mood of the meeting
Allow multiple people to share their screens at the same time
Price: Zoom also offers a free plan for hosting up to 40 minutes of meeting with up to 100 participants. Paid plans start at $14.99/year/license.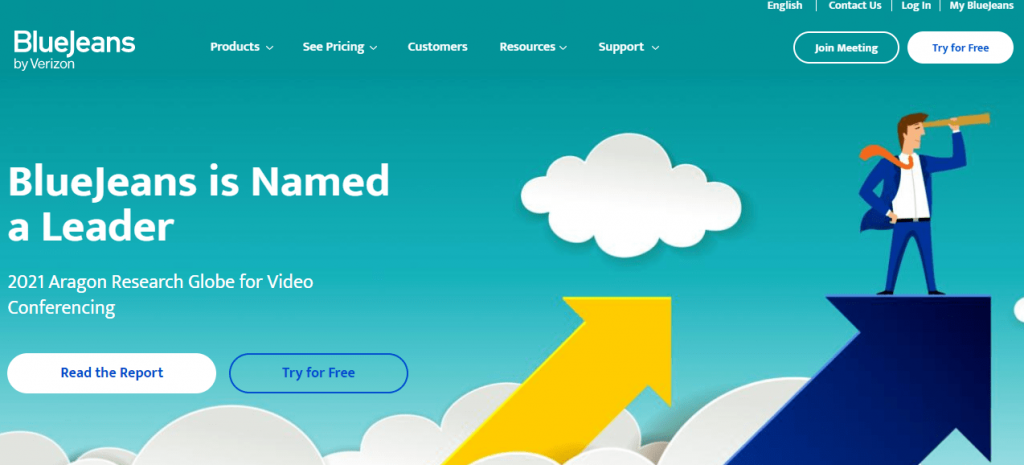 BlueJeans is a cloud-based video conferencing tool that allows you to securely hold live video calls, conference calls, webinars, and online meetings. With the enhanced Gallery View, you can display up to 25 meeting participants on the screen to make the meeting experience more inclusive.
Unlike many other video conferencing tools available in the market, BlueJeans keeps your meetings safe with enterprise-grade security. Meeting hosts can protect end-user privacy, avoid malicious attacks on the organization, and offer a safe platform for everyone that joins a virtual meeting.
Some top features of BlueJeans are:
Experience meetings with HD video and Dolby Voice audio
Simply blur your existing backdrop or choose a virtual background
Brainstorm ideas with tools like screen sharing, annotation, and digital whiteboard
Engage customers and prospects with marketing webinars
Enjoy a consistent experience across all devices
Price: BlueJeans starts at $9.99/host/month.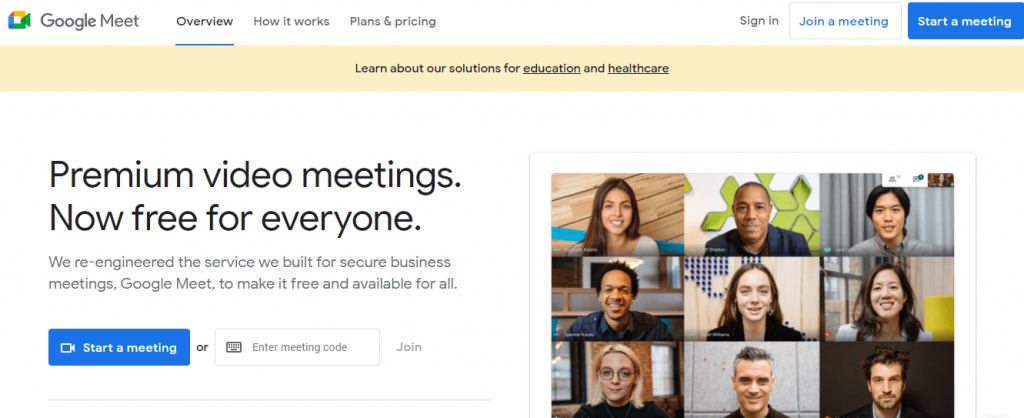 Google Meet is another popular video conferencing tool that is used by millions of people to connect with each other. The interface is very simple to use – as soon as you click on the 'New Meeting' icon, a new meeting link is generated which can be shared with the participants.
With Google Meet, users can control the camera, microphone, and other accessibility features using keyboard shortcuts. Moreover, to make meetings more engaging and interactive, you can share chat messages, files, or links in real-time without interrupting or pausing the meeting.
Some top features of Google Meet are:
Join a meeting from any device – desktop, mobile, tablet, etc.
Share your entire screen or an application window with participants
Adjust your camera or mic before you enter the meeting
Leverage automated live captions powered by Google's speech recognition technology
Easily integrate with other Google or Microsoft Office applications
Price: Google Meet offers a free plan to hold meetings with up to 100 participants. Paid plans start at $8/active user/month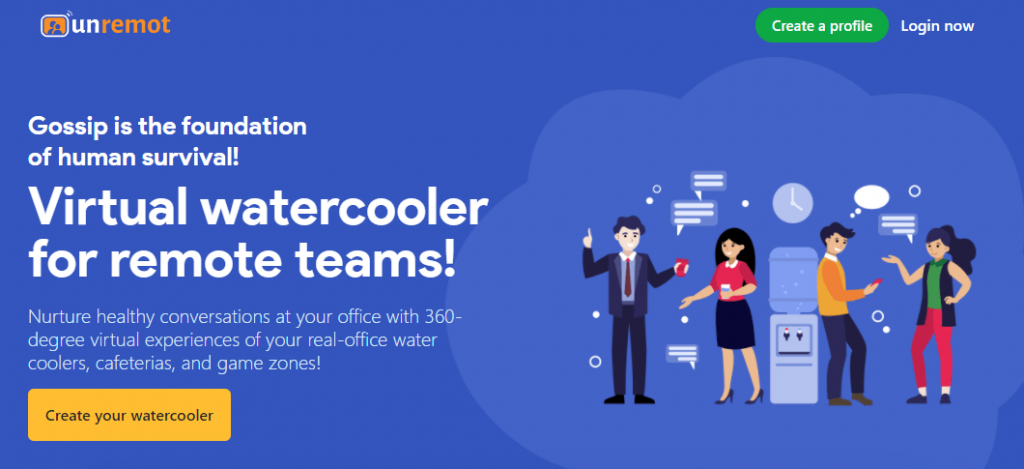 If you thought watercooler conversations were unproductive, it's time to think again. UnRemot offers an interesting platform for remote teams to virtually experience watercooler, cafeteria, or game zone interactions.
With the help of this remote work software, you can set up virtual watercooler corners, pick a custom environment, as well as visuals. Allow your employees to relax and engage in meaningful social conversations and gossip. The best part is that you can set up your watercooler in less than 60 seconds.
Some top features of UnRemot are:
Start one-to-one videos in a single click
Embibe a strong sense of belongingness and team bonding
Easily customize your virtual leisure spaces and corners
Create virtual game zones for your team to relax
Easy integration with mail, calendar, and other project management tools
Price: Starts at $30/month for up to 30 members.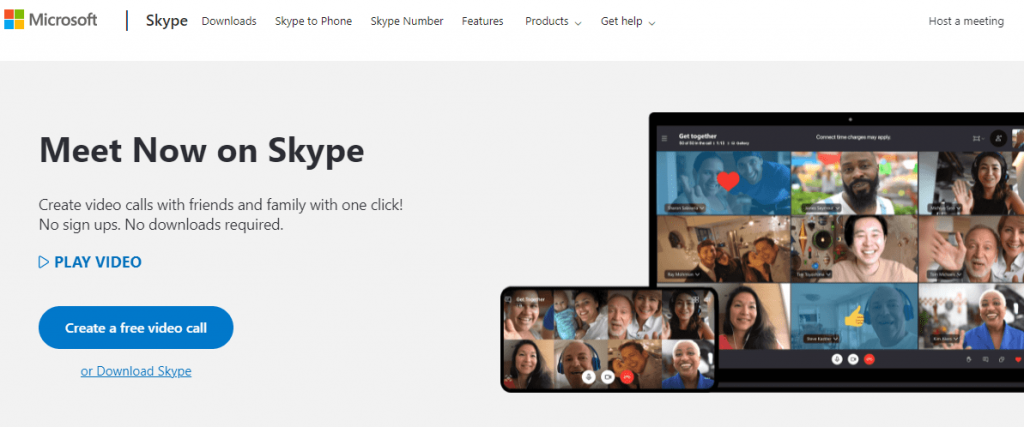 Skype is another leading video communication tool that allows you to experience HD one to one or group video calling from any part of the world. You can even use this tool to call landlines and mobiles at extremely low rates.
An incredible feature called Live Subtitles allows you to read the words that are spoken during an audio or video call. Moreover, Skype makes it easier for team members to share anything from sales presentations to holiday photos during a group call.
Some top features of Skype are:
Experience crystal clear audio and HD video calls
Record important meetings with colleagues and access them anytime
Use @mentions to grab someone's attention in live messaging
Keep sensitive conversations private with end to end encryption
Get a local phone number in 25 countries/regions
Price: Skype offers a free plan. The paid plans start at $5/user/month. You can choose from their different subscriptions (monthly calling plans) to make local or international phone/landline calls.
Remote Work Tools for Quick Chats With Colleagues
Sometimes, your team does not need heavy collaboration platforms for having quick chats. Instead, they can use simple messaging apps to communicate with colleagues about work or have informal discussions.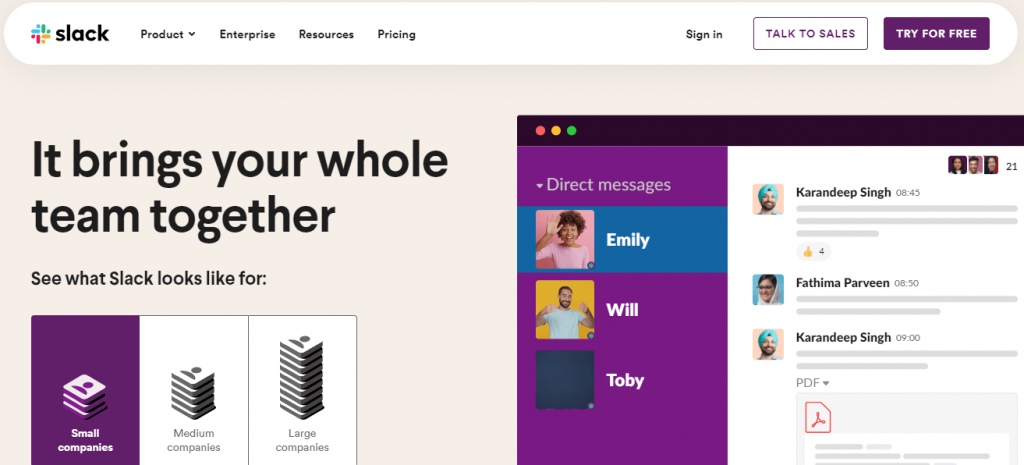 Over the last couple of years, Slack has emerged as one of the top tools for remote teams. With the help of group team chat, remote employees across different locations can quickly reach each other – either individually or in organized groups. Employees can get important updates, hold discussions, and take action – all without switching tabs.
With Slack Connect, you can easily collaborate with teams at other companies to discuss ideas and work on projects together. Moreover, to make the most of Slack, you can even connect it with Google Drive, Office 365, and 2,200 more remote work tools.
Some top features of Slack are:
Organize channels by department, client, projects, etc.
All public and private conversations are auto-saved and can be referred to at any time
Easily share your screen during video conference calls
Use Slack app for mobile to stay connected while on the move
Integrate Slack with Gmail, Google Drive, Salesforce, Dropbox, etc.
Price: Slack is free for small teams and offers access to 10,000 recent messages. Paid plans start at $2.67/active user/month.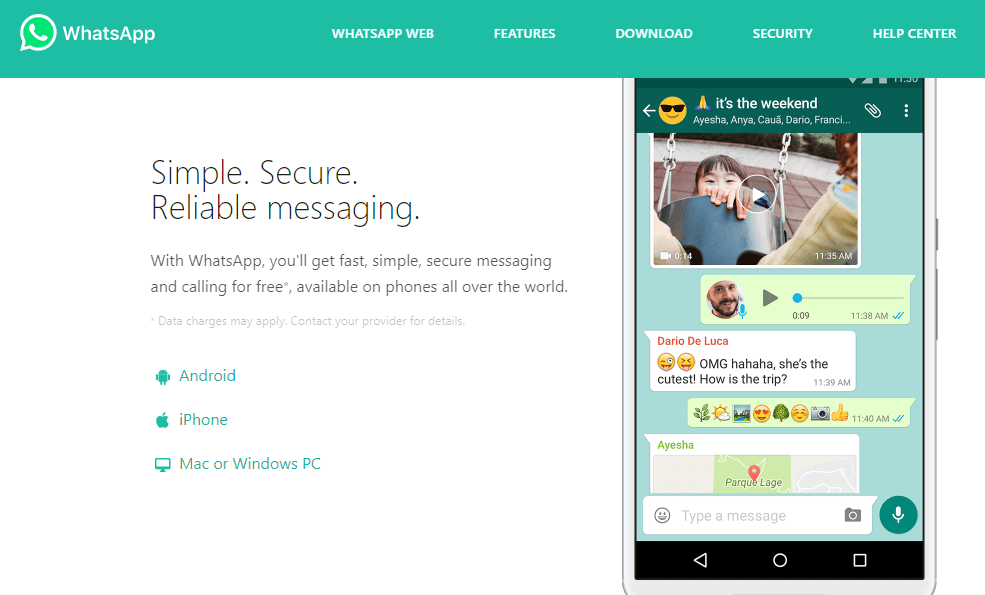 You must be familiar with WhatsApp which is a fast, simple, and highly secure messaging app used by billions of people. In fact, WhatsApp has more than 2 billion users worldwide and the average Android user spends 38 minutes per day on the app.
In addition to messaging and video calls, WhatsApp Business App enables small and medium businesses to provide customer service and share important updates with customers. The platform takes care of your privacy and security as every message you share with an individual is end-to-end encrypted.
Some top features of WhatsApp are:
Easily share messages, photos, videos, files, contacts, live location, etc. with individuals or groups
Interact with up to 256 people in group chats
Use WhatsApp Web to sync your messages to your computer
Capture moments instantly with the built-in camera
Record and share voice messages with just one tap
Price: WhatsApp is a completely free tool for both individual users as well as businesses.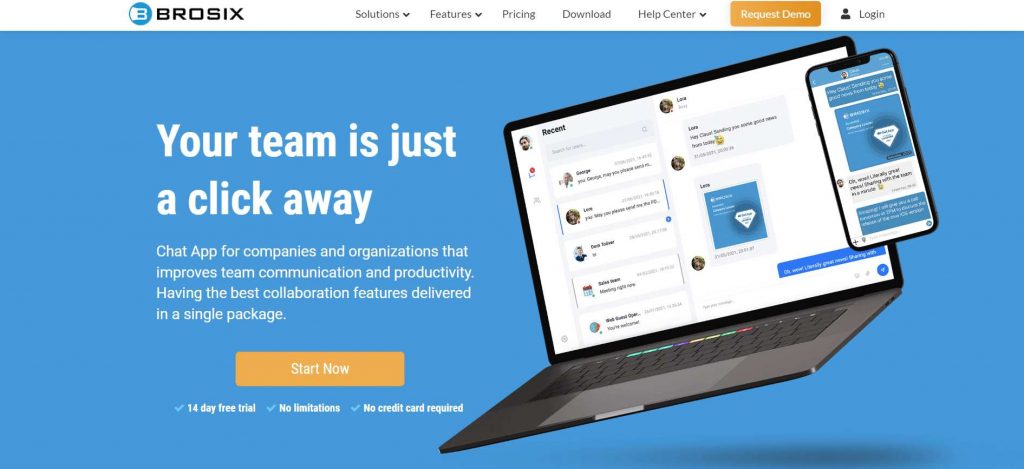 Brosix is a secure virtual work environment that offers a wide range of features perfectly designed for a remote working team.
No matter the size of your team or the industry you are in, Brosix will provide you with a collaborative space where your workers can enjoy P2P unlimited size transfers, text chats, voice and video calls, screenshots, screen sharing, group chats, broadcast messages, remote desktop and more. You can track your team's activity, view anyone's chat history, manage user accounts and customize your network's settings all from a single platform.
Some top features of Brosix are:
Full administration and control of a company's internal communication.
Chat Rooms for Groups helps you keep your department, city, country or any other type of group updated and ready to collaborate.
Teams can use Whiteboard Feature to hold real-time discussions and better engage with a range of information.
Highly secure P2P file transfers that can be completed in an instant.
Notifications API – you can integrate the Brosix platform with any compatible service and automatically receive notifications at the convenience of your Team Network.
Price: Brosix has three plans: Startup, Business, and Premium.
At the best value (Premium), companies can budget for just $6/user monthly. This plan gives full access to control team usage and multilevel security, in addition to all the other awesome benefits of using Brosix. Small teams can use the app for free, while businesses can take advantage of all the communication tools at only $4/user monthly.
Enhance Employee Productivity With Remote Working Tools
While there are still some businesses that believe remote work has made it difficult to foster peer-to-peer connections, there are those who are able to see the glass half full.
As more and more organizations gear up for the new work dynamics, the need for investing in the top remote work tools has become paramount. Remote work software can allow you to track work, hold meetings, discuss ideas, and assist customers in real-time.
There is no doubt that remote work is here to stay and the sooner you prepare for it the better. We hope the tools listed in this blog will help you rise above any challenges and conquer the business world.
Do you want a free Help Desk?
We have the #1 Online Help Desk Software for delightful customer support