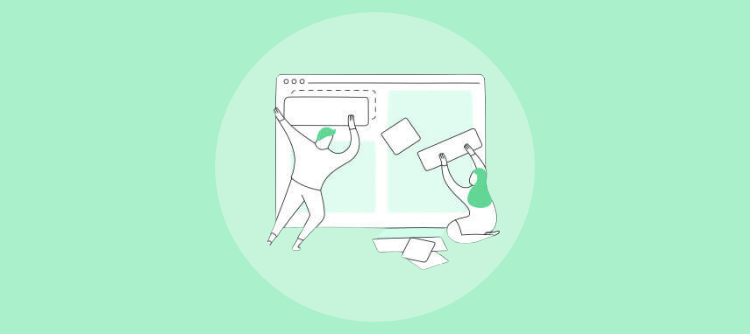 The best inventions in life are often small but make a HUGE impact. Think of a matchstick, paperclips, or in the modern world – help desk response templates.
Yes, templates have made the world a better place for customer service representatives. Instead of stressfully typing the same response a million times over, they can use a pre-designed template and respond to customers in seconds.
But here's the trick – the perfect help desk response shouldn't seem like a templated response at all. It must be tailored to your customer's need for a better experience.
A well-designed template can enhance your team's productivity, increase customer satisfaction, and ensure that your team handles all the possible queries within less time.
In this blog, we will understand the benefits of help desk templates, see how help desk software can get you started, and share 10 templates that you can start using right away.
Here we go!
What Are Help Desk Response Templates?
Help desk response templates are predefined email or chat messages that can be used for common customer queries or issues. These templates help your agents save time, focus on urgent issues, and respond faster while maintaining a personal touch. You can customize these templates by adding the customer's name, account details, ticket ID, or other relevant information.
An automated tool such as ProProfs Help Desk helps you create, store, and share templates. You can create as many templates as you wish for different situations and enhance the productivity of your customer service team. Let's see what a service ticket response template looks like: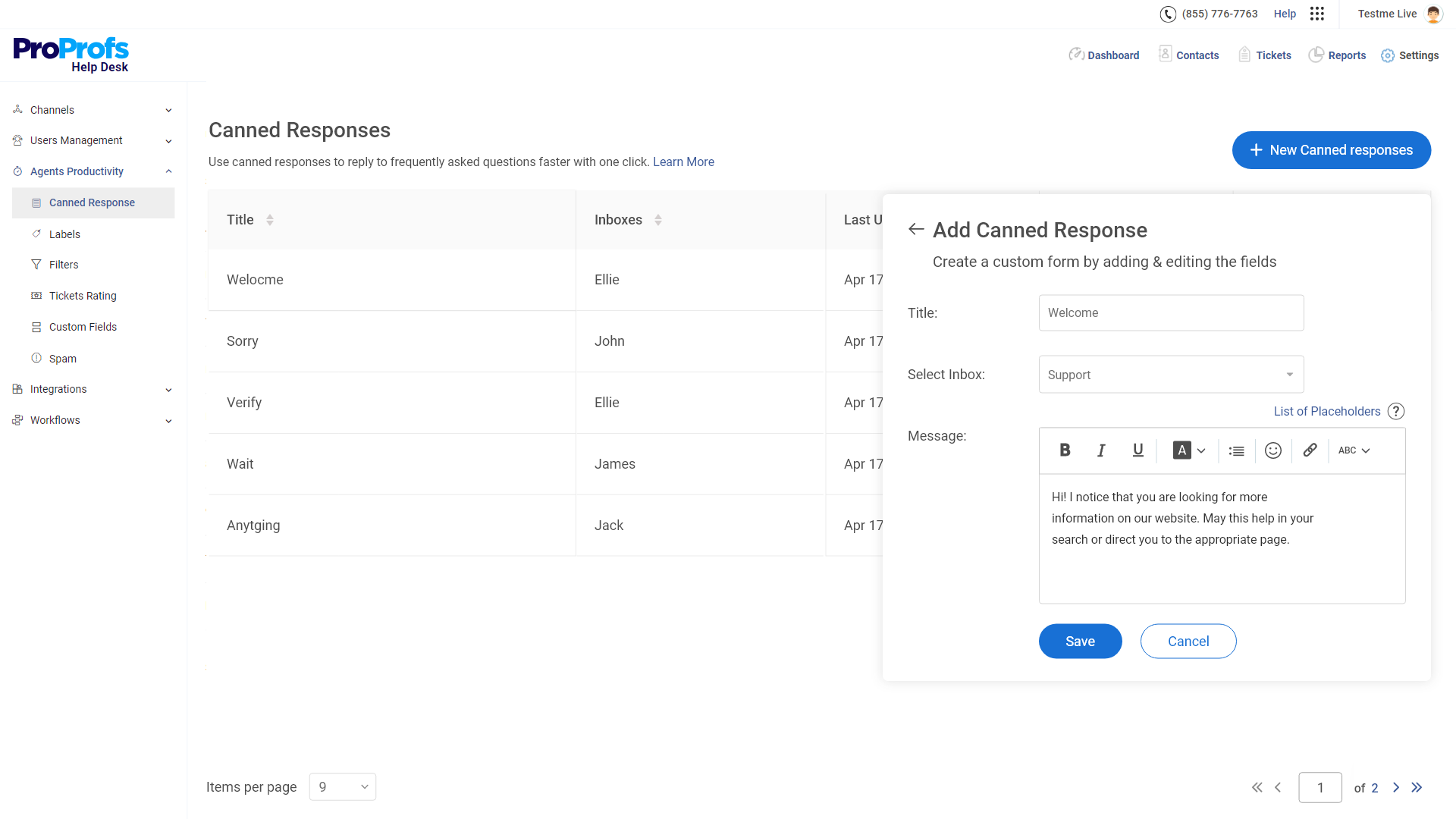 What Are the Benefits of Using Help Desk Templates?
A well-designed help desk template increases engagement and aids in building an effective customer relationship. Let's explore more such benefits:
1. Improve Your Response Time
According to a Statista report, 27% of customers demand an instant response to their customer service emails. Your response time refers to the average time it takes for your agents to respond to a help desk query or issue. With help desk trouble ticket templates available, you can quickly respond to customers via email, chat, or text message and enhance their support experience.
2. Save Everyone's Valuable Time
While it is important to respect your customers' time, you should ignore the value of your agent's time and efforts. By creating email templates for helpdesk, your agents can respond quickly to customer issues that are similar in nature such as return requests, password reset requests, etc. Moreover, they can save enough time to focus on high-priority cases that demand more attention and effort.
3. Easily Customize the Message
Although templates are ready-to-use, that does not mean you copy-paste the entire thing. You can always customize the message according to the situation at hand. You must also personalize the message as much as possible to ensure your response does not appear scripted or robotic. For instance, if a customer is finding it difficult to choose a product, you can share personalized recommendations based on their purchase history.
4. Reduce Errors & Enhance Consistency
Typing the same response, again and again, can bring human errors into the process. There can be grammatical errors, incorrect information, or you might forget to add your signature at the end. Carefully curated help desk templates can help you avoid such basic errors and ensure your message is always consistent with the brand voice. So every outgoing message you share looks meaningful, consistent, as well as professional.
10 Help Desk Response Template Examples
For different situations, templates can prove to be handy. For instance, if a customer requests a password reset link, you can leverage a ready-to-use template and respond in seconds.
Here are 10 help desk response templates examples that you can use right away.
1. Your Issue/Request Has Been Registered
No matter if customers contact your business via email, chat, phone, or raise a ticket via web forms, they should immediately receive a confirmation message. A confirmation email or text message reassures them that your business has taken the first steps to resolve the issue.
In this help desk template, you need to share the ticket or case ID with the customer. This makes it easier for them to track their issue and use it as a reference during future interactions with your team.

Your Issue/Request Has Been Registered


Hello [NAME],
Thanks for reaching out to [COMPANY NAME] for support.
This is to inform you that your request/issue has been received by our team. A new ticket [TICKET ID] has been registered with our system. You can use this ticket ID to track your request and use it as a reference during future interactions.
We want you to know that our team is already working on your case and will share an update at the earliest. We appreciate your patience!
If your issue has already been resolved or if you have any further questions, please feel free to contact us again on [CONTACT NUMBER].
We're always here to help you!
Thanks,
[YOUR SIGNATURE]

2. Sharing a Knowledge Base Link
Even if your business has invested time, money, and efforts in creating a dedicated self-service knowledge base, there is no guarantee that customers will find the help they need. While some customers might have no idea that a help center exists, others might find it difficult to locate a solution.
However, you can always help them out by sharing relevant links to self-help articles, guides, FAQs, tutorials, and more. It is also a great practice to promote your knowledge base in your help desk responses. This will help you deflect tickets and allow agents to focus on urgent issues.

Knowledge Base Link


Dear [NAME],

Thanks for sharing your concern with us.
We would like you to know that your issue can be resolved in simple steps without agent intervention. Here is a link to our [BLOG/FAQ/GUIDE/VIDEO] that will offer all the steps you need to fix your issue on your own.
We have always believed in customer empowerment and our dedicated knowledge base is a testimony to that. You can find answers to your questions 24×7 and gain knowledge in the form of best practices, tips, and more.
In case, you still face any difficulties or have any further questions, please feel free to contact us on [CONTACT NUMBER]. We would be more than happy to help you!
Thanks,[YOUR SIGNATURE]

3. Password Reset Request
Let's be honest, we all have forgotten our account passwords at some point in time. After all, with different accounts for email, social media, digital wallets, employee portals, shopping sites, etc., it's near impossible to remember every password. Unless you have the same password for every account (Never a great idea!).
A password reset request is one of the most common requests your business will receive. Therefore, it is important to have the right help desk troubleshooting template in place. The email body should have a healthy dose of empathy to avoid making the customer feel any guilt. For security reasons, make sure the link you offer is valid for anywhere from 20 minutes to an hour.

Knowledge Base Link


Hello [NAME],

Forgot your password? No worries! Happens to the best of us!
We have received a request to reset the password for the account associated with [EMAIL ID]. You can easily reset your password by clicking the link below:
Password Reset Link
Kindly note that this link will only be valid for the next 60 minutes. If you didn't request a new password, you can safely ignore this message.
If you have any further questions, feel free to reach our support team at [CONTACT NUMBER]. We're always here to help you!
Thanks,[YOUR SIGNATURE]

4. Your Issue Has Been Resolved
Modern customers expect the fastest resolution time for their problems. Once your team has resolved a customer's issue, it's important to update them and share the good news. If the resolution took longer than usual, feel free to offer an explanation for the same.
This free help desk template below offers a simple and friendly tone. However, you can customize it to make the customer understand the steps your team has taken to rectify the issue. However long it took to solve the issue, don't forget to appreciate your customers for their patience.

Your Issue Has Been Resolved


Hello [NAME],
We hope you are doing great. We have some good news for you!
Kindly refer to your ticket [TICKET ID]. Your reported issue has been resolved by our team and we are closing the ticket from our end. Thanks for your patience!
Please check if you are still facing the issue. In case, the issue persists, you can reopen the ticket at any time.
If you have any further questions, please feel free to contact us on [CONTACT NUMBER]. We would be more than happy to help you!
Thanks,[YOUR SIGNATURE]

5. Request for Refund
No matter how great your product or service is, there will be times when customers are simply not happy. Realizing that customers want a refund for what they bought can be a hard pill to swallow for any entrepreneur. But that is just part and parcel of the game.
You can use this service ticket template to accept a customer's full or partial refund request. You must lead with empathy, apologize if needed, and adhere to your terms and conditions. To avoid any confusion, it is important to mention details such as the amount of refund, the expected date it will be credited on, and the account details if needed.

Request for Refund


Hello [NAME],
I am sad to know that you did not have a pleasant experience with our product/service [MENTION PRODUCT/SERVICE NAME]. Our goal has always been to delight our customers but we failed this time.
We have received your request for a complete refund on [DATE]. As per our terms and conditions, you are entitled to a [FULL/PARTIAL] refund.
I am initiating the refund right away and the amount of [MENTION AMOUNT] will be reflected in your account within 4-7 business days.
We hope we can meet your expectations the next time around. Thanks for shopping with us!
Best Regards,[YOUR NAME]

6. Product Feature Request
For any business to survive in this competitive marketplace, it needs to constantly improve its product offerings. But how do you know what exactly to implement? Well, you can always see which features are in demand among your target audience and incorporate them in the future.
Whenever a customer raises a product feature request or shares a recommendation, you need to be thankful to them. It is because of such customers that you know if your business is on the right track. Also, avoid making any false promises if you do not plan to include the feature in your product. In case, you do, share a realistic timeline.

Product Feature Request


Hi [NAME],

Thanks for taking interest in our business. The product feature that you have requested makes a lot of sense.
I have shared your kind recommendation with our product team and they are planning to include this feature in the next product rollout. This is definitely on our roadmap!
I would appreciate it if you wait for a few more months before this feature goes live. Thanks again for your valuable interest in our products and business. We are glad to have valuable customers like you!
Regards, [YOUR SIGNATURE]

7. Scheduled Website Downtime Notification
No matter what you sell, your business cannot always be available 24x7x365. For instance, if you run an e-commerce store, you need to take some time off for website maintenance. Whenever your website or app is scheduled to go under maintenance, it's important to update your customers about the same. Otherwise, they will bombard your support team with calls or emails.
With the help of this IT help desk ticket template, you can inform your customers in advance about any scheduled downtime. This will allow customers to adjust their expectations, plan their work accordingly, and help you avoid creating havoc.

Website Downtime Notification


Hi [NAME],
We would like to inform you that our website [MENTION WEBSITE ADDRESS] will go under scheduled maintenance on [DATE]. The period of this outage will be for around 2 hours from [START TIME] to [END TIME].
We request you not to panic and plan your day accordingly. Your patience is highly appreciated!
If you have any further questions, feel free to contact our support team on [CONTACT NUMBER]. We are always here to help you if you need us!
Thanks, [YOUR SIGNATURE]

8. Request for Customer Feedback
Right after a support interaction, it is important to take feedback from your customers. You can ask questions such as: "Based on your recent call, how easy or difficult was it to interact with our representative?" or "Was our help desk representative able to resolve your query/issue today?"
Consistent feedback will help your business understand customer expectations, reward top performers, and identify agents who need to be trained further. Moreover, the process of feedback collection sends the message that your business really cares about the well-being of customers and wants to improve.

Request for Customer Feeback


Hi [NAME],

We'd like to hear what you think of your customer service. Kindly take a moment to fill this small survey and rate the quality of your support interaction with our service representative [AGENT NAME] today.
[SURVEY LINK]
Your feedback is extremely valuable to us and will help our team serve you better in the future. Thanks in advance! Have a great day ahead!
Regards,[YOUR SIGNATURE]

9. Your Request Has Been Escalated
There are a lot of scenarios when help desk issues or requests need to be escalated to the right team member, manager/team lead, or the escalations team. First-line or Tier-1 agents might not have the necessary skills, knowledge, or authority to handle certain tickets. For instance, some agents might not have the authority to approve refund requests that exceed $100.
With the help of this helpdesk email template, you can convey to customers that their case has been escalated to an individual or group that is best-suited to handle them. Since escalations take more time than normal issues, it is important to appreciate customers for their patience.

Your Request Has Been Escalated


Hi [NAME],

Thanks for reaching out to us. I have reviewed your request and come to the conclusion that these types of requests are best handled by our escalations team. At the moment, I do not have the authority to fulfill your [MENTION REQUEST].
We are treating your case as high-priority and our escalations team will surely help you with your problem at the earliest. I appreciate your patience!
If you have any other questions, you can reach out to me on [CONTACT NUMBER] or reply directly to this email and I'll be happy to help you.
Thanks,[YOUR SIGNATURE]

10. Subscription Cancel Request
Saying goodbye is definitely not the best feeling in the world. Especially, when you have to bid farewell to your hard-earned customers after years of retaining them. But even when customers cancel your subscription, it does not mean you have a bad product/service or they won't return ever. A lot of customers cancel subscriptions when they are on a tight budget, relocating, or simply when they don't need it.
In your response email, you need to show that you respect your customers' decisions even when they decide to leave. Keep a friendly tone and be hopeful that they might subscribe to your product or service in the future.

Subscription Cancel Request


Hi [NAME],

This is in response to your request to cancel your subscription for [MENTION/PRODUCT/SERVICE]. Your subscription has been successfully canceled and you will no longer be charged.
We want you to know that we respect your decision no matter what. Thanks for being a valuable part of our business for so long. It was a pleasure to serve you all this while. But before you go, could you please fill this short survey to help us improve?
[SURVEY LINK]
We genuinely appreciate the help and hope to welcome you back again in the future!
Good luck! [YOUR SIGNATURE]

Enhance Productivity With Help Desk Templates
Over the years, help desk response templates have proved to be magical for customer service professionals. Cumulatively, it must have saved millions of hours for businesses across the globe.
Once you have set up your response templates, the work has just begun. Train your agents on the best practices and use help desk software to store all templates in one place. Make sure you periodically review the templates and track how customers react to them.
As your business grows and you add more products/services to your brand, you must create more help desk templates to meet your changing requirements. This is a sure-shot way to enhance your customer experience and reduce agent workload.
Do you want a free Help Desk?
We have the #1 Online Help Desk Software for delightful customer support