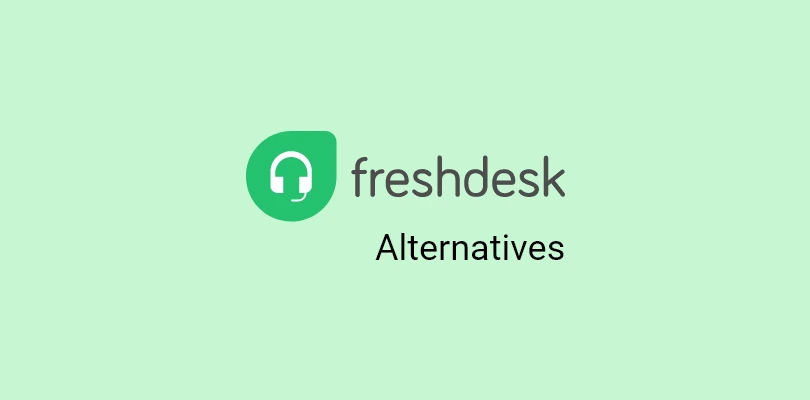 When you talk about customer service tools, there are certain tools that dominate the market today. Freshdesk undoubtedly forms the cream of modern help desk tools.
But, wait a minute. Despite its golden reputation, why are thousands of users looking for Freshdesk alternatives or software cheaper than Freshdesk?
Let's be honest, Freshdesk is not perfect and has its own set of flaws. While many users feel they have to throw thousands of dollars for core features, others want a solution that is simple, less complicated, and offers the features "they need" rather than what they "might want."
In this blog, we are sharing 15 amazing alternatives to Freshdesk along with their features and pricing details.
What Is Freshdesk?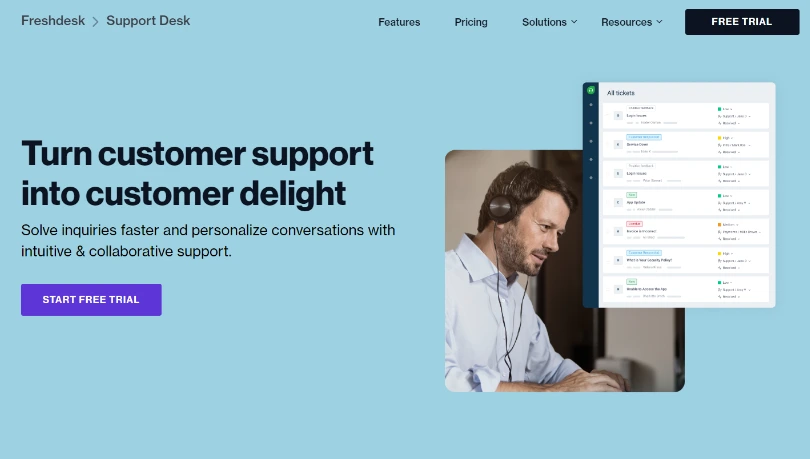 Founded in the year 2010, Freshdesk is a leading cloud-based customer support software used by popular brands such as Bridgestones, Decathlon, Hamleys, and more. The tool does a great job of unifying conversations from email, phone, chat, help center, social media, etc., and helps you resolve customer requests and issues across multiple channels.
With the Freshdesk ticketing system, you can automate repetitive and manual tasks, offer self-service options to customers, and collaborate across departments to resolve issues faster.
So, how much does Freshdesk cost?
Freshdesk pricing: The tool offers four plans – Free (forever-free with limited features), Growth ($15/user/month), Pro ($49/user/month), and Enterprise ($79/user/month).
Why Look For Freshdesk Alternatives?
Despite its high popularity and range of features, users are actively looking for tools similar to Freshdesk. Here are some compelling reasons that show why they are right. Let's discuss some top Freshdesk cons in detail.
For Beginners, Freshdesk Can Appear Complicated
Don't be surprised if Freshdesk appears to be a complicated tool at first. Even if you are a customer service member who has used a help desk tool before, you will need a demo and at least one complete day to understand how Freshdesk works. It's simply not a tool that you can set up in minutes and start resolving customer issues right away.
Freshdesk's Basic Plans Lack Important Help Desk Features
Although Freshdesk offers a free plan and a basic plan that starts at $15/agent/month, you need to opt for their higher-end or premium plans (Available at $79/agent/month) to enjoy maximum benefits. The basic plans lack important features, such as skilled-based ticket routing, custom reports, customer roles, agent shifts, and more. This makes Freshdesk an unfeasible option for businesses that are on a tight budget.
Internal Collaboration Features Need Improvement
Even though Freshdesk comes with many team collaboration features, many users have complained that it's not easy to have a seamless conversation with your teammates. While most help desk systems allow you to share internal notes or comments right on the ticket, Freshdesk users need to integrate it with another tool called FreshConnect to chat with other team members.
Our Selection Criteria for Freshdesk Alternatives
With hundreds of customer service tools out there claiming they are the best, finding affordable yet feature-rich tools like Freshdesk can seem like climbing a mountain. Moreover, research can be pretty painstaking as well.
To save you from endlessly scrolling through online reviews and product websites, we have selected the top tools that will put a full stop to your search. To make it to our list, all the alternatives must pass the following criteria:
Fundamental Help Desk Features: All Freshdesk competitors must be built around core help desk features such as ticket organization, automation capabilities, reports and analytics, multichannel customer service, etc.
Listed on Top Software Review Platforms: The software alternatives should be listed on the top online software review platforms such as Getapp, SoftwareWorld, and Capterra.
Minimum 10 User Reviews: All alternatives must have at least 10 reviews from genuine users on these above-mentioned platforms. Genuine reviews can shed light on the pain points that are common among users or the important features your team can look forward to.
15 Best Freshdesk Alternatives You Should Consider
Now that we have gained some deep insights into the various pros and cons of Freshdesk, it's time to explore other similar tools. Here are some of the best alternatives to Freshdesk help desk software: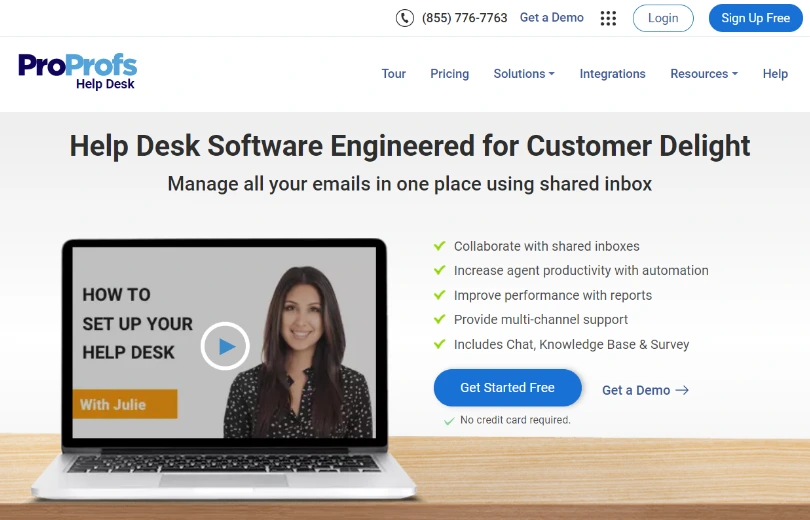 ProProfs Help Desk is undoubtedly one of the best Freshdesk alternatives in the market that is super easy to use. In addition to robust ticket management features, you get ProProfs Chat, Knowledge Base, and Survey Maker – so you can have an all-in-one seamless solution.
No matter if a customer shares his concern over email, live chat, or raises a query on your help center page, ProProfs makes it easier for you to track and respond to all support conversations.
Customer service agents can collaborate to solve challenging issues together, share internal notes, prioritize urgent conversations, and track the progress of every single support ticket – all from a common dashboard. Moreover, you can measure customer experience with metrics such as CSAT, NPS, FCR, etc.
Top Features of ProProfs Help Desk:
Create and use canned responses for common customer questions
Avoid sharing multiple replies to a single request with agent collision detection
Encourage self-service with a knowledge base
Use chatbots to assist customers and generate leads 24×7
Leverage smart reports to measure performance and monitor customer satisfaction
Pricing:
Starts at $20/user/month (Single plan with all premium features)
2. Freshdesk vs. Zendesk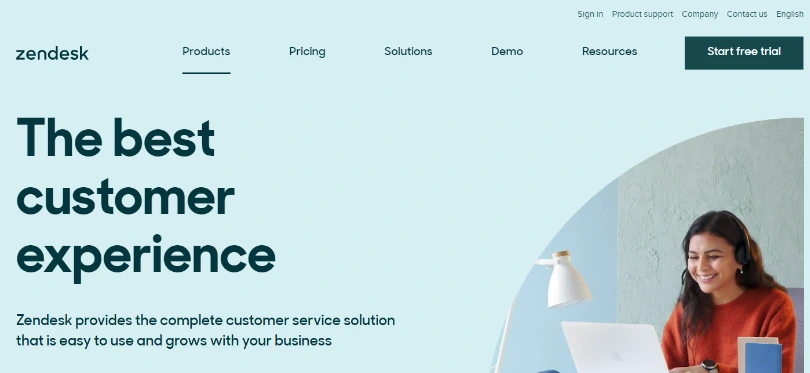 Zendesk, one of the top alternatives to Freshdesk, offers a complete customer service solution that is not only easy to use but shows great scalability to match your growing needs. The tool empowers you to support your customers over messaging, live chat, email, voice, etc. and makes it easier for customers to contact your business.
You can create a unified view of your customer and leverage that data to personalize experiences across the entire customer journey. Moreover, help desk managers can monitor reports, trends, KPIs, etc., and understand what customers really need.
Top Features of Zendesk:
Create a unified view of the customer
Allow agents to contribute to self-service articles and guides
Get actionable insights with the help of reports and analytics
Encourage self-service with help center and community forum
Use AI-powered answer bots to support customers 24×7
Pricing:
Starts at $49/user/month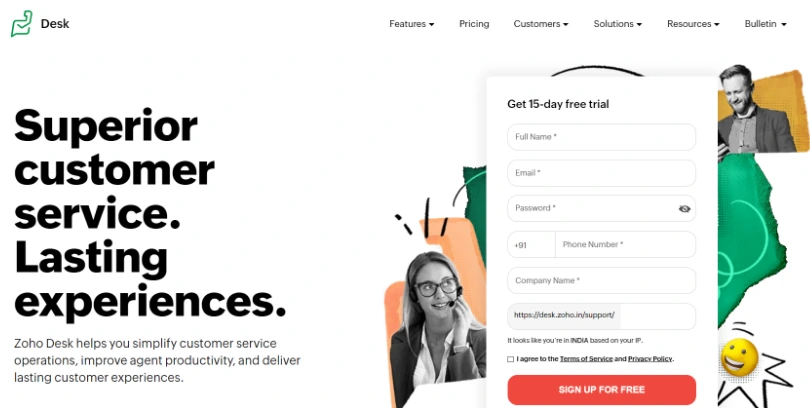 Zoho Desk is another free Freshdesk alternative that helps you channelize the power of customer context to improve agent productivity, manage multiple communication channels, encourage self-service, and enhance customer happiness. You can easily connect the tool with other apps your team uses and add custom capabilities through APIs.
Zoho Desk lets you easily embed a customizable web form widget on your website. This allows customers to fill out a form and share their queries, which will be automatically converted into unique support tickets inside Zoho Desk's ticketing system.
Top Features of Zoho Desk:
Create assignment rules to route tickets to the right agents or departments
Use filters to sort tickets based on their priority, type of customer, or urgency
Create distinctive help centers for multiple brands
Maintain SLAs and escalate violations automatically
Integrate Zoho Desk with Zoho CRM and other business tools
Pricing:
Starts at $12/user/month
Read More – Zoho Desk Alternatives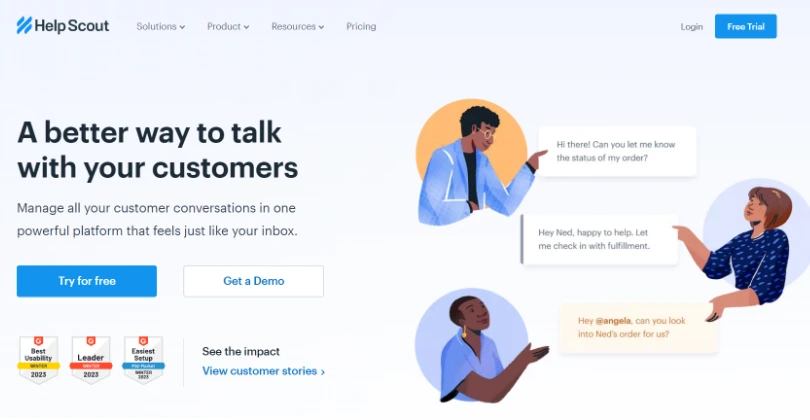 Help Scout is another alternative to Freshdesk app that allows customer service teams to move fast with automation while offering customers a human, personal experience. Using this tool, you can embed help articles directly on your website and reduce your support ticket volume.
With Help Scout, your agents can share private notes with @mentions to other team members. This ensures agents can discuss complex tickets and double-check on responses before replying to customers. You can interact with customers in real-time via live chat and when no one is available to take chats, you can route customers to email.
Top Features of Help Scout:
Use custom fields to store custom data for each conversation
Receive desktop notifications for ticket updates
Create knowledge-base articles that are mobile-friendly
See all key metrics and activity for a specific agent
Allow customers to view their chat support history
Pricing:
Starts at $20/user/month
5. Freshdesk vs. HappyFox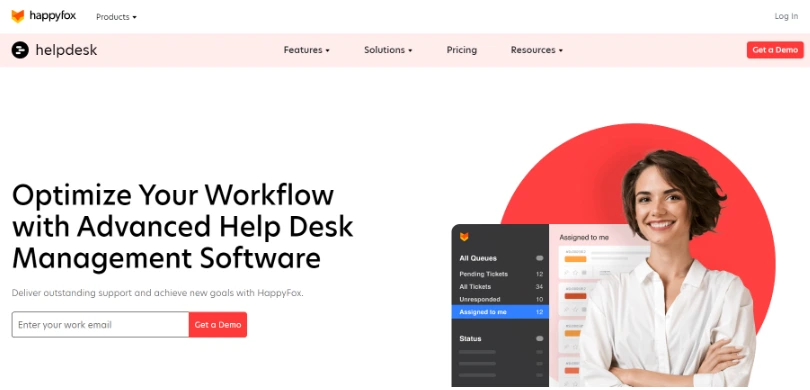 HappyFox is another impressive help desk solution that deserves to be on your list. With omnichannel ticket creation capabilities, you can convert customer calls, emails, and live chat messages into unique tickets.
With this tool, you can create knowledge base articles and FAQs in multiple languages and avoid the need to create unnecessary tickets. However, one major drawback is that HappyFox is slightly more expensive compared to Freshdesk.
Top Features of HappyFox:
Organize inbound tickets using pre-defined categories
Use templates to pre-fill ticket properties
Build your own mobile-optimized customer service portal
Track all your social media requests in one place
Integrate with Slack, Facebook, Shopify, and other tools
Pricing:
Starts at $26/user/month
6. Freshdesk vs. Kayako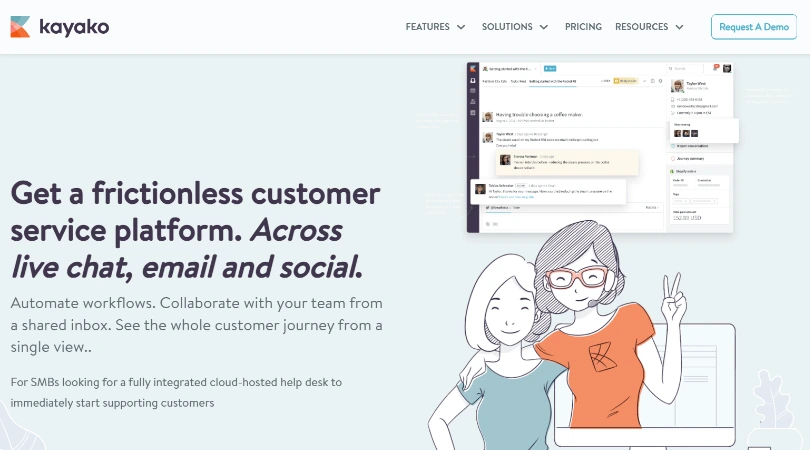 Kayako is another help desk software like Freshdesk that can be used to deliver astounding customer service in multiple languages across channels such as live chat, email, Facebook, and Twitter. You can track every interaction your customer has had with your business to offer a more personalized experience.
In addition to its modern interface, Kayako is also known for its remarkable team collaboration features. For instance, you can pool together knowledge and share them with internal notes. Similarly, agents can avoid duplicate replies by checking who else is viewing or replying to a conversation.
Top Features of Kayako:
Create a repository of self-help articles, FAQs, and videos
Interact with customers in real-time using Kayako Messenger
Offer support with proactive messages
Stay on target and track performance with the help of SLAs
Support and engage customers over Twitter and Facebook
Pricing:
Get in touch with the company for a quote.
7. Freshdesk vs. SysAid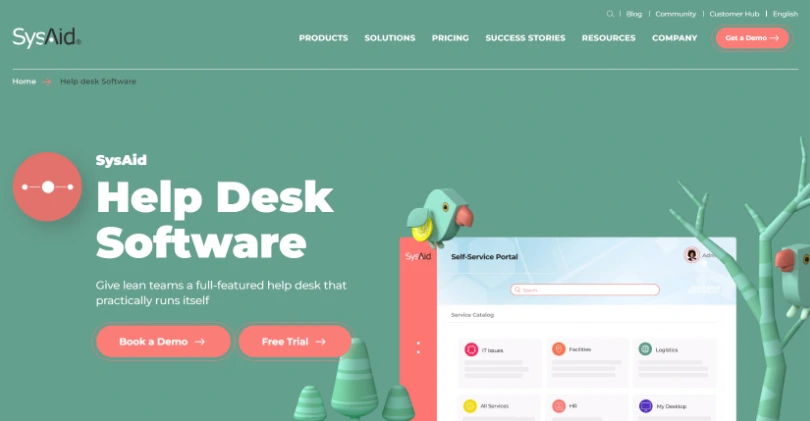 SysAid Help Desk is a power-packed tool that is built for IT support teams. As a close competitor of Freshdesk, the tool offers important features such as a robust ticket management tool, IT asset management, mobile solution, self-service, chat, password reset, and more.
You can use this tool to create a knowledge base with how-to-solutions that can be used by both, your employees as well as customers. Moreover, support managers can view insightful reports and analytics right on their dashboard and agents can target relevant Key Performance Indicators (KPIs) to improve IT support performance.
Top Features of SysAid:
Allow users to securely reset their domain passwords
Build an extensive knowledge base for internal employees and customers
Initiate and respond to chat conversations
Use ticket history for a more personalized support
Speed up your process with automatic routing and escalation rules
Pricing:
Get in touch with the company for a quote.
8. Freshdesk vs. Intercom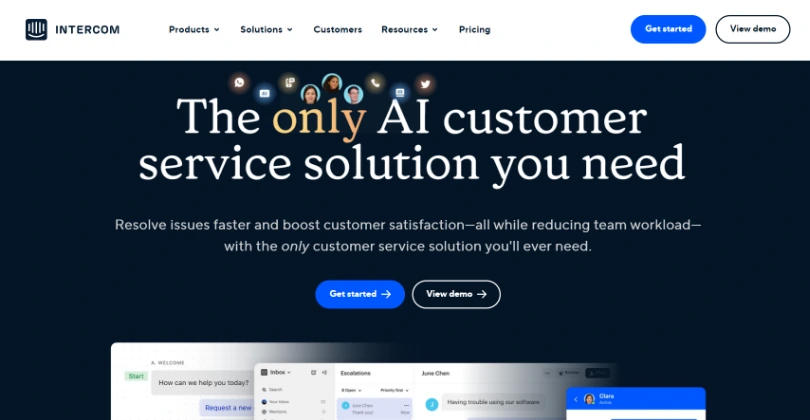 Intercom is another impressive alternative to Freshdesk ticketing system that helps you seamlessly provide human, self-serve, and proactive support. Now, Intercom is more than just a regular ticketing system. You can launch marketing campaigns, onboard new customers, and share proactive messages with your audience at the right time.
With Intercom's Inbox, agents can capture conversations wherever they are happing — your website, product, social media, and more. They can also automatically route and prioritize conversations that demand immediate attention.
Top Features of Intercom:
Respond to conversations on multiple channels
Automatically route conversations to relevant team members
Share relevant help articles through your website, mobile app, and product
Use custom bots to connect customers to the right agents
Use targeted messages to keep customers informed and updated
Pricing:
Get in touch with the company for a quote.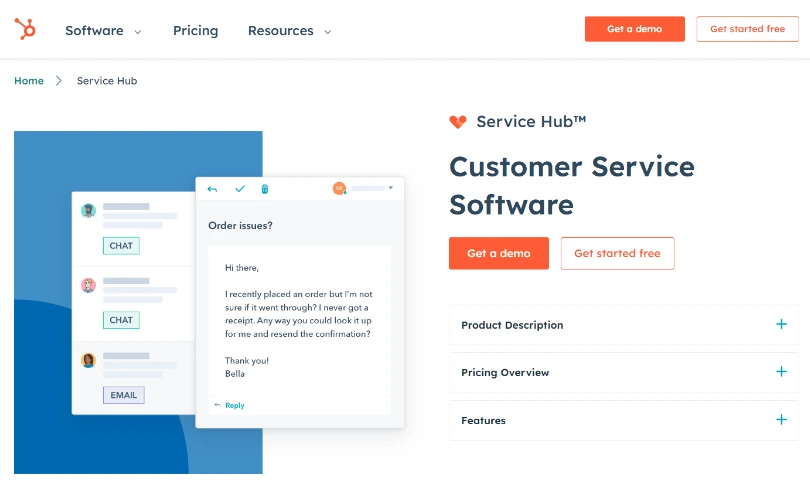 As one of the leading help desk alternatives, HubSpot offers a robust universal inbox that gives different teams- sales, marketing, and customer service, a single place to view and manage all conversations. All your team members can have complete transparency and know whether someone has followed up on a support ticket or not.
You can set ticket assignment rules to route tickets to specific individuals or distribute them evenly across all team members. Moreover, with the use of filters, you can effortlessly sort through conversations and find the ones you are looking for.
Top Features of HubSpot Service Hub:
Convert frequently asked questions into a library of help articles
Automatically route chats to relevant people in your team
Offer support on the move with HubSpot mobile app
Share NPS surveys to identify your loyal customers
Use custom reports to measure performance
Pricing:
Starts at $450/month
10. Freshdesk vs. Front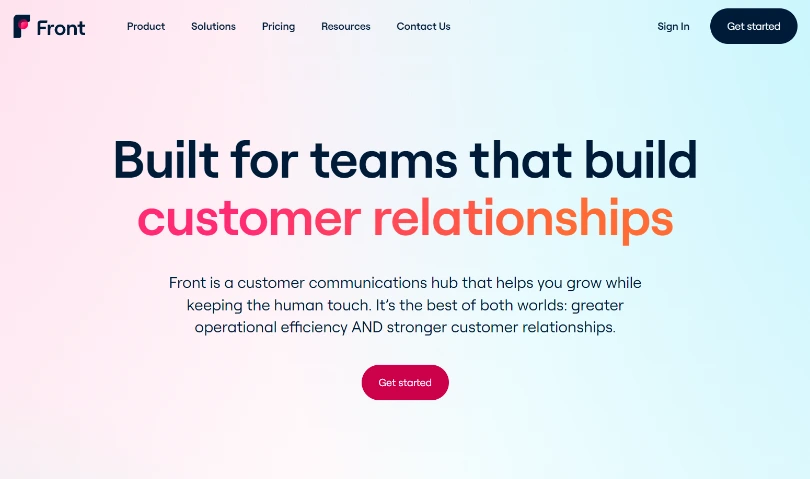 As a popular Freshdesk help desk alternative, Front offers an easy-to-use 'Universal Inbox' to manage conversations across channels such as email, chat, SMS, Twitter, and more. This allows customer service teams to keep all their incoming and outgoing customer conversations well organized and actionable on a single tool.
You can use this tool to easily apply workflow rules to automate manual tasks. For instance, you can assign customer requests to agents based on keywords, sender, time of day, and other relevant criteria. You can also build email templates and receive messaging insights to have more meaningful interactions with every customer.
Top Features of Front:
Give your team the context to make decisions and reply quickly
Make the most of an interface similar to Gmail
Understand trends across apps and messages
Chat with your teammates directly in your inbox
Customize with third-party business apps and APIs
Pricing:
Starts at $59/user/month
11. Freshdesk vs. Kustomer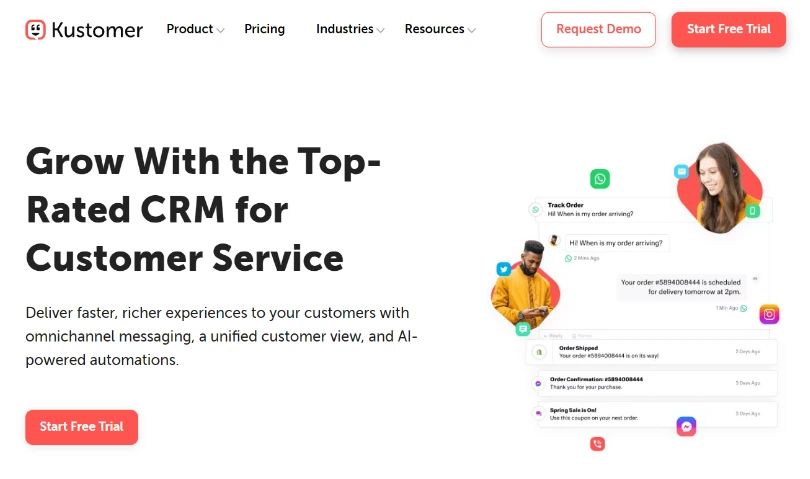 Kustomer is a popular customer service CRM platform that equips your team with all the tools they need for managing high ticket volume effortlessly. The tool can be accessed anytime, anywhere, allowing your agents to always stay connected with your customers.
Kustomer is powered by Artificial Intelligence (AI) that can help you automate your process, contextualize conversations, and share simple responses automatically. This allows your team to focus their energies on more pressing issues that demand urgent attention. Designed with natural language processing, Kustomer's chatbots can recognize a customer's native language and automatically respond with translated scripts.
Top Features of Kustomer:
Embrace AI and deflect support tickets across channels
Monitor your customers' sentiment for improved service
See which agents are available and what they are working on in real-time
Create SEO-friendly help centers for multiple brands
Survey and monitor customer satisfaction as well as customer effort
Pricing:
Starts at $29/user/month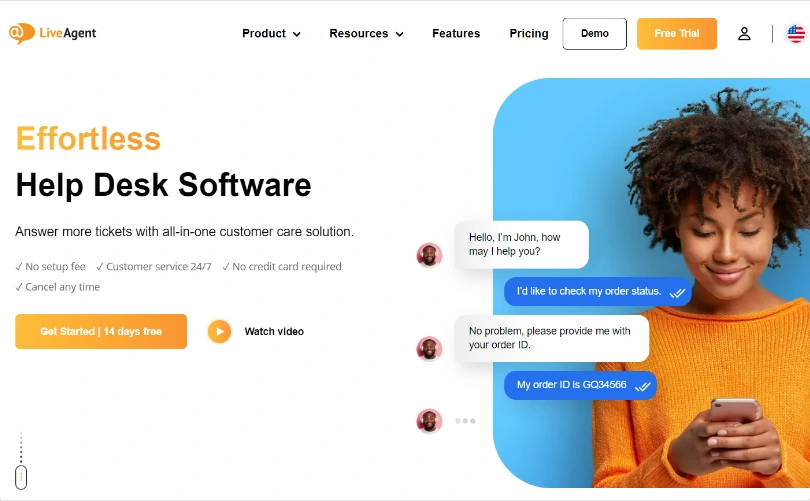 LiveAgent is another impressive alternative that you can explore for your team. You can use the tool to interact with customers on a variety of channels, such as email, real-time chat, video calls, contact forms, social media (Facebook, Instagram, Twitter), and more.
Help desk managers can automatically distribute tickets among relevant agents or departments. Similarly, agents can add tags to tickets and set up unique rules to automate their workflow. In addition to this, you can grab your visitors' attention using animated chat buttons and use customizable chat invitations to kickstart a great conversation in seconds.
Top Features of LiveAgent:
Automatically create workloads for all your agents
Capture messages from Facebook, Twitter, Instagram, and Viber
Set up chat, contact, or survey widgets in multiple languages
Appreciate your most hardworking employees with badges and rewards
Use spam filtering to avoid spam emails
Pricing:
Starts at $15/user/month
13. Freshdesk vs. Keeping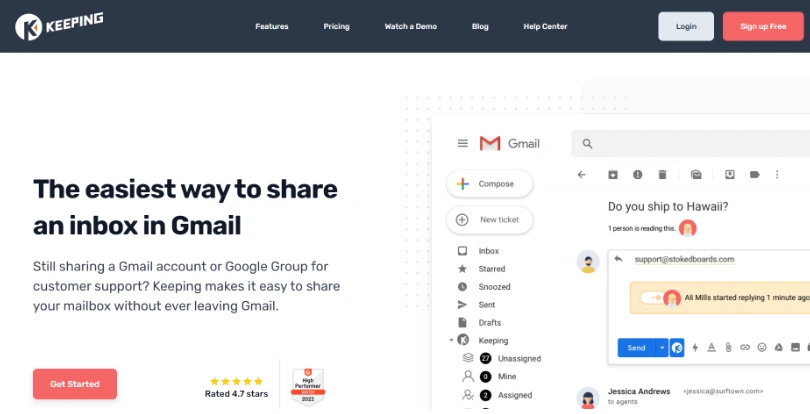 Keeping is an affordable Freshdesk alternative that helps you turn your Gmail inbox into a help desk for improved customer service. Users can manage multiple shared inboxes right from their Gmail accounts.
You can simply turn incoming emails into trackable tickets and assign them to relevant team members. However, Keeping is solely designed for email customer service. If you are looking for an omnichannel help desk, this tool isn't for you.
Top Features of Keeping:
Collaborate by adding private notes to tickets
Improve workflow and productivity with collision detection
Access tickets on the move with a mobile application
Use templates to insert answers directly into your Gmail response
Stay updated about ticket actions with in-browser notifications
Pricing:
Starts at $8/user/month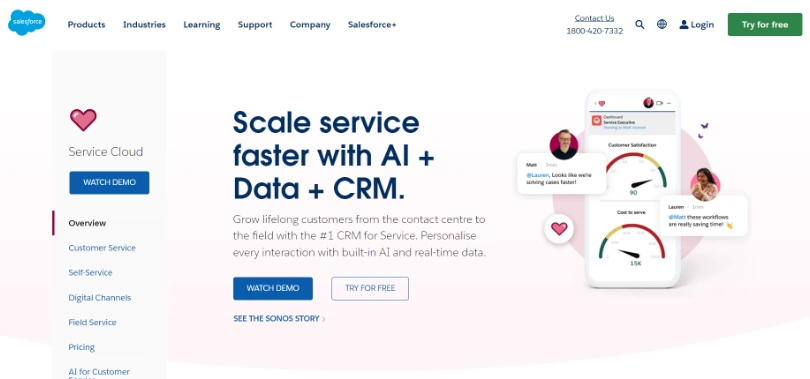 Salesforce Service Cloud is a uniquely designed CRM tool for customer service. Features such as a service console, omnichannel ticket routing, case management, macros, etc., make this tool a popular choice for small and mid-sized businesses.
With the telephony integration, agents can know who is calling before they pick up the phone. Moreover, agents can initiate outgoing calls, put customers on hold, and add other agents to a conference call, without ever leaving the Salesforce dashboard.
Top Features of Salesforce Service Cloud:
Create a knowledge base to accelerate ticket resolution
Support prospects and customers with a powerful chatbot
Run your customer service process from your phone using a mobile app
Make informed decisions with customizable reports and dashboards
Integrate with Google apps like Sheets, Calendar, Docs, Slides, etc.
Pricing:
Starts at $25/user/month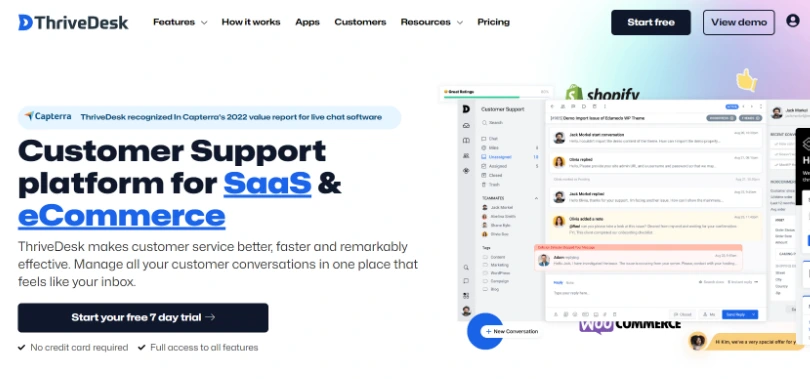 ThriveDesk is a simple, affordable Freshdesk alternative that is known for exemplary customer service. It is an ideal solution for companies of WordPress theme or plugin, bootstrap-based SaaS startups, and e-commerce platforms. Its built-in functionalities like shared inbox, CRM, live chat, reporting, Knowledge base, email signature generator, and many others make it a complete help desk tool.
ThriveDesk is incredibly easy to use and anyone can get started in a matter of minutes. Your team can provide support efficiently with canned replies, auto drafting, collision detection, tagging, and much more. The tool is trusted by many thriving companies such as Brainstorm Force, CreativeCollab, and so on.
Top Features of ThriveDesk:
Streamline tickets and customer conversations with a shared inbox
Get a 360º view of all your customer data in one place with CRM
Provide instant support to real-time visitors with a live-chat assistant
Provide self-service with an effective knowledge base
Leverage email signatures generator for professional emails
Pricing:
Starts at $6/user/month
A Quick Comparison Table
| Software | Price | Ticket Management | Shared Inbox | Multi-channel Communication | Alerts & Escalations | Live Chat | Self-Service Portal | IT Help Desk |
| --- | --- | --- | --- | --- | --- | --- | --- | --- |
| ProProfs Help Desk | $10/month | Y | Y | Y | Y | Y | Y | Y |
| Zendesk | $49/month | Y | Y | Y | Y | Y | Y | Y |
| Kayako | $15/month | Y | Y | Y | Y | Y | Y | N |
| Zoho Desk | $12/month | Y | N | Y | Y | Y | Y | N |
| SysAid | (Not mentioned) | Y | N | Y | Y | Y | Y | Y |
| Intercom | $59/month | Y | Y | Y | Y | Y | Y | N |
| Help Scout | $20/month | Y | Y | Y | Y | Y | Y | N |
| HubSpot Service Hub | $45/month | Y | Y | Y | Y | Y | Y | N |
| Front | $19/month | Y | Y | Y | Y | Y | N | N |
| Kustomer | $89/month | Y | N | Y | Y | Y | Y | N |
| Live Agent | $15/month | Y | Y | Y | Y | Y | Y | N |
| Keeping | $8/month | Y | Y | Y | N | Y | N | N |
| Salesforce Service Cloud | $25/month | Y | Y | Y | Y | Y | Y | Y |
| ThriveDesk | $6/month | Y | Y | Y | Y | Y | Y | N |
| Freshdesk | $15/month | Y | Y | Y | Y | Y | Y | N |
Final Verdict: Which Freshdesk Alternative Should You Go For?
Freshdesk is one of the leading customer service software that allows you to:
Collaborate across the company to resolve tickets faster
Handle customer requests on multiple communication channels
Enable customers to find relevant help on their own
Identify customer service trends and measure performance
However, despite competitive features, the drawbacks such as complicated setup, lack of important features in basic plans, etc. make people search for the right Freshdesk alternatives. All tools shared in this Freshdesk comparison blog are feature-rich, well-trusted, and have been a popular choice among businesses of all sizes.
If you wish to give your team an all-in-one help desk software that is easy to use and offers multiple automation features, you must go for ProProfs Help Desk. If you want a tool that has something to offer to both your sales and support teams, then Zendesk can be your ideal option. You can choose Keeping if the email is your primary customer service channel.
Do you want a free Help Desk?
We have the #1 Online Help Desk Software for delightful customer support