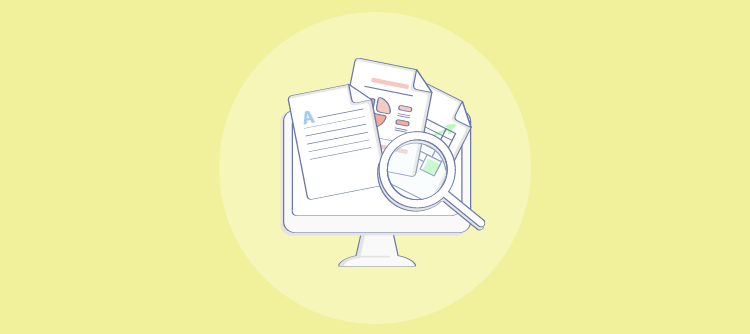 Thanks to technology, customer service is now a measurable process. From monitoring your daily ticket volumes to tracking the time spent responding to customer issues – your business has access to all the data you might need.
But with so many data points at your fingertips, how do you make sense of it all?
By following the best practices for help desk reporting, you can better understand the metrics relevant to your business, involve key stakeholders in the reporting process, and reward your top-performing agents.
If done right, help desk reports can give you a bird's eye view of your team's performance. You can see how your customers perceive your support process and identify the top product or service-related issues that you may have missed before.
In this blog, we will understand what help desk reporting is, explore its benefits, and finally look at the top 10 help desk reporting best practices.
Here we go!
What Is Help Desk Reporting?
Help desk reporting is the process of monitoring your customer service team's performance. By generating reports, you can analyze metrics such as the average response time, the volume of tickets you receive, ticket resolution time, customer satisfaction, and many more.
By getting a holistic view of all help desk metrics in one place, you can track agent performance and devise strategies to improve the customer experience. Support managers can create help desk reports to monitor the daily, weekly, and monthly performance of their teams.
Benefits of Help Desk Reporting
Help desk or customer service reporting brings multiple benefits to the table. Let's discuss them right away.
1. Track Customer Service Quality & Performance
Delightful customer service is all about assisting customers faster and delivering memorable experiences. However, your business needs a way to track how well it is performing and meeting customer expectations.
This is where reports come into the picture. Well-curated reports with graphical representations can allow you to track customer service quality and performance. You can view relevant metrics at a glance, track progress, and make data-driven decisions.
2. Motivate Your Customer Service Agents
Help desk reports allow customer service agents to track individual performance metrics and progress. They can easily see how well they are meeting goals set for them and how far they have come over the course of time.
Small yet, consistent progress will motivate them to perform better and grow in their respective careers. In fact, when you highlight the work of your top-performing agents, all other team members will feel motivated to follow their footsteps.
3. Identify Problem Areas in Your Support Process
Over 80% of customers gave a perfect rating to agents? Great! But what about the other 20%? What went wrong in those cases? Well, reports have all the answers.
Help desk reports can help identify problem areas in your process. For example, an increase in average response time means that customers are made to wait for more hours or days before they get a message. Identifying problems will help you redirect your team's focus and energies on finding appropriate solutions.
4. Identify Popular Customer Service Channels
No matter how many channels you offer customers to contact your business, you need to monitor its traffic. If any single channel is overburdened by tickets, customer satisfaction will suffer.
Help desk reports can help you analyze your ticket volume by channel. You can see whether more customers prefer sharing their concerns over email or they prefer live chat to get instant responses. Such clarity will help you allocate the right number of human resources to your in-demand communication channels.
Read More: Top Benefits of Customer Service Reports
10 Best Practices for Help Desk Reporting
Help desk reports can involve an overwhelming amount of information in the form of data trends, agent ratings, response times, and so on. So if you are wondering how to analyze this data or make the most of your reports, you have come to the right section.
Here are 10 best practices and tips for better help desk reporting:
1. Involve Key Stakeholders
As one of the top help desk reporting best practices, you must look to involve key stakeholders while setting up your reporting process.
Key stakeholders can be C-level executives, investors, business partners, or premium customers – the people who bring a lot of experience and value to the table.
The important people associated with your business can highlight what can work well and what might not. For example, the investors can share some new help desk metrics that are currently trending in your industry.
Similarly, premium customers can share their perspectives on the most crucial aspects of their support experience – what they expect or what could be deal-breakers.
Such valuable inputs from key stakeholders will give a sense of direction to your team. Later, you can sit with your team and discuss relevant metrics, reporting schedules, rewards and recognitions, automation tools, and other nitty-gritty details.
2. Identify Metrics That Are Relevant to Your Business
Are you tracking dozens of metrics that are not even relevant to your process? Tracking irrelevant data can lead to confusion and steer you away from your objectives.
Every business is unique, and so are its goals. You need to take a step back and identify metrics that will help your customer service team attain its goals faster and more transparently.
So which metrics should you focus on, and which ones do you avoid?
Well, that depends on the priorities of your customer service department. For example, you must prioritize the average first response time if you wish to offer faster service. Similarly, if you wish to cater to every customer, you need to keep a firm eye on your ticket backlogs.
Here are some popular customer service metrics you can consider:
Ticket response time
Ticket resolution time
Ticket backlog
New tickets
First contact resolution
Average handle time
Call abandonment rate
Cost per ticket
Tickets volume by channels
Occupancy rate
The right combination of these help desk metrics will allow managers to see the bigger picture and improve team performance.
3. Automate Report Creation With Help Desk Software
Are you tracking your team's performance using excel sheets? Manually handling your customer service data can lead to lower productivity, increased errors, and poor decision-making.
Leveraging automation is one of the top tips for better help desk reporting. A cloud-based help desk software can help you generate reports automatically and gauge your team's daily, weekly, and monthly performance.
Here is a help desk report example: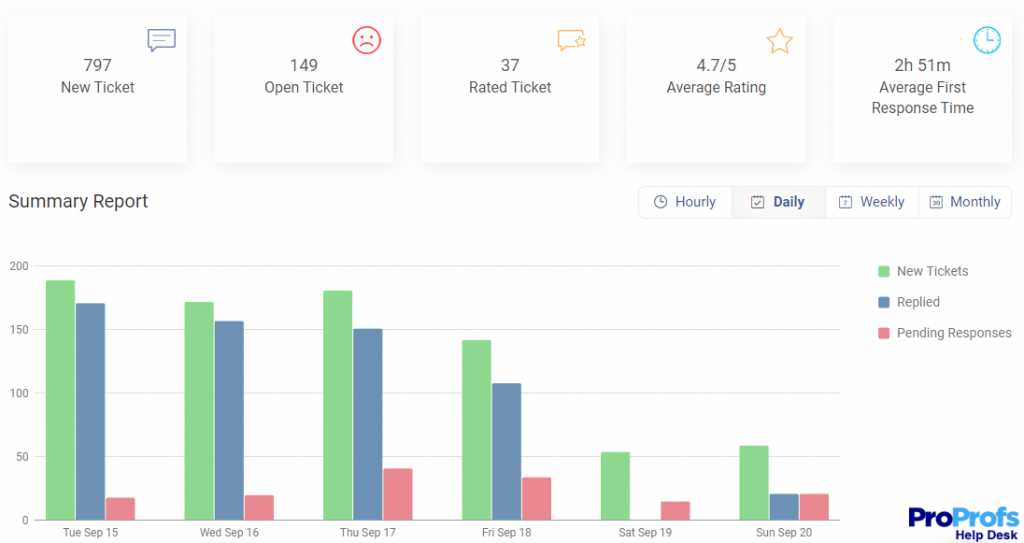 You can customize your reporting dashboard to monitor the metrics that are relevant to your business. You can even filter reports by metrics, agents, or a particular time period.
Smart reports can improve data visualization as complex data is presented in the form of easy-to-understand graphs, bars, or charts. This makes it easier for everyone (even intern-level employees) to make sense of the data and review performance.
4. Prioritize Customer Satisfaction
While it is important to monitor help desk metrics to track agent performance, you must not lose focus on the customer.
Every customer-focused business needs to prioritize Customer Satisfaction (CSAT). After all, good customer service is all about providing value to customers and ensuring they have a memorable support experience.
So how do you track this important metric?
You must share customer satisfaction surveys with customers right after their support interaction. It can be sent via email, live chat, IVR call, or other suitable channels. Let's look at some questions you can use to monitor CSAT.
How satisfied are you with your recent support interaction?
How likely are you to recommend our brand to a friend or colleague?
Did our customer service team help you find the solution you were looking for today?
On a scale of 1-5, how helpful did you find our support representative?
To what extent do you agree with the following statement – "The agent had sufficient knowledge to resolve my issue."
Keep your surveys short so that you can enjoy a high survey response rate. Moreover, you can encourage feedback by sharing relevant offers or discounts.
Read More: Customer Satisfaction Surveys:100+ Questions & Examples
5. Do Not Ignore Qualitative Data
Help desk reports are mostly centered around numbers or quantitative data – average response time, total tickets received, and so on. But what about qualitative data that incorporates customer sentiments, expectations, and viewpoints?
To improve help desk reporting, you need to consider both quantitative and qualitative data sets. Focusing on qualitative data helps you take a deep dive into customer behavior and uncover reasons for their decisions.
What are some examples of qualitative data in customer service?
Online Reviews: Online customer reviews are a great source of qualitative data. Reviews can help you understand what customers love, what they don't like, and how well your support team meets their needs and expectations.
Call Recordings: Audio call recordings can also help you monitor agent performance, You can see how respectfully they interact with customers and whether they are following the standard script or not.
6. Identify Bottlenecks in Reports
Imagine you receive your help desk reports and the numbers are in. While your team has done exceptionally well in some areas, other areas have suffered a great deal.
Bottlenecks can be referred to as setbacks or anomalies in your customer service process. Bottlenecks are inevitable and reports can never be perfect. For example, no business can claim they have a 100% customer satisfaction rate.
Some common reporting bottlenecks and what to do about them:
Low CSAT Score: If your team is consistently receiving a low CSAT score, it means your agents are not meeting customer expectations. Whenever you receive negative feedback, follow up with customers and see how you can solve their problems.
High Ticket Backlogs: If your ticket backlog runs in triple digits, you need to see why your team is not able to meet its targets. Some reasons could be lack of training, shortage of manpower, or any recent promotional event.
Long Wait Times: Just like you, customers hate the idea of waiting while seeking assistance. For better queue management, you can use the round-robin ticket assignment feature that ensures tickets are equally distributed among available agents.
Watch: How to Improve Customer Support With Powerful Reporting & Tracking
7. Have a Rewards & Recognition System in Place
While on the one hand, reports can help you identify your improvement areas, on the other hand, they also help you spot your top performers.
Human beings are reward-seeking creatures. When your employees put in the hard work, they deserve to be rewarded and recognized for their efforts. This is one of the key best practices for helpdesk reporting.
Staff recognition is not a "nice to have", it has become a business necessity. Your customer service agents deserve frequent, in-the-moment recognition that helps them perform even better. So how do you go about this?
For a start, you can recognize agents who receive the highest CSAT scores for the day. You can write their names on a small leader board that is visible to everyone. Furthermore, it is always a wise idea to reward agents who deliver consistent results. For example, you can share monetary incentives with your monthly or quarterly top-performers.
Read More: Ten Tips to Motivate Your Customer Support Team
8. Focus on a Reporting Schedule
Do you glance through your reports every day? Do you keep a specific day of the week to keep a tab on your team's performance?
How frequently you schedule and view your reports can make a huge difference. You overdo it and you might find yourself drowning in numbers. You neglect it for too long, and you are left with more questions than answers.
So what's the solution?
Well, you need to strike the right balance. While you can schedule daily reports for key help desk metrics, others can be scheduled weekly.
For example, support managers must know about their daily numbers. The total number of tickets received, total pending tickets, CSAT score for the day, and so on. On the other hand, you can schedule weekly or monthly reports for metrics such as cost per ticket, as it usually doesn't demand daily attention.
9. Collect Feedback Consistently
To know you are on the right track, it is important to capture feedback from the people who are involved in the customer service process.
Sit with your team from time to time to discuss reports. See what metrics you can add or remove. Moreover, foster an open culture, so that team members can discuss their unique issues or challenges.
You can even share surveys with your team to identify the areas they feel are great for the reporting structure and the areas that can be improved. For example, if there are some agents who feel they find a particular metric irrelevant to their work, they can highlight that in the survey.
10. Share Reports for Greater Transparency
There is no point in hoarding your reports in an online drive or office drawers. In order to build a transparent work culture, you must share your help desk reports with key stakeholders, including support reps.
By sharing reports, you can encourage agents to take ownership of their work and know what is expected of them. It gives them a holistic view of how close they are to meeting their individual and team goals.
Provide your staff with the information they need to be more actionable and encourage healthy competition among team members. Moreover, you should even share your reports with business partners, investors, premium customers, and other stakeholders to keep them on the same page. Sharing reports with leaders will help them make better decisions pertaining to support budget, staffing needs, training, etc.
But how do you share your reports? Help desk software allows you to download and share reports with anyone you want. You can generate a shareable link and send it via email, chat, SMS, or any other medium of your choice.
Make Better Decisions With Help Desk Reporting Best Practices
Making the most of available data is an art that every business needs to master. Help desk reports can offer you a holistic view of your support team's performance and help you monitor customer satisfaction.
While choosing help desk metrics, make sure you involve key stakeholders such as investors, business partners, or premium customers. Moreover, you need to focus on both the good and bad aspects of your reports – reward the top performers and identify the reasons for customer dissatisfaction.
When you have to deal with a large volume of customer service data, manually tracking interactions and their quality can seem like an uphill task. In such cases, your business needs an automated help desk software such as ProProfs Help Desk that can help you convert raw numbers into meaningful and actionable data.
Do you want a free Help Desk?
We have the #1 Online Help Desk Software for delightful customer support