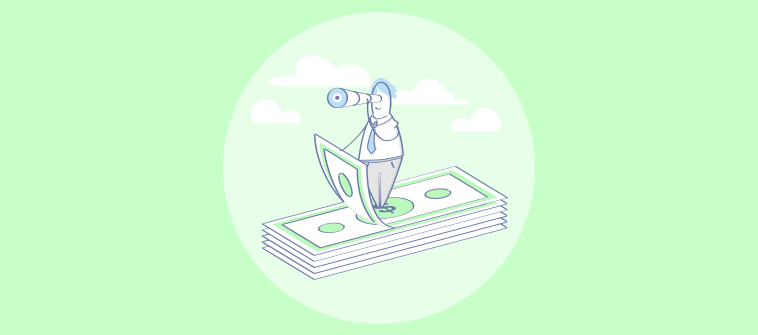 Imagine your employees coming to work each day full of purpose and with a strong belief in your company's values. They strongly relate to the good that your brand brings to the world and think they have found the most valuable thing – "meaning in life".
Sounds like a Disney movie, right? Well, it can be a reality too.
Employees and customers can be genuinely inspired with the right help desk mission and vision statements. It helps you communicate what your business has set out to accomplish and how you wish to make their lives better.
When help desk mission statements are written with intent and clarity, they can motivate your customer service team to turn your aspirations into reality. Moreover, customers are attracted to brands that have a strong sense of purpose.
While you might adopt the best help desk software and automation technology, without the right mission, your team is directionless. So if you are looking to turn your visionary ideas into meaningful statements, this blog will offer all the help. We will understand the importance of mission and vision statements, discuss tips to create them, and finally explore some examples that will leave you inspired.
Let's do this!
What is a Mission Statement?
A mission statement defines your company's purpose and its primary goals. These statements are set in the present tense and explain the "Why" of your business – why does your business exist? Why do you sell what you sell? For ease of communication, mission statements should be short, written in simple language, and powerful.
Mission statements are written for the members of an organization, customers, business partners, investors, and other key stakeholders. Moreover, they can be written to communicate the purpose of your overall business, an internal department (such as customer service, sales, marketing, etc.), or to define the goals of long-term projects or initiatives.
Let's understand this better with mission statement examples from popular brands.
Apple Mission Statement:
"To bring the best user experience to customers through our innovative hardware, software, and services."
Starbucks Mission Statement:
"To inspire and nurture the human spirit – one person, one cup, and one neighborhood at a time."
What is a Vision Statement?
Vision statements focus on your organization's broader goals and aspirations. Although vision mission statements might appear to be the same, there is one major difference. Unlike mission statements, vision statements look forward and create an image of the place an organization wishes to be in the future.
These statements are designed to be uplifting and motivating for the employees who work for your brand and even the customers who have been associated with you for years. While drafting vision statements, you can consider these questions:
What bigger problem are we trying to solve?
Where is our business headed?
If we achieve all our goals, where will we reach 10 years from now?
Here are the vision statement examples from the same brands:
Apple Vision Statement:
"To make the best products on earth, and to leave the world better than we found it."
Starbucks Vision Statement:
"To establish Starbucks as the premier purveyor of the finest coffee in the world while maintaining our uncompromising principles while we grow."
What Are the Three Parts of a Mission Statement?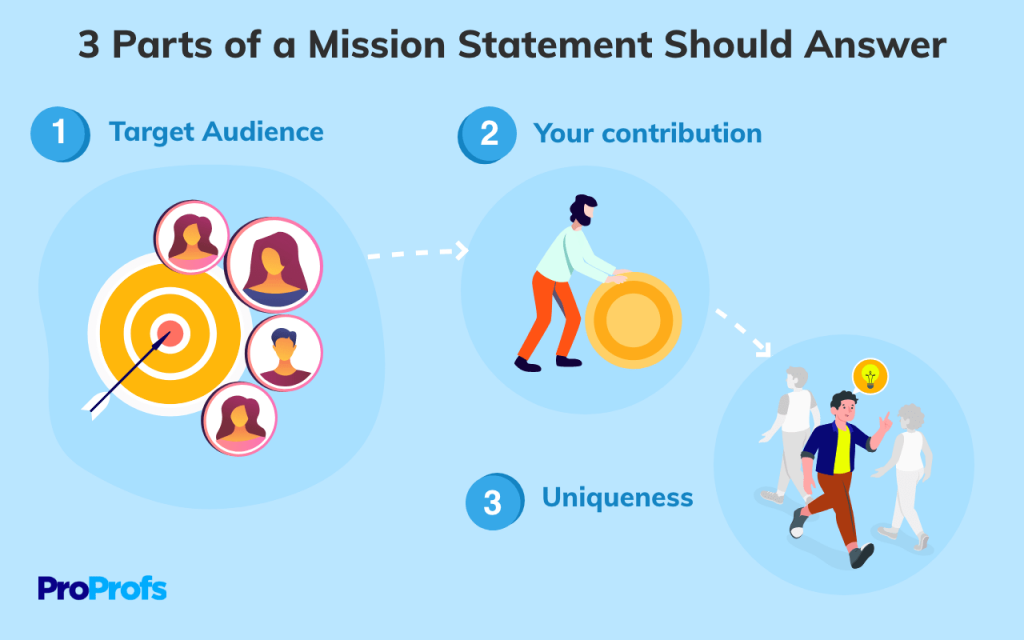 Even though a mission statement includes only around 15-30 words, it can be challenging to strike the right cords. If you are struggling to clearly and concisely get your ideas together, this section will make all the difference. Here are three parts of a mission statement you need to know:
Target Audience: Before creating your sample mission and vision statement, you need to know your target audience. Who are the people you are trying to sell your products or services to? The knowledge of your target audience is the first component that must be explored when composing a mission statement.
Your Contribution: The next component of a successful mission statement explains how your business will help your target audience solve their problems and attain success. Specifically, how your product or service offerings will make a difference in the lives of your customers, employees, or business partners.
Uniqueness: What is your brand's unique selling proposition (USP)? In your mission and vision statements, you must communicate what makes your product or service unique in the marketplace. Why should customers buy from your brand rather than from your competitors?
Help Desk Mission and Vision Statements
The help desk team is an important business department that has the responsibility of supporting internal employees and external customers. Therefore, to keep your team moving in the right direction, you need to create the best help desk mission and vision statements.
You need to ensure that these statements are well-understood by everyone in your department – right from an intern who has just joined you to the customer support manager who has decades of experience. If employees themselves have no clarity, forget about "selling" the idea of your vision and mission statements to customers or other stakeholders.
Now, the "mission statement" of your team should reflect your purpose. Your help desk team's purpose can be to reduce agent efforts, adopt the latest technology, improve the customer experience, offer uninterrupted IT support to employees, and so on. These statements should be focused on the present and not on the future.
On the other hand, your help desk "vision statement" should focus on what your team wishes to achieve in the long run. Although these are aspirations, they still need to be achievable so that every employee finds them realistic. An unrealistic vision statement can reduce your team's confidence and negatively impact their productivity.
Why Create Help Desk Mission Statements?
A customer support mission statement encompasses your entire support department or a particular project. Let's discuss some top benefits of a mission statement:
Attract the Right Talent
When looking for a job, many customer support professionals refer to your team's mission statement to decide if they want to apply for the job or not. A lot of talented and career-oriented professionals can relate to your mission and vision statements and get involved with your business. This way, you can attract like-minded people to your team and deliver top-quality customer service.
Improve Performance
Besides the daily employee roles and responsibilities, customer service mission statements provide a broader goal for your team members. The statements are powerful enough to motivate your team and improve their performance. The right mission statement helps you foster an environment that encourages every team member to deliver high-quality work and meet customer as well as employer expectations. You can easily monitor your team's performance using customer support software and measure individual productivity.
Reduce Stress
We all know that customer support is not an easy occupation. You always have to deal with difficult customers who are angry because of something as small as a product delivery that was probably delayed by an hour. In such a case, mission and vision statements can help your employees rise above the situation and see the bigger picture. Such statements teach agents that they must be patient and focused on the goal despite any challenges.
Build a Community
Well-curated services mission statements can help your business build a community of like-minded customers, prospects, investors, and business partners. People who share a similar mission will be automatically attracted to your company's goal and would like to be associated with you. For instance, when customers believe in your mission of "delightful customer service", they would like to engage with your brand and buy from you without thinking much about the price.
How to Create Service Desk Mission Statement: Tips & Best Practices
When you are writing a mission statement, a lot is at stake as it will be read by your existing customers, employees, prospects, business partners, and other important people.
To make every word count, here are some tips and best practices you can use:
1. Keep it Simple, Short, & Jargon-Free
For superior communication, your service mission statement should be short and written in simple language- the language that is spoken by the majority of your target audience.
Your company's purpose, philosophy, or reason for existence are heavy topics. However, the real art is in creating a mission statement that everyone can understand.
The purpose of these statements is not to sell or pitch how you are ten times better than your competitors. Therefore, instead of creating a long essay that no one wants to read, create something that is concise, powerful, and easy to comprehend.
2. Find Out How Employees Perceive Your Mission Statement
Are your employees inspired by your customer service vision or do they feel it is full of "the obvious" and repetitive?
Even if your mission statement is directed towards your customers, it has a lot of influence on your customer service employees. Therefore, while establishing your team's mission, you must take their opinions into account.
You can hold a meeting with your teammates and discuss what they like or dislike about the existing mission. If you are on the verge of creating a new one, don't forget to ask employees what they would like to include and implement their suggestions.
3. Think Long Term & Don't Limit it
A long-term vision gives your entire team a sense of direction and connects every decision you make with something larger. Thinking ahead helps you look past temporary issues and avoid stress.
The service desk mission statement is an investment in your brand's future. Make sure it reflects your present as well as future goals.
In addition to a long-term perspective, you must not limit your purpose to a particular geographical area, consumer segment, or time. For instance, look at this statement, "We want to provide exceptional service to the people of Seattle." A limited statement like this will prevent you from expanding and growing your business.
4. Market Your Mission Statement
There is no point in creating a perfect mission statement and then keeping it in closed drawers. Your target audience must know about your customer service mission so that they can resonate with your goals and purpose.
Mission statements are a crucial component of the branding of your overall business or department. Just the way you use your logo or tagline, make sure your awesome mission statement gets the attention it deserves.
As soon as you finalize your mission statement, make sure the world hears about it. Share it as an image on Facebook, tweet about it, and create an "Our Mission" section on your website. To leave a lasting impression, you can even add your team's pictures and let your customers relate to your story.
What Does a Good Help Desk Vision or Mission Look Like?
Help desk mission and vision statements need to be unique and distinctive based on what your business stands for. Simply copy-pasting someone else's vision will do more harm to your business than good. Here are some sample mission and vision statements that you can take inspiration from:
10 Help Desk Mission Statement Examples:
We are dedicated to the highest quality of customer service to help customers enjoy a meaningful experience, always.
To prioritize customer success and make this world a better place.
To offer rigorous training to support professionals and enhance the customer service experience.
To be the most customer-centric company, where customers can find solutions to their problems without any trouble.
To maximize repeat purchases by supporting customers 24×7.
To enhance customer retention by improving the post-sales support experience for every customer.
Inspire every customer to shop online with zero frictions.
We work day in and day out to make our company the world's most respected service brand.
To foster the right community where people can engage, interact, and learn together.
It is our duty to lend a helping hand to the people who drive our business forward.
10 Help Desk Vision Statement Examples:
To become the most customer-centric organization in the world.
To deliver "trust" through customer service and inspire millions of people.
To become a world-class team with the help of the latest technology.
To drive profitable business growth while creating a positive impact on the lives of millions of people.
To embrace rapid innovation and improve the way people interact with our products and services globally.
Our vision is to help customers make the best use of what we sell.
To always put people at the center of what we do.
To become a world-class brand that is known for superior IT infrastructure and support.
To become a brand known for affordable products and great customer service.
To create the perfect blend of human and artificial intelligence-powered support.
Turn Help Desk Mission Statement into Action
Even if it's just a couple of words, the right mission statement can give your customer service team a lot of value. Not only can it outline your company's present goals but also help your team express your hopes for the future.
To draft the best help desk mission and vision statement, keep your language simple and jargon-free. Think about the long-term and understand how employees react to it. Also, revisit your goals from time to time and see what needs to be updated.
We are sure that the help desk mission and vision statement examples shared in this blog will help you create your own. Don't forget to market it on your website, social media, and even during customer service interactions to spread the right message.
Do you want a free Help Desk?
We have the #1 Online Help Desk Software for delightful customer support