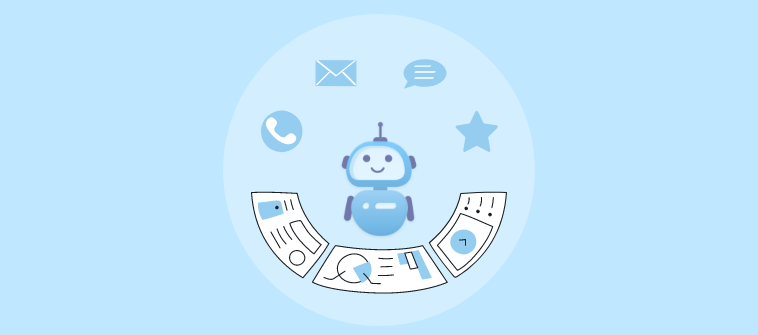 Help desk automation, if done successfully, can improve the experience for all – customers, support agents, and business executives. But automation is no longer about the IVR menus we interacted with to know the status of our appointments.
A lot has changed. A lot!
Automated help desk software can help you automate a dozen tasks, AI solutions can use sentiment analysis to interpret customer feedback, and chatbots can actually answer questions without passing them off to humans.
To meet rising customer expectations, win their trust, and retain them for a long time, it's important to offer top-notch support and empower customers to help themselves. But automation can be a tough nut to crack, especially if you are new to the game.
In this blog, we will dwell on what helpdesk automation is and its various benefits for your business. Later, we will explore the six best help desk tools and automation ideas to help your customer service process run on autopilot.
Let's go!
What Is Help Desk Automation?
Help desk automation can be defined as the process of automating your customer service process. Instead of relying on manual inputs and tasks, you can automate your workflows and achieve more in less time.
When you automate your help desk process, you can significantly reduce agent workload and allow them to focus more on tasks that demand a human touch. For example, agents can give their undivided attention to upset or angry customers and try to compensate for a bad experience.
What Are the Benefits of Help Desk Automation?
Did you know that 47% of consumers switched to a different brand due to poor customer service? Embracing automation can help you assist customers 24×7 and deliver memorable experiences that make them stay.
Here are some of the top help desk automation benefits you should know:
1. Avoid Human Error
Irrespective of their experience and skills, even the best customer service employees make mistakes. They can forget to reply to a ticket or, worse, share an incorrect solution.
When you embrace service desk automation, you can rise above human errors. Automating key tasks and processes will ensure that important tickets are never ignored, they are always routed to the right agents, and SLA violations are minimized.
In addition, with an automated workflow, you can improve communication by sharing real-time alerts with customers and support reps.
2. Reduce Customer Wait Times
Customer wait time refers to the average time a customer waits in queue before getting connected to a call or chat representative. Longer wait times can frustrate customers and make them lose trust in your support process.
According to Statista, around 12% of customers cited lack of speed as one of the top reasons for customer service frustration.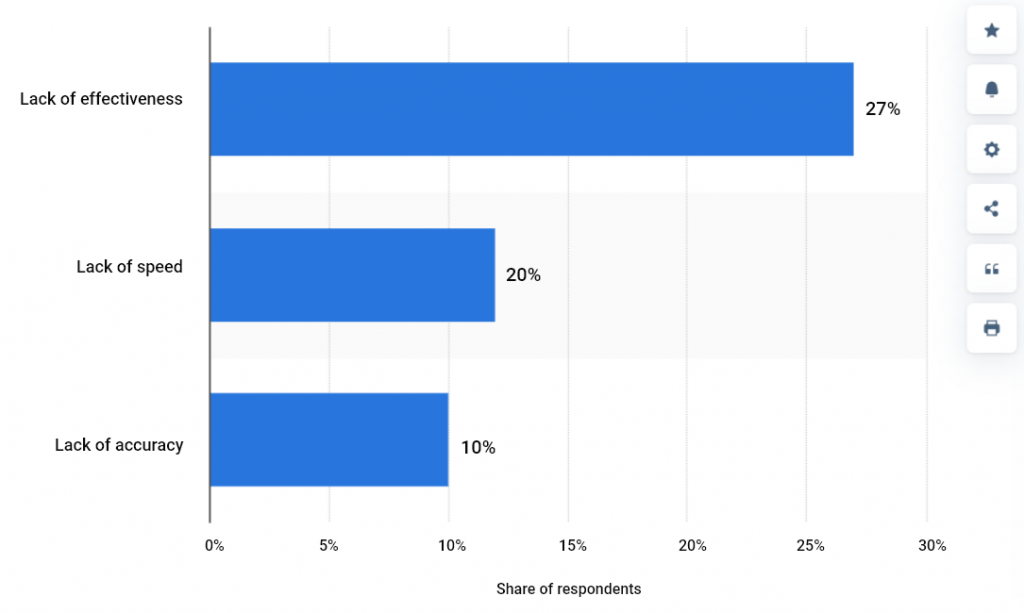 Help desk automation technology can allow you to create chatbots that can handle multiple customers at the same time. Once the routine queries are taken care of by bots, human agents can focus on other complex tickets.
Read More: 10 Important Customer Satisfaction Metrics to Target in 2023
3. Reduce Support Costs
Gone are the days when a single agent could handle one customer at a time. With the advent of service desk automation software, agents can interact with multiple customers via live chat or social media.
Since your team can handle more customers at the same time, you do not need to spend extra on hiring and training new staff members. This can` help your customer service department save thousands of dollars every month.
Read More: How to Reduce Customer Support Costs for Your Business
4. Effortless Implementation
Many business owners feel automation technology means complicated workflows, increased expenditure, and months of employee training. However, that's not the case.
You don't have to be a coding genius to deploy help desk automation tools. You can get started with this tool in minutes and automate your repetitive and mundane tasks in just a few clicks.
In addition, many software vendors offer enough training material in the form of how-to guides, video tutorials, FAQs, etc., that agents can access 24×7 to make the most of automation.
Features of an Automated Help Desk System
In your search for an automated service desk, it is important to know which features can make all the difference. Here are some must-have automation features that you should consider:
1. Automated Ticket Routing
Automated ticket assignment in a help desk is the process of automatically assigning incoming support requests or complaints (tickets) to the appropriate person based on predefined rules and criteria.
For example, many ticketing systems use the Round-Robin assignment feature to automatically distribute tickets among all available resources. This leads ta fair distribution of work and speeds up the issue resolution process.
2. Alerts & Notifications
Alerts and notifications is another help desk automation feature that can help your agents stay updated about the ticket progress no matter where they are.
For example, agents get a new ticket notification whenever a new help desk ticket is generated. Similarly, customers can get an email alert when a response is shared by the agent who is working on the issue.
3. Ticket Escalation
Ticket escalation is the process of raising the priority level of a support ticket to ensure that it receives appropriate attention and resources. When a ticket is escalated, it is typically routed to a higher-level support agent or manager who has more expertise or authority to resolve the issue.
Tickets are usually escalated when an agent fails to resolve the issue as per the set SLAs or when the issue can have a big impact on business processes. This is a great way to ensure urgent issues are given necessary attention.
4. Reporting
Customer service managers can generate automated reports to keep a firm tab on team and individual performance. These reports offer up-to-the-minute insights into customer service process.
For example, you can view metrics such as the average ticket response time, ticket resolution time, pending tickets, agent ratings, etc., in a single reporting dashboard. Managers can even filter reports to gauge an agent's weekly, monthly, or quarterly performance.
Read More: Top Benefits of Customer Service Reports
5. Canned Responses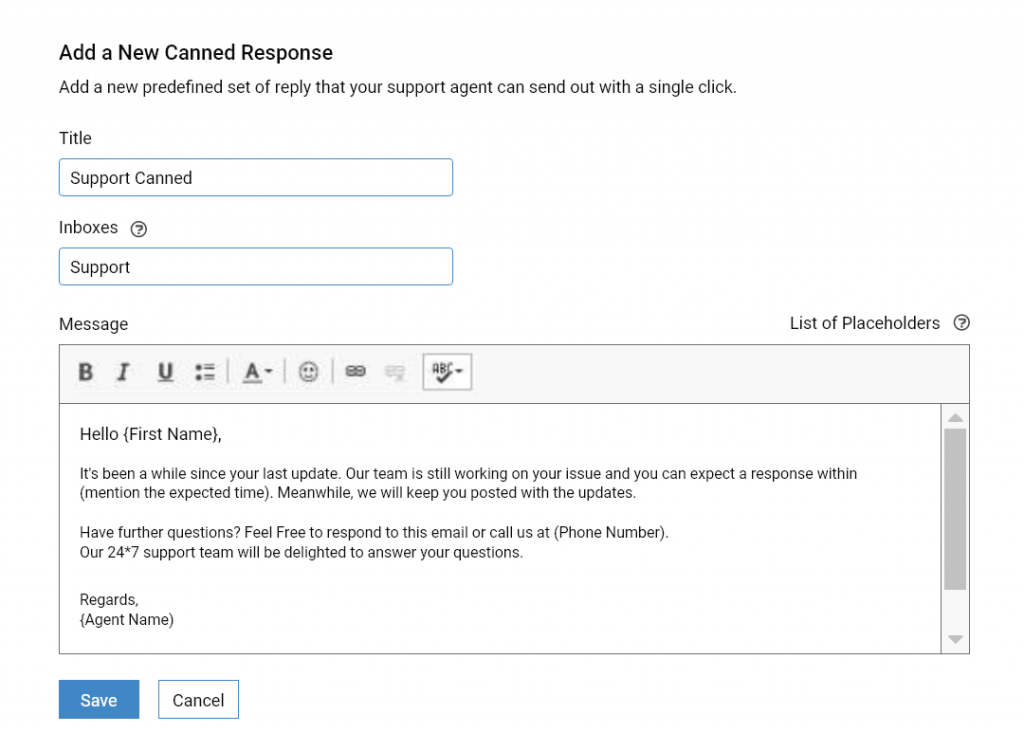 Canned responses are pre-designed message templates that can be used to respond to common customer queries and requests.
For example, you can use appropriate canned responses to address common queries such as, "What is the status of my order?" Or "What are your company's return policies?" The use of canned responses will help you reduce human errors and share consistent replies.
Read More: 11 Best Canned Response Templates for Customer Support Emails
6. Knowledge Base
An online knowledge base acts as a repository of help articles, FAQ pages, video tutorials, etc., that can be accessed by customers around the clock.
A dedicated knowledge base can help you automate your customer service process and reduce ticket volume. Customers can browse through a list of FAQs, read the relevant solutions, and resolve issues at their own pace.
7. Chatbot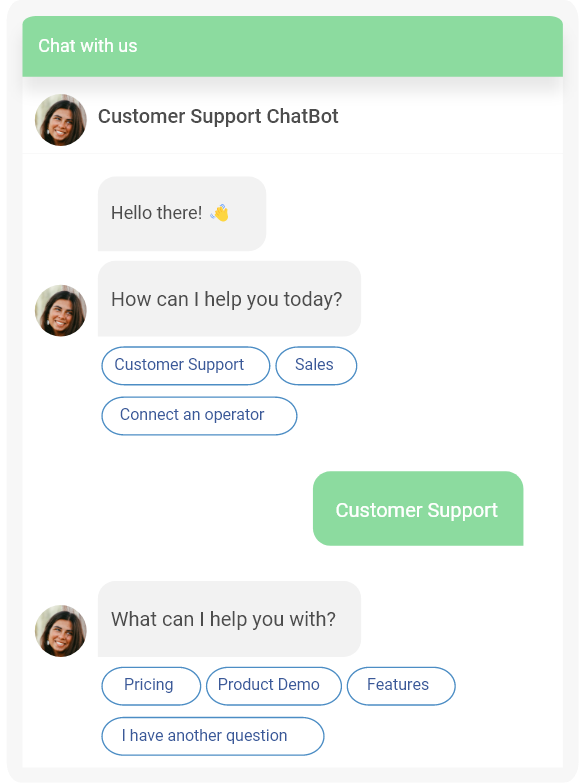 A chatbot has become a popular service desk automation tool that can help your business assist customers 24×7 even when your customer service team isn't available.
Bots can be trained to handle common queries related to product pricing, availability, return policies, appointment scheduling, and more. In addition, if a bot isn't able to tackle a customer query, it can transfer the chat to a human chat operator.
Read More: The Best Customer Service Chatbots – Unlocking the Ultimate User Experience!
What Customer Support Processes Can You Automate Using Help Desk Software?
There are several customer support processes that can be automated through the help desk software. Some examples include:
Ticket Routing: Help desk software can automatically route customer support tickets to the appropriate support agent or team based on predefined criteria such as ticket priority, agent skills, etc.
Ticket Status Updates: Help desk ticketing systems can automatically send email or in-app notifications to customers when their support ticket status changes, such as when it's been assigned to an agent, or when it has been escalated or resolved.
Chatbots: Help desk software can integrate with chatbot technology to automatically handle simple customer inquiries or routine support requests. This can free up support agents to focus on more complex issues.
Customer Feedback Surveys: Using this system, you can automatically send surveys or feedback requests to customers after their support ticket has been resolved. This can help gather valuable insights to improve the overall customer support experience.
Performance Metrics: A ticketing system can automatically generate reports and dashboards to track key performance metrics such as ticket volume, response time, and customer satisfaction scores. This can help support managers identify areas for improvement and optimize support processes.
Price & Feature Comparison Chart for Top Help Desk Software
S.No
Software
Price
Free Trial
Features
1
ProProfs Help Desk
Starts at $10/month
15 Days

Automated chat greetings
Customer service chatbots
Online Knowledge base

2
Zoho Desk
Starts at $12/month
15 Days

Auto-tag tickets
Community forum
Multiple integration options

3
Zendesk
Starts at $49/month
14 Days

Knowledge base
AI-powered answer bots
Multilingual customer support

4
Freshdesk
Starts at $19/month
21 Days

Automated ticket assignment
Configure SLAs
Canned responses

5
HelpDesk
Starts at $29/month
14 Days

Automated workflows
Bulk ticket actions
Performance reports & metrics

6
HappyFox
Starts at $26/month
Not Available

Automated ticket escalations
Canned responses
Knowledge base
Top 6 Automated Help Desk Software
Now it's time to explore the top six leading help desk software brands that are know for impeccable automation capabilities and features.
ProProfs Help Desk offers superior automation features to help your team achieve more in less time. From ticket routing to notifications and alerts, there are multiple tasks that you can automate to enhance productivity and reduce agent workload.
As the best-automated help desk software, ProProfs helps you build customer service chatbots for your website. Besides, you can even automate your service process by creating a knowledge base that provides answers through FAQ pages, guides, video tutorials, and more.
Top Features of ProProfs Help Desk:
Share automated chat greetings and offers to grab the attention of website visitors
Assign and distribute tickets based on an intelligent round-robin algorithm
Create a vast library of canned responses for common queries
Keep your team and customers updated with automated email notifications
Let customers track their tickets using the customer service portal
Pricing:
Starts at $20/agent/month (billed annually).
Zoho Desk helps your team create multiple automation rules to avoid the burden of completing tasks manually. For instance, you can automate the ticket routing process to make every ticket meet its perfect match in your team.
With Zoho Desk, you can choose to automatically escalate tickets to senior reps or managers based on service level agreements (SLAs). You can manage customer communications on instant messaging channels such as WhatsApp and Telegram.
Top Features of Zoho Desk:
Automatically notify customers about ticket updates
Use live chat to be available for your customers in an instant
Auto-tag tickets for better ticket organization
Build a community forum for prospects and customers
Integrate Zoho Desk with Zoho CRM to deliver personalized customer service
Pricing:
Starts at $12/user/month
Read More – Zoho Desk Alternatives
Zendesk is a recognized brand in the software industry that allows you to automate help desk processes and workflows. The tool uses machine learning to process and sort incoming support tickets.
The best part about Zendesk is that it comes loaded with pre-written responses and templates, helping your team deliver on-point and consistent replies. You can even create a help center to encourage self-service and give agents enough time to focus on serious issues. If you are a small business, the tool can prove to be quite expensive for you.
Top Features of Zendesk:
Automatically recommend knowledge base articles to agents and customers
Develop powerful answer bots to tackle routine customer queries
Keep your help center content fresh with team publishing features
Offer multilingual support to your global customers
Integrate with 100+ powerful business tools and applications
Pricing:
Starts at $49/user/month
Over the years, Freshdesk has emerged as a popular help desk choice among businesses of all sizes. With AI-powered automation capabilities, you can streamline your customer service workflows in simple steps.
As soon as a customer message is received, the automation features kick in. The tool automatically performs specific actions based on where a customer has contacted you and the reason for contact.
Top Features of Freshdesk:
Automatically assign tickets based on agent skills and workload
AI called Freddy can automatically suggest ticket fields for new support tickets
Set deadlines for ticket response and resolution times
Provide quick, consistent replies with the help of canned responses
Engage with customers on WhatsApp and Facebook
Pricing:
Starts at $19/user/month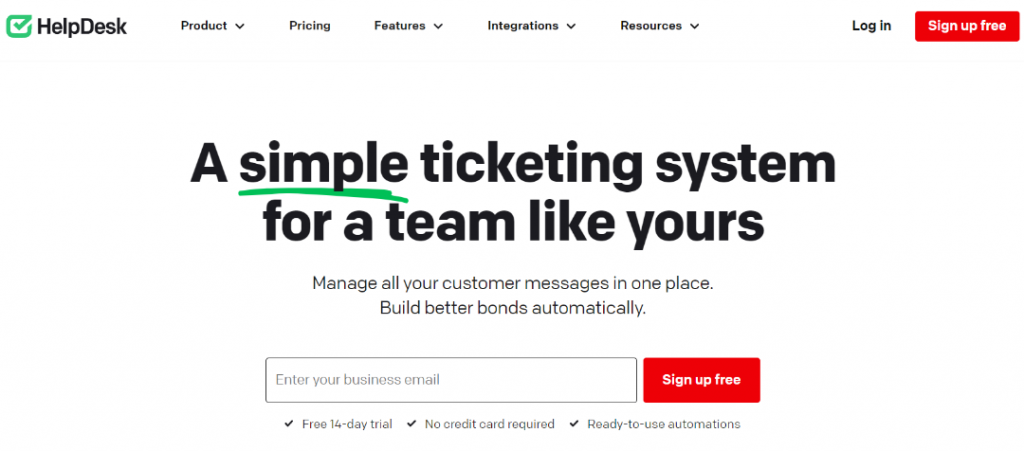 HelpDesk is another impressive tool that helps you create automated workflows based on certain conditions and actions. You can assign tickets to your team members based on their specific skills or area of interest.
In addition, the tool helps you Improve your customer service response time with the help of pre-made canned responses. You can create canned responses for different situations and delight your audience with faster replies.
Top Features of HelpDesk:
Resolve common support tickets automatically without any hassles
Perform bulk action on tickets that are similar in nature
View real-time updates in performance reports and metrics
Define actions that the system will perform when certain conditions are met
Automatically prioritize tickets for VIP customers
Pricing:
Starts at $29/user/month

HappyFox offers multiple automation features to help you reduce support costs and enhance team productivity. You can create smart rules to make the system take necessary actions when certain pre-defined conditions are met.
With this automated notifications and alerts, your customer service representatives can stay informed about the tickets created, customer responses to those tickets, and other important actions.
Top Features of HappyFox:
Automatically escalate tickets that demand immediate attention
Use round-robin assignments to distribute tickets among your staff pool
Create and share canned responses among team members
Use pre-designed templates to pre-fill ticket properties
Promote self-service with a dedicated knowledge base
Pricing:
Starts at $26/user/month
8 Best Ideas to Automate Your Help Desk
There are multiple ways you can automate your help desk process to save time, enhance productivity, and delight customers. Let's explore some of the top help desk automation ideas right away.
1. Drive Engagement With Live Chat
Unlike traditional communication channels like phone or email, live chat can be used to handle multiple customers simultaneously. In fact, customers love speed responses when it comes to getting their issues resolved or queries answered.
According to a Forrester report, over 30% of customers expect live chat support on your website.
So how can live chat help you automate your process? Whenever a visitor shares a common query, the chat operator can simply share a link to a relevant help center article and encourage self-service. This is a great way to deflect a majority of low-priority tickets.
2. Invest in Automated Help Desk Software
If there is one tool that can help you automate multiple tasks, it's help desk software.
From ticket assignments to notifications and alerts, help desk automation software can help you automate mundane tasks and enhance team productivity.
Let's see how it works:
Automated ticket assignments: When agents pick tickets to resolve manually, it can lead to unfair distribution and create confusion. To avoid such a situation, you can choose to route tickets automatically to agents using the round-robin method.
Automated email notifications: How do you update agents when a new ticket arrives in your inbox? How do you inform customers that their ticket has been registered? Well, automated email notifications can do the trick. They are sent to agents or customers when a pre-defined condition is met.
Canned responses: This simple automation feature can save your team thousands of hours every month. Canned responses are pre-designed email or chat response templates that agents can use to respond quickly to common customer queries.
3. Develop Powerful Chatbots
With chatbots, customers can get instant assistance, so they don't have to wait in a call support queue or write lengthy complaints via email.
Chatbots are a must for IT help desk automation. In fact, 57% of executives claim that chatbots bring significant returns on investment (ROI) with minimal effort.
Whether you own an online store, develop mobile apps, or run a fashion boutique, chatbots are applicable in most industries. You can design their script in such a way that they mimic human-like interactions and do not sound robotic. You can even give a unique personality to your bot to enhance the customer service experience.
There will be situations where chatbots can't offer a solution or understand the problem. In such a case, the bot can give customers the option to connect with a live chat operator or create a help desk ticket.
Read More: Chatbot Pricing: Everything You Need to Know About Chatbot Cost
4. Share Auto-Reply Emails
Do your customers keep waiting to get an email response from your help desk team?
Automated email replies can help you eliminate their frustration.
According to Statista, 62% of customers expect businesses to share an email response within 24 hours.
You can use auto-reply emails for different situations. For example, you can share them when customers drop a complaint when your team is offline. Here is a sample text:
"Hi, Thank you for reaching out to us. Our help desk team's operation hours are from 9:00 a.m. to 6:00 p.m. You can expect our agent to connect with you within the next 24 hours. Kindly fill out this query/complaint form."
This will help customers get an immediate response and allow them to set the right expectations.
Read More: 20 Effective Email Management Tips to Achieve Email Success
5. Reduce Help Desk Tickets With Knowledge Base
Most customers don't give a toss whether you have enough customer service staff available. If they encounter a small issue, they feel they should have the option to explore solutions themselves.
According to a Microsoft study, 90% of global customers expect brands and organizations to provide an online self-service portal.
Make sure your knowledge base offers advanced search capabilities and presents content in multiple formats – from small FAQs to in-depth troubleshooting guides. You can even include short how-to-videos for greater interactiveness.
If you already have a knowledge base and feel customers are always skipping self-service, it's best to market it. You can share proactive emails with customers that include links to relevant help center articles. Phone support agents or live chat operators can do the same to encourage self-service among your audience.
6. Use Pre-Designed Response Templates
A majority of customer queries are repetitive: "Where is my order?" "How do I return my item?" "When will product X be back in stock?"
There is no point in reinventing the wheel. Instead of typing the same response again and again, you can create email and chat response templates for routine queries.
Customer service managers can bring out their experience and help craft brilliant responses to frequently asked questions. Support agents can then use these templates to save time and reduce effort.
The purpose of these templates is not to simply share a response in seconds. You must look to add a modest amount of personalization to make customers feel special and valued.
Read More: 20 Customer Service Email Templates for Super-Fast Responses
7. Leverage IVR Technology
IVR, or interactive voice response technology, has been the cornerstone of help desk automation for decades. But how exactly does it work?
IVR allows customers to interact with a pre-recorded voice using DTMF (dual-tone multi-frequency) tones. An IVR system can allow you to share pre-recorded greetings and route callers to the right departments.
So, how does this technology help you facilitate automation in service desk? An IVR system can be designed to offer multiple self-service options to customers, such as order tracking, balance inquiry, appointment booking, etc., over the phone.
When your phone support operators are too busy to take further calls, IVR can be used to communicate the same to customers. The system can even arrange customer callbacks based on their preferred time slots.
8. Share Automated Surveys
How do you know if your automation efforts are successful? Why not ask your customers directly about their customer service experience?
An automated help desk ticketing system allows you to share automated surveys with customers right after their support interaction – as soon as a ticket is closed.
These surveys can help you capture feedback on agent performance, ease of seeking assistance, or the overall support experience.
You can even choose to escalate issues based on how customers respond. For instance, if a customer gives a one-star rating or shares negative feedback, you can escalate the case to the manager and schedule a call.
How to Choose Help Desk Automation Solutions
The market is flooded with help desk tools that claim they offer the best-in-class automation features. But not everything that shines is gold. You need to be extra careful while choosing help desk automation solutions.
You must go for a tool that helps you:
Automatically assign incoming help desk tickets to the right agents
Keep agents and customers informed with automated notifications and alerts
Create, edit, and store canned responses for common customer questions
Develop chatbots to automate your customer service process
Build a knowledge base to encourage self-service and reduce agent workload
Prioritize and escalate tickets automatically that miss SLA deadlines
Access your help desk platform anytime, anywhere
Resolve tickets on the move with a dedicated mobile app
There are other factors such as a free trial, affordable pricing, flexible pay-per-user plans, etc. that deserve your attention. In addition, if you feel a tool does not meet all the above criteria, go for the one that offers maximum automation features without costing you an arm and a leg.
Embrace Help Desk Automation & Delight Customers!
Modern customers no longer want to wait in a long queue to get connected to a human representative. They wish to feel empowered and take matters into their own hands.
As customer expectations are at an all-time high and competition is stiff, help desk automation has emerged as a silver bullet for most customer service teams. It can help you avoid human errors, reduce customer wait times, and save money in the long run.
To automate help desk process, you can implement chatbots on your website, create a self-service knowledge base, leverage IVR technology, and use pred-designed response templates. You can also look to invest in automated help desk software such as ProProfs Help Desk. This powerful tool can help you automate manual tasks such as ticket assignments, notifications, CSAT surveys, etc., and encourage self-service with chatbots and a knowledge base.
Do you want a free Help Desk?
We have the #1 Online Help Desk Software for delightful customer support