Hiring and onboarding staff in today's market is tough enough. Add to that the pressure of meeting employee expectations when it comes to internal support.
Supporting tens or hundreds of employees is not easy.
For an HR professional, life isn't a smooth sail. One moment you are explaining leave policies to new recruits, the next, you are dealing with something as serious as a sexual harassment complaint.
Amidst such chaos, HR help desk software can ease your pressure and breath new life into your workplace. You can automate mundane tasks, reduce routine queries with self-service, and monitor the end-user experience.
To help your team flourish, we've created this HR help desk guide. We will explore the must-have features, best practices, and benefits of the human resources help desk. Ultimately, we will help you choose the best HR ticketing solution to improve support and retention.
Let's go!
What Is HR Help Desk Software?
HR Help desk software is an automation tool used by human resource professionals to manage employee requests, grievances, complaints, and inquiries in one place. Not just existing employees, HR reps can also take complete control of requests made by potential candidates and conduct a smooth interview process.
HR ticket systems also allow you to create an internal knowledge base where employees can find articles related to training, company policies, and other documentation. Moreover, HR leaders can access reports to gauge team performance and improve support.
Why Does Your Business Need HR Help Desk Software?
Employee attrition is at an all-time high, and HR teams are struggling to retain their best talents. When your team is unable to empower employees with self-service, organize training sessions, or handle their requests in time, they are bound to feel undervalued. This turns out to be a major reason why people leave an organization.
According to a study, 27% of employees left their organization because they felt undervalued.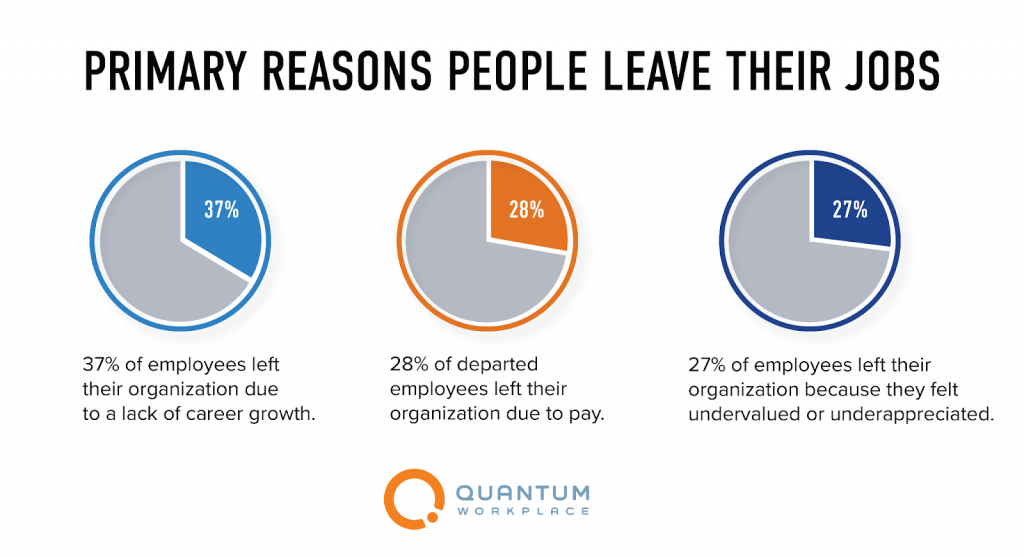 In this case, HR help desk software can help you make employees feel valued and supported throughout their tenure with your organization. For example, you can fulfill requests in the quickest turnaround time, upload online training programs, or monitor employee satisfaction and engagement consistently.
Benefits of Using HR Help Desk Software
HR help desk tools can bring multiple benefits to the table. Let's explore them right away.
1. Track All Requests in One Place
HR teams are bombarded with requests and issues from multiple departments. For example, the sales leader can request to hire new sales associates. Similarly, employees can inquire about leave approvals or ongoing training programs.
But when you lose these requests in a pile of emails and forms, you can hamper the employee service experience. However, with help desk software for HR, you can capture employee requests from multiple channels and track their progress in one place.
2. Enhance Employee Onboarding
When you get your onboarding process right, you can ensure new hires are welcomed into your company and feel at ease. It is your responsibility to make them feel valued during their first few weeks and resolve their queries so that they can soon become productive team players.
An HR help desk ticketing system can ensure new hires have a smooth transition into your team and company. For example, you can create an internal knowledge base where new starters can find information about different departments, documentation, holidays, employee benefits, and more.
3. Prioritize Urgent Issues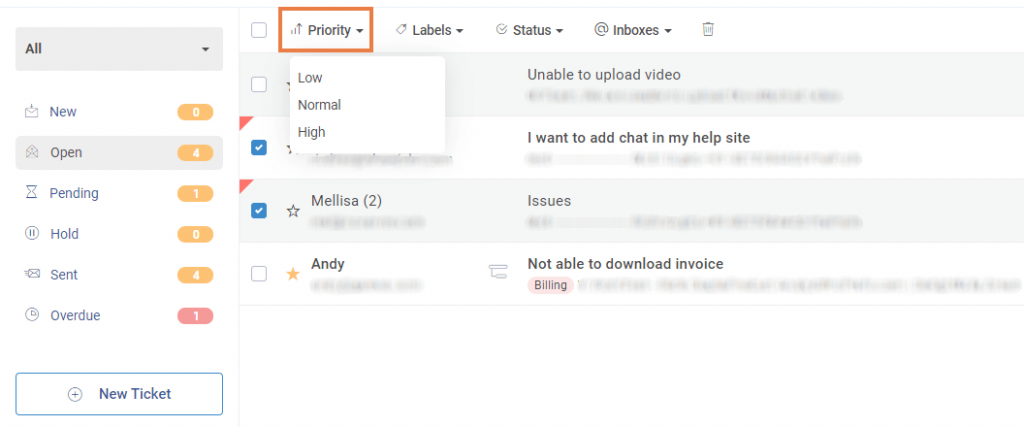 If your HR team receives ten issues or complaints in a day, not all of them will deserve your immediate attention. While some could be handled with time, others would demand an immediate resolution.
To handle different HR tickets with ease, you can assign different priorities to different issues. For example, you can assign high priority to a case where an employee did not receive their salary. On the other hand, an inquiry about ongoing training programs can be marked as low priority.
4. Monitor Employee Engagement
Employee engagement occurs when professionals are happy with their work roles and passionate about what they do. Highly engaged employees have a positive outlook and tend to be more productive as they believe in the company's mission and values.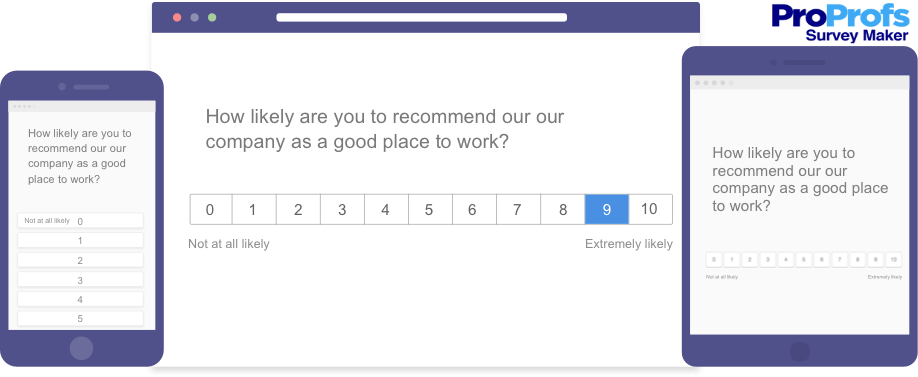 The best HR help desk ticketing system allows you to share employee satisfaction and engagement surveys with staff members. Regular surveys will help you monitor the employee experience and engagement levels.
Must-Have Features of HR Help Desk Software
While every HR ticketing system comes with a different set of features, there are some features that can be termed mainstream. Here are the top help desk software features that you ought to know:
1. Shared Inboxes
A shared inbox is an important help desk software feature that allows your team to manage multiple employee-facing email accounts in one place.
For example, team members can access and respond to emails from shared inboxes such as careers@company, hr@company, talent@company, etc. Moreover, you can even see who else is replying to a ticket to avoid duplicate responses.
2. Canned Responses
Canned responses are pre-designed chat or email templates used for common situations. These saved templates can help you maintain consistency, share faster replies, and enhance productivity.
For example, you can create canned responses for common situations such as leave approvals. So whenever an employee shares an email requesting leave, you can use the saved template and respond in seconds.
Read More: 10 Help Desk Response Templates to Save Time
3. Automated Notifications & Alerts
Email notifications and alerts can ensure your team never misses an employee request. In fact, all stakeholders can be kept on the same page regarding ticket progress.
When a certain pre-defined condition is met, automated notifications are sent to HR team members or other employees. For example, the HR team can receive an alert when a new request is received. Similarly, the employee can receive an alert when a response is shared by the HR professional.
4. Reports & Analytics
Insightful reports and analytics can help HR leaders gauge performance and make relevant strategies to enhance the employee experience (EX).
You can track metrics such as,
Response times: How quickly HR staff are responding to complaints and requests
Resolution times: How quickly issues are being addressed and resolved
Staff ratings: What ratings do HT staff members receive from employees
Better visibility into these metrics will help you make data-backed decisions and improve HR support.
Read More: 15 Help Desk Metrics to Improve Customer Support
5. Integrations
Integrations allow you to connect your HR help desk system with other powerful tools such as CRM, project management software, live chat solutions, survey tools, and more.
For example, you can integrate your ticketing system with a chat solution to interact with employees in real-time. This simple integration will even allow you to develop powerful chatbots that can easily handle routine employee queries.
Use Cases for HR Help Desk
Let's explore some examples of how you can use your HR help desk to streamline internal operations and enhance employee experience.
The sales manager shares an important email with the HR team that they need to conduct a walk-in drive on Friday to hire sales executives. Considering the urgent nature of this request, the HR team uses the ticketing system to mark it as a high priority. Moreover, they assign this ticket to the IT team to prepare laptops for conducting candidate interviews.
A new recruit has recently joined the marketing department. He contacts the HR team to inquire about the holiday structure, types of leaves, and leave policies. A senior HR representative guides the new employee and shares links to the relevant knowledge base articles and FAQ pages. This way, the employee is empowered to access information at his own pace and explore other help articles too.
So it's almost the end of Q2, and the HR head wants to monitor the level of employee engagement in the company. She uses help desk software to create an engaging survey and shares it with the respective staff members via email. All employees participate in the survey taking the response rate to 100%. With real-time insights, the HR head plans further strategies to enhance engagement for the next quarter.
Best Practices Guide for Human Resource Help Desk
Do you want to improve your HR help desk process but don't know where to start? These top best practices will offer all the help you need.
1. Make Information Easily Available for Employees
Employees can have thousands of questions even if they have spent several years with your company. The role of the HR team should be to prioritize information sharing.
If you want people to share and access information, you must create an internal knowledge base. This, in turn, will give the HR team enough time to focus on improving employer-employee relations.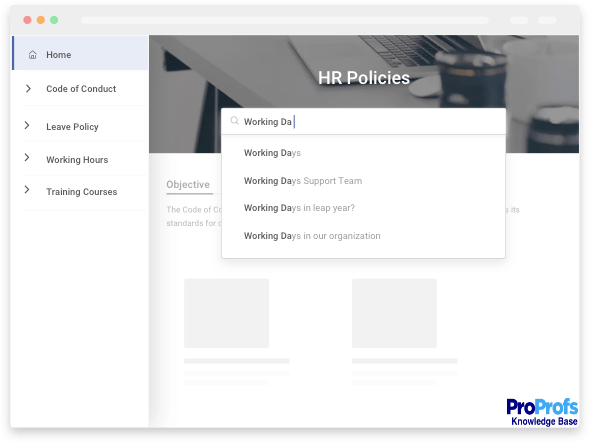 So, what can your knowledge base include? Well, first, you need to identify your most common employee queries, requests, and complaints.
For example, you can create a help article that explains the nitty-gritty details of filing taxes. Similarly, you can create a small video that talks about the different organizational departments, their leaders, and the hierarchical structure.
You can even upload relevant documentation (offer letter, leave policies, holiday structure, etc.) that employees can access anytime they want.
2. Leverage Web Forms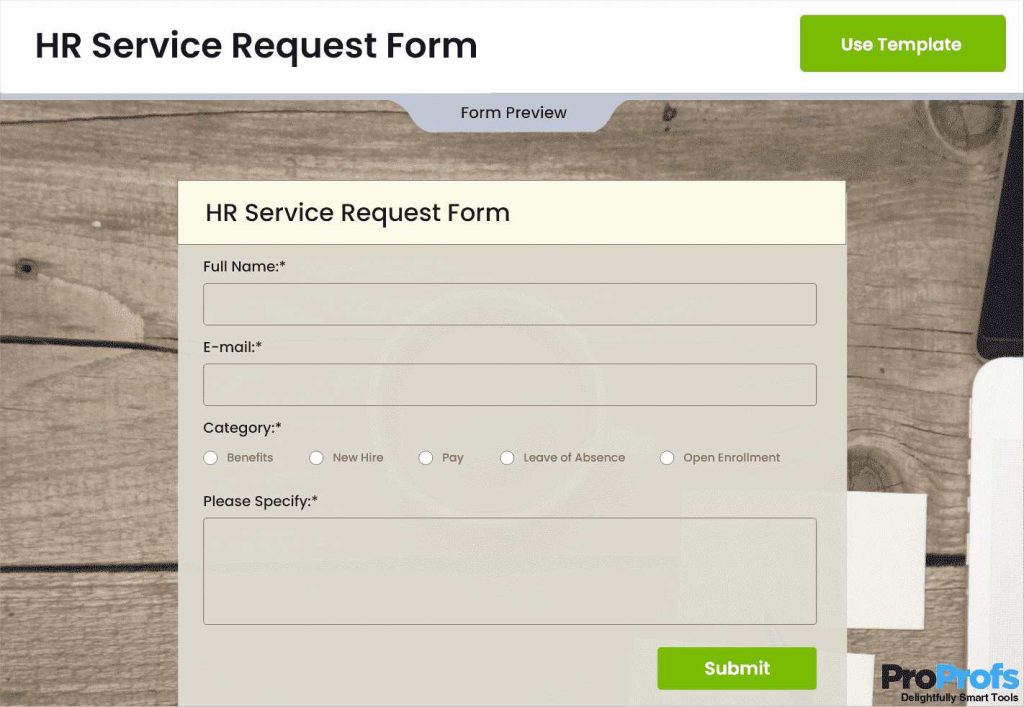 Human resource is an operational department that has multiple tasks on its plates. One such important task includes compiling different documents for maintaining records or fulfilling requests.
HR help desk software can be used to create, upload, and share forms with employees. You can build these forms from scratch or customize them using pre-designed templates.
HR forms can be uploaded to your website, HR portal, employee self-service portal, etc. You can even take printouts and hand them over to those who need them.
Here are some examples of HR forms that you can create:
New recruitment form
Performance review form
Employee appraisal form
Attendance timesheets
Support ticket form
Harassment complaint form
HR forms are essential to promote consistency in documentation and can be easily stored on the cloud for future access.
3. Use Face-to-Face Interactions to Resolve Serious Issues
Not all issues can be resolved by raising a ticket and offering a relevant solution. In some cases, you need to hold a one-on-one session to get to the root cause of the issue.
To uplift employee morale and foster better relationships, face-to-face communications are more important than ever.
For example, let's assume an employee wants to share about a recent conflict with a senior. The employee can fill out a complaint form to supply the necessary details. However, a face-to-face session can help the HR representative ask necessary questions and receive feedback in real-time.
Even if your staff members are working remotely, video conferencing can help you establish that much-needed connection with employees.
4. Encourage Managers to Lead Change
Another HR best practice is encouraging the managers of different departments (sales, marketing, customer service, etc.) to lead change.
Leaders are responsible for setting your organization's tone, vision, and change. Whether you have adopted a new tool or created a brand new employee knowledge base, encourage leaders to set the example for others.
For example, the IT support manager can upload troubleshooting steps to fix laptop overheating issues. This will encourage other IT agents to follow in their footsteps and offer other valuable content for employees.
Remember, a strong culture where leaders do not hesitate to take the first step and employees follow suit can ease the pressure off your HR team.
5. Focus on Your Staff's Mental Health
We all live in uncertain times, and uncertainty can often breed stress and anxiety. The mental health stigma exists both in and outside the workplace, making it even more important for the HR department to address it.
According to a recent report by Gallup, 57% of U.S. employees reported feeling daily stress, up by eight percentage points from the last year.
Why should your business care about mental health? Poor mental health is directly linked to reduced motivation and productivity.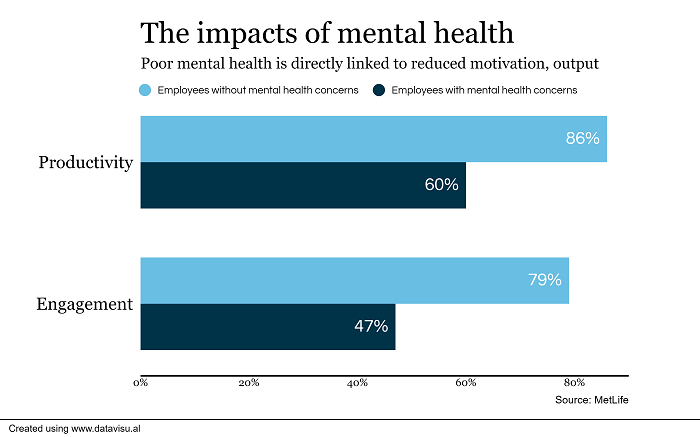 Here are some steps you can take to turn mental health into an everyday topic:
Check-in on every team member: Check in regularly with your team members, even after work hours. Sometimes out-of-office conversations can help you talk more deeply about mental health and uncover the challenges someone might be going through.
Modify policies and offer more flexibility: Do your company policies favor your employees' well-being and mental health? If not, you need to change them. Furthermore, to reduce employee stress, you can offer flexibilities in the form of work-from-home provision, flexible hours, paid time off, etc.
Celebrate mental health day: Assign one day every month to spread awareness about mental health issues and their solutions. Encourage employees to seek therapy, offer counseling sessions, and plan some fun activities to ease work-related stress.
How to Choose the Right HR Helpdesk Software
There is no doubt that to improve your HR help desk process flow, you need the right tool. But with so many options in the market, how do you settle for one?
Don't worry. We have shared five important points that will help you make the right decision.
1. Understand Your Team's Goals and Needs
The first step is to understand why you need HR help desk software and how it can help you meet your unique needs. To make it simpler, you can explore the following questions:
Which HR support processes do we need to automate?
What response times do employees expect from our team?
How can we encourage employee self-service?
How can this tool help us improve our onboarding and recruitment processes?
Answering these questions early on will help you pick the tool that offers all the qualities and fits your team's ambition well. To make it an inclusive process, you can sit with your team and ask them to jot down their respective expectations and needs. This will offer the much-needed clarity to move ahead and help you make a sound decision.
2. Jot Down All Important Features
Any software selection process boils down to features. But what features should you look for if you have no idea yourself?
At the beginning of this blog, we have shared some important HR ticketing system features such as shared inboxes, canned responses, automated notifications, private notes, reports, integrations, etc. These are enough to get you going.
However, you can always sit with your team and hold discussions about which features they would like the tool to offer. Jot down every feature that comes up and prioritize the ones that your team can't do without. This list will help you compare one tool against another.
3. Be Mindful of Your Budget
Every department, whether marketing, sales, or HR, has a dedicated budget assigned to them. You don't want to choose an expensive tool and go over budget.
Since the budget is often allotted by leaders, it's best to get them involved and take their approval. You can discuss the price of the tool and if they are ready to make any changes to the budget.
Also, you need to keep in mind that if you choose to host the software by yourself, you can bear additional costs of maintenance, server installation, and IT support staff. On the other hand, a cloud-based system will be more affordable as the vendor is responsible for managing backups, maintenance, as well as data security.
Read More: Types of Help Desk Software & Which One Should You Choose?
4. Opt for a Free Trial
Most SaaS vendors offer a free trial of their products, and you shouldn't miss out on this golden opportunity. A free software trial usually lasts 7 to 30 days, where users can enjoy premium features and explore how the tool functions.
A free trial can help you get a first-hand experience of using the tool. You can explore the interface and check whether all the features that were marketed by the vendor are actually present. So by the time the trial period ends, you can make the right decision for your team.
5. Think About Customer Support
When most businesses choose a tool, the greater focus is on the price and the features. But what about customer support? How and whom will you contact when something goes wrong?
Before finalizing any tool, contact the software vendor and inquire about their customer service channels. Ideally, you should be able to contact their customer service team via email, chat, and phone support. A solid knowledge base is an added advantage.
There is no point if you share a complaint with the vendor and it lies with them for days. Therefore, it is wise to inquire about their turnaround time for user queries or complaints.
Support Employees With an HR Help Desk Ticketing System
The role of HR teams does not end once a candidate is hired; it is just the start. Most businesses are realigning the HR function to prioritize employee support and engagement.
It is important to remember that HR ticketing software is deployed to ease the work of HR members and not replace them. While you can automate mundane tasks, your HR professionals would remain the brains behind the process.
If you are looking for affordable yet feature-rich HR help desk software, we have the perfect solution for you. ProProfs Help Desk has helped thousands of HR professionals manage staff complaints, promote self-service, and delight employees of all levels.
Do you want a free Help Desk?
We have the #1 Online Help Desk Software for delightful customer support