When we talk about customer service software, chances are that you must have heard about Zendesk. Big corporate brands such as Siemens, Mailchimp, and Tesco have used Zendesk to take their customer service to the next level.
But, let's be honest. Zendesk has some serious limitations and is not the right fit for every business.
Right from complicated features to expensive plans that will make you think twice before going ahead with the tool, Zendesk falls short in more areas than one.
In this blog, we have analyzed data from different help desk software and compiled a list of top Zendesk alternatives for you. We will discuss the top 15 tools like Zendesk, their features, and compare their pricing.
Zendesk Alternatives: Features, Pros & Cons
What Is Zendesk?
Zendesk is one of the leading help desk software in the market that helps you deliver meaningful customer experiences. This robust ticketing system helps you gain 360-degree visibility into all customer interactions for an efficient, seamless process. Support agents can bring in customer issues or requests from almost any channel and use interaction history to respond faster with the right context.
Zendesk provides a complete customer service solution that's easy to use and scales with your business. You can build an integrated help center as well as a community forum to help customers resolve issues at their own pace and reduce agent workload.
Why Look for Zendesk Alternatives?
"Products similar to Zendesk" has become a popular search query among many leading businesses. Although Zendesk has been a market leader for years, it fails to hit the sweet spot in certain crucial areas. Let's discuss them right away.
Zendesk offers one of the most expensive plans that can burn a big hole in your pocket, especially if you are a business on a budget. Zendesk plans start at $49/agent/month and go up to as high as $215/agent/month. Now, not every business can afford to use this tool given the number of cheaper Zendesk alternatives available in the market that offer more or less the same features.
The tool offers an overwhelming amount of features and therefore, can make your customer service operations complicated. Moreover, Zendesk separates chats and email tickets, so you cannot manage customer requests in one queue.
If you check other modern help desk tools, Zendesk's interface looks outdated and dull, and there is massive scope for improvement.
Basic Plan Lacks Important Features
Important help desk features such as self-service customer portal, knowledge management, SLA management, multilingual support, private notes, etc. are not included in Zendesk's basic plan (Suite Team).
What are the Top Features that Zendesk Alternatives Should Have?
In your journey to find the best alternative to Zendesk, different tools with their different features can grab your attention and leave you more confused than sorted.
To make your life easier, we have compiled a list of important features that the top alternatives to zendesk should have.
Easy-to-use and user-friendly help desk interface that can be set up in minutes without the need for extensive training programs.
Shared inbox to allow multiple agents to access your support email accounts.
Internal collaboration features for addressing customer concerns faster together. For example, internal notes to discuss tickets before sharing a response.
Anytime, anywhere access to easily support your customers from any part of the world.
Smart reports and analytics to track individual and team performance, customer satisfaction, and monitor the overall progress.
Help desk automation features to get more done in a limited time. For example, the Round-robin ticket assignment feature to automatically route tickets to your available agents.
What were Our Selection Criteria for Zendesk Alternative?
Finding the perfect product alternative might seem like finding a needle in a haystack. You have to visit dozens of websites, dig out product features, compare prices, check for hidden terms and conditions, and scan through hundreds of online reviews.
But, don't worry just yet as we are here to help you. All the product alternatives mentioned in this blog have been carefully chosen to help you make the right decision. In order to make it to our list, the help desk software like Zendesk should meet the following criteria:
Core Help Desk Features: All the Zendesk alternatives should have core help desk features such as ticket management, multichannel support, automation capabilities, customer service reports, etc.
Listed on Top Review Platforms: The products should be listed on the leading online software review platforms such as Capterra, Getapp, and SoftwareWorld.
Minimum 10 User Reviews: All Zendesk competitors should have a minimum of 10 genuine user reviews on the leading software comparison platforms mentioned above. Online reviews posted by genuine users offer insights into the various pros and cons of the product and make comparison easier.
The 15 best Zendesk alternatives
Now, that we have gained some deep insights into the various pros and cons of Zendesk, it's time to move forward and evaluate the top alternatives to Zendesk.
ProProfs Help Desk is the best Zendesk alternative that is built for productive teams and delightful customers. So what makes this tool take the top position? Well, features such as AI-powered chatbots, insightful reports, team collaboration features, and a self-service knowledge base, make this tool a favorite among businesses of all sizes.
In addition to its effective ticket management functionality, ProProfs offers multiple customer service tools such as Knowledge Base, Live Chat, Survey Maker, etc. that help you offer 360-degree assistance to your global customers. Moreover, the tool makes it super easy for support teams to capture customer feedback with the help of automated surveys and improve performance.
You Can Use ProProfs Help Desk To:
Capture customer queries from email, live chat, help center, and web forms
Prioritize urgent customer issues that demand immediate attention
Collaborate using Internal Notes and organize tickets better using Labels, Status, and Filters
Use custom signatures to give your emails a professional appearance
Monitor CSAT, NPS, and other important metrics to improve the customer experience
Pros:
An easy-to-use interface can help your team get started in no time
Offer omnichannel customer service to your audience
Cons:
Reporting can be more advanced
Lacks social media integrations
Choose it for: Shared inbox, chatbots, knowledge base, customer satisfaction surveys
3rd party integrations allowed: Yes
Suited for: Startups, small to mid-sized businesses, large enterprises
Case Study:
Horse Saddle Shop is a popular American saddler that sells western saddles and boots. Since its inception in 1986, the company has assisted over 40,000 customers and sold over 37,000 saddles.
Most of their customers had questions related to saddle fitting and used phone support for the same. To save time and increase efficiency, the company used ProProfs Help Desk's live chat feature to connect with customers and communicate in real-time.
ProProfs Help Desk Pricing:
Starts at $10/agent/month
Freshdesk is another popular alternative to Zendesk that enables you to provide hassle-free support to your customers. Whether you own a small business, a big enterprise, or a startup, you can easily use Freshdesk to connect with customers across multiple touchpoints, automate workflows, and resolve customer issues faster.
Freshdesk offers extensive team collaboration features, powerful integrations, and customization options to help you deliver a stellar support experience to your customers. You can unify multiple channels on a single dashboard and delight customers with an omnichannel support experience.
Top Features of Freshdesk:
Track all tickets from multiple channels using the Team Inbox
Automatically suggest ticket fields to prioritize and assign incoming tickets
Ensure multiple agents don't wind up working on the same ticket with agent collision detection
Link related tickets together to share consistent responses with customers
Interact with your customers instantly through WhatsApp and resolve their queries faster
Pros:
You can share multiple ticket forms with customers depending on their issue
Share relevant knowledge base articles with customers automatically
Cons:
The Growth plan lacks essential features such as custom roles, round-robin routing, etc.
Customizing your reports can be time-consuming
Choose it for: Team inbox, mobile field service, time tracking, email notifications
3rd party integrations allowed: Yes
Suited for: Startups, small to mid-sized businesses, large enterprises
Case Study:
Felix mobile is a SIM-only telecommunications company based in Australia. The telecom company offers a simple plan with no lock-in contract. Flexi mobile aims to provide easy-to-use digital services to people while taking an environmental-friendly approach in its progress.
With Freshdesk on board, the team at Felix integrated a live chat function on their mobile app. Moreover, the company is able to provide a seamless omnichannel experience to customers from around the world.
Freshdesk Pricing:
Starts at $15/agent/month
With LiveAgent's help desk platform, you can easily reach your customers on the channels they use the most- including email, chat, voice calls, and social media. Moreover, you can manage all leading social media platforms such as Whatsapp, Twitter, Viber, and Instagram from a single dashboard.
Agents can resolve customer queries faster using a suite of powerful productivity tools and build loyalty through personalized customer interactions. Automatic ticket or call routing, workflow automation, and SLA reports are some of the key features of this Zendesk alternative.
Top Features of LiveAgent:
Automatically distribute tickets and create optimal workloads for your agents
Differentiate between customer and tickets using Ticket Tags
Avoid spam emails with automatic spam filtering in your help desk
Automate your workflow through time, action, and SLA rules
Add private notes to tickets that are visible only to team members
Pros:
Customize your web forms to capture important details
Get a sneak-peak of what customers are typing before they hit send
Cons:
LiveAgent's reports miss out on key metrics and can seem generic
Social media integrations need improvement
Choose it for: Internal ticketing, spam filters, private notes, ticket export
3rd party integrations allowed: Yes
Suited for: Startups, small to mid-sized businesses
Case Study:
Post Affiliate Pro is a leading marketing platform that helps businesses manage multiple affiliate programs, track affiliate partner performance, issue payouts, and assign commissions on one platform.
As demand for the software grew, their team looked to partner with a quality help desk vendor like LiveAgent. Post Affiliate Pro's customer service team is able to respond to Facebook comments, Tweets, emails, or live chat requests made by customers.
LiveAgent Pricing:
Starts at $15/agent/month
Zoho Desk is a context-aware help desk tool that allows businesses to use the power of customer context to improve agent productivity, promote self-service, manage cross-functional service processes, and monitor customer happiness.
Agents can automatically capture tickets from multiple channels – emails, social media, live chat, and web forms, and consolidate them on a single platform. You can easily cater to your global audience and support them 24/7. Simply build a robust self-service knowledge base and empower your customers to find solutions on their own.
Top Features of Zoho Desk:
Resolve tickets faster with the help of multiple departments
Streamline your social media presence through your help desk
Automate your process and master sentiment analysis with Artificial Intelligence named Zia
Share relevant knowledge base articles or guides in ticket responses
Develop and grow a community of prospects, existing customers, and visitors
Pros:
Integrate Zoho Desk with Zoho CRM and access complete customer information
Map your help center to your own domain and improve search rankings
Cons:
The live chat feature has limited customization options
Getting started with this tool can be difficult
Choose it for: Live chat, multi-brand help center, sentiment analysis, CRM integration
3rd party integrations allowed: Yes
Suited for: Small to mid-sized businesses, large enterprises
Case Study:
Cartika is a business that provides managed services for technology and app infrastructure. The brand is best known for its industry-leading LaaS platform that helps companies manage their applications across multiple operating systems.
Cartika partnered with Zoho Desk for its multichannel customer service features. The company is present for its clients on multiple support channels such as email, live chat, phone. and self-service portal.
Zoho Desk Pricing:
Starts at $12/agent/month
Kayako is another popular Zendesk help desk alternative that equips your team to deliver exceptional customer service in multiple languages across live chat, email, Facebook, and Twitter. The tool can work great for SMBs looking for relevant ticketing features to immediately start supporting customers.
Trusted by businesses across the globe, Kayako makes customer service simple for your team. Support agents can easily collaborate across departments, distribute customer issues, and provide personalized experiences to every customer.
Top Features of Kayako:
Gain visibility into a customer's complete interaction history for a personalized experience
Connect your help desk with popular business apps such as Salesforce and Slack
Convert visitors into customers with live chat
Easily automate support workflows such as ticket routing, ticket updates, and more
Stay on track and measure performance with robust SLA management
Pros:
Users can view walkthrough and tour videos to understand the tool better
The tool offers a 14-day free trial
Cons:
Kayako's subscription plans are expensive
Many online users have complained about the company's poor customer service
Choose it for: help center analytics, mobile support, proactive engagement
3rd party integrations allowed: Yes
Suited for: Mid-sized businesses, large enterprises
Case Study:
Texas Tech University is a leading public research university based in Lubbock, Texas. The institution offers undergraduate programs in B.B.A, accounting, civil engineering, journalism, and many other fields.
For a campus that large, managing student requests and inquiries were never easy. With Kayako's out-of-the-box features, Texas Tech was able to reduce its ticket volume, speed up internal collaboration, enhance customer satisfaction, and improve self-service capability.
Kayako Pricing:
Starts at $60/agent/month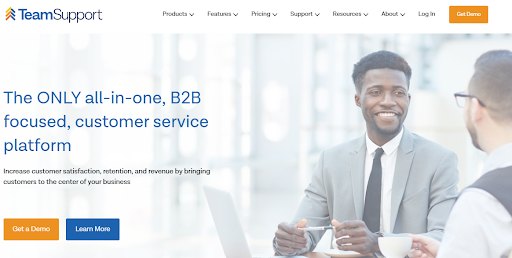 TeamSupport offers its customer support tool which is built keeping the unique needs of B2B (business-to-business) software and IT companies in mind. Some of the top features of this tool include- screen recordings, live chat, customer self-service portals, ticket management, and ticket automation capabilities.
TeamSupport offers all the features your team needs to work as a single unit and address customer concerns on multiple channels. For example, your support staff can work collaboratively with sales, technical, or finance departments for seamless operations.
Top Features of TeamSupport:
Easily track customer details and build a customer database
Group related tickets together for better organization
Set up groups for assigning, routing, and collaborating on tickets
Leverage internal chat to collaborate on tickets and hold quick discussions
Create custom reports, track relevant metrics, and improve your support process
Pros:
Integrate with CRM tools such as Salesforce and MS Dynamics
Set automated reminders to customers when a reply is pending at their end
Cons:
The tool is designed specifically for B2B companies
TeamSupport's pricing is quite expensive
Choose it for: Omnichannel support, ticket automation, self-service portal
3rd party integrations allowed: Yes
Suited for: Mid-sized businesses, large enterprises
Case Study:
Panamplify is a software and technology company that helps marketing teams improve their reporting process. As a B2B company, its report management system is an industry leader and helps business teams get rich insights into their performance.
As the customer base was increasing rapidly, Panamplify's customer service needed massive improvements. With the help of TeamSupport, the company was able to convert ticket replies into knowledge base articles. As more customers chose self-service, agents could easily focus on more pressing issues.
TeamSupport Pricing:
Starts at $49/agent/month
HappyFox is one of the leading Zendesk competitors that acts as a single platform for all your omnichannel customer requests. You can easily convert email, phone, chat, social media, and web requests into tickets and keep them organized in a single place. Moreover, you can build a robust contact portal for customers to log in and track their tickets.
HappyFox is known for its multilingual capabilities that allow you to support your customers from across the globe. Users can easily create knowledge base articles in multiple languages and offer round-the-clock assistance.
Top Features of HappyFox:
Organize tickets better with pre-defined ticket categories
Create canned responses to reply to customers with a single click
Share knowledge seamlessly with an internal knowledge base and ensure rapid training
Leverage AI-powered chatbots to deflect support tickets
Keep every team member notified with automated notifications
Pros:
Leverage multiple auto-assignment algorithms and never miss a ticket again
Share real-time ticket updates with agents
Cons:
Phone support is available only with the Enterprise Plus plan
Basic plans lack even email support
Choose it for: Canned responses, knowledge base, collision detection, ticket attachments
3rd party integrations allowed: Yes
Suited for: Small to mid-sized businesses, large enterprises
Case Study:
Accelerate Education offers different online courses to students from across the globe. The company aims to increase educational opportunities for students in grades K-12 and offer robust training to schools and other educational institutions.
With a user-friendly tool like HappyFox, all incoming emails were automatically sent to appropriate mailboxes and converted into tickets. Moreover, automated ticket assignments helped the company organize, track, and monitor its support process.
HappyFox Pricing:
Starts at $26/agent/month
Groove's all-in-one help desk platform empowers customer support teams to deliver faster customer service, reduce costs, retain customers, and generate more sales. Agents can collaborate to resolve tickets together, see who is working on what, and respond to customers without stepping on anybody's toes.
With the reporting features of this tool, you can quickly understand your team's workload and identify trends. As software cheaper than Zendesk, Groove allows you to monitor key metrics such as the total number of conversations and resolutions per day, the total number of customers assisted, trend insights, and more.
Top Features of Groove:
Access step-by-step training guides and get started in minutes
Collaborate with internal notes that only your team can see
Respond faster to common customer questions with canned responses
View the complete customer interaction history at a glance
Gain better visibility with reports and see where your team can improve
Pros:
With unlimited reporting history, you can compare your current and past performances
Enjoy 50+ third-party tool integrations
Cons:
Groove offers a single subscription plan to users
The vendor does not provide a mobile app
Choose it for: Shared inbox, knowledge base, ticket assignments, email templates
3rd party integrations allowed: Yes
Suited for: Startups, small to mid-sized businesses
Case Study:
The Hoxton Mix offers virtual office addresses to businesses that cannot afford office space in a prime London location. Even small businesses can get their dream office addresses and gain credibility.
Before Groove, their team was using Gmail to address customer issues and everything was a big mess. However, after partnering with Groove, The Hoxton Mix's support team used email templates and auto-responses to save 80 hours each month.
Groove Pricing:
Starts at $19/user/month
HelpDesk is another popular software like Zendesk that makes it easier for support teams to manage incoming customer emails, requests from web forms, and any other sources. Support agents and members from other departments can collaborate effortlessly using private notes, multiple mailboxes, and automated assignment rules.
With the 'New tickets heatmap' feature, you can help you spot peak times when your agents receive more customer requests than usual. This tremendously helps support managers in ensuring that an adequate number of staff members are available during peak hours.
Top Features of HelpDesk:
Organize tickets using Filters and Tags
Automatically assign tickets to the right agents or teams
Get notified whenever a new ticket arrives so that you don't have to be online all the time
Monitor your team's first response time and other crucial metrics
Assign agent roles and responsibilities to recreate company structure
Pros:
Keep agents updated with new ticket notifications
You can create automated workflows to save time
Cons:
Some emails go to the Spam folder even when they are not spam
Pricing could be made more affordable
Choose it for: Multichannel support, agent roles and permissions, new ticket notifications
3rd party integrations allowed: Yes
Suited for: Startups, small businesses
Case Study: Not Available
HelpDesk Pricing:
Starts at $29/agent/month
Read More: Top 10 HelpDesk Alternatives for 2022
Intercom helps you deliver the perfect blend of human, self-service, and proactive support to delight customers. Your agents can hold one-on-one interactions with customers, resolve repetitive questions automatically, and tackle upcoming problems before customers reach out.
Intercom offers Custom Bots that can collect valuable up-front information, help prioritize urgent issues, and connect customers to the right people on your team. This way you can not only deflect basic support tickets but also free up your agents to focus on more pressing customer issues.
Top Features of Intercom:
Respond to all customer communications from the Team Inbox
Share relevant help articles with customers through your website or mobile app
Leverage Custom Bots to answer and resolve basic customer queries
Customize your workflows based on customer spending, business type, and more
Create intuitive product tours for the best onboarding experience
Pros:
You can easily deploy chatbots to assist customers
The tool is great for outbound messaging
Cons:
Expensive pricing makes this tool unsuitable for small startups
Data analytics and reporting need improvement
Choose it for: Product walkthroughs, automated follow-ups, live chat
3rd party integrations allowed: Yes
Suited for: Small to mid-sized businesses
Case Study:
Rigostat is a SaaS company that offers tools to help businesses analyze calls, ROI, and boost sales. With its headquarters in Odesa, Ukraine, the software company helps business leaders make the right decisions.
The company uses Intercom to accelerate communications across the entire customer journey. Ringostat successfully reduced its first response time (FRT) to just one minute and achieved a 76% trial-to-paid conversion rate.
Intercom Pricing:
Get in touch with the company for a quote.
If you run an e-commerce store, Gorgias can be used to meet all your customer service needs. You can empower your agents to edit orders, initiate refunds, and modify subscriptions without leaving your helpdesk.
With this software like Zendesk, you can give website visitors a personalized shopping experience. You can even increase your sales by engaging customers who are asking about your products on ads or posts.
Top Features of Gorgias:
Track sales generated over text messages and social media
Access order information right from your help desk
Create email templates and respond faster to common customer issues
Share proactive chat invitations with website visitors
Allow customers to track their orders and reduce the ticket volume
Pros:
Offer reliable assistance to customers via SMS
Extend the shopping experience to social media channels like Facebook, Instagram, etc.
Cons:
The tool does not have much to offer if you do not own an e-commerce business
The pricing structure can be confusing
Choose it for: Customer engagement, sales tracking, social media customer service
3rd party integrations allowed: Yes
Suited for: Mid-sized businesses, Large enterprises
Case Study: Not Available
Gorgias Pricing:
Starts at $50/month
Hiver is Gmail-based help desk software that equips your business with all the features you need to offer stellar email support. With the shared inbox feature, you can manage multiple shared email accounts like support@ and info@ in one place.
Hiver users can easily check the status of an email (open, pending, or closed) and take appropriate action. Moreover, customer service team members can collaborate with each other using private notes or comments.
Top Features of Hiver:
Categorize email conversations with the help of Tags
Prevent multiple users from responding to the same email with collision alerts
Craft the best email response and save it as a template for future reference
Manage support emails on the move with Andriod and iOS apps
Track deleted conversations in one place
Pros:
Use auto-fill variables to personalize email templates
Automatically assign incoming emails to agents with the Round-Robin method
Cons:
The tool is compatible only with Gmail
The Lite plan does not allow you to share CSAT surveys
Choose it for: Email delegation, collision alerts, SLA management, email templates
3rd party integrations allowed: Yes
Suited for: Startups, small businesses
Case Study: Not Available
Case Study:
Kiwi.com is an online travel booking platform that was founded in the year 2012. Through its website, the company helps customers book flight tickets, initiate refunds or cancellations, and learn about COVID-19 restrictions.
The company primarily used email to connect with airline companies and other partner agencies. With more than 1500 emails every month, responding to emails became a cumbersome task. However, with the shared inbox feature of Hiver, the team at Kiwi.com is able to assign every incoming email to the right team member and delight customers.
Hiver Pricing:
Starts at $12/user/month
Front is another leading Zendesk competitor that offers a simple, email-like interface. With robust team collaboration features, agents can work in sync without the need of forwarding long email threads.
Front allows you to set roles or permissions for each team member so you can determine who can access what in your shared inbox. You can automate email assignments, share alerts with agents when an SLA breach is near, and organize all your shared inboxes in one place.
Top Features of Front:
Manage email and live chat conversations in one place
Automatically route incoming emails to relevant team members
Monitor team response time and other customer service metrics
Create SLA rules and respond to customers in time
Leverage ready-to-use email templates for consistent messaging
Pros:
Use time-time notifications to keep your agents updated
Find relevant conversations with a powerful search box
Cons:
Compared to the features it offers, the tool is quite expensive
The mobile app needs improvement
Choose it for: Multichannel support, automated workflows, multiple integration options
3rd party integrations allowed: Yes
Suited for: Startups, small to mid-sized businesses
Case Study:
Culture Amp is an employee experience platform that allows businesses to enhance employee engagement, performance, and experience. The platform aims to help businesses foster a culture of diversity and inclusion.
Before implementing Front, Culture Amp used a combination of email, Slack, and its project management tool to manage customer communications. Front has allowed multiple team members to collaborate on a draft and share appropriate solutions with customers.
Front Pricing:
Starts at $19/user/month
AzurDesk is another powerful tool that can help you convert customer service emails into tickets. You can even create a 24×7 help center to answer customer questions even when your team is not available to interact with customers.
When it comes to team collaboration, Azuredesk does a great job. For instance, you can use @mentions to grab your teammates' attention and leave private notes for them to solve tickets together.
Top Features of AzureDesk:
Customize agent signatures to share professional and consistent messages
Allow customers to solve their issues 24×7 using a self-service portal
Create custom fields to add more information about support tickets
Make the most of your help desk with third-party integration options
Allow customers to track their issues independently
Pros:
The translate app can help you offer support in over 53 languages
Create reporting charts on tickets per agent, tickets per customer, etc.
Cons:
AzureDesk's UI seems quite outdated and lacks a modern appeal
The company offers only a single plan to users
Choose it for: Ticket management, multilingual help desk, self-service portal
3rd party integrations allowed: Yes
Suited for: Small to mid-sized businesses
Case Study: Not available
AzureDesk Pricing:
Starts at $33/user/month
JitBit is another impressive Zendesk alternative that is available in SaaS and on-premise versions. You can break a ticket into multiple sub-tickets and choose to assign them to multiple agents for faster issue resolution.
With the help of JitBit ticketing software, you can operate your help desk in multiple languages such as English, French, German, Russian, Arabic, Hindi, and more. You can even create custom statuses for tickets such as "on hold" or "refund" for enhanced ticket management.
Top Features of JitBit:
View all messages, live chat history, and attachments in one place
Leverage free mobile apps for Android and iOS
Set the priority of support tickets to resolve urgent issues first
Attach screenshots and PDFs to help desk tickets
Divide a ticket into small sub-tickets for enhanced efficiency
Pros:
You can track the time spent on tickets to calculate billable hours
Customize your email templates to share personalized responses
Cons:
The tool is quite expensive and may not be the best option for small businesses
Third-party integrations are limited to a few tools
Choose it for: Asset management, user permissions, automated ticket assignment
3rd party integrations allowed: Yes
Suited for: Small to mid-sized businesses, large enterprises
Case Study: Not available
JitBit Pricing:
Starts at $29/agent/month
Comparison of Best Alternatives of Zendesk
Final Verdict: Which Zendesk Alternative Should You Go For?
Zendesk is a renowned help desk tool that allows you to:
Meet your customers on multiple communication channels
Build an integrated help center and community forum
Offer self-service options to customers
Leverage powerful integrations
Despite the appealing features, the demerits such as outdated interface, way-too expensive plans, etc. make people search for the right Zendesk alternatives. All alternatives shared in this Zendesk comparison blog are feature-rich, well trusted, and have been a popular choice among businesses of all sizes.
If you wish to give your team an all-in-one help desk software that comes at less than 1/4th the cost of Zendesk, you must go for ProProfs Help Desk. If you are looking to cater to your global audience in multiple languages, HappyFox can be a good option. Similarly, if your focus is on assisting customers with the right context, Zoho Desk can give an edge to your support team.
Do you want a free Help Desk?
We have the #1 Online Help Desk Software for delightful customer support