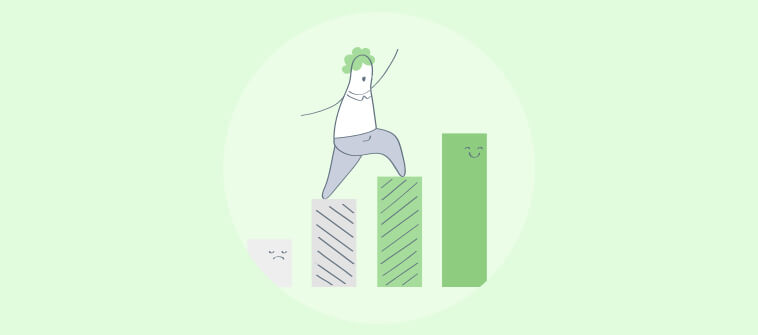 Is managing your company help desk giving you sleepless nights?
Are you looking for help desk improvement ideas to cater to customers' needs and grievances?
If the answer to the above questions is a big YES! Then this blog is for you.
Today, customers don't just want faster service, they demand it. According to a study by American Express, around 40% of customers want customer service reps to take care of their needs faster.
But, can you really offer the best-in-class customer service, with an average performing help desk?
A good helpdesk, whether it's for your internal employees, your customers, or both, can be the key to a simplified process, strong brand identity, and above all- delightful customer service.
Now, before we dive deep into the various help desk performance tips and tricks, let's explore the meaning and purpose of a helpdesk.
What is a Help Desk?
Help desk tools have become a customer service necessity. Businesses, be it small or large, have used a help desk tool to provide their agents with a platform through which they can address customer issues.
With an existing help desk management software in your networks, your customers can rest assured that whatever concerns they have with a product or a particular service will be handled promptly.


How Does a Help Desk 'Help'?
We have discussed how a help desk has evolved over the years and deserves a top slot in your arsenal of customer service tools. Here are two major purposes served by this tool:
A help desk significantly reduces agent effort- A help desk significantly reduces agent effort- Imagine if every agent has to pick and assign tickets manually and then communicate with others simultaneously. Doesn't sound too easy, right? Modern help desks are designed to automate the ticket resolution process such that more tickets can be resolved in limited time.
It helps you offer delightful customer service- Customers hate waiting, no matter if they reach out to your business over the phone or shoot an email. When all your agents can work in complete sync and resolve issues at a fast pace, your customers will simply love your support process and be delighted every time they reach out to you.
Improving Help Desk Performance in 12 Steps
Although the Internet is replete with tons of service desk improvement ideas, the trick is to act quickly, decisively, and positively. And of course, use the right combination of help desk tips and tricks. So, without further ado, let's look at the 12 proven ways to improve your help desk performance!
1. Gather the Right Metrics
Today, businesses have access to a lot of data. However, not all data is useful. You have to figure out which data is valuable and which is expendable. The biggest risk of working with a large volume of data is that you can quickly lose sight of the bigger picture while focusing on the tiny pieces.


This is where help desk software can be helpful. The best Modern and robust help desk software of 2020 can efficiently track the right metrics for your business, including new tickets, ticket volumes, ticket distribution, response and wait time, resolution time, backlogs, satisfaction rates, etc. This handful of metrics are enough to help you see where you need to focus and what should be your next step.
2. Define Your Goals
For a help desk to function effectively and optimally, you first need to set clear objectives and goals for your help desk team. The goals could include specific approaches to handling customer queries/complaints, setting upper-limit for response/wait time, daily targets, and so on. Once you've set the target goals, you must ensure that your team adheres to them and works toward accomplishing the same.
Furthermore, it is also essential to have a one-on-one discussion with your help desk team and understand the challenges they face while handling customer issues and what is the requirement to overcome those challenges.
3. Train Your Help Desk Employees
It is essential to provide adequate training to your help desk employees since trained professionals can solve more issues competently and in much lesser time. This can help reduce the response/wait times, thereby making your customers happy.
Moreover, training can help improve the internal customer service levels as employees need not wait for an email or telephonic reply from the higher-level management or service provider to solve specific issues.
4. Create a Self-Service Portal and a Service Catalog
By creating a user-friendly service catalog, you empower your customers to order for products/services themselves. They do not require any assistance from the help desk professionals for this.
Similarly, a self-service portal provides customers with answers to some of their queries and complaints. This way, they can take charge and fix basic issues themselves without the need for any agent intervention. Sounds amazing right?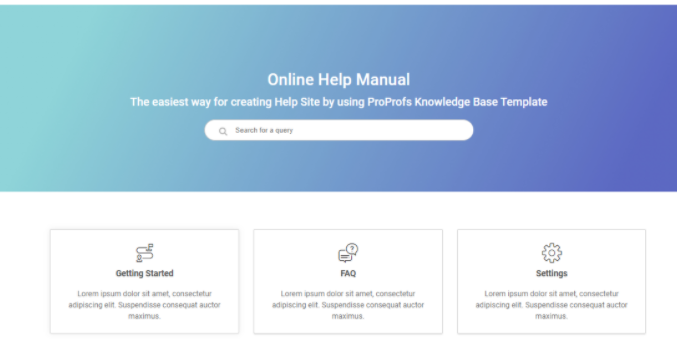 Read More: Your Step By Step Guide to Creating a Knowledge Base
5. Collect Performance Feedback
While tracking customer metrics is crucial, it is also vital to obtain internal feedback on help desk performance. Here, internal feedback refers to employee feedback that can be used to address employee-specific issues — if they are facing any challenges in the workplace, what are lacking resources that could help them, and how they could improve help desk performance metrics, among other things.
You can gather internal feedback by designing a simple and nifty employee satisfaction survey with a thumbs up or thumbs down option to measure the help desk performance metrics. For positive experiences, do encourage your employees, and likewise, for negative feedback, talk to your employees to understand the areas that need improvement.
6. Opt for a Reward-Penalty Approach
The reward-penalty approach can go a long way in improving your help desk performance. For instance, if you reward your employees individually for their accountability and contributions to enhancing your help desk metrics, it will boost their morale. They will be motivated to work harder. However, if you penalize them for mistakes, they will try to be more accountable in the future.
Over time, this can have a huge and positive impact on your company's help desk performance.
7. Teach Your Help Desk Staff to Channelize Work
To reap optimal results, your help desk staff should be competent enough to know how to channelize and prioritize tasks. They should be trained and taught to identify priority issues, determine which ticket demands more attention, and respond accordingly. While high-priority matters should be resolved ASAP, they should also address all the low-key problems to ensure there are no backlogs. Furthermore, work should be categorized and divided — while junior executives can handle low-key and non-technical issues, senior executives can manage high-priority tickets.
With this kind of system in place, the entire help desk infrastructure becomes much more sorted and streamlined.
8. Inform Your Customers
Often, customers get agitated and troubled while having to follow a course of steps in resolving their queries. This can be fixed via communication. Help desk executives can inform them as to why they must do what they are asked to and how it relates to the functioning of the product/service at hand. This allows them to get a comprehensive view of the problem and cooperate with the help desk professional.
Ultimately, it helps in resolving tickets faster and in a more efficient manner.
9. Leverage Digital Platforms to the Fullest
The modern-customer is very active on digital and social media platforms like Facebook, Instagram, and Snapchat, to name a few. Today, customers demand real-time responses from brands — they want their queries and requests to be addressed in real-time. Hence, they call out to brands and companies on various online platforms in the form of mentions, tags, comments, and shares. Thus, companies must have a robust online presence to respond to and interact with customers via live chat, stories, blogs, emails, etc.
Hence, your help desk team must be well-equipped and trained to handle online queries/requests and provide the same quality of assistance as they do through phone calls.
10. Own the Customer's Case
When a customer reaches out to your help desk, make sure to own his/her case. Since they put their faith in you to solve their issues, it is pivotal to assure them that you care about their needs. Your help desk team must be able to convince the customers that they will look into the case and resolve it promptly. This should, of course, be followed by the action from your team's side.
When you take ownership of a customer's issue, you display your accountability to them.
As has been said earlier, improving your help desk performance is no rocket-science — all you need is to keep the right help desk tips and tricks up your sleeve!
11. Leverage Automated Workflows & Save Time
Before the pre-help desk era, customer service professionals had to rely on manual ticket assignment and ended up wasting their valuable time.
A well-built help desk system can take automation to a whole new level. For instance, with the round-robin ticket assignment feature, you can ensure that tickets are always evenly distributed among your agents and never get piled up. You will never have an agent complain that he has way too many tickets to resolve compared to other agents.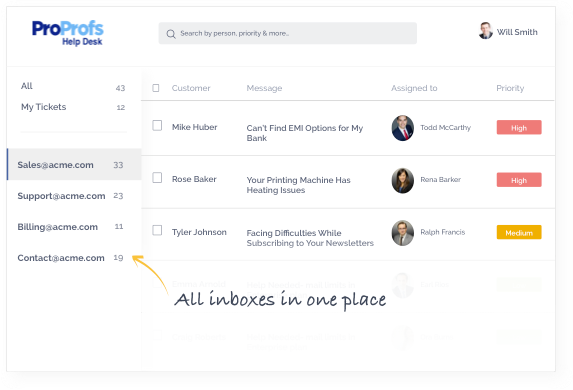 Automation also ensures that real-time ticket tracking is possible. You can make the most of additional features like ticket prioritization, internal notes, and labels to offer the best-in-class support. Therefore, it is clear that an automated workflow leads to improved service desk performance.
12. Encourage Team Collaboration
We understand you trust your agents and their ability to resolve customer issues. However, when your service or support professionals are encouraged to work together, as one big unified team, you are bound to witness great results.
The shared-inboxes feature of a help desk allows your agents to collaborate and resolve support tickets from a shared dashboard. Now, assigning every agent a separate email account isn't going to be an effective solution. On the other hand, assigning multiple email accounts to your team is one of the best ways to improve your service desk performance.
Your agents can effortlessly see who is working on what, discuss tickets, or leave internal notes for other agents to see. The potential of teamwork is simply limitless!
Read More: 7 Reasons Your Business Should Start Using a Shared Inbox
Ready to Make the Most of Your Help Desk?
Help desks have evolved over the years to become an integral part of an entrepreneur's arsenal of customer service tools. A growing inbox is seen as a sign of a growing business, however, more emails can translate to late responses.
A well-crafted help desk can come to rescue and help you declutter your ever-growing inbox.
As it has been said earlier, improving your help desk performance is no rocket-science — all you need is to keep the right help desk tips and tricks up your sleeve! You can try the ProProfs Help Desk that lets you offer support that cares and experiences that matter.
---
Q. How do I start a help desk?
The ideal way to start a help desk is by deploying the right tools. ProProfs Help Desk is one such tool that caters to all aspects of customer service. So, when starting a help desk, know which tools you need to choose with the most important features so as to offer delightful customer service.

Q. How do you measure customer service representative performance?
Measuring the performance of a customer service representative is challenging, but with a robust help desk software it becomes fairly simple. Help desk tools that offer reporting features, such as ProProfs Help Desk, makes it exceptionally easy to measure customer service representative performance.
The tools evaluate customer ratings, first response time, average waiting time, and average customers who weren't happy with the service. All these parameters gives the company an insight into agents' performance.
Q. What are the new help desk techniques you think would be helpful to improve the service?
There are many new help desk techniques that a lot of companies are taking into account and adopting in their company. The most common trends that essential for a company include tracking tickets from start to finish, ensuring instant agent collaboration anytime, anywhere, and monitoring agent performance on the go.
Q. How to choose the right help desk software?
Choosing the right help desk software is crucial for any eCommerce business. Not only does the right tool help in boosting customer loyalty and retention, but also ensures a smooth customer experience. For this, all you need to know are your requirements, the top 5 tools available on the market, what features do they offer, what's the pricing plans. With all this information, whichever tool suits you and your company the best is the right tool.
Do you want a free Help Desk?
We have the #1 Online Help Desk Software for delightful customer support