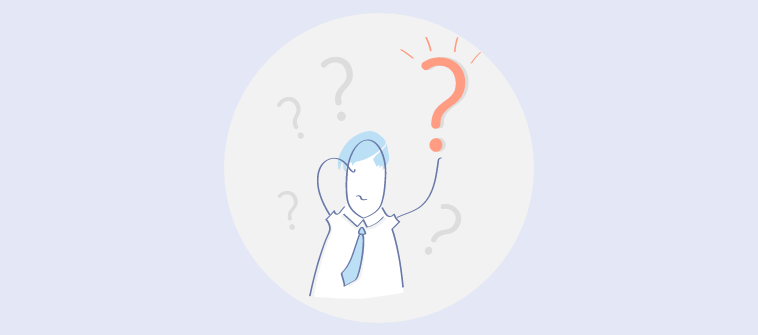 Technical jargon has always been a nightmare even for technical experts, let alone entrepreneurs.
In order to prepare a robust support strategy, you need to clearly define the roles and functions of your teams as well as processes. However, a real problem begins when your business starts using two different terms such as help desk and desktop support interchangeably when they are actually meant to be different.
To help you rise above this confusion, we have kept things neat and sorted.
In this blog, we will explore the different possible meanings of a help desk- a physical support desk, phone line, and help desk software. Moreover, in the battle between help desk vs desktop support, we will try to identify the common threads that bind them together and see how your business can use both these approaches together.
What Is a Help Desk?
It's no well-kept secret that the English language can be tricky at times. For anyone trying to learn about the help desk, it's difficult to grasp all the drastic differences a single word can have.
Recommended Read: Best Help Desk Software in 2023
Just like the word "second" can refer to a measurement of time and also denote the placement of an object after the first, in a very similar fashion, a help desk can have multiple meanings. Let's explore them right now!
Help Desk as a Physical Support Desk
In this situation, a help desk is literally a support "desk" where customers or employees can visit, share their concerns, and get their problems resolved by a support agent. Many organizations have physical help desks to support their internal (staff) as well as external customers. It's pretty much the same as a store help desk that you visit to return a product or register a complaint.
Help Desk as a Telephone Line
The term help desk is also popularly used to refer to a telephone line to contact a business for support. Users can call on a particular phone number provided by the business and speak to a help desk support technician in real-time to get assistance. For instance, you must have seen how many businesses share their help desk contact information on product manuals or warranty cards.
Help Desk as a Customer Support Software
In the last decade or so, the term help desk has evolved to mean a robust customer support software that acts as a single point of contact and registers all user requests as well as issues.
Such issues are captured from multiple channels such as email, phone, chat, text message, etc., and converted into unique support tickets. Once the tickets are assigned to support agents, they can effectively collaborate, prioritize, and escalate issues for faster resolution.
Read More: Why Help Desk Software is Important for Your Business?
What Is Desktop Support?
Desktop support is a type of technical support where a technician is called to fix a desktop system, or its supporting hardware, software in an organization or at a designated field site. The desktop support technician helps in troubleshooting the issue to ensure that systems are maintained in line with business goals.
Desktop support usually works on a break-fix model where support services are rendered as and when needed. In some cases, extensive desktop support is not limited solely to desktop and might involve a company's networks, phones, printers, and other hardware.
Read More: 30 Customer Service Tips for Delightful Customer Experiences
Help Desk VS Desktop Support: What's the Confusion About?
There is a very thin line of difference between a help desk and desktop support. The difference is so minute that the functions of both often overlap with each other. Let's understand this better with an example-
Suppose you have to install a new sales software on your office laptop and for the same reason you need some technical assistance. You call your office help desk and the IT support agent guides you on installing the software. Everything goes great until you get a new pop-up message that reads- "This software is not compatible with your PC." You contact the IT guy again and he comes to your desk to upgrade the RAM of your laptop for successful software installation.
Now, the above example shows how the same IT support guy can act as both a help desk representative as well as a desktop support technician.
Read More: Reduce Your Help Desk Calls in 10 Easy Ways
Should You Use Both These Approaches Together?
Using both help desk and desktop support can be a great way to tackle user issues at all levels.
Help desk support can be your first line of defense to tackle Tier-1 support requests. Here a help desk agent can offer required assistance via different communication channels. This will save time for everyone as common requests or issues can be resolved without the physical presence of a technician.
Now, for Tier-2 and above support, your desktop technicians can deploy themselves to the user's location to perform a variety of tasks such as hardware repairs, software installations, and connecting your system to multiple devices such as printers, projectors, etc.
Help Desk VS Desktop Support: Final Verdict
When gearing up to support your customers or employees, terminology matters and is vital to a collaborative discussion. Every business needs to establish a clear difference between the help desk and desktop support to not only avoid confusion but to keep your support process on the right track.
While on one hand, a help desk can be used to solve user issues without the physical presence of an agent, on the other hand, some technical issues are better handled by a well-trained technician at the ground level.
To give your users the best of both worlds, you need to use a help desk to manage issues remotely and desktop support for on-site assistance.
Let's have a look on some frequently asked questions FAQs:
Q. What is the difference between helpdesk and technical support?
The help desk is involved in offering help to users in resolving their basic problems. For instance, customers can ask basic questions relating to product features, return policy, delivery schedule, etc. On the other hand, technical support is involved in resolving concerns of a technical nature such as installing a software, fixing hardware malfunctions, etc.
Q. What does desktop support mean?
Desktop support is a type of technical support where a technician is called to fix a desktop system or its supporting hardware in an organization or at a designated field site.
Q. What is the difference between a customer service representative and a technical support representative?
A customer service representative offers resolution or basic information about the product or services (e.g. product availability queries, booking, order cancellations, etc.) On the other hand, a technical support representative provides solutions for inquiries that are technical in nature.
Q. What skills are required for technical support?
Some important technical skills are:
In-depth knowledge of hardware and software
Technical bent of mind
Up-to-date knowledge of the latest technology trends
Strong customer service ethos
Empathy and patience
Strong communications skills
Excellent organizational skills
Do you want a free Help Desk?
We have the #1 Online Help Desk Software for delightful customer support