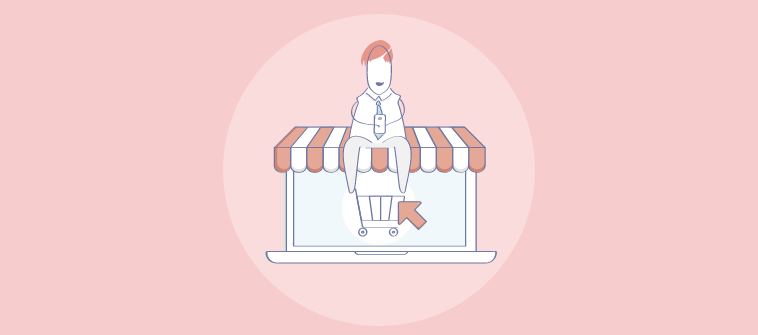 Are customers leaving your site without making a purchase? Is your inbox flooded with return and refund requests? Do visitors have no idea how to reach your support team?
If you face any of these challenges, you might want to get your hands on the best eCommerce help desk software.
The right help desk tool can equip agents with all the tools they need to assist online shoppers 24×7, reduce cart abandonment rates, share product recommendations, boost sales, and drive loyalty.
There has been a massive bump in online sales ever since the pandemic began. But stiff competition means only one thing – you must offer top-notch service before, during, and after a customer makes a purchase.
In this blog, we will read about the various benefits and features of an eCommerce help desk. Later, we will explore the 10 best software for eCommerce to help you win online shoppers for life.
Here we go!
What Is Ecommerce Help Desk Software?
E-commerce help desk software is designed to meet the customer service needs of e-commerce businesses. Your business can use this tool to assist online shoppers on multiple communication channels such as email, live chat, phone, help center, web forms, etc. Agents can prioritize urgent tickets, collaborate with other departments, and share ongoing offers to boost e-commerce sales.
An advanced help desk system can help your team significantly reduce ticket volume via self-service functionality. You can create an online knowledge base where shoppers can find answers in the form of FAQs, articles, how-to videos, and more.
Unlike brick-and-mortar stores that are open at certain hours of the day, an online store is open 24×7. This means customers can have questions at any time of the day. An online help desk equips your team with all the features they need to offer round-the-clock assistance to shoppers.
Benefits of Ecommerce Help Desk Software
Right from multichannel communication to powerful reporting, there are multiple benefits that you can enjoy. Read on to explore more such benefits.
1. Manage All Communications in One Place
Online shoppers might approach your support team on multiple communication channels. While some might write a long email, others might prefer instant interaction via live chat.
The top eCommerce help desk software can allow your team to manage communications taking place on email, live chat, phone, help center, etc., in one place. There is no need to adopt different tools for different channels, as every interaction is right before your eyes.
2. Reduce Ticket Volume With a Knowledge Base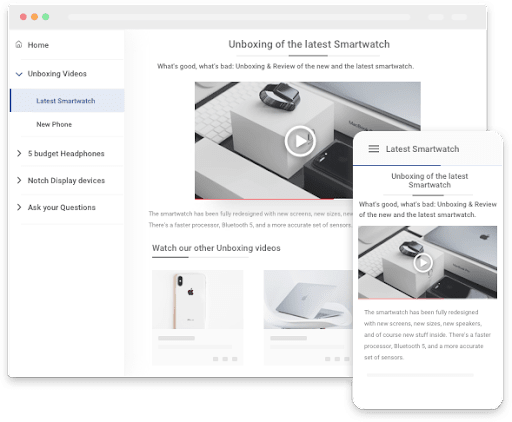 A majority of customer queries are repetitive in nature. For any eCommerce business, the queries and issues usually revolve around product availability, features, ongoing offers or discounts, return policies, delivery schedules, and so on.
A knowledge base is a great way to avoid unnecessary ticket creation. For example, you can create a simple FAQ page on your company's return and refund policies. So whenever someone has a query about the same, the agent can redirect the visitor and save everyone's valuable time.
3. Encourage More Sales
Online shoppers have a dozen questions before making a purchase. Is the product material authentic? What happens if I don't like the product? Etc.
By proactively initiating a conversation with website visitors via live chat, you can assist them in making the best purchase decision and encourage them to buy more. You can answer their questions in real-time and reduce your cart abandonment rate.
4. Automate Repetitive Tasks
A majority of customer service tasks are often repetitive in nature, preventing your team from being their productive best. Why waste time when you can automate?
Right from ticket assignments to notifications, you can automate multiple tasks using the right help desk tool. For example, every incoming customer query or issue can be automatically routed to your reps based on the Round-Robin method. This simple configuration can save all the time otherwise wasted on deciding which issues to pick and resolve.
5. Monitor Customer Service Performance
Whether you sell products on your own online store or on marketplaces like Amazon and eBay, quality customer service is paramount. The only way to measure service quality is through help desk reports.

With the help of insightful reports and analytics, you can keep a tab on metrics such as ticket response time, ticket resolution time, open tickets, rated tickets, and so on. Moreover, you can customize your reports to gauge your team's daily, weekly and monthly performance.
Read More: 15 Help Desk Metrics to Improve Customer Support
6. Resolve Issues on the Move
An e-commerce help desk mobile app allows your team to manage customer issues even when they are not at their desk. The app can enhance communication between customers and support teams by allowing customers to attach photos and videos to support requests, providing a more detailed view of the problem.
Dedicated apps for Android and iOS allow agents to track support requests, share appropriate responses, and receive updates directly through the app. This can help to reduce response times and improve the overall customer experience.
Features of the Best Ecommerce Help Desk Software
If you wish to choose the best help desk e-commerce platform, you must have a clear grasp of the most in-demand features. Here are some of the top features you can expect from your tool:
1. Shared Inbox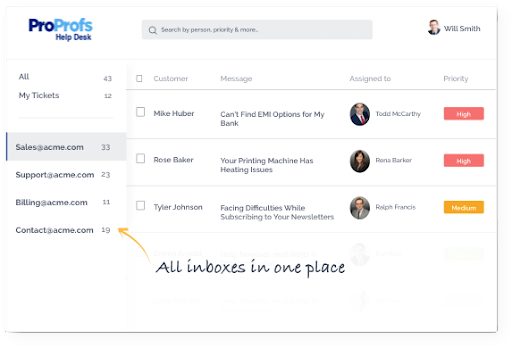 When you use an email client such as Gmail or Outlook to manage support emails, collaboration can be a major challenge. However, with the shared inbox feature, multiple agents can send and receive emails simultaneously.
You can easily manage all customer-facing inboxes, such as support@, returns@, billing@, info@, etc., from a single platform. Team members can even see who is working on which ticket to avoid sharing duplicate responses with customers.
Read More: 10 Shared Inbox Best Practices For Email Success
2. Ticket Prioritization
Ticket prioritization can help you avoid missing out on urgent tickets. You can organize tickets based on their priorities, such as High, Low, or Normal.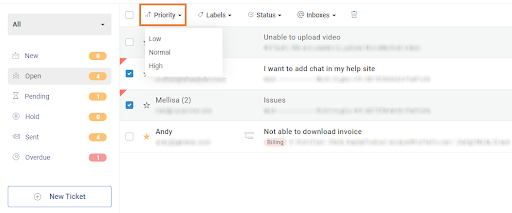 So, the moment support reps access the portal, they can identify high-priority tickets and resolve them at the earliest. This ensures all high-impact tickets are given immediate attention by your team.
3. Canned Responses
Support teams are often tired of answering the same questions over and again. For example, you might get questions such as: when will product X be back in stock? What is your return policy? When will my product be delivered to me?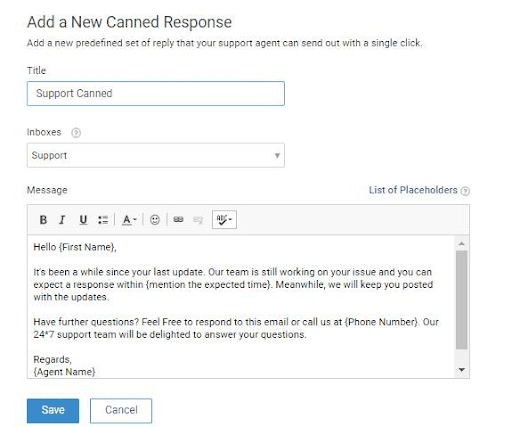 With the help of canned responses, also known as saved response templates, you can tackle such routine questions in seconds. With the best eCommerce help desk tool, you can create your own library of canned responses and delight customers.
Read More: 11 Best Canned Response Templates for Customer Support Emails
4. Chat Invitations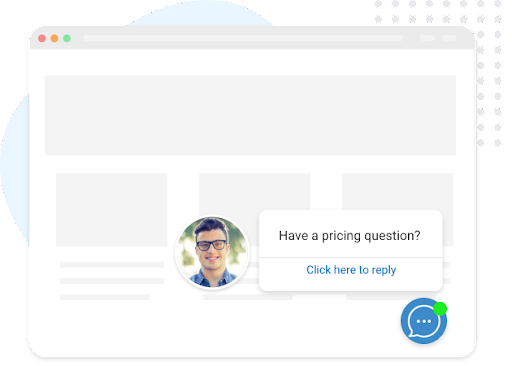 When people visit your online store, they can have multiple questions bothering them. You can set up proactive chat invitation popups to invite visitors to chat based on the time they have spent on your website.
You can even customize the chat operator greetings according to your needs. A warm and short welcome message will make visitors feel comfortable and encourage them to interact with your team.
5. Customer Surveys
Customer survey is another remarkable feature of the best e-commerce help desk software. You can share a wide range of surveys to monitor customer loyalty, satisfaction, and engagement with your business. Help desk systems allow you to share automated CSAT and NPS surveys with customers.
Customer service agents can track all survey responses in one place and identify customer pain points or improvement areas. In addition, surveys can also be used to identify training gaps in your team.
Read More: Customer Satisfaction Surveys:100+ Questions & Examples
6. Private Notes
To deliver the best customer service experience to your online shoppers, support agents should be able to collaborate with each other. This problem can be solved with a feature called private notes.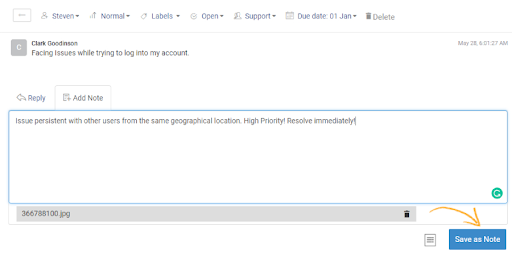 Private notes allow customer service representatives to add notes to a customer's account or ticket that are not visible to the customer. These notes can be used to document the customer's history, provide additional information about the customer's issue, or record internal communications about the customer's case.
7. Ticket Statuses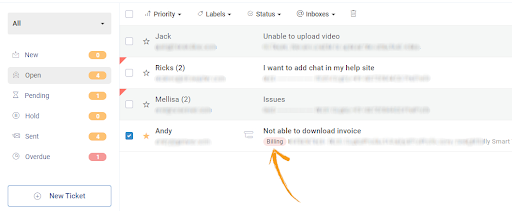 Ticket statuses in a help desk are used to track the progress of customer inquiries and requests. Some common examples of ticket statuses include:
New: The ticket has been received and is awaiting assignment to a customer service representative.
Open: The ticket has been assigned to a customer service representative and is actively being worked on.
On-hold: The customer service representative has put the ticket on hold for a specific reason (e.g. awaiting a product shipment).
Closed: The customer service representative has resolved the customer's issue and the ticket will not be worked on further.
List of Top 10 Ecommerce Help Desk Tools
After intensive research and analysis, we have compiled a list of the best help desk tools that are a hit among e-commerce businesses. Let's understand more about their features and pricing.
1. ProProfs Help Desk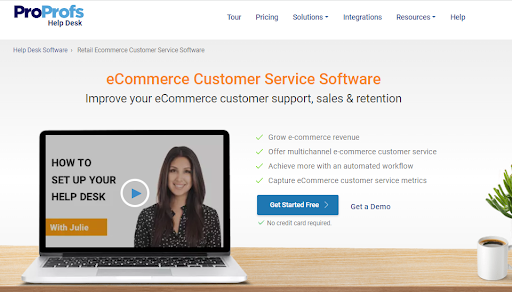 ProProfs Help Desk is the best free eCommerce help desk software designed to help you engage online shoppers and boost eCommerce sales. With the live chat feature, you can share proactive chat invitations with visitors based on the time they have spent on your site.
To reduce your ticket volume, you can create a dedicated knowledge base that includes FAQs on return & refund policies, different payment options, ongoing offers, and more. You can even develop powerful chatbots to tackle routine customer queries.
Top Features of ProProfs Help Desk:
Prioritize support tickets that demand immediate attention
Create canned responses for common questions and share faster replies
Assign a ticket to multiple departments with parent-child ticketing
Restrict access to your knowledge base by keeping it public or private
Share automated CSAT and NPS surveys with customers
Pros:
Assist customers 24×7 with chatbots
Track key reporting metrics
Cons:
Lacks social media ticketing options
Limited integrations to third-party tools
Choose it for: Ticket organization, shared inbox, multichannel communication
3rd party integrations allowed: Yes
Suited for: Startups, small to mid-sized businesses, large enterprises
Case Study:
OpenCart is an open-source eCommerce platform that was launched in April 2010. As a PHP-based system, the platform offers customers everything they need to create, scale, and operate their online business.
OpenCart chose ProProfs Help Desk as it is a managed platform, and their team did not have to worry about server bottlenecks. With ProProfs' self-service capabilities, their support team was able to reduce the number of tickets and support calls, allowing agents more time to focus on key issues.
Pricing:
Starts at $20/agent/month (billed annually).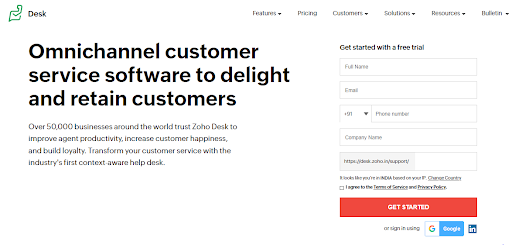 Zoho Desk is an essential e-commerce help desk software that comes with advanced process automation capabilities. You can handle e-commerce queries and complaints via multiple channels such as live chat, email, web forms, etc.
When customers share their complaints on social media channels, Zoho Desk has got your back. The tool automatically converts social media messages shared via Twitter and Facebook into tickets so that agents can work on them at the earliest.
Top Features of Zoho Desk:
Customize your knowledge base to match your website
Monitor open, overdue, and unassigned tickets
Automatically sort your help desk tickets based on priority
Embed a community forum on your website or mobile app
Track your support traffic on different communication channels
Pros:
Affordable pricing
Streamline social media conversations
Cons:
Live chat is only available in the Enterprise plan
Lacks advanced reporting capabilities
Choose it for: Multichannel communication, reports & analytics, process automation
3rd party integrations allowed: Yes
Suited for: Startups, small to mid-sized businesses
Case Study:
Centilytics is a cloud management company that aims to deliver top-quality cloud management services to its customers. Over the years, the company has grown to become a 180-people-strong company serving customers all over the world.
The company uses Zoho Desk to create workflow automation to segregate incoming tickets and assign them to appropriate agents. Moreover, Centilytics has integrated Zoho Desk with Twilio so that agents can receive ticket notifications without any hassles.
Pricing:
Starts at $14/agent/month
3. Gorgias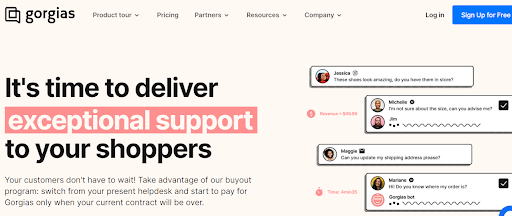 Gorgias allows your customer service agents to view all customer data while they are interacting with them. Right from their help desk platform, agents can edit orders, initiate refunds, and upsell to customers.
With the live chat feature, you can offer customers a personalized shopping experience. Instead of waiting for customers to message, you can simply offer proactive assistance and drive more sales for your online business.
Top Features of Gorgias:
Use the quick replies feature to share faster responses
Create rules to route conversations to relevant team members
Use email forwarding to receive emails directly in your help desk inbox
Answer questions on Twitter and other social media platforms
Integrate with Shopify, Magento, and BigCommerce
Pros:
Great tool for e-commerce businesses
Multiple integration options
Cons:
Inflexible pricing structure
You are charged based on the number of tickets you get
Choose it for: Proactive messaging, social media customer service, order management
3rd party integrations allowed: Yes
Suited for: Small to mid-sized businesses, large enterprises
Case Study:
Absolute Collagen sells award-winning collagen to make customers look and feel their absolute best. Initially, their team did not have a holistic view of customer requests and issues, making it difficult to respond quickly.
The Absolute Collagen team decided to switch to Gorgias to enhance customer service. The team increased their customer satisfaction score (CSAT) to 4.9 and reduced the average response time to less than 5 minutes across all communication channels.
Pricing:
Starts at $10/month
4. Zendesk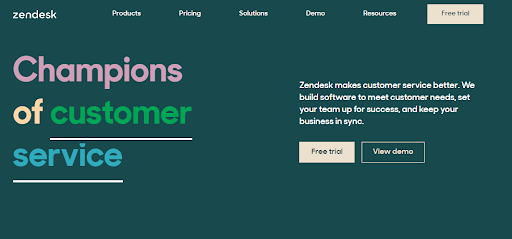 Zendesk is one of the best software for eCommerce that can easily scale to match your growing needs. Customer support agents can handle customer questions or requests from multiple channels and view the interaction history to deliver personalized experiences.
In addition, Zendesk offers all the features needed for top-notch knowledge management. You can create a dedicated help center and customer portal to empower customers and internal employees.
Top Features of Zendesk:
Redirect customers to FAQs and help articles
Interact with customers over live chat, email, and messaging
Automatically escalate issues to agents best suited to help
Create reports to better understand what customers need
Engage your audience by creating a dedicated online community forum
Pros:
Powerful reporting features
Well-suited for large enterprises
Cons:
Highly expensive plans
The tool can be quite complicated for new users
Choose it for: Powerful automation, community forum, help center
3rd party integrations allowed: Yes
Suited for: Large enterprises
Case Study:
BoxyCharm sells monthly subscription boxes that include beauty and makeup products. Every month, members receive a gorgeous box of goodies, including skincare products, makeup items, and color cosmetics.
BoxyCharm used Zendesk to promote proactive customer service. With the help of diverse integrations, social media messaging, and powerful automation, the team witnessed a 10-point increase in their CSAT and reduction in average first response time by 66%.
Pricing:
Starts at $49/agent/month
5. Jira Service Management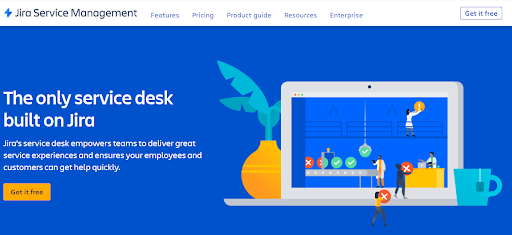 Jira Service Desk is an ITSM platform designed to help you manage your IT support operations. The tool helps your development, operations, and support teams collaborate with each other to enhance the customer experience.
If your business wishes to resolve IT issues faced by internal employees or customers, Jira Service Management might be the right option for you. However, the tool can be a little complicated and may not be the best fit for small to mid-size businesses that want simple help desk software.
Top Features of Jira Service Management:
Display all your support services on the user portal
Create, edit, and publish web forms to get key details about a ticket
Empower end-users to find solutions using a self-service portal
View customer satisfaction reports for identifying process gaps
Track company-wide assets in one place
Pros:
Set multiple SLA policies
Connect with Slack and Microsoft Teams
Cons:
The tool comes with a steep learning curve
Suited for large enterprises
Choose it for: Asset management, problem management, self-service portal
3rd party integrations allowed: Yes
Suited for: Medium businesses, large enterprises
Pricing:
Starts at $20/agent/month
6. Help Scout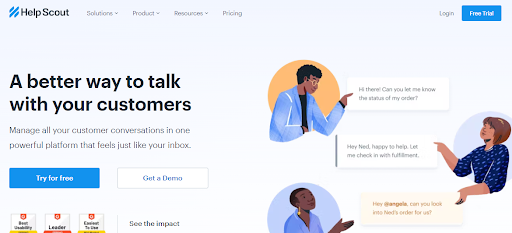 Help Scout is a leading shared inbox software that is designed for small to mid-sized businesses. You can install an intuitive live chat widget on your website and start interacting with website visitors in minutes.
You can use proactive messaging to promote your marketing campaigns and inform customers about new product launches or ongoing offers. Managers can use out-of-the-box reports to track customer happiness, agent performance, and other relevant help desk metrics.
Top Features of Help Scout:
Easily add text, images, or tables to help center articles
Connect Help Scout with Salesforce, HubSpot, Mailchimp, and other tools
Create and publish mobile-optimized knowledge base articles
Share private notes with team members to collaborate in real-time
Create a library of saved replies to enhance agent productivity
Pros:
Track the most-read knowledge base articles
Easily switch between email and chat conversations
Cons:
Report customization options are limited
You will have to pay extra for additional mailboxes
Choose it for: Shared inbox, knowledge base, proactive messages, live chat
3rd party integrations allowed: Yes
Suited for: Small to mid-sized businesses
Case Study:
RealityNinja is a Canadian firm that helps brokers and real estate agents build professional websites to generate more leads. Customers can choose from hundreds of design templates to create your website quickly.
RealityNinja's support team was tired of sharing login credentials and passwords with one another. However, after choosing Help Scout, team members can access the platform simultaneously and collaborate with ease. The customer service team also uses the saved replies feature to respond to customer questions faster.
Pricing:
Starts at $20/user/month
Read More: Best Help Scout Alternatives for 2023
7. Freshdesk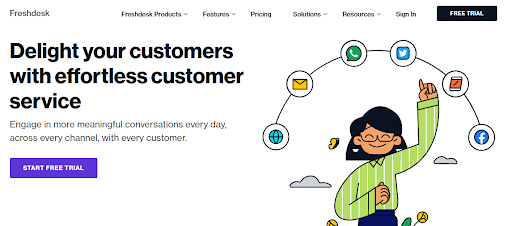 Freshdesk is one of the top eCommerce help desk tools that deserve to be on your list. Empower your agents with automation features and internal knowledge base to resolve customer issues rapidly.
If you are looking for a tool to manage field service, Freshdesk can be a great option. For instance, you can route issues to service agents based on their availability, skillset, and proximity. Moreover, customers can easily book appointments with the help of chatbots.
Top Features of Freshdesk:
Prevent agents from sharing duplicate responses with collision detection alerts
Avoid reopening tickets when customers reply with a thank you
Share the ownership of support tickets with multiple teams
Track and record customer calls for quality monitoring
Engage and retain customers via live chat
ACX
Pros:
Manage Facebook and Twitter complaints
Interact with customers via WhatsApp
Cons:
Basic plans lack key features
Time tracking isn't always accurate
Choose it for: Agent time tracking, email notifications, ticket prioritization
3rd party integrations allowed: Yes
Suited for: Small to mid-sized businesses, large enterprises
Case Study:
Zalora is Asia's largest online fashion destination that offers a wide range of clothing, beauty, lifestyle, and home care products. The e-commerce company has been a market leader for decades, serving customers in Malaysia, Indonesia, the Philippines, Brunei, and Hong Kong.
A lack of collaboration and a unified view of data made the company look for a customer service solution. Freshdesk helped the Zalora team unify channels like email, live chat, social media, etc., and offer instant support to customers 24×7.
Pricing:
Starts at $15/agent/month
8. Kayako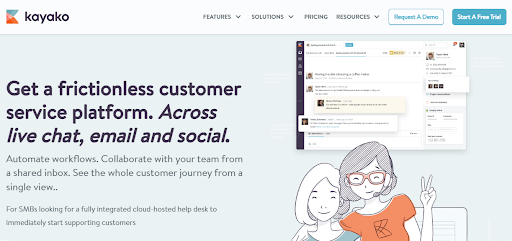 Kayako is another impressive help desk software that can help you support online customers. With a shared inbox feature, your team can view all customer messages in one place and collaborate with each other faster.
Kayako offers a smart live chat tool to offer a tailored, engaging live chat experience to customers and prospects. You can easily customize the chat widget and integrate it into your website or mobile apps.
Top Features of Kayako:
See who else is working on a ticket to avoid work duplication
Add internal notes to tickets and discuss solutions to complex issues
Set up automated replies for common customer questions
Offer customers a complete view of their support history
Embed live chat on your e-commerce website or mobile apps
Pros:
Publish help center articles in 44 languages
Salesforce integration
Cons:
Highly expensive plans
Limited integration options
Choose it for: Self-service portal, team collaboration, multiple integrations
3rd party integrations allowed: Yes
Suited for: Large enterprises
Case Study:
Texas Tech University is a public research university based in Texas, US. Managing service requests for a large campus proved to be quite challenging, leading to overworked agents and unhappy customers.
Texas Tech University adopted Kayako to streamline its customer service processes. Soon, the University could reduce the ticket volume, improve collaboration between multiple departments, and increase customer satisfaction rates.
Pricing:
Starts at $125/agent/month
9. HappyFox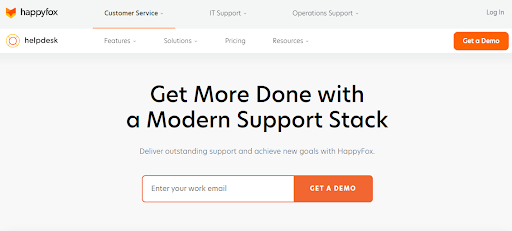 HappyFox helps you organize all your incoming customer service conversations and manage them in a centralized system. You can automatically sort incoming tickets into categories such as support, billing, returns, and more.
With omnichannel capabilities, HappyFox helps you interact with customers on their favorite channels, such as email, live chat, social media, and phone.
Top Features of HappyFox:
Use the quick reply feature to respond faster without opening tickets
Select related tickets and perform bulk actions
Create an internal knowledge base available only to your staff members
Use ticket statuses to keep your inbox well-organized
Integrate with Salesforce, RingCentral, Magento, and more
Pros:
Advanced ticket search functionality
View all ticket attachments in one place
Cons:
Customer service needs improvement
Phone support is only available with the Enterprise plan
Choose it for: Customer satisfaction surveys, knowledge base, canned responses
3rd party integrations allowed: Yes
Suited for: Small to mid-sized businesses, large enterprises
Case Study:
ORD Capital is a popular healthcare management company that handles queries, advice, and claims from medical insurance company members. The company struggled to keep track of client queries and membership changes.
With the help of HappyFox, the company made the most of a simple ticketing system and structured its support staff. In addition, features such as smart rules, canned responses, and custom branding helped them enhance service efficiency.
Pricing:
Starts at $29/agent/month
10. LiveAgent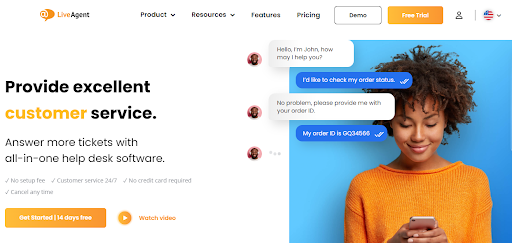 LiveAgent is the best e-commerce help desk software for small businesses. The tool does a commendable job of combining the power of ticketing, live chat, and automation features to help your service team delight customers.
Customer service managers can enable multiple automation rules to avoid human errors and make their team members more productive. For example, you can automatically route tickets to relevant team members or departments, share automated alerts, and add tags to tickets.
Top Features of LiveAgent:
Interact with customers via email, chat, voice calls, and social media.
Convert website visitors into customers with live chat
Set up contact or feedback widgets in multiple languages
Use spam filtering to avoid unwanted emails
Merge multiple similar tickets into a single ticket
Pros:
Affordable pricing plans
Monitor activity of website visitors
Cons:
Merging tickets can be tricky sometimes
Limited form templates
Choose it for: Spam filters, automated ticket distribution, ticket export
3rd party integrations allowed: Yes
Suited for: Startups, small to mid-sized businesses
Case Study:
WebSupport is a Slovakia-based company that offers hosting and domain name registering services to businesses and customers. Overall, the company handles over 95,139 domains of 70,854 customers.
WebSupport was looking for a tool that allowed them to manage everything under one roof. After switching to LiveAgent, their team successfully integrated email and live chat channels into a single interface and increased team efficiency by up to 47%.
Pricing:
Starts at $15/agent/month
Comparison of the Best Software for Ecommerce Help Desk
| Software | Price | Ticket Management | Shared Inbox | Multi-channel Communication | Alerts & Escalations | Live Chat | Self-Service Portal | IT Help Desk |
| --- | --- | --- | --- | --- | --- | --- | --- | --- |
| ProProfs Help Desk | $10/month | Y | Y | Y | Y | Y | Y | Y |
| Zoho Desk | $12/month | Y | N | Y | Y | Y | Y | N |
| Gorgias | $10/month | Y | N | Y | Y | Y | Y | N |
| Zendesk | $49/month | Y | Y | Y | Y | Y | Y | Y |
| Jira Service Management | $20/month | Y | N | Y | Y | Y | Y | Y |
| Help Scout | $20/month | Y | Y | Y | Y | Y | Y | N |
| Freshdesk | $15/month | Y | Y | Y | Y | Y | Y | N |
| Kayako | $15/month | Y | Y | Y | Y | Y | Y | N |
| HappyFox | $29/month | Y | Y | Y | Y | Y | Y | Y |
| LiveAgent | $15/month | Y | Y | Y | Y | Y | Y | N |
How Does Ecommerce Help Desk Software Work?
An e-commerce help desk works like any other ticketing system at the ground level. The tool enables online businesses to manage and track customer support requests and issues in one place.
For example, if an online shopper wants to know about your refund policy, they can reach out to you via email, live chat, or any other available channel. This request is automatically converted into a ticket and assigned to an agent. Once assigned, the agent can take necessary actions, such as sharing an appropriate knowledge base article that explains your refund terms and policies. As soon as the customer is satisfied with the response, the ticket is marked closed.
The tool typically includes a knowledge base, which provides online shoppers with self-service options and helps you reduce agent workload. In addition, advanced reporting helps customer service managers track agent performance and make data-driven decisions.
Things to Consider When Choosing an Ecommerce Help Desk Software
Are you looking to invest in help desk software for e-commerce business? Follow these simple steps to find the best solution for your team.
Ease of use: The software should be user-friendly and easy to navigate, with a simple and intuitive interface. This will make it easier for your team to adopt the software and provide efficient customer support.
Make a List of the Features You Need: Consider the features that are most important for your business. For example, if you need to handle a high volume of support tickets, look for a tool that has an efficient ticketing system. If you need to track customer interactions across multiple channels, look for software that supports multiple communication channels like email, live chat, and social media.
Scalability: As your business grows, your help desk software should also be able to grow with you. That's why it is important to go for software that can handle increasing numbers of customers and support tickets.
Integrations: Consider if the software integrates with other tools and platforms you are already using, such as CRM, ERP, and analytics tools. This will help you to streamline your workflow and avoid data silos.
Support and Training: Ensure the e-commerce software vendor offers a dedicated support team and training resources. This will ensure that you have the necessary assistance to implement and use the software effectively.
Engage Shoppers & Boost Sales With Ecommerce Help Desk
From pre-purchase inquiries to return and exchange requests – every interaction has the power to make or break your online brand. To rise above the competition and boost customer retention, you need to stay available for customers 24×7.
This can be made possible with the best eCommerce help desk software. A tool designed to help your team track every issue from start to finish, prioritize urgent requests, share product recommendations, and boost online sales.
All the tools mentioned above are trusted by big e-commerce players. If you wish to delight every prospect or customer that visits your online store, you can go for an affordable solution like the ProProfs Help Desk. If you need to support a big internal team, Jira Service Management can be a great option too. Moreover, Gorgias can help you enjoy powerful integrations with multiple e-commerce platforms.
Do you want a free Help Desk?
We have the #1 Online Help Desk Software for delightful customer support