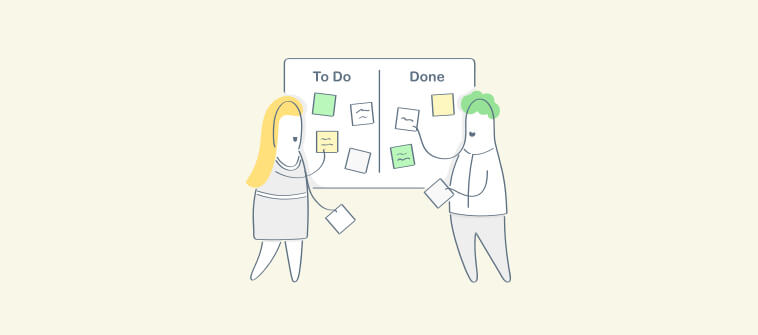 Resolving customer issues on the first contact is the ultimate aim of every organization. Failure to do so can cause customers to rate a company's customer service as inadequate. This has implications - statistics show that most customers - 89% - start buying from competitors due to poor customer service experience according to a report by Oracle.

But let's face it - for most businesses, achieving a 100% first contact resolution rate is an uphill task. No matter how well you hire or train your service reps, there will be times when those at the frontline will not be able to resolve customer issues.
---
Recommended Read: 10 Common Customer Service Problems and How to Resolve Them
---
Some issues are too technical for the service staff and have to be handed over to the technical team for resolution. This is where a ticket escalation process becomes necessary. As you develop escalation procedures for resolving issues, consider both the customers and the issues raised by them. The best escalation process for customer service ensures that customers are kept in the loop throughout the issue resolution process.
As your business grows, the ticket volume will also increase. So, the earlier you streamline your ticket escalation process, the better. Below, we explore various strategies that can be used to
Important Strategies to Improve Your Ticket Escalation Process
Determine Which Issues Require Escalation
Ideally, your service team should be able to resolve most of the customer issues that your company receives. This means only a fraction of issue tickets would be escalated up the ladder for resolution. To ensure that your support staff escalates only those tickets that require expert attention, provide them with a set of guidelines to follow while determining which tickets need escalation.
Most companies use their customer service goals, customer expectations, and industry outlook to determine what should go into the guidelines. The idea is to ensure service reps have a basic framework that helps them decide which issues require escalation, and which should be addressed at their end.
Document Your Ticket Escalation Process
Ticket escalation is an integral part of the broad ticket management spectrum of customer support. To ensure consistency and provide standards for efficiently handling tickets, the ticket escalation process should be documented. The best way to do this is by crafting a ticket escalation policy.
Often, the policy provides answers on how your company handles problems that frontline service agents are unable to address.
When developing an escalation policy, you need to define expectations customers have with your company and the ones that service agents are required to meet. Your customers need to know what to expect when they reach out for help.
In the same way, your service agents should be aware of what is expected of them in the escalation process. Some of the details that a ticket escalation policy should have:
The estimated duration for resolving tickets

Who should be notified when an issue needs to be escalated

Who should be contacted where the first responder is not available or is unable to resolve the issue

The medium that should be used to escalate tickets

How often customers will be updated and by who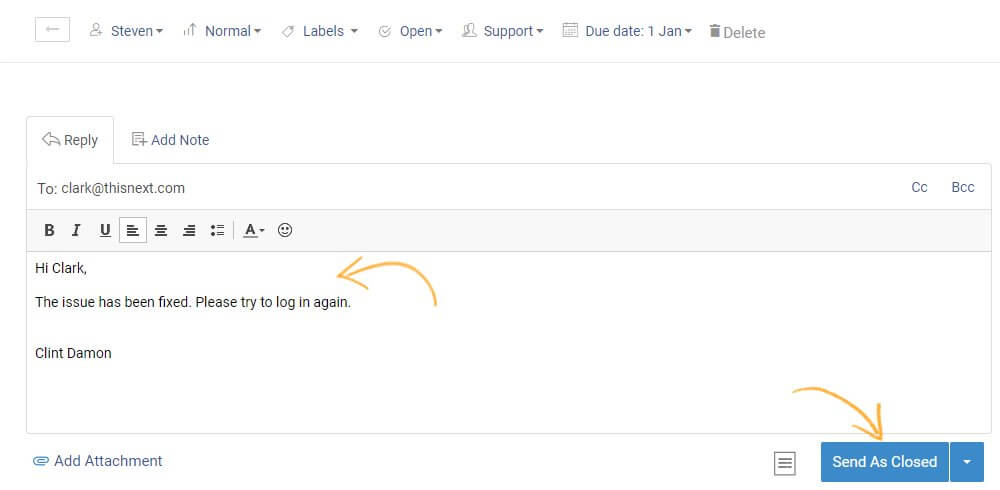 Once your escalation policy is ready, integrate it in the service level agreement (SLA). This will clarify what customers can expect from you when it comes to issue resolution and provide standards that service agents need to meet.
Encourage Agents to Replicate Issues
Where service agents are not able to resolve customer issues, encouraging them to replicate the problem could do the trick. This means having the agents do exactly what the customer is trying to do. For example, if a customer reports a challenge in logging into an online portal, a service agent can try doing the same to see whether he or she experiences the same problem.

By doing so, service agents are able to:
Understand customer problems faster

Identify what the actual problem could be

Determine whether the problem is unique to the customer or is widespread
Issue replication works well for companies that offer services or products whose troubleshooting can be done online.
Automate Ticket Escalation
A powerful help desk ticketing system is known to boost customer service efficiency by routing tickets to service reps automatically. But you can do more with issue tracking software when it comes to escalating tickets. The best way to escalate tickets is to have a clearly defined path.
Your frontline service agents should have clarity regarding who they should escalate the tickets to, in case they aren't able to resolve them. To automate the escalation process, mirror the escalation path on your help desk in a way that makes assigning tickets to more experienced staff easy for your service team.
Consider using automation rules to ensure escalated tickets reach the intended staff and keep everyone concerned updated. There are various help desk features that make this work, such as -
Set priorities to ensure that most critical tickets get resolved first

Add labels to separate important tickets from the ones that aren't that critical

Track ticket status and keep customers informed of the progress

Create filters so that tickets are divided according to the kind of customer complaints
These features ensure that tickets are assigned to the right individuals, and are addressed at the earliest.
Update Customers Regularly
Ticket escalation means customer issues might take longer than expected to get resolved. In such cases, it's always a better idea to keep customers in the loop so that they are familiar with the ticket status.
To keep the frustration at bay, keep customers updated on the ticket's progress, especially when there are delays due to any reason. While keeping customers updated is critical, it is crucial to ensure that you don't overdo it. Avoid flooding their inboxes with emails.
Instead, communicate occasionally throughout the escalation process to reassure them that their issues are being addressed. Keep customers in the loop even when you have not made any significant progress.
Ensure that there are no communication gaps during such times as that can trigger negative emotions in customers and cause them to shift to your competitors.
Monitor Issue Resolution
Once a customer issue has been escalated to a person who has the necessary technical expertise, the service agent responsible should continue to track its progress to ensure the matter gets resolved on time.
A help desk ticketing system helps you add internal notes to tickets that act as reminders. These ensure that agents are constantly informed of the ticket, and they take follow-ups with the experts who are working on it.
Adopt Multi-Channel Escalation
Supporting multichannel communication options is important, but you also need to make it a point that the escalation procedures work effectively across different channels. Provide customers the provision to escalate tickets from any channel of their choice and make sure that they are addressed immediately.
The channels can include email, phone calls, live chat, social media, and many more. Like ticket management, you can make your ticket escalation process across multiple channels as seamless as possible. This means that if a ticket is raised from email, it's escalation path should be the same as the ticket that originates from a phone call or social media.
To make this work, identify the point at which customer interactions from different communication channels would be distilled into a single platform during the escalation process. A help desk tool comes handy here, as it brings all your customer-facing inboxes on a single platform, making it easy for agents to manage and track tickets.
Also, you can establish the point when customers need to switch channels to get adequate responses. Have clearly defined rules for when an interaction over live chat needs to move to email and vice versa.
Embracing a multichannel approach in ticket escalation helps your company deliver positive experiences to all customers irrespective of the channel they use to raise issues.
Track Escalation Trends
Monitoring ticket escalation data regularly can provide valuable insights into where things are going wrong.
For instance, if issues from one customer are escalated regularly, it could mean his or her account requires a comprehensive review. On the other hand, if escalated tickets are regularly coming from one particular agent, it could mean the agent is not following the set guidelines. This highlights the need to train the agent on the escalation process.
Bottom Line
A well-defined escalation process for customer service provides a way for support staff to pass serious customer issues to individuals who have the technical expertise to resolve them.
While the majority of customer queries may not require escalation, it is essential that those escalated are resolved within the shortest time possible to keep customers delighted. This is why you need to make your escalation processes as seamless as possible.
If you want to improve your firm's ticket escalation process, implementing the strategies discussed above can help you get started on the right footing. Since some strategies take time to implement, you are better off starting with the simple ones and gradually moving to the more complex ones.
Do you want a free Help Desk?
We have the #1 Help Desk for delightful customer support starting at $0