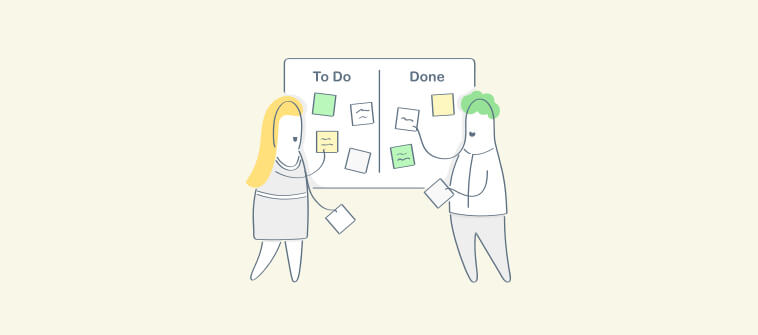 Resolving customer issues on the first contact is the ultimate goal of every organization.
Failure to do so can cause customers to rate a company's customer service as inadequate. This has implications – statistics show that most customers – 89% – start buying from competitors due to poor customer service experience. You can batter your customer service with the best customer support software.

But let's face it – for most businesses, achieving a 100% first contact resolution rate is a near-impossible task. No matter how well you hire or train your service reps, there will be times when those at the frontline will not be able to resolve customer issues.
Some issues are too technical for the service staff and have to be handed over to the technical team for resolution. This is where a ticket escalation process becomes necessary.
As your business grows, the ticket volume also increases. So, the earlier you streamline your ticket escalation process, the better. This blog lists 10 remarkable tactics for efficient ticket escalation.
What Is the Ticket Escalation Process?
Every customer service team has different tiers to manage different customer issues. Now, in a perfect world, the first person to interact with the customer is able to resolve the issue. Your customer is happy, your agent is happy, and what else can anyone ask for? However, that isn't the case for most businesses.
Ticket escalation is the process by which a customer's issue or request is presented to a senior customer service representative or manager.
Now, you might wonder- "Why do tickets need to be escalated? Can't they be managed during the first contact?"
Well, a majority of customer support tickets can be managed in the first contact itself. However, some tickets might demand intervention from seniors who have in-depth knowledge, technical expertise, or simply more authority than lower-tier agents.
Why Effective Ticket Escalation Matters?
A ticket is escalated when your agents are unable to resolve a problem at the ground-level. This only means that it will take more time to resolve an issue and might potentially lead to unhappy customers and overworked agents.
Ticket escalation is often frowned upon, but it is necessary for a streamlined support process.
Now, we know that customer expectations are going through the roof.
27% of customers expect a business to share an instant response over email. While 62% of customers expect a response within 24 hours.
Recommended Read: How to Deliver 24/7 Support Without 24/7 Staff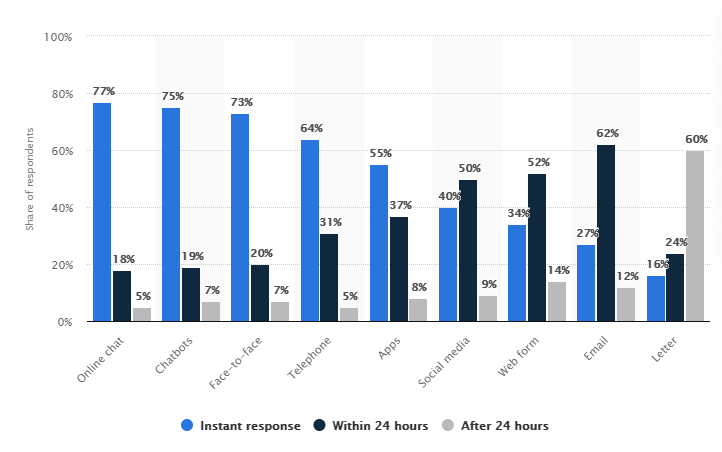 Image Source: How soon customers expect to get a response on different customer service channels.
Therefore, for effective ticket management, you must ensure that ticket escalation is fast, leads to a better solution, and the customer is kept informed along the way. A faster support ticket escalation process can help you bolster customer satisfaction and win their valuable trust.
10 Tips for a Successful Ticket Escalation Process
1. Determine Which Issues Require Escalation
Ideally, your customer service team should be able to resolve most of the customer issues that your business receives. This means only a fraction of tickets would be escalated up the ladder for resolution. To ensure that your support staff escalates only those tickets that require expert attention, provide them with a set of guidelines to follow while determining which tickets need escalation.
Most companies use their customer service goals, customer expectations, and industry trends to determine what should go into the guidelines. The idea is to ensure service reps have a basic framework that helps them decide which issues require escalation, and which should be addressed at their end.
2. Document the Ticket Escalation Process
Ticket escalation is an integral part of the broad ticket management spectrum of customer support. To ensure consistency and provide standards for efficiently handling tickets, the ticket escalation process should be documented. The best way to do this is by documenting the escalation procedure for IT support.
The ticket escalation policy provides answers on how your company handles problems that frontline service agents are unable to address.
When developing an escalation policy, you need to define expectations customers have with your company and the ones that service agents are required to meet. Your customers need to know what to expect when they reach out for help.
In the same way, your service agents should be aware of what is expected of them in the escalation process. Some of the details that a ticket escalation policy should have:
The estimated duration for resolving tickets
Who should be notified when an issue needs to be escalated?
Who should be contacted when the issue is still unresolved after the first escalation?
How often customers will be updated and by whom?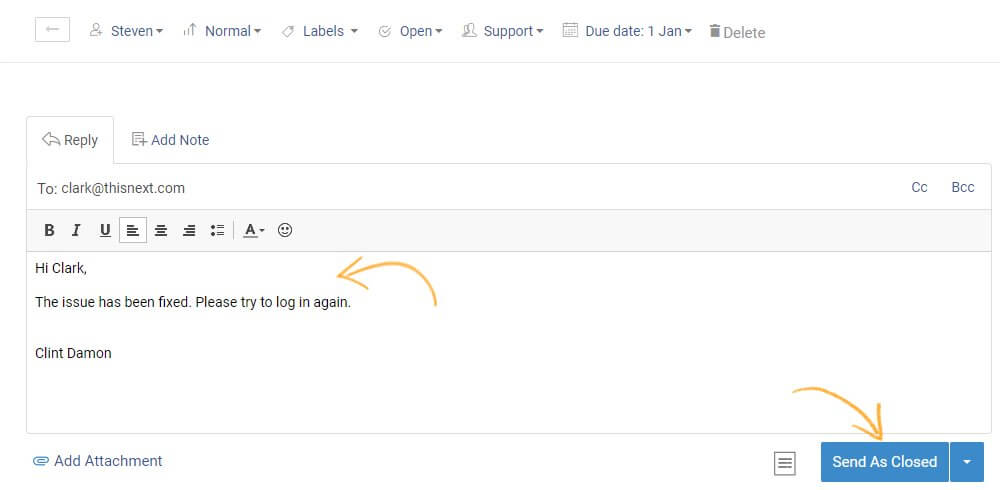 Once your escalation policy is ready, integrate it into the service level agreement (SLA). This will clarify what customers can expect from you when it comes to issue resolution and provide standards that service agents need to meet. A help desk software allows you to streamline your business operations. You can meet the SLAs (Service Level Agreements) and prioritize certain actions as and when required. Knowledge Base integration with a help desk software helps to lower the support costs by 80%.
3. Encourage Agents to Replicate Issues
In some cases where your agents are not able to resolve customer issues, encouraging them to replicate the problem could do the trick. This means having the agents do exactly what the customer is trying to do. For example, if a customer reports a challenge in logging into an online portal, a service agent can try doing the same to see whether he or she experiences the same problem.

By doing so, service agents are able to:
Understand customer problems faster
Identify what the actual problem could be
Determine whether the problem is unique to the customer or is common
Issue replication works well for companies that offer services or products whose troubleshooting can be done online.
4. Automate the Ticket Escalation Process
A powerful help desk ticketing system is known to boost customer service efficiency by routing tickets to the relevant service reps automatically. But you can do more with a help desk when it comes to escalating tickets. The best way to escalate tickets is to have a clearly defined path.
To automate the escalation process, mirror the escalation path on your help desk in a way that makes assigning tickets to more experienced staff easy for your service team. Consider using automation rules to ensure escalated tickets reach the intended staff and keep everyone concerned updated. For a well-streamlined help desk escalation process, you can do the following:
Set priorities to ensure that most critical tickets get resolved first
Add labels to separate important tickets from the ones that aren't that critical
Track ticket status and keep customers informed of the progress
Create filters so that tickets are divided according to the kind of customer complaints
All these features ensure that tickets are assigned to the right individuals, and are addressed at the earliest. An automated workflow is the key to managing ticket escalations.
5. Keep Your Customers Updated
Ticket escalation means customer issues might take longer than expected to get resolved. In such cases, it's always a better idea to keep customers in the loop so that they are familiar with the ticket status and can, therefore, adjust their expectations.
To keep the frustration at bay, keep customers updated on the ticket's progress, especially when there are delays due to any reason. However, you must avoid overdoing it and flooding their inboxes with emails.
Instead, proactively communicate throughout the escalation process to reassure them that their issues are being addressed and are a matter of top priority for your business. Ensure that there are no communication gaps during such times as that can trigger negative emotions in customers and cause them to shift to your competitors.
6. Monitor Issue Resolution
Once a customer issue has been escalated to a person who has the necessary technical expertise or knowledge in that field, the service agent responsible should continue to track its progress to ensure the matter gets resolved in time.
In other words, although the ticket lies with a senior representative, the first agent should take complete accountability for the issue till it is resolved.
A help desk ticketing system such as ProProfs Help Desk allows you to add internal notes to tickets that act as reminders. These ensure that agents are constantly informed of the ticket, and they take follow-ups with the experts who are working on it.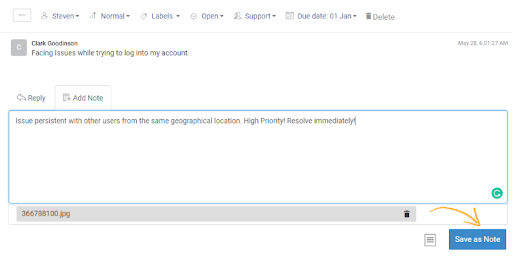 7. Adopt Multi-Channel Escalation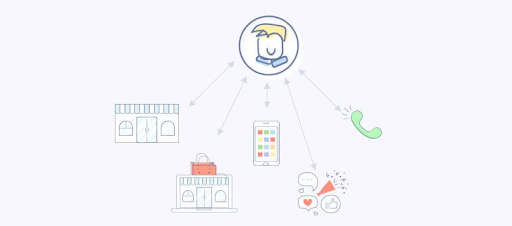 Provide customers the option to escalate tickets from any channel of their choice and make sure that they are addressed immediately. The channels can include email, phone calls, live chat, social media, and many more.
Just like ticket management, you can make your ticket escalation process across multiple channels as seamless as possible. This means that if a ticket is raised from live chat, it's escalation path should be the same as the ticket that originates from a phone call or email.
A help desk tool comes handy here, as it brings all your customer-facing inboxes on a single platform, making it easy for agents to handle ticket escalations and track their progress. Besides this, integrations such as live chat and knowledge base can help you track tickets that originated on these channels.
Also, you can establish the point when customers need to switch channels to get adequate responses. Have clearly defined rules for when an interaction over live chat needs to move to email and vice versa.
Embracing a multichannel approach in ticket escalation helps your company deliver positive experiences to all customers irrespective of the channel they use to raise issues.
8. Monitor Your Escalation History
Monitoring your ticket escalation history can reveal hidden patterns, as well as improvement areas. By keeping a firm track of the ticket history, you can minimize escalations and get to their root cause.
For instance, you can monitor your agents who are regularly escalating issues to a senior representative, where the issue could have been easily addressed by them. It is important to Identify such agents and train them about your escalation guidelines and policies. Allow them to hone their skills, expand their knowledge, and empower them to manage customer issues on their own.
Similarly, if a customer is repeatedly requesting escalation, there is a possibility that he/she did not have a pleasant experience of interacting with a tier-1 support agent. You can have a one-to-one conversation with such customers and try to win their trust back.
9. Reassure Your Customers
Like we discussed, keeping your customer posted during the escalation process is of utmost importance; similarly, you need to reassure your customers once the issue has been resolved and the appropriate solution has been shared with them.
Once a ticket has been marked as resolved, ask the first agent to reach out and share the good news with the customer. Explain to them how escalation often leads to the best solution and whenever they contact your business, they are in safe hands. In addition to this, ask your customers to get back in touch if they encounter any similar issues in the future.
10. Collect Customer Feedback
Ticket escalation is not a pleasant feeling for the customer or your team. As a result, it becomes imperative for your business to ask customers for their feedback on your support process. Once the escalation process has ended, and the necessary resolution has been offered to the customer, you can share a customer feedback survey. You may draft your survey email like this-
'Hi (Customer name),
Your issue was successfully escalated to our customer service manager and has been resolved. We appreciate your patience. How would you rate our support process?"
Customer feedback can help you gauge the effectiveness of your escalation process and check if customers find it quick enough or not.
Manage Your Support Tickets Like a Pro!
A well-defined ticket escalation process for customer service provides a way for support staff to pass complex customer issues to individuals who have the technical expertise and know-how to resolve them.
While the majority of customer queries may not require escalation, it is essential that those escalated are resolved within the shortest time possible to keep customers delighted.
If you want to improve the ticket escalation process, implementing the strategies discussed above can help you get started on the right footing. You can use a help desk solution such as ProProfs Help Desk to automate your escalation process and stay on top of every support ticket.
let's take a look at some of the frequently asked questions below.
Q. How do you escalate a support ticket?
Ticket escalation is a great way to ensure that the right people handle the right support tickets. Using help desk software, you can escalate tickets in seconds. You can tag the right team member, manager, or even team in a ticket and let them know their help is needed. For instance, for a technical support issue, you can tag a member of your IT team and ask them to share a relevant solution.
Q. How to handle ticket escalation?
To handle ticket escalations with ease, you need to establish a smooth ticket escalation workflow. Such workflows help your agents understand the steps they need to take to escalate an issue and who are the right people to handle the case better.
Q. How to improve your ticket escalation process?
There are several steps you can take to improve the ticket escalation process:
Understand which issues require escalation
Automate your ticket escalation process
Allow customers to escalate their issues from multiple channels
Keep your customers informed about the ticket progress
Collect customer feedback to further improve the process
Do you want a free Help Desk?
We have the #1 Online Help Desk Software for delightful customer support