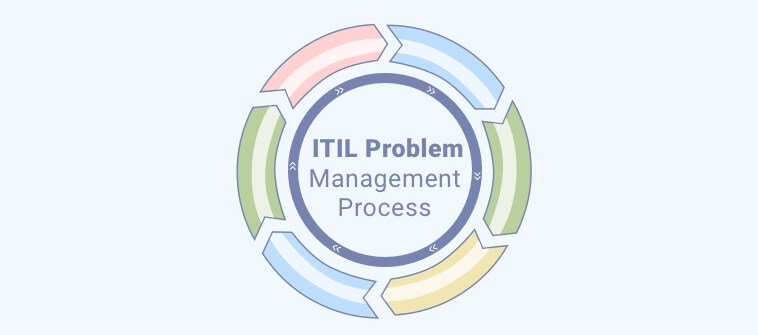 Are you looking for ways to improve your ITIL problem management process?
ITIL problem management is a popular process concerned with managing the underlying causes of incidents. However, most businesses have complicated things by blending it with other ITIL processes such as incident, change, and knowledge management.
Most IT support teams focus on resolving immediate incidents instead of identifying the "underlying problem". As a consequence, it only leads to more incidents in the future.
So what can you do for effective problem management? You can adopt technology in the form of IT help desk software that will enable your team to prioritize tasks, track progress, and associate incidents with problems.
But that's just scratching the surface. In this blog, we will help you understand the concepts related to problem management, explore the problem management process flow, and discuss best practices to manage problems and restore service swiftly and efficiently.
First, let's start with the ITIL problem management definition.
What is ITIL Problem Management?
ITIL Problem management is a popular process that helps you manage the complete lifecycle of all problems within an organization. The primary goal of this ITIL process is to prevent IT incidents from occurring and minimize the impact of those incidents that cannot be prevented.
It asks the question, "what caused the incident" and aims to find potential solutions to the incident. But the job of problem management just does not end at finding and fixing incidents. It attempts to discover and understand the underlying causes of incidents and implements the best method to eliminate the root of the problem completely.
The Information Technology Infrastructure Library or ITIL defines a problem as a cause or a potential cause that can give rise to multiple incidents. Let's explore more such related terms:
Problem: A problem is the underlying " cause" that gives rise to one or multiple incidents.
Incident: An incident is defined as any event that leads to the permanent loss or temporary disruption of an IT service.
Error: An error refers to a small flaw in the design or any malfunction that can hamper the end-user experience.
Root Cause: The original cause behind an incident or problem. Problem management in ITIL aims to identify and fix such root causes.
Read More: Your Guide to the IT Infrastructure Library (ITIL)
Proactive vs. Reactive Problem Management
Organizations can approach the ITIL problem management process in two ways: by being reactive or proactive. But how are these two methods different from one another? Let's find out:
Reactive Problem Management
Reactive problem management helps you resolve problems after the incidents have already taken place.
When any major incident happens that demands root cause investigation, the process of reactive problem management kicks in. Your team strives to resolve the incidents at the earliest and also solve the underlying problems that led to incidents in the first place. Later, with root cause analysis, your team tries to understand what led to the problem and looks for ways to fix it completely.
For example, many businesses use the swarming technique for reactive problem management. In this technique, different business departments get together to understand an incident and try to identify the root causes that could have led to them.
Proactive Problem Management
Proactive problem management helps you identify risks and prevent future incidents in your organization.
If the reactive approach was about solving the problems at hand, the proactive approach is driven by continual improvement. Rather than waiting for incidents to take place, your team looks to identify major risks around the organization. Such risks may include warning signs, errors, etc., that could turn into major problems and impact your business in the future.
For example, you might identify security warnings in your business software that could lead to incidents from your end-users in the future. By making your software more secure and fixing threats, you reduce problems as well as incidents.
Closely-Related ITIL Processes: Incident, Change, & Knowledge Management
Let's quickly understand how problem management is related to other processes such as ITIL incident management and change management.
Relation Between Problem Management & Incident Management
The terms problem and incident management are closely related and are often used interchangeably by businesses. However, there are some clear differences. Let's understand this with the help of an example:
Suppose multiple employees complain that they are not able to log in to their respective accounts. Now, the IT support agent might share troubleshooting steps and fix the issue for some of them. But what about the underlying cause? Well, you will need the problem management process to identify the root cause, such as server downtime, software bug, etc.
Relation Between Problem Management & Change Management
Change management is another ITIL process that is carried with the objective to minimize the impact of changes on the quality of IT services delivered by an organization. Change can refer to addition or modification in the business process that has the potential to influence the delivery of IT services.
If there are incidents that are being caused due to changes, then the problem management approach will help you identify such changes, modify them, and limit their impact on the organization.
For example, suppose the adoption of AI-powered technology (change) has impacted how your teams operate. In this case, the problem management ITIL approach will help you analyze this change and help your teams adjust to it.
Relation Between Problem Management & Knowledge Management
The process of knowledge management handles how knowledge is created, shared, updated, and utilized across the organization. It aims to create a repository of help content for IT end-users – internal employees as well as customers.
So how do problem and knowledge management go along? Well, to make everyone's life easier, you can update end-users about ongoing problems, share troubleshooting steps for common incidents as well as requests. The availability of the right knowledge at the right time will save customers valuable time and help you reduce support costs.
Problem Management Roles and Responsibilities
To effectively execute ITIL problem management processes, it is imperative that the system includes people with clearly defined roles and responsibilities.
1. The Problem Manager
At the helm is the problem manager who is designated as the leader and has complete ownership of the problem management process. Typically, his or her role will include:
Responsible for coordinating between all concerned teams and departments involved in problem resolution
Keeping up with designated SLA timelines for problem resolution
Taking total ownership and management of KEDB, otherwise referred to as Known Error Database
Ensures that all problems have been properly closed
Driving and Liaoning on major problem review
That said, do not make the mistake of assigning a problem manager with the role of an incident manager too. This will create a conflict of interest and shift focus from resolution execution.
2. The Problem-Solving Team
The problem Manager needs to be supported by either internal technical support team members or external vendors or suppliers to solve problems quickly and efficiently. Having said that, if the situation is serious and a major problem needs to be resolved, the problem manager generally has the power to constitute a project management team.
This special team is dedicated and committed to finding a solution to a major problem. Usually, different team members will have their own individual expertise and skills that can solve the problem in a collective effort.
ITIL Problem Management Process
ITIL Problem management process beings with problem identification and ends when your team has taken the necessary steps to prevent similar problems in the future.
Here are some of the most important stages of the ITIL problem management lifecycle:
1. Problem Identification
This is the first and foremost step in the ITIL problem management process. In this stage, your team will try to identify and accept that a problem exists. Your team usually comes to know about problems when there are multiple incidents or complaints from end-users. You can refer to your problems record and see if your business encountered any similar problems in the past. Once the problem has been identified, you can move ahead to the other stages.
2. Prioritization
It is common for teams to encounter multiple problems at the same time. So how do you deal with them at once? Well, depending on their potential impact, you can always mark urgent problems as high-priority and focus on them first. This is a great way to ensure that your IT support team is well-organized and they know exactly what they need to focus on first. By segregating high-priority problems, you can ensure your organization is always on the path to success.
3. Problem Analysis
In this stage of the problem management process, you identify the underlying contributing causes of a problem. There can be a single cause or multiple causes, depending on the situation. Your team also plans the best course of action that can be taken to resolve the problem at the earliest. For better results, in this stage, you must look to improve the overall availability of services by proactively identifying other similar problems that can impact business processes.
4. Resolving the Problem
This is an important stage where the real work happens. After your team has identified the underlying root cause of the problem, it's time to initiate the most appropriate solution. Once a problem has been fixed and marked as closed it means that it no longer persists and cannot lead to any more incidents in the future. Make sure your problem record holds the relevant description and the steps taken by your team to fix it. However, the job does not simply end here.
5. Problem Prevention
This is the last and final stage of the problem management lifecycle. In this stage, your team understands the problem better and looks to eliminate it at all costs. The main objective is to prevent similar problems or incidents from happening in the future. As a problem management best practice, you can even create knowledge base articles around specific problems and publish them so that everyone can learn more about them.
Problem Management Techniques
Understanding the Problem Management process is key. What you also need to be aware of are the various Problem Management Techniques that are available to the service provider.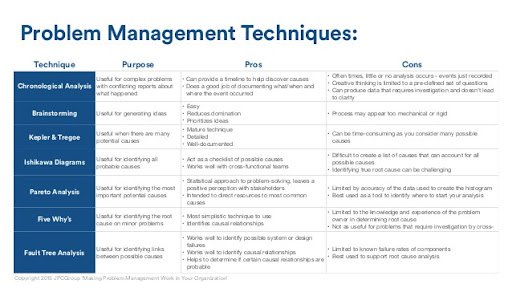 These smart tools are recommended by experts as they partly help in the removal of fear, uncertainty, and doubt. This is typically done by identifying the root cause of the problem and driving the teams towards finding a permanent resolution.
Take a look at some of the problem management techniques and their respective applications.
1: Chronological Analysis
Being a time-based approach, Chronological Analysis enables the user to look through the order of events which leads to the identification of the chain of cause and its related impact.
This technique comes in handy when the user is trying to look at potential long-term problems that have slowly developed over a period of time. Generally, these problems showcase very distinctive symptoms.
2: Pain Value Analysis
If the user is looking to narrow down his or her search to precise effects that are a direct consequence of specific incidents and events creating trouble for the business, then Pain Value Analysis, is the technique that you should adopt.
When the business is encountering a series of problems simultaneously, conducting a Pain Value Analysis helps in the segregation and prioritization of the items.
3: Brainstorming
Taking on a more collaborative approach, Brainstorming is a key problem management technique that allows knowledgeable individuals and subject matter experts to collectively share their opinions and perspectives on the cause of the problem.
The methodology does not subscribe to the saying of 'too many cooks spoil the broth'. On the contrary, this 'coming together strategy' allows the problem to be viewed from multiple sets of eyes, minds, and perspectives. Broadening the perspectives can help in enhanced problem-solving capabilities.
4: Kepner-Tregoe Problem Solving Method
The Kepner-Tregoe Problem Solving method comes in handy when businesses encounter a major problem that needs formality and structure.
With a set of carefully formulated steps, this popular Problem Management method helps in zeroing in on the root cause of the problem. This is followed up with a recommended solution and also sees it through the implementation stage as well.
5: Ishikawa Diagram (Fishbone)
Using a structured and categorized approach, the Ishikawa Diagram technique of Problem Management enables the service provider to frame a question and come up with possible causes. As a more visual approach, the technique can be a precursor to other methods being used in the future.
6: Pareto Analysis
The Pareto Analysis enables the service provider to only concentrate on problems that comparatively have the greatest effect through a process of prioritization. The technique works on the assumption that 20% of the problem caused is a result of 80% of incidents.
The service provider looks at resolving those problems first that have the greatest return. Combining Pareto Analysis with Ishikawa diagrams can become an even more powerful tool to combat Problem Management.
These problem management techniques may seem quite complex and difficult to use initially, but in reality, they are pretty easy to adopt and implement. What may be a struggle is to identify the correct technique according to the prevalent circumstances to battle the problem at hand.
ITIL Problem Management Best Practices
With the right problem management best practices under your sleeves, you can save your business from major problems as well as incidents. Here are 5 best practices you need to know:
1. Handle Problems & Incidents Separately
There is no doubt that the ITIL incident management process is different from the problem management process. So there is no point in handling them in the same way.
IT users, support operators, and other key stakeholders should have a clear understanding of what is a problem (the cause of incidents) and what is an incident (the visible effect of a problem).
While the primary goal should be to track and fix incidents at the earliest, the secondary objective should be to carry a root cause analysis and better understand the problem at hand. This clear distinction will help you avoid any unnecessary confusion and help you deliver uninterrupted IT services.
2. Assign a Problem Manager
To make the most of problem management best practices, you need someone to overlook this department. Having someone who is majorly responsible for Problem Management can help your organization improve your overall process
Your problem manager will have the responsibility to increase the efficiency of processes, and projects, and keep the organization safe from unprecedented IT problems. While choosing someone for this position, make sure the individual has great problem-solving as well as communication skills.
The problem manager will also have the responsibility to measure problem management KPIs, monitor trends, and see how the organization can function better in the future.
3. Keep a Database of Past Problems
Every organization must have faced a wide range of IT problems in the past. While some problems are resolved within hours, bigger problems can take days or even weeks and have the potential to jeopardize your business.
For effective problem management, you need to create a strong database of your problem history. Once you identified the major problem or cause behind incidents, record it in a database along with its respective solution. This will allow you to identify future problems that are similar in nature and quickly resolve them. Your problem database then becomes an easy-to-use and forever available archive of problems along with their workarounds.
4. Capture Relevant Metrics and Create Reports
Problem managers need the right data for improved decision-making. With IT help desk software, you can target specific metrics, and track agent performance from a single dashboard.
Monitoring problem management metrics such as user satisfaction, incident resolution time, number of repeat problems, the average cost per problem, etc. will help you analyze performance, monitor trends, and make data-backed decisions.
Once, you are have created reports and seen the bigger picture, you should not keep it to yourself. Share your periodic problem management reports with staff members, the IT support team, business clients, and other key stakeholders.
5. Take Feedback & Follow Up
Once a problem has been fixed, the job does not end there. You need to constantly follow up with IT users and see if the problem still persists or not.
If customers or employees have raised incident tickets, do not mark them resolved until you have taken a follow-up with them.
In fact, as an ITIL problem management best practice, you must take feedback from end-users after their incident has been resolved. The valuable feedback offered by them will help you see what you are doing right and what needs to be further refined.
Reasons Why IT Help Desk Software Makes Problem Management Efficient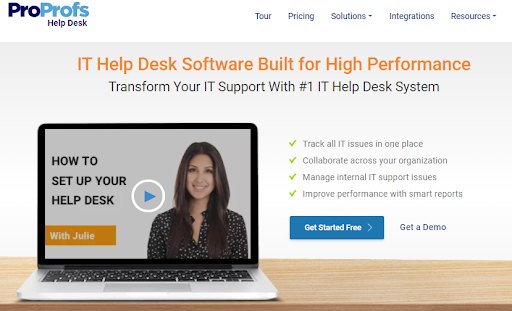 IT help desk software can make managing company-wide problems an effortless process. You can track incidents raised by IT end-users, see their progress in real-time, prioritize urgent problems, and take feedback to enhance the end-user support experience.
Track all IT incidents as well as requests in one place
Monitor incident and problem management metrics
Create and share presentation-ready reports
Share surveys with end-users to capture their feedback
ITIL Problem Management Done Right
Unquestionably, the ITIL problem management process is implemented to achieve specific goals. The primary amongst them all is the prevention of incidents from occurring over and over again.
When done right, problem management can prove to be an extremely valuable practice. For better results, you need to document problems and record them in a database, track problems until they are resolved, capture user feedback, and share reports with key stakeholders. The combination of all these factors will help you enhance the IT support experience.
Since you should always be practicing problem management, it's important to use IT help desk software that will enable your team to track problems, incidents, prioritize issues, configure agent roles, and track important metrics as well as KPIs.
Do you want a free Help Desk?
We have the #1 Online Help Desk Software for delightful customer support