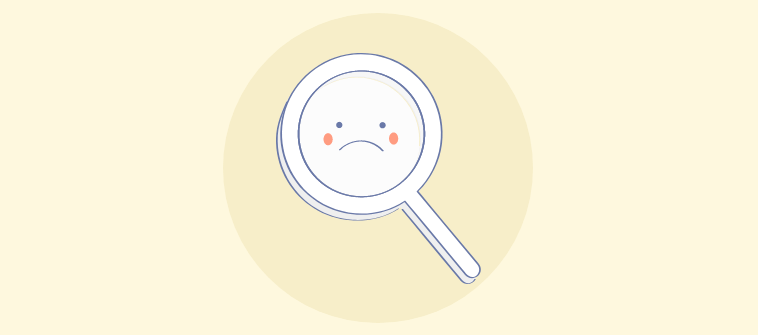 We all know that investing in good customer service is wiser than neglecting it. But why do so many customer service teams keep on repeating the same mistakes again and again?
When you overlook your help desk mistakes, they can spoil the customer experience, increase churn, sabotage your business, and turn it into a failure rather than a success.
The truth is that mistakes can happen even when your support team has the best of intentions. However, you need to spot early signs, learn from them, and look for ways to improve the customer experience.
In this blog, we will see how common help desk mistakes such as sharing duplicate replies, manually managing complaints, etc. can damage your brand's reputation. We will also go a step further and see what exactly you need to do to avoid them and delight your customers.
Here we go!
10 Common Help Desk Mistakes And Their Solutions
With an increasing number of support tickets, you can easily lose track and make serious errors. But even before you try to work on your mistakes, you need to know what they are in the first place. Read on to discover the 10 most common help desk mistakes and solutions:
1. Sharing Duplicate Replies
One of the most common help desk mistakes is sharing duplicate replies with the same customer. Imagine this situation, a customer shares his query via email and waits for your response. Now, unknowingly, two of your help desk agents reply to the same email. The customer now has two responses from your team and they might include different information.
Such a situation can prove to be quite embarrassing for your business and can leave customers more confused than before. But when teams share a common email address, duplicate replies are bound to happen. So what can be the way out?
Solution: The best help desk software offers a feature called "Agent Collision Detection" that can save your team from this embarrassment. So how does it work? Well, agents can see who is working on which ticket in real-time. This means that whenever someone is typing an email reply, you can view it and avoid sharing duplicate responses.
Moreover, you can even set agent roles and permissions to ensure team members have limited access to view emails or share responses. Agents will only be able to access the inboxes that they have permission for and this will help you avoid sharing multiple email replies.
2. Manually Managing Customer Complaints
Manually managing customer complaints is one of the most common IT help desk mistakes. But what is wrong with that?
Well, manually handling complaints or requests is time-consuming and can negatively affect your team's productivity. Instead of focusing on urgent tasks, agents will be busy sorting and organizing support tickets.
Moreover, manually managing tasks can also bring human errors into the process. For instance, an agent might fail to respond to a customer complaint in time, or he might lose an important conversation altogether.
Solution: The right help desk software can help you automate your customer service process and delight your audience. By investing in a good tool, you can leverage awesome automation features.
For instance, with the round-robin ticket assignment feature, you can automatically distribute incoming customer complaints to agents who are available online. This will ensure that every ticket has an owner, and no conversation can ever slip through the cracks.
Moreover, you can even use automated alerts and notifications to keep agents and customers updated. Whenever a new complaint is received, your team members will be notified. Similarly, the customers can be automatically updated about their ticket progress.
3. Taking Excess Time to Respond
Making customers wait for too long is another serious help desk mistake you need to avoid at all costs. When customers contact a business for support, they want you to handle their problems on high priority.
According to a Statista report, around 27% of customers expect an instant reply over email. The number goes up to 77% when it comes to other channels such as live chat.
People hate waiting, especially when they are in trouble. If your business is slow to respond or you put customers on hold for too long, you stand a good chance of losing them to your competitors. So how do you improve your customer service response times?
Solution: To respond faster to customer complaints, queries, or requests, you must follow these tips:
Service Level Agreements: Create different SLAs for different communication channels so that customers can know what to expect. For instance, while you can look to respond to customers via live chat within 2 minutes, you can keep email response time to 4 hours – 6 hours.
Employee Training: Employee training is another great way to share faster responses and avoid other help desk mistakes. You can arrange regular product and technical training sessions for agents to solve customers' problems without needing to put them on hold.
Read More: What is an SLA? Best Practices for Service-Level Agreements
4. Blaming Customers
Every successful and reputed business knows that you cannot afford to play the blame game with your customers. On most occasions, when you blame your customers, you refrain from accepting your mistakes. This prevents your learning and can hamper the customer experience.
Pointing fingers at your colleagues or customers will only delay the resolution of the actual issue. In fact, it makes your business appear less professional. Even if the customer is at fault, you need to find a way to communicate with them in such a way that they do not feel disrespected.
Solution: You need to instill a belief of ownership among your team members. Tell them that they are not only responsible for solving the issue but also for customer satisfaction and happiness.
Encourage open internal communication so that agents can feel free to share any bottlenecks in the process. If they are not getting along well with other agents or members of other teams, you must look to resolve their conflicts. This will lead to better collaboration and put an end to the blame game.
In addition to this, you need to carefully monitor your calls, chats, and other customer interactions. Track the exact instance when an agent is found unnecessarily blaming others and show them what needs to be done instead.
5. Lack of Information
Nothing disappoints customers more than an agent who has no information about a query or request. In today's day and age where knowledge is just a click away, you cannot possibly say no to your customers when they ask for some basic information.
The truth is that customers can smell your lack of knowledge from miles away and start doubting your credibility as a support representative. They might lose interest in interacting with you and request to speak to a senior rep or the manager, and this will only aggravate the situation. So how do you make knowledge accessible to your support reps?
Solution: Whenever you launch a new product or product feature, make sure agents are trained on them. This will help them handle new requests or issues with ease.
In addition to this, you need to create a dedicated internal knowledge base. It is not possible for agents to learn and remember the nitty-gritty of everything associated with your business or what you sell. An internal knowledge base can help them access useful information in real-time in the form of help articles, videos, guides, FAQs, etc.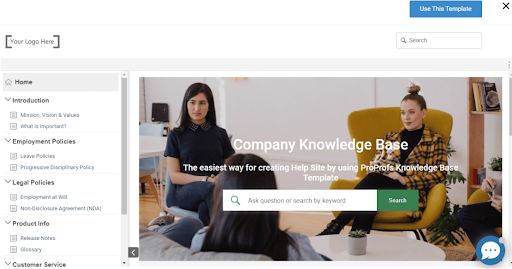 So instead of putting customers on hold or transferring a ticket to someone else, agents can resolve customer problems as and when they come. Moreover, you can encourage agents to convert their ticket replies into help desk articles so that other team members can refer to them.
6. Sounding Scripted or Robotic
Customer service scripts are a great way to save time, reduce agent efforts, and offer a consistent experience. However, you need to stop blatantly reading your lines or copy-pasting scripts in your chat or email replies.
Sounding robotic is another popular help desk mistake that can lead to poor communication and prevent you from building trust with your audience. After all, would you yourself like to interact with a service rep who keeps on repeating the same lines? Not really. So how do you rise above this mistake and engage customers like never before?
Solution: While creating relevant scripts can prove to be handy; you must encourage your help desk staff to conduct conversations in a natural way.
Try to add a dose of personalization to every conversation. You can start the conversation by using the customer's name and gaining context from past interactions. Take a few moments to understand why they might be contacting you and practice active listening.
Moreover, who said customer service interactions have to be boring? To build a strong rapport with customers, you can always use some humor wherever possible. Ask them how their day was and what they wish to accomplish with your product or service.
7. Switching Between Channels Without Context
When customers contact you via different channels, they demand a seamless experience. They expect you to remember each and every detail of their past conversations. Failing which they will have to start all over again and repeat everything. We know how painful that can be!
According to a study, 75% of customers hate repeating themselves whether they interact with a customer service rep in-store, online, or over the phone.
Let's understand this common service desk mistake with an example. Imagine a customer contacts you via live chat to share his problem. While interacting with an agent, the customer gets occupied with something and abandons the chat. Later the same day, the customer calls your support team and is made to repeat every detail again. Such situations can lead to negative experiences and eventually customer churn.
Solution: Omnichannel customer service can help you offer seamless experiences across all channels. No matter if a customer contacts you via email or drops a chat message, agents can easily track their past interactions in one place.
In simpler words, the customer can begin their support interaction with your brand on one channel and continue it on other channels without any challenges. But how do you make this possible?
With the right customer support software, you can manage all your active channels in one place. Agents can easily view the ticket history and engage customers with relevant context.
Read More: What Is An Omnichannel Customer Experience?
8. Being Unempathetic
If you gather all poor customer support experiences, you will notice that most of them have one thing in common – an interaction that lacked empathy. Being unempathetic is one of the most basic help desk mistakes you should avoid if you want your customers to be happy.
When customers contact your team, they should not feel like they are being treated as a mere "support ticket". If they feel that you are being insensitive to their problems or don't respect their time, they will stop doing business with you. So how do you rectify this grave mistake?
Solution: In addition to process and product training, you must train help desk agents on customer service soft skills. Empathy is a soft skill that reflects an agent's ability to understand and be sensitive to the problem.
You can show empathy by explaining what you understand about the customer's problem. You can ask questions to understand what the situation is, how the problem occurred, and how significant it is for the customer.
Moreover, you can acknowledge their emotions by using key phrases such as "I understand where you are coming from", "I would be upset too if this happened to me", or "I can completely relate".
9. Closing a Ticket Without Confirmation
Do you close your support tickets without taking confirmation from the customer? In that case, you might be making a huge help desk mistake.
Marking a support ticket as "closed" or "resolved" just because you have fixed the issue does not solve the problem. You need to take confirmation first and ask your customers whether they are facing the same issue again or not.
Because if the problem has not been entirely fixed, the customer will contact you again, and you will be forced to re-open the ticket. This will only waste everyone's valuable time and raise questions about your support process.
Solution: The simple solution to this problem is to keep your customers updated during each and every stage of the support process. You must share automated notifications with them when a new ticket is created, the issue is escalated, or when the ticket is resolved.
Once the issue is fixed, you must call the customer and take confirmation. It is also important to take regular follow-ups with customers and check if the issue still persists.
In addition to this, you must share feedback surveys with customers to monitor agent performance, measure satisfaction, and see what can be improved.
Read More: Voice of Customer: How to Boost Your Business With VoC Data
10. Making Decisions Without Data
Guesswork does not work in customer service. Making short or long-term decisions without data can lead to serious help desk mistakes and cost your company money.
For example, suppose you take the decision to offer 24×7 customer support. If there is not enough demand from customers or data that can back this decision, you can incur heavy losses. You will end up hiring additional staff and investing in their training when it was not even required in the first place.
Without the right data at hand, you will not be able to gauge team performance. You will not be able to find out if your customer service efforts are going in the right direction or not. So what can be the solution?
Solution: In today's data-driven world, customer service reports can help you monitor present performance and make future-ready decisions.
For example, you can monitor your support ticket volume over time and see if you need to hire more agents or not. You can track your ticket ratings to identify your top performers and also the agents that need to improve.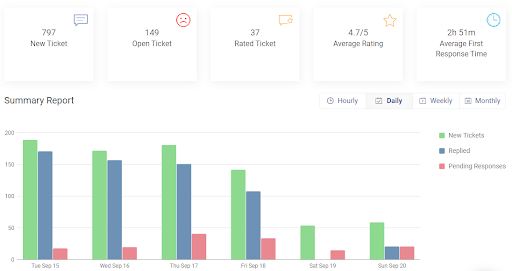 Moreover, monitoring other the help desk metrics such as open tickets, ticket backlogs, average first response time, ticket resolution time, etc., will help you strengthen your support process.
Read More: 15 Help Desk Metrics to Improve Customer Support
Turn Help Desk Mistakes Into Miracles!
Modern customers have a strong voice and wish to make themselves heard. However, you will be surprised to know that 91% of customers who are unhappy with a brand will just leave without complaining.
This makes it all the more important to identify your help desk mistakes and avoid them before customers start switching to your competitors. Make sure you respond to customer requests within the promised SLAs and train your agents on empathy and other soft skills.
Moreover, the best help desk software can help you rise above customer service blunders. You can automate your mundane tasks, avoid sharing duplicate replies, and build a self-service knowledge base for employees as well as customers. To err is human!
Do you want a free Help Desk?
We have the #1 Online Help Desk Software for delightful customer support