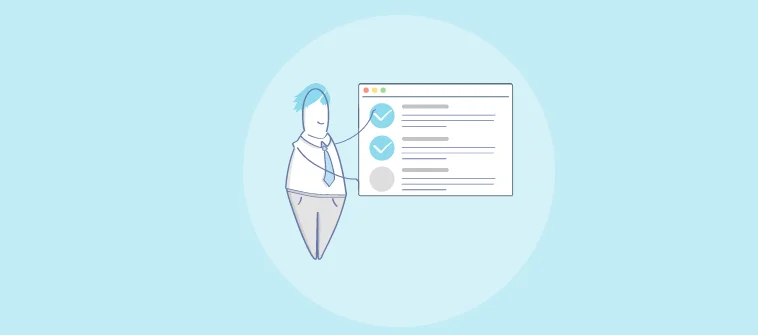 Have you ever contacted a business for support only to be misguided by an agent? Or maybe the agent treated you more like a "ticket" than an actual human being with emotions?
Yes, sadly, we have all been there. So as a business owner, how do you avoid such horrific situations and build your customer service dream team?
Customer service training holds the right answer. With the right training strategy, you can ensure agents know your products inside out, have a clear understanding of the support process, and, most importantly – can handle customer complaints with empathy and patience.
There is no doubt that your employees are your real assets who represent your brand every time a customer calls or shares an email. With such high stakes, regular training programs can help you fill skill gaps and save your brand's reputation.
In this customer service training guide, we will understand the importance of service training and explore its various types. We will discuss the role of customer support software in tracking agent performance and also reveal some tips for improved agent training and onboarding.
There is a lot to cover; stay tuned!
What Is Customer Service Training?
Customer service training is the process of improving the skills and knowledge of your customer service employees so that they are better equipped to handle customers. The ultimate goal is to prepare them to enhance the support experience and customer satisfaction.
Now, customer service training is not just meant for the people who have joined your team. Training is an ongoing process that should involve both new as well as existing employees. Furthermore, to deliver excellent customer service, you need to monitor and update your training programs consistently.
Your customer service training process should include:
Process training
Product training
Customer support software training
Soft-skills training
Consistent monitoring and assessments
Why Is Customer Service Training Important?
Customer service is not just an idea or thought; it's action-oriented. How your employees interact with customers and how quickly they resolve their issues can make or break your brand.
With the best customer service training, you can improve the quality of customer interactions, reduce response time, avoid unnecessary escalations, and enhance the customer experience. But that's not all; regular training and development is a great tool to retain employees.
According to a LinkedIn study, around 94 percent of employees would stay with a company longer if there was an investment in learning and training.
Moreover, training your reps allows you to set work standards and expectations. Employees can better understand their roles and continue improving their skill sets. Irrespective of how skilled or talented your employees are, you must conduct regular training sessions to ensure they are well-versed with the latest software technologies and customer service trends.
What Are the 3 Most Important Things in Customer Service?
Ask any entrepreneur or customer service manager about what they think are the most important things about customer service, and you are likely to hear a dozen different answers.
The answer can depend on your business size, customer service philosophy, industry, and other factors. However, there are the 3 aspects of customer service that are generally considered important. Let's discuss them right away.
1. Responsiveness
Customers expect quick responses to their inquiries or complaints. Timely response time is crucial in establishing trust and satisfaction with customers. If customers feel like they are being ignored or their problems are not being addressed promptly, they may take their business elsewhere.
2. Empathy
Customers want to feel understood and valued. It is important to listen to their concerns, show empathy, and offer solutions to their problems. Customers appreciate being treated as unique individuals and not just as any random support ticket.
3. Consistency
Customers expect consistent service across all touchpoints. Whether it's in-person, over the phone, or through online channels, customers expect a consistent quality of service. Consistency builds trust and confidence in the business, and customers are more likely to return and recommend the business to others if they have a positive experience.
What Are the Types of Customer Service Training?
Any customer service training guide is incomplete without revealing the different types of training methods. While some businesses might go for trainer-led programs, others might opt for online training. Not sure which one will work the best for your business? Here are four customer service training methods you should know about:
1. Instructor-Led Training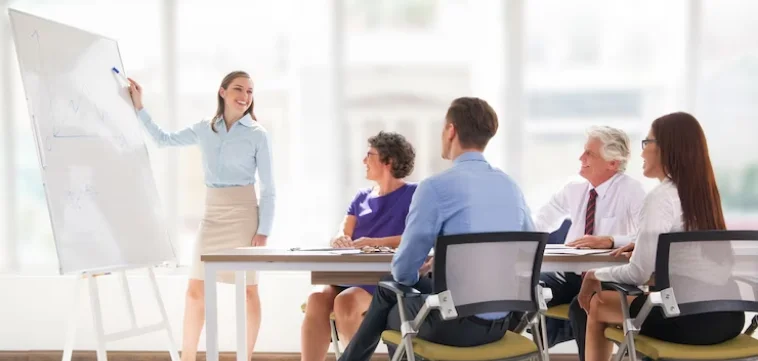 In this form of training, an instructor or trainer is physically present to interact with the employees. The employees can build a good rapport with the instructor and get all their queries answered in real-time.
Since instructor-led training is highly interactive, it is a great way for customer service reps to learn both soft skills as well as the key communication skills they will need to provide excellent support. Such training programs can prove expensive as you have to pay for the trainer's fees, the rent for the training room, and other equipment.
2. Online Training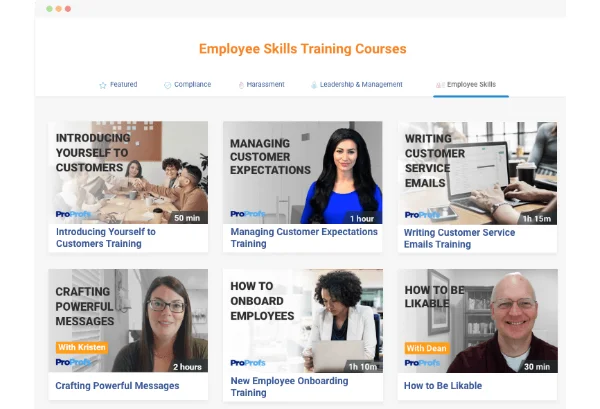 Training for customer service is witnessing a massive shift from offline to online due to the many benefits involved. Online training is comparatively cheaper as you do not need a separate training room, projector, etc. Video conferencing tools such as Zoom, Google Meet, etc., have made online training effortless.
Moreover, in this form of learning, an online trainer can interact with and hold live training sessions for hundreds of employees. These employees can be based in any part of the world and access the session using an internet connection. In addition to this, you can easily record these training sessions and upload them to your internal knowledge base.
Read More: 10 Best Practices For Remote Training You Should Know
3. Webinars
Webinars are online events that are hosted by businesses and broadcasted to a large group of employees, partners, investors, and other key stakeholders. A webinar is also commonly known as an "online event" or "web seminar."
Webinars can be effectively used for customer service education training. Your business can host web events on topics around "How to use customer service as a marketing tool", "The three pillars of customer service." and so on. Just like online training sessions, webinars can be recorded and used later at a convenient time.
4. Self-Training
Self-training is a training method where the learner takes the initiative to choose learning goals, acquire new skills, and gain knowledge using the available resources.
This is one of the most cost-effective methods of teaching customer service and creating the right learning culture in your organization. To encourage self-learning, you can create an online knowledge base that hosts customer service training modules in the form of FAQs, guides, video tutorials, etc. While self-training is a great way to take learning into your own hands, it is not advisable for new hires as they need a mentor in the initial days.
Hiring vs. Training Customer Service Candidates
Customer service managers are often faced with a dilemma – whether to hire new talent or train existing employees.
The decision between hiring new employees and training existing staff depends on your company's needs and resources. Both decisions come with their own set of pros and will make your business spend money.
When to hire new customer service employees?
It is important to remember that hiring is a costly affair for any business. There are significant costs associated with partnering with a recruitment agency (who usually charge around 15-20%), conducting background checks, and organizing the onboarding process. However, if your team is facing a resource crunch, it's best to hire new staff members who can ease your team's workload. If budget is a constraint, you can hire interns or part-time employees.
When to train customer service employees?
Always. Yes, training is an ongoing process and should never be compromised with. Your existing staff members should undergo training sessions whenever there is a new product or feature roll out. Now, there are some situations where you can train existing employees instead of hiring fresh ones. For example, let's say you add live chat to your customer service channels. Instead of hiring, you can easily train your email or phone support agents to interact with customers via live chat.
How to Hire the Right People for Customer Service
Delightful customer service begins with a solid hiring process. To create a team of customer service superheroes, you need to have a keen eye for talent and spot people who are the best fit for the job. If you are looking to hire the best talent for your team, look no further. Here are some tips you can consider:
1. Get the Job Description Right
A job description is a useful document you share with prospective employees that explains the tasks, functions, and responsibilities of a position. Be specific about your expectations from the customer service position and list all the responsibilities you feel are important for the role.
Before anyone appears for the interview process, make sure they go through the job description at least once. This will ensure that employees have a realistic picture of the job and understand what exactly is expected from them.
2. Look for Core Customer Service Values
It's time to bring back your team's mission and vision statements. What does your team stand for? What does great customer service mean to you?
You can't simply hope that your new hires will share the same values that your business stands for. Whenever you hire new employees, make sure you understand what values are important to them. What does great customer service mean to them? To what extent are they ready to go to make a customer happy? To avoid bad hires, make sure your potential employees share the same customer service philosophy as you.
3. Hire People With the Right Personalities
We all have heard the famous corporate adage. "Hire for personality and train for skill." Even if your new hires do not have the necessary skills, you can always train them. However, if they lack the right attitude, there can be conflicts in the future.
Considering that you are hiring for a customer-facing role, look for people who have active personalities. Go for the ones who have critical problem-solving skills with a healthy dose of ambition. For this, you can conduct several behavioral assessment quizzes or tests. While this does not guarantee success, you can still ensure the right people make it to your team.
4. Take Feedback
The hiring process is incomplete without candidate feedback. Whether you select or reject a candidate, make sure they are a part of your feedback collection process.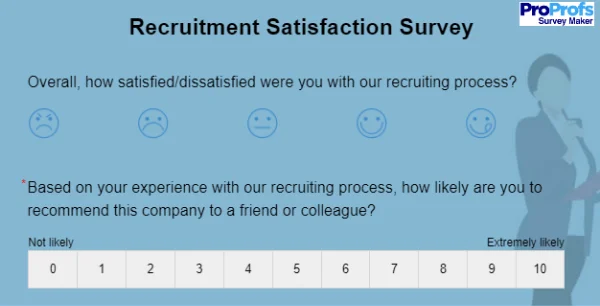 After their interview, you can share surveys with questions such as:
Overall, how satisfied are you with our recruitment process?
How did you come to know about this vacant position in our organization?
How easy was it for you to find all the related information regarding this position?
Do you agree with the statement – "the recruiter was professional in carrying out the interview."?
Were all your questions answered by our hiring manager?
The responses to these questions will help you see what's working and what can be improved for efficient customer service hiring and training. Remember, constructive feedback can help you improve the hiring process and attract the right talent.
Read More: 10 Tips to Increase Your Customer Service Team's Productivity
How to Improve Customer Service Training & Onboarding
Training employees without a plan is like taking a shot with both eyes closed. To achieve the best results, here are some useful customer service training tips and strategies you can consider:
1. Build an Online Repository of Training Content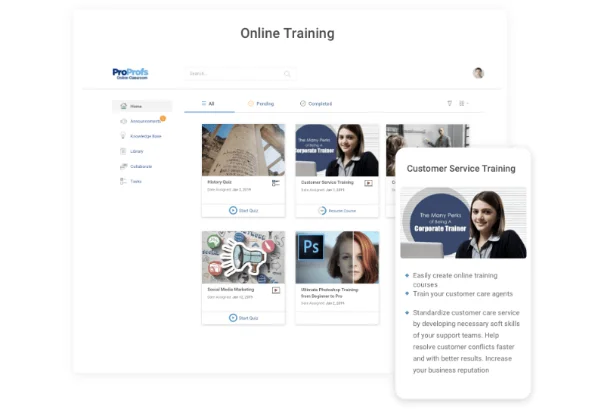 Managing training content can prove to be quite frustrating and time-consuming. There might be multiple authors who frequently request to edit content or slow-loading pages that are not optimized for all devices.
There is no point in keeping your training materials confined to drawers or cupboards. Over the course of time, you must create and take your customer service training modules online.
To bring order to your content management chaos and make it accessible to all, here are some tips you can follow:
Limit access: Training materials can include business-sensitive information. Make sure only the right people in your team can access this information using their log-in credentials. Also, limit the sharing of docs, videos, images, and other files to internal team members.
Make it search-friendly: Make your internal knowledge base search-friendly so employees can easily locate the customer service training manual or other documents. Whenever someone is typing a question in the search bar, auto-suggest help articles and save their time.
Update content regularly: As your product or service changes over time, you must update your training material accordingly. Whenever there is any significant update in content, make sure your agents are notified about the same.
Read More: How to Create an Internal Knowledge Base
2. Encourage Peer Training
When an agent wants to learn a new skill, where do they turn first? Do they ask the manager to hold a corporate training program or simply ask their peers for help?
According to a study, 55% of employees first turn to their peers for training, second only to asking their bosses.
Peer-to-peer learning is a great way to tap into the experience and knowledge of those who are already working in your team. Here are some ways to facilitate and encourage peer training:
Create a buddy program: A strategic buddy program will help existing employees volunteer to welcome and help new hires. They can give new hires an office tour, assist them while taking customer calls, and introduce to your customer service training materials.
Identify subject matter experts: For successful training, identify subject matter experts who can train their peers. For example, if someone is an expert at handling technical issues, they can train other team members on the same. SMEs can also help you review and update your training content.
Take feedback: Once your peer-training program is live, take feedback from employees and monitor progress. Implementing feedback will help you control the training quality, encourage participation, and enhance the training experience.
3. Do Not Ignore Soft-Skills Training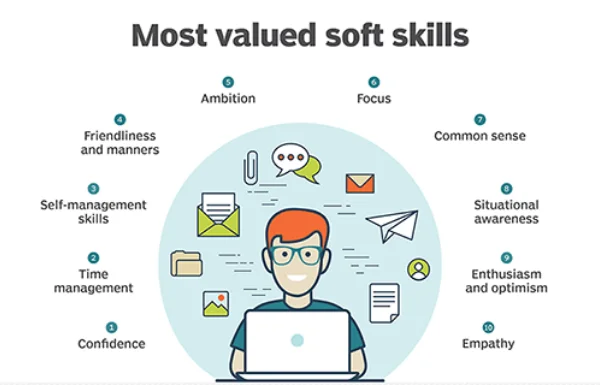 Most customer service teams focus so much on technical and product training that agents do not know how to hold deep, positive, and meaningful conversations. Think about it, would you yourself like to interact with an agent who has great product knowledge but does not show empathy?
"Soft skills have more to do with who we are than what we do." – Marcel M. Robles
While hard skills are crucial for everyday workflows, soft skills are equally important to steer a conversation in the right direction. Your customer service training for employees should strike a balance between teaching hard technical skills (operating help desk software, knowledge of product features, etc.) and promoting soft skills such as active listening, empathy, patience, problem solving, leadership, and conflict resolution.
This is great for the overall development and success of your agents. After all, people with great interpersonal skills can form better relationships with customers and build trust.
4. Track Progress Using Customer Service Software
How do you measure the success of your customer service training? Are employees able to execute what they have learned? Or are they still facing challenges? Monitoring their performance is the only way to find out.
The right customer support software can help you track agent performance on a daily, weekly, and monthly basis. Just one glance, and you can track metrics such as open tickets, response time, average ticket rating, and more.

When employees have undergone process, product, and technical training, they are in a much better position to quickly resolve customer issues. At least, that is what is expected from them after they complete their training. With the help of customer service reports, you can gauge the number of pending tickets with an agent and also the number of tickets they have successfully resolved.
Now, this is just the quantitative aspect; what about quality? To measure the quality of customer service interactions of newly trained agents, you can see how customers have rated them. For instance, you can share surveys that allow customers to rate their customer service interaction. High ratings will denote that agents have acquired the relevant knowledge and skills. On the other hand, a series of low ratings can highlight there is room for further learning.
Read More: 15 Help Desk Metrics to Improve Customer Support
5. Reward and Recognize Training Achievements
What happens when employees complete their training successfully? Do you recognize their achievements to motivate them or just give them a pat on the back?
According to a Gallup study, engaged and motivated employees are up to 18% more productive than other employees.
To create the right learning environment, you must appreciate those who have gone the extra mile to improve their skills and knowledge. Rewards and recognitions are a great way to motivate your employees and set the right example for others to follow.
Appreciate training achievements by making sure the management recognizes the efforts of customer service employees. Give them a cheer over email and hand them their certificates in front of everyone.
You must also offer rewards such as office perks, extra holidays, promotions, incentives, special discounts, etc., to motivate employees further. Do not hesitate to share your customer service training stories over social media. This will make your target audience realize how valuable customer service is for your business.
Free Customer Service Training Materials
The internet is full of customer service training materials. However, the type of course you choose for your team will depend on your unique goals. Don't worry, as we have done the heavy-lifting for you.
After painstaking research, we have hand-picked some of the best free online customer service courses. Here are the links for the same:
Read More: 20 Customer Service Email Templates for Super-Fast Responses
What Is the Best Training for Customer Service?
The best training for customer service will depend on the specific needs and goals of the business, as well as the experience and skill level of the employees.
If you have a team of at least 10-20 professionals, you can opt for instructor-led training programs. Such a training method will allow for open dialog and face-to-face interaction. Moreover, your service reps can even learn about the role of positive body language.
If the trainer isn't available at your office premises or your team is operating from home, you can conduct online training sessions. It is a much affordable option compared to an instructor-led training. In addition, agents can enjoy the flexibility of completing an online course at their convinient time.
Lastly, you should always try to build a culture of self-learning in your organization. As Steve Jobs rightly said, "learn continually. There's always one more thing to learn." Encourage your employees to share what they are currently learning and how it has positively impacted their work or life in general.
Build Your Dream Team With Customer Service Training
Customer service presents your business with a golden opportunity to assist and engage with customers. The way your agents hold a conversation can either leave a lasting impression on them or make them never come back.
Consistent training can be magical for your team and the overall business. Even small things such as adequate knowledge of products, empathy, and patience can prove great in the long run. To make the most of this customer service training guide, create an online repository of training materials, encourage peer training, focus on soft skills, and track your progress using customer support software.
You can use ProProfs Help Desk to track your agents' daily, weekly and monthly performance. The tool makes it easier for you to understand the ROI of your training programs and identify gaps for improvement.
Do you want a free Help Desk?
We have the #1 Online Help Desk Software for delightful customer support