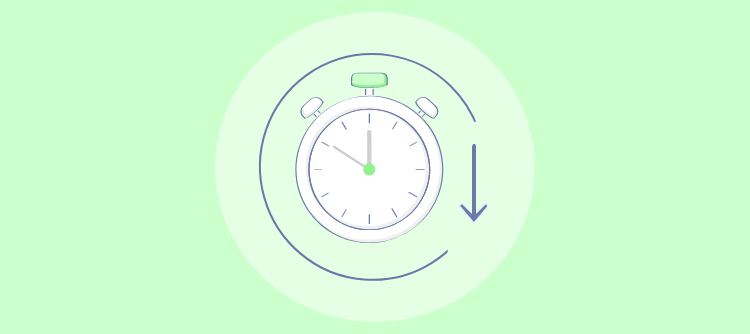 Successful brands such as Amazon, Disney, and Apple have one thing in common – they are known for fast and delightful customer service.
There is no doubt that customer service has become the most important brand differentiator. It brings repeat sales, boosts retention, and contributes to your bottom line. When organizations improve their customer service response time, they're able to succeed holistically – in numbers and customer satisfaction as well.
But how do you reduce your customer service response time when you have hundreds of support tickets to cater to?
Well, don't worry as we have all the answers to your questions. In this blog, we will understand the ideal customer service response time and show you 6 impeccable ways to reduce it.
Let's get started!
What is Customer Service Response Time?
Customer service response refers to the total time transpire between receiving a query and delivering a response to it. In this, automated responses don't count and the average time varies based on your industry and medium platform.
What is the Ideal Customer Service Response Time?
When it comes to the customer service response time, there's nothing like a one-size-fits-all approach. Each organization is different and depending on the industry you're in, the customer service response time can vary greatly.
For example, in the hospitality industry, customers expect an immediate response and interaction. For every minute they go without a response, the customer service dissatisfaction elevates.
In other industries such as finance and healthcare, customers are less likely to be waiting on their phone or email for an immediate answer. In that case, companies use email management software to handle their scheduled responses.
Ultimately, the core boils down to one thing — how well and quickly a company responds to its customers in a satisfactory manner.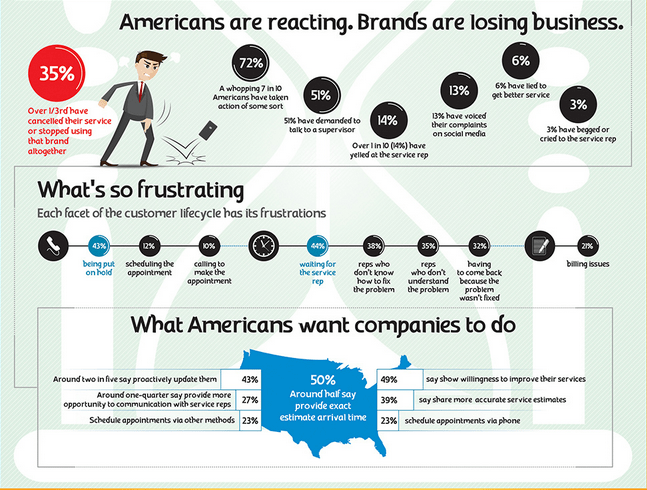 Studies clearly convey that customers are easily frustrated when they are being put on hold, waiting for a service rep, or are made to engage with reps who do not understand their problem.
Fast customer response is a priority for customers across all industries. So, the faster you resolve your customer queries without them having to wait for long, the better you'll retain customers.
What is the Average First Response Time (FRT)?
The average first response time refers to the average time taken by your customer service agents to respond to customer queries or issues. Now sharing the "first response" does not necessarily mean the problem has been resolved. In most cases, the first response states that your business has received the customer problem and elaborates the necessary steps it is taking to fix the issue.
Here is the Average First Response Time formula:

But why does Average FRT matter and why should you monitor this metric?
Well, a low average first response time means that customers can get a response almost instantly. This will help customers build trust with your business and indulge in stress-free shopping.
It is also important to note that your average FRT will differ from one channel to another. While it is easier for your team to share almost instant responses via live chat, it might not be possible to do the same over email. Even customers know what to expect on different channels.
Read More:  15 Help Desk Metrics to Improve Customer Support
Why Does Speed Matter in Customer Service?
69% of buyers say they decide the quality of a customer service experience based on whether they got a quick response to their queries or they had to wait for hours or even days. IF YOU SNOOZE, YOU LOSE!
Faster customer service helps your business stand out as the majority of companies are slow to respond to their customers. Some businesses prioritize responding to their existing customers but neglect messages from their prospects. You need to strike the right balance and approach every message or complaint with the same level of promptness.
When the customer service is fast, your clients can also run their business faster and ensure higher agility.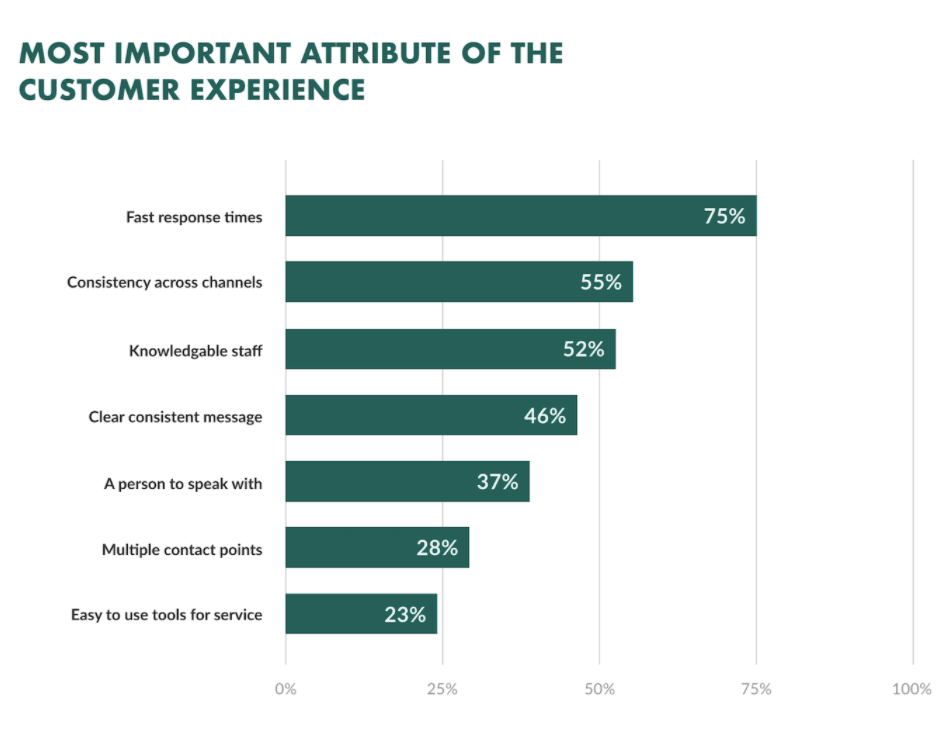 Moreover, speedy customer service can also have a positive impact on your employees. When they see that your business is concerned about customer satisfaction, they will be more motivated to give their one hundred percent.
It's apparent that a majority of companies are failing to offer quick customer service, and this is an opportunity for you to improve the overall customer support experience.
As more and more customers reach out to a brand via multiple channels like LinkedIn, Twitter, or Facebook, it's important for companies to be active on every touchpoint. With the growing popularity of social media, your business cannot afford to neglect social media mentions and messages.
Benefits of Improving Customer Service Response Time
Although we have already discussed some of the benefits of improving your customer service response time, that was merely scratching the surface. Let's dig a little deeper and see how it can significantly benefit your business.
Improve Customer Service Efficiency: Efficiency simply means getting more done in less time without over-exhausting yourself. By focusing on your response and resolution times, you can make sure that agents are always working on high-priority tasks. Service reps can plan their day better and handle more customers than they normally would.
Close More Sales Opportunities: When you offer faster customer service response time, you can persuade customers and prospects to buy more from your brand. For instance, imagine a customer is scrolling through your website and wants to know about any ongoing offers. In this case, quickly offering a response via live chat or call, can help you close this sale.
Boost Customer Loyalty: Customers love to engage and buy from brands that prioritize customer service. There is a reason why big brands known for exemplary customer service such as Apple, Amazon, etc. have the most loyal customer base. With fast response times, you can enhance the support experience, delight customers, and retain them for a longer time.
Robust Public Image: Focusing on improving your response time can help you build a superior brand value and unmatchable trust among potential customers. You can attract the attention of prospective customers who eagerly wish to buy from a brand that offers superior service. Soon your target audience and competitors will recognize you as a brand that is super quick when it comes to assisting customers.
6 Effective Ways to Reduce Customer Service Response Time
Whether you're a small business or a large corporation, there are always ways to accelerate the customer service response time. That's the only way to meet customer expectations and resolve customer problems before things turn ugly.
Here are six effective methods for reducing your customer service response time:
1. Train your team on providing excellent support and customer satisfaction
Starting from the foundation first, you need to ensure your employees are well-trained to provide excellent customer service and support.
According to Netomi, around 90% of Americans consider customer service essential when buying a product or service.
It starts with the hiring process – you need to be confident when choosing potential employees. Ensure they have excellent communication skills and a desire for customer satisfaction. You must offer them regular training sessions to allow them to hone their skills.
Additionally, your team needs to be empowered and able to take the initiative in troubleshooting customer problems. One of the best ways for you to reduce your customer service response time is to empower your team so they can handle more things themselves without needing assistance from their supervisor, manager, or other employees.
Your team must be well-trained to prioritize urgent issues considering their severity and schedule responses accordingly. By creating canned responses, you can also improve your team's performance.
How to Train Your Staff for Best Performance
Training your staff starts with having a strategy in place for helping them become experts in the products and services you offer. It will make it easier for them to provide excellent customer service when they know the ins and outs. The more your employees know about the business, the more exceptional customer service your clients will have.
To make training and employee onboarding effortless, you can have a well-created internal knowledge base. Whenever agents are stuck at something, they can refer to help articles and find the right solutions.
Always keep reviewing your strategies, whether they are working well for your business or not. If you feel that you can improve customer service even better, test it first with a few customers. If you get better results with the new one, roll out your new strategy for all customers.
This A/B testing is crucial because even the best working strategy of the past might lose its significance over a period.
2. Hire More People When Necessary
Many organizations face sluggish customer service response time because they don't have enough people working in customer service.
The critical thing to remember here is that you don't need a lot of new hires – just enough people who can manage your ticket load and interact with customers without hampering their experience.
Moreover, the right team size will mean less interruption and downtime during their shifts. You'll also have an easier time getting customer service requests answered quickly.
If you don't have many customers or the workload isn't too high, then a small team can take care of most things just fine. However, during peak seasons, hiring temporary staff for your team might be a great idea.
It will also give your current employees time to grow their skills to be better equipped for larger workloads in the future.
Bonus Tip: Delegate Tasks As Early As Possible
With a growing customer base, you need to ensure that the customer service quality remains the same. If that's getting diluted due to any reason, it's time to hire more customer representatives and delegate some of the responsibilities. Unfortunately, most new businesses commit the mistake of assigning too many customer requests to a single agent and this strategy ends up landing nowhere.
Make sure you plan your delegation and hiring needs well.
3. Set Guidelines on How Long Each Individual is Expected to Wait for an Answer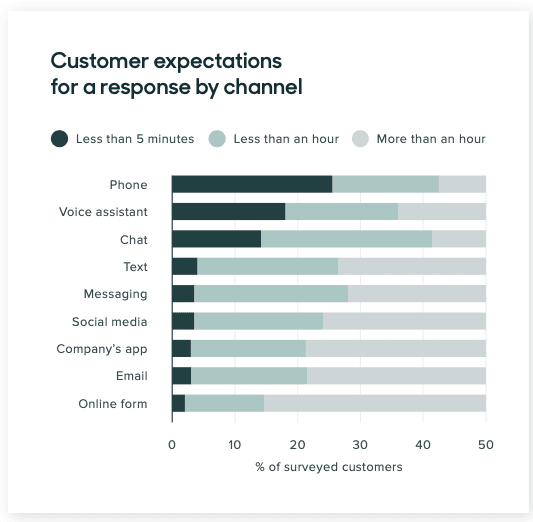 This approach is an excellent way to reduce customer service response time because it will help employees know what the expectations are.
For example, let's say your team has five people answering customer service calls. Usually, it takes two minutes to get back on the phone with a customer after hanging up.
You can set guidelines so that each person is only expected to wait for one minute before picking up their next call because this will help them juggle more tasks at once and make the workload more manageable. You can use call monitoring software to manage the complete calling procedure and get real-time insights on the time spent per customer.
It's also essential that your team knows how to prioritize so they can know which customer requests are urgent – this will help them reduce their response time when it comes to those particular customers. It will help your team members work more productively. For new team members, you can use a timeline creator to make it easier for them to understand the flow of each customer service interaction.
This approach is beneficial because you're committing to a timely response to your customers while setting the expectations for your employees. But here's a word of caution, don't set this time until you've researched it well. Instead, look at the past data to understand how long your average customer service interaction takes to develop an appropriate time.
Bonus Tip: Take Data-Driven Decisions for Best Results
No two businesses are the same, and neither is their response time. Take out data from the last six months or one year to analyze your typical ticket issues. Based on this data, make guidelines that are suitable for both your team and customers. Integrate a ticketing system to manage your customers' queries faster and efficiently.
4. Use Customer Feedback to Improve Service
Customer feedback is the goldmine to improve and grow business. Taking customer feedback as a business strategy and improving the changes is the best way to reduce customer service response time.
Customers are always giving their feedback either directly or indirectly. If you've got direct feedback/complaints from customers, you can turn it into feedforward and take immediate action.

Also, check for customers' feedback on social media channels and business listings and address them in your internal team discussion.
Pay closer attention to your social media account pages to check comments under your posts. In addition to this, also use tools like Hootsuite to review your brand's mentions and other activities. It's essential that if a customer has dropped a message for you on social media, it should be addressed in less than a day. The faster you respond, the better are your chances of winning your customers' trust.
Channel the feedback into different categories and check which ones take more time for your teams to respond. After you figure out those concerns, products, or services, improve the customer support training to improve the response speed.
Once you've improved the support for the lagging product or service, integrate a small feedback popup to know your customers' response over the improvisation. If the positive feedback is more in number than negative, the improvisation is working in the right direction.
Why Taking Frequent Action on Feedback is Vital?
It's crucial that you collect, analyze, and take action on all the feedback to improve customer retention rate and response time. The majority of the customers are frustrated because the company's staff is not equipped with the right troubleshooting capabilities.
By taking frequent actions on feedback, you reduce customer service response time and slash recurring issues.
5. Use Employee Recognition & Rewards Programs to Motivate Employees
If you want to keep your customers happy, focus on your employees, as they are the ultimate forefront of your business. To reduce customer service response time, you need to focus on your employees' pain points and address them.
According to Smarp, 69% of employees say that they work harder if they feel appreciated for the work they're doing. So, it's crucial to focus on your employees' happiness and retention.
Keeping your employees motivated and eager to help customers, you need reward programs that make them feel appreciated and offer them some incentive. The reward does not always have to be monetary, and there are several things and benefits that you can distribute.
Instead of having a big reward for a couple of candidates, have smaller prizes so that maximum people can achieve them. It's not about making one employee happy; it's about uplifting the entire team. For example, you can distribute trophies, goodies, or some subscriptions to keep your employees motivated. In addition to this, you can also have an employee of the month program to keep everyone motivated to see their name on the big board.
With a lucrative rewards program for your employees, you can ensure faster customer response time and better service to retain those customers.
How Employee Recognition Brings Double Benefits to You?
When you reward the right employees and get social media mentions for your brand, it works as a double reward for you. First, you form a stronger bond with your team members, and second, you promote the concept of shared value in which all get benefits when good work is done.
However, one key thing you need to consider is to keep the rewards accessible and practical to achieve. Focus on improving your employees gradually to bring out the best results.
6. Use the Right Tools for Better Efficiency
The more you can automate repetitive tasks for your team, the better they can perform and handle customer requests. For improving the overall agility and response time, use tools to put specific tasks on automation.
One of the most prominent tools is help desk software that allows you to track customer issues or requests on multiple channels. With the right tool, you can monitor metrics such as average ticket response time, ticket backlogs, new tickets, and more. Moreover, with automated chatbots, you can even operate with smaller teams without affecting the quality of service.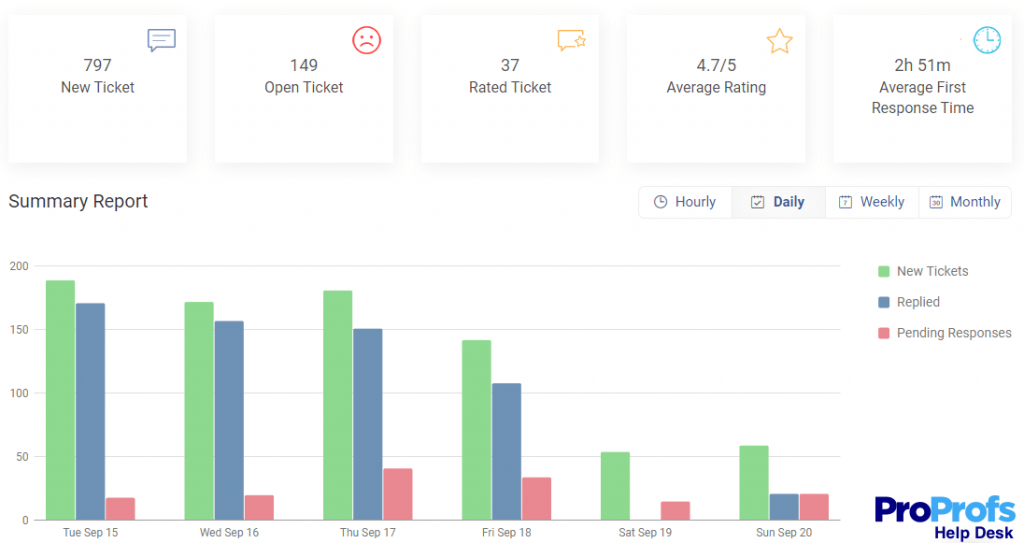 In addition to chatbots, use CRM software like Salesforce to maintain customers' data and other relevant information on the go. As your company grows, the customer base also increases, making it impossible for teams to pay individual attention. Instead, CRM lets you make better data-driven decisions based on customers' feedback, delays in response time, and their core requirements.
Pro Tip: Create a Self-Service Knowledge Base
You will be surprised to know that by empowering your customers, you can reduce your costs as well as ticket volume. When customers get instant help through an SEO-friendly knowledge base, it saves a lot of time and helps your agents focus on urgent tasks. Creating an online repository of help articles, FAQs, and guides is a proven way to improve customer service response time.
Read More:  Top Benefits of Customer Service Reports
Reduce Customer Service Response Time & Delight Customers
Most businesses can sell fast. But why do they get slow when it comes to customer service?
It is no mystery that companies with faster customer service response times have a positive impact on their bottom line. They win the trust of their customers, enjoy more repeat purchases, and establish a positive brand image.
Remember to train your agents, hire more staff members if necessary, set relevant SLAs, and leverage the right tools to track customer service metrics. By following these steps, you'll be able to drastically reduce your response time and deliver delightful customer experiences.
Do you want a free Help Desk?
We have the #1 Online Help Desk Software for delightful customer support