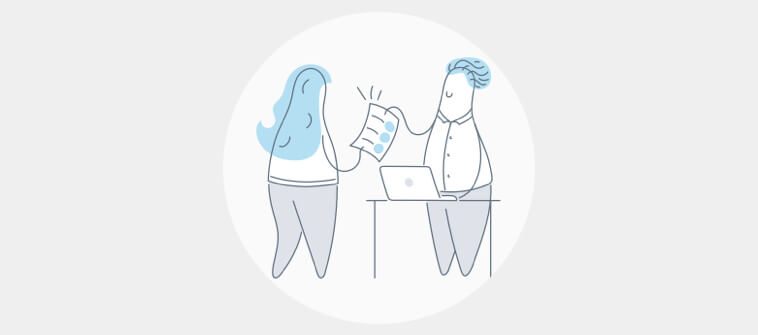 Have you ever tried shooting a 3-pointer in a basketball game, that too at the last minute while everyone is counting on you? Now, imagine doing the same while riding a bicycle with your eyes closed.
In a very similar fashion, the world of retail customer service is not easy and it's definitely not for the faint of heart. Every day brings about new challenges, and on most occasions, you will find yourself juggling multiple tasks.
While one customer asks you about something you don't have the answer to, another can't stop complaining about a slight delay in delivery. And while all this is happening, there are hundreds of customers mentioning your brand on social media.
So, amidst all this chaos, how do you take your retail customer service from 'mediocre' to 'miraculous'?
The answer can be found in being proactive, understanding customer pain points, and using customer service software to track support issues. But, that's not all.
In this blog, we will embark on a journey to learn the importance of retail customer service, and uncover some crucial retail customer service tips with the help of real-life examples.
What Is Retail Customer Service?
Retail customer service refers to the process of providing seamless assistance to customers- before, during, and after they purchase from your offline store or online website. Just like any other customer service practice, the end goal of retail customer service is to meet customer needs in a timely and efficient manner leading to delightful experiences.
Now, it is important to note that the word 'retail' is often confused with 'offline stores'. However, retail simply refers to the act of selling goods or services to consumers and encompasses both online and offline channels.
So, no matter if you run a brick-and-mortar store or accept orders only via your e-commerce website, this blog will help you understand the nitty-gritty of retail customer service.
What Is the Importance of Retail Customer Service?
Retail businesses around the world thrive on one important thing and that is delightful customer service.
According to Bain, companies that excel in customer service drive revenues 4% to 8% higher than their peers.
While factors such as product price, availability, features, and design have always been important for a customer, the experience you offer is extremely powerful and can help them choose you over competitors, again and again.
Here are more reasons that highlight the importance of great retail customer service:
Enables you to assist customers in a proactive manner
Helps you understand customer pain points and challenges
Increases the amount of money each customer spends with your business
Generates positive word-of-mouth about your retail business
Now, that we know how important customer service can be for retailers, let us explore some best practices and tips.
5 Retail Customer Service Best Practices
In order to provide the best retailing customer service at every touchpoint, your business needs to follow certain standard procedures and practices. Here are 5 retail customer service best practices to get you started.
1. Understand Customers Better than Your Competitors
It is natural for a business to know the inside-out of their business- how to procure materials, how to design products, and how to sell them at the best possible price. However, knowing your customers better than your competitors can be the real game-changer.
It is important to take a step back and understand who your customer really is. If you don't know the target audience that you are trying to attract, you will surely have a hard time offering a service that understands their needs.
In this journey of knowing your customers, ask yourself the following questions:
How do our customers get to know about us?
What product or service features do they like the most?
Which customer service channels do they prefer to contact us?
Do they prefer to buy from our retail store or online website?
The answer to these questions will take you a step closer to understanding your customers and serving them better.
2. Set Customers' Expectations Right From the Start
It is important to let your customers know what you are willing to do for them. Communicating this at the earliest sets the right expectations from the start.
For instance, if the refund for a product return requires 3-4 business days, communicating this directly to the customer will help them manage their expectations in line with reality.
Meet VS Exceed: The Popular Business Dilemma
Whether to meet customer expectations or exceed them has been a constant debate among the best of entrepreneurs. Now, when you exceed customer expectations, you deliver a memorable experience and probably win a customer for life. But, is this idea really feasible on a large scale?
The truth is that every business must try to exceed customer expectations. However, they must also avoid putting their business under constant pressure to attain the unattainable- illusionary perfection.
3. Practice Customer-Listening Skills
Many businesses make the grave mistake of underestimating the role of listening in business success. Customers want to be heard and appreciate a business that shows interest in understanding their concerns.
For instance, when customers are shopping in your retail store, they might have multiple questions. Use that time wisely to direct them to the right products, clarify their doubts, and don't be afraid to suggest alternative or complementary products.
It's important to practice active listening in order to make your customers feel truly heard, understood, and served. The more you listen to what they have to say and the more empathy you display- the more they will value their relationship with you and your brand.
Read More: 30 Customer Service Tips for Delightful Customer Experiences
4. Consider Employees as Your First Customers
Anyone who has been a part of the customer service industry knows very well that the customer always comes first. Without them, there is no revenue and eventually no business.
Now, adopting a customer-first approach isn't a bad idea, but neglecting your employees is. The way you treat your employees gets reflected in the way they treat your customers. In short, the attitude and behaviors of your customer service reps can have a huge influence on the retail customer experience.
For instance, an agent who has been made to work extra shifts for an entire week will not be able to treat customers with the same level of positivity or patience. Therefore, make it a point to make your employees feel valued and motivate them to perform better.
5. Make it Easier for Customers to Seek Assistance
We all have experienced or heard customer service horror stories about how complicated it was to return an item bought from a store or the struggle of explaining an issue to multiple agents.
The idea of approaching your customer service department should not make your customers uncomfortable. It's important for you to take the necessary steps to make their life easier. If an issue requires escalation, communicate the same to the customer, and keep them updated thoroughly.
Make sure you are available on communication channels that your customers prefer the most. For instance, you must make it a point to track social media mentions and reviews, especially, if you have a young audience that is super active on social media.
10 Retail Customer Service Tips to Improve Customer Experience
In order to delight your customers, there is no need to reinvent the wheel. Here are 10 recurring tips that all of the best retail support departments have in common. Let's explore them:
1. Nothing Beats a 'Genuine' Smile 🙂
Nobody likes being greeted by a grumpy, sad representative who seems to hate every second of his job. On the contrary, a genuine smile can be infectious and put the customer in a good mood right from the start.
According to a report by Harris Interactive, friendly customer service representatives encourage 73% of customers to stick with a brand. Encourage your employees to greet customers with a smile and a warm "Hello". The driving force behind this should not be because your business wants to make more money but because it's a common courtesy we show to anyone who visits our house or store.
In case you are engaging with customers via SMS, social media, or a chat window, use positive emoticons to keep the conversation light and happy.
2. Get Proactive
In retail customer service, getting proactive simply means taking all necessary steps to help your customers resolve issues before they even occur. Before your customers run into a problem, you anticipate their problems and try to eliminate them altogether or reduce their impact.
For instance, if you run a brick-and-mortar store, there might be days when your store is closed due to holidays, maintenance work, or any other reason. You can act proactively in this situation, and update your customers about the changes in business hours/days. So, even if customers go past your store, they will not be surprised to see the 'Closed' sign.
Another tip would be to create a dedicated knowledge base, full of FAQs and guides, that helps customers resolve their basic issues themselves. This will help your business reduce the support ticket volume and subsequent costs related to handling customers over call or chat.
Read More: Proactive VS Reactive Customer Service: Which One Should You Choose?
3. Never Shy Away From Extra Effort
The one thing that is bound to turn average service into a memorable one is the little extra effort a representative puts to make a customer's day.
In case a customer wants something that they can't find in your offline store, offer them more options. Even if that means going to the store area to look for a red T-shirt in size 'XL', knowing it isn't there. Even if the customer refuses to buy that product, he/she will surely remember the extra effort.
The same goes for your online store. If a customer contacts you via phone or chat and asks what accessories will look better with a dress they just bought, be willing to be their 'Style Guru' for some extra couple of minutes.
4. Establish Procedures for Dealing with Difficult Situations
If you have been a part of the customer service industry, you will know very well that a challenging situation can come in any form- a frustrated customer, a mistake by any employee that can have serious consequences, or things that are simply not in your control.
Here are some tips to steer clear of such situations:
Establish a standard escalation process where your employees know who to approach in case a customer case demands expert assistance or managerial intervention.
Train your agents to handle difficult customers with utmost patience and empathy. Ensure their training programs include lessons on key customer service skills.
Prepare an incident management strategy to help employees know what to do if a transaction turns really bad. Empower them to initiate small returns or refunds by themselves.
For situations that are not in your control (such as late delivery due to heavy rainfall) keep all your customers well-updated in advance. Don't wait for them to contact you and apologize for the inconvenience.
5. Avoid Making Promises You Can't Keep
Most businesses fall into the trap of making false promises to woo customers. While this is a great way to get consumer attention at the start, eventually, customers will figure out the reality and never return.
On the contrary, being honest and upfront about what your business is capable of delivering can go a long way in fostering a strong relationship. Whether you are designing your new business website or simply a product flyer, give attention to every single detail. Displaying a feature list that your product simply doesn't offer can make customers lose their faith in your brand.
Make your employees understand that honesty is a recurrent practice. Being transparent in the workplace will help everyone create the right culture and win the trust of customers.
6. Practice Clear Communication
When customers contact your business, they want an engaging conversation but they also want you to value their time. Therefore, ask your agents to keep every customer service communication fairly precise and relevant, whether it is verbal or written.
During face-to-face interactions, agents must try to understand body language cues to figure out if a customer is looking for help or is in a hurry. On the other hand, you can use customer email management software to keep emails short and to the point so that customers can be notified even when they are running out of time.
If your business is into selling gadgets or electronics, it is important to remember that not all customers are technical experts. Therefore, explain product features in the simplest way possible without using heavy terms or technical jargon.
Read More: How to Communicate With Customers Effectively
7. Personalize the In-Store Retail Experience
Delivering an in-store personalized experience is an effective way to drive foot traffic and boost in-store sales.
To make the most of retail personalization in your stores, you can use the following tips:
Capture customer data: Keep a tab on relevant information such as customer purchase history, their social media handles, birthdays, anniversaries, and other important milestones.
Adopt an omnichannel approach: Merge your online and offline data so customers can get a similar personalized experience no matter where they shop.
Make customized offers: share customized offers with your customers in the form of discounts, promotions, affiliation programs, and more.
Encourage employees to make personalized recommendations: No matter if a customer buys from your physical store or online shop, employees can always recommend products or services based on customer interests and preferences.
Read More: How to Offer Personalized Customer Service Using a Help Desk Ticketing System
8. Share Periodic Surveys
The purpose of any retail business is to meet customer needs. But how will you know what your customers need and desire if you don't ask them?
Offline retailers can practice the old-school strategy of asking customers to fill out a short survey on a piece of paper. It really does work sometimes. You will be surprised to see customers draw out hearts or smileys when they have had a positive experience.
You can even print a survey dynamic QR code on checkout receipts to enable customers to share their candid feedback. For online sellers, survey links can be shared easily via email using an email ticketing system, chat, or you can even directly embed a small survey on your e-commerce website.
9. Make Sure Your Retail Store has a Break Room
When we talk about offline or retailer customer service, representatives are on their feet for hours at a stretch. This can be extremely exhausting and might hamper their productivity.
So, how do you ensure your employees get the break they deserve?
Provide them with a 'break room' where they can truly relax and feel comfortable. Small changes like providing comfortable chairs, bean bags, snacks, etc. will re-energize your employees even when they are having a rough day at work. Remember, happy service employees, lead to happier customers.
10. Improve the Checkout Experience
The checkout experience can be the difference between a customer who buys your products and a customer who abandons the cart and leaves your retail or online store. Long wait times and an unpleasant checkout experience can leave customers confused and prevent them from buying from your brand again.
Here are some retail customer service tips you can adopt to improve the checkout experience:
How to improve the online retail checkout experience
Supply complete information about shipping and delivery
Remove distractions in the form of complementary products or website header/footer
Offer multiple payment gateway options including digital wallets
How to improve the offline retail checkout experience
Enable mobile and contactless payments
Use clear and simple in-store signage to direct customers to the right billing counters
Keep separate checkout aisles for those with small purchases (below 5 items)
3 Examples of Good Customer Service in Retail
The business world is full of outstanding and inspirational gestures that brands have made for individual customers or their target audience. Here are some solid retail customer service examples that will restore your belief in exceptional service.
Amazon's Dash Cart Revolutionizes the In-store Checkout Experience
In the year 2020, Amazon introduced its smart shopping cart called Dash Cart that makes a quick grocery trip even quicker by allowing customers to skip the checkout line.
The cart uses a combination of an Android screen and a sensor fusion to identify items you put in the cart. When you exit through the retail store's lane, sensors automatically identify the cart value, and the payment is reflected on your credit card linked to your Amazon account.
Now, this is indeed an innovative measure to make the checkout experience as frictionless as possible. Customers don't have to ask silly questions to customer service reps such as the price of a product or stand in a long queue while checking out. Amazon understands well that the true essence of retail customer service lies in making your customers' lives easier.
Starbucks Personalizes Every Customer Interaction
It is rare for an individual to visit a Starbucks store and leave without a memorable experience. The popular coffeehouse chain makes customers feel special by remembering their names and their orders to which customers react well. No wonder the average Starbucks customer visits their store 6 times every month.
Starbucks does not stop there. It is continuously incorporating customer feedback to shuffle its coffee range and dessert offerings. A great example would be the Pumpkin Spice Latte, which was born from customer demand and since then has created a lot of buzz among coffee enthusiasts.
Zappos Employees Are Ready to Go the Extra Mile
Zappos, the popular online shoe retailer, is known for its astounding employee and customer service culture. While many organizations push their employees for reducing metrics such as the Average Handle Time, Zappos does the exact opposite.
Employees are encouraged to focus on quality customer service rather than the quantitative aspect of it. For instance, in a popular customer service incident, Steven Weinstein, a Zappos staff spent 10 hours and 43 minutes with a caller.
Although only a small fraction of the call was devoted to the business side of things, both Steven and the customer established such a great connection that they ended up engaging in a record service call.
Offline VS Online Retail in the Digital Shopping Age
The modern consumer is no longer dependent on the nearest mom and prop shop to buy daily groceries or even clothes. Many offline store giants are either completely going online or engaging in omnichannel retail to serve both online as well as offline shoppers.
But what is the reason behind this massive e-commerce boom?
According to a Statista report, In 2019, e-retail sales accounted for 14.1% of global retail sales. This figure is expected to reach 22% by 2023.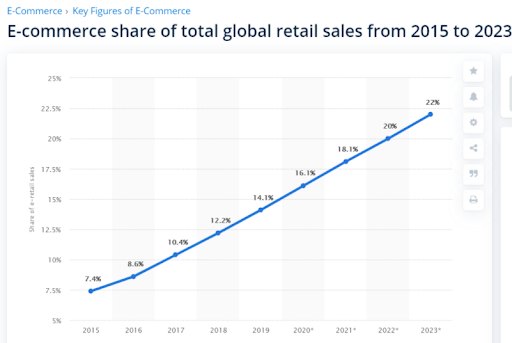 Rapid Digitalization at a global scale has revolutionized the entire retail sector, expanding a company's geographical reach and opening up a whole new world of customers. Businesses are no longer confined to their vicinities and have made the entire world their target market.
Recommended Read: Understand Omnichannel Customer Experience with Benefits & Examples
So what does this mean for retail customer service?
A lot of brands like Target have adopted an omnichannel retail approach to cater to a larger audience. So, even if you sell offline, you must look to invest in an online store or sell your products on online marketplaces like Amazon.
Serving a wider audience can be tricky but you need to remember that customers are just people like you and me who want to be heard, loved, and valued. Be active on channels your customers love and offer proactive customer service using a knowledge base.
How ProProfs Help Desk Can Help in Retail Customer Service
When customers visit your physical store with a problem, you don't ask them to write their concerns over a piece of paper. You simply resolve their issue at that very moment or create a ticket on their behalf if the issue requires more time. This is exactly where the ProProfs Help Desk comes into the picture.
No matter if a customer registers a complaint right at your store or uses other communication channels like email, chat, or help center, your agents can create a relevant support ticket. This ticket contains complete information pertaining to the issue or request and can be easily organized, tracked, and resolved. Moreover, you can create a knowledge base to reduce support tickets and delight customers. Here are some other important features:
Route tickets to relevant agents with the automated ticket assignment feature
Respond to retail customers quickly via canned responses
Reduce retail ticket volume with a robust knowledge base
Improve agent productivity with automation capabilities
Measure satisfaction and loyalty of your retail customers with CSAT & NPS surveys
Take Your Retail Customer Service to the Next Level
In the business world, you might not be able to influence the market or control your competitors. However, you can always choose the quality of service you wish to offer to your customers.
Although retail customer service can be challenging, most of the time you are in the driving seat.
In order to nail the retailing customer service game, be omnipresent for your customers, practice clear communication, make it easy for customers to contact you, and personalize every interaction. Remember, happy employees, reflect positivity and spread happiness to your customers. Train them, keep them motivated, and give them the much-needed breaks they deserve.
Let's have a look at some frequently asked questions (FAQs):
Q1. What are the basics of retail customer service?
Retail customer service is not much different from other customer service practices. The main goal must be to meet customer needs in a timely and efficient manner. Besides this, adopting a proactive approach to assist customers with their requests can also go a long way in keeping them delighted.
Q2. Why is customer service important in retail?
Retail shopping is still the most preferred source opted by customers around the world to buy products or services. Therefore, delightful customer service in retail stores greatly enhances the customers' satisfaction, resulting in an increased likelihood that the customer will return to the store.
Q3. How do you deliver good customer service in retail?
Keep the following tips in mind to nail retail customer service:
Remember your customers
Greet customers with a warm smile and 'Hello'
Personalize every customer interaction with your brand
Improve the checkout experience
Make it easier for customers to contact your business
Q4. How can help desk software help a retail business?
By leveraging the best help desk software, retail businesses can easily organize, filter, prioritize, track, and resolve support requests. Every customer that comes to your retail store to register a complaint, can be offered a new ticket ID to track the progress of their complaint.
Do you want a free Help Desk?
We have the #1 Online Help Desk Software for delightful customer support