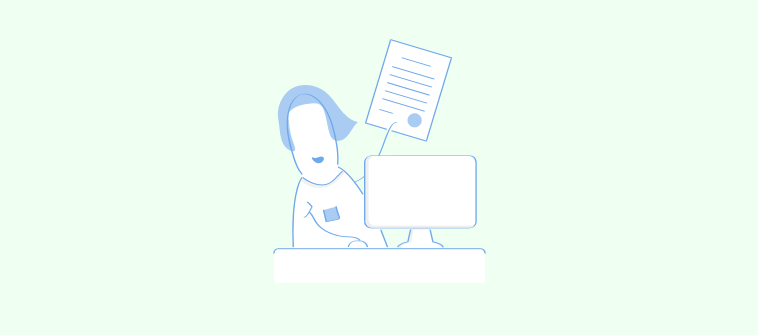 If you can't measure it, you can't improve it.

William Thomson, Lord Kelvin
Read, absorb this quote and let's answer a question-
Do you follow specific customer service objectives as parameters to gauge the performance and efficiency of your support team?
If not, then how do you measure customer success? If this got you thinking, then it's high time for you to establish customer service work objectives and tweak your customer service strategies to enhance the quality of customer support.
Are you looking for examples of customer service objectives that you need to implement in your enterprise? Well, we got you covered! In this blog post, you can discover service objectives examples ideal for all types of organizations. So, let's find out!
Every business owner will resonate with the fact that customers act as the lifeblood of every organization. So their satisfaction is of utmost significance for the success of the organization, which can be ensured by offering top-notch quality customer service.
Great customer service is more than just meeting the needs of the customers. It aims at exceeding their expectations. A satisfied customer would love to continue buying your products/services. And not to forget, happy customers bring in more business through referrals. Hence, offering top-notch quality customer service is something you can't afford to miss out on.
How will you ensure that your company can offer high-quality customer service? How will you measure the performance of your customer support team? For this, you'll have to establish important strategic customer service objectives.
This brings us to the question, "What are Customer Service Objectives?"
The targets or goals that your organization intends to achieve through its customer service are termed as customer service objectives. These objectives can also be used to evaluate the performance and efficiency of the support team. A company that establishes customer service objectives & strategies can create better relationships with its customers.
What Is the Common Objective of Customer Service?
The prime objective of customer service is to identify queries of customers, interact with customers, answer the queries of customers, resolve service issues, enhance customer experience and foster relationships, improve credibility and create customer loyalty. Apart from these, there are innumerable customer service performance objectives.
Objectives of Customer Service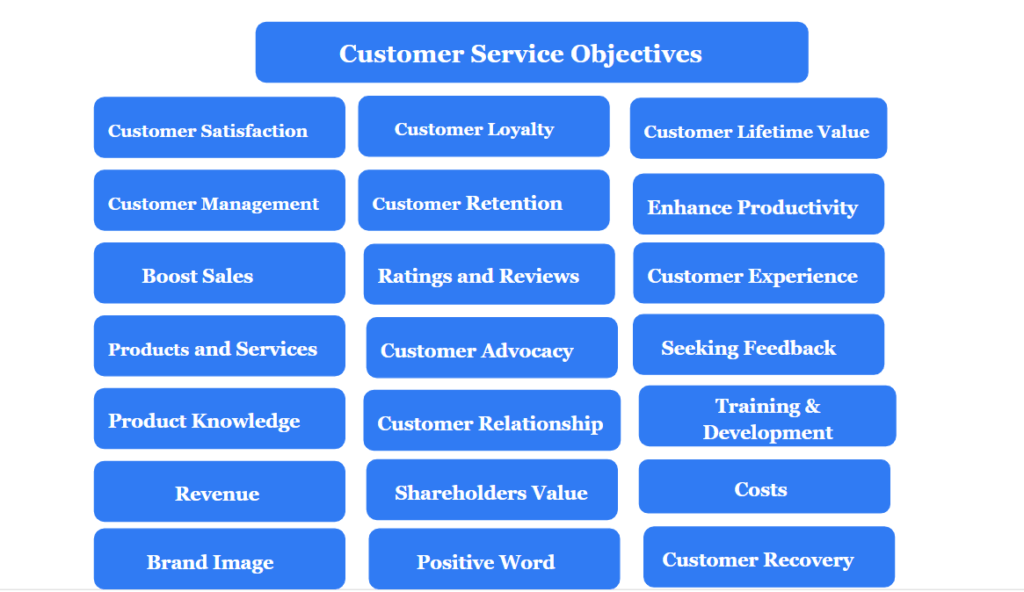 Below we have put together some ways by which you can boost customer service by setting oriented business objectives and strategies:
#1. Enhance Customer Satisfaction
Customer satisfaction is the most important business objective and driving force behind all the achievements during the lifecycle of a business. Customer satisfaction can be measured by various means like surveys, feedback, etc. It is essential to evaluate customer feedback to unveil essential takeaways from it and implement them into business strategies.
It is also important to receive customer feedback using the right method. Depending on your customers and the nature of the service you offer, they may be more open to providing feedback one way over another. For example, some customers may prefer to be interviewed or asked for feedback over a phone call. Others might prefer being asked specific questions through a detailed and well-designed questionnaire. Choosing the right avenue is integral to receiving quality input from them.
Customer feedback can be useful in upgrading both processes – manufacturing, and operations. There are various means of collecting customer feedback like surveys, questionnaires, emails, calls, etc. The feedback collected via these channels along with the recurring complaints raised by customers can be used to address the flaws in the system and implement new strategies to enhance customer satisfaction.
#2. Build More Customer Loyalty
When a customer is happy with the service, he/she will come back and make regular purchases. This builds customer loyalty. A business can retain its customers by offering superior quality customer service. Customer loyalty can be measured in terms of regular/loyal customers who make regular purchases with a brand.
To build customer loyalty, a business can offer upgrades or exclusive discounts to customers to add value to their services.
#3. Increase Customer Lifetime Value
Customer Lifetime Value refers to the amount of revenue that is likely to be generated by a customer during his/her entire life with the brand. You can increase the lifetime value of customers by offering the best customer services. You can design specific strategies with the help of data you collect throughout the customer journey. You can collect data via surveys, chat history, support tickets, and self-help documentation.
#4.
Invest in Customer Management
Companies should deploy tools such as CRM software and AI Help Desk Management to enhance customer service and build a more trusted and intimate customer relationship. Remember, customer intimacy allows your business to learn about customer problems first and allows you to craft more suitable product or service offerings that enable you to win in your market.
These tools can help in framing effective strategies for delightful customer service to current customers. You can also use the data from these tools and create strategies to attract new customers for lead generation.
These tools work on the data that is collected via live chat history, ticket generation, customer queries, effective solutions to measure customer success.
#5. Improve Customer Retention
When customers have a problem with your products/services, they report it. The response of the support team decides whether the customers are delighted or disappointed. Hence, good customer service can satisfy the customers, which, in turn, leads to their retention.
Involving customers throughout the process of solvent extraction and educating them via self-help documentation helps in formulating effective strategies for customer retention.
---
Recommendation Read: How to Build a Customer Retention Strategy
---
#6. Boost Customer Recovery
Great customer service aims at converting a dissatisfied customer into a happy customer. When a customer is unhappy with your company's product/service, you should take it as an opportunity to present them with the outstanding services that your business has to offer them.
The customer recovery process is also an opportunity to prove to the customer that he/she is valued, and you are ready to give them some special perks. You should resolve their issues in a friendly and diligent manner to ensure their recovery.
#7. Enhance Productivity
The best customer service work objective is related to achieving enhanced productivity. Customer service productivity is measured in terms of calls handled in an hour or cases resolved in a day by the team.
You should train your service reps to solve most of the minor issues in a single reply. This enhances productivity considerably.
#8.
Boost sales
Customer service has a direct and indirect relationship with sales. Sometimes, potential customers may reach out to the agents to get more details about the company's products/services. In such a scenario, the agents can enhance sales by convincing the customers to make a purchase.
Apart from the direct impact on sales, good customer service also impact the sales indirectly by satisfying the customers. When customers are satisfied, they'll buy more products from the company and may even refer to their friends.
#9. Improve Ratings and Reviews
Potential customers often assess the ratings and reviews given to a company by its customers. A company with positive reviews and impressive ratings has more chances of acquiring new customers.
Excellent customer service ensures that the existing customers are happy with the company. They are most likely to give positive reviews and good ratings. Hence, customer service should aim at enhancing the ratings and reviews of the company.
#10. Positive Customer Experience
A positive customer experience is the basic foundation of a successful business. It's one of the most important factors that make or break a business. To frame a successful strategy for a positive customer experience, businesses should analyze the customer data from the support tools and integrate key takeaways from it.
Delightful customer experience creates a recurring effect and keeps the customers coming back for more business. These customers don't hesitate to refer the brand to others, thereby helping in generating more business.
#11. Improvement in the Existing Products and Services
All businesses should have a customer-centric model. When customers are kept at the heart of the business, the products and services turn out to be tailor-made for them. Through customer service, your representatives can understand the needs and pain points of customers. This gives valuable customer-related insights that can be used to improve existing products.
Furthermore, customer service procedures can also be improved to identify the problems of the customers effectively and resolve them on time. You can integrate help desk management software in your business to improve customer service.
#12. Enhanced Customer Advocacy
Companies these days are stressing a lot on customer advocacy as it is turning the tides in favor of businesses. Appointing customer advocates helps businesses to frame customer centric-strategies for enhanced customer support and marketing. The customer advocates should be given targets related to ensuring customer satisfaction by taking feedback from the customers and improving the products based on the suggestions given by customers.
#13. Seeking Feedback
To deliver a top-notch customer experience, you must know which areas need improvement. Seeking feedback from the customers helps in identifying grey areas, which can then be improved. Hence, constructive feedbacks help in improving customer service.
Customer feedback can be collected via surveys, online questionnaires, emails, phone calls, net promoter score surveys, etc.
#14. Product Knowledge
The customer service objectives related to product knowledge include upgrading the knowledge and skills of your employees. You should aim at offering training and certifications to the customer service team so that they are well-equipped to help the customers.
Also, having a well-placed internal knowledge base in place can fully equip your employees to efficiently handle customer concerns and create a delightful experience for your customers.
#15. Fostering Customer Relationships
You should also set customer service work objectives that foster relationships with the customers. For instance, you can set a target for your account executive to call the customers from time to time and understand their problems. This fosters customer relationships. Sending emails on special occasions of customers is another way to build stronger bonds with customers.
You can also send special offers directly to the inbox of the customers to mark their importance in your business. These strategies add value to the customer experience.
#16. Training and Development
You should stress on regular training and development of your service team to ensure good quality customer service. You can provide training on soft skills to the service reps to keep them on track with the industry's latest customer service trends.
A great strategic move would be to model a support enhancement training program based on the feedback received from customers. Remember to appreciate the reps when they manage to delight customers.
#17. Increase in Revenue
Profits are essential for the success of any organization. You can boost the profitability of your business by enhancing its revenues. For this, you can define a revenue target for different departments/areas, including customer service.
Tracking the buying pattern of customers can be a way to understand the points where customers might be willing to spend extra. Accordingly, you can formulate revenue strategies to increase profitability.
#18. Grow Value for Shareholders
The topmost customer service team goals example is related to growing the value for the shareholders. You should define the profits that your organization intends to increase for all the stakeholders, owners, and shareholders. Providing exceptional customer service enhances the benefits for all the stakeholders.
And if you think you can do without stakeholders in your business, you might be wrong. You need stakeholders for financial and practical support. These people are the well-wishers of the company and form the core support system of a business.
#19. Manage the Costs Effectively
A business rotates between the profit and loss margins. To keep businesses thriving, revenue and expenses should be maintained. This can be done by managing the cost. Good customer service can help with cost management in many ways.
Using a knowledge base for self-help for customers and agents can help in reducing the expenditure incurred in maintaining an extensive support team. Proactive problem solving can reduce the number of customer issues, thereby reducing the requirement of support staff. There are several other ways in which customer service can help in maintaining the cost.
#20. Enhance Brand Image
You should also set targets related to enhancing your brand reputation. If you offer top-notch services to the customers, it will automatically elevate the brand's reputation. On the other hand, poor service can deteriorate the reputation of the brand.
Customer reviews are a great way of building a positive brand image. Once you are sure that your customers are leaving on a happy note, you can ask them for reviews.
#21. Positive Word of Mouth
You should set a target to offer good customer service such that it generates loyal and happy customers who won't hesitate in referring your brand to friends and family. Satisfied customers would post their experience on social media or create product descriptions, which is an excellent way of word-of-mouth marketing.
Powerful Strategies to Enhance Customer Service

According to a survey conducted by Temkin Group, 77% of customers will recommend a brand to their peers if they are happy with the overall experience. This clearly shows the importance of offering great customer service.
86% of millennials say they are influenced by negative reviews when purchasing a product or service. Hence, enhanced customer service has become the need of the hour. If you intend to enhance your customer service, then you can follow some tried and tested customer service strategies:
#1. Take Feedback from Customers
Customers are at the core of every business, and their needs matter a lot. You should comprehend the needs of your customers as well as their pain points. This would allow you to deliver customer service that caters to the customers.
You can create surveys where you can ask various questions from the customers and take their feedback. You can collect customer feedback via multiple channels:
Scored Surveys

Online Questionnaires

Net Promoter Score Surveys

Emails

Phone Calls
In addition to that, you can even create a complaint system where your customers can raise their issues.
Feedback from the customers allows you to find out the positives and negatives of your services. You can modify your support system accordingly.
---
Recommended Read: 20 Best Help Desk systems of 2021
---
#2. Strengthen Your Customer Support Team
Your service team represents your business while interacting with the customers. So, they should be trained to represent a positive brand image and gratify the customers at all times. You should hire the right candidates in your team who possess traits such as empathy, knowledge, effective communication skills, and problem-solving skills.
There should be a process for performance appraisals, which can be used as a means to appreciate the work of outstanding reps. This will motivate all the employees to deliver superior quality customer service.
#3. Offer Omnichannel Customer Service
The best way to attract customers and offer extraordinary experiences is by offering multi-channel service and support. You should ensure that your customer support pages are compatible with mobile phones so that customers can get their issues resolved on the go.
Recommended Read: Understand Omnichannel Customer Experience Benefits with Examples
---
You can also create a FAQ section with answers to all common problems. This allows the customers to fix minor issues without repeated interactions with customers. Let's answer some FAQ's related to the blog:

Q. Why is customer service strategy important?
Every process in your business needs to have a strategy in place. Right from minute management to looking after your customers, everything needs to have a strategy. This way, you have complete knowledge of what needs to be done and how – without any confusion. And, that's exactly why companies who have a strategy in place offer delightful customer service.

Q. What is the objective of customer service?
Two words – happy customers. The main objective of customer service is to answer customer questions instantly and accurately to ensure all customers are satisfied. Another important objective of customer service is to boost brand value. With happy customers, your brand gains recognition and, in the long run, yields a lot of benefits.

Q. What are the main purposes of having a customer service plan in place?
The main purpose of having a customer service plan in place is to have a clear-cut idea of how your business will offer customer service smoothly. Customers can come up to you with several queries of different types, but it's how your agents deal with them and how you accurately you answer their questions that do the trick. It becomes easier to answer customer questions accurately and deal with any situation hassle-free with a plan in place.

Q. What are the 3 key elements of good customer service?
The 3 key elements of good customer service include:
A channel that customers can use to contact companies

Real-time issue resolution

Post-resolution customer feedback to understand how customers felt during the process and how companies can be better.
Q. What are the three most important characteristics of customer service, and why?
The three most important characteristics of customer service include patience, empathy, and product knowledge. Support agents who provide answers to customers can only give accurate answers if they have complete product knowledge. Also, agents need to understand that customers do not have technical or product expertise, so having patience and empathy is also crucial when offering customer service.
Do you want a free Help Desk?
We have the #1 Online Help Desk Software for delightful customer support