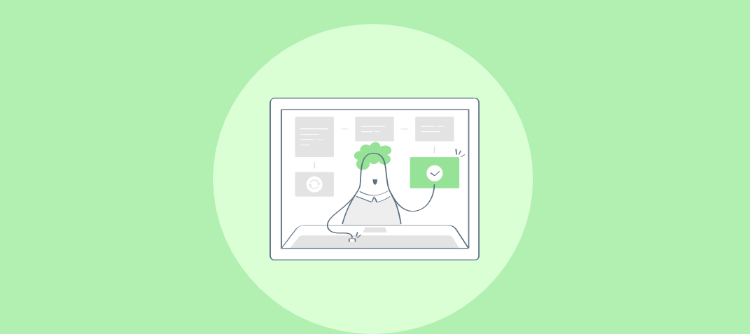 Email is much like a mirror that reflects the personality and state of mind of the person sending it. Customer service email etiquettes can reveal the values that your business stands for and how well you treat your customers.
For decades, email has been a popular channel to support customers. However, like any communication tool, it is important to know how and when to use it.
The brief nature of modern text messaging has polluted the etiquette we once had in our emails. Customers will not take you seriously if you send messages such as "Lemme know if u face the issue again" or "Will deliver ASAP!". However, with so many emails to cater to, how do you keep every message professional yet personalized?
Well, you need to create a list of email etiquettes for customer service that will act as guiding principles for your email operators. In this blog, we have shared some popular business email etiquettes that will make every agent an excellent communicator.
Here we go!
What is Email Etiquette?
Email etiquette refers to the code of conduct that one needs to follow while writing and answering emails. Email etiquette rules demonstrate professionalism and mutual respect between those exchanging emails.
In simpler terms, email etiquette refers to the "good manners" or "right practices" you need to follow while composing emails. In customer service, email etiquette rules will help you draft professional messages, maintain consistency, and show customers you respect them.
Why is Email Etiquette Important?
Email etiquette can help your business retain control over internal as well as external communications. Let's look at some more profound benefits:
Avoid Confusion: Incorrectly written emails can often lead to confusion and misunderstanding. For instance, if you use technical jargon in your emails, customers might not understand what exactly you mean.
Enhance Efficiency: Carefully written emails get to the point more quickly compared to lengthy emails. This means your employees will work faster, ultimately saving time and effort for both the sender and the email recipient. With this saved time, your team can focus on urgent or high-priority tasks.
Increase Accountability: Your team members should know that they are one hundred percent accountable for the emails they share with customers. This sense of accountability or ownership will ensure that team members respond to emails in a timely manner and use appropriate language.
Appear More Professional: By following email etiquette rules, you can create a great impression on the minds of your audience, business partners, or other key stakeholders. Your business appears more professional and puts itself in a better position to build long-term relationships.
10 Customer Service Email Etiquette Rules You Need to Follow
Even today, a majority of support conversations take place over email. To help you nail every conversation, here are 10 customer service email etiquette rules that you can adopt today:
1. Avoid Writing When Emotional
Human beings are emotional creatures and it is sometimes really hard for us to not be emotional. No wonder motivational gurus are always preaching about the importance of controlling what we feel and how we express it.
In the field of customer service, you need to be the master of your emotions. While a lot of situations can make you feel negative emotions such as anger, frustration, etc., you need to keep your cool.
To avoid any ugly situation, follow this simple email etiquette rule – While composing an email, be mindful and take time to understand what you are feeling. If you are feeling angry, just step aside from your keyboard and go for a walk or take a coffee break. A small break will help you get your head together and write a professional email with a fresh perspective.
2. Avoid Technical Jargon
Customer service is full of technical jargon — "Cookies", "DNS", "Data Breach" and so on. As an email etiquette for customer service, you need to avoid technical terms that your audience may not be familiar with.
Just informing the customer that the problem occurred due to "Error 341" will not be of much help. What's worse? It will only confuse them and make them lose trust.
The truth is that the overuse of jargon is not just annoying but also the opposite of what good communication aims to deliver. Therefore, while drafting your emails, ask yourself if a 5th grader would understand it. The objective here is not to undermine the technical know-how of your audience but to explain the issue using the most simple and common terms.
If you can't think of a better term, Google it and look for appropriate synonyms. You can even ask a team member from another department to read your draft and give feedback. Eventually, you will learn which words make no sense and which words are easy to comprehend.
3. Adopt Customer Email Management Software
Customer email management software is designed to make email communication an effortless process. You no longer need to worry about pending customer emails or unhappy customers.
Here are some features that you can look forward to:
Prioritize Urgent Conversations: We know that not every customer request demands your urgent attention. So how do you decide which tasks to work on first? Well, with the customer email management tool, you can assign different priorities to each email: High, Normal, or Low. This way, every agent can respond to high-priority emails and prevent escalations.
Add Labels: Labels are tags that can help you differentiate different customer service emails. For instance, you can add the Lable of "Refund" on one email and "Software bug" on the other for a smooth process.
Collaborate on Emails: This tool even offers internal collaboration features so that customer service team members can not only work with each other but also involve other departments. For instance, an agent can leave an internal note on an email and assign it to another team.
Read More: 11 Best Email Management Software
4. Maintain Consistency with Canned Responses
It is common for customer service professionals to receive emails that are repetitive in nature. Think about password reset, product refunds, delivery updates, and so on.
Canned responses are saved email templates that can be used to reply to common customer queries. When done right, canned responses can help you enhance agent productivity, save time, and avoid human errors.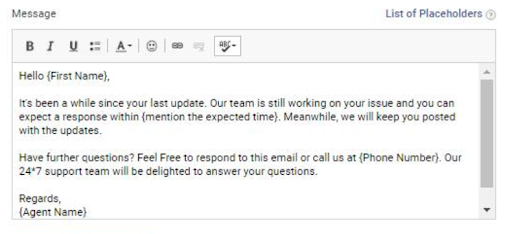 As a customer service team, you must be getting repetitive inquiries such as "How do I change the password of my account?" Now, instead of typing the same response over and over, you can simply create a canned response and use it whenever you are presented with a similar inquiry.
However, simply copy-pasting an email template will never be sufficient. You must look for ways to add a touch of personalization to your emails by using the customer's name, referring to their past purchases or contacts, or through personalized product recommendations.
Moreover, whether the email is composed by a new agent or the manager, every outgoing message will reflect consistency in language, branding, and tone.
5. Use Short & Specific Subject Lines
Email subject lines are powerful enough to determine whether customers open your email or sweep it under the carpet.
According to research, 47% of recipients decide to open an email based on its subject line. In fact, 69% of people report an email as spam after going through the subject line alone.
Here are some tips to make sure your subject line ticks all the right boxes:
Focus on the word count of your line as nobody would be interested in reading a long sentence. Try to limit it to 10 words and aim for 7 or 8.
Avoid clickbait terms such as "Grow your sales 100x" or "We offer the best customer service in the world". These terms may make the recipient open your email but will eventually lead to distrust.
Be specific. For example, if you are emailing a customer who had requested a refund, you can say, "Request for refund of Product X".
Read More: 25 Effective Email Management Tips Trending in 2022
6. Use a Professional Email Address
Whenever you deal with customers, your brand's reputation is at stake. Therefore, it only makes sense to use your company email address.
Even if you are a startup or a freelancer, avoid using addresses that you created in high school – loverboy@, prettyangel123@. Using such accounts is against basic email etiquette and makes you look unprofessional.
Instead of individual accounts such as sarah.parker@company, most customer service teams use shared inboxes such as support@company, info@company, returns@company, etc.
While there is nothing wrong with using individual email addresses, using team inboxes will ensure multiple members have access to the conversation and every message stays well organized.
Well, you will be surprised to know that there are some hidden benefits of using a professional email address. For instance, many leading email clients automatically mark emails as scams if they are not sent from a reliable or professional source. So if you wish to land in your customer's inbox, you need to have the right email address.
Read More: 10 Shared Inbox Best Practices For Email Success
7. Include a Call to Action (CTA)
An email CTA refers to a link or button that is used to direct your audience to appropriate action.
According to customer service etiquette rules, your email must include a relevant call to action (CTA). Instead of wondering what to do, the recipients will know the necessary action they need to take after reading your message.
Now, CTAs are a common feature of sales or marketing emails. But what about customer service? Well, customer service emails too can include relevant action buttons for different situations.
For instance, you can share a link to a relevant knowledge base article or video. Similarly, you can even share a live chat link if you wish to divert the conversation to a different channel. In addition to this, you can even guide customers to follow your social media handles for the latest information or share their feedback by completing a survey.
8. Share Links to Relevant Knowledge Base Articles
The goal of every modern support team should be to empower customers via a self-service knowledge base and reduce email volume.
According to research by Harvard Business Review, around 81% of customers attempt to take care of matters themselves before reaching out to a support agent.
Sometimes there is no point in writing lengthy email replies when you can simply share links to relevant help articles, FAQ pages, or video tutorials. By following this customer service etiquette, you can reduce future emails and allow email operators to focus on high-priority issues.
For example, let's assume a customer asks about how he can change the privacy settings of his account. Now, instead of replying with a long list of steps, you can simply share an article that includes all necessary information about privacy settings. This will also help you encourage customers to explore your help center and find answers on their own.
Read More: 10 Best Practices for Creating Knowledge Base Articles
9. Proofread Before Hitting the Send Button
While the idea of completing your targets and sharing quick responses might seem attractive at first, you cannot afford to send incorrectly drafted emails. As one of the top business email tips, you need to proofread every word before you hit the send button.
Believe it or not, customers will judge you on how well you compose your emails. Even small spelling or grammatical errors can reflect a lack of focus and make your business appear unprofessional.
Here are some simple tips you can follow:
Read and reread your emails to make sure you have drafted a perfect piece. Check the clarity and remove any technical terms that may confuse the reader.
Check the tone of your message. Does your email seem too cold? Make sure you use a friendly tone that does not offend the email recipient in any way.
Use a tool like grammarcheck.ai to easily spot and correct grammatical errors.
Avoid multitasking at all costs. When you are proofreading an email draft, avoid working on other emails, chats, or calls.
10. Monitor Customer Service Email Quality
Do you pay attention to how agents reply to customers? What language or tone do they use? Whether they offer the right information or not? Well, you should. Quality monitoring serves as good email etiquette and is important for the reputation of your business.
On the Internet, nothing is really confidential. In simple terms, every email that you share with a customer will not vanish into thin air. The customer can take a screenshot and share it with the world in a matter of seconds.
Customer service managers must monitor email quality on a regular basis and spot anomalies. Train your agents on the best practices of email writing and hold them accountable for how they interact with customers. If any customer complaint about an inappropriate or rude email message is raised, identify the operator and take necessary disciplinary actions.
On the other hand, if an agent gets good feedback from the customer, share that with other team members and show them the footsteps they need to follow. You can also reward such behavior with recognitions, incentives, or other rewards.
Break Communication Barriers with Email Etiquette
Customer service email etiquette will help your team rise above communication barriers such as lack of respect, poor language, use of slang, and more.
That's not all. Your customers will feel valued, respected, and cared for. For best results, avoid writing when emotional, use a professional email address, share relevant links to help articles, and most importantly, proofread your message before hitting the send button.
Follow the above email etiquette rules to make a lasting impression on your customers. With customer email management software like ProProfs Help Desk, you can prioritize urgent emails, discuss issues internally, and create hundreds of canned responses to delight your audience.
Do you want a free Help Desk?
We have the #1 Online Help Desk Software for delightful customer support