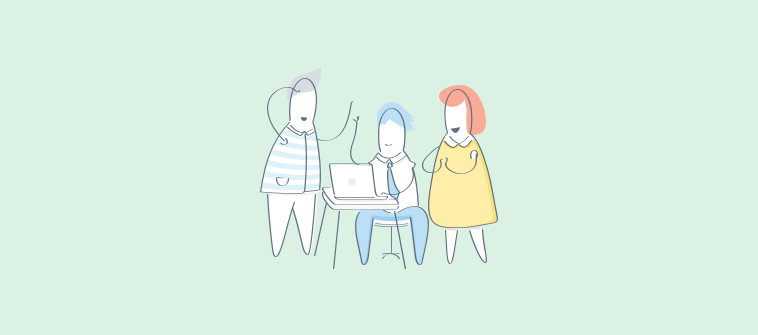 Are you looking for the best customer experience software?
As more and more people buy online, companies are forced to jump into the digital world with their products and services. Amidst a mirage of options, how do you ensure every customer finds what he is looking for, is supported in real-time, and gets a personalized experience on top of that?
Well, customer experience software may be everything you want!
With the right customer experience tools, you can create a seamless journey for your audience and surpass their expectations at every touchpoint. With in-depth insights at your fingertips, you can make something as mundane as web browsing a highly personalized experience.
So if you wish to win over customers with meaningful and memorable experiences, this blog is for you. In this post, we'll explore the top CX tools that can help you automate, organize, and simplify your marketing efforts.
Let's get started!
What Is Customer Experience Software?
Customer experience (CX) management software refers to a business tool that helps you measure and track the quality of customer experiences across multiple touchpoints. You can record customer interactions right from the moment a prospect visits your website for the first time to the time they contact your business for after-sales support.
With the best customer experience software, you can monitor your customers' behavior, identify key trends, understand emotions via sentiment analysis, and see how they like to interact with your brand. Taking control of your customer experience can offer several benefits. Let's discuss them right away.
Why should you invest in a good CX tool?
Leaving factors such as price and quality behind, customer experience has become the new brand differentiator. Today more and more people wish to engage with brands that offer a seamless experience across channels.
According to a study, companies with a customer experience mindset drive revenue 4-8% higher than the rest of their industries. On the other hand, poor customer experiences can have a drastic impact on your bottom line.
With the right customer experience platform, you can meet customer expectations. Moreover, monitoring each and every interaction will make you a customer-focused business and motivate employees to make every experience count.
Read More: Customer Experience Strategy 101
15 Best Customer Experience Software
Since customer experience is a vast field, It's difficult to find one tool that can do all the jobs. The right combination of these tools can help you nail aspects such as customer service, behavior analysis, journey mapping, and much more.
Here are the best customer experience tools that you can consider for your business:
1. ProProfs Help Desk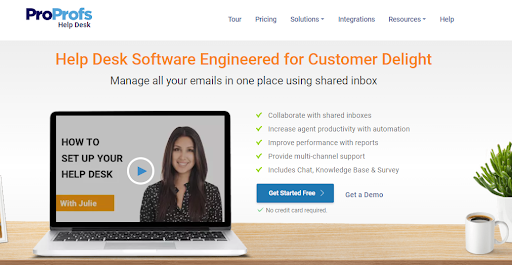 ProProfs Help Desk is a cloud-based tool that helps you meet and interact with your target audience on their favorite channels. You can hold meaningful conversations over live chat, email, web forms, help center, etc., and leverage context to personalize every interaction.
As help desk software for small businesses, ProProfs equips you with all the features you need to enhance the self-service experience. You can build a dedicated knowledge base for customers and allow them to find the right help without human intervention. Moreover, with AI-powered chatbots, you can route conversations to relevant team members, assist customers with their basic queries, and make the most of sales opportunities.
Top Features of ProProfs Help Desk:
Create canned responses for emails and chats to share faster replies
View customer communication history and deliver personalized experiences at scale
Share CSAT, CES, and NPS surveys with customers and capture their valuable feedback
Leverage AI-powered reports for tracking important customer experience metrics
Prioritize communications, track their lifecycle, and hold discussions via internal notes
Pros:
You can generate easy-to-understand reports.
The mobile app makes it easier to track customer interactions on the move.
Cons:
Integration options are quite limited.
There is no way to monitor your social media conversations.
Pricing:
Starts at $20/agent/month (billed annually).
2. Qualaroo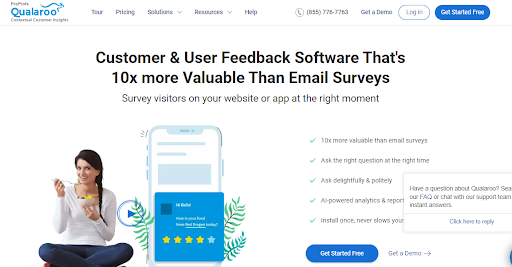 Qualaroo is an online customer feedback tool that allows you to collect customer experience insights through targeted, in-context surveys. You can also gauge overall customer experience by conducting NPS, CSAT, and CES surveys after every touchpoint to understand customers' interaction with your brand.
Using its AI, Qualaroo can help you understand the emotional outcome of interactions and how customers feel after interacting with the business to help frustrated customers. Also, with some of the widest range of integrations, Qualaroo is arguably one of the best tools out there for boosting customer engagement and satisfaction.
Top Features of Qualaroo:
Use pre-built templates for NPS, CES, UES, and CSAT surveys
Target specific visitors at the right time using advanced targeting
Send surveys via 6+ channels including websites, mobile apps, and more
Analyze feedback in real-time using the AI-powered sentiment analysis
Integrate with some of the most popular CRM, HR and analytics solutions
Pros:
Multiple integration options to enhance your business processes.
Sentiment analysis powered by IBM Watson can help you understand customer sentiments.
Cons:
UI needs improvement.
The tool lacks industry-specific templates.
Pricing:
Starts at $80/month
3. Zendesk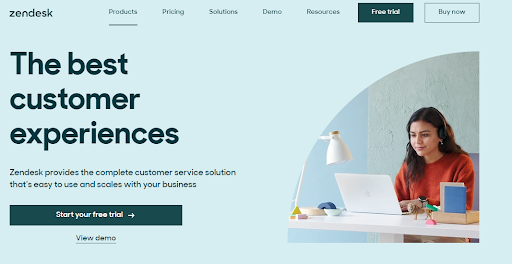 Zendesk is undoubtedly the most popular customer experience platform that is not only easy to use but shows great scalability to meet the needs of mid-size businesses to large corporations. The tool helps you interact with your customers over live chat, instant messaging, email, voice, etc., and makes it easier for customers to communicate with you across various communication channels.
Zendesk helps you create a unified view of the customer so that reps always have the right context to assist customers and resolve their queries. Moreover, you can monitor reports, trends, and key performance indicators (KPIs) across the customer journey and improve customer satisfaction.
Top Features of Zendesk:
Leverage intelligent routing to assign conversations to the right team members
Use automation and AI-powered bots to get the right context and reason behind contact
Encourage customer engagement by creating a community forum
Improve internal collaboration with Microsoft Teams and Slack integrations
Allow agents to contribute to help articles, and other knowledge documents
Pros:
Integrate with Zendesk CRM to manage all customer interactions in one place.
Make data-driven decisions with insightful reports.
Cons:
Zendesk comes with a steep learning curve.
The tool can prove to be quite expensive.
Pricing:
Starts at $49/user/month
4. Clarabridge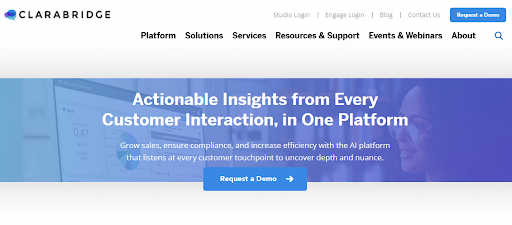 Clarabridge is the best customer experience solution that helps you aggregate your VoC data – customer feedback and interactions – into one place. With artificial intelligence (AI) powered speech and text analytics, you can evaluate conversations your customers have with your employees.
You can easily monitor the quality of conversations over phone calls, live chats, private messages, and social media platforms. With the help of this customer experience tool, you can get rich insights into ease of doing business (customer effort), customer loyalty, sentiments, NPS, customer churn, and much more. These insights gear you to make data-driven decisions and track your progress.
Top Features of Clarabridge:
Automatically score and evaluate all your customer interactions
Assess over 50+ emotions and evaluate empathy in every interaction
Understand customer intent with the power of natural language processing
Focus on the metrics you want with customizable reporting dashboards
Assign tasks or take actions in real-time with Clalabridge Pulse (mobile app)
Pros:
Multiple customization options can help you mold the tool according to your needs.
Leverage a custom-built dashboard and deployment.
Cons:
The solution isn't ideal for beginners.
The tool does not offer transparent pricing details on its website.
Pricing:
Get in touch with the company for a quote.
5. Adobe Experience Manager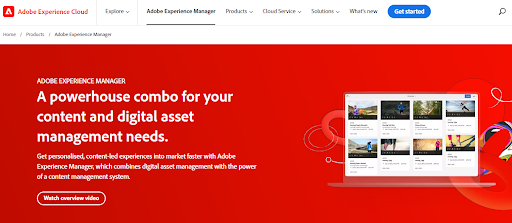 Adobe Experience Manager brings the power of digital assets and content management to your team. You can create content and layout variations for specific customer segments and share them across all your active communication channels.
The tool allows you to create interesting and responsive forms that customers can complete easily. With fragment-based authoring, you can reuse content to build forms faster.
Top Features of Adobe Experience Manager:
Manage content and commerce in a single integrated system
Plan and improve your self-service content
Publish technical documentation from a single platform
Connect with Adobe Target & Adobe Analytics
Make use of marketing-friendly content templates
Pros:
Use AI to automate content cropping, tagging, and distribution.
Adobe organizes events where your team can develop new skills and learn from top brands.
Cons:
The tool comes with a steep learning curve
Developer knowledge is needed to build components
Pricing:
Get in touch with the company for a quote.
6. Qualtrics
Qualtrics CustomerXM is one of the best customer experience management software that can help you identify and close experience gaps. The tool makes it easier for you to monitor, respond, and improve key interactions along the customer journey and incorporate valuable customer feedback into every decision you make.
With Qualtrics CustomerXM, you can meet customers across a variety of channels and capture their feedback in real-time. With the help of 128 data sources, you'll get a complete picture of what customers are thinking and feeling. Moreover, reports help you uncover and identify trends, patterns, and key drivers of customer loyalty. This way, you can focus on areas that need improvement and maximize your team's potential.
Top Features of Qualtrics CustomerXM:
Capture customer feedback through apps, websites, email, SMS, chatbots, and more
Share NPS surveys to identify loyal, unsatisfied, and at-risk customers
Uncover trends and know what to do next with iQ, the predictive intelligence engine
Target the right customers at the right time with precision targeting
Take actions that enhance the in-app experience and boost app store rating
Pros:
Multiple survey formats can fast-track your research.
You can capture data from more than 128 sources.
Cons:
The UI is clunky and needs improvement.
Additional report widgets can be added.
Pricing:
Get in touch with the company for a quote.
7. Medallia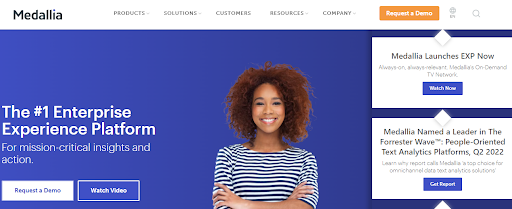 Medallia is a popular employee and customer experience system that helps you get a rich 360-degree view of customers. You can manage social media interactions, transcripts, speech analytics, ticketing systems, digital behavior, and more – all in one place. You can enhance experiences as they happen, prevent customers from churning, and deliver stand-out experiences with personalized tools.
When it comes to artificial intelligence and machine learning, Medallia takes it to the next level. Its AI and ML engine is tailor-made for experience data. It helps you easily analyze raw data and understand what customers care about, prioritize actions, and predict their behavior.
Top Features of Medallia:
Get insights about the right employees in your organization in real-time
Identify and improve the experiences that have an impact on your NPS score
Enjoy anytime, anywhere access and access customer information with Medallia's CX mobile apps
Take timely actions based on real-time VoC data and insights
Leverage out-of-the-box integrations and robust APIs
Pros:
Understand customer preferences and intent.
Survey responses can be seen in real-time.
Cons:
Navigation can be complicated for beginners.
More email templates should be added for users.
Pricing:
Get in touch with the company for a quote.
8. SAS Customer Intelligence 360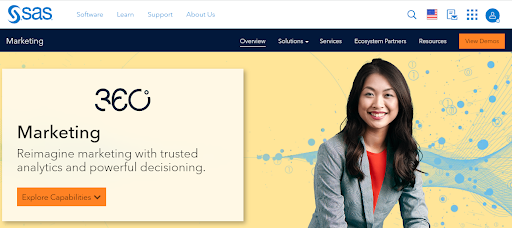 SAS Customer Intelligence 360 is one of the top customer experience tools that can help you enhance your marketing campaigns. You can automate and streamline all your marketing activities for optimal productivity.
SAS provides rich analytics that offers you a forward-looking view of your process. You can better understand customer behavior and embed AI capabilities to foster effective customer relationships.
Top Features of SAS Customer Intelligence 360:
Manage channels such as the web, mobile, and email
Gain complete visibility into costs, timeframes, and overruns
Allow marketers to share content and collaborate effortlessly
Uncover cross-sell and upsell opportunities
Share results with vendors, suppliers, and other stakeholders
Pros:
Great tool for creating omnichannel customer journeys.
The UI has got a recent facelift, which looks much better.
Cons:
The tool comes with a steep learning curve.
The main dashboard is sometimes slow to load.
Pricing:
Get in touch with the company for a quote.
9. Tealeaf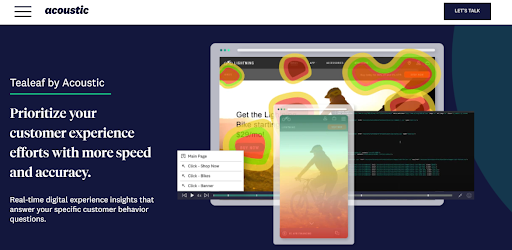 Tealeaf is another impactful customer experience management software that helps you uncover your customer's motivations and get to the root cause of problems for a delightful digital experience. The tool gives you ample opportunities to understand reasons for user struggle and true abandonment to ensure you spend your resources effectively.
Tealeaf can also help you improve your customer service efficiency and take it to the next level. You can easily integrate online data with call centers and anticipate spikes or dips in calls. This way, your team members are better prepared to resolve issues quickly and reduce ticket escalations.
Top Features of Tealeaf:
Manage and detect fraudulent activities across digital channels
Help customers proactively with real-time session replay
Archive the performance and CX data you need and export it in multiple formats
Visually interpret trends in customer behavior on any page using heat maps
Detect anomalies in the digital experience and understand the top contributing factors
Pros:
Monitor customer abandonment over time.
Easily integrate with other data sources and analytics systems.
Cons:
Segmentation for some websites demand coding knowledge.
Reporting needs improvement.
Pricing:
Get in touch with the company for a quote.
10. Verint
Verint helps you enhance customer engagement across multiple verticals, such as voice, digital, and in-person interactions. The tool is used by popular brands such as Google, U-Haul, Lyft, Master Card, and more.
The tool offers conversational AI to improve team efficiency and elevate the customer experience. You can track customer conversations taking place on private messaging, communities, live chat, and other channels.
Top Features of Verint:
Scale your customer conversations over social media
Reduce support call volume by encouraging self-service options
Handle call spikes with a natural language IVR system
Lower marketing costs by generating SEO-friendly content
Build a vast user community
Pros:
Leverage scheduling capabilities to put the right people at the right place.
Practice proactive engagement via live chat.
Cons:
It is quite difficult to scan through past customer interactions.
There is no provision to monitor sentiments on social media messages.
Pricing:
Get in touch with the company for a quote.
11. GetFeedback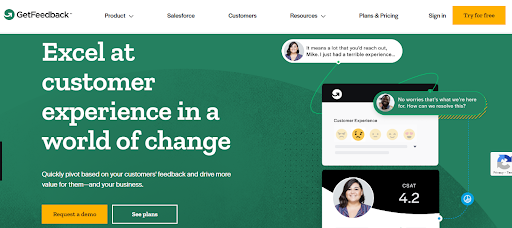 With GetFeedback, you can collect in-the-moment feedback across a variety of channels. You can quickly share meaningful surveys via email and SMS that match the look and feel of your brand. Customer success professionals can bring feedback from these channels together and quickly spot trends over time.
With the help of this customer experience solution, you can easily build custom dashboards by brand, channel, or region and filter using multiple customer attributes. By aggregating scores across channels, you can easily monitor customer experience metrics such as NPS, Customer Satisfaction Score (CSAT), and Customer Effort Score (CES).
Top Features of GetFeedback:
Integrate surveys into your website without impacting the browsing experience
Launch one or multiple NPS programs and easily manage them at scale
Seamlessly integrate your CX data with your Salesforce customer data
Customize and update in-app surveys without the need for development support
Quickly notify product, web, or other teams about issues in real-time
Pros:
Easily integrate with Salesforce and other popular tools.
Create and share mobile-responsive surveys.
Cons:
There is no way to get survey participants from the company.
More options should be available for survey customization.
Pricing:
Get in touch with the company for a quote.
12. LiveAgent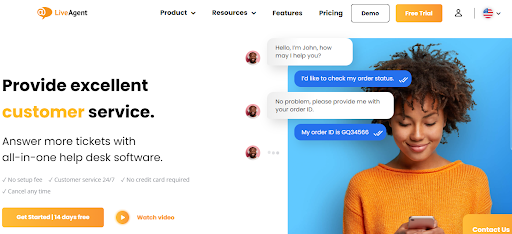 LiveAgent is one of the best customer experience tools that helps you manage customer conversations on multiple channels. You can use their stylish live chat widget to drive customer engagement and make it easier for customers to buy from you. Moreover, based on the time they have spent on your website or the pages they have visited, you can invite customers to chat proactively.
This powerful issue tracking software allows you to manage all your customer records and information in one place for a consistent customer experience. Whether it be customer contacts, orders, interests, preferences, or dislikes, you can reach this information whenever you need to.
Top Features of LiveAgent:
Track customer conversations on multiple channels using the universal inbox
Set Service Level Agreements (SLAs) and manage their violations for better CX
Leverage email templates to share quick replies, notifications, and more
Monitor who is browsing your website and what URL they are on
Interact with customers over Facebook, Instagram, Twitter, and Viber
Pros:
Enhance CRM capabilities with integrations such as PipeDrive, SharpSpring, etc.
The tool is quite simple to use.
Cons:
The tool misses out on key customer experience metrics.
Social media integrations need improvement.
Pricing:
Starts at $15/user/month
13. UserZoom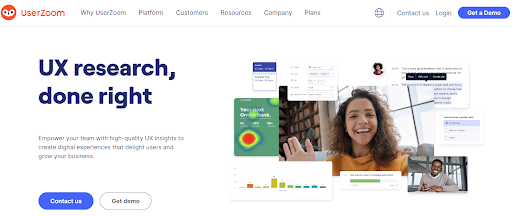 Thousands of businesses use UserZoom to build and design digital experiences that matter. Understand your UI and UX with the help of behavioral data from card sorts, click tests, surveys, and tree tests.
The tool helps you select the right target audience from a global panel of millions of research participants. You can even share surveys with a large population to make necessary improvements to your solution, product, or feature.
Top Features of UserZoom:
Make data-driven decisions based on quantitative data
Find the right sample size for your research
Capture and monitor NPS scores from a wide audience
Monitor behavioral data with the help of heatmaps
Share links with participants via email, Slack, text, and social media
Pros:
You can outsource your entire UX research to UserZoom.
The company offers multiple guides and resources to help you with your research.
Cons:
The main user dashboard feels complicated.
The video conferencing feature needs improvement.
Pricing:
Get in touch with the company for a quote.
14. Genesys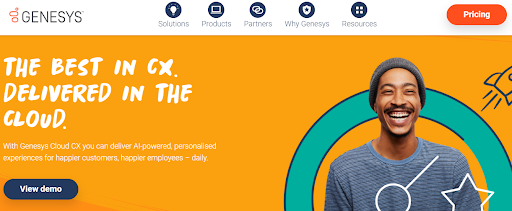 Genesys offers a robust experience management platform that can help you connect with your audience with empathy, deliver memorable experiences, and drive true return on investment (ROI). With this powerful tool, you can choose the right cloud infrastructure and deploy Multicloud CX through on-premises, public, or private cloud models.
Now, a lot of businesses face a common challenge – "how to route customer conversations to the right people?" Genesys helps you rise above this challenge by matching the right resources to the right customers for improved results.
Top Features of Genesys:
Unify all digital channels, self-service, and inbound and outbound interactions
Create AI-powered bots and enhance your first contact resolution (FCR) rates
Analyze customer attributes and behavior with predictive engagement
Leverage a collection of 30 voice and digital reports based on industry best practices
Monitor employee performance across channels with interaction and screen recording
Pros:
Automated routing ensures customers are assisted faster.
Allow staff members to access their schedules remotely.
Cons:
Reporting templates need improvement.
The Admin page takes a lot of time to load fully.
Pricing:
Starts at $75/month
15. Contentsquare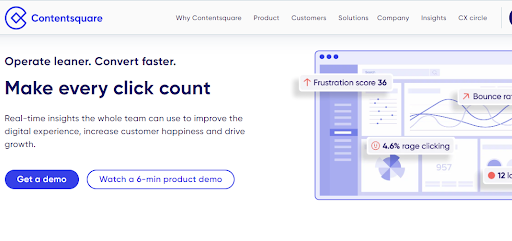 As one of the leading customer experience management solutions, Contentsquare acts as a single platform for multiple digital roles, from marketers to product managers to IT. With features such as Journey Analysis, you can monitor the entire customer journey and understand your biggest opportunities as well as issues in minutes.
Contentsquare helps you capture every in-page interaction and micro-gesture to understand customer behavior better. You can easily see the analysis in the form of scores, visualizations, and recommendations that enable your team members to make smarter decisions.
Top Features of Contentsquare:
Leverage zone-based heatmaps to understand how visitors interact with your website
Reconstruct an individual visitor session on your website with the Session Replay feature
Understand how customers interact with your app with mobile app analysis
Access unique insights into the category, product, and brand performance
Integrate with multiple web analytics, VoC, and personalization tools
Pros:
Uncover all pain points that are making you lose customers.
Easily share session replays with key stakeholders.
Cons:
Some features can slow down your website performance.
Customer journey mapping can be time-consuming.
Pricing:
Get in touch with the company for a quote.
Comparison of Best Customer Experience Tools
Customer Experience Management Software_Comparison Table
Build Better Experiences with Customer Experience Software
If you're actively looking to market your brand and grow your business, you need an equally active customer experience program. After all, you can't build a successful brand by neglecting how customers feel about interacting with your business.
The best customer experience tools are designed to help you monitor the quality of your customer experience. While choosing your tool, look for features such as communication management, real-time internal collaboration, thoughtful surveys, automation capabilities, and reports on customer interactions and behavior.
We are sure the tools mentioned in this blog will help you find the light at the end of the tunnel. Always remember, the best experiences are crafted with love, empathy, and a healthy dose of personalization.
We are sure the tools mentioned in this blog, will help you find the light at the end of the tunnel. Always remember, the best experiences are crafted will love, empathy, and a healthy dose of personalization.
Do you want a free Help Desk?
We have the #1 Online Help Desk Software for delightful customer support