The above screenshot comes from the Deloitte Millennial Survey of 2017 that shows the percentage of millennials reporting that their employers have adopted flexible arrangements. Of these flexible work arrangements, the flexibility of being able to work from anywhere takes the biggest priority. Why? To find an answer to this question let us shave a look at some of the stats.
As per

Forbes

, 80 to 90 percent of employees want to work from home, at least on a part-time basis.

As per the

Harvard Business Review,

while 22% of Americans work from home, around 50% of them are involved in virtual or remote work.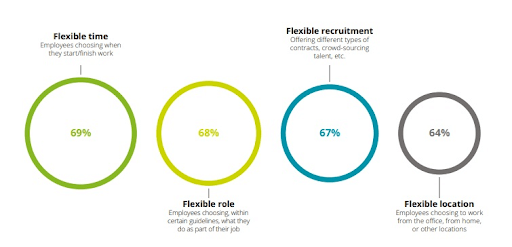 Source: Deloitte Millennial Survey
Further, with the advent of disruptive workplace technologies, employees naturally expect their companies to utilize novel means of remote collaboration and aggregation on multiple channels.
Though there is nothing wrong with the rise in the popularity of remote working, managing remote teams makes the job of a manager challenging. But then again, is managing remote teams similar across various departments? What makes managing a remote customer service team so daunting? Are there any managing remote teams best practices to monitor, track, and collaborate better?
Let us find out answers to all these and many more consequential questions one by one.
Before we proceed, let us find out what makes managing remote teams a daunting task.
What Are the Challenges of Managing a Remote Team?
As per Deloitte, 41% of remote workers reported high levels of stress. This number is surprising as it surpassed the meager 25% of regular office workers with high-stress levels. Adding more to this surprise is the fact that 91% of employees feel more productive while working from their homes.
Though working at one's own disposal certainly upgrades work flexibility, being away from comprehensive discussions as a consolidated team on a regular basis, somehow, mars the degree of collaboration. When managers are relaying tasks, instructions, new developments, and doing every other routine management activity online, over time, they tend to get a sense of disconnection. Instead of feeling empowered because of a talented team, they feel as if they are working with isolated silos of talent.
Working largely as a virtual team also increases your risk of falling prey to cyberthreats. One such example is employees downloading malware in lieu of work documents and sending all their data or passwords etc to hackers.
Apart from all the reasons mentioned above, managing remote employees is a challenging task because:
Collaboration gaps owing to a difference in the internet bandwidths

Lack of motivation because the driving force is not visible outright

Healthy peer to peer communication and competition makes it hard for the employees to keep working in a competitive manner

Being in different time zones makes it tough to be always present with body and mind

Distractions at home that sometimes are attributed to familial obligations
Take a look at how the above-mentioned factors affect the management and workplace: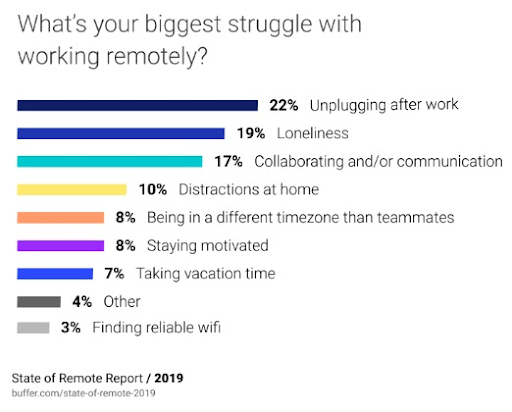 Source: Buffer.com
We hope that by now you must have grasped an understanding of the various challenges of remote team management.
Now, let us proceed and have a quick look at some of the major concerns of a manager while managing remote teams.
How Do You Motivate a Remote Team?
When you are managing an in-house team, all you have to do is call a meeting and congratulate a team member as you wish. You can also plan team building activities and office outings with ease as you only need to drop a message or Email.
However, both these things become difficult when your team is located at four different places; right? So, all the set methods of motivating your teams become useless.
So, what to do?
The best ways to motivate your remote team are:
However, things don't end here. So, let us find out some effective management techniques for remote teams.
Managing Remote Teams | Employees – Best Practices
1. Make Your Expectations Clear Right From the Start.
Every person has a different understanding and perspective of everything in general. So, when you say you need the report asap, your remote employee might deliver it as per his understanding of asap. So, instead of using these vague timelines, you must state your expectations clearly. For example, in this situation, you can replace it asap by Monday.
Takeaway:
Making your expectations clear from the very start keeps you and your team on similar notes.
2. A Daily Pulse Check Is Vital.
It is important to track your employees, their work, and take a project status quo daily. Failing to do so can derail the entire project timeline. It also affects the pace of work of other teammates.
Takeaway:
To make remote team communication a success, ensure daily check-ups on work progress.
3. Be Available to Your Teammates.
Your in-house team can approach you at any time. They can also join you during lunch, smoke break, or have after-office discussions with you. They can come and meet with you as the need arises. However, the same is not possible for your remote team employees. So, to prevent them from feeling disconnected, ensure that you are always available to them.
Takeaway:
If a remote employee is calling you after work hours, entertain the call. Talk to them on different channels and be open to chats on different platforms. This boosts remote team collaboration and makes them feel connected to you as a team.
4. The Location Should Not Come in the Way of Employee DM Building Development.
What tools and/or best practices do you use for remote teams to create team-building and bring everyone closer together? – this question can solely decide the quality of remote team collaboration you have.
Traditionally, offices used to have training and development sessions for entire teams. Trainers interacted with individual team members and employee development was a cakewalk.
However, in a remote team, using tools, automation, and selecting the right training methodologies becomes crucial. You have to be wary of offering the right degree of mentorship as well.
Takeaway:
Remote employee development is one of the most effective management techniques as it trains your team and makes them feel motivated.
5. Trust Is Important.
Instead of doubting a remote employee of his or her abilities, you must accept him or her without a bias. Don't overthink and let mutual professional trust develop gradually.
Takeaway:
Don't doubt the capabilities of your remote employees. This hampers their growth.
6. Focus on Results Instead of the Process.
Don't offer micro-instructions to your remote employees. This inhibits their growth and they are not able to develop a sense of freedom in their work. You should allot tasks to them and check the results. If the results are not as per your expectations, point out what was missing instead of fault-finding.
Takeaway:
Micro-monitoring the working style of your employees is one of the biggest mistakes managers make while managing remote employees.
7. Make Them Feel Like a Teammate.
You must include your remote employees in general team discussions. You should listen to them, their opinions and involve them in your discussions.
Takeaway:
Your internal teams are only as good as the internal teammates that make it. Ensure every team member feels valued and respected.
8. Offering the Right Resources.
You must equip your remote employees with the right automation, right tools, and other such resources so that they can work their best. While the in-house team gets access to company resources and repositories naturally, they might not have this luxury. So, allot them all the tools and technology that is otherwise available to your office employees. Check out the Knowledgebase and Collaborate tools offered by Proprofs.com to have a better understanding.
Takeaway:
Automation, tools, and knowledge repositories – make sure your remote employees have them.
9. Make Your Intentions a Driving Force.
Every meeting should have an agenda and the intent behind it should be clear right from the start. Your remote employees might not have any idea about a discussion that happened offline. So, make the agendas of your online meetings clear and be intentional while discussing things.
Takeaway:
Make every meeting count. Adjourn once all the employees understand your intentions behind the meeting. Keep the remote team informed of all the offline developments.
10. Rethink Your Communication Strategies.
Efficient, precise, and on-point communication – all of them are effective management techniques for remote employees. You must share an impeccable communication rapport with your remote employees. Bias-free, positive, and engaging work practices ensure the development of a highly productive workforce.
Takeaway:
A strong and robust communications strategy forms the core of remote team management.
11. Limit Multitasking to Boost Productivity.
Replying to long email threads and switching between video conferencing and tasks and then again to Email – all these activities will hamper the team productivity. After all, everybody wants to focus on one task at a time to deliver the best performances; right? ProProfs' help desk software will help you avoid cluttered inboxes and prioritize support tickets.
Takeaway:
Multitasking during a video conference can affect the productivity of your employees. Try to keep your meetings to-the-point and focused.


12. Team Building via Technology.
Make use of technology to build a community for and with your remote employees. Celebrating birthdays, office events, and important dates – all these things help you build your team remotely. To better understand employee pain points and satisfaction level, you can share periodic surveys using the AI-powered tool- Qualaroo.
Takeaway:
Employ technology such as video conferencing for birthday celebrations, online events on important dates, and other such activities for team building. This further enhances remote team communication.
13. Use Cloud-Based Project Management Systems.
This goes without saying that in order to accomplish more without much clutter, you must have a cloud-based project management system (like the one offered by Proprofs) that empowers you to track your in-house and remote team simultaneously. These systems also help you in remote team collaboration and in keeping track of everything.
Takeaway:
Using cloud-based project managers allows you to monitor, track, manage and collaborate with the entire team in the best manner.
14. Using Cloud-Based Ticketing Software for Delivering Exceptional Customer Experiences.
A cloud-based ticketing system adds one more star to your ticketing system by bringing the cloud functionalities along with it. You and your employees can check customer history, use data for actionable insights, and also offer personalized customer experiences because of it.
Takeaway:
Cloud-based ticketing systems will bring your customer service standards to another level and will make it possible for the entire team to work in an integrated manner.
---
Recommended Read: Top 20 help desk ticketing systems of 2021
---
15. Connect Their Goals With Yours and Your Company's Goals.
Everybody works keeping personal growth in mind. Companies know that their employees are eventually going to leave and employees know that their companies know this fact. So, instead of mapping long term goals, make sure you are able to achieve an alignment among your goals, your employees' goals and your company's goals. Keep short-term goals in mind while doing so.
Takeaway:
Short-term goals have the biggest probability of being realized in a set time frame. So, align your team's goals with yours for integrated work culture.
16. Be Flexible and Supportive.
Managing remote teams requires a certain degree of patience and expertise. You have to be more flexible to accommodate their liabilities and timings. You have to be supportive of your remote employees so that they can bond with you and feel connected to you as a team.
Takeaway:
Being flexible and supportive makes your team feel motivated and valued. So, make sure you accommodate them.
---
After reading the expert tips on how to manage remote teams, let us move on and take a quick look at some of the FAQs.
Q1. What are the best free (forever) productivity tools for remote teams?
Some of the best free (forever) tools for remote teams are:
Google Hangouts

Google Docs

Live Chat tool from Proprofs.com

Google Drive etc
Q2. What are some mistakes to avoid when managing a remote team?
Some of the must-avoid mistakes while managing remote teams are:
Lack of communication

Lack of regular tracking, pulse-check, and motivation

Lack of support and trust from managers' side

Lack of proper technology and resources that aid in working

Lack of employee development activities

Micro-management of remote employees

A rigid working style that prohibits individual development
Q3. How do you motivate a remote team?
Your motivated employees can deliver maximum productivity. Some tips to boost team motivation and morale are:
Communicate effectively

Regularly share positive feedback

Offer work flexibility

Offer work incentives & other perks
Q4. What are the challenges of managing a remote team?
Some common challenges that you are bound to encounter during remote working are:
Communication Gap

Difficulty in tracking work and productivity

Building trust among team members

Building a cohesive team
Q5. What best practices do you use for remote teams to strengthen team-building and bring everyone closer together
Here are some best practices you can follow to build a cohesive team:
Make the most of the right technology

Emphasize the role of training sessions

Conduct regular meetings

Accommodate flexible work schedules

Reinforce company culture and goals

Make communication an inclusive process
This brings us to the end of our discussion on how to manage remote employees. We hope that all our readers find thoughtful takeaways from here and are able to manage their remote teams in a better and novel manner.
Do you want a free Help Desk?
We have the #1 Online Help Desk Software for delightful customer support