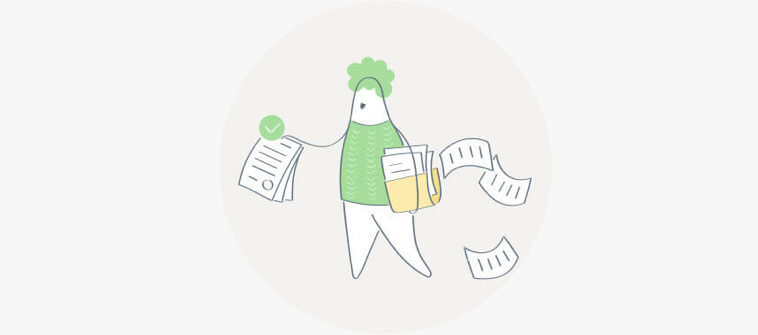 In a parallel universe, customers might be 100% satisfied with every brand they buy from. However, the reality is that modern customers are encountering horrifying service experiences in this part of the Universe.
For example, who could forget the dreadful incident of the United Express Flight 3411 in 2017?
Here is a quick recap: Right before an overbooked United Express flight took off on April 9, 2017, airplane staff were recorded manhandling and forcibly removing passengers to make room for airline employees.
Now, it would be wrong to say that such a big airline company did not have a devised structure of customer service policies. However, it did miss the shot in executing them to reality. A big 'Business Sin' indeed.
So how do you possibly take your service policies out of presentation slides and build your business culture around them?
Well, Amazon CEO, Jeff Bezos might have the most practical answer. As a leader, Jeff has always emphasized the power of customer service. As part of their annual training session, Jeff asks thousands of Amazon managers, including himself, to ­attend two days of call-center training.
The goal?
To ensure that employees absorb Amazon's philosophy, which is to listen to the customers.
Therefore, if your business is in the process of developing some astounding customer service policies, this blog will offer the help you need. Let us get started!
Understanding Customer Service Policies and Procedures
Before we jump into anything else, let us first explore the definition of customer service standards.

Such service standards can help you establish a business culture around 'customer-centricity,' and they often act as holy guidelines for your customer service representatives. Your entire organization must understand, value, and follow these standards at every customer touchpoint.
Why does your business need 'honest' customer service policies?
Framing your customer service policies comes with an important choice: to hold back important information or to be 100% forthright with the truth. A majority of customers feel that businesses are not overly honest with them, and such powerful notions have the potential to work against you. So what's the right mix here?
Under Promise + Over Deliver > Over Promise + Under Deliver
You can go on a never-ending spree and shower your customers with unrealistic promises just to grab their attention. But then what? Sooner or later your customers will taste the bitter truth.
Amerisleep, the luxury mattress company, presents the right example of an honest retail customer service policy. Their service policy initially might look unreal, however, they have always delivered what they promised. They offer a 100-night sleep trial to customers, and for rare return cases, they have partnered with local charities to donate the used mattresses. Amerisleep's experts have adopted eco-friendly materials and the right technology to offer an impressive 20-year warranty on their mattresses.
The brand is surely spending sleepless nights to ensure its customers sleep sound.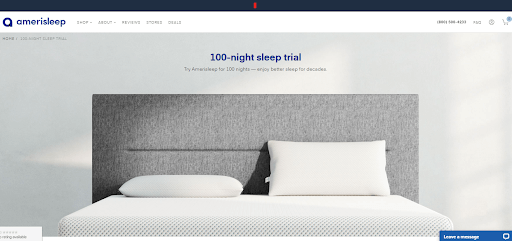 Credit: Amerisleep.com
Importance of Service Standards For a Business
Manage Customer Expectations
I hate customer satisfaction. Satisfaction sets a low bar. People should be DELIGHTED every single time.- Sameer Bhatia
Every individual that ends up buying from your business has expectations. You would not want your customer expectations to go through the roof; neither would you like your customers to not have any expectations at all. Customer service standards can help you rise above overly optimistic or overly pessimistic expectations. While forming service policies, entrepreneurs need to ensure they land on realistic grounds, only then can they exceed expectations. For instance, if your business has mentioned a wait time of 4 hours to get a response, then customers are not likely to get upset during this time frame.
? Bonus Tip:
Setting lower expectations and achieving them might give you an adrenaline rush initially. However, to keep competitors at bay, sooner or later you need to set high expectations and live up to them.
Retain Existing Customers & Acquire New Ones
Do what you do so well that they will want to see it again and bring their friends.- Walt Disney
When your business sets the right service policies and fulfills them, customers will gift you their valuable loyalty in return. According to a report by Microsoft, 96% of consumers across the globe say that customer service is an important factor in their choice of loyalty to a brand. Moreover, when customers come across a delightful experience with your brand, they are likely to share it within their immediate social circle. This way, you not only create an army of loyal customers but also acquire new ones at a negligible expense.
? Bonus Tip:
Emphasize the need to offer personalized experiences in your service policies. While your policies might have been made keeping an 'average customer' in mind, do not hesitate to tweak them to match individual needs and expectations wherever possible.
Bring Consistency in Support
People like consistency. Whether it's a store or a restaurant, they want to come in and see what you are famous for.- Millard Drexler
You must have come across a business that offers lightning-fast responses on chat support but takes weeks to reply to requests over email. This is exactly what inconsistency in customer support looks like. Service policies can help you set the much-needed guidelines to offer seamless and consistent support across multiple channels. Your support professionals can always look up to those guidelines and fulfill customer expectations. Therefore, no matter if your customers contact you over phone, email, or chat, they must be simply delighted by quick-response time and courteous representatives.
? Bonus Tip:
A growing Inbox is often a sign of a growing business. You can make the most of a
help desk software
to club all your customer-facing email accounts into a single platform and offer speedy resolutions to customers.
5 Questions to Ask While Implementing Customer Service Policies
Do you know what great leaders have in common? they ask the right questions. Asking the right questions at the right time and finding their respective answers can help your business embark on a journey to achieve customer delight. Here are 5 questions that you need to answer before you take your Customer Service Policies Live. Stay tuned!
Question 1: What customer support channels do we offer?
The truth is that we live in an on-demand world where customers prefer different channels to reach out for instant support. A recent report by Statista revealed that in the US, 23% of customers preferred Live Chat to contact customer service in comparison to other support channels like email (16%), phone support (44%), and social media (4%). Offering a wide range of support channels will offer the much-needed liberty to your customers to always stay connected with your brand.
Now, businesses can have a hard time deciding which customer-facing email account (sales@, support@, refunds@, billing@, etc.) to keep on priority. However, with the Shared Inbox feature of a Help Desk, you can ensure that every email account gets equal attention.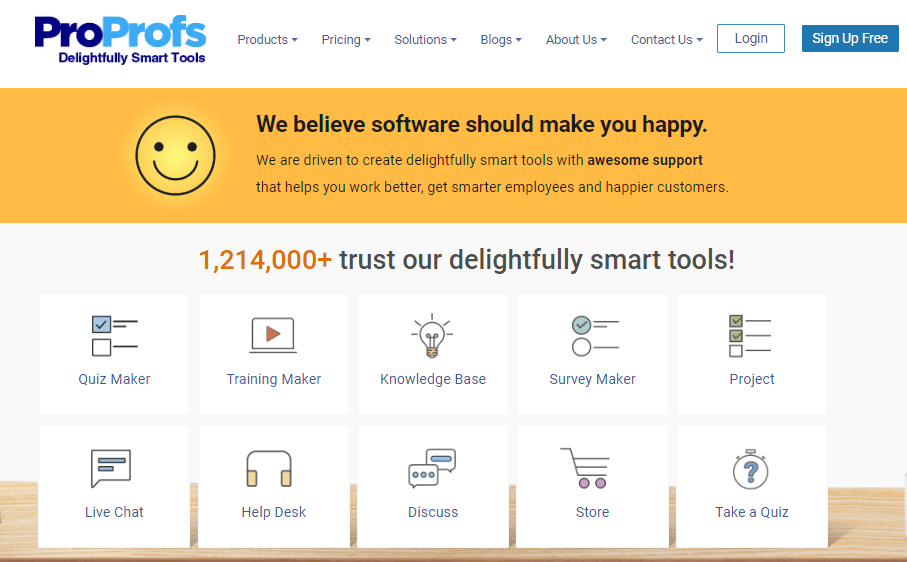 As a leading Customer Experience SaaS company, ProProfs offers a wide range of tools like Help Desk (Email Management), Live Chat, and Knowledge Base that will collectively take your support operations from single channel to multichannel.
Question 2: What days and hours do support operate?
If your business has international customers, you must throw the idea of offering 9-5 support like yesterday's newspaper. As a growing business, your customer service squad should be available round the clock to tackle customer concerns. Period.
When we talk about your email support operations, the ProProfs Help Desk can help you find the right answer to the above question. You can simply go to the Agent Availability Settings and set crucial parameters like working hours for your agents, set multiple shift timings in a day, or simply add a holiday list.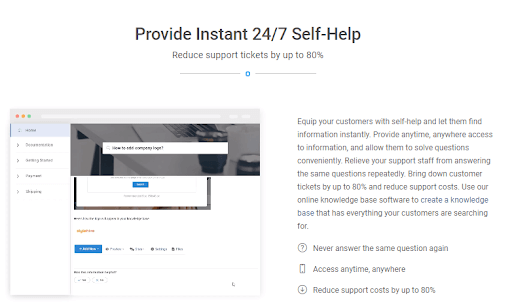 You can use the ProProfs Knowledge Base to create a self-service portal that offers 24/7 instant help. So even when your human agents are away, customers can unlock the right answers themselves.
Question 3: How do we train existing and new customer service agents?
In the modern workplace, employee training should not be a one-day activity, instead, it should be a consistent program. A well-trained team would successfully imbibe your customer service philosophy and display the right traits to offer delightful customer experiences.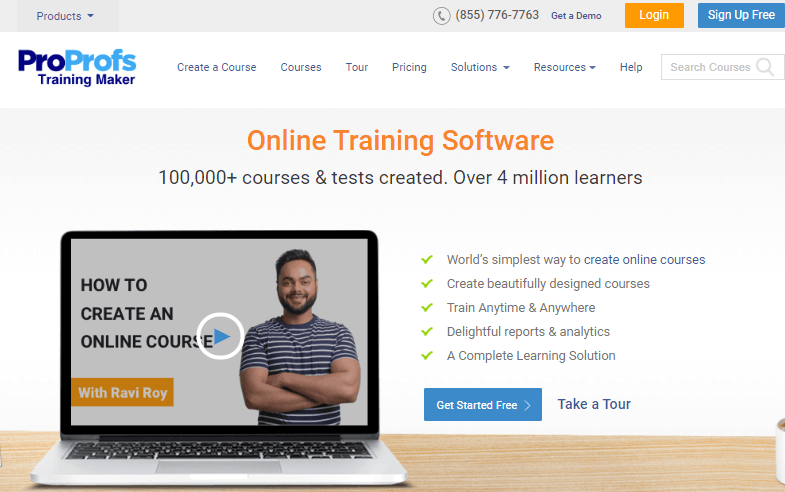 ProProfs offers an online training maker that lets you create hundreds of online courses in an effortless manner. With this tool, training existing, as well as new employees is a breeze.
A glimpse of how we train our agents at ProProfs
Every employee who joins the ProProfs family is trained using multiple Training Modules that are prepared using the Training Maker Software. Post their training they are made to undertake compelling and interesting quizzes created using the Quiz Maker. Since training is an ongoing phenomenon, our Internal Knowledge Base helps them stay informed and at their best, always.
Question 4: How do we track agent performance?
The inability to track employee performance has given many entrepreneurs sleepless nights. Measuring the performance of your support agents is important as it allows you to gauge employee efficiency, determine how to properly compensate your workforce, and improve the overall productivity.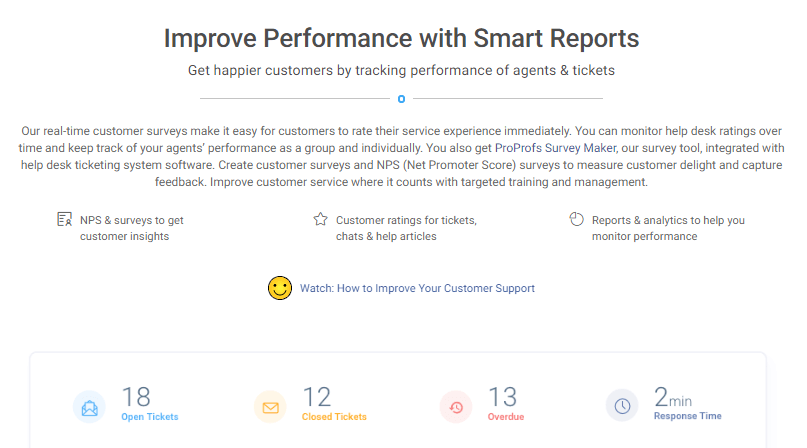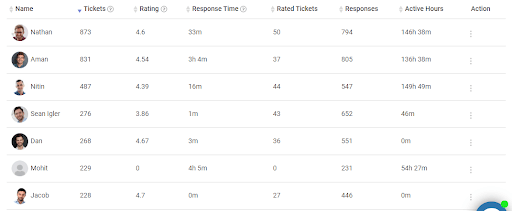 The ProProfs Help Desk offers smart reports and analytics that help you track individual and team performance and overall productivity.
Watch: How to Improve Customer Support With Powerful Reporting & Tracking ?
Question 5: How do we measure customer satisfaction?
The end-goal of every customer service team should be to achieve optimum customer delight and satisfaction. Measuring customer satisfaction can help you gauge the effectiveness of your efforts from the eyes of your customers. Moreover, It is essential for improving customer loyalty and preventing customer churn.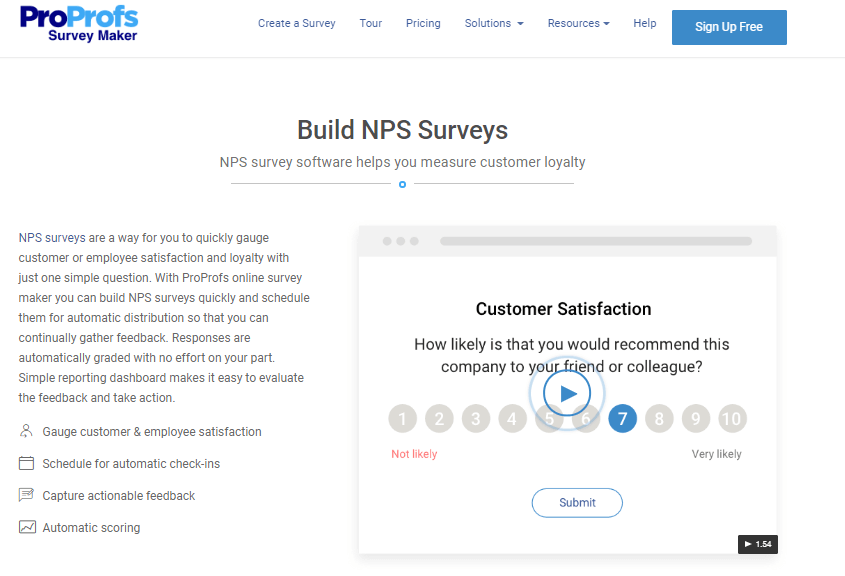 The ProProfs Survey Maker allows you to create and share NPS, CSAT, and other surveys. Capturing responses in real-time will help you dig deeper into customer opinions and improve your process.
Watch this video to learn more about an NPS (Net Promoter Score) survey.
Customer Service Policies Can Backfire
Customer service and sales professionals are always striving hard to delight and offer superior value to customers. Throughout their training, they are taught that anything short of 'high customer satisfaction' is a failure. But how do you possibly manage those customers who demand beyond reason? Those who look for that single loophole to take undue advantage?
Well, Zappos, a popular online shoe retailer, is surely setting the perfect example of the right customer service policies. The brand offers an impressive one-year return policy on all its products. Now, it is pretty evident that there have been cases where customers took advantage of their popular policy.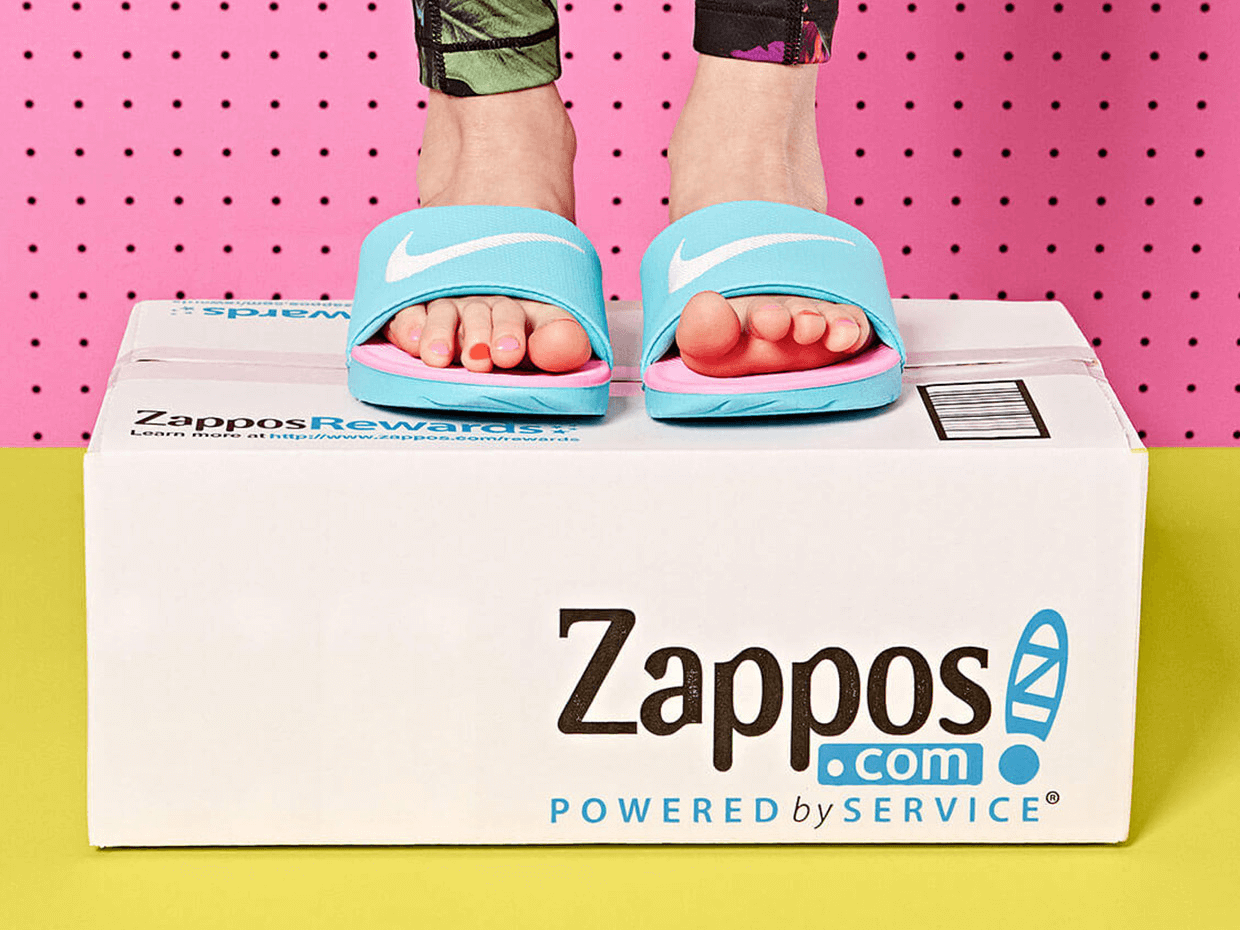 Image Courtesy: Zappos.com
When asked how he deals with such customers, Tony Hsieh, Zappos CEO explained, "Yeah, look, the fact of the matter is there are some people that abuse it. We track it internally in our system and once they reach a certain threshold, which is a secret, but it does happen, once they reach that threshold, we tell them that they're not welcome to be a customer anymore and we just kind of had them exit our business."
Irrespective of your target audience, there would always be a select few customers who would not think twice before taking advantage of your customer service and billing policies. As a brand, you need to learn to value your business as well as your policies. Saying no to your customers might seem like an ardent task, but it is often necessary. Shift your focus to building positive customer relationships, rather than toxic ones.
Rise Above Your Competitors with Creative Policies
When your business is at an early stage and taking baby steps, you cannot possibly compete with business sharks who rule the market. But guess what? You can still give them neck to neck competition by being more creative. After all, creativity is nobody's monopoly.
When we talk about brands that had humble beginnings but reached the million-dollar mark within their first year, then Drybar definitely captures our attention. Drybar is a California based salon chain that offers premium hair blowouts and is known for treating its customers like movie stars.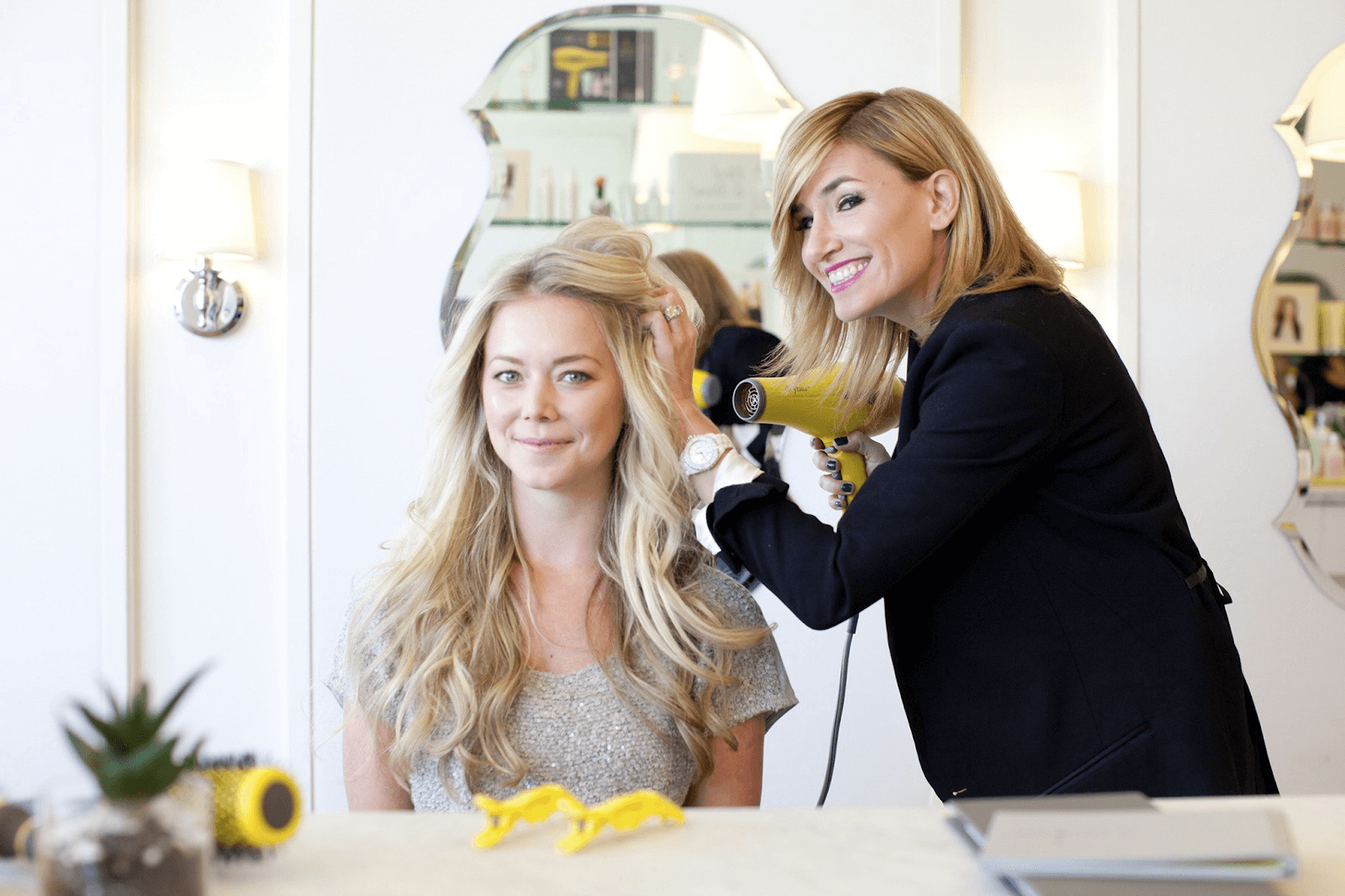 Image courtesy: Dmagazine.com
The co-founders, Michael Landau and Alli Webb, who also happen to be siblings, realized early that what they are offering is not something unique. However, exceptional customer service has made them a brand to reckon with and reach new milestones almost every month.
Customers can walk into any of their salons present in 92 locations, sip a cocktail, and also watch their favorite series while getting their hair treated. The best part? They leave with gorgeous looking hair and utmost delight.
During an interview, when asked about how they have maintained their brand even after rapid growth, Alli explained, "We grew up with parents that ran their own business. So this incredible passion for customer service and experience is in our DNA."
Customer Service is a Collective Effort
You need to realize that building customer service policies and executing them to reality isn't a one-person job. In fact, it is not even a single team's effort. Every single employee is accountable for reinforcing service policies whether they are customer-facing or not. Only then can you achieve an organizational culture that revolves around customer-centricity.
It is also important to note that your service policies can get rusty if not updated regularly. If you are doing business in 2020, there is no point in having service standards that are a decade old. As your brand evolves, incorporate necessary changes and offer customer service that leaves your customers not just satisfied but DELIGHTED!
---
Q.1 What should be included in a customer service policy?
Your customer service policies must include everything your business is ready to promise and fulfill in terms of response duration, delivery time, return terms and conditions, etc. While framing the policies, ensure that realistic customer expectations are met at every single touchpoint.
Q.2 What is the customer service standard?
Customer service standards refer to an organization's rules or guidelines that together shape the customer's relationship with the business at every single touchpoint to offer delightful experiences.
Q.3 Why are policies and procedures important in customer service?
Policies and procedures provide the main framework that shapes your company's customer service operations. They make your brand appear consistent across multiple channels; for instance, a customer must get the same experience and treatment by your service reps, whether shopping offline or online.
Do you want a free Help Desk?
We have the #1 Online Help Desk Software for delightful customer support