There lies an evident gap between satisfied and delightful customers. That gap is called Personalization.
So it is Sunday morning, you enter into a coffee shop and get greeted by your name. You sit at your favorite place with your coffee cup which spells your name- 'Shar-late'. Two sips and a few smiles later, you open your phone to see news alerts and blogs that you would just love to read. You get that dreadful yet exciting feeling like somebody knows you better; like somebody is out there who truly cares about you.
How perfect would this world be if every business could spare the time to understand the likes of their customers inside out?
Well, Google is on a global escapade to become one. Google CEO, Sundar Pichai explained in a company event, "Our goal is to build a personal Google for each and every user. Just as we build a Google for everyone, we want to build each user his or her own Google."
Contemporary consumers expect brands to remember who they are, whether they are buying from you for the second or the hundredth time. The competition is stiff, the stakes are high. The only question is- "Is your business ready to deliver?"
What is Personalized Customer Service
Marketers and customer support experts are always talking about the increasing role of personalization in customer service. But what is personalized customer service? And what does personalized mean in the first place?
Personalization refers to the process of altering a product or service to meet the needs and wishes of an individual. For instance, we all know that Starbucks' baristas are not the best at spelling names. However, every time you pay them a visit, they will write your name on your cup, making you feel special. A small gesture that leads to a memorable experience!
Now, from the context of customer service, personalization can be seen as the act of tailoring a support interaction or experience based on information a company has learned about a user. Since support might involve facing furious or agitated customers, adding a personal touch to such interactions significantly turns the situation upside down and helps in creating personalizing customer service.
The Importance of Offering Customer Service With a 'Personal Touch'
Make your customers feel that the world revolves around them, and they would never waste another second to look towards a different brand.
You might find a strange parallel between increased personalization and improved business performance. According to a survey, 90% of leading marketers believe that personalization significantly leads to business profitability. Companies with best customer service often mention how customers are willing to spend more for the right experience.
Let us see how personalization has proved to be a blessing in disguise.
Personalization Leads to Loyalty and Referrals
Focusing on personalization can act as a brand differentiator and lead to happier customers who are bound to purchase from you again.
Personalization Results in Impulse Buying
A majority of passive customers can be converted into active customers when they are personally recommended a product or service by a business.
Personalization Builds Deeper Relationships
Treating every customer the way they would like to be treated, lets you form deeper and meaningful customer relationships.
Now, let us give you an example because we know smart people love examples.
Nissan hit a home run by adopting personalization early on. The Japanese car company looks to foster long-term relationships with customers even after they have made a purchase. This is evident in the way the company keeps track of every purchase and then schedules maintenance milestones. It is impressive to see such a big company take time out and share personalized reminder emails. Perhaps, a great lesson on impeccable customer service.
5 Ways a Saas Help Desk Support System Allows You to Offer Personalized Customer Service
1. Create and Store 360 Degree Customer Profiles
There is so much more to your customers than their simple and plain demographic information. Your marketing professionals might have successfully recorded customer contact information, however, you need to dig deeper to understand your users better than anyone else. After all, trying to offer a personalized experience without a proper understanding of your customers is like driving with your eyes closed.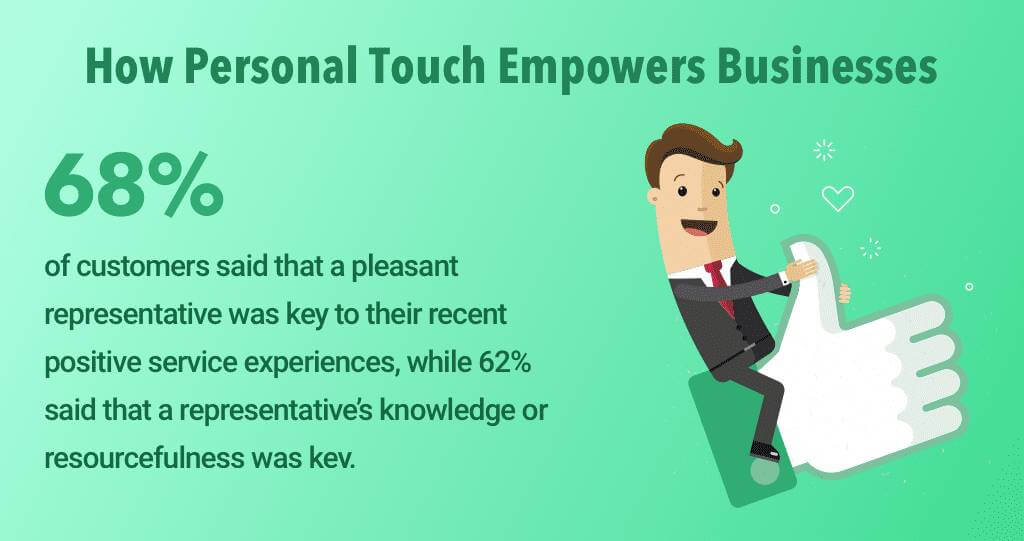 Adopting a 360-degree approach to creating data-rich customer profiles will help you in offering a personalized service. A help desk tool can centrally store different customer profiles and help you better understand their personality types and purchase behavior. Your customer service representatives can then easily segregate customers based on their likes, wants, and expectations and offer respective and unique solutions.
2. Establish Consistency Between Multiple Support Channels
Customers are often picky when it comes to choosing a support channel for reaching out to your business. Each support channel, be it live chat, phone, social media, or email support, has its own audience. According to the latest industry statistics, live chat is emerging as the most preferred support channel for shoppers aged between 18 and 49, followed by phone support.
A robust help desk tool lets you establish brand consistency between all your support channels. For instance, ProProfs' help desk support software lets you integrate all your customer service communications into a single and central platform. Consistency in messaging across all your customer-facing email addresses ensures your business offers a highly personalized experience.


3. Personalize the 'Self-Service' Experience
Be it buying a product or resolving issues; contemporary consumers look forward to instant gratification. When customers get the freedom to help themselves at a time and place of their convenience, customer satisfaction rates shoot up. According to the American Express, more than 60% of Americans prefer solving basic service issues using a self-service portal.
An enterprise help desk support software gives your customers the freedom to choose between different self-service mediums, making the support process more quick and personalized. Previous customer interactions can help you anticipate what customers need before they even turn up to you for support. A help desk tool records each and every interaction and lets you have the right content in your self-service portals like FAQs, how-to videos, and other step-by-step guides and serves as a great means for personalizing customer service.
---
Recommended Read: 20 Best issue tracking software for 2020
---
4. Centrally Record Customer Feedback & Opinions
Your customers are always sharing feedback either through words or actions. When it comes to personalizing customer service strategies, there is no better way than asking your customers directly. You can always go ahead and ask them, how they liked your customer service, or whether they would like to suggest any improvement areas. Seeking meaningful feedback in real-time will help you realize customer pain points.
A help desk email ticketing system allows you to share surveys post the termination of customer support interactions. Such surveys can help you capture the quality of customer service from their point of view. Using the right tool, you can effectively record, track, and share customer feedback software and improve your process to become a feedback-driven business.

5. Automated Process Gives Your Agents More Time
Involving a personal touch to every message or call surely takes time and effort. You cannot expect your support team to personalize each interaction when they are already bombarded with endless support tickets. In such a case, an automated help desk tool comes to the rescue and leads you a few steps forward in becoming a customer-focused brand.
Instead of manually distributing tickets, an automated process ensures that the right ticket reaches the right person. Automated ticket routing can work wonders in managing the overall workload on your team and agents. You can prioritize tickets based on their urgency such that they get resolved first. This saves the crucial time of your representatives and boosts their morale to offer a meaningful and personalized customer experience.
Over to You
"Make it personal. Make it count."
Every customer is different. You need to drop the "One size fits all' approach when it comes to customer service. Customers love personalization, not only at the moment they consider your product but also as they move ahead in this journey and need support.
Just treat customers as they are special to you and watch them grant your business a special position in the market.
---
Q. Do customers want personalization?
Yes, a majority of customers expect a business to offer them a personalized customer experience. 80% of customers are more likely to buy from a brand that provides them personalized experiences.
Q. What are the two main reasons to use personalization?
Two major reasons for adopting personalization today are:
Personalization allows you to create loyal customers and improve customer relationships

Personalization also leads to increased revenue and referrals.
Q. What are some creative means to personalize your customer service?
Some creative and innovative ways for personalizing customer service are:
Sending personalized emails or messages post every customer interaction.

Initiating a customer loyalty program and reward your loyal customers

Giving users the freedom to choose between multiple support channels

Recommending products/services to your customers
Do you want a free Help Desk?
We have the #1 Online Help Desk Software for delightful customer support