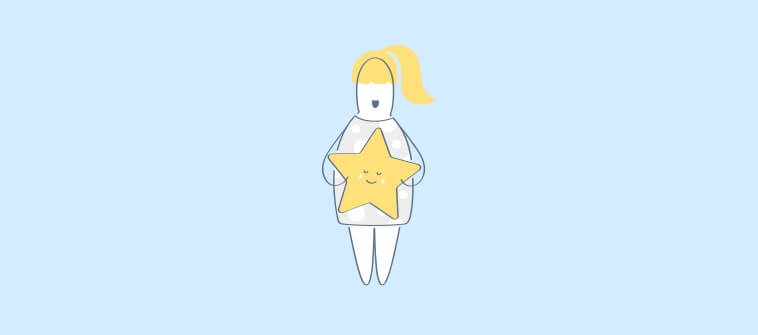 Just like an architect is dependent on a blueprint for developing timeless buildings, your CX team is dependent on a good customer experience strategy to delight customers.
There is no doubt that customer experience has become the new brand differentiator. There are businesses spending billions of dollars to craft the right strategies that help them grab the attention of prospects and retain existing customers.
But is CX worth the hype?
The way you make your customers feel, whether they are contacting your business for the first time or buying from your online store for the hundredth time – every small interaction has the power to determine the success of your business.
You can see it for yourself. Just think of the brands that you have been the most loyal to. One of the top reasons for this loyalty can be attributed to the beautiful experiences you have had with the brand. Maybe you received your product well before the estimated delivery date, or a polite service rep went out of their way to make your day.
In this blog, we will tell you about the definition, importance, and elements of a customer experience strategy. Later, we will share some solid tips to make every interaction count.
What Is Customer Experience Strategy?
A customer experience strategy is defined as an in-depth plan to enhance customer engagement and satisfaction across all touchpoints in the customer journey.
The CX strategy aims to cover all customer interactions – from the awareness stage to post-purchase. For example, your strategy can include tips to communicate effectively about your product to potential customers. Similarly, it can even include tools to enhance the after-sales-support experience.
Effective execution of the strategies for customer experience requires collaboration across teams, integration of customer feedback and data, and implementation of continuous improvement efforts. Therefore, it is important to involve different departments and train them on how they can contribute to the overall customer experience.
Elements of Customer Experience Strategy
Every successful customer experience management strategy is composed of some common elements – team, tools, process, and feedback. Let's understand them one by one.
Team: Team refers to the people who are responsible for maintaining the quality of CX – right from marketing professionals to support agents. Your team members together set the foundation for an impeccable CX strategy.
Tools: In today's digital age, you need the right set of tools to enhance the customer experience. For example, with cloud-based help desk software, you can track all complaints in one place and enhance the service experience.
Process: This is the main element of the CX strategy. The process involves multiple touchpoints – starting as soon as a customer is made aware of your products and lasting till the customer becomes a loyal brand advocate.
Feedback: Any customer experience initiative is incomplete without proper feedback. To improve the customer experience from time to time, you need to capture feedback and implement relevant suggestions. After all, your unhappy customers are your best source of learning.
What Are the Three Main Components of Customer Experience?
The three main components of customer experience are
1. Discovery This component of customer experience is focused on how you discover and reach out to your target audience. To master this component, you must know who your target audience is, what problems they are facing, and how well you can market your solution to them.
2. Engagement Customer engagement is all about proactively interacting with customers to ensure their interests remain in what you sell. For example, you can engage potential and existing customers with interactive social media posts, infographics, surveys, and more.
3. Delivery This is another crucial component of CX that is focused on how fast you can deliver your product or service to customers. But speed alone isn't enough. The quality of what you deliver is equally important and can be the difference between customer churn and loyalty.
Is Customer Experience the Same as Customer Service?
Earlier, "customer experience" was considered the sole responsibility of the customer service department. But as businesses became more customer-centric, the same idea fell flat.
If you have used the terms "customer experience" and "customer service" in place of one another, don't be surprised, you are not alone. Many experts still use these terms interchangeably, but that doesn't mean they are the same.
The major difference between customer experience and customer service is that the former takes a broader approach than the latter. In simple words, customer service is a small part of the customer experience in which a customer reaches out to a business for support. On the other, customer experience encompasses all the interactions a consumer has with your brand.
Why Customer Experience Matters For Your Business?
If you look at successful businesses like Amazon or Apple, there is no one-day success story. These companies have reached the multi-billion dollar mark by focusing on their customers and, most importantly, how their customers feel when they interact with them.
Here are some statistics that reveal the value of customer experience:
Businesses with a customer experience inclination drive 4-8% higher revenue than the rest of their industries.
44.5% of organizations say they perceive customer experience as a primary competitive differentiator.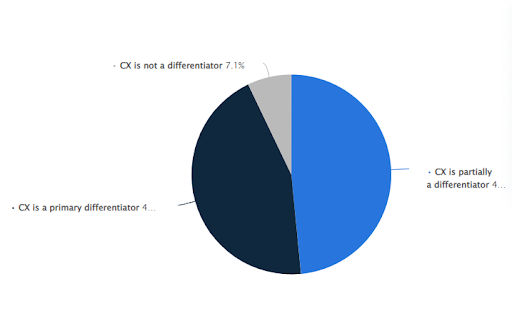 Around 94% of respondents stated that a positive customer service experience encouraged them to purchase again.
Companies with exceptional customer experience generate 5.7 times more revenue than competitors that do not focus on customer experience.
All businesses, irrespective of their models, can benefit from improving the customer experience. For example, SaaS businesses can retain their subscribers for a longer period. Similarly, online businesses can upsell, reduce returns, and get recommended to prospects.
Top 7 Ways to Improve the Customer Experience
The CX journey starts as soon as a customer is made aware of your product or services. Right from that moment, how you make them feel is completely up to you.
Here are some of the best customer experience strategy best practices and tips to make every interaction count.
1. Connect With Customers at an Emotional Level
You need to realize that your customers are human beings with basic emotional needs. Whether they are interacting with their loved ones or their favorite brand, they crave deep emotional experiences.
Emotions have a huge influence on brand loyalty. A study found that when customers have a positive emotional association with a brand, they are 8.4 times more likely to trust the company and 7.1 times more likely to purchase more.
Now, when it comes to fostering deep emotional connections, Zappos.com, an online shoe and clothing store, is showing the right direction to many businesses that usually miss the mark. Let's see an example-
A 10-hour customer service call broke records but won many hearts!
On December 8, 2012, a Zappos customer service rep attended a call that lasted for 10 hours and 29 minutes. The call was not even about a complaint, as the caller talked about what it is like living in Las Vegas. When asked about this epic feat, this is what the CEO of Zappos, Tony Hsieh, had to say-
"Zappos uses call center technology to track average call time per agent. But the goal isn't to reduce this average- it's more important that we make an emotional connection with the customer rather than quickly getting them off the phone."
Clearly, just by being there for your customers when they need you the most, you can offer a WOW experience.
2. Your Employees Are the Key to Delightful Experiences
While many leaders like to think they are in charge of their customer experience, in reality, it's their employees who are in control.
Believe it or not, your employees are the biggest influencers on the experience your customers have at any touchpoint.
As a result, you must hire people who understand your brand philosophy and believe in your customer service vision. Make it a practice to consistently train, inspire, and excite every employee to deliver delightful customer experiences.
When it comes to making the most of empathetic and passionate employees to create magical experiences, every business can learn a thing or two from the happiest brand on earth- Disney.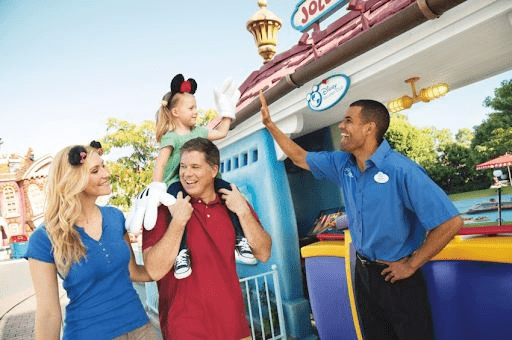 Whether someone is dressed as a Disney movie character or selling souvenirs, every Disney employee is customer-focused. On the very first day of onboarding, employees learn that their primary goal, irrespective of their position, is to create memorable experiences.
No wonder the internet is full of stories about how a Disney employee went out of their way to make a customer's day.
3. Focus on Customer Service Soft Skills
When a customer is highly infuriated, the last thing they would want is a technical explanation that lacks empathy. The right combination of soft skills can help you turn a negative situation around and prevent churn.
Soft skills refer to an individual's ability to interact with customers and make them at ease. These are non-technical skills that involve communication, body language, emotional awareness, etc.
In the field of customer service, there are multiple soft skills that are considered as valuable as gold. The right dose of problem-solving, creative thinking, empathy, active listening, patience, and other skills can help your agents make every interaction count.
There is a reason why customer service experts look for these skills while hiring new representatives. While you can always teach technical skills (how a product works, its features, troubleshooting steps, etc.) to agents, soft skills are much harder to train.
Read More: 10 Post-Purchase Customer Experience Tips with Real Examples
4. Pay Attention to Customer Needs on Social Media
Social media platforms were designed to be used primarily for sharing personal experiences and maintaining personal connections. However, today, with almost every brand looking to reach its audience quickly, social media has become a valuable tool for building a community around brands.
Why should you be paying attention to customers over social media?
We all know that the young generation is tech-savvy and spends a great deal of time on leading social media platforms. According to a Microsoft report, 77% of say social media responsiveness improves their perception of a brand.
Here is an example of a great social media customer service story. As Peter Shankman was waiting for takeoff in Tampa, Florida, he tweeted to Morton's The Steakhouse to deliver a porterhouse steak when he landed at Newark airport. To his surprise, during departure, he was greeted by a Morton's employee who got him his order and did not charge him any money.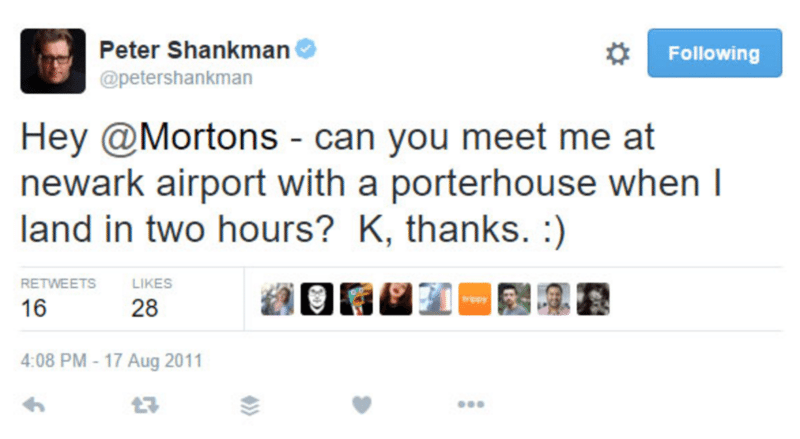 Now, this small gesture has helped Morton's gain the attention of many prospects without spending any hefty amount of money. No wonder they call customer experience 'the new marketing.'
Read More: What Is Multi-Channel Customer Service and Why It Is Important
5. Use Customer Service Software to Your Advantage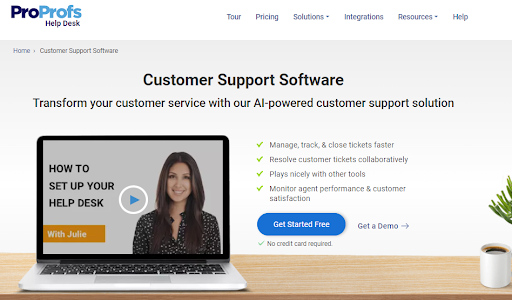 Successful businesses never rely on manual tasks or mundane processes. They all use the right tools to exceed customer expectations and offer reliable support.
The right customer service tool can help you track every customer interaction, automate repetitive tasks, and respond faster to high-priority issues.
Investing in the right business tools to support CX functions can be challenging due to the massive number of options available in the market. Finding a product that manages all customer interactions across a variety of channels and touchpoints can be equally hard.
For this reason, it is important to go for customer service software that comes with powerful features, such as shared inbox, canned responses, private notes, knowledge base integrations, chatbots, and more.
In addition to this, look got a tool that helps you capture customer feedback in real-time by sharing NPS and CSAT surveys right after an issue has been resolved.
6. Grab Customer Attention With Personalization
Your product might not stay with your customers for a long time. But guess what will? A personalized experience that makes your customer jump in joy.
Why should you prioritize personalization?
Modern consumers have a lot of options on their plates, and personalized service can help your business stand out in a crowded marketplace.
Moreover, personalization can help you grow your business. According to an Accenture report, 91% of consumers say they are more likely to buy from brands that provide personalized offers and recommendations.
Global footwear giant Nike is winning hearts across the globe with its personalization initiative called Nike By You. Users can visit Nike's website and get an opportunity to design their very own sports or lifestyle shoes.
Through this initiative, they have been able to turn the impersonal nature of an online shopping experience into a highly personal one.
Read More: How to Offer Personalized Customer Service Using a Help Desk Ticketing System
7. Keep an Eye on Your Competitors
We will be surprised if your business has no competition. Whether you are a Fortune-500 company or a week-old startup, you must have business rivals who sell identical products or services.
It's always a wise idea to learn a thing or two from those brands who are winning the CX game. But, here is a twist – they won't tell you the secret sauce. You will have to conduct a competitor analysis and understand market trends to get a clear picture.
Here are some questions you can address in your competitor analysis:
Which channels do our competitors use to market their products?
How do they collect customer feedback, and how often?
What promises do they make to customers?
How responsive are their customer service teams?
What CX metrics are they tracking for improvement?
Remember, simply copy-pasting someone else's idea won't be a good strategy for the long term. The idea is to seek inspiration and mold the strategies to suit your company's unique vision.
Read More: 10 Common Customer Service Problems and How to Resolve Them
How Do You Create a Good Customer Experience Strategy?
Wondering how to create a customer experience strategy that can help you drive loyalty and grab eyeballs? Here are some tips to create a solid CX strategy:
1. Research Your Target Audience
Your customer experience plan will fall flat if you are unsure "who" gets to benefit from it. To research your target audience, you can start by identifying their demographics (age, gender, location, etc.), behavior patterns, and pain points.
Analyze this information to create customer personas, which are fictional representations of your ideal customer. This will help you better understand their needs, motivations, and decision-making process, allowing you to tailor your messaging and marketing efforts accordingly.
2. Get Team Members Invested in the Process
Your employees are the ones who will deliver exceptional customer experiences. It becomes all the more important to ensure they have a customer-first mindset.
Share your strategies with team members and allow them to share their feedback. Encourage them to raise questions and share valuable inputs to spark their interest. This is a great way to communicate that CX isn't just the accountability of leaders but of every individual employee.
3. Keep Updating Your Strategy From Time to Time
Great leaders know that CX planning is an ongoing process. You can't wake up one day and say you have cracked the code. Different elements of your strategy will undergo different changes as your business grows.
Some of the most valuable inputs and changes will come through your own customers. For example, if multiple customers complain of delayed email responses, you can think about investing in an email ticketing system.
Make Every Experience Count!
"They said our business could be anything, so we became a customer-experience driven business." -A successful entrepreneur
Your business rivals might have a better product range or offer slightly better prices. You can't always compete in these areas. But you can always win customers with the experiences your business delivers. Sometimes, all it takes is a small personalized experience to sweep customers off their feet and make them choose you over others.
Remember, rather than delivering "random acts of excellence," you need to provide exceptional experiences every day. In addition to a well-trained team, you would require a fine-tuned customer support tool. And at ProProfs, we have exactly what you need. ProProfs Help Desk allows users to track and manage every customer issue and share responses that are seamless, fast, and personal.
Do you want a free Help Desk?
We have the #1 Online Help Desk Software for delightful customer support