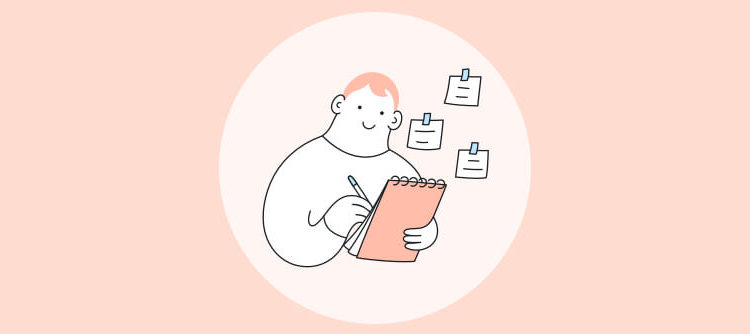 When you are setting up a new system in place, it is alright not to know which factors to consider. It is natural for multiple questions to pop inside your head – "Which channels should we choose? How do we automate tasks? What metrics should we target for better results?"
Making the most of your help desk is an art that takes time, due diligence, and sincere efforts. However, with the right help desk checklist under your belt, you can save yourself from a painful uphill battle.
Whether you are looking to invest in new help desk software for the first time or trying to get started with one, our small help desk feature checklist will offer all the help you need.
After all, it's great for support teams to regularly stop and understand what's working well, what could work better, and what isn't working at all.
In this blog, we will understand the role of the help desk in delightful customer service and explore 10 points that must be included in your help desk checklist. Here we go!
What is a Help Desk & its Importance in Providing Customer Service?
A help desk refers to a business department that has the responsibility to assist customers with their technical and non-technical complaints, issues, or requests. The term Help Desk is also used for help desk software that helps support teams manage all customer communications from a single dashboard.
Whether customers contact you via email or drop a chat message, agents can stay on top of every conversation. They can easily assign, label, prioritize, and resolve tickets without switching between multiple tools. Moreover, help desk managers can quickly see who is working on which ticket and monitor team performance using smart reports and analytics.
Here are some more benefits that help desk tools can bring to the table:
Offer a seamless experience to customers across all channels
Enhance team efficiency and offer the right platform for internal collaboration
Provide self-service options to customers in the form of a knowledge base
Interact with customers via live chat or automate this using chatbot
Monitor key performance indicators and track your team performance
Read More: Why Help Desk Software is Important for Your Business?
Help Desk Checklist: 10 Points to Consider Before Going Live
Running your help desk operations can prove to be a uniquely daunting experience. A single off-day or error and thousands of customers can have the worst support experience of their lives.
But don't worry just yet. Here are ten important points that your service desk checklist must involve. Let's explore them one by one:
Customer Service Channels
Communicate User Roles & Responsibilities
Create Robust Ticket Workflows
Automate Wherever Possible
Make Sure Agents are Well Trained
Encourage Internal Communication
Choose Performance Metrics
Check Quality Using Surveys
Step Up Your Game With a knowledge Base
Give Equal Importance to On-Site Support
1. Customer Service Channels
Your help desk daily checklist should start with customer service communication channels. You must clearly understand the channels customers use the most and the ones you are ready to offer.
Modern customers have a variety of options when it comes to contacting a business for support. While some prefer email, others feel more comfortable with digital channels such as live chat.
According to a Statista study, 42% of U.S respondents stated that they prefer phone calls to resolve customer service problems, compared to 20% who prefer email.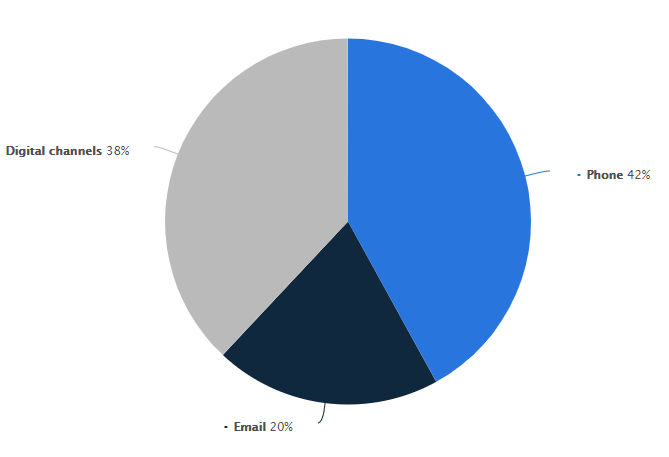 Before you finalize the communication channels, you need to ask yourself important questions:
How many customer service channels do we currently offer to our audience?
What channels do we need to add to offer the best customer experience?
Which channels can be used to save costs and reduce ticket volume?
What are the trending channels in the industry?
Which communication channels are offered by our close competitors?
The answers to these questions will help you analyze demand, understand customer expectations, and see which channels can work wonders for your help desk team.
Read More: Choose the Best Customer Support Channels for Your Growing Business
2. Communicate User Roles & Responsibilities
Help desk teams can be segregated based on their unique roles and responsibilities. Roles such as Admin, Support Agent, Help Desk Manager, etc., are generally common for all businesses.
Now, every help desk role should have dedicated responsibilities. For example, support agents have the responsibility to interact with customers, on the other hand, managers are supposed to monitor the performance of team members.
Before you start addressing customer concerns, you need to make sure everyone in your team understands the unique role they need to play. Even your support agents can be further segregated based on their skills such as technical expertise, product knowledge, communication skills, creativity, and other abilities.
A proper understanding of roles and responsibilities will ensure that team members are actually working on their daily deliverables rather than searching for work. This will help you avoid agents from stepping on each other's toes.
3. Create Robust Ticket Workflows
A support ticket refers to a specific customer complaint or request and includes all information about it. By creating the right ticket workflow, you can ensure tickets can be tracked in real-time and are resolved at the earliest.
Your help desk checklist should involve workflows that help you manage the entire ticket lifecycle. Right from receiving a ticket to its resolution, all the steps should be well-planned.
So how does a ticket-workflow work? Well, a workflow describes all the steps agents need to take to resolve any support ticket. In addition to this, they provide a means for escalating tickets in a timely and efficient manner.
For example, let's suppose an agent gets a refund ticket that needs approval from the manager. In order to escalate this ticket to the concerned individual or team, the agent will have to take some necessary steps. Such as changing the ownership of the ticket, marking it as "escalated", and more. All these steps are taken well care of when you have the right workflow in place.
4. Automate Wherever Possible
Your checklist for help desk tasks is incomplete without powerful automation. Right from ticketing routing to powerful chatbots, there are multiple ways to automate your manual tasks using the best help desk software.
Customer service automation can help you avoid human errors, enhance productivity, and offer speedy resolutions to customers. Moreover, you can significantly reduce agent efforts and allow them enough time to focus on urgent issues.
Let's look at some powerful ways to automate your process:
Automatically assign support tickets to your agents so that they don't have to waste time picking cases whenever they log in to their system. With the round-robin ticket assignment feature, you can automatically assign tickets to your available agents.
Create canned responses for common situations that your customer service reps can use as templates in chats, emails, or text messages. Before sending these responses, make sure you add a healthy dose of personalization.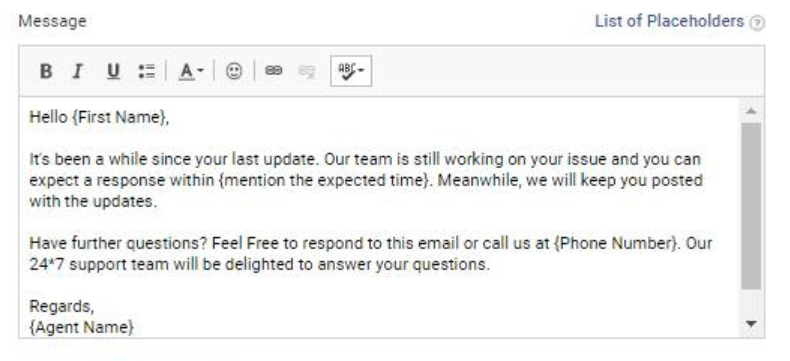 Develop powerful Chatbots to provide instant answers to popular questions. Chatbots can be created to assist customers in multiple languages and help you offer 24×7 assistance to a global audience.
Read More: 10 Service Desk Automation Ideas that Boost Performance and Quality
5. Make Sure Agents are Trained Well
Customer service training refers to the upskilling of your employees to enhance productivity, knowledge, and support quality. Training should be an ongoing process so that agents know how to handle help desk operations and deal with customers.
For 360-degree agent training, your program must cover the following areas:
Customer Service Skill Training: In this process, you try to improve agent skills required to serve customers better. For example, knowledge about company products and services, assisting customers with their technical issues, and more.
Software Training: Help desk agents use help desk software along with other tools. To make delightful customer service a reality, you need to make sure agents are well-trained in using such tools. Allow them to explore advanced features and answer their questions.
Soft Skills Training: Soft skills training is as important as product or process training. Soft skills refer to interpersonal attributes that agents need to deliver memorable customer interactions. For example, empathy, positive attitude, patience, problem-solving abilities, and more.
Read More: 10 Best Practices For Remote Training You Should Know
6. Encourage Internal Communication
Your service desk checklist must include provisions for internal communication. While agents can be trained on how to interact with customers, they must also know how to reach out to their own team members in case of any problem.
Internal communication helps agents discuss issues, share expert opinions, and perform their jobs well. Real-time internal communication nurtures company culture and builds employee engagement.
Modern customer support tools come with multiple features that allow agents to interact with each other in real-time. For instance, they can leave private notes on tickets and tag others for seeking their help. Agents can even discuss complex problems using the internal chat feature.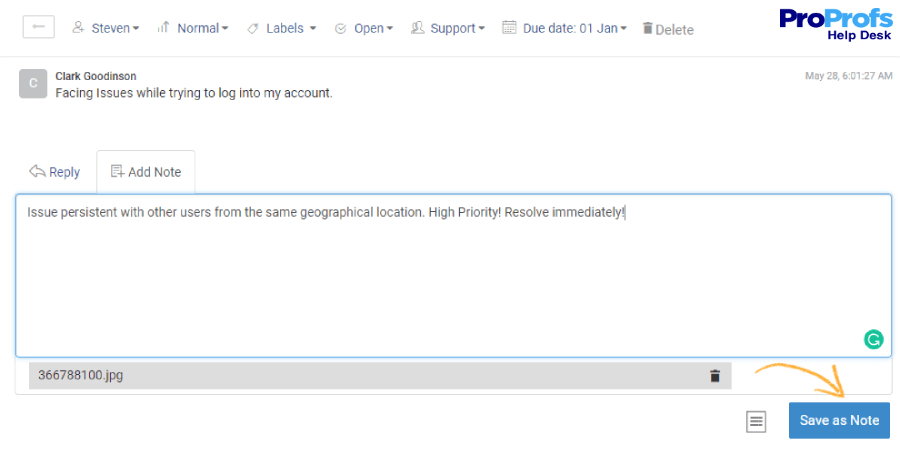 Now, communication does not always mean interacting with someone. Agents can add Labels to tickets such as "Billing", "Error 401", "Feature Request", etc. to make sure everyone is on the same page. For better indirect communication, agents can even mark tickets as high or low priority based on their urgency.
7. Choose Relevant Performance Metrics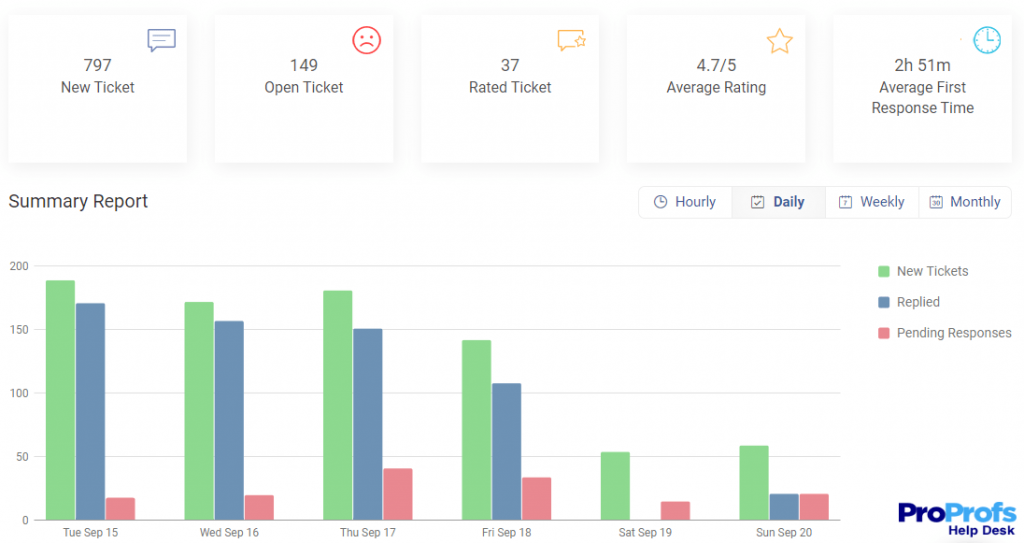 For any business department, the main objective is to support the business and improve consistently. Similarly, as a help desk team, your checklist must involve metrics that help you achieve continual and consistent improvement.
Your IT help desk checklist must target relevant metrics needed to monitor performance and measure progress. Create periodic reports and share them with clients, team members, and key stakeholders.
Depending on your requirements, here are some metrics you can consider:
Average ticket response time: The average response time refers to the average time taken by your team to share the first response with a customer. This metric can differ from one channel to another. For instance, the ART can be one minute for live chat and a couple of hours for email.
Ticket resolution time: This refers to the average time taken by your team to resolve an issue or fulfill a request. The resolution time can differ from one ticket to another depending on the complexity of the issue.
Ticket backlog: Ticket backlog refers to your pending tickets that are not resolved yet. To keep customers happy and offer delightful support, you need to make sure your ticket backlog does not run in triple digits. A high ticket backlog can mean that you have more customer queries or complaints than the number of agents who can handle them.
Read More: 15 Help Desk Metrics to Improve Customer Support
8. Check Quality Using Surveys
While metrics can help you monitor individual and team performance, how do you measure your customer service quality? Well, surveys are a cost-effective and time-saving option that helps you gauge the quality of every single interaction.
The quality of your help desk operations can be monitored with the help of targeted surveys. These surveys can be easily shared via email, social media, or embedded directly on relevant web pages.
When support agents conclude an interaction or resolve an issue, a survey can be shared with the customer. The survey asks them to rate their recent support interaction and convey how helpful an agent was in resolving the issue.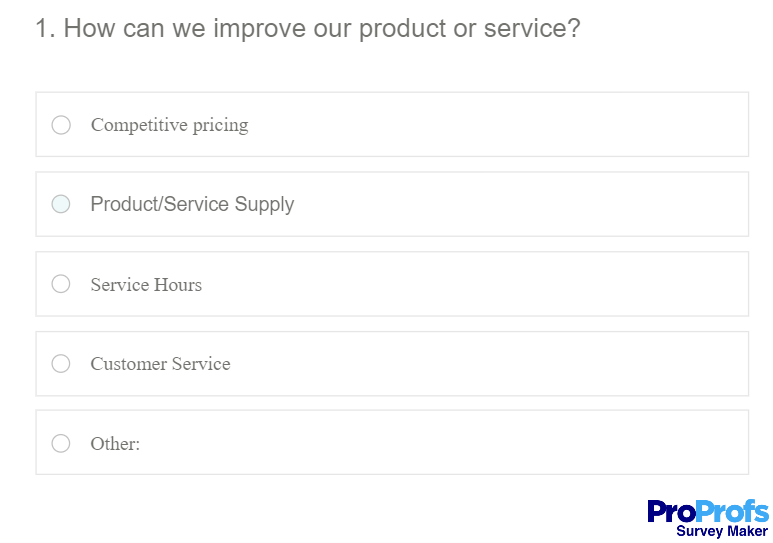 After some point, the help desk managers can monitor these ratings over time and reward their top performers accordingly. If some agents are consistently receiving low ratings, it can be a red flag and mean they lack relevant skills and need to be trained further.
9. Step Up Your Game With a knowledge Base
To meet the expectations of your prospects as well as customers, your help desk checklist must include self-service options. Across industries, 81% of all customers try to take care of matters on their own before reaching out to a live support agent.
To complete the evaluation of the help desk checklist, make sure your self-service knowledge base is well-updated, content is easy to search, and FAQs cover all common topics.
Before you make your knowledge base live, you need to ask yourself some important questions:
How many customers wish to resolve their queries on their own?
What topics should be covered in help articles, guides, and FAQs?
Should we add videos to make the support process more interactive and fun?
Do we need to create separate help centers for different products/services?
How do we make our knowledge base SEO-friendly?
Should we share links to relevant help articles via email, chat, or other channels?
Proper analysis will help you empower customers and enhance their self-service experience. Remember, a well-curated help center can help you reduce support costs and your ticket volume.
10. Give Equal Importance to On-Site Support
A help desk works best when there is a right balance between support processes. For powerful performance, you need to give equal considerations to both remote as well as on-site support.
On-site support refers to the process of assisting customers at their own premises. This support is provided when off-site (online) support cannot be provided or when it does not solve the problem.
For example, if you sell electronic gadgets, sometimes, it is not possible to assist customers via phone or email. An agent needs to visit the customer and see where the problem lies.
But why is this important? Well, a lot of businesses are focused on trending digital channels such as live chat, chatbots, social media, etc. In this practice, they tend to neglect the on-site support experience. Therefore, for a well-rounded support experience, you need to prioritize both off-site and on-site help desk assistance.
Help Desk Checklist Done Right! ✅
While no help desk establishment or operation is exactly the same, you can choose some of the points mentioned above to fit your specific industry, company goals, or KPIs.
The right help desk checklist will definitely make everyone's life a lot easier. Agents will know exactly what they need to do and customers will be more than happy with the support they receive.
Start by selecting the communication channels that are preferred by customers, communicate agent roles, train your agents on key skills, and automate your processes to achieve better results in less time. Remember, to strike the right balance, you need to give equal importance to both on-site and remote support. Ready to make the most of your help desk?
Do you want a free Help Desk?
We have the #1 Online Help Desk Software for delightful customer support