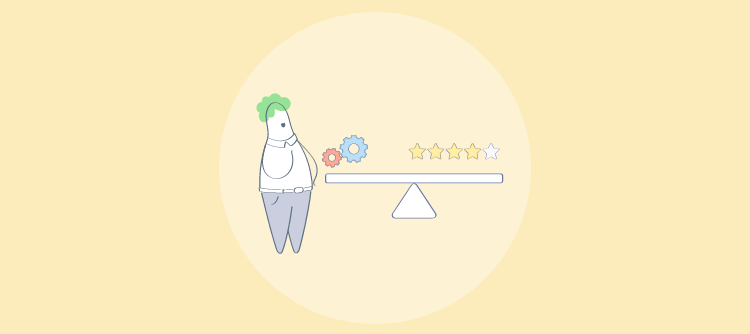 Forget about amateurs, even C-level executives often get confused about the difference between customer service vs customer experience and end up using them interchangeably.
Are customer service and customer experience synonyms of one another? Does good customer service lead to a good customer experience? Or are they as different as ice and fire?
Don't worry. We have covered all your questions!
Despite what people might think, there are stark differences between the two terms, and using one in place of the other can lead to utter confusion as well as embarrassment.
In this blog, we will understand the definition of customer service and CX, and explore the 4 key aspects that clearly highlight their difference.
Let's go!
What is Customer Service?
Customer service, also known as customer support, is the process of assisting customers with their issues or requests before, during, and after they buy from your brand. Customer service can be offered to users via one-to-one interactions as in a phone conversation, or via self-service where the customers resolve their concerns on their own.
What are the aspects of great customer service?
Resolving maximum issues on the first attempt: First Contact Resolution (FCR) refers to the number of issues that your team can resolve on the first attempt without unnecessary delays or escalations. This is an important metric as around 69% of customers believe a quick resolution of their problems can lead to a delightful support experience.
Encouraging self-service: In this digital age, many customers are willing to resolve their issues at their own pace without the need for agent intervention. To encourage self-service, your business must build an online knowledge base that offers assistance in the form of guides, video tutorials, articles, FAQ pages, and more.
Adding empathy in every interaction: Delightful customer service experiences have a healthy dose of "empathy" – the ability to respect and understand the emotions of your audience. Instead of blaming customers, empathetic agents are fully aware of what the customer might be going through and show instances of how they encountered a similar situation.
Read More: 30 Customer Service Tips You Must Try
What is Customer Experience?
Customer experience refers to the quality of interactions a customer has with your brand through all the touchpoints of his journey. Customer experience captures aspects such as how the customer feels when they enter your store, when they use your product/service, when they interact with a sales or support staff, and so on.
What are the aspects of a positive customer experience (CX)?
Personalizing every interaction: 91% of customers say they are more likely to shop with brands that provide recommendations and offers that are relevant to them. Personalization is a key ingredient of any great customer experience. It makes your customers feel special and helps your business foster long-term relationships.
Going above and beyond: The best customer experiences have one thing in common – they exceed customer expectations. You should not miss an opportunity to go beyond what's expected and delight customers. A small example would be to help a customer find a product even when it's well over your shift time.
Taking regular feedback: To monitor your customer experience quality, you need to take regular feedback from your customers. In their feedback, customers can give you a clear picture of what they like and what they think can be improved further.
Read More: Customer Experience Strategy 101: Customer Experience is the New Marketing
Customer Service vs. Customer Experience: What's the Difference?
So now you must be wondering, "what is the difference between customer service and customer experience?" Well, there is not one but many key distinctions that we have highlighted in this section. Let's explore them one by one.
1. Reactive vs. Proactive
The primary difference between customer service and customer experience is that the former is majorly reactive and the latter is proactive in nature.
Customer service is reactive in the sense that your business reacts to customer problems only when they share their issues. Your customer service agents can resolve customer issues when they are submitted to the help desk via email, live chat, phone, help center, or other channels.
On the other hand, customer experience is proactive because it is all about anticipating the needs of your audience – what they like, what they dislike, what makes them buy again, etc. Through processes such as studying your buyer personas, mapping the customer journey, analyzing website traffic, etc., you can look to tailor the customer experience.
2. Number of Touchpoints
Another point of difference in customer experience vs customer service is the number of touchpoints they involve.
Customer service is only a small yet impactful part of the total customer experience. While some customers may need multiple customer service interactions in their journey, others might need just one or even zero. Even these touchpoints can involve small interactions such as a ten-minute phone call or a five-minute chat conversation.
On the contrary, customer experience involves all the touchpoints that together form the customer journey. For example, prospects will get awareness about your brand, they will compare your product or service offering, interact with a sales staff, seek assistance with installation, and so on. As you can see, CX involves multiple touchpoints and different departments.
3. Responsibility
Another remarkable difference in customer service versus customer experience is responsibility.
Customer service is the responsibility of the entire customer service department including all representatives, managers, and other leaders. Other team members or departments might interact with customers but they do not have the primary responsibility to fix customer issues.
On the other hand, customer experience is the shared responsibility of the entire business. Every department and staff is responsible to work together to enhance the customer experience. For instance, the marketing department is responsible to ensure the right information or offers are shared with customers and the product team is responsible for developing products that meet customer needs.
4. Metrics & Performance Indicators
The quality of both customer service and customer experience is measured using different metrics and KPIs. Let's see how.
Customer service quality is usually measured using a popular metric called CSAT (Customer Satisfaction Score). However, other metrics such as CES (Customer Effort Score) and NPS (Net Promoter Score) are equally important to monitor the support experience.
Customer experience is monitored using other broader metrics such as CLV (Customer Lifetime Value), CCR (Customer Churn Rate). CRR (Customer Referral Rate), CR (Customer Retention), MAU (Monthly Active Users), and so on.
Read More: 15 Help Desk Metrics to Improve Customer Support
Customer Service and Customer Experience: They Both Matter!
As discussed above, the main difference between customer service and customer experience is that the latter involves the entire customer journey including customer service interactions.
Despite some differences, they both matter and contribute to the success of your organization. To stay a step ahead of the competition, you need to focus on both these concepts and strive hard to ensure customers have a memorable experience whether they buy your product or share a complaint.
To deliver awesome customer service and personalized customer experiences, all you need is the right tool. With ProProfs Help Desk, you can track all customer communications in one place and allow all your teams to collaborate to delight customers.
Do you want a free Help Desk?
We have the #1 Online Help Desk Software for delightful customer support