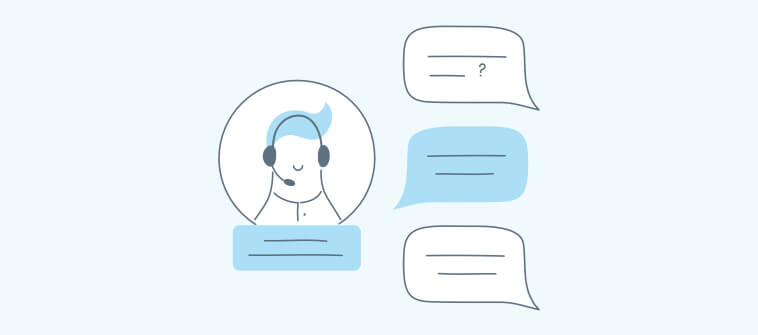 As an entrepreneur, you must have got that sinking feeling when nothing goes your way and a huge question mark looms on the survival of your business?
Well, this feeling pretty much sums up 2020 for most businesses.
However, the good news is that dark clouds always clear away and the sun shines bright again.
As we move forward and look to embrace developments in the form of Artificial Intelligence systems, remote working, chatbots, etc., you have more reasons to be excited and stay prepared to keep up with the 2021 customer service trends.
We understand that 2020 proved to be a rough year, for businesses and customers alike. However, 2021 brings hope and a reason for you to offer the best customer service that your customers have ever received.
Read this blog to stay updated with the latest customer service trends in 2021 that will impact the customer service industry and prepare for delightful customer service in the coming year. It's time to move forward. Let's go!
Top 10 Customer Service Trends in 2021
1. Proactive Support Gains Popularity
"There are three different steps to reaching an ideal level of customer support efficiency. To start, you must be reactive, but then pivot towards being proactive and eventually take a further step of actually becoming predictive." -Nir Galpaz, BlueJeans Network
For a great number of years, reactive customer service has been the default strategy adopted by most companies. The idea is simple- tackle customer concerns as and when they appear.
But, is that enough?
Modern customers expect brands to know about their challenges inside-out. As a result, more and more businesses are investing in proactive customer service to solve problems even before customers know they have them. In matters of customer service, 87% of customers want a brand to contact them proactively.
For instance, Amazon has always come across as a brand that proactively reaches out to customers instead of waiting for them to initiate the first contact. They anticipate questions pertaining to delivery dates and times and notify customers in advance of any delays.
Here are some tips to offer proactive customer service in 2021
In case any issue arises, contact customers in advance instead of waiting for them to contact you
Ask customers for their valuable feedback
Create valuable content and share via newsletters or on social media
2. Remote Work Will Shift the Work Dynamics
"The future of work will be more remote, digital, healthier, and safer. Many remote workers will continue to work remotely in a post-Covid workplace because they prefer it, it saves their company's money, allows for flexibility, and shortens commute time." – Dan Schawbel
Companies are already witnessing a remarkable growth in their remote workforce and this trend will pick pace in the coming months. While in early 2020, remote work was seen as a survival option, in 2021 it will be preferred for benefits like cost savings, greater flexibility, etc.
But will your customer service reps prefer remote work?
According to a recent Buffer Report, 32% of employees prefer remote work as it offers them the ability to have a flexible schedule, whereas, 11% prefer remote work as they can spend time with their families.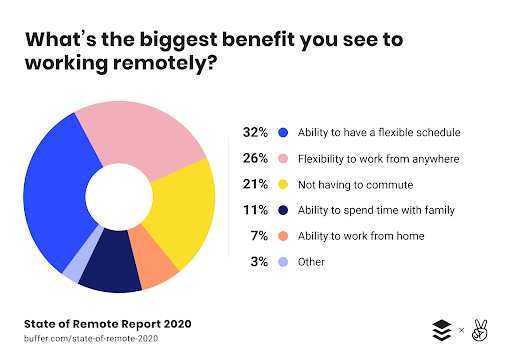 But what about the challenges of remote working?
Just like other business departments, customer service teams will face remote work challenges like lack of motivation, loneliness, distractions at home, communication gap, and others.
Let's be honest, despite all the technology tools available, companies can't replace coffee machine conversations with zoom meetings. However, here are some steps you can take to ensure remote working becomes a smooth ride for everyone.
Check with your team members from time to time to ensure they are doing well.
Ask your agents to create boundaries between personal and work-life
Conduct online training programs that can be accessed anytime
Once the world gets back to normal, you can look forward to conducting in-person meetings and casual meetups
Read Also: Tips for Managing a Remote Customer Service Team
3. Personalization Becomes More Impactful
"Personalization is a chance to differentiate at a human scale, to use behavior as the most important clue about what people want and more importantly, what they need."

– Seth Godin
Personalization has become the new buzzword that customer service and marketing professionals can't get enough of. When you offer tailor-made interactions at every touchpoint, you deepen your connection with customers, win their loyalty, and achieve better results.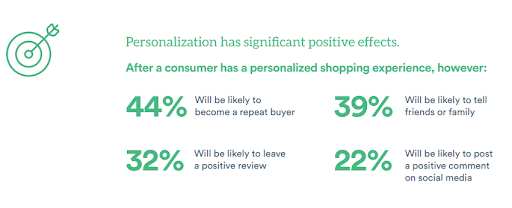 But a lack of personalization can backfire. 71% of consumers express some degree of frustration after an impersonal shopping experience.
In 2021, consumers will be more cautious about their data than ever before. You need to capture customer data in a transparent fashion to offer your customers the individual attention they deserve.
When customers reach out to your business, your customer service reps must have a clear understanding of their past interactions, the problems they had encountered, and the feedback they shared. Knowing your customers inside-out is the first step to offering a personal touch in every interaction.
Here are some more strategies for offering highly personalized experiences
Make personalization a priority on every customer support channel
Create a loyalty program and reward your customers
In case of delays, share handwritten notes or call them personally
Share positive customer reviews about your service on social media and tag them
Read More: Personalized Customer Experience: What, How, and Why
4. ChatBots Will Redefine Chat Support
"The chatbots of the future don't just respond to questions. They talk. They think. They draw insights from knowledge graphs. They forge emotional relationships with customers." – Christi Olson
Before interacting with a live chat agent, most of us have interacted with a chatbot at some point in time. But what makes these 'virtual chatting robots' so effective?
AI chatbots use customer data and resources like self-help articles or FAQs to resolve customer questions. They can recognize different forms of the same question and share relevant information in mere seconds.
Gartner predicts that in the near future, the average person will have more conversations with a chatbot than their spouse.
But there is a catch.
If left unchecked, the chatbot experience could potentially lead to alienating customers. If the chatbot is deployed with mediocre technology and in the absence of a human agent, you might end up driving your customers away. Therefore, in order to strike the right balance and make your chatbot future-ready, you need to invest early in technology.
5. Social Media Service Takes the Forefront
"In my honest opinion, the brands with responsive, helpful, and savvy customer service on social media are those that will end up winning the social media marketing game in the future." – Neal Schaffer
The phone was considered the fastest way to offer customer service; soon came the internet and boom the rest is history. Customers are sharing everything on social media- pictures about how they spend their last weekend or posts about their poor experience with a brand.
Behind those likes, comments, and shares; there is a huge sea of emotions.
Why should you improve your social media game?
Customers have developed a favorable view of brands that are active over social media. By addressing customer issues on the leading social platforms, you can turn a negative situation in your favor. Not only that, you enforce a positive brand image and succeed in winning the valuable trust and loyalty of your customers.
The number of people who are reaching out to businesses over social media is on the rise and therefore, prioritizing social media care can prove to be a game-changer. Here are some social media customer service statistics that you must consider-
A staggering 50% of the global population uses social media. That's over 3 billion users worldwide.
91% of customers access social platforms using their mobile devices.
Around 60% of consumers who post a complaint on social media expect a response within an hour.
6. Self-Service Portals to Get Even Bigger
"A self-service solution does not mean you don't offer customer service. On the contrary, self-service is a way to enhance."– Shep Hyken
An online self-service portal stores all helpful information in the form of self-help articles, FAQs, how-to-videos, and more. Why will self-service dominate in the year 2021? It offers customers an effortless way to get their answers.
Modern customers are interdependent and want to resolve their problems with the least interactions possible and in the shortest amount of time. A self-service portal satisfies both the factors. As per a recent Statista report, 88% of customers expect brands to have an online self-service portal.
A dedicated knowledge base can help you put your foot on the pedal and accelerate your customer service process.
However, many customers still find such portals difficult to use. To make this customer self-service trend a reality, rather than just flooding your knowledge base with content, you must focus on factors like quality and searchability.
Here are some crucial self-service knowledge base best practices
Ensure you have quick links to frequently asked questions on the homepage
Your self-help article titles must contain the search keyword
Take feedback from your agents and regularly update your support content
Make it easy for customers to request further help from your customer service team
7. Customer Feedback Becomes the New Business Bible
"It takes humility to seek feedback. it takes wisdom to understand it, analyze it, and appropriately act on it." -Stephen Covey
There was a time when analytics and hardcore strategies determined the future of a business. However, today, businesses look forward to their customers whenever they are in trouble and wish to improve.
Customer service teams are no different; they have been attempting to understand the quality of their service by sharing regular surveys with customers. This trend will pick pace in 2021 and customer service managers will look to improve their process by capturing customer feedback and measuring key metrics- First Contact Resolution, Average Handle Time, etc.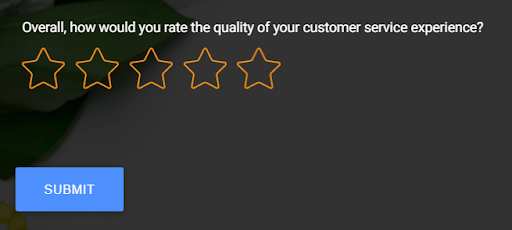 But, not all customers might be willing to share their feedback. So how do you share your surveys to capture maximum responses?
Out of all survey methods, in-person surveys (53%) and email surveys (50%) have the maximum response rates.
Customer feedback will be a valuable resource for improving the experience customers have with your support process and can help you adjust your actions to match their needs.
Here are some important customer feedback statistics you need to know:
83% of all consumers had completed at least one survey in the past year.
Only 1% of all customers feel that their expectations are always being met.
According to a study by LocalSEOGuide, Google uses customer reviews for the ranking of local businesses.
8. Customer Service Tools Will Make the Difference
"Business tools should work around the philosophy of simplicity. A great tool must be made simple enough for anyone to use with no prior training." – Sameer Bhatia
Remember how a small step counter app made a huge difference to millions of people who wanted to stay fit and become the better version of themselves?
The truth is that tools can help humans achieve more. The right combination of customer service tools can fuel your goal of offering delightful support and help you stay a step ahead of your rivals. But which tools will be hot in the year 2023 and beyond?
Many businesses have already invested in help desk software and you should too. It's where your customer service reps spend most of their day and interact with other reps as well as customers. They can seamlessly manage every customer communication and ensure not a single message slips through the cracks.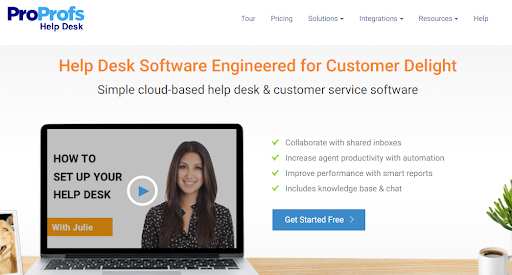 Now, considering the rising popularity of social media customer service, you can leverage a tool like Hootsuite. In addition to bringing your social media strategies to life, you can monitor what customers are saying (complaints, reviews, etc.) about your brand online.
The list of customer service tools is endless and depends on a variety of factors like the size of your team, budget, etc. Before, committing to one, always go for the trial version.
9. Strong Inclination Towards Artificial Intelligence
"No company is going to survive in the future without implementing or at least gaining an understanding of, artificial intelligence and how it can be used to better grasp data they collect." – David Gasparyan
When futurists talk about Artificial Intelligence (AI), they usually have divided opinions. While the optimists believe in the miracles that AI can bring, the pessimists are haunted by the possibility of mass replacement of humans by AI.
For the years to come, AI should not be a reason for worry for any customer service team. Artificial Intelligence is being rapidly deployed in the customer service landscape to augment human potential, understand customer sentiments, and improve the customer experience.
While the technology is not yet there to perform all tasks that a human agent can, many customer requests can be managed by AI technologies without human input. AI will be helpful in sorting and routing support requests to relevant agents. Moreover, it will be able to handle more complex customer chats and hold meaningful conversations.
It takes two to tango and in 2021, it will take both your human agents and AI to offer exceptional support.
10. Video Support Is 'The Trend'
We all love watching videos; no wonder it has become common for popular YouTube videos to get more than a billion hits. But, what about support? Would you like to interact with an agent over a video call?
The truth is that video technology is changing the way customers reach out to a business for help. No wonder it makes it to the list of new customer service trends. Customers no longer want to limit themselves to phone calls, emails, or chats and look forward to a wholesome support experience.
But what makes video an important customer service channel?
Modern businesses are well-acquainted with the fact that videos are more impactful compared to images or text. In customer service studies, an overwhelming 85% of customers said they found video chat helpful.
As companies look to cater to a varied customer base, video support is emerging as a critical tool to offer premium support to top customers. A video session can be helpful to share screens and offer Tier 2 and above support.
Video support strategies to incorporate in 2021:
Ensure your Knowledge base has instructional 'how-to-videos'
Create customer onboarding videos for new users to make their onboarding process a breeze
For pre-recorded videos, avoid placing unnecessary advertisements
Record video support sessions and use them for training other agents
Customer Service Trends in Retail
Modern retailers are embracing a customer-first mentality, and as a result, having a 360-degree view of their customers has become extremely important. Retailers are using this data to personalize every interaction possible.
However, there are certain personalization techniques that customers might not find favorable.
According to a report by Accenture, 41% of customers find it creepy when they receive a text from a retail business as they walk by their physical store.
Now besides offering a personalized experience, Retail businesses can look to surprise their customers. For instance, Chewy, an online retailer of pet products, is adding a surprise element for delightful customer experiences. Customers who upload pictures of their pets on social media are randomly chosen to receive portraits of their pets. This idea has been a big hit on social media and made Chewy a 'pawsome' brand.
Customer Service Trends in Banking
More and more financial institutions are rapidly investing in AI to automate processes and better help customers with their inquiries. The reason? Cost savings of AI investments can be astronomical.
Banks can save up to $447 billion by 2023 by adopting Artificial Intelligence (AI) applications. Front and middle-office AI improvements could contribute to more than 90% of these savings.
In the year 2021, global and national banks will leverage AI tools such as chatbots, voice assistants, and big data analytics to transform the customer experience. The early adoption of these technologies will ensure customers can have 24/7, frictionless support interactions from any part of the world.
Customer Service Trends in Insurance
When it comes to customer service, life is not easy for Insurance companies. They have to reject a lot of claims made by customers or other businesses. Now, this can have a direct impact on customer loyalty.
However, to avoid poor customer service experiences, Insurance providers are looking to offer more than just an insurance cover.
According to Deloitte, 62% of customers believe that offering non-insurance products that add value and are extensions of core products ( including areas such as home security, financial planning, car maintenance, etc.) is the most important factor for them when choosing the service provider.
In the year 2021, touchless claims will gain massive popularity among customers. In touchless claims, no claims adjuster is required. Instead, technology is used to report the claim, register damages, run an audit, and initiate payments to customers without human intervention.
The insurance success stories of tomorrow will be those that can streamline back-end processes and equip front-end employees to offer round-the-clock, seamless support.
Be Ahead of the Curve With Latest Customer Service Trends!
Do you know what's common between fashion and customer service? The trends keep emerging every day.
However, such emerging trends in customer service can offer a much-needed glimpse into the future and help you stay prepared. The above-mentioned customer service trends such as proactive customer support, complaint management software, self-service, remote work, Artificial Intelligence, Chatbots, etc. will dictate the near future of customer service and you wouldn't want to miss out on that. Don't just keep up with the trends, be the new trendsetter in your market.
Q1. What are customer service trends?
Customer service trends refer to the recent developments in technology and consumer behavior that dictate the future of the customer service industry.
Q2. How is customer service changing?
Customer service is moving in the right direction as customers have access to more channels such as social media, live chat, email. etc. From the point of view of businesses, they have the option to choose from a wide range of customer service tools to offer exceptional service.
Q3. What are the emerging issues in customer service?
Many businesses still struggle to offer a seamless omnichannel customer support experience. Other common issues include unempathetic agents, lack of human connection, inconsistent or zero follow-ups, etc.
Q4. What is trending in customer service?
Topics such as video support, Artificial Intelligence (AI), Chatbots, proactive support, etc. are currently trending in customer service and will continue to do so in the near future.
Do you want a free Help Desk?
We have the #1 Online Help Desk Software for delightful customer support