Good products and services are not enough to wow your customers and retain them in the long term. You need to go beyond that and form meaningful connections with your customers to retain them and turn them into loyal brand advocates.
But, how can you do that?
An important factor in building lasting customer relationships is to improve their experience with your brand. Who could forget Coca-Cola's 'share a coke campaign', in which it replaced its brand name with one of the 250 most popular American names on the labels of 20-ounce bottles?
Customers today are looking to engage with brands that listen to their concerns, understand them, and pay attention to their unique needs. Therefore, offering tailored experiences can be the only way to keep your customers happy, loyal, and engaged.
This blog shares 7 strategies that will help you foster a deep and personal connection with your customers. Ready to win your customers for life?
7 Ways To Build Customer Connections That Last
1. Prioritize Customer Service
According to a survey by Microsoft, 95% of customers consider customer service as an important factor that determines brand loyalty. In fact, 61% of the survey respondents switched from one brand to another due to poor customer service.
This clearly indicates the need to prioritize customer service and make extra efforts to keep your customers happy.
Providing seamless, omnichannel customer support is one way to do it. Make it easy for customers to reach your business via their preferred channel and provide prompt responses regardless of the channel.
This also means replying promptly to customer service queries on social media.
Also, train your support staff not to read from a script, but to tackle each customer individually. Paying attention to your customers is a simple yet effective way to ensure a delightful customer service experience by using customer service email templates.
2. Interact With Your Audience
The best way to form personal connections with your audience is to have a two-way conversation, don't just push messages from your side. Most brands only focus on brand-to-customer communication and don't open a two-way communication channel.
This is where most brands fail.
How can you do better?
Use a personal email address to send emails to your subscribers instead of a no-reply account.
Have a live chat option to provide 24×7 service to your customers and also provide the option to chat with an agent if the bot can't handle a query. You can use a live chat solution like ProProfs to do this.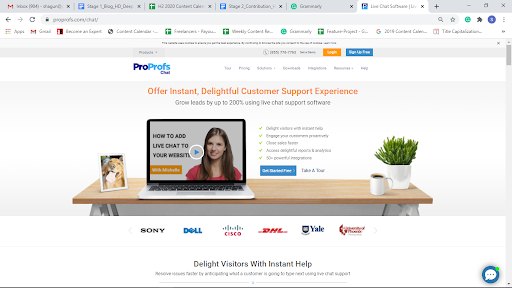 Read Also: How to Add Live Chat on Your WordPress Website
Start conversations about relevant topics, tune-in to online conversations about your brand, and simply be active on your online channels. You can also join relevant groups and communities on platforms like Quora and LinkedIn to connect with your audience.
Respond to your audience's comments on your social media posts and direct messages. This should be a big part of your plan to engage customers on social media.
People form personal connections with other people, not brands. You need to get out there and talk to your customers as a person to be able to form lasting connections.
3. Post on Topics They Care About
If you want to build meaningful customer relationships, then you need to find out what they like and care about. Understand your current and target customers, their interests and preferences, the topics they read about, etc.
Any content you create, both for social media and other channels, should target your customers. Write quality content on topics that interest your customers.
For instance, let's take the example of the global beauty brand, Dove. Their most important customer group is women, and their content reflects that.
Their social media content revolves mainly around women, women empowerment, breaking beauty standards, and similar themes. This helps them come across as a brand that cares about women and helps them build more meaningful connections.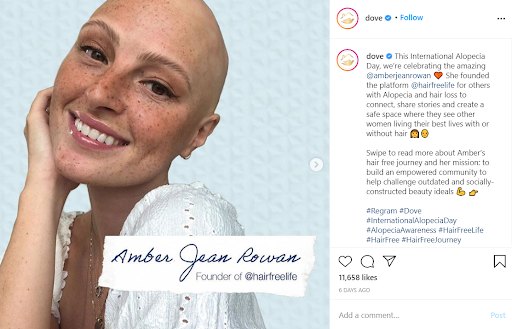 4. Share Customer Stories
One great way to build personal connections with customers is to reach out to them and tell their stories via your brand channels.
Maybe you can make a video of customer testimonials about why they like your brand and how it helps them. Or you can add customer reviews to your website, along with their names and even pictures.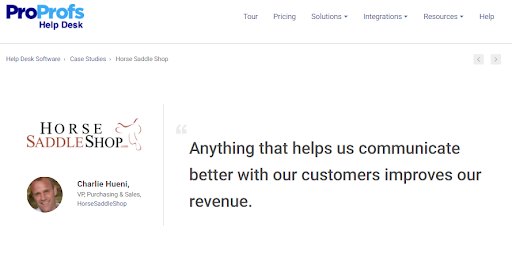 View more such testimonials and case studies
You can encourage your customers to tag your brand whenever they post something related to your products. You can then select some of this user-generated content and share it via your social media accounts.
Things like these go a long way to make your customers feel special and help you build long-lasting, meaningful customer relationships.
5. Reward Loyal Customers
Want to form customer connections that last?
Reward your loyal customers and turn them into brand advocates.
Your repeat customers are the ones who are most likely to remain loyal and even become brand advocates if you provide some incentive. Design and launch a loyalty program that not only encourages your customers to bring in new customers but also keeps them engaged.
Some of the incentives that can help you keep your loyal customers happy are:
Early access to sales and offers
Invitations to brand events
Exclusive deals as they cross certain thresholds, just like a video game
Member benefits, extra services/privileges that non-members don't have
Providing more experiential benefits like attending events and in-store services can help your customers better connect with your brand. People may forget that they got a discount from your brand, but will never forget an exclusive event they attended.
6. Send Relevant Emails
A lot of brands use email marketing in some way or another, as it is the most direct way of connecting with your customers. However, most brands fail to even get their customers to open their emails, let alone read them.
Why is that?
It could be for many reasons including irrelevant content, frequent emails, promotional emails, etc. Many brands' emails go directly to the spam folder after their customers mark it as spam because they find it useless and irrelevant.
What can you do?
Understand your customers and create emails that they will actually like to read.
Send a retargeting email with special discounts to encourage someone who abandoned their cart to complete their purchase. This is especially important and should be a part of the marketing strategy for ecommerce companies.
Curate a list of your recent blog posts on topics that might interest your customers, based on their past interactions with your brand.
Personalize your emails by creating customer personas and segmenting your customers based on their interests. Send different versions of an email to different customer segments.
Now, after all your email marketing efforts, it is natural for you to receive thousands of emails asking about product features or available discounts. You can use an online customer support tool like ProProfs Help Desk to manage customer emails easily and respond quickly.
Read Also: 5 Help Desk Canned Responses for Your Customer Service Emails
7. Provide Personalized Customer Experiences
Personalization has become more important than ever to win customers and build better customer relationships. Consumers are willing to share their information if it means getting customized services.
In this age of hyper-targeting and personalization, you need to create a marketing strategy that incorporates these. From personalized offers to hyper-targeted communications, customers expect a brand to know them and what they want.
You can leverage artificial intelligence to analyze past user behavior and give personalized recommendations to your customers. You can also use AI-powered tools to add personalization to your emails and other brand communications.
Read Also: Personalized Customer Experience: What, How, and Why
Ready to Build Strong Customer Connections?
If you want to form more meaningful and long-lasting customer relationships, you need to go above and beyond what is expected from a brand.
Good quality products/services are the bare minimum. Quick customer support is a must-have. You need to think along the lines of delighting your customers rather than just selling a product/service.
Use these seven effective tips to delight your customers and form lasting customer relationships.
Do you want a free Help Desk?
We have the #1 Online Help Desk Software for delightful customer support