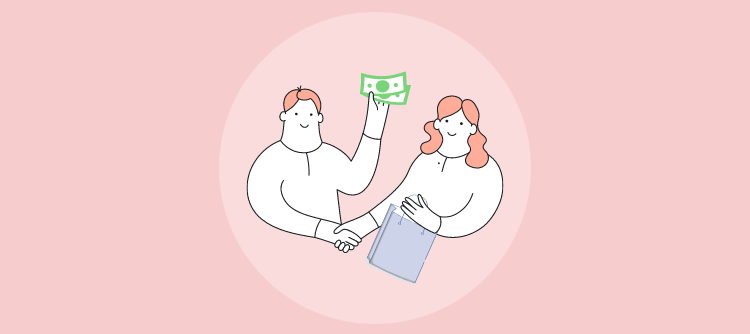 So you invest thousands of dollars on marketing campaigns, optimize your website, ease the checkout process, and finally, make the customer hit the "Buy Now" button. Now what? Is the job done?
Not even close!
The post-purchase customer experience starts after the sale is made. How you treat your customers during this phase can be the difference between disappointed, churning customers and loyal brand advocates.
By improving the post-purchase experience, you can encourage customers to buy again, grow your sales, and turn them into extensions of your marketing department.
So if you are done entertaining one-time customers and look forward to building long-term relationships, this blog is for you. We will understand the definition of post-purchase experience, discuss the role of retail customer service software, and explore the 10 strategies that will help you offer value to customers even after they have done shopping.
Here we go!
What is the Post-Purchase Experience?
The post-purchase customer experience refers to the part of the customer journey that begins after a customer has purchased a product or service from your business. It involves all the subsequent interactions a customer has with your team and with the product itself.
There are various elements of the post-purchase experience. Let's discuss them right away.
Communication Elements (Seeking post-purchase assistance via email, live chat, phone, etc.)
Visual Elements (the design of the product, packaging quality, etc.)
Behavior-Based Elements (repurchasing, posting images on social media, sharing reviews, referring friends or family members, etc.)
Why is Post-purchase Customer Experience Important?
Existing customers are like a gold mine for any modern business. However, many brands ignore customers right after they have made a purchase and instead focus on acquiring new ones.
Now, is that a wise decision? Not at all. If you wish to retain customers and turn them into loyal brand advocates, you need to improve the post-purchase customer experience. Here are some stats that will help you think more strategically:
The probability of selling to an existing customer is up to 14x higher compared to the probability of selling to a new customer.
Around 77% of customers are willing to recommend a brand to a friend after just one positive experience.
Increasing customer retention rates by a mere 5% can lead to an increase in profits by 25% to 95%.
Well, honestly, the internet is full of statistics that highlight the importance of focusing on existing customers than chasing new ones.
How to Optimize the Post-Purchase Experience
You might find it hard to digest but the majority of your customers will buy from your online or brick-and-mortar store once and disappear into thin air. Imagine the amount of money and time invested in marketing only to see your customers walk away.
So is there a way out? Glad you asked! The first step is to understand why customers return to your business.
According to a Statista report, 69% of customers would give repeat business to a retailer if it refunds the amount as soon as the package is returned. Similarly, 25% of customers will not mind buying from you again if your business remembers them and personalizes the experience.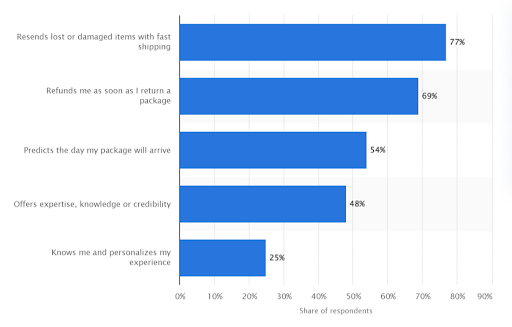 Once you have understood the little factors that make your target audience buy again, you can focus on meeting their expectations by adopting the best post-purchase customer experience strategies. We will talk about it in the next section.
How to Improve the Post-Purchase Customer Experience
After purchasing from your brand, customers have only two options – they can either buy again from you or switch to a competitor. A customer's choice depends greatly on how you treat them and meet their unique needs.
Here are 10 robust strategies to improve the post-purchase customer experience:
1. Share the Best "Thank You" Email
The post-purchase customer experience begins the moment a customer buys an item and invests their trust and money in your business. Now, It is your responsibility to appreciate them for choosing your brand over hundreds of competitors.
Post-purchase thank you emails are simply the digital way of showing how much you value your customers. In addition to a simple thank you, you can share tips on using your product or share relevant product tour videos or links.
There is no doubt that such a small impression can leave a lasting impression on someone. Furthermore, you must also look to personalize your emails so that customers feel special about being associated with your brand. For example, you can address recipients by their name or share personalized recommendations.
Example: Allergy Buyers Club
Allergy Buyers Club is an e-commerce store for healthy home products such as air purifiers. When customers buy their products, instead of sharing a simple thank you, they even add relevant visual instructions.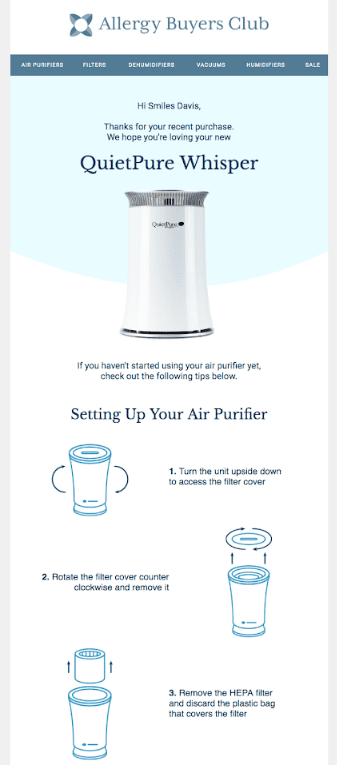 Now, you might wonder why is that even important. Well, by educating customers about how your product works, you can ensure they use it properly and gain the full benefit.
In the above example, the company has thanked the customer for their recent purchase and shared instructions about setting up an air purifier. The perfect combination of appreciation and education!
Read More: 20 Customer Service Email Templates for Super-Fast Responses
2. Speed Up Support with the Right Tools
Customers need your support before, during, and even after they buy from your brand. Real-time assistance will ensure that all their questions are answered and they can focus on making the most of your product or service.
To enhance the post-purchase experience of customers, you need to meet customers on the channels they love. Moreover, you need to take feedback on the different elements of your support process – agent knowledge, responsiveness, the effectiveness of the solution offered, and much more.
By investing in the right customer service tools, you can take your support quality to the next level. You can anticipate customer problems in advance and proactively reach out to them.
Examples: ProProfs Help Desk
ProProfs Help Desk is an omnichannel customer service software that helps you manage all customer communications in one place.
For example, you can interact with customers via live chat or email and answer their questions related to estimated delivery dates, return policy, upcoming offers, etc. Similarly, you can even develop powerful chatbots and automate your customer service process.
Moreover, the tool even allows you to share surveys right after customers have made a purchase or interacted with an agent. This allows you to get valuable insights and improve the customer experience.
3. Share a Post-Purchase Survey
After customers make a purchase, how do you know if they had a great experience or if they will return or not? Well, there is only one way to find out – online surveys.
Surveys can help you measure post-purchase customer satisfaction. With the right data at your fingertips, you can improve the buying experience and understand what features customers like the most.
Here are some post-purchase survey questions you can ask:
How would you rate your overall buying experience?
How easy or difficult did you find our checkout process?
Are you satisfied with the product/service you bought?
What features do you find the most appealing or useful?
What changes can we make to improve the experience?
Example: Apple
Besides being over 350 billion dollars in net worth, Apple is known for delivering exceptional customer experiences. The reason? The electronics company is constantly innovating its products and learning about customers. Here is an example of a post-purchase survey shared by Apple.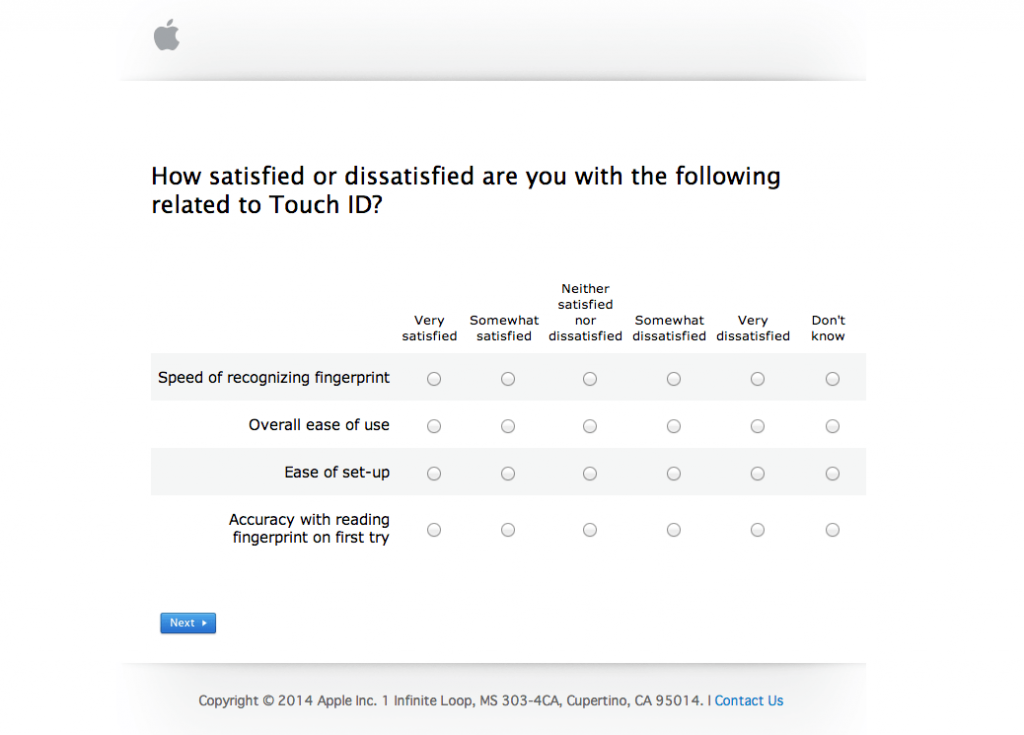 Source: Techcrunch
Apple wanted to monitor the post-purchase satisfaction levels of customers related to the Touch ID. Such surveys help the Apple team in understanding the usefulness of a product feature and its overall accuracy.
Read More: Product Feedback Surveys: Questions, Examples & Types
4. Make Returns & Exchanges Easier
If you think that hiding your "returns and exchanges" information will help you stop customers from returning your products, you need to rethink your strategy.
A smooth return process will help your business win the valuable trust of customers. If people are not happy with their purchase, they can simply return the items – this is the true essence of a delightful post-purchase experience.
So how do you ensure a smooth returns process? Well, you need to get in touch with your logistics partner to understand if they can handle your anticipated return volume. Moreover, you need to clearly explain your returns and exchange policy on your website.
Example: Etsy.com
Etsy is a popular US-based e-commerce company that sells handmade or vintage items and craft supplies. The store has built a dedicated help center that easily explains its returns and exchanges policy.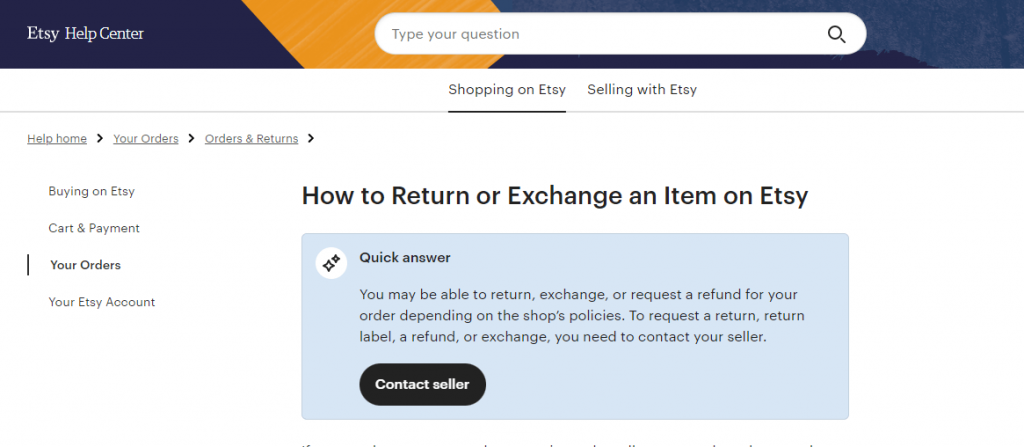 Customers can even explore many frequently asked questions such as – "What should I do if the seller doesn't refund my order?" or "What if the seller does not accept returns?"
Moreover, if customers are still not able to find help or have more questions, they can click on the "Contact Support" button at the bottom of the help page.
Read More: How to Create a Knowledge Base: Step by Step Guide
5. Make a Lasting Impression with Creative Packaging
We all have seen Instagram influencers flaunt beautifully packaged products that they promote. No wonder such products can instantly catch our attention.
The modern approach to product packaging is not simply about protecting the product while it's in transit. Today, packaging acts as a reflection of your brand and can make a long-lasting impression on your customers.
When we talk about experiencing post-purchase satisfaction, packaging has a huge role to play.
With the help of the right visual design elements, you can grab the attention of customers, emphasize the most relevant features, and share other important details such as your social media handles.
Example: Ethique.com
Ethique.com is a popular e-commerce platform that sells skincare and beauty products. The online store is making a huge difference when it comes to sustainable packaging. For example, all the orders they receive are packed plastic-free, placed in a cardboard box, and sealed with paper tape.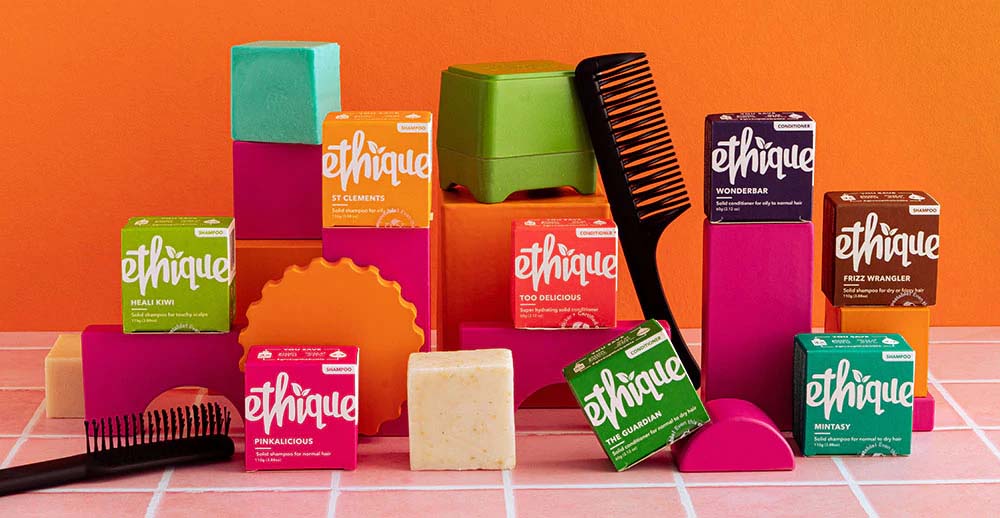 When brands use eco-friendly packaging, they send the message that they care about the environment and not profits alone. Ethique tells a unique story with its packaging and is able to connect with millions of people who share the same vision.
6. Share Personalized Product Recommendations
While not every customer might be looking to buy again right after their purchase, there is no harm in tempting them with personalized product recommendations.
Around 91% of customers say they are more likely to shop with businesses that make offers and recommendations that are relevant to them.
Personalized recommendations are a simple yet effective way to improve the post-purchase experience and build an army of repeat buyers. You can look to upsell (recommend higher value products) or cross-sell (recommend complementary products). You can even recommend products based on the consumer segment (age group, gender, location).
Example: Amazon
Amazon is an e-commerce marketplace that sells to customers based across the globe.
Many experts view Amazon's product recommendation strategy as the gold standard for online businesses. Based on a customer's past purchases and browsing history, the e-commerce company shares products under the "Recommendations for You" section.
But that's not all. Amazon even offers a "Frequently bought together" section that allows customers to add other complementary products to their carts. For example, if you recently bought a mobile phone, you might be recommended to buy a phone case or screen protector.

Read More: How to Offer Personalized Customer Service Using a Help Desk Ticketing System
7. Build an Online Community
When customers love your brand and what you sell, they want to interact with other people who had similar experiences. This is where a community forum comes into play and provides a platform where customers can ask questions, share tips, and learn to use your products better.
A well-marketed online community forum can help your brand facilitate engagement, increase post-purchase conversion, and foster long-lasting customer relationships.
In addition to engagement, you can even reduce your support tickets and costs as customers will be eager to help each other out. You can build your online community using social media platforms such as Facebook groups or even design a specific website where prospects and customers can interact with one another.
Example: Airbnb
Airbnb is a billion-dollar company primarily known for vacation rentals and tourism activities.
One of the driving forces behind the brand's rapid success is its online community center which has more than one million members. People can get advice from experienced hosts, explore the help board to seek assistance, share their traveling stories, and get the latest updates.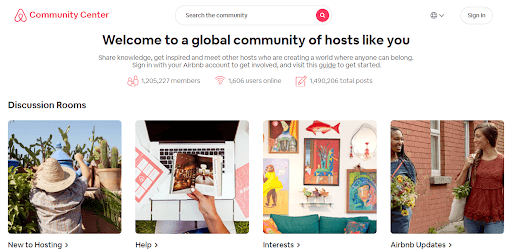 So why is this post-purchase experience example important? Well, customers love to talk about topics they are passionate about such as travel, skincare, or the latest gadgets. The community forum gives them the space to connect with your brand and other like-minded people.
8. Automate the Order Tracking Process
Imagine you ordered your favorite dessert online and the website said it will be delivered to you within 30 minutes. Now, like most other people, you will be curious and eager to know the exact location of the order.
Modern customers want to know the real-time status of their orders, simply mentioning the expected delivery date is not enough. They want to know whether their order is still at the warehouse or shipped to their home.
To enhance the post-purchase customer experience, you need to automate the order tracking process and make it easier for people to check the status on their mobiles.
Example: Grubhub
Grubhub is a leading food ordering and delivery platform that connects diners with the best-rated local restaurants. When you place an order, you can view its specific stage and track the delivery partner on the map.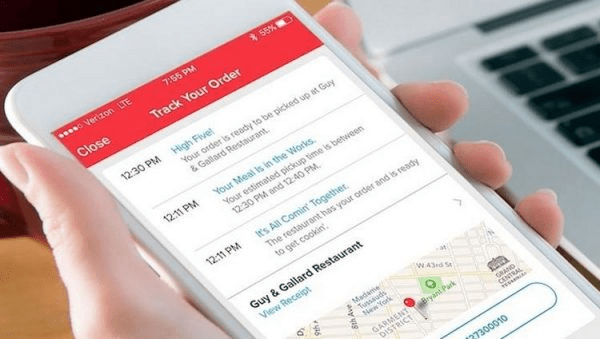 Customers can easily know at what time the order left the restaurant. Moreover, they can even see if the order is 30 minutes or just 5 minutes away, so they can get ready to receive it.
Grubhub customers love this real-time order tracking because it keeps them updated and reduces their worry – leading to a better customer experience.
Read More: What is Automated Customer Service & Why it is Important
9. Take Ownership When Something Goes Wrong
Let's call a spade a spade – you cannot always deliver a great experience to every customer. There will always be scenarios when your business is unable to meet customer expectations.
In the post-purchase customer journey, there are many things that can go wrong. From a product feature that does not work to damaged packaging, there are multiple factors that can potentially break the CX.
So when something goes wrong does that mean all is lost? Well, not really. The first step should be to take ownership of the situation and share a relevant solution with the customer. In case the solution is bound to take time, you must clearly communicate the actions your business is taking to fix the problem.
Example: Tesla
When people think about EVs, they think about Tesla – America's largest electric vehicle and clean energy company.
In 2021, Tesla recalled more than half a million cars (Model 3, 2017-2020 ) to fix rearview camera and trunk issues. The regulators said that the issues could have increased the risk of crashes.
The lesson here is that despite such a serious problem, Tesla prioritized the safety of its customers, took ownership of a big problem, and resolved the issue.
10. Ask Customers for Reviews
We all know that online reviews can help your business establish a positive brand image, attract more customers, and grow sales. But how does it improve the customer experience?
Encouraging customers to share their genuine reviews is a great strategy for post-purchase engagement. Firstly, reaching out for reviews is an easy way to keep in touch with your users after their purchase. Secondly, it shows that your business values and respects their opinions.
You can encourage customers to drop reviews on your online store, social media, product review websites, community forums, etc. Furthermore, to entice more customers to share reviews, you can offer discount coupons, free samples, or other relevant perks.
Example: J.Crew
J. Crew is a popular clothing brand that sells garments and accessories for men, women, and children. The best part about this company is that it asks customers to leave reviews for the products they have recently bought.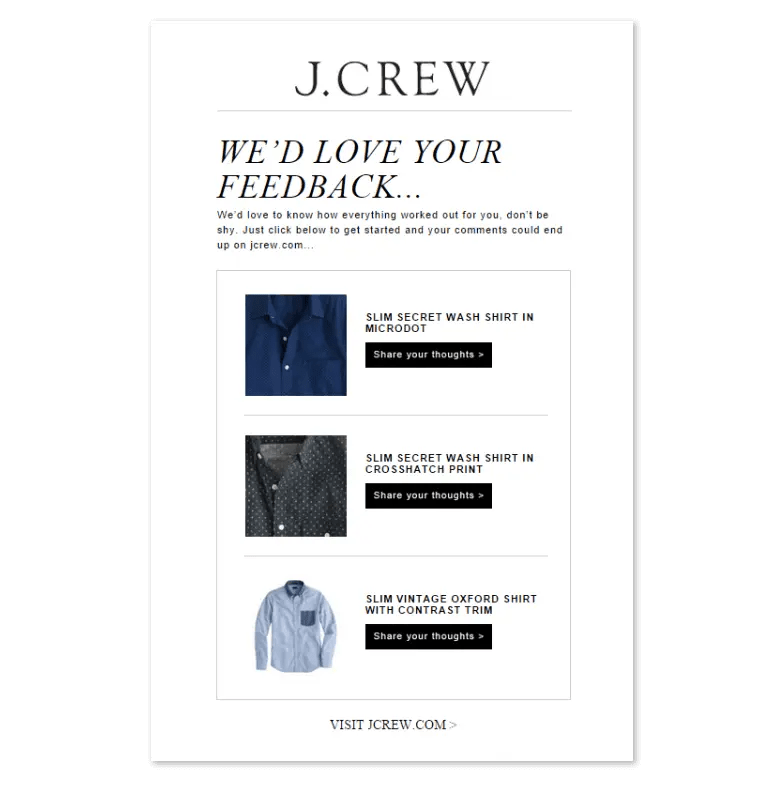 J. Crew shares automated emails that include a list of recently purchased items. The customer can view this list and drop a review by clicking on the "share your thoughts" CTA. Instead of sending a long email, they have kept it short and added product images so that customers can easily relate to them.
Improve the Post-Purchase Experience to Win Loyal Customers
If you are reading this blog, chances are that you are making good sales. Congratulations! However, for long-term success, the focus should not be simply to acquire more customers but to improve the post-purchase customer experience.
When you care about customers, even after they have spent their money, they will be more than happy to buy again. In fact, they will not shy away from referring your brand to others and bring more sales opportunities to your doorsteps.
To delight customers, you must appreciate them with a thank you email, share personalized product recommendations, build an online community, and take ownership when something goes wrong. Moreover, investing in the right customer service software will help you support customers even after their purchase.
Do you want a free Help Desk?
We have the #1 Online Help Desk Software for delightful customer support