When someone complains about their experience with your business, do you take notice or sweep it under the carpet? While customer grievances are inevitable, how you manage them can be the difference between repeat buyers and churning customers.
Good news – there is a tool to automate this whole process!
The best complaint management software can help you turn customer complaints into compliments. While agents can prioritize and resolve issues, managers can monitor SLAs, response times, and customer satisfaction.
But aren't we all told that customer complaints are bad and should be avoided at all costs?
Well, the best brands encourage customers to share their complaints. This makes them feel valued and sends the signal that your business is always looking to improve. In fact, 70% of customers are ready to support your business when you handle complaints in time and deliver a great service experience.
In this blog, we will discuss the top benefits and features of complaint management systems. Moreover, we will also explore the 10 best complaint tracking tools that your business can invest in this year.
Here we go!
What Is Complaint Management Software?
Complaint management software allows you to manage all incoming customer complaints and their resolutions in a single platform. Customer service agents can assign, prioritize, and quickly respond to complaints to ensure the highest customer satisfaction. Moreover, you can even capture valuable customer feedback to reduce future complaints and enhance the support experience.
Whether a customer complaint is sent via email or shared on any leading social media platform, the top complaint management software can help you track all grievances in one place.
Moreover, with this tool you can:
Prioritize urgent customer complaints
Organize issues and tickets using Labels
Assign complaints to other departments
See who is working on what
Track your team's performance metrics
Let's learn more about the use cases, benefits, and features of this tool in the sections below.
Who Uses Complaint Management Software?
For any organization to be successful, it must handle complaints in a timely and efficient manner. Failing to do so can make customers further infuriated and lose trust in your brand. Moreover, with a proper complaint management process in place, your business can track common issues and fix them once and for all.
But who can use a complaint management system? Well, this intuitive tool can be used by multiple people as discussed below:
Customer Service Agents: Support representatives are your frontline warriors who interact with customers either directly or through digital channels. Agents can use complaint handing software to assign tickets, prioritize urgent complaints, track the progress of issues, and resolve problems in a timely manner. Agents can also collaborate with each other and see who is working on which ticket to avoid sharing duplicate solutions.
Customer Service Managers: Support managers have the responsibility to track performance and improve the overall quality of customer service in the organization. They can use a complaint management tool to track performance metrics such as ticket response time, ticket resolution time, open tickets, backlogs, and more. In addition to this, managers can even monitor the CSAT score to improve the customer experience.
Product Teams: Sometimes complaints are not general in nature but about your specific products. For example, suppose you launch a new product in the market and customers start complaining about faulty features. In such a case, the product team can use this tool to track complaints, identify trends, and improve the product.
What Are the Benefits of Complaint Management Software?
From real-time issue tracking to measuring customer satisfaction, there are multiple benefits that a complaint management system brings to the table. Let's discuss them right away.
1. Never Lose a Complaint Again
Whether your business receives ten or thousands of complaints every day, it is important to address each of those problems. However, things can get challenging when you keep losing complaints.
With the best complaint management software, your customer service team can track complaints from multiple channels in one place. For example, you can capture complaints via email, live chat, phone, web forms, etc., and convert them into unique tickets for easy tracking.
Read More: Choose the Best Customer Support Channels for Your Growing Business
2 Ensure Greater Accountability
Are you struggling to assign an owner to each customer complaint? Do you often wonder who's following up on a high-priority complaint? Well, you are not alone.
When it comes to ticket assignment and distribution, many businesses find themselves in a spot. With a complaint management system, you can automatically assign incoming issues to team members who have the required skills to handle them. Moreover, it becomes easier to check if a complaint is being handled properly and hold agents accountable for any delay.
3. Resolve Complaints Before They Turn into Bigger Problems
If you are ignoring customer complaints, you are inviting serious problems to your business. It gives the signal that your business does not care about customers once they have made a purchase from your brand.
When customers complain on public platforms like social media, you can lose out on prospective buyers who start doubting your business. However, with a robust complaint management process, you can prioritize public complaints, resolve them at the earliest, and prevent them from jeopardizing your business.
4. Give Agents Complete Context
Resolving a complaint is closely related to solving a murder mystery – you need to connect the dots. But to quickly resolve any complaint, you need as much information about an issue as possible.
This is where customer complaint management software comes into play. It can allow agents to view past customer service interactions, contact information, file attachments added by the customers, and other details. Moreover, agents can create complaint submission forms to capture all relevant information and get context for faster issue resolution.
Read More: Free Complaint Web Form Template
5. Take Customer Feedback on Complaint Resolution
A complaint is itself feedback that can highlight improvement areas in your product, service, or overall business. However, to improve customer service and amplify customer satisfaction, you need to take feedback even about the complaint resolution process.
For this, you can share an online survey with customers right after their complaint has been resolved. This will allow you to capture fresh perspectives and understand what can be improved.
Here are some questions you can add to your survey:
Overall, how satisfied are you with our support process?
On a scale of 1-5, rate the effectiveness of our agent in resolving your complaint.
Are you still facing the same issue?
How easy or difficult did you find registering your complaint with our business?
What do you think can help our business avoid similar complaints in the future?
Read More: 30 Customer Service Tips for Delightful Customer Experiences
Top Features of Complaint Management System
When complaints come in from all directions, managing them can seem like an uphill task. However, there are some robust complaint management software features that will help you rise above such challenges and delight customers.
Complaint Prioritization: This feature allows you to prioritize complaints that are urgent in nature. For example, you must prioritize complaints that concern the safety of your customers. Based on their potential impact on your business, you can prioritize issues as High, Low, or Normal.
Agent Roles & Permissions: This is another must-have feature that determines the level of access different team members have to complain tickets and corresponding data. For instance, you can assign different roles such as Admin, Manager, or Staff to your team members. While Staff can only view and reply to tickets, the Admin has the authority to generate reports, add or remove users, etc.
Self-Service Knowledge Base: The software must allow your team to create an intensive, fully functional knowledge base that presents solutions in the form of FAQ pages, help articles, guides, videos, and more, A knowledge base will help you educate customers, enhance the self-service experience, reduce complaint ticket volume as well as support costs.
Private Notes: Private notes are internal comments that can be added to complaint tickets by support agents. These notes can be used to give context to other agents, share advice on dealing with a ticket, or simply discuss a complex customer issue/ inquiry.
Web Forms: With this feature, you can easily create customizable web forms and embed them on your website or help center. So whenever you want customers to register a complaint with complete details, you can ask them to fill out the form, and a new ticket will be automatically generated for them. This will allow agents to resolve complaints instantly without contacting customers for more details.
Integrations: A customer complaint management software must integrate with your existing tool stack. This will help you enhance company-wide collaboration, reduce duplicate efforts, and save everyone's valuable time.
10 Best Complaint Management Software in 2023
To make it easier for small, medium, and large companies to handle customer complaints, we have compiled a list of the 10 best complaint management systems. Kindly explore their unique features, pros and cons, and subscription plans.
ProProfs Help Desk is considered the best-rated free complaint management software that is designed for all businesses – from small startups to multi-national corporations. You can capture complaints from multiple channels such as email, live chat, web forms, help center, and more.
Agents can track the progress of complaints in one place and prioritize the ones that show high urgency. Moreover, customer service managers can monitor the complaint resolution process by tracking relevant metrics such as average first response time, ticket resolution time, CSAT, etc.
Top Features of ProProfs Help Desk:
Leverage ready-to-use templates to quickly respond to customer complaints and queries
Allow customers to add attachments to their complaint tickets
Design web forms and embed them on your website or help center
Create custom email signatures to send consistent and professional replies
Create canned responses to quick reply to frequently asked questions
What we liked: You can access this customer complaint handling software on the move via a dedicated mobile app
What could be better: Integration to the social media platforms is missing
Choose it for: Shared inbox, CSAT surveys, chatbots, performance metrics, etc.
3rd party integrations allowed: Yes
Suitable for: Startups, small to mid–sized businesses, large enterprises
ProProfs Help Desk Plans Include:
Essentials: $10/user/month
Premium: $15/user/month
Enterprise: Custom plan
Zendesk is an online complaint management software that helps you proactively address customer complaints. You can monitor customer messages and interactions on social media and prevent complaints from escalating into something bigger.
Zendesk helps your business bring traditional and emerging communication channels together, allowing you to connect with customers on their own terms. Moreover, you can create your help center in over 40 plus languages to cater to a global audience.
Top Features of Zendesk:
Create unique and functional help centers for your different brands
Assign an owner to every issue with the help of intelligent routing
Develop powerful answer bots to automate your customer service process
Build an online community forum and allow customers to assist each other
Expand help desk capability with over 1000+ pre-built integrations
What we liked: Zendesk offers great reporting insights into your team's performance
What could be better: Compared to other tools in the market, Zendesk is quite on the expensive side
Choose it for: Help center, community forum, intelligent ticket routing, etc.
3rd party integrations allowed: Yes
Suitable for: Large enterprises
Zendesk Plans Include:
Suite Team: $49/agent/month
Suite Growth: $79/agent/month
Suite Professional: $99/agent/month
Freshdesk allows you to track every incoming complaint so that you never lose a customer again. Automation and team collaboration features will help you register complaints, track their progress, and resolve them in the most efficient manner.
You can automatically prioritize complaints and assign them to relevant members of your customer service team. Moreover, agents can tag other team members or departments to seek their assistance in resolving a complex customer issue.
Top Features of Freshdesk:
Create a knowledge base that includes solution articles and guides
Share CSAT surveys and better understand what customers are looking for
Prevent the reopening of complaints when customers respond with a "thank you"
Resolve multi-stage issues by breaking them into smaller child tickets
Create web forms to allow customers to share concerns directly from your website
What we liked: Freshdesk offers a vast video library to allow users to learn more about the tool
What could be better: The Freshdesk software is sometimes slow to load
Choose it for: SLA management, parent-child ticketing, WhatsApp tickets, etc.
3rd party integrations allowed: Yes
Suitable for: Small to mid-sized businesses, large enterprises
Freshdesk Plans Include:
Sprout: Forever free plan
Blossom: $15/user/month
Garden: $35/user/month
Estate: $49/user/month
Forest: $99/user/month
Zoho offers complaint management system software that is known for its multichannel capabilities. The tool helps you collect customer and employee complaints from different channels such as email, telephony, live chat, social media, and web forms.
With Zoho Desk, you can use the round-robin feature to automatically assign support tickets to available agents. Moreover, agent collision alerts can be used to avoid work duplication and notify agents in case they start working on the same complaint.
Top Features of Zoho Desk:
Share private notes with each other and resolve issues faster
Create SLAs and specify the response time of tickets based on their priority
Monitor your ticket volume per communication channel
Track the customer happiness ratings received by support agents
Integrate with Slack, Salesforce, Jira, and multiple other tools
What we liked: You can integrate Zoho Desk with Zoho CRM and get complete customer information in one place
What could be better: The Standard plan lacks some must-have features such as round-robin ticketing assignment, agent collision, ticket sharing, etc.
Choose it for: Multibrand help center, knowledge base, sentiment analysis, etc.
3rd party integrations allowed: Yes
Suitable for: Startups, small to mid-sized businesses
Zoho Desk Plans Include:
Free: Forever free plan
Standard: $12/agent/month
Professional: $20/agent/month
Enterprise: $35/agent/month
HappyFox acts as a one-stop solution to manage all your incoming customer complaints. With this omnichannel help desk, you can manage customer interactions on different channels such as email, social, live chat, and phone calls.
HappyFox allows you to create a knowledge base using pre-designed templates. You can control access and secure data by sharing unique login credentials with your customers. Moreover, agents can easily embed images and videos to enhance the self-service experience.
Top Features of HappyFox:
Automatically route tickets to agents who have the relevant skills
Organize your tickets into different categories
Share relevant knowledge base articles or FAQ sections with customers
Embed a support widget directly on your website
Capture feedback from customers on knowledge base articles
What we liked: You can easily customize ticket forms to match your website's design
What could be better: Getting started with this tool can be time-consuming
Choose it for: Merge tickets, multiple integrations, ticket templates, etc.
3rd party integrations allowed: Yes
Suitable for: Small to mid-sized businesses, large enterprises
HappyFix Plans Include:
Price available on request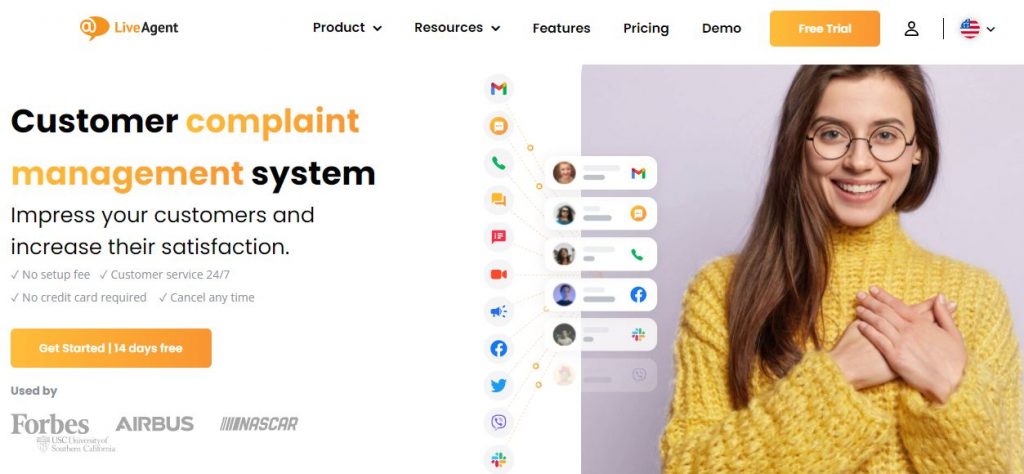 LiveAgent is another popular customer complaint software that offers multiple tools and features to interact with customers and build better relationships. All complaints are recorded in the LiveAgent Control Panel for easy access and tracking.
In addition to this, LiveAgent allows you to keep both agents and customers notified about the ticket progress. For instance, you can share automated emails with customers to notify them about any updates to their complaints.
Top Features of LiveAgent:
Assign complaints to specific agents based on their skills and expertise
Allow customers to attach relevant files to their support tickets
Track the time spent by an agent in resolving a customer complaint
Use Tags to differentiate between support tickets
Use pre-designed templates to quickly respond to customer complaints and inquiries
What we liked: You can share proactive chat invitations to website visitors and help them make the right purchase decisions
What could be improved: Multiple customization options can make the setup process complicated
Choose it for: Agent collision detection, automated ticket distribution, canned messages, email templates, etc.
3rd party integrations allowed: Yes
Suitable for: Startups, small to mid-sized businesses
LiveAgent Plans Include:
Free: Forever free plan
Ticket: $15/agent/month
Ticket + Chat: $29/agent/month
All-Inclusive: $39/agent/month
Jira Service Management is a leading ITSM tool that can help you manage all your IT complaint tickets in one place. Right from IT, HR, to legal, different teams can set up their help desk and manage internal complaints pertaining to their respective departments.
Jira Service Management allows your team to create a self-service knowledge base and reduce your complaint volume. You can collaborate with others to manage and edit your knowledge articles.
Top Features of Jira Service Management:
Manage customer complaints via email and live chat
Create a self-service portal and reduce your ticket volume
Connect with Slack and Microsoft Teams to improve internal collaboration
Leverage a no-code form builder and ad fields that are relevant to your process
Track IT assets in one place and link them to complaints
What we liked: The tool offers great customization capabilities
What could be better: Managing your support tickets can be overwhelming
Choose it for: Incident management, asset management, mobile app, SLAs, etc.
3rd party integrations allowed: Yes
Suitable for: Small to mid-sized businesses, large enterprises
Jira Service Management Plans Include:
Free: Forever free plan
Standard: $20/agent/month
Premium: $45/agent/month
Enterprise: Custom pricing
Front helps your business adopt a more personalized approach to complaint management. You can automatically route customer complaints to agents with the most bandwidth or to the account owners.
Front can be easily integrated with leading CRM tools such as Salesforce, HubSpot CRM, etc. This will allow your team to pull up crucial information and get all the context they need to deliver fast and personalized responses. Moreover, you can automatically flag complaints that demand an immediate response.
Top Features of Front:
Monitor multiple group email accounts using the shared inbox feature
Use saved templates for fast and consistent email replies
Create rules to sort and categorize incoming complaints automatically
Create shared drafts and collaborate with teammates before sending a response
Use @mentions to bring the attention of team members to a particular issue
What we liked: Front makes it easier to communicate with your internal team members
What could be better: Front does not allow you to build a knowledge base, which is a major disappointment
Choose it for: Team inbox, internal collaboration, CRM integration, etc.
3rd party integrations allowed: Yes
Suitable for: Startups, small businesses
Front Plan Includes:
Starter: $19/agent/month
Prime: $49/agent/month
Enterprise: $99/agent/month
Gorgias is an intuitive complaint management tool that helps your team centralize all incoming customer complaints and queries. You can monitor all your online sales from support via live chat conversations, text messages, or social media interactions.
Agents can get a complete view of customer data when they are interacting with them. For instance, agents can edit orders, initiate refunds, or modify subscriptions without leaving their help desk platform.
Top Features of Gorgias:
Manage routine customer complaints with the help of self-service
View the complete online order information right from the help desk
Integrate with Instagram, Facebook, and Twitter to resolve social media complaints
Share exact order details with customers via the live chat window
Track and view all your customer satisfaction (CSAT) ratings in one place
What we liked: The tool offers great visibility into customer purchase and order details
What could be better: This help desk tool is only useful if you own an e-commerce store
Choose it for: Social media engagement, Shopify integration, revenue statistics, etc.
3rd party integrations allowed: Yes
Suitable for: Startups, small to mid-sized businesses
Gorgias Plans Include:
Basic: $60/month
Pro: $360/month
Advanced: $900/month
Enterprise: Custom plan
Bitrix24 offers a robust complaint management system that can help your business turn customer complaints into leads. Managers can create diverse reports to monitor agent performance and communication channel usage.
With the help of this tool, you can track all past interactions between your team members and your clients. In addition to this, support agents can monitor the progress of each complaint – right from the moment it is received to the moment it is marked as resolved.
Top Features of Bitrix24:
Modify your ticket routing and queuing options
Leverage canned responses for common customer complaints or queries
Rent phone numbers, even toll-free ones, for your support team
Set access rights to determine who can view certain information '
Monitor your customer satisfaction rate to improve the customer experience
What we liked: The tool offers multiple integration options
What could be better: The CRM capabilities and features are inadequate in the Basic Plan
Choose it for: Record customer calls, multiple integrations, live chat, web forms, etc.
3rd party integrations allowed: Yes
Suitable for: Startups, small businesses
Bitrix24 Plans Include:
Free: Forever free plan
Basic: $39/month (5 users)
Standard: $79/month (50 users)
Professional: $159/month (Unlimited users)
Comparison of Top Complaint Management Tools
Delight Customers with the Best Complaint Management Software
Most people will tell you that complaints are unpleasant and you must eliminate them. But in reality, complaints and negative reviews bring you closer to your improvement areas and present the opportunity to delight customers.
With the best complaint management software, such as ProProfs Help Desk, you can manage all customer grievances in a centralized place and track them until they are resolved. Moreover, features such as complaint prioritization, automated routing, shared inbox, knowledge base, CSAT surveys, etc., make this tool all the more special.
Are you wondering how to get started for free? It's super easy!
Before investing in an online complaint management system, it is essential to familiarize yourself with the tool's interface, features, and workflows. ProProfs Help Desk offers a free premium trial of 15 days, so your team can get started without any hiccups.
Do you want a free Help Desk?
We have the #1 Online Help Desk Software for delightful customer support