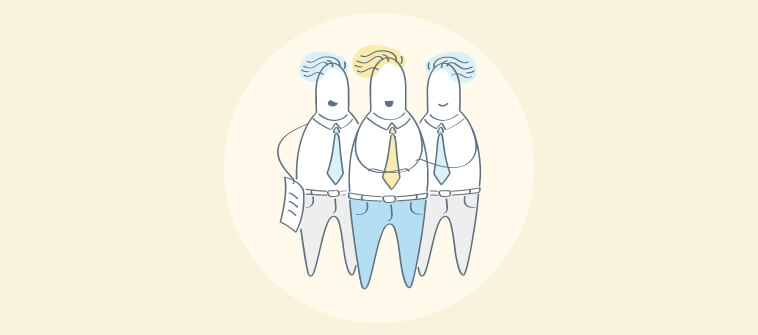 Let's be honest, customers don't contact a business out of pleasure. When was the last time you went on a vacation and felt like speaking to a customer service representative? Yes, almost never!
Customers contact you when they need assistance or simply when they are mad. The last thing they will want is a conversation that is going absolutely nowhere.
So how do you turn aimless conversations into meaningful interactions?
Customer service scripts can be used to hold strong conversations, train employees, build alignment among your service reps, and represent your brand's values in every interaction.
In this blog, we will discuss how customer support software can help you respond to customers faster with canned responses. We will also understand the various advantages and disadvantages of using scripts and finally, we will explore 50+ customer service script templates that your team can start using right away.
What Are Customer Service Scripts?
A customer service script refers to a collection of carefully designed statements that guide customer service representatives as they interact with customers. The use of such scripts reduces common errors and helps representatives in guiding customers accurately.
Many reputable companies ensure that the language their scripts contain follows customer service best practices and reflects the brand. By employing scripts, your business can communicate better, solve customer problems faster, and reduce agent training hours.
What Is Positive Scripting & How to Use It?

Positive scripting is the process of designing a customer service script to limit a customer's frustration and steer the conversation towards the solution rather than the problem.
In some cases, positive scripting can be used to guide a customer towards a desired outcome. For instance, using positive words to persuade a customer to buy more products or services from your business.
Here are some best practices for positive scripting:
Positive scripts are not always suitable for all customer interactions
Be flexible with scripts and consider all possible scenarios
Respect a customer's emotions whether they are negative or positive
Make use of positive and empowering words
Take inputs from all team members while creating scripts
What Are the Advantages of Using Customer Service Scripts?
Customer service or call center scripts can be a reliable way to keep your agents on track and up to speed. Let's see how:
Offer a Consistent Experience
The adoption of consistent scripts will allow your customers to get the same experience whether they drop an email or approach your business via phone support. Scripting ensures that your brand's core values and policies are reflected consistently in every customer interaction.
Pro Tip: Make sure that all your scripts for different customer service channels- email, live chat, phone, etc. have similar elements such as branding or closing statements.
Read More: Choose the Best Customer Support Channels for Your Growing Business
A tried-and-tested script can act as a guide for all your new customer service agents. Rather than wasting time learning communication phrases and tricks, they can simply refer to the ready-made scripts and prepared documents to save everyone's valuable time.
Pro Tip: You can create an internal knowledge base for your employees where they can easily create, search and edit relevant customer service script templates.
Scripts can prove to be a real confidence booster as they allow your agents to stay prepared even for the most challenging questions. This way your agents can pay more attention to what customers have to say rather than worrying about their next response.
Pro Tip: To instill confidence in your new agents, allow them to have role-playing sessions. This will help them in practicing the script through back and forth conversations.
What Are the Disadvantages of Using Customer Service Scripts?
Despite some strong benefits of using customer service script samples, there are many who believe scripts are impersonal and should be avoided. Let's understand why:
Customers Can Easily Smell a Script
Customers hate interacting with an agent with a robotic tone. They can sense when a rep is reading from a script and although they might not tell you, they can easily lose interest in the conversation.
Agents May Rely Too Heavily on the Script
While keeping a script close can prove to be handy, relying too much on them can make your agents lose their ability to carry conversations in a natural way. They might struggle to keep the conversation going during face-to-face interactions.
Passionate customer service reps may feel that scripts prevent them from modifying the conversation with customers and creating a strong connection. They are bound to follow a certain pattern that might not be suitable in all situations.
Pro Tip: It is true that scripts can make an agent appear non-human and prevent them from fostering a real connection. To avoid these downfalls, you must encourage agents to strike the right balance and use an empathetic tone for better flexibility.
50+ Ready-to-Use Customer Service Scripts
Customer Service Scripts for Greeting Customers
A strong, polite, and friendly opening can help you create a strong first impression. In many cases, customers have already shared their problems before they are connected to a human agent. Therefore, it is important to get straight to the point without wasting anyone's valuable time. Here are some customer service greetings scripts that will help you start the conversation on the right foot:
Greeting a customer for the first time:
"Welcome to Customer Service. My name is . How can I help you?"
"Good afternoon! You're through to . My name is . How may I assist you today?"
Greeting a repeat customer:
"Welcome back, Adam. I hope you are doing well. Are you still facing the same issue with your product/service?"
Greeting a customer who has already shared their problem/request:
Hi Jill, hope you are doing great. As I can see from your request that you wish to return your order with ID<mention order ID>. Let me know when I can initiate the return pickup?
Good morning Martha!. Your order of from is on its way and will reach you before 25th February.
Customer Service Scripts for Apologizing
If you handle customers, there are good chances you will run into an angry or frustrated customer who is having a difficult time with your product or service. It can be anything from a slight packaging issue to delayed delivery. In such situations, you need to acknowledge your mistake and apologize for the same.
Sharing proactive apologies
"Hi Mathew, our associated payment gateway provider has unfortunately experienced a server crash. We are extremely sorry for the inconvenience caused and will update you as soon as the problem is resolved."
Apologizing with empathy
"I am extremely sorry to hear that you had to go through this . I would feel frustrated too in that situation."
"I totally understand where you are coming from. It's never a pleasant feeling to receive an incomplete order. I genuinely feel sorry that you had to go through this."
Apologizing with an offer
"We are extremely sorry for your unpleasant experience. However, as a token of apology, we would like to offer you a flat 50% off on your next order. Here is your ."
Apologizing with a commitment
"I am extremely sorry for all the problems you've been facing lately with our product. I'm going to make sure that we get this taken care of today."
"I understand how much this will affect your business. I will personally ensure the problem is sorted latest by today."
Recommended Read: Different Customer Types: Issues & Solutions
Customer Support Scripts for Transferring or Putting Customers on Hold
Customers hate the idea of being put on hold by an agent. But some situations such as looking for the right information or transferring the call to another department will require the customer to wait. Remember, when you have to put a customer on hold, you're playing with fire. Here are some scripts for transferring or putting customers on hold:
Putting a customer on hold
"George it may take me a moment to review your information—may I put you on hold for the same?"
"In order to approve the refund of for , I will have to seek approval from my manager. May I put your call on hold for a couple of minutes?"
Transferring a call to another agent or department
"It seems like you have been connected to the wrong department. The team is better equipped to handle your query. Shall I go ahead and connect you to the right team?"
"I will have to escalate your case to our senior representative . He/she will be able to offer you the best solution. May I connect your call to our senior representative?"
Customer Care Scripts for Asking Customers for More Information
Can you really offer the best customer service experience if you don't have the necessary information? Sometimes agents don't have all the information at their fingertips. For instance, they might need your delivery address if you are a new customer. Here are a few examples of how you can ask customers for additional information:
Asking customers to offer additional information
"Can you please confirm your delivery address to me?"
"In order to register your complaint, I will need your order ID. Can you please provide me with the same?"
"I can see you are facing this with our product. Can you please elaborate on more details like since when you have been facing this issue? And if any troubleshooting steps you have taken so far?"
Asking customers to provide feedback
"We are glad to hear that your has been resolved. Would you mind sharing your feedback on this small survey? Your feedback will help us improve further."
"Could you please fill this short online form to rate the different aspects of your experience with our business? It would not take more than 2 minutes. Thank you!"
Customer Support Script for Sharing Links or Resources
Even if you have an extensive Knowledge Base, sometimes customers might not be able to find the relevant links to self-help articles or other information by themselves. Therefore, it is important to know how to share links or other important resources with customers.
Sharing links to help center articles
"Hi, Brandon, for security reasons we are not able to update your password from our end. However, here is a link to a small help article
that contains the necessary steps required to reset an account password."
"This self-help article has step-by-step troubleshooting instructions to help resolve your issue faster. Kindly click on the link below and please let me know if you need further assistance. I will be more than happy to help you."
Sharing survey links
"We hope we were able to resolve your issue today. Kindly click on the below survey link to rate your interaction with our agent . Your valuable feedback is important to us."
Sharing important media or documents
"I have sent an email on your registered email address- . You can check all our important "Getting Started" videos to use our products better. Good luck!"
"I have shared the link to the Invoice for your order . Kindly download it and save it for future reference."
Sample Customer Service Replies When Customers Are Angry
Angry customers can come across as some of the most nerve-wracking people to contact your support team. You can never be quite sure whether what you say is going to solve or exacerbate their problem. Therefore, you need to be extra careful while dealing with angry customers as a single negative online review can put your brand in a bad light.
Greeting an angry customer
"Thanks, Miranda for reaching out to us about this- I'm sorry to hear that you were caught off guard by our billing. I have transferred your case to our billing manager and he will contact you shortly."
Handling an angry customer with empathy
"We are sorry to hear that you are experiencing a sudden downtime of our service . Your frustration is completely justified and anyone would feel the same."
Handling an angry customer with personalization
"Hi Michael, we are extremely sorry for the inconvenience caused by your recent purchase of . You have always been a loyal and valuable customer of our business. We will make sure such instances are not repeated in the future. Looking forward to serving you again."
Making an 'achievable' promise to an angry customer
"I am extremely sorry to hear that your product did not reach you on time. Here's what I'm going to do for you. I will go ahead and communicate with our courier partner and offer you free deliveries on your next 3 orders. Sounds good?"
"Thank you for bringing this to our attention. The health and well-being of customers are of utmost importance to . After my discussion with my manager, we are making a complete refund to your registered card- ending with ."
Customer Service Template When You Don't Know the Answer
In the customer service industry, you are constantly learning about new trends, product updates, competitors, and hundreds of other things. There will be many scenarios where a customer's question will leave you scratching your head and you might not have the right answer. But that is completely alright. You just need to be transparent to the customer and they will appreciate that more than anything else.
Accepting that you don't have the required solution
"John, I get the problem you are facing. However, sadly I don't have a solution to your problem at the moment. Kindly allow me some time to get back to you on this."
"We have been informed that our online website is down. We currently have no update as to what is causing the problem. Our team is working to get the issue resolved as quickly as possible. We appreciate your patience."
Escalating to a manager or senior
"Since the you are facing is of a technical nature. I will have to escalate your case to our senior management."
Pamella, I'm afraid I don't have the required expertise or knowledge to help you with this . May I escalate your case to a senior representative who will be able to help you out?
Requesting for some time
"Kindly allow me some time so that I can quickly scan through our internal help articles to help you with your current .
Customer Service Template for Follow Up
Modern businesses are focused so much on drawing customers in that they somehow forget the basics of following up with customers. It is important to remember that excellent customer service extends to customers even after purchasing from your brand. Following up with existing customers is necessary if you wish to foster long-lasting customer relationships. When It comes to follow-up calls or emails, timing is everything!
Following up after an unpleasant experience
Hi David, I hope you are not facing the same issue since the last time we spoke. In case you encounter any issues, we are just a call away."
Following up after a great experience
"We are equally thrilled and delighted to hear that you have had a wonderful experience of using our . We would appreciate it if you could take the time to drop a review on our website."
Post-purchase follow-ups
"Thanks for your recent purchase with ! I hope you are enjoying your new . Let me know if you need my assistance in any way."
Appreciating customers for their referrals
"We appreciate your sincere efforts in recommending our business to your loved ones. Our business looks forward to a positive and long-term relationship with you."
Following up with a leaving customer
"We are sad to hear that you have decided to part ways with our business. In case you change your mind, we will be right here for you."
Customer Service Live Chat Scripts for Handling Multiple Customers at the Same Time
The rising popularity of Live Chat has taken everyone by surprise. In fact, 63% of customers reported that they are more likely to return to a website that offers live chat. Live chat representatives have the responsibility to make a great first impression with both existing as well as potential customers. However, since every interaction takes place so quickly, it is important to have all the customer service script samples within reach.
Greeting online visitors
"Hello! Thanks for reaching out to us at . Did you find what you were looking for?"
"Welcome back, Ryan. We are happy to see you again! What can I help you with today?"
Sharing informational resources on chat
"I would also like to recommend for you a help article on
for additional information on this issue."
Upselling to a customer
"Hey, I noticed that you are about to purchase . Would you also like to take a look at ? Our customers frequently purchase both the items together."
"Since you consider buying , we would also like to suggest . They both go perfectly well with each other."
Reminding a customer to complete a purchase
"Hey Amanda! It seems like you have abandoned your cart. Let us know if you are facing any issues completing the purchase."
Concluding a chat session
"Thank you for using our live chat service. I am now closing this chat. To stay updated about our latest products, you can join our community by subscribing to our newsletter."
Customer Service Scripts for Concluding a Phone Call
Ending a call is as important as the initial greeting. The very last minute of a customer service call presents you with the opportunity to make sure the customer is completely satisfied and ends the call with a positive impression of your brand. The concluding statements should be respectful, professional, and must highlight the solution offered to the customer.
General concluding
"Thanks for calling . I hope you have a great day."
"You've been speaking with today. Thank you for contacting . Have a great day!"
Concluding with personalization
"Goodbye, Mr/Mrs . I hope I was able to help you with your . It was an absolute pleasure interacting with you today."
Concluding support call for a bad experience
"Apologies once again for any inconvenience caused. You are a valuable customer to us. Thank you for your call."
"Goodbye, Sam! We will make sure such instances are never repeated again. I hope you have a delightful day ahead."
List of Positive Words While Communicating With Customers
If you put a human brain under an fMRI scanner and flash the word "NO", you will see a sudden release of stress-producing hormones and neurotransmitters.
The truth is that customers don't appreciate the use of negative words when they interact with you. On the contrary, when you have the right collection of helpful phrases or words at your disposal, it can improve your communication as a customer service professional. Let's quickly check some positive words that can steer any customer communication in the right direction:
Absolutely
Affirmative
Agree
Awesome
Best
Brilliant
Certainly
Congratulations
Delightful
Definitely
Easy
Effective
Effortless
Excellent
Exciting
Encouraging
Friendly
Fabulous
Fantastic
Fun
Genuine
Generous
Happy
Hearty
Impressive
Instantly
Marvelous
Optimistic
One hundred percent
Perfect
Pleasant
Proud
Quick
Quality
Reward
Right
Safe
Support
Success
Terrific
Thrilling
Rule Every Conversation With Customer Service Scripts
A well-prepared customer service script is a great tool to ensure no customer hangs up the phone or abandons a chat session upset or angry.
The scripts shared in this blog will help your agents greet customers in a professional manner, tackle difficult customer questions, upsell better, and close the conversation on a positive note.
Remember, a customer service script is not written in stone. To avoid a robotic tone, keep the conversation natural and it's never too late to add a dash of personalization. Keep the right scripts up your sleeves and rule every conversation.
Do you want a free Help Desk?
We have the #1 Online Help Desk Software for delightful customer support