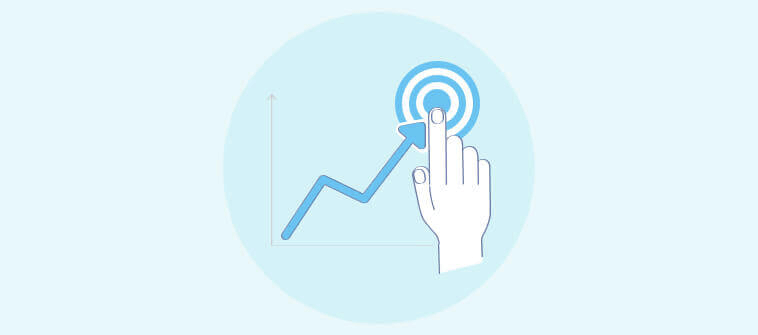 Raise your hand if you feel your customer service department is perfect and there is nothing more you need to improve upon.
Hands still on the mouse?
Yeah, we thought so.
Customer service teams around the world feel they work hard, treat their customers right, put in extra hours, but still don't seem to go anywhere worthwhile. So what could be the missing piece of the puzzle?
A key reason can be that you have not spent enough time thinking about what you want from your team and have not set the right customer service goals. After all, would you embark on a journey with no idea of your destination? Maybe not!
Customer service goals are critical for any business today. Setting the right goals upfront can help you guide your team's focus, stay prepared for any unforeseen roadblocks, and improve customer experience by each day.
In this blog, we will discuss the various benefits of customer service goals, explore the top 10 goals you should strive for in 2021, and see how you can use customer support software to achieve your goals faster.
Let's get started!
Why Do You Need to Set Customer Service Goals?
Setting customer service goals can have tremendous benefits for your business, both in the short and the long run. Let's explore them briefly:
Goals lead your team in the right direction
First of all, customer service goals give your team a sense of direction and destination. They show your team what they all should aim for and direct their efforts towards. So no matter if someone has been with your organization for 10 years or just a couple of days, they all know what they need to do to attain their goals.
Goals improve your decision-making
Customer service goal setting helps you realize what is important to your team and for your customers. This perspective leads to improved decision-making. When you have identified what is important and what is not, you are better able to make decisions that lead you towards the goal and help you avoid any unnecessary distractions.
Goals align your team member's actions
By setting common goals, you can make all your team members work together in complete sync. Right from the customer service manager to the agents, everyone will have their individual goals. However, they will be well aware that their individual contributions help in achieving the broader business or team goals.
Goals help in motivating your team
In addition to a sense of purpose, goals give your team hope and something they can look forward to every day. Therefore, rather than wasting time wondering what they need to do, your team members will have well-defined roles and responsibilities. Successfully achieving short-term goals will motivate your team and make long-term goals appear all the more realistic.
How to Set 'SMART' Goals for Customer Service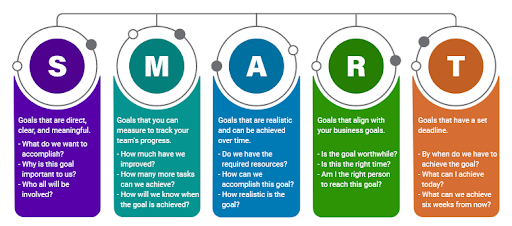 SMART is an acronym that can be used by customer service teams to guide their goal setting. No matter how many goals you set, it ensures that every goal is realistic, clear, and can be achieved within a limited time frame.
1. Specific
Customer service departments should set clear and specific goals. Otherwise, your team members will not be able to focus their efforts or feel truly motivated to achieve them. During the goal-setting process, you can ask questions like "What do we want to accomplish?", "Who all will be involved?", or "Why is this goal important for us?"
2. Measurable
Customer service goals and objectives should be measurable so that you can track your progress over a period of time. Measuring progress allows you to stay focused and meet your deadlines. By measuring the success of your goals, you can even offer relevant incentives to your top performers.
3. Attainable
Customer support goals should be based on realistic grounds. You cannot expect your agents to take more than a hundred customer calls in just a single day. In other words, goals should push your employees out of their comfort zone yet be flexible enough that employees can achieve them over time.
4. Relevant
Goals should be relevant not just to your team but also to your company. Goals set by the customer service team should align with the broader goals of your business. To understand if a goal is relevant or not, you can ask yourself questions like "Is this goal worthwhile"? or "Is this the right time to achieve this goal?"
5. Time-Bound
For any goal to be successful, it needs to have a set deadline. By assigning a target date to your goals, you can make your team members plan their time more effectively and assign priorities to their tasks. To set time-bound goals, you can ask yourself "What can I achieve today?", or "What can we achieve in the next 4 weeks?"
How to Set Customer Service Goals in 5 Easy Steps
Now that you have understood the various elements of SMART customer service goals, you can use the following steps to make goal-setting an effortless process for your team.
1. Define Your Customer Service Objectives
Customer service objectives or goals do not have to be the same for every business. They can depend on factors such as what you sell, who your target audience is, and any significant challenges that your team faces.
For instance, if your team is witnessing a sudden rise in social media complaints, you can make it your goal to improve your social media customer service and respond to customer complaints quickly. Similarly, if a majority of your customers prefer the phone over other communication channels, you can set measurable customer service goals for your phone support team.
Therefore, in order to define customer service goals, you need to be well aware of your unique needs and challenges.
2. Consider Goal-Setting Suggestions From All Members
Now, you might think that customer service goals have hardly anything to do with other teams and only the CS leaders are responsible for them. Well, that's not entirely true.
It is important to take suggestions from all your team members and even members from other customer-facing teams such as sales, marketing, logistics, etc. This will help you create inclusive goals and align them with the broader business goals.
For instance, if you wish to improve the product packaging and delivery experience, you will need handy inputs from your packaging as well as the logistics team. Sit with members of different departments and ask them what they would suggest for improving the customer experience. Narrow down on the valuable inputs, turn them into achievable goals, and see how you can measure them.
3. Measure Your Goals
Goals look great on paper or PowerPoint presentations, but they mean nothing unless you measure them and track your team's progress.
Now, many businesses make the mistake of creating easy, non-measurable goals. For instance, they instruct their support team to improve the ticket resolution time without defining what the ideal ticket resolution time should be.
To measure your goals, you can track customer service metrics such as:
Average Response Time: The average time it takes for your agents to respond to a customer request.
Customer Satisfaction (CSAT): Measures the number of customers who are satisfied with your products or services.
Resolution Time: The time taken by your agents to resolve a customer issue or request.
Net Promoter Score (NPS): The percentage of customers who are willing to recommend your products or services to others.
Once, you get acquainted with these metrics and others, you will be able to set goals for your team that are not only measurable but also make sense.
Read More: 15 Help Desk Metrics to Improve Customer Support
4. Adjust & Update Your Goals From Time to Time
Customer service performance goals are not set in stone. Depending on the situation, you can always tweak existing goals and add new ones along the way.
For example, the initial days of the COVID-19 pandemic were challenging for everyone including customer service teams. Drastic yet necessary steps taken by the governments around the world forced businesses to go fully remote. Now, if your previous goal was to reduce the customer wait times during the checkout stage, this simply is not possible when your store is closed due to a nationwide lockdown.
Therefore, the only sensible thing to do is to adjust your goals from time to time. Taking the above example forward, your business can set new goals such as 'measure the satisfaction of remote customer service agents' or 'communication channels that customers prefer the most during lockdown'.
Read More: 10 Latest Customer Service Trends for 2021
5. Empower Your Employees
Your customer service agents should feel supported, motivated, and thrilled to achieve both – individual as well as team goals.
Build your customer service teams around your goals, train them, and provide them the authority to address customer requests with minimal management supervision. Motivated employees are the secret to achieving goals in an effortless manner.
Moreover, in order to truly empower your employees, you need to equip them with the latest tools and technology they need to interact with customers. It can be anything from customer support software to track customer complaints to noise-canceling headsets for quality support calls.
10 Goals for Customer Service Teams to Strive For in 2021
Goal setting does not have to be boring. In the year 2021, customers have more expectations from brands than ever and by setting the right goals, you can meet their expectations and needs. Listed down below are 10 customer service goals for 2021:
Examples of Customer Service Department Goals
1. Reduce Customer Wait Time
Customers hate waiting and the primary goal of any support team should be to handle customer concerns as quickly as possible. In fact, customers today expect faster responses more than ever.
According to a Statista report, 77% of the respondents stated that they expect to receive an instant response when communicating via chats compared to 64% of customers who expect an instant response over the telephone.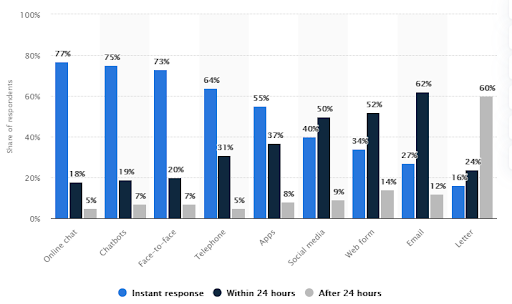 To reduce customer wait time, you must measure your First Response Time (FRT). FRT is a critical metric to measure how much time a customer has to wait to get an initial response from your team. The response time can be less for channels such as live chat software and more in the case of email support.
Goal Example: We will reduce the average first response time for email support from 12 hours to 6 hours by the next quarter.
2. Encourage Self-Service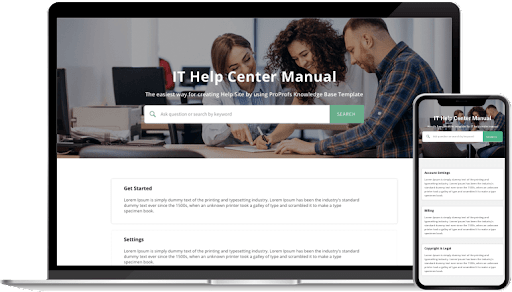 It is true that modern customers want a quick resolution to their problems but it is also true that they wish to find the right solutions on their own. After all, we know how interacting with an agent can mean long hold times, multiple contacts, escalations, and other challenges.
According to a study by American Express, over 60% of customers in the US prefer automated self-service platforms, such as a website or mobile app, for primary customer service tasks.
Encouraging customers to find help on their own is one of the popular customer service department goals. This will not only help you reduce your support ticket volume but also bring down costs. Here are some tips to achieve this goal:
Identify common customer problems and create an extensive collection of help articles, guides, FAQs, videos, and more
Equip your agents to share relevant links to self-help articles in their chat or email responses
Optimize your knowledge base or help center for mobile and other devices
Goal Example: We will create, publish, and promote 20 help articles on our help center by the end of this month.
3. Invest in the Right Support Tools
If a majority of your customer service tasks are done manually, you might be losing both time as well as money. There are multiple customer service software available in the market that can help you automate your processes and get more done quickly.
For example, many modern chat tools come with chatbots that can help you offer primary assistance to customers even when your employees are not available to take chats.
Here are examples of some great customer support tools you can invest in today:
ProProfs Help Desk: ProProfs offers a robust ticketing system that can help you track every customer issue from start to finish. Your agents can easily sort tickets, chat with customers, and create knowledge-base articles in easy steps. On the other hand, managers can use smart reports and analytics to monitor key performance indicators and metrics.
Qualaroo: Qualaroo is a leading customer and user feedback software that can help you survey visitors directly from your website or mobile app. You can get valuable feedback on your help articles, website, products, UX, and more by asking the right questions at the right time.
Goal Example: We will allocate 30% of our budget to customer service automation tools in this quarter.
4. Track All Social Media Mentions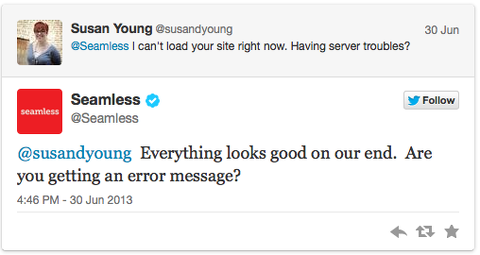 Social media has quickly become one of the most popular communication channels. However, unfortunately, most businesses don't give the attention it deserves.
In 2020, over 3.6 billion people were using social media worldwide, a number projected to increase to almost 4.41 billion in 2025.
For a 360-degree support experience, you must make it a point to track all messages or business mentions on the leading social media platforms such as Facebook, Twitter, Instagram, LinkedIn, etc. This will help you resolve customer issues promptly and create a positive brand perception.
Goal Example: We will track all mentions of our official Twitter account and respond to them within 2 hours.
Examples of Customer Service Manager Goals
5. Enhance the Quality of Customer Service Interactions
No matter if a customer reaches out to your business via phone, drops an email, or simply visits your brick and mortar store, you must make every interaction count.
High-quality and meaningful interactions can help you ease the frustration of customers, retain them for a long time, and earn more customers through positive word-of-mouth.
But here is a big question – how do you measure the quality of your customer service interactions?
Customer service managers can look to achieve this goal by assigning a quality score to every interaction. You can even have a separate quality assurance (QA) team for the same purpose. QA professionals can review the quality of email or chat responses, call recordings, etc. and rate them on a scale of 1 to 5.
Goal Example: We will improve the average call quality score from 3.2 to 4 by the end of April.
6. Hire the Right People
Hiring and onboarding new employees to meet customer demands is one of the popular customer service goal examples.
As your business grows, you have to cater to a larger customer base. This can put tremendous pressure on your existing employees who will have to manage an influx in customer issues and requests with limited human resources.
Therefore, you need to hire and onboard new employees to meet customer expectations and offer high-quality service. For instance, during peak sales seasons, you might want to hire more people on a temporary basis. Similarly, if you have international customers, you may need to hire agents for multiple shifts.
Goal Example: We will hire 12 new customer service agents by 31st March to assist customers from 8 PM to 5 AM.
7. Increase Employee Satisfaction
Employee satisfaction or workplace satisfaction is one of the key goals of all customer service managers irrespective of what their individual KRAs are. A happy and satisfied employee not only stays longer with your company but also acts as an ambassador of your brand to other employees as well as customers.
In fact, a recent study by Glassdoor found a positive correlation between satisfied employees and happy customers.
To monitor employee satisfaction, managers can share employee satisfaction surveys at regular intervals such as once a month or once every two to three months. The results will help you realize what makes your team members happy, their pain points, and what they expect from the company.
Goal Example: We will increase employee satisfaction rates by a minimum of 20% during the second quarter.
Individual Customer Service Goals
8. Learn a New Skill
Learning new customer service skills not only improves your daily performance but is also essential for career advancement. When you hone your existing skills or acquire new ones, you can diversify your job options and develop new techniques to keep up with the fast-changing world.
For instance, if your business is looking to expand its operations to a new country, you can learn a foreign language, master it, and start assisting customers who speak the same language. Similarly, if your business uses any customer support software, you can learn the advanced features of that tool and become super productive.
To achieve individual customer service objectives, you can either seek permission from your manager and work on it during office hours or you can work on the skill while at home or over the weekends.
Goal Example: I will learn the French language in the next 3 months and start assisting our new customers from France.
9. Improve Ticket Resolution Time
Ticket resolution time refers to the time it takes to resolve an issue to the satisfaction of a customer. It is different from the response time – where you are just sharing a response/acknowledgment and not the actual solution.
There are several ways to achieve this goal. For primary or repetitive customer issues, you can create canned responses, which are saved email or chat replies, to quickly resolve a ticket.
Another technique is to improve your troubleshooting skills. Identify the problems that consume the majority of your time and see how you can diagnose such issues faster.
Goal Example: I will improve my average ticket resolution time from 30 minutes to 25 minutes by the end of May.
Read More: Help Desk Canned Responses for Your Customer Service Emails
10. Develop High Emotional Intelligence
People will always advise you to leave your emotions behind as soon as you enter your workplace. But for customer service agents, an emotional connection with the customers can take them a long way.
Emotional Intelligence refers to the ability to understand and manage your emotions to communicate effectively with customers, empathize with them, and relieve their stress.
But if you want to improve your emotional intelligence, how do you measure it in the first place?
To measure your Emotional Quotient (EQ), you can take several online tests or EQ quizzes.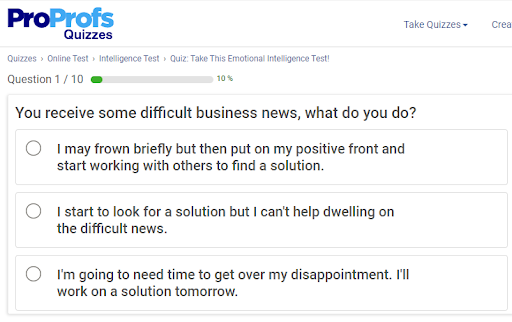 After the end of the assessment, you are given an EQ score, that can help you measure and improve your emotional abilities. An average EQ score ranges from 90-100, with a perfect score measuring 160.
Goal Example: I will improve my EQ score from 80 to 100+ by the end of this quarter.
Turn Your Vision Into Reality With Customer Service Goals
"One way to keep momentum going is to have constantly greater goals." – Michael Korda
Setting ambitious, realistic, and customer-centric goals will help you take your customer service to the next level. Not only will this lead your team in the right direction but ensure that every member of your team knows what is expected of them.
Remember, just setting customer service objectives and goals is not enough. You should be able to measure and revisit them from time to time. To turn your vision into reality, set big yet realistic goals and work hard to achieve them, together as a team.
Do you want a free Help Desk?
We have the #1 Online Help Desk Software for delightful customer support