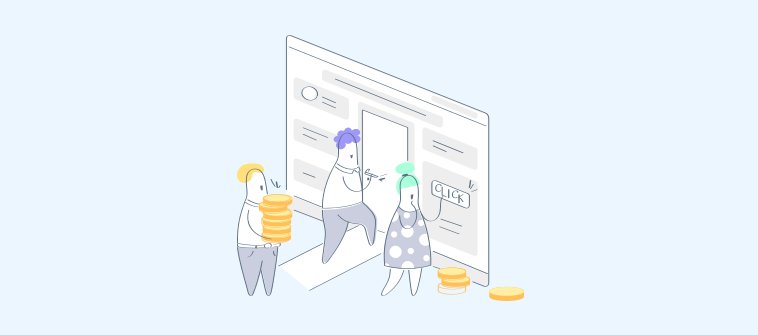 An average company loses 10 to 30 percent customers annually and gaining new customers is around 10 times costlier than keeping the existing ones happy - Philip Kotler.
These words from the father of modern marketing, themselves indicate how crucial the customers are for any business.
While most people think that acquiring customers is the key to every successful business. That is not true.
HAPPY Customers are the key to a successful and profitable business. As important as it is to grab new customers, retaining them is also crucial for every business.
A recent study has also shown that 77% of happy customers recommend a company to their acquaintances.
However, almost all the businesses tend to lose customers over time irrespective of the endless brainstorming sessions; customer happiness indices management and expensive marketing strategies.
This is called Customer Churn - an ultimate nightmare for any business.
If you also have some unhappy customers, don't let them reach churned customers. Address the issues with the smart and expert customer help desk from ProProfs and resolve all the troubles smartly and rapidly!
There are many reasons for customer churn starting from the false promises to the incapable support team. Before we dig into the details, let's cover the basics.
What is Customer Churn?
Customer churn can be defined as:
the loss of customers over a period of time.
But, customer churns sets-in the moment your customers start being unhappy with the product or services offered by you. There are so many ways to see customer churn, a few of them include:
Dangling customer registrations with no new purchases

No renewals for the subscriptions and services

No new registrations

Unsubscribing customers
Customer Churn – Different Types Explained:
Customer churn can be broadly classified into two types:
Desired Outcome Churn –

when the failure to achieve the desired outcome causes churn.

Natural Cause Churn –

unavoidable natural business reasons causing customer attrition.
Desired Outcome Churn – Types and Reasons leading to it:
#1. Faulty Customer Support System:
Having an incapable or faulty customer support system is one of the biggest reasons for customer churn. So, if you want to reduce customer attrition, we suggest opting for some smart and modern customer help desk solutions such as ProProfs Help Desk.

This is a full-fledged and expert customer support system that can help you in offering the best customer support.
#2. Failure to Offer Multi-Stage Successes With the Product or Service:
Most of the products and services fail to offer the desired success or desired level of success over a period of time. This leads to loss of customer interest in weeks, months or years down the lane. Some ways to reduce customer churn include:
Be proactive in communication with customers

Offer incentives
#3. Faulty Onboarding Process:
Most of the companies fail to bridge the gap between the purchase and first success with the purchased product or service. This means that the customer fails to develop a positive outlook with the product or service in the beginning itself.
Wrong customer choice and pressure from the competitors are the other reasons that lead to customer churn because of failure to achieve the desired outcome.
---
Read More: How Customer Service Solves Churn Problems
---
Natural Cause Churn – Types and Reasons:
#1. Cash Flow Issues at the Client-Side:
It is common that one or two of your clients face cash flow issues that can put your products or services under probation or even out of use. Effective customer communication and support are the best ways to tackle this.
#2. Faulty Product:
Real-time product tracking and management can help you tackle the churn caused by a faulty product. Always release notifications from your side and consistently work towards making your product or service better. Consistency and dynamism are the two keys to successful products and happy customers.
#3. Making the Transition to Bigger and More Refined Markets and Customers:
As you move towards the bigger and more refined markets, the free users, open-source developers and beta version users will churn. But, this has more positive aspects as you acquire quality clientele.
#4. Loss of Key Employees or Clients:
Over time, some employees leave the company and some customers shift to better and newer products or solutions. Hence, they no longer require the services offered by you leading to customer churn.
What is Customer Churn Rate?
The percentage by which the number of customers has reduced in a specified time period is called customer churn rate.
You can divide the number of customers at the end of a financial year by the number of customers at the start of the year to find out the customer churn rate.
"Decreasing the customer churn rate by even 5% can lead to an increase in profits by 25% to 95%." - Harvard Business School.
Such is the power of customer retention and customer churn. Let us understand the terms in the next section.
The customer churn rate has a direct influence on revenues and business growth. Let us find out what does a higher customer churn or customer attrition rate means in a business.
A higher customer churn rate is equally proportional to:
Loss of revenue

Loss of customer

Lower business profits

Lacking customer support measures

Faulty products or customer solutions
There is another important metric that you have to consider when it comes to customer churn rate – the Growth Rate.
Growth rate represents the number of NEW customers acquired during a specific time period. For a business to be profitable, the growth rate must exceed the customer churn rate.

What Does Churn Mean in Business – Understanding the Effects on All the Business Processes:
The word CHURN represents loss of some already existing resources in business. This churn can be of customers, clients, projects, employees, and other such crucial stakeholder entities in a business scenario.
A churn can lead to serious harm to the core business setup. Hence, it is important to identify it as soon as it sets-in and try your best to tackle it.
#1. Business Growth:
When you are unable to keep the existing customers or clients irrespective of acquiring new ones, you are bound to experience a loss in terms of revenue. Your earnings will drop for sure as most of the businesses are unable to cover the customer churn rate by the customer growth rate.
---
Read More: Boost Your Business Growth Using Customer Satisfaction Score
---
#2. Public Image:
The world is small and you realize it when you encounter a person or company that has a bad impression of you because of your previous customer who left a bad review. So, the customer churn makes your products and services appear bad and incapable.
Even a company among the Big 4s, PwC found that a whopping 32% of customers walked out after JUST ONE bad experience. So, the public image can be affected by just one incident.
#3. Revenues:
Suppose you started with 1200 customers in a year and made an earning of US $400 per customer. Now, at the end of the year, you were left with 700 customers and 100 new customers. Though the 800 customers will earn you US $320000, the amount is certainly lesser than US$480000 which was the earning you started with. This is how a high customer churn can affect your revenues.
This is why you must reduce customer churn as even a small change in the numbers can bring far-reaching effects on your earnings.
Customer Churn Management – Strategies to Reduce Customer Churn:
The churn reduction strategies mentioned here will help you in effectively managing customer attrition and keeping your existing customers happy. Read them carefully and maintain your customer pool:
Always have a smart, expert and modern customer help desk that you can scale and optimize as your business grows. Never let simple or small issues escape your notice and troubleshoot them.

Offer live support system in the form of chats; screen shares and even calls so that your customers feel important and cared for.
Employ a help desk with an impressive knowledge-base so that small issues can be addressed with ease and automatically.

Offer reports, surveys and even video tutorials to your customers so that they can find help via various means and make the most of your products.

Understand and find out the ROOT CAUSES of your churn and reduce customer churn by addressing them. If users don't find the UI interactive and scalable with their business scenario, work on these things and make consistent improvements.

Product Bugs and Crashes are also the major downers that can lead to churn. Effective management of crash reports, bugs and other such issues are some of the extremely helpful churn reduction strategies.

Ensure customer engagement by sending updates and versatile content to your customers. Deals, discounts and offers and subscriptions etc are also beneficial to reduce customer attrition.
Having talked about the customer attrition in detail, let us move on to another important aspect – Customer Retention. Find out some tips to increase customer retention in the following section.
Increase Customer Retention – Tips and Pointers:
Effectively communicate with your customers via news, public channels, monthly newsletters and videos or blogs. This will help them find out more about your products and services.

Customer education is one of the best means to increase customer retention. Hosting free video tutorials, webinars and live sessions or online support materials for all kinds of minor troubleshooting can help you tackle the customer churn.

Identify the RIGHT audience for your product or services and cater to them without making any mistakes.

Make it a habit to check the customer reviews and even try to obtain reviews from the customers after regular intervals to ensure that you find about the user experiences.

Offering intelligent incentives such as discounts on long-term contracts; freebies for timely payers or deals for the first few customers in a financial year can help you reduce customer churn and increase retention.
So, make efforts consistently; address the customer complaints; and never take things for granted to keep your products and services valid and helpful to the existing customers. Constant updates and innovation are essential to acquire new customers. We hope that you find the information given here helpful in managing the customer churn and increasing customer retention. Having a customer-oriented business approach will surely pay-off and keep your business profitable.
Let us know your queries and suggestions in the comment box!
Do you want a free Help Desk?
We have the #1 Help Desk for delightful customer support starting at $0