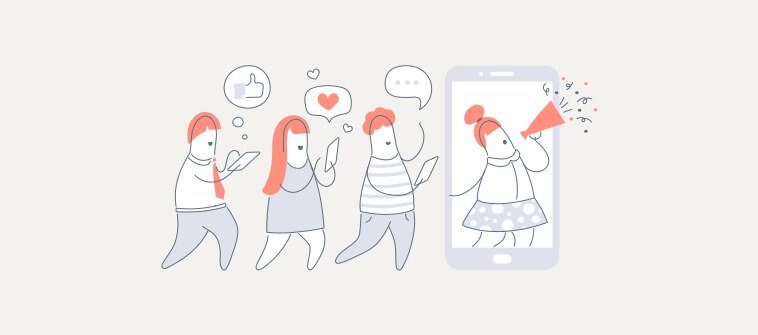 "When you help others feel important, you help yourself feel important too." – David J. Schwartz, Author, and Motivational Speaker
That's exactly what Lego did for a seven-year old Luka Apps who was devastated after losing his favorite toy – Ninjago.
The boy wrote a heartfelt letter to the company saying: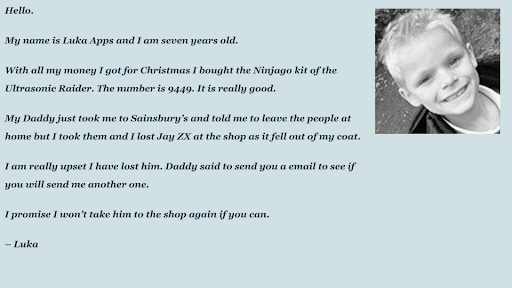 Well, the company was thrilled to hear from their fan and wanted to make sure that they replied to his mail in the most unique way possible. So support rep Richard informed Luka about how he had a word with Sensei Wu, and this is what he had to say: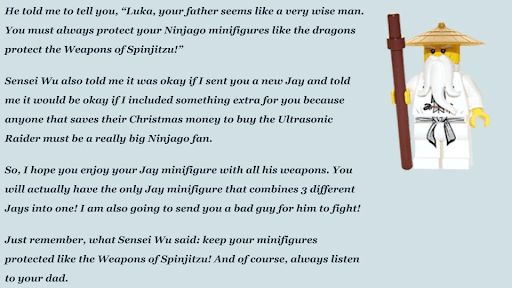 So, what's the learning here?
No matter who your target audience is, make sure you offer the best possible customer service experience to each. This incident not only describes that your agents should mold themselves when needed but also keep in mind the customer's sentiments while sending a reply to them.
This brings us to our next question.
What Is Customer Service
For me, customer service is a process where a company needs to offer help to those who end up buying their products or services. But the same concept ends up having multiple definitions according to different individuals.
In short, the very concept of customer service has evolved.
What's more, the same customer service definition gets a different connotation from people who experience it first-hand as good or bad.
And that's not all, 47% of customers choose to switch to a different brand due to bad customer service within the last year while 39% of customers prefer avoiding that same company for 2 or more years.
So, what is bad customer service for people?
It is an experience where the customer has to wait far too long for a response or ends up having none at all. In short, they end up having a bad experience with a company that they approach for support or assistance.
This also brings us to the next definition of customer service. So, what is good customer service?
Some may explain it in terms of shooing away the bad things that impact your customers really quickly whilst maximizing your potential to offer them a positive experience with your brand.
That said, the three words that can exactly define the underlying meaning of good customer service are 'Exceeding Customer Expectations'. While the expectations can vary, the core principles of good customer service definition remain the same.
Recommended Read: 10 Latest Customer Service Trends for 2021
Principles of Good Customer Service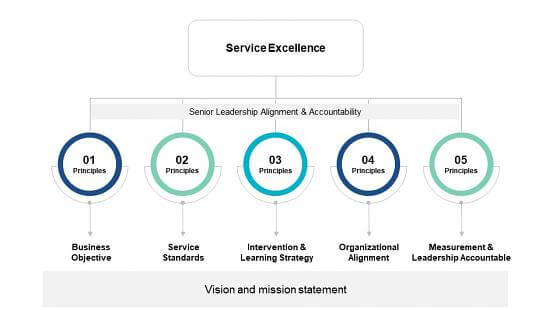 Relationship building with your customers lays the groundwork for good customer service. Offering a positive attitude, frequently thanking customers, being helpful and friendly are all key contributing factors where your customer leaves with a great impression of your brand.
Plus, a happy and satisfied customer is bound to return to your organization and is likely to spend more on your brand.
That said, what does good customer service mean to you from a business perspective.
Good customer service from a business point of view generally constitutes the following:
Have a sense of what your customers consider to be

good customer service

principles

Really know your customers well enough to gauge their expectations from the brand

Keep a track of all types of feedback that you receive

Integrate customer service throughout your business operations

Always aim high and strive to achieve

great customer service

standards
Elements of Good Customer Service
Businesses instinctively know and understand the need to incorporate high-quality customer service standards. Key elements of an exceptional customer service can be captured under:
Service that is quick

Service that is proactive

Service that delivers instant solutions

Service that adds a touch of personalization

Service that offers a connected experience
Having said that, knowing how to be good at customer service begins way before any chats or calls with customers. Everything has to do with hiring the right team that can drive your customer service objectives and strategies forward.
Great customer service goes beyond the usual complaint handling, bug fixing, or offering discounts and coupons. It is everything to do with leaving positive memories of your business with individuals who matter the most.
The good customer service example mentioned in the introduction helps us to understand that a business should:
Think beyond the traditional customer service experience

Create a personalized experience for customers

Let the customers know that they care in a more creative style
To execute this to perfection, let's take a look at how to be a good customer service provider.
#1: Show Commitment to Your Customers
Having a customer service strategy should be in the DNA of any business enterprise. Showcase it through your Company Vision / Mission / Vision Statements to your client base.
The focal point should be on development towards a more customer-centric organization with the leadership driving the objectives through strategic, goal-oriented decisions. Having a 'customer first' approach and a laser focus on customer service and experience can work as guiding forces.
#2: Help Agents Learn How to Listen to Customers
Good customer service skills may not always be inborn. But fret not, because agents can easily learn them. Here the management too plays a key role. They must make sure that the relevant teams who are in direct contact with customers have appropriately internalized the vision.
The goal is to get them to learn how to listen and not just talk to customers. With listening comes an understanding through which you can take all the necessary steps to resolve customer issues and meet their needs and expectations.
#3: Make Product Knowledge More Accessible
Troubleshooting with customers day in, day out should make the agent an expert on each and every product offered by the brand. If that is not the case, then delivering a good customer service experience becomes an impossibility.
Having expansive product expertise is absolutely necessary and is a required pillar of customer service operations. Moreover, the agents should believe in the product which is what will actually help them to highlight their features, benefits, and insightfully discuss them.
It also aids the agent to help customers get the maximum benefit out of their purchase and extract its true value for the money that they've spent on it. The aim of the customer service team should be customer amazement with inputs of timely recommendations, which are examples of good customer service experience.
#4: Encourage the Concept of DIY Service
The business should consider having a detailed and easy to navigate help center which may be accessible via the brand's website. This platform is designed to drill deep into common customer concerns.
Under the hood of this informative self-service platform, customers can access thousands of articles. This streamlines customer service by making it more visually appealing. Being in sync with offering quick solutions to customer issues through a search by category or by specific need enhances the overall client experience greatly. Plus, customers, too feel empowered since they are able to resolve their issues quickly through self-service tools.
#5: Foster a Sense of Community Support
It may not always be possible for a single customer service agent to solve a client issue. Several brands have enlisted dedicated top customer service software to host several forums accessible by both the brand and the clients.
Putting out the question into these public platforms invites responses from connected individuals to offer advice and recommendations. The advantages of this form of customer service are many as it taps into the wisdom of a crowd that, in turn, nurtures a feeling of bonhomie and community support.
By letting customers help one another streamlines the service experience as agents can concentrate on more pressing matters; possibly even handle requests at a faster pace. Plus, enabling users to be a part of a community largely boosts the overall satisfaction levels too.
#6: Make Personal Interactions More Accessible
If self-service tools or community forums have not been able to resolve the customer's concerns, the next obvious step is to reach out via the phone or live chat. Integrating your website with the Best Help Desk Ticketing Software can be the answer here.
A dependable help desk system offers the facility of ticket management in addition to making live chat accessible for the brand on a 24/7 basis. The objective here is – never put the customer on hold. With live chat plugins and developing chatbots can help screen relatively simple customer concerns through first-level responses and resolutions. More complex issues can be connected to live agents who can then find a solution for the customers in question.
While technology is important to streamline the business operation, it also reflects on how human interaction greatly increases the value of customer service too.
---
Related Read: 20 Best Help Desk Tools of 2020 Comparison
---
#7: Nurture Relationships Between Customers and Brands
When you bridge the gap between the brand and the customer, you have always crossed your first hurdle successfully. Attitude is everything here. Most importantly, remember to wow your customers as you solve their problems. Just like Captain Mike did for Lt. Norm. Meeting your customer needs creatively inspires confidence in the brand and converts them into loyalists.
Even though every customer expects agents to resolve queries at break-neck speed, they also understand that solutions to complex problems take time. At the heart of this is an understanding customer, who is looking for appreciation. They want to come before products or profit.
It would be a mistake to get too comfortable in your present position, however great it may be. With the passage of time, customer needs and expectations are always evolving and always will. So, let their needs and expectations drive your innovation. Treat them like they are the center of your world and let them drive the business for you.
Good Customer Service Is One That You'd Like to See Yourself
You may have read about plenty of great customer experience stories and probably have gone through a few of them yourself. In spite of these good customer service reviews examples, the best way that you can ensure you offer good customer service is by answering a pretty simple question.
Would you like to receive this kind of service yourself?
Answering this can be challenging, and you will have set yourself a ton of homework to get the equation just right. Keep going back to the basics, let the ideas flow in, and keep reviewing your strategies and objectives.
Given time, you will find the approach that will work best for your business. And when you find the right answer, you've already won half the battle in good customer service. Coupled with a solid product will set your business up for long-term success.
And with satisfied and happy customers as your advocates, isn't that the best outcome for any business?
Now that we've taken an in-depth look at what is good customer service, let's take a quick glance through some frequently asked questions.
---
Q1. What is the Difference Between Customer Service & Technical Support?
Customer service and Technical Support are functions within the same organization but serve different goals and purposes. The focal point of customer service is on the overall experience of the client. On the other hand, technical support concentrates on finding solutions to technical issues or problems being faced by the customer quickly and efficiently.
Q2. What are the 3 Key Elements of Good Customer Service?
Whether you are a new or established business, to deliver good customer service, you need to incorporate 3 key elements:
Patience and honesty

Engagement

Knowledge
Q3. How to Reduce Customer Service Costs?
Customer satisfaction for every business is of top priority. That said, one cannot infinitely keep spending on customer service. Here are some ways by which you can minimize your customer service expenditures:
Constitute your customer service team with people with the right attitude and mindset, have the appropriate knowledge, and are well-trained. Optimizing employee training to prepare agents effectively can be a useful cost-saving mechanism in the long run.

Build a comprehensive self-service platform that encourages users to look for solutions to easy and simple concerns. Even though the initial monetary investments will be high in developing the tool, it will eventually spread out the costs in the long term.

Offering help in real-time through live chat or social media channels decreases the burden on phone agents resolving more complex issues. Plus, integrating these freely available helpdesk tools can also streamline the ticket managements propagating quick customer resolutions too.
Q4. How Help Desk Software Boosts Customer Service?
Usually available as a suite of software programs, a help desk system assists customer service agents to receive, process, and respond to customer requests or queries across multiple channels or touchpoints.
In most help desk software, there is a centralized integration of information received from several sources including data, from the phone, email, live chat, and social media. This helps customer service agents to view the most updated information on customer tickets and more from the help desk system's unified dashboard and respond to them within the designated timelines.
Q5. How to Choose Best Help Desk Ticketing Software?
Several guidelines that can help you choose the best help desk ticketing software for your business.
Evaluate your requirements by assessing your current operational and support processes and procedures

Think of your budget because your help desk application should be scalable and sustainable in the long run

Before making your final purchase, come up with a list of best help desk software are matches and aligns well with your business needs

Go through trials runs by opting for their free or freemium versions

Individually assess and monitor the impact that every shortlisted help desk software has on your business
Following these points will help you to deploy the best help desk solution for your business.
Do you want a free Help Desk?
We have the #1 Help Desk for delightful customer support starting at $0