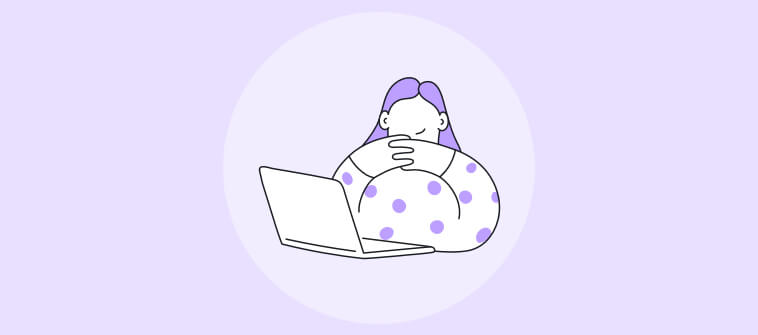 Have you ever wondered what the world's largest hotel chains such as Marriott, Hilton, or Hyatt have in common? Well, the answer is delightful hotel customer service.
But handling hotel guests is not always smooth sailing!
While on the one hand, you have to deal with hundreds of last-moment cancellations, on the other hand, there are customers who would make a huge fuss in the absence of their favorite soap.
With the rising competition in the hospitality industry and the COVID-19 impact, it has become all the more important for hotels to adopt a more customer-centric approach. After all, delighted customers will not hesitate to book again for their future visits. In fact, if everything goes as planned, they will offer you the magical gift of word-of-mouth marketing.
So if you are looking for ways to improve customer service in the hospitality industry, this blog is for you. We will understand the importance of hotel customer service and explore ten tips and best practices that you can adopt today.
Let's go!
What is Hotel Customer Service?
Hotel customer service refers to the assistance provided to customers or guests before, during, and after their stay at your hotel. Guests can need help selecting rooms, making online reservations, canceling their bookings, or making other arrangements during their visit.
By providing the best hotel customer service, you can ensure that guests get their queries resolved in real-time. Delightful guests are more likely to return for future stays and help your brand with word-of-mouth marketing.
Importance of Providing Great Customer Service in a Hotel
Customer service plays a key role in any hotel's success. The margin of error is pretty slim as even a small mistake such as giving the wrong room key to a customer can create havoc. Therefore, you need to be ready for any challenge and make every interaction count.
Let's look at the benefits of providing great hotel customer service for your business:
1. Get Repeat Customers: Repeat customers are returning customers who have purchased from your brand at least once before. Now, you will be surprised to know that 52% of customers say they have made an additional purchase from a brand after a positive customer service experience. Therefore, with great hospitality and customer service, you can make hotel guests visit you again and recommend you to their friends or family members.
2. Differentiate Your Business From Competitors: As they say, if you are the best, customers will love you, and rivals will follow you. There is no doubt that there can be hundreds or thousands of competitors in the hospitality industry. However, by offering exceptional, positive customer service, you can give a unique distinction to your brand and stay ahead of your business rivals.
3. Poor Customer Service Can Be Costly: Poor customer service can be draining all your company's hard-earned money. According to a study, US companies lose around $75 billion due to poor service. The same applies to your business too. Hospitality businesses that do not improve their customer service will witness fewer bookings from their new as well as existing customers.
How Does Help Desk Tool Help in Hotel Customer Service?
With the best help desk software, you can manage all customer conversations, from booking to checkout, in one place. No matter if a guest drops an email or interacts with you via the live chat button on your website, you can easily stay on top of every conversation.
Let's look at more awesome things you can do with a help desk tool:
With ticket management features, you can assign tickets to relevant team members, prioritize urgent issues reported by guests, and add Labels to tickets for better ticket organization.
You can integrate it with knowledge base software to create a dedicated help center and build FAQs around common topics such as pricing, refund policy, directions from the airport or railway station, nearby restaurants, and more.
With an AI-powered tool like ProProfs Help Desk, you can even develop powerful chatbots and make sure your hotel customer service is available 24×7.
Your staff members can keep track of a guest's past conversations with Ticket History and use that to create personalized experiences.
Read More: Why Help Desk Software is Important for Your Business
10 Best Practices to Provide the Best Hotel Customer Service to Your Guests
Let's look at the top ten hotel customer service tips and best practices that will help you deliver delightful experiences.
1. Know Your Customers Inside-Out
In the hospitality industry, getting to know your customers can prove to be the most difficult thing. A lot of customers will stay for a day and never see you again. So, how do you gain deeper insights into the needs and expectations of your customers?
You can use a plethora of research and survey tools to understand the behavior of your target customers.
You can even segment your customers into meaningful groups (such as family, couple, friends, business colleagues, etc.) and address the unique needs and challenges of these groups.
To get closer to your customers, you can start by asking yourself the following questions:
What channels/websites do our customers use to make hotel reservations?
How many customers visit our website on their smartphones?
Are the majority of guests traveling for leisure or business purposes?
What do my customers love the most about their stay?
What are the top three things that customers want us to build in the future? (kids play zone, terrace garden, etc.)
All these data points will help you mold the hotel stay experience to best suit the needs of your audience.
2. Kill it With an Awesome First Impression
To win at hotel customer service, you need to deliver a "wow" experience right from the start.
No matter if you serve ten guests every day or a thousand, as soon as someone steps into your hotel, they should feel like royalty.
When the first impression is right, customers can start their journey on a positive note and are bound to have a memorable experience. Here are some tips you can consider for the same:
Offer a welcome drink: You must have seen in movies how top-rated hotels welcome their guests with a mojito or a mocktail. This is an excellent and cost-effective way to make your guests feel welcomed and appreciated.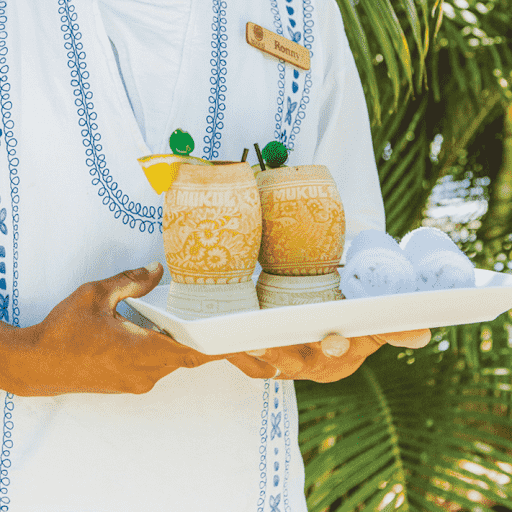 Personalize interactions: To nail customer service in the hotel industry, it is important to remember your past or loyal customers. Greet them by their name, remember their preferences, and offer them personalized services.
Adopt positive body language: If your employees appear unhappy or tired, they can transfer similar vibes to the people who visit you. However, adopting positive body language such as a smiling face, maintaining eye contact, firm handshake, leaning in while speaking, etc., can turn the tables for your business.
3. Train Your Staff & Focus on Their Happiness
To deliver the best hotel customer service experience, you need your staff members to pull up their socks and be ready for any challenge. There is no doubt that a well-trained and happy staff leads to happy guests. For a well-trained staff, you can:
Create customer service scripts for consistency: Well-curated customer service scripts can offer uniformity to the conversations that take place in your hotel. For proper training, you must create scripts for different situations such as welcoming the guests, booking their rooms, handling room-service complaints on the phone, etc. So, when a customer interacts with any random staff member, you can be sure that each of them will handle it the same way.

Train your staff on empathy: Empathy is all about being respectful to someone's emotions and seeing the situation from their point of view. Empathetic customer service employees can understand the root cause behind someone's behavior. Instead of arguing, they will make sure that customers feel understood, heard, and appreciated.
Reward good behavior: To keep your staff happy and in love with what they do, you need to reward their good behavior. Although hotel staff members do occasionally receive tips from guests, you need to have a reward and incentive system in place. Anytime staff members exceed customer expectations, recognize their efforts and reward them as per your policies.
4. Go Above & Beyond to Surpass Expectations
For great hospitality, you must look for new ways to interact and engage with your guests.
When people are traveling, they wish to explore new places and crave new experiences. Your hotel customers will not return if they have the same repetitive experience every single time.
To spice up things, you can look for creative ways to make sure every customer gets an experience worth sharing. Here are some creative ideas that can get the job done:
Share hand-written thank you notes: When customers are ready to leave, and about to check out at the reception, you can hand them personalized thank you notes. Although this is a small and common gesture, it can make a huge difference.
Offer Freebies: Always look to provide something more than you had promised earlier. For example, you can offer free stay for extra hours to people who booked rooms in advance. You can also offer discount coupons that customers can redeem during their next stay.
Create a kid-friendly zone: If kids love a place, their parents will love it too. You can create a kid-friendly space or a play area where kids can have a fun time. If you already have one, you can think about creating a pet-friendly area too.
Read More: 20 Best Customer Service Tips for Small Business
5. Take Inspiration From the Best
There is always something you can learn from the hotel chains that are known for impeccable customer service.
Inspiration can open new doors of possibilities. Instead of hating your competitors, see what they are doing "right" and get inspired!
Let's look at some excellent customer service examples in hospitality:
EVEN Hotels
Customer Service Lesson: Focus on the overall health and wellness of guests
EVEN Hotels has been one of the top choices of health-conscious businesses or leisure travelers. Every aspect of this hotel chain is centered around health and wellness. Even their staff is passionate about health and won't mind recommending routes for local running or physical activities. In fact, EVEN's hotel managers are referred to as "chief wellness officers".
Hilton
Customer Service Lesson: Empower customers with a well-designed mobile app
Hilton is another brand that is taking hotel customer service and experience to the next level. You will be surprised to learn that their loyalty program called Hilton Honors has over 60 million members. With the mobile app, guests can select the room as per their preferences, order meals in advance, and even unlock rooms using a digital key. This has helped the hotel brand reduce staff efforts and focus more on valuable face-to-face interactions.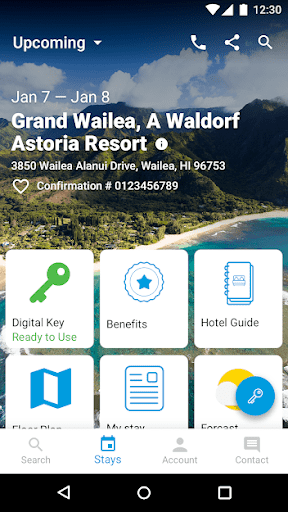 Read More: The Top 10 WOW Customer Service Stories of 2021
6. Embrace Latest Technology
Technology and rapid digitization are reinventing how customers interact with their favorite brands. In this race to become the best, it's wise not to stay behind.
Technology is critical to hotel customer service. As more and more customers move online for bookings, complaints, and reviews, you need to deploy technology to enhance the support experience.
Let's look at some technological innovations and tools that you can start using right away:
Interactive Voice Response: You can invest in a good IVR system so that customers can receive information related to room availability, booking confirmations, etc., on their own. They can even be routed to agents who speak their language.
Chatbots: Just like IVR, a chatbot is another impactful self-service tool. When customers visit your website and have any questions related to pricing or discounts, they can easily interact with a bot and get quick answers. The best part is that bots can handle multiple chats simultaneously, giving your staff enough time to handle urgent issues.
Social Media Monitoring: For any business operating in the hospitality industry, it's important to maintain a strong social media presence. With social media tools, you can track all social media comments, brand mentions, etc. You can even review the performance of your posts and improve customer engagement.
7. Take Feedback From Your Hotel Guests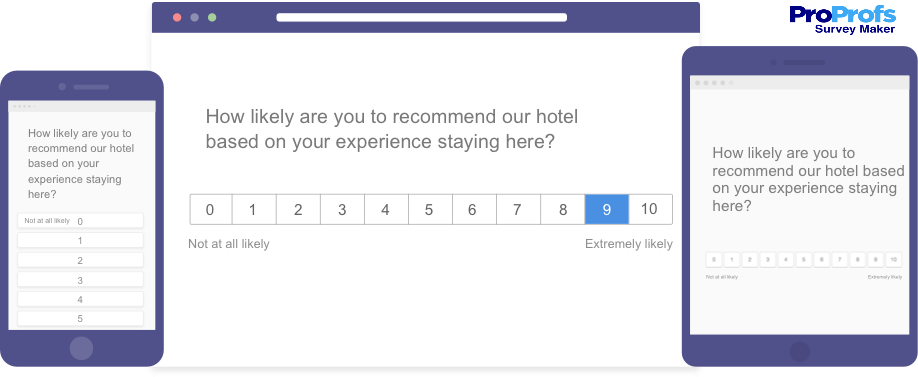 Taking feedback and acting on it is considered one of the best ways to provide excellent hospitality. After all, customers love to engage with a business that is ready to hear them out.
Hotel guests love to share their experiences with their close ones and would not mind doing the same with your business. You just need to ask the right questions at the right time.
If you are unsure where to start, we have done the heavy lifting for you. Here are some questions you can ask customers and capture their candid feedback:
What was the reason for your visit?
How did you come to know about our hotel?
On a scale of 0-10, how likely are you to recommend this place to a friend or family member?
How helpful and friendly was our front desk staff?
What can we do to improve the check-in process?
If you had to improve a single thing about our hotel customer service, what would that be?
Anything else that you would like us to remember for your future stays?
Once you have gathered valuable feedback from the guests, you can easily understand which aspects are working well and which need improvement.
Read More: Survey Question: 250+Examples, Types & Best Practices
8. Get Proactive
If you wait for customers to raise their issues, you might be putting your hotel's reputation at stake. Even a single social media mention about a negative experience can create havoc. So what can be the way out?
With proactive hotel customer service, you can share the solution before the problem even occurs.
Here are some tips you can follow to proactively support guests:
Check-in on your guests: Check in on your guests to see if their expectations are being met or not. You do not have to unnecessarily knock on their doors every hour. Instead, you can initiate small conversations when the guests are in the hall or going to the pool.
Share SMS alerts: Another great way of offering proactive customer service is by sharing SMS alerts. For example, you can use SMS notifications when customers make a hotel reservation, when the WiFi is not working, or update them about any safety protocols for COVID.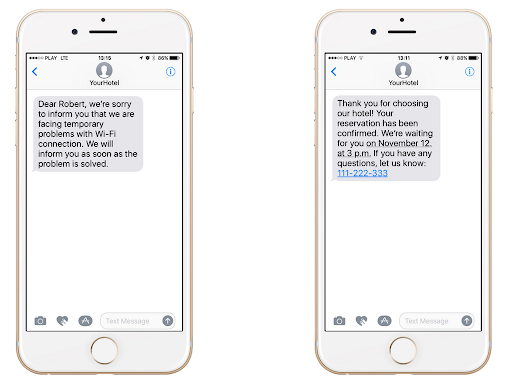 Create an online help center: To reduce the number of calls your team receives from guests, you can create an online help center. The help center can act as a repository for help articles, FAQs, travel guides, and more. You can create a QR code for your help pages and add them on pamphlets or door stickers.
Read More: Proactive VS Reactive Customer Service: Which One Should You Choose?
9. Partner With Other Businesses
For service improvements, you don't always have to be dependent on your own resources. You can form strategic partnerships that will help you enhance customer service and enable cross-promotion.
To create better business partnerships, you need to be quite selective. If your partner's customers are unhappy, you will stand to lose customers as well, and vice-versa.
So what businesses can a hotel partner with? Well, any business that shares the same values as you and does not hamper your reputation.
For instance, your business can partner with a local florist. You can ask the business to create personalized flower buffets for your guests. On one hand, this will help you create a strong first impression, and on the other hand, the florist shop will be able to promote their brand too. Win-win situation!
Similarly, you can even partner with nearby restaurants, bars, adventure sports or outdoor activity companies, and more. Keeping their pamphlets in the reception area will help customers discover amazing places and have a great time in your city.
10. Ask Customers to Leave Online Reviews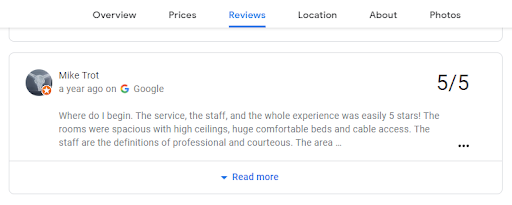 Did you know that 88% of consumers are influenced by online customer service reviews when making a buying decision? Yes, you heard that right!
Think about your last online purchase for a moment. There are high chances you carefully read at least a couple of reviews before hitting the "Add to Cart" button.
Positive and in-depth reviews will not only help your hotel acquire more customers but will also help people make the right decision. When prospects go through reviews, see images and videos, they will know exactly what to expect and, more importantly, what not to.
But here is a million-dollar question – how do you ask customers to share reviews?
You can ask for a review in response to praise. Imagine a customer who is about to leave says he was happy with the complimentary breakfast he received. The hotel staff can use this golden opportunity and politely ask for a review.
You can even share automated emails with customers who give positive feedback on your surveys and ask them to share detailed reviews on your website, social media, or other hotel comparison platforms.
Take Your Hotel Customer Service to the Next Level
Customer service and hospitality go hand-in-hand. You cannot become a hospitable hotel brand if you do not take care of your guests and anticipate their needs.
To provide the best hotel customer service, you must look to create a memorable first impression. Train your staff for empathy, positive body language, and do not hesitate to take inspiration from your business rivals. Lastly, remember to take customer feedback, act on them, and encourage customers to share their experiences by posting online reviews.
After following these tips, you will put your business in a better position to meet customer needs and enhance guest satisfaction. Ready to treat every customer like royalty?
Do you want a free Help Desk?
We have the #1 Online Help Desk Software for delightful customer support