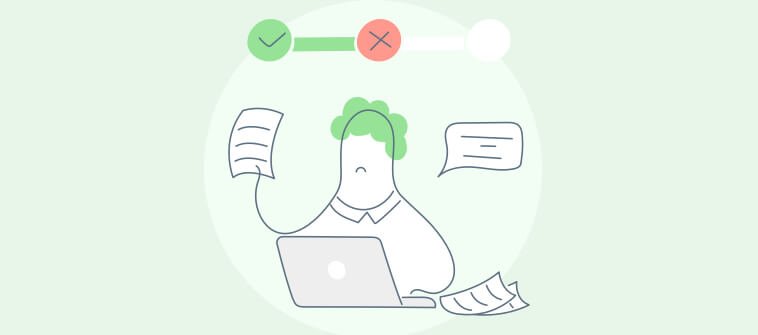 Effective communication lies at the heart of long-lasting customer relationships.
A single personalized message is powerful enough to make customers your life-long fans. On the other hand, a delayed response has the potential to make them turn to your business rivals.
With the current explosion in customer service channels, businesses are struggling to meet customer expectations. In addition to this, every brand on this planet is bombarding existing as well as target customers with thousands of advertisements. A help desk software one of the best channels to remove clutter & manage your customer support queries easily from multiple channels.
Amidst all this chaos, an important question overshadows all others: How to communicate effectively with customers?
For effective communication, you must know the ins and outs of your products or services better than anyone else. Communication skills such as patience, active listening, and an attentive mindset can also make a huge difference.
Well, that's not all!
Read this blog to understand the importance of communication and discover 15 tips for effectively communicating with your audience.
What Is Customer Communication?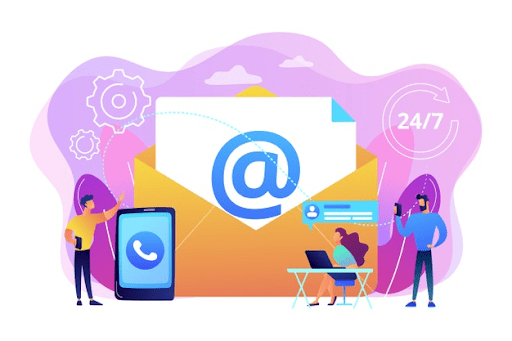 Customer communication refers to the process through which a business shares valuable information with its customers. Such interactions take place over popular communication channels such as email, phone, live chat, social media, online forums, customer portals, and many others.
Businesses communicate with customers, mainly for two reasons- to assist them with their requests or complaints and to market their new or complementary products.
Now you might wonder, why so many businesses are working on their customer communication strategy? The reason is simple- the absence of proper and timely communication can quickly escalate to agitated customers, decreased sales, and negative word of mouth.
What is Customer Communication Management (CCM)?
Customer Communication Management (CCM) refers to a strategy used by businesses to enhance the quality of outbound communications. The principles of CCM are brought to life with a customer-oriented software that stores all customer communications in a central place. This ensures that different departments in a company- marketing, sales, finance, and customer service teams can closely monitor all customer interactions.
CCM involves a strategy that incorporates all your customer-facing employees. They can access outbound conversations in one place and collaborate with other departments to ensure a smooth customer experience.
Why Is Customer Communication Important?
Today, the way you communicate with your customers can make or break your brand. Improved communication with customers can lead to happy customers, repeat purchases, and increased referrals.
According to a Microsoft study, about one in three people say the most important aspect of customer service is speaking with a knowledgeable and friendly agent.
However, factors such as 24/7 availability, and the presence of multiple communication channels are equally important for customer delight. Let's quickly look at some benefits of excellent customer communication.
Assist Customers in Real-Time
Notify them About Important Updates
Market Your New Products
Delight Customers
What Are the Popular Ways to Communicate With Customers?
Modern-day communication is not limited to traditional channels such as written letters or phone calls. Rapid innovation has given birth to digital channels such as live chat, email, social media, and more.
Here are 4 popular communication channels along with their benefits:
Phone: The phone is great for resolving complex issues that cannot be resolved on other channels. For instance, a technical agent can direct the customer to take the necessary troubleshooting steps. Moreover, nothing is more reassuring than a calm human voice.
Email: To get things into perspective, there are more than 4 billion email users in the world. Email is one of the most cost-effective communication channels available to mankind. Email threads can be used to track the complete customer conversation.
Live Chat: Chat is one of the fastest methods of communicating with customers. Customer service reps can interact with customers in real-time and explore cross-selling or upselling opportunities.
Social Media: There is no doubt that the coming decade will be dominated by social media platforms. There is no need to make any heavy investment as you only require a social media page. You can share regular updates with customers and even run paid promotions to reach a wider audience. You can make the most out of your social media efforts with social media marketing tools available in the market.
Read More: What Is an Email Management Software & Why You Need One?
15 Tips to Communicate With Your Customers
Most business leaders have an important question in mind- how to improve communication with customers. While building a culture around effective communication might take some time, it isn't as hard as you might think.
Here are 11 tips to communicate with customers and improve customer experience.
1. Convey Accurate Information
For effective communication and customer service, conveying the right message or information is important for any organization.
Remember, half-knowledge can be dangerous for everyone. For instance, if a customer contacts you to inquire about the steps needed to operate an electronic gadget, any inaccurate information can prove to be life-threatening.
It is the management's responsibility to ensure every staff member has the same and the right amount of information. They must clearly convey information about the turnaround time, so that realistic customer expectations can be set right from the start. It's often noticed that providing the same information on every channel leads to a consistent customer experience. Any difference may cost you a precious customer.
2. Practice Proactive Customer Communication
In many instances, customers don't get satisfied with the service offered in the first attempt. They might call you again to get their issues resolved, and probably again. In such cases, solving that issue might take more time than the customer's expectations.
In such a scenario where your customer is waiting for your response, follow a proactive approach. The best way to communicate with customers is to keep them informed about every progress done.
By using help desk software, you can share automated notifications and alerts with customers as well as your internal employees. In order to encourage proactive self-service, you can create a dedicated knowledge base. It includes relevant help articles and FAQs for customers to resolve their basic questions on their own.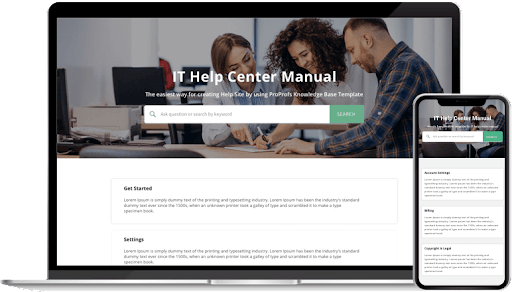 Read More: Proactive VS Reactive Customer Service: Which One Should You Choose?
3: Avoid Interrupting Your customers
When customers are complaining about a product or service that has disappointed them, listen to them carefully. Let them finish what they have to share and don't interrupt in between.
There is a good possibility that you might have heard the same problem many times and might know a quick solution to that. However, it is important to remember that unnecessary Interruptions can disappoint your customers, and make them feel less valued.
Only interrupt when you encounter any communication problems with customers. For instance, you can politely ask your customers to pause in case there is a language barrier, technical glitch, or their voice is not audible.
4. Know Your Product or Service Inside-out
Customers will ask you everything under the sun, and you need to be prepared.
A lack of knowledge about what you offer can leave a negative impression in the minds of your customers. If customers can sense that your employees don't understand your products or services well-enough, they might lose interest.
Ensure your employees undergo regular training sessions and are well-versed with all product features as well as industry trends. Ask your product team to share necessary information about new product launches so that your front-facing employees can share the same with customers.
5. Have an Attentive Mindset
While there are many different ways to communicate with customers, for positive interactions, you need to keep an attentive mindset. While attending to your customers, you cannot just afford to miss out on crucial details as it can further aggravate the situation.
Practice active listening and always pay attention to their words and queries. Be attentive and in case you miss something, don't be afraid to ask the customer to repeat themselves.
During the interaction process, ensure you are present in an environment with the least distractions. Block out any unnecessary noise and always keep a pen and paper handy to make important notes.
6. Be Honest
It may happen a few times that a customer has asked you a question and you have no clue. As a result, you might fail to provide him with an appropriate answer. At that time, it's better to honestly admit that you don't have enough information about this.
Reassure the customer that you will provide him with the appropriate solution quickly. If possible, ask the customer if you can put them on hold to seek information from a higher rep or manager.
Avoid using words such as – "I think", "it could be", or "maybe this one." Frequent use of these words can make you sound confused and less confident. Remember, any customer would choose an honest response, even if it is negative, over a wrong dishonest response.
7. Don't Hurry!
It's normal that at the end of the day, you are tired, and you might tend to take shortcuts while dealing with your customers. You might also go ahead and take their queries lightly.
However, it is important to remember that although the person might be your 100th customer, you are the first representative for them. So, be polite and treat them like the way you handled your first customer of the day.
We understand that every employee has a set of targets to achieve. However, rushing your way to end a call will make you look rude and unprofessional. Plan your day in advance, take one interaction at a time, and be willing to offer your valuable time to every single customer.
8. Practice Patience
Being a customer representative, you should know why a customer approaches you. They reach out to you when they are unsure and confused regarding your products or services.
Now since your customers have invested their hard-earned money, they might become angry due to any miscommunication or the feeling that they have been treated unfairly.
During such times, all you can do is practice one of the most important customer communication skills- patience. At the end of the day, patience will help you find the correct solution and win over your customers. Always remember that great help is better than a quick one.
9. Communicate the Way Your Customers Want
It is important to note that customers are different in what they want and expect from a business. Why some might prefer to interact with a human agent on the phone, others might leverage a chatbot to resolve their basic issues.
Before dealing with their problems, always ask them which language or mode they are comfortable with. To make it even simpler, you can ask questions like "what is the best way to be in touch with you?" or "Would you prefer calling, emailing, or texting?" Remember, asking a simple question can take you a long way.
Read More: Choose the Best Customer Support Channels for Your Growing Business
10. Personalize Every Interaction
Personalization can be a powerful tool to grab customer attention and deliver memorable experiences.
According to research, personalized email campaigns receive 29% higher email open rates and 41% higher click-through rates compared to ordinary emails.
Greet your customers by their first name and share content based on their likes and interests. Moreover, even before your customers contact you, make sure you have enough context. Keep complete customer information- from the products or services they have bought from you to the history of their past communications.
Read More: How to Offer Personalized Customer Service Using a Help Desk Ticketing System
11. Encourage Questions
Communication is a two-way process that requires efforts from both ends. To make any session more interactive, encourage customers to ask as many questions as they want.
After all, if people are inquiring about your products or services, it's a great sign for your growing business. You can not only answer their questions but also get the opportunity to educate them about the various benefits and advantages. Many customers don't see the value in buying from a business unless they are educated about the returns.
Before concluding a conversation, always ask- "Do you have any questions you would like to ask?" When customer questions are answered promptly, they can gain much-needed clarity on aspects such as product features, available discounts, delivery schedules, return policy, and more.
12. Resolve Urgent Complaints First
Every company, big or small, needs to deal with customer complaints. There will be customers who applaud you when something works great and criticize you when they encounter even a small problem.
However, the way you handle urgent customer complaints can make all the difference. Encourage your agents to resolve complaints as per the set Service Level Agreements (SLA). In addition to this, prioritize customer issues that demand urgent resolution.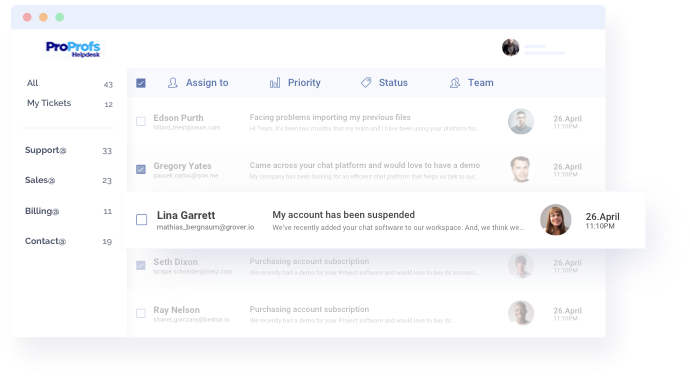 A customer support software such as ProProfs Help Desk can help your agents prioritize customer issues easily. They can set the priority of urgent tickets as 'High' and track them until they are resolved.
13. Eliminate the Use of Negative Phrases
When you communicate with a client, the entire reputation of the business is at stake and there should be no place for negativity. Even if you encounter an abusive customer, repeating the same will not make you any better.
Every customer who contacts your business wants to hear that there is a solution to their problems. Using words such as "we can't", "not possible" or "don't" will signal an inability to solve a problem or lack of expertise. The consistent use of negative words or phrases may further frustrate customers and make them lose confidence in your brand.
Focus on using language that is positive and reassures your customers that they have come to the right place.
14. Use Consistent Brand Vocabulary
For effective customer service communication, you must use consistent brand terms that customers can easily grasp. The vocabulary used to communicate with customers must match the vocab used on your business website, product catalogs, mobile application, social media pages, etc.
Using different or new terms for the same things might confuse customers and negatively impact their buying decision. Train your staff to be consistent in the vocabulary they use across all communication channels.
15. Understand What You Are Doing Wrong
Every business makes mistakes- whether they are creating the world's best product or simply trying to assist a frustrated customer. The truth is that communicating with customers is not easy, especially when they have higher expectations than ever before. You are bound to make mistakes.
However, it is important to identify such mistakes, learn from them, and avoid repeating them in the future.
To better understand if customers are happy with an interaction, you can share relevant surveys with them. This will give them the opportunity to instantly rate your service and share what they like or dislike. Customer feedback is a great way to understand what you are doing wrong and how customers would like to be communicated.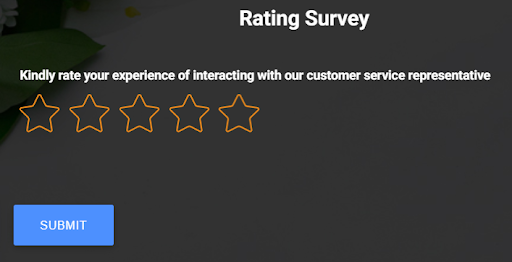 Improve Communication & Win Customers for Life
Customers are the lifeblood of any business and the people who should matter the most. Therefore, it becomes all the more important to actively listen to what they have to say and keep them engaged for a delightful interaction.
Use the aforementioned strategies and tips to communicate with customers over different communication channels. Practice patience, use a consistent brand vocabulary, resolve urgent issues, and most importantly improve your skills through regular training.
Remember, communication with a personal touch is the key to customer success.
Q. What should you communicate to the customer about their issue?
Customers should be offered the most appropriate solution as quickly as possible. Practice proactive communication and keep customers informed about the status of their issue in advance rather than waiting for them to contact you.
Q. How to train your customer service team for better communication?
It is important to train your customer service team on important communication skills such as active listening, understanding non-verbal cues, respecting the emotional needs of customers, practicing patience, empathy, etc.
Q. How to improve customer communication skills?
Here are some tips for improving your customer communication skills:
Treat every customer like your first
Engage with customers for a meaningful conversation
Train to improve your skills
Take feedback to understand where you need to improve
Q. How customer communication builds loyalty?
When customers know that they can easily contact you anytime for registering an issue or making a request, they begin to trust your business. This further results in more repurchases and referrals. Therefore, you can build an army of loyal customers by proactively communicating with customers over channels they prefer.
Do you want a free Help Desk?
We have the #1 Online Help Desk Software for delightful customer support