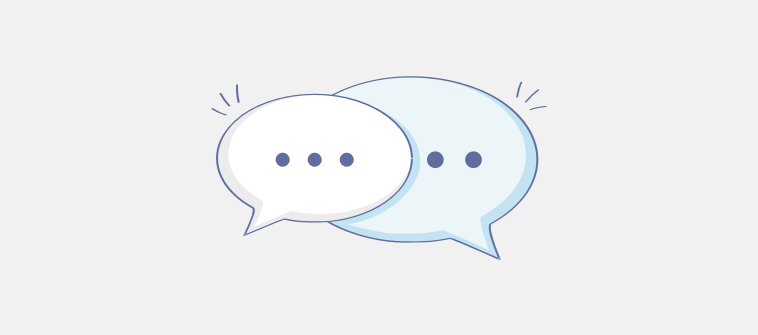 Twenty three percent consumers seek face-to-face interaction for complicated customer service issues. These issues may relate to the product or service not working, troubleshooting, sub-standard quality, etc.
Resolving such customer problems on call or email is near to impossible. But, the reality is only 5% of customer service interactions begin with a face-to-face meeting.
Did you notice something?
Interactions are essential for both customers and businesses. To get these interactions right is all the more important today. You wouldn't like them to desert your brand because of one bad experience, because trust me, they will.
No more is "striking the right conversation" restricted to social circles. A good conversation is what every customer wants when they get in touch with a business to get support. And to get it right is your responsibility and that of your customer support operators.
Just adding a live chat software won't work in your favor anymore as customers seek more than a conversation and so does your business. You want returning customers, those who come back for more or who refer other customers to you. And, in case your business has been missing these 'returning customers', you haven't been implementing the right retention strategies – communicating with empathy is one of them.
But that's okay. We are here to help!
We understand a good conversation tends to stick with a customer for a longer period of time; prompting them to engage with your brand. And that's exactly you want.
Dig in this blog to learn a few sure-shot ways that help your operators communicate with customers effectively.
How to Interact with Customers
#1: Convey Accurate Information
To convey the right message or information is important for your organization. Only then can you retain existing customers. It is the management's responsibility to ensure every staff member has the same and the right amount of information. It's often noticed that providing the same information helps in accelerating the turnaround time for a business. Any difference may cost you a precious customer.
#2: Stay Proactive
In many instances, customers don't get satisfied with the service offered in the first attempt. They may call you again to get their issues resolved, and probably again. In such cases, solving that issue might take more time than the customer's expectations.
In such a scenario where your customer is waiting for your response, follow a proactive approach. The best way to communicate with customers is to keep them informed about every progress done. Using a help desk software enables you to automate updates on the support tickets. In order to provide an instant response, you can create FAQs related to your services to resolve their common issues faster.
#3: Avoid Interruptions
When a customer is complaining about a service that has disappointed them, listen to them carefully. Don't interrupt. No doubt, you might have heard the same problem many times and might know a quick solution to that. Interruption disappoints your customers, and they may feel less valued. You may rather create a knowledge base and let customers access it to get answers to repeated questions they may have for the product or service.
#4: Know Your Product or Service Thoroughly
Customers could ask about anything under the sun, but mostly related to your services and products. Then you should not have any excuses for not having enough information about your own offerings. Such negligence might cause you a loss of a productive customer, so, management must need to ensure its employees are trained properly.
#5: Have an Attentive Mind
While attending the client, always pay attention to their words and queries. Missing out any important detail can aggravate the situation at that time or in the future. Always be attentive while discussing anything with customers. For that, block out the noise and always have a pen and paper. It helps to make handy notes.
#6: Be an Active Listener
We all know our body language says a lot more than words when we communicate face-to-face. When customers are discussing anything with you, make sure they don't feel ignored. Ensure you listen to everything carefully so they won't have to repeat their words. Moreover, you should also acknowledge them with positive words. Win their trust that you are always there to help them out with the best possible solution, and that too, within a very short period of time.
#7: Be Honest
It may happen a few times that a customer has asked you a question and you are unaware. As a result, you might fail to provide him with an appropriate answer. At that time, it's better to honestly admit that you don't have enough information about this, but you will provide him with it within a very quick time. Never confuse him with the words, like "I think, it could be, or maybe this one."
#8: Don't Hurry
It's normal that at the end of the day, you may be tired, and you tend to take shortcuts while dealing with your customers. Moreover, you might take their queries lightly. Always remember although that person might be your 100th customer, you are the first representative for them. So, be polite and treat them like the way you handled your first customer of the day.
#9: Practice Patience
Being a customer representative, you should know why a customer approaches you. They reach out to you when they are unsure and confused regarding your products or services. Sometimes, they might become angry because of miscommunication or the feeling they have been treated unfairly. During such times, all you can do is to be patient. At the end of the day, patience will help you find the correct solution and win over your customers. Always remember that great help is better than a quick one.
#10: Communicate the Way Your Customer Wants
Last but not least, the most important way to do effective communication is the way your customers want. Before dealing with their problem, always ask them which language or mode they are comfortable with. To make it even simpler, you can ask questions like "what is the best way to be in touch with you?" or "Would you prefer calling, emailing or texting?" Remember, asking a simple question can take you a long way.
Following these 10 best tips to do effective communication with your customers ensures your business growth in multiples.
---
Have a look at a few of the questions we asked from our customer service experts:
Q. How to handle a number of customer requests and questions efficiently without losing on any customer question?
Businesses, nowadays, employ customer support tools to handle trouble tickets. Doing it manually is not possible, as there are chances of you losing on tickets. Missed or lost tickets lead to unhappy and dissatisfied customers.
Q. Which tool can be the most effective way to improve customer communication?
A help desk ticketing system is the best customer support tool that enables operators to improve customer communication.
Q. What features of a customer support software helps to ensure customer delight?
Automatic notifications, the ability to add notes and comments internally, canned responses, and workflows are a few of the features that enable your operators to delight customers with faster responses. This list of the 20 handpicked robust issue tracking software for 2020 helps to ensure that there are no lost or missed tickets. Every question by the customer is given due importance and the solution is offered to the questions on time.
Q. What are the different channels companies use these days to effectively communicate with customers?
Email, phone, live chat, social media, and knowledge base are varied channels that any organization uses to communicate with customers in an effective manner.
Q. Do I need to look for a help desk software that comes with integrations or other add-ons?
It is good for your operators to employ help desk software that comes with multiple integrations. You should be able to send surveys to your customers after you have resolved their questions. Besides, it is ideal if the help desk software can be seamlessly integrated with the knowledge base or live chat.
Recommended Read:
Do you want a free Help Desk?
We have the #1 Help Desk for delightful customer support starting at $0