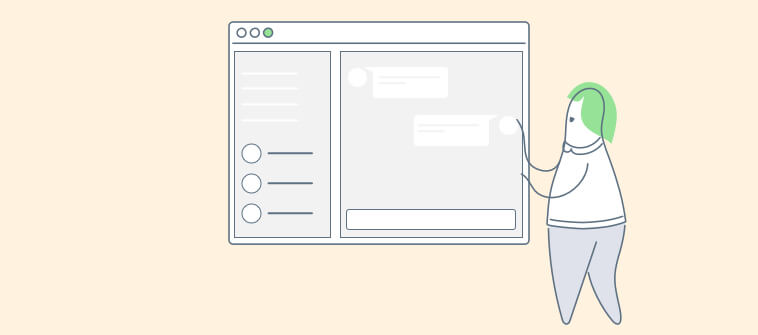 In the pre-email era, people had to write letters, wait for them to get delivered, and then wait again for days to get a response.
Soon came the Internet, and the rest is history!
Earlier, what took days or weeks, can now be achieved in a matter of seconds. Awesome!
However, email-arguably one of the most critical communication channels, has not seen much innovation in the last few decades. Businesses have no option but to keep using a tool that is as old as time itself.
So, is there any way out?
YES! Fortunately, we do have some good news for you. A collaborative inbox is a gift of innovation that can help your team collaborate better, be more productive, and share timely responses.
In this blog, we will dive deep into the various ways a collaborative inbox can help you streamline your customer support process and offer delightful experiences.
What is a Collaborative Inbox?
A collaborative inbox, also called a shared inbox, makes it possible for all support agents to access any email from the same dashboard, on the same platform.
In other words, a shared inbox is practically opposed to the traditional email communication, where one account is owned and managed by a single user.
Moreover, if two or more users try to access the same traditional email account using the same credentials, they may even get blocked by their email provider.
So, with the possibility of creating an inbox for teams, you're undoubtedly eliminating this risk. At the same time, you're creating a more efficient support system that will help you make your customers love your support process.
Now, let's learn more about how a shared inbox impacts your customer support efficiency in practice.
Top 5 Ways Shared Inbox Can Help Streamline Your Customer Support Process
1. Manage all support-oriented inboxes from a single dashboard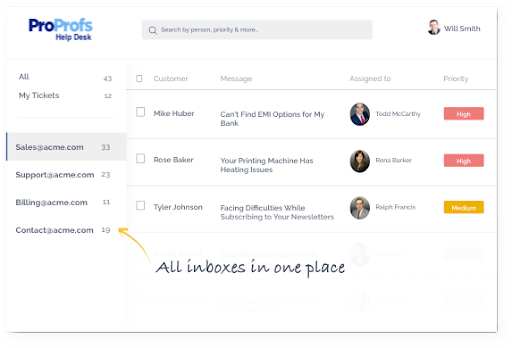 One of the most important benefits of a collaborative inbox is its contribution to email organization. With all your email accounts under a single roof, you don't have to keep switching from one support account to another.
Instead, you get to monitor the status of all your customers' emails from a single platform and keep track of them in diverse ways.
Some of the most useful options you get that help in the process of email management are:
Ticket organization based on their subjects
Ticket assignment to departments in charge
Monitoring the number of tickets with an agent
#2 Prevent accumulation of unanswered emails
With all your agents accessing all your customer-facing inboxes from a centralized email management software, your chances of having the unanswered emails piling up are really low.
Even if the agents who open the email for the first time aren't sure how to reply to it, they'll certainly know who can help.
Accordingly, depending on the software that you implement, they can pass it on to the relevant departments, or even tag the agents in charge directly on it.
Besides, your agents may also be able to add internal notes/comments to any of the emails, in case they want to leave instructions for their colleagues who are supposed to handle the email.
3. Improves your average response time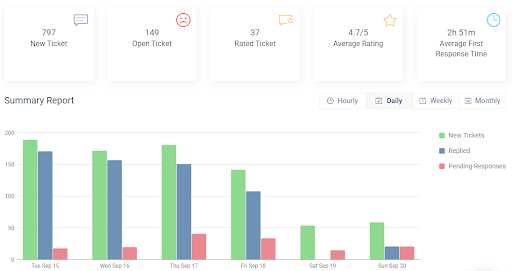 When it comes to time management, the benefits of a collaborative inbox are numerous. And this is extremely important considering that 40% of customers think that customer service representatives are not as fast as they should be.
What are the two major ways in which a shared inbox positively impacts your response speed?
Most email management platforms use an auto-ticket assignment feature. Therefore, the tool would route the right tickets to the right people automatically, without the need for any manual intervention, saving your valuable time.
Shared inbox usually represents a tool that offers a lot of integration opportunities. Owing to this, not only can your support staff easily monitor your emails, but you can also automatically update records in your other systems based on the information you get in your email ticketing system software.
4. Empower teamwork and work transparency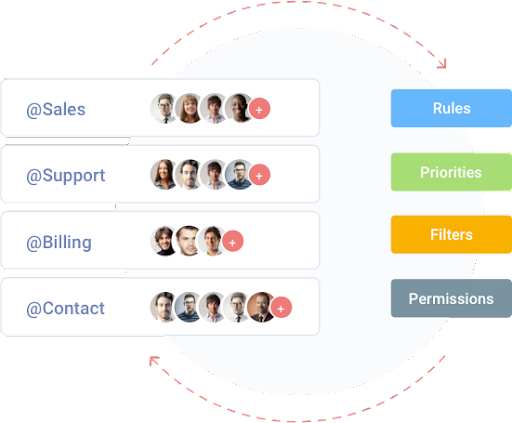 Another striking benefit of a collaborative inbox is that it leads to improved team communication and coordination.
This is possible because a shared inbox lets your agents use diverse tools that not only facilitate drafting responses but also let other agents review, comment and update their colleagues' drafts before finally sending them to relevant stakeholders.
Besides, the fact that all support employees work on the same platform reduces the chances of miscommunication among them. Not to mention that inbox for teams also makes it possible for team leaders and managers to monitor how well each of the employees perform their assigned tasks and how flexible they are when working in a team.
5. Create a layered system of permissions
Apart from making it possible for all your agents to access multiple inboxes from a centralized dashboard, collaborative email can also help you restrict the accessibility of certain content to specific groups of employees. In other words, it lets you decide which agents should have access to which emails.
Essentially, assigning certain inboxes to specific departments and their representatives, you're eliminating their wandering around and time-wasting.
So, instead of confusing your employees, letting them access the emails that they actually don't know how to handle, introducing different permissions for different groups of workers, you're helping them focus on the requests that they are capable of solving.
Accordingly, the benefits of a collaborative inbox aren't only reflected in the increased inbox accessibility but also in the increased relevancy of the inboxes that agents can access.
How Help Desk Allows Your Team to Collaborate Better
The possibility of sharing inboxes among coworkers is only one of the convenient features that are included in the ProProfs Help Desk solution. This platform helps your business overcome some major obstacles that agents and customers experience during different stages of a support process.
On the one hand, it facilitates your team collaboration by:
Improving ticket organization (effortless ticket assignment to relevant teams, label-based ticket prioritization, ticket resolution speed measurement)
Improving agent coordination letting them solve requests together, through a unified platform (group organization based on teams or roles, the elimination of lengthy CC emails, effortless assignment sharing, etc.)
On the other hand, it also improves your customers' experience by:
Providing them a 24/7 support system based on responsive self-help solutions, such as knowledge base;
Offering live chat support during your work hours and a reliable ticket system after-hours;
Letting you monitor your agents' performance to make sure customers are satisfied with the provided services.
Now, having in mind that 90% of customers consider immediate feedback an important factor of their experience, it's pretty obvious why a platform like ProProfs Help Desk can be a real business-saver.
Take Your Customer Support to the Next Level Using a Collaborative Inbox
A collaborative inbox has become a customer support necessity as it helps you stay on top of your customer communication. Your support staff can work in complete sync, see who is working on what, and track every customer issue from start to finish.
If you are ready to shift from email to a collaborative inbox, we do have an ideal solution for you.
ProProfs Help Desk offers you the perfect combination of shared inboxes with a ticketing system, a knowledge base, live chat support, and more that together help you create a flawless workflow and delight your customers.
Do you want free help desk software?
We have the world's most versatile help desk tool starting at $0
Frequently Asked Questions (FAQ)
Q. What is the purpose of a shared mailbox?
A shared mailbox lets all your support staff members access all your inboxes from a single platform. This way, a collaborative inbox makes it more likely for your support to reply to the received emails timely and as precisely as possible by a relevant department representative.
Q. How do I manage a shared inbox?
A shared inbox is easily accessed and managed using help desk software. You get to use the same platform and the same dashboard as your coworkers. Apart from handling your assigned emails, you can also edit and update your coworkers' responses. Besides, you can use labels to highlight the expertise area and level your agents need to have to handle it successfully.
Q. How does a shared inbox work?
A shared inbox lets you monitor your received emails collectively. Owing to the gained insights, your email operators determine the priority emails and handle them immediately, to avoid customers' frustrations. Then they address the rest of the emails
Do you want a free Help Desk?
We have the #1 Online Help Desk Software for delightful customer support