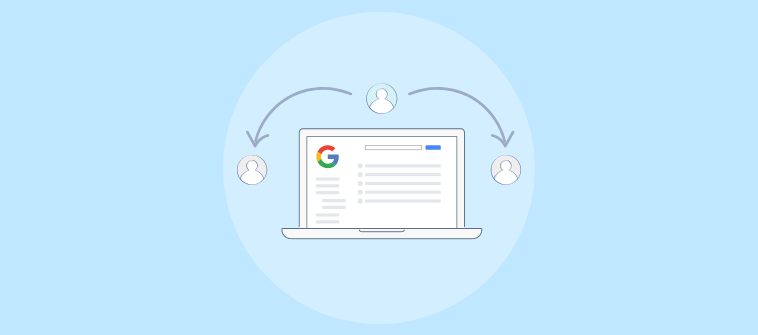 Let's be honest, email was not designed for teamwork. Even after decades of innovation, it still does not meet the needs of most business teams.
As a result, companies are forced to go for collaboration tools such as Google Collaborative Inbox to manage their group email accounts – sales@, support@, content@, etc.
But is Google Groups Collaborative Inbox worth the hype? Well, not really as the tool has its own share of problems. In addition to an unfamiliar interface, your internal collaboration will take a hit. Moreover, there are no features for collision detection or reporting.
So if you have any questions about the tool, its features, or pros and cons, we have all the answers in store for you!
In this blog, we will take a deep dive into Google Collaborative Inbox shortcomings as well as advantages. Moreover, we will also explore the best shared inbox software that can help your team make email collaboration your superpower.
Let's go!
What is Google Groups Collaborative Inbox?
A Google Group can be used as a collaborative inbox to manage your shared inboxes such as info@, admin@, sales@, etc., more effectively.
Once a manager turns on Collaborative Inbox features for a group, all the team members can work together and respond to emails. In Google Collaborative Inbox, you can assign responsibility for a conversation to another team member or even yourself. Moreover, you can easily search for emails threads based on their assignment status.
Read More: 10 Shared Inbox Best Practices For Email Success
Advantages of Google Collaborative Inbox
Now it's time to explore some of the leading pros of Google Collaborative Inbox. Let's start with the advantages first and see what makes this tool the top choice of millions of users.
1. Set Permissions for Different Team Members
"Permissions" is another essential feature of the Collaborative Inbox in Google Groups. But what exact purpose does it serve?
Well, with the help of the permissions settings, the group leader can determine who all can view, post, and edit content. Moreover, permissions allow you to manage members in your group in a more efficient way.
Google offers three default group roles – owner, manager, and group members. In addition to specific roles, you can choose to limit the access of information to everyone in the organization or everyone on the web.
2. Add Labels to Conversations
Google allows you to use Labels to better organize and categorize your conversations. This makes it easier for any group member to search and filter conversations in just a few clicks.
Once you have turned on Shared Labels, team members can label conversations using keywords. For example, you can create Labels such as "software bug" for every incoming email that shares the same concern. Similarly, you can add the label "feature request" to messages that demand a new feature.
3. Manage Spam Emails
Spam emails are junk emails that are sent in bulk for commercial purposes. Spam emails are not useful for your business and may spread malware through links in the message body.
The Google Groups Collaborative Inbox helps your team manage spam in multiple ways. When you select any conversation and click on 'Report Abuse', it is automatically marked as spam. When you mark any conversation as spam, Google receives a copy of it. Their team then analyzes the content to protect users from spam and abuse.
Disadvantages of Google Collaborative Inbox
Google Groups Collaborative Inbox has its own share of problems that you need to be aware of. Here are some top disadvantages of this tool that you should not ignore:
1. Complicated and Unfamiliar User Interface (UI)
The user interface of Google Collaborative inbox appears dull compared to modern shared inbox software systems in the market. Moreover, it is quite different from Gmail for Business, so you might have a hard time getting used to the new interface.
If you love Gmail, you will be disappointed with Google Collaborative Inbox as the UI isn't much intuitive. In addition to this, your team will have to constantly shuffle between Gmail and Google Groups – leading to more frustration and conversations slipping through the cracks.
2. Internal Communication Can Be a Challenge
Most businesses go for a shared inbox tool so that multiple teams can communicate better and work simultaneously. However, Google Collaborative Inbox lacks key internal collaboration tools.
You cannot drop comments or notes for other group members making it difficult to communicate in real-time. You will have to rely on long email threads and forwards to communicate internally. This will make it much harder for you to find a past conversation.
3. No Collision Detection Feature
Collision detection is an important team collaboration feature that alerts teammates when they are working on the same email. The purpose is to avoid sharing duplicate replies to customers and save your business from potential embarrassment.
For example, with Google Collaborative Inbox, two members of the sales team can end up replying to the same customer email. Duplicate email replies can make the customer doubt your business and spoil your brand's reputation.
Top 5 Google Collaborative Inbox Alternatives
As discussed above, there are certain serious limitations of Google Collaborative Inbox. Therefore, if you are looking for the top alternatives to Google Collaborative Inbox, this section is for you.
Here is a comprehensive list of 5 alternatives that you can try today: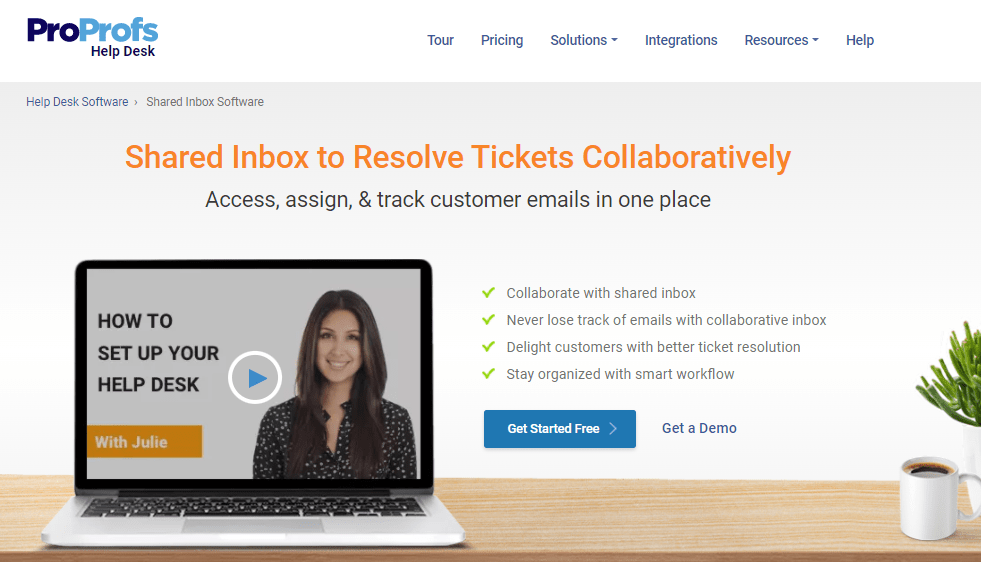 ProProfs Help Desk is considered one of the best Google Collaborative Inbox alternatives due to its ease of use and powerful features. You can manage multiple shared inboxes in one place – support@, sales@, admin@, hr@, and so on.
Moreover, the tool comes packed with internal collaboration tools and features. For instance, team members can assign emails to each other, set the priority of emails, create canned responses, see who is working on what, and discuss problems using private notes.
Top Features of ProProfs Help Desk:
See who is working on what with real-time collision detection alerts
Share automated email CSAT surveys with customers and monitor the CX
Create an internal knowledge base and publish articles or FAQ pages
Set the priority of emails as High, Low, or Normal, based on their urgency
Monitor important metrics such as first response time, resolution time, and more
What we liked: The tool offers an easy, Gmail-like interface that your team will be familiar with
What could be better: Although ProProfs can be connected with the leading CRM software, it still lacks integration options when it comes to collaboration tools
ProProfs Help Desk Plans Include:
Starts at $20/agent/month (billed annually).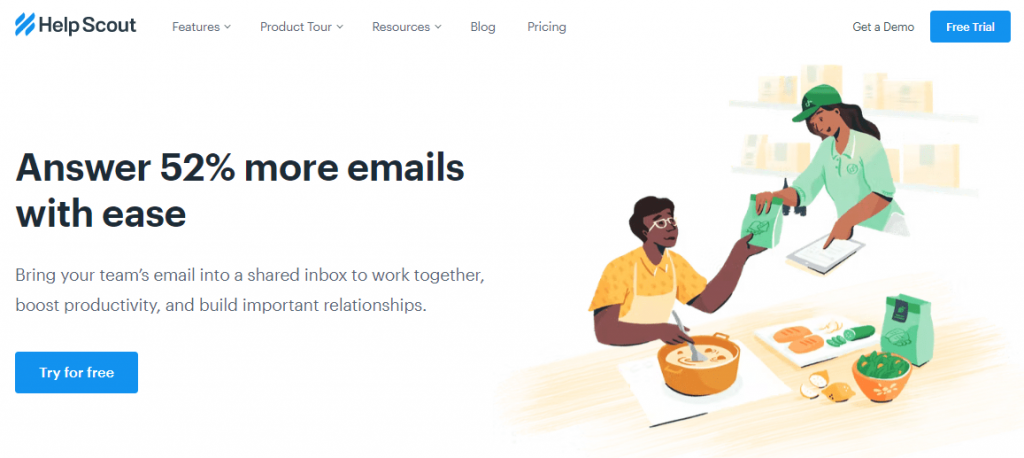 Help Scout offers the shared inbox feature to help you boost team productivity and build better customer relationships. With an easy-to-use interface, team members can easily view, track, and respond to the conversations assigned to them.
Help Scout allows your team to organize and sort emails using Tags. By adding Tags to conversations, you can keep your inbox organized, automate workflows, and generate detailed reports to get all the insights you need.
Top Features of Help Scout:
Create a vast and searchable library of saved email replies/templates
Discuss problems using private notes that are only visible to your team
Access complete customer information and their past conversations
Interact with website visitors via live chat
Save time by sending bulk email replies
What we liked: Real-time collision detection alerts you when someone else is viewing or replying to a conversation
What could be better: Sometimes, the system can get slow and take more time to load than usual
Help Scout Plans Include:
Standard: $20/user/month
Plus: $35/user/month
Company: $60/user/month
Read More: Best Help Scout Alternatives for 2023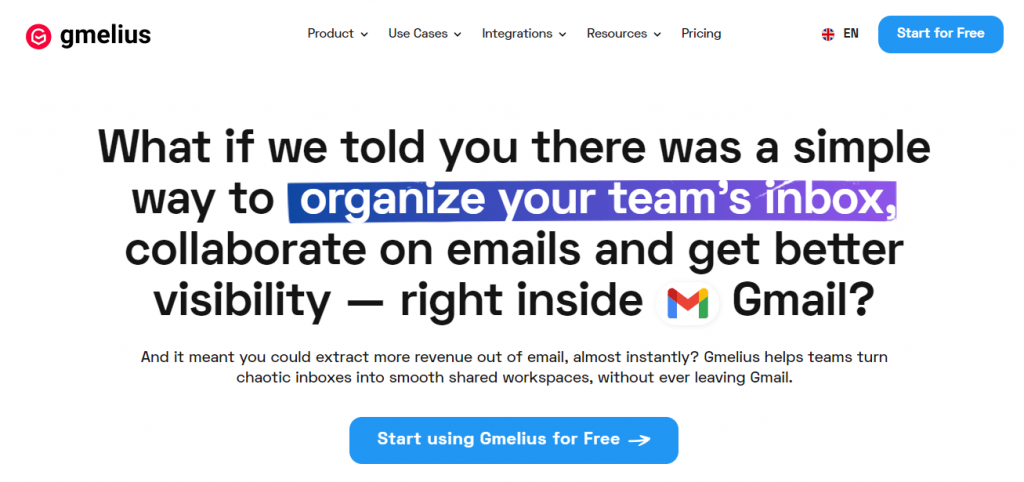 Gmelius is another shared inbox system that helps your team collaborate right inside Gmail. You can easily assign emails to your team members in a single click and view who is working on what in real-time to avoid collisions.
With Gmelius, you can create pre-built email templates to respond to repetitive emails in a jiffy. Moreover, you can convert any conversation into a task card with kanban boards and ensure team members have great visibility into their allotted tasks.
Top Features of Gmelius:
Use notes to discuss emails or get feedback on messages
Create shared email drafts and ensure your message is correct before sending
Leverage automated responses for repetitive queries
Receive notifications when people open your email
Integrate with other business tools such as Slack, Zoom, Loom, Trello, and more
What we liked: The tracking feature makes it easier for you to see when your email was opened by the recipient
What could be better: The interface needs to be more user-friendly
Gmelius Plans Include:
Starter: $7/user/month
Plus: $12/user/month
Growth: $24/user/month
Pro: $49/user/month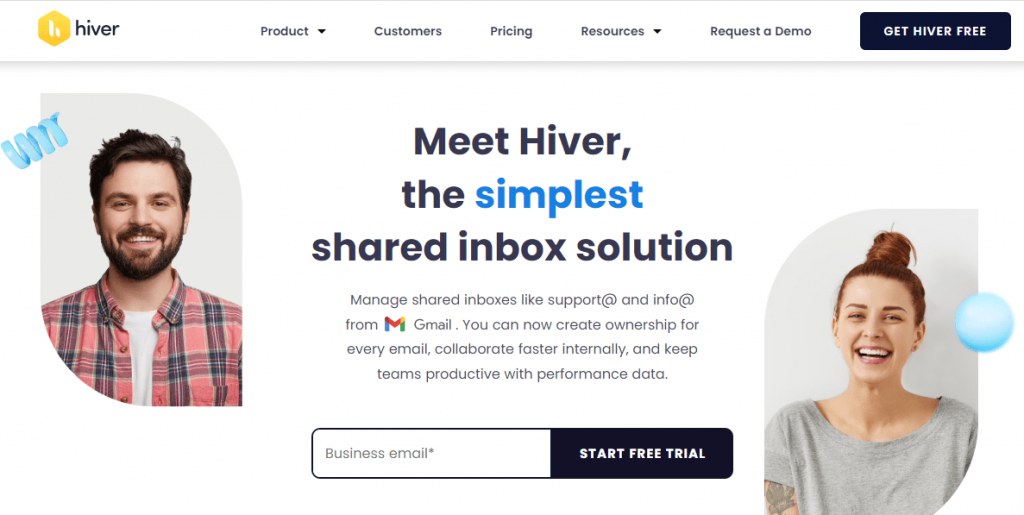 Hiver is a popular Google Inbox alternative that deserves to be on your list. Hiver is a Gmail-based tool that allows users to convert their Gmail inbox into a meaningful, collaborative system. This means that your team will already be familiar with the interface of this tool.
Hiver allows team members to assign emails to each other with just a single click. In addition to this, you can categorize your emails by assigning different statuses such as open, pending, or closed.
Top Features of Hiver:
Automatically assign incoming emails using the round-robin technique
Categorize emails using tags and easily find any old conversation
Share notes with team members to give them more context
Allow team members to collaborate on shared email drafts
Create SLA rules to improve your email support process
What we liked: Managers can generate user-based reports or tag reports to gain better insights
What could be better: If you use an email client apart from Gmail, Hiver will not be of much help
Hiver Plans Include:
Lite: $15/user/month
Pro: $39/user/month
Elite: $59/user/month
Read More – Hiver alternatives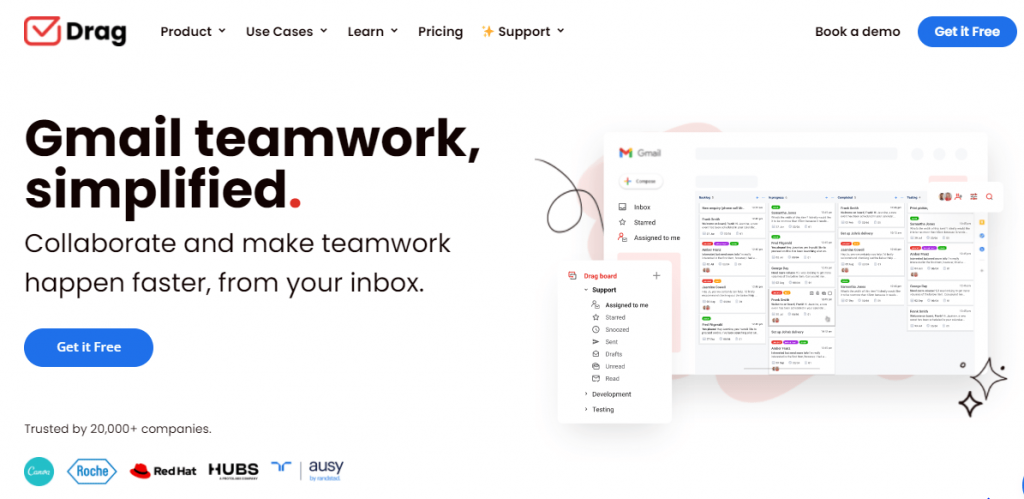 DragApp is another Gmail-based collaboration tool that allows your team to function right inside Gmail. You can manage your company-wide shared inboxes such as support@, sales@, etc.
Using DragApp, you can easily assign emails to team members so that every conversation has an accountable owner. Moreover, reports and analytics can offer you deep insights into individual as well as team performance. For instance, you can quickly see the number of emails or tasks added to a board to monitor the workload.
Top Features of DragApp:
Easily ping team members using @mentions and bring their attention to an email
Collaborate with others on email drafts to share better and appropriate replies
Sort and organize emails using shared labels
Know when someone else is working on an email using collision detection
Plan your work schedule better using DragApp boards and cards
What we liked: The forever free plan can be a great option for freelancers or small teams
What could be better: The company does not offer phone support to its users
DragApp Plans Include:
Free: Forever free plan
Starter: $5/user/month
Plus: $10/user/month
Pro: $15/user/month
Choose the Best Google Collaborative Inbox Alternative
Email collaboration or shared inbox tools have become a business necessity. They allow multiple people to read, track, and respond to emails without stepping on each others' toes.
It is crystal clear that Google Groups Collaborative Inbox has serious limitations that can lead to poor team collaboration and communication. The tool's interface needs improvement and lacks key features for team collaboration, collision detection, and reporting.
In such a scenario, going for the best Google Collaborative Inbox alternative seems like the only wise decision. You can try ProProfs Help Desk that helps you gain complete control of your company-wide shared inboxes. Moreover, features such as knowledge base, live chat, surveys, etc., make it a one of a kind.
Do you want a free Help Desk?
We have the #1 Online Help Desk Software for delightful customer support