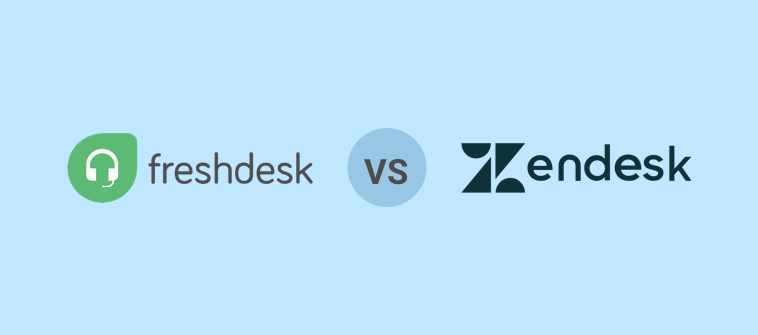 For any small business, a single support email account is sufficient for managing customer problems. But once you scale past that, you need the best help desk software to ensure every customer issue is seen, prioritized, and responded to.
As soon as you reach this stage, you are faced with a dilemma – in the decade-old battle between Zendesk vs. Freshdesk, which one is better? Should you go for the popularity of Zendesk or the simplicity of Freshdesk?
If you're a business struggling to choose the right tool and have lost trust in online reviews, this Freshdesk vs. Zendesk comparison blog will make all the difference.
Below is a feature-by-feature comparative evaluation to help you compare these two powerful solutions more closely and make a more informed choice for your business. Right from ticketing features to reporting capabilities, we have done a thorough and unbiased analysis.
Read on to find which tool deserves your attention and money. Let's go!
| Features | Zendesk | Freshdesk | ProProfs Help Desk |
| --- | --- | --- | --- |
| Free Trial | 14 days | 21 days | 15 days |
| Price | Starts at $49 | Starts at $15 | Starts at $10 |
| Ideal Users | Large enterprises | Medium-to-large businesses | Small-to-medium businesses |
| Live Chat | Available | Available | Available |
| Customer Surveys | Available | Available | Available |
| Knowledge Base | Available | Available | Available |
| IT Help Desk | Available | Not Available | Available |
| Chatbot | Available | Available | Available |
| Real-Time Analytics | Available | Available | Available |
Introduction to Zendesk and Freshdesk
Before we start with the Freshdesk and Zendesk comparison, it is important to know a little bit about these tools.
Zendesk was founded in 2007 in Copenhagen, Denmark, and has come a long way since then. As a popular service-first CRM company, Zendesk builds tools to enhance customer relationships. The company has a customer base spread across 160 countries and an employee strength of 4,000 plus.
Freshdesk was founded in 2010 in India by Girish Mathrubutham. Over the years, the company has acquired $327 million in funding and built an array of customer service tools. The company adopts a "fresh" approach to building and delivering software-as-a-service (SaaS) that's affordable, quick to implement, and designed for the end-user.
Criteria of Comparison
Different help desk tools are known for their unique qualities – while one may be easy to get started with, the other may offer more comprehensive features. Therefore, for a thorough comparison, we must decide the criteria on which we can weigh the different tools.
Here are 5 important aspects of a help desk software that we will use to compare the various pros and cons of both Zendesk and Freshdesk:
Type of Users
Interface
Features
Customer Support
Pricing
Zendesk vs Freshdesk: Type of Users
Zendesk is one of the oldest customer support software available on the market. After years of operations, the tool boasts of a clientele including Siemens, Instacart, Tesco, GrubHub, and more.
Zendesk is highly scalable and can be great for businesses that are expanding rapidly. Although Zendesk targets companies of all sizes, it may not be the right fit for small businesses or startups. The reason being that it is extremely expensive and not every small business can afford to spend so much on their support process.
If your business uses a variety of business tools, Zendesk can be easily integrated with them. For instance, you can integrate your existing CRM, survey, team collaboration, or other tools with Zendesk.
Freshdesk boasts 40,000 plus customers from different industries and sectors. Brands such as Hamleys, Bridgestone, Pearson, Dineout, etc., use Freshdesk to manage their customer service.
If you are looking for a tool that is less complicated but offers some great features, Freshdesk can be a good option. Due to its affordable pricing, Freshdesk can work wonders for both small and large companies.
Moreover, you can integrate Freshdesk with your existing business applications such as Jira, Zoho CRM, MailChimp, DropBox, SurveyMonkey, Shopify, and more.
Zendesk vs Freshdesk: Interface
Zendesk: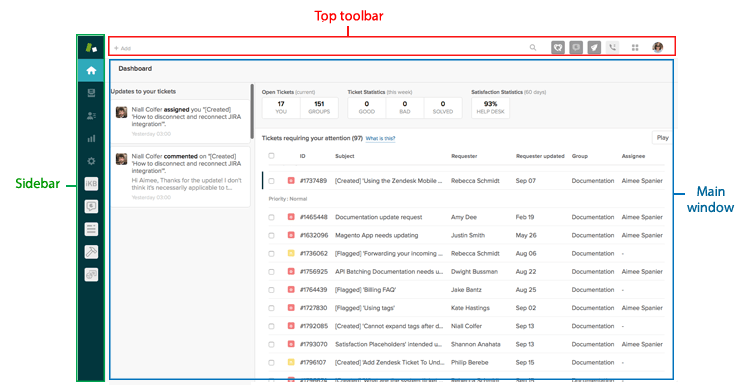 Source: Zendesk.com
Let's be honest, Zendesk does not offer the most attractive interface. As soon as you login, you are presented with an outdated interface that demands a lot of improvement.
For businesses that manage a large number of support tickets, Zendesk offers greater filtering options and helps you easily group sort tickets or customers.
For users looking for customizations options, Zendesk does not disappoint. You can add widgets to your dashboard, change the background color, and view ticket updates in real-time.
Freshdesk: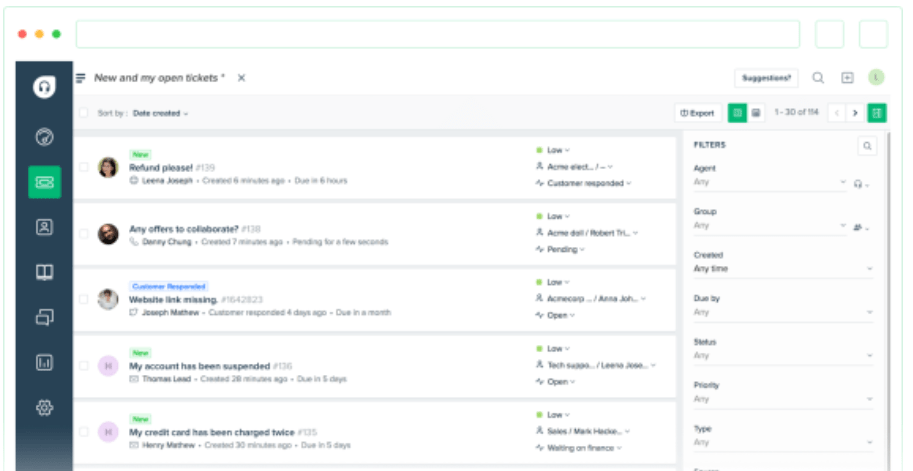 Source: Freshdesk.com
If you compare Zendesk vs. Freshdesk, you will notice that Freshdesk offers a more user-friendly and intuitive interface. At the very first glance, the dashboard looks clean and does not scare you at all.
On Freshdesk, the main interface is simple and easy on the eyes. You can easily sort and filter your support tickets with the help of dozens of metrics on the right side of the screen based on what's most important to your task (priority, tags, date, source, and so on).
Zendesk vs Freshdesk: Features
1. Ticket Management
Zendesk:
Zendesk offers an automated ticketing system to help you quickly resolve issues. When customers share an issue via chat or email, bots can scan the text and share relevant help articles before a human agent joins the conversation.
As soon as tickets come in, agents can categorize and tag them to be assigned to the right people in the team. Zendesk offers Macros (canned responses) that have to be downloaded separately from the app store. The Macros cannot be easily categorized, and finding the right one at the right time might prove to be a painful experience for the agents.
Freshdesk:
With Freshdesk, you can prioritize tickets based on the keywords and allow agents to see who else is viewing or replying to a ticket. Unlike Zendesk, locating and creating canned responses is fairly simple with Freshdesk.
One great feature is that you can merge multiple tickets about the same issue into a single ticket and make life easier for your agents. Based on the priority of a ticket, you can set up rules for when every ticket needs to be replied to so that agents always have clarity around deadlines and SLAs are never missed.
2. Live Chat
Zendesk:
Zendesk's live chat feature is not most visually appealing, but it can do the job just fine. In addition to supporting customers, Zendesk allows you to engage in proactive chats with website visitors. You can set smart triggers that determine how and when a chat should be initiated with the customers.
Moreover, Zendesk's answer bots can handle low-priority tickets. These can be used to offer assistance to customers even when your team has logged off.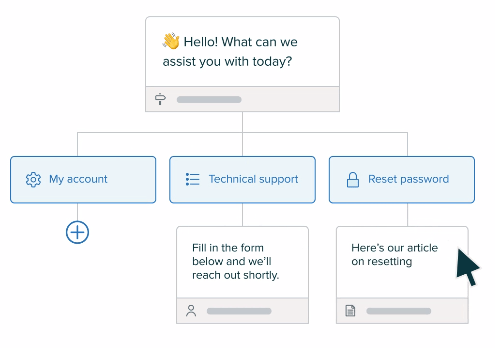 Source: Zendesk.com
The best part is that you can develop bots using the Flow Builder and decide the flow of your conversations in multiple languages.
Freshdesk:
Freshdesk's live chat tool is called Freshchat that allows you to convert chats into support tickets. The chat widget looks clean, user-friendly, and feels like you are using any modern-day messaging app.
One incredible feature is the AI-powered bot called Freddy that can offer direct answers to customers and not just random links to help articles. Moreover, to get the complete picture, you can view the entire customer interaction history and their contact details in one place.
Source: Freshdesk.com
3. Knowledge Base
Zendesk:
The Zendesk Freshdesk comparison is incomplete without discussing the knowledge base or help center feature. To keep your self-service offering healthy, Zendesk allows agents to update content, so it always caters to your customers.
You can get complete control over the way your help desk looks with the help of customizable themes. You can organize content so that it is helpful for the reader. In addition to this, you can create multiple help centers in 40 languages for different regions, brands, or audiences.
Freshdesk:
Freshdesk helps you convert support responses into tickets. You can easily publish videos, images, or attached files in your help center and encourage self-service.
Unlike Zendesk, Freshdesk helps you save time with bulk actions. You can make changes to multiple categories, folders, or articles at once. You can create SEO-optimized content, track the performance of articles over the course of time, and capture customer feedback directly on your help pages.
4. Reports & Analytics
Zendesk: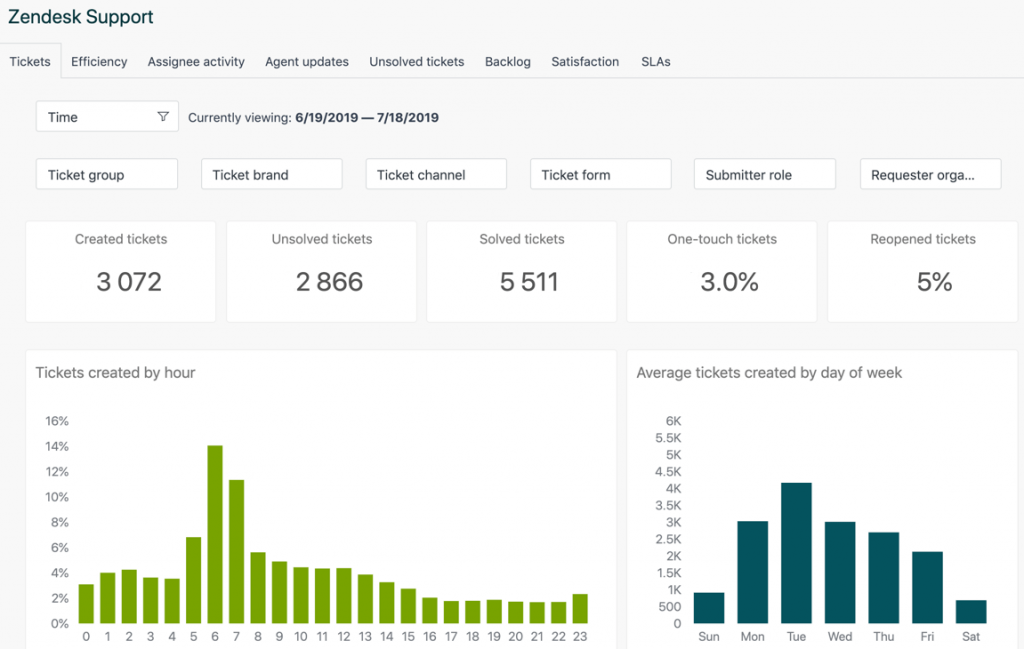 Source: Zendesk.com
When it comes to insightful performance reports and data analysis, Zendesk is steps ahead of other help desk software. However, an overwhelming amount of data can leave you confused and will definitely take some time for you to adjust.
On the reports dashboard, you can easily view metrics such as created tickets, unsolved tickets, or re-opened tickets. You can even view your tickets created by the hour or days of the week. However, not everything is visible at a single glance. To view reports on agent performance, customer satisfaction, or SLAs, you will have to switch to other tabs.
Freshdesk: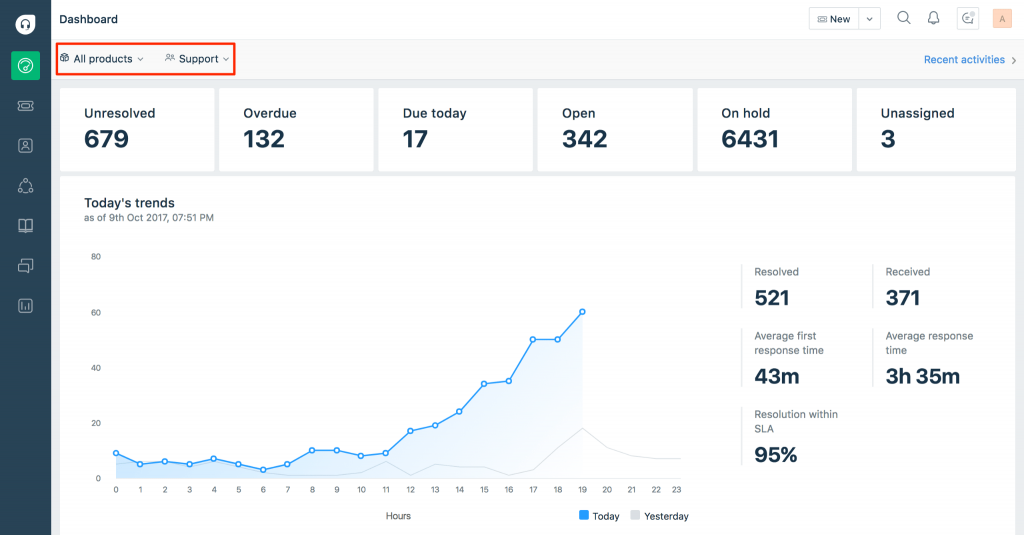 Source: Freshdesk.com
The Freshdesk reports dashboard almost offers the same metrics as Zendesk. However, you can even see your unassigned tickets, which is an important aspect for any team. You can even monitor your average first response time and the percentage of tickets resolved within SLA.
After Freshdesk Zendesk analysis, we realized that Freshdesk allows agents to view Recent activities at the top of the dashboard. You can view activities on new tickets submitted to your helpdesk, status changes, ticket assignments, etc. Freshdesk delivers a great impression with its customizable reporting capabilities. You can simply drag and drop widgets from the widget library and create presentation-ready reports.
5. Customization & Branding
Zendesk:
Zendesk offers some great customization features. With skill-based routing, you can assign tickets to agents based on their language expertise or other skills. You can even create and edit macros which are predefined responses.
Zendesk is better than Freshdesk when it comes to branding. You can easily customize the colors and logo of the agent interface, so it reflects your company's branding. You can even create branded ticket forms to leave a lasting impression on your customers.
Freshdesk:
Freshdesk does not stay far behind when it comes to customization capabilities. With ready-to-use themes, you can customize the complete look and layout of your support portal. You can even divide customers into segments and deliver personalized support.
You can customize agent roles and give permissions for access according to the roles and responsibilities of agents. Just like Zendesk, you can customize the agent interface. In addition to this, you can add multiple widgets to your reports and make them more interesting.
Zendesk vs. Freshdesk: Customer Support
Zendesk:
Zendesk is known for great customer support and indeed leads by example. You can interact with them over live chat and expect an instant response.
Zendesk offers a great collection of Frequently Asked Questions (FAQs) in its help center. You can explore topics around accounts, billing, data privacy, plans, pricing, and more.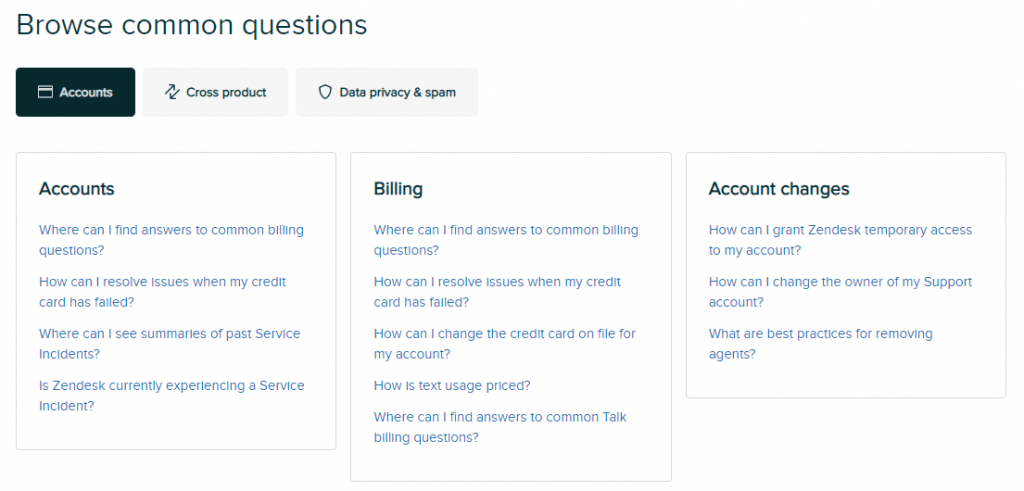 Source: Zendesk.com
Besides this, users can even join Zendesk's large worldwide online community. The community can be used to ask expert users for their advice, interact with similar users, and get real-time updates or news.
However, Zendesk does not clearly provide its contact number or email address for users.
Freshdesk:
Like Zendesk, even Freshdesk offers a chat widget on its support page. But it is not really as impressive.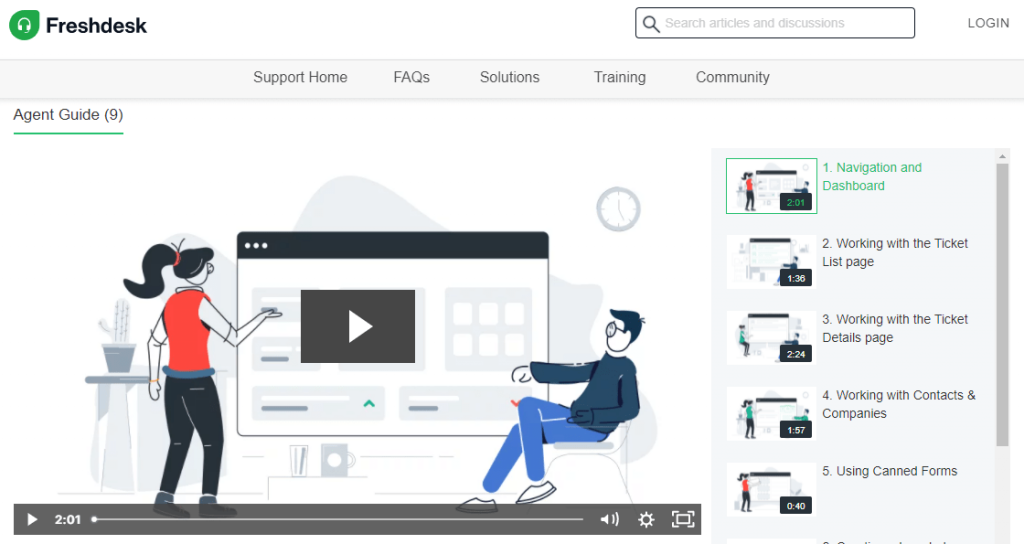 Source: Freshdesk.com
However, Freshdesk does take the lead when it comes to offering interactive support content to users. You can enjoy a vast video library that includes interactive videos on topics such as ticket management, creating knowledge base articles, using canned responses, and much more.
Moreover, if you are using Freshdesk for the first time, you can enroll your agents in the Freshworks Academy, where they can learn new skills, get certified, and join the community.
Zendesk vs. Freshdesk: Pricing
Zendesk: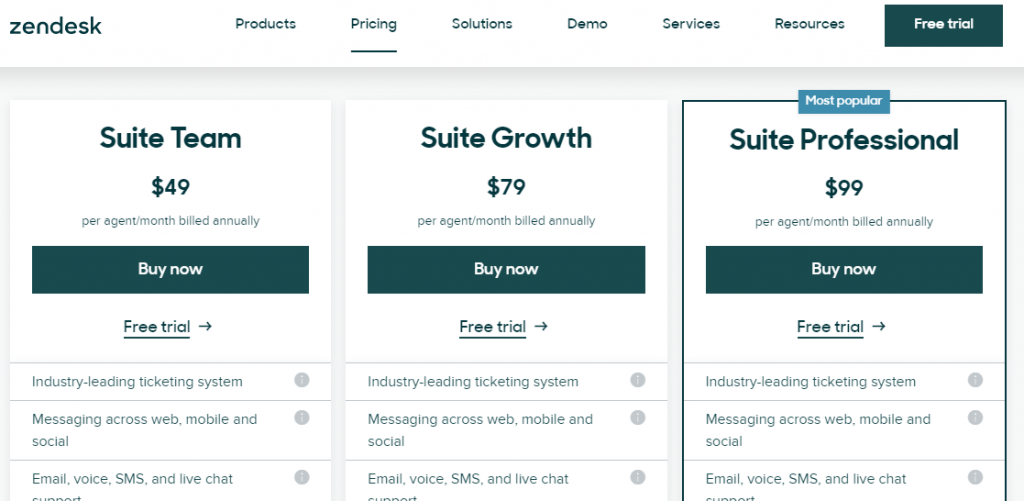 Source: Zendesk.com
Suite Team ($49/agent/month)
Suite Growth ($79/agent/month)
Suite Professional ($99/agent/month)
Suite Enterprise ($150/agent/month)
Zendesk is quite expensive, with its basic plan starting at $49/agent/month. However, you can get a 14-day free trial.
All Zendesk suite plans include basic ticketing features (ticket tracking, prioritization, escalation, etc.), multichannel communication (email, voice, SMS, and live chat), help center, messaging on social media, and AI-powered automated answers.
Zendesk is more focused on large corporations, and this is evident in its pricing. If you are an enterprise with a large customer base, you won't mind paying for their suit enterprise plan. You can enjoy features such as advanced knowledge management, customizable agent workspaces, branding, robust APIs, and more.
Freshdesk: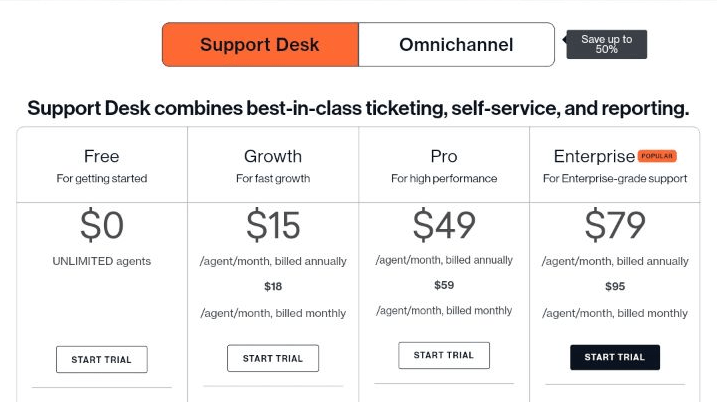 Source: Freshdesk.com
Free: Forever free plan
Growth: $15/user/month
Pro: $49/user/month
Enterprise: $79/user/month
In addition to a 21-day free trial, Freshdesk offers a forever free plan with limited features. So if you wish to get the look and feel of this tool, you can go for the free plan and later opt for a paid plan based on your requirements.
When you compare Freshdesk plans with Zendesk, you will realize that Freshdesk offers more simple and affordable pricing. Its basic plan costs $15/agent/month (billed annually) and offers you features such as custom ticket views, SLA management, collision detection, reports, marketplace apps, and more.
Freshdesk's enterprise-level plan offers AI-powered assistance bots, skilled-based routing, audit logs, knowledge base workflow, and other features that can help you assist your customers across the globe.
Final Verdict: Which One's the Best?
In the battle of Freshdesk vs. Zendesk, which one has the upper hand? Well, as discussed above, both the tools are industry leaders for a reason.
On the one hand, Zendesk, with its AI capabilities, integrations, and features, can be a great option for enterprises. On the other hand, Freshdesk is simple and more affordable – exactly what small-to-mid-size businesses want.
Let's dig a little deeper and understand which tool is perfect for your business.
When should you choose Zendesk?
You can choose Zendesk when the budget is not a constraint, and you are looking for an enterprise feature list. You can enjoy features such as branding, omnichannel reports and analytics, customizable dashboards, etc. You should also go for Zendesk if you want more native integrations. For example, you can integrate Zendesk with popular tools such as Zoom, Slack, Nicereply, Haptik, etc.
When should you choose Freshdesk?
You can choose Freshdesk over Zendesk when you are on a budget and want to create a unified customer view. Freshdesk belongs to the Freshworks family that includes other tools such as Freshcaller, Freshchat, Freshservice, etc. This can help you manage all customer interactions as well as tickets in a single place. You must also go for Freshdesk if you are looking for quality support for your team. You get the phone and live chat support with all paid plans so that your team is never stuck at something.
ProProfs Help Desk as an Alternative to Freshdesk & Zendesk
If you find Zendesk expensive or Freshdesk confusing, here is an alternative that is both affordable and simple to use. ProProfs Help Desk can get you started in minutes and is known for its awesome support. Let's see how ProProfs puts you in a better position:
Simple and User-Friendly Interface: Unlike Zendesk, ProProfs does not scare you with overwhelming data or an outdated interface. With our Gmail-like interface, your team can get up and running in minutes and track the complete lifecycle of support tickets in one place.
Enjoy a Complete Customer Support Package: In addition to robust ticket management, ProProfs is offered as a complete customer support package with live chat, knowledge base, and customer survey tools. With the combined power of these tools, you can delight customers and reduce agent effort.
AI-Powered Chatbots: Develop your own chatbots and stay available for your customers 24×7. Our chatbots are designed to lower your team's load, assist customers with their basic queries, and recommend relevant help articles to customers. Moreover, they can even route chats to human agents.
Reports that Matter: With ProProfs' Smart Reports, you can track your daily, weekly and monthly performance in one place. You can share CSAT, NPS surveys with customers and improve the customer experience. Customers can rate agents after every interaction, and you can monitor agent ratings to understand improvement areas.
24X7 Human Assistance: Whether you are a paying customer or visiting us for the first time, you can contact our support team 24×7 via phone, email, chat, or raise a request on our website. We have a vast help center that covers all your basic questions and needs.
We hope with the help of this Zendesk vs. Freshdesk comparison blog; you will be able to choose the right tool that perfectly matches your business needs. If you are looking beyond these two tools, ProProfs Help Desk can prove to be the best alternative. Sit with your team, go through your budget, understand the features you need, and select the one that ticks all boxes.
Do you want a free Help Desk?
We have the #1 Online Help Desk Software for delightful customer support