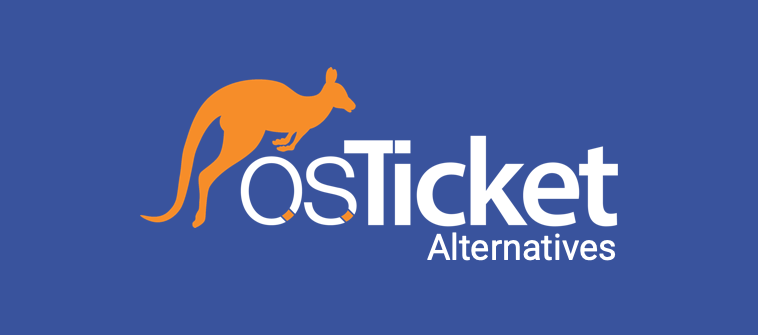 If your requirements have outgrown osTicket, it's not unusual. I have been there too, I understand
osTicket is a renowned open-source ticketing system built to manage customer support inquiries and tickets, ultimately improving your customer service and experience. But after using the tool myself, I was hit by many roadblocks — an outdated and clunky interface, a lack of mobile application, and limited capabilities. Therefore, I ventured into finding the right alternatives that would meet our requirements.
Allow me to guide you through some fantastic osTicket alternatives to take your customer service game to the next level. I have jotted down each tool's features, pros and cons, and pricing for a fair analysis.
10 osTicket Alternatives That Deserve Your Attention
All the tools mentioned in this blog have been a part of my team's customer support suite at some point. While I have used most of these tools myself, some are recommended to me by industry experts and peers.
1. ProProfs Help Desk – Best for Internal Collaboration
Whenever someone talks of internal collaboration, it reminds me of a famous quote by Tony Hsieh, "Customer service shouldn't just be a department; it should be the entire company."
This is where I feel ProProfs Help Desk has an edge over other alternatives to osTicket. Right from internal notes and collision detection to ticket assignments, my agents can collaborate effortlessly without stepping on each other's toes.
I also love the parent-child ticketing feature, which helps us break a complex ticket into multiple child tickets, which can then be assigned to different internal departments (logistics, sales, product, etc.)
If you are wondering what gives ProProfs the top position, let me explain quickly. ProProfs Help Desk comes at a similar price point to osTicket but offers far more capabilities. It comes as a complete customer support suite that includes a powerful ticketing system, live chat, knowledge base, surveys, and more.
Just one tool to rise above all customer service woes!
What you'll like:
Automated ticket routing to ensure not a single issue can slip through the cracks
CSAT & NPS surveys to gauge customer satisfaction and loyalty
Extensive knowledge base to promote self-service and reduce call/email volume
Custom chatbots to assist prospects and customers 24/7, even when your team is offline
What you won't like:
Frequent feature rollouts and updates can be confusing for some users
More industry-specific canned responses should be added for enhanced efficiency
Pricing:
Starts at $20/user/month (Single plan inclusive of all premium features)
2. Freshdesk – Best for Help Desk Gamification

After using Freshdesk for over a year, we expanded our customer reach by providing support across various channels. The automation tools helped me streamline day-to-day support tasks and reduce effort.
One of the things I love about Freshdesk is its gamification feature, which boosted my team's productivity and made support fun. On the completion of each task, my agents could earn points and win suitable rewards. Plus, a single glance at the leaderboard revealed the best performers.
What's really cool is that Freshdesk's integrated multi-channel support meant that my agents didn't have to juggle different tools to assist customers. Seamless team collaboration and efficient ticket management made it a breeze to resolve a high volume of tickets.
What you'll like:
SLA management to set deadlines for ticket response and resolution
Private notes to discuss specific parts of tickets with experts from across your company
Live chat to engage with multiple customers at the same time on your website
Freshdesk seamlessly connects with Slack, Shopify, and Salesforce
What you won't like:
Too many features on the main dashboard can be confusing for new users
Sometimes, it is difficult to attach image files to tickets
Pricing:
Starts at $15/user/month
3. Zendesk – Best for Self-Service
As I was looking for cost-effective ways to reduce my ticket volume, a dear friend recommended Zendesk to me. I instantly fell in love with Zendesk's self-service capabilities.
This popular platform lets you tap into a sophisticated knowledge bank built up by your customer service team over the years. With this, you can create a help center, an online community, and a customer portal – all in one place.
Using self-service capabilities, your customers with basic questions can easily find answers in FAQs and self-help articles, while agents can focus on high-value customers and enhance the CX.
And here's the kicker – support agents can pull in customer queries from nearly any channel and use the ticket history to respond faster with all the right context. It's like having everything you need at your fingertips.
What you'll like:
Customer support report cards to track individual and team performance
Native Android and iOS apps to never miss out on important ticket updates
AI-powered automation rules to improve workflow and enhance agent productivity
Pre-chat form to capture specific details about an issue or request
What you won't like:
Ticket file attachment size is limited to just 50 MB
Zendesk's pricing plans are quite expensive, making it an unsuitable option for small businesses
Pricing:
Starts at $55/user/month
4. Zoho Desk – Best for On-the-Go Support
Having used Zoho Desk as an excellent free osTicket alternative, I can attest to its fantastic capabilities. Zoho Desk equipped me with powerful analytics and reports, enabling me to pinpoint critical issues in agent performance.
Above everything else, Zoho Desk's mobile app has been a lifesaver for my team. It allowed us to effortlessly manage a multitude of support tickets even while on the move. With this intuitive app, my customer service agents could keep a close eye on ticket traffic and key help desk metrics, no matter where they were. This tool proved to be an impressive addition to our customer support operations!
I'm sure you will love the tool's ability to create an online knowledge base for both external customers and internal employees, giving them the tools to find solutions independently.
What you'll like:
Multi-brand help center to encourage self-service among your audience
Contextual AI called Zia can help you automatically tag and prioritize tickets
Online community forum to engage customers and prospects
Get your help desk to match your brand with multiple branding features, such as themes, colors, chat buttons, etc.
What you won't like:
Telephony features and capabilities are only available in the top-tier plans
Zoho Desk is slow to load at times or hangs, which lowers its efficiency
Pricing:
Starts at $14/user/month
I tried my hands on HubSpot Service Hub's free plan and found it quite spectacular.
One standout feature is the Conversation Inbox, which allows us to connect team email, live chat, Facebook Messenger, and more, all in one universal inbox. This means our entire team has full visibility, making it super easy to manage and respond to all our conversations from a single place.
What's even better is how HubSpot helps us keep things organized and efficient. Every user can access the right assets, and support managers like me can quickly view and manage agent permissions, status, and availability right from the dashboard. It's made a big difference in how we handle our communications and team coordination.
What you'll like:
HubSpot's customer support agents are very responsive and offer support in 6 languages (English, French, German, Japanese, Portuguese, and Spanish)
Custom surveys to measure customer satisfaction
You can easily configure service level agreements (SLAs) to avoid SLA violations
The fact that HubSpot comes with a mobile app makes it easy for users to keep track of tickets when on the move
What you won't like:
There is no provision to automatically convert live chat messages into tickets
HubSpot's pricing structure can seem confusing for new users
Pricing:
Starts at $450/month
6. Groove – Best for Easy-to-Scan Reports
Who said reports and analytics have to be boring? I think Groove is a delight for support managers looking for simplified reporting and easy-to-scan dashboards.
Right from total conversations per day to team leaderboard, Groove allows you to stay on top of all important metrics relevant to your business.
And let's not forget the Happiness Report, which I feel is quite unique to this tool. It helps customer service managers gauge the team's effectiveness in ensuring customers are happy. At a single glance, you can see which conversations generated positive or negative ratings.
In addition, Groove goes above and beyond with its team collaboration features. From ticket assignments to private notes, collision detection, @mentions, and more, it's got everything to keep the support team in sync.
What you'll like:
Agents can check the complete customer interaction history at a glance
Canned responses to quickly respond to common customer queries
Ticket rules to create automated workflows and enhance productivity
Groove does a great job of helping businesses manage their social media conversations
What you won't like:
The Standard plan offers limited search history (last 6 months)
There is no feature to develop your own chatbots
Pricing:
Starts at $12/user/month
7. TeamSupport – Best for B2B Service
For every B2B business, losing a single client can mean losing millions of dollars' worth of business. I've had the chance to use TeamSupport, and I feel it's tailored perfectly to meet the unique needs of B2B companies.
As soon as I logged in to the system, I could see everything I needed in one place: live chat, customer self-service portals, screen recordings, ticket management, and ticket automation. It's like a Swiss Army knife for customer support.
Also, TeamSupport takes teamwork to the next level. It will help your team function as a single, cohesive unit when dealing with customer issues across various channels. For example, your customer service team can easily collaborate with sales, technical, or finance departments, leading to a more streamlined and effective operation.
What you'll like:
Users can easily link TeamSupport with their in-house CRM and other developer tools
Ticket reminders and alerts to avoid sharing late responses with customers
Intensive online training material to make the most of this help desk software
Agents can access the shared calendar to view task assignments and dependencies
What you won't like:
The ticket collision feature doesn't work at times, leading to duplicate responses
More chat widget designs should be added for enhanced branding and customization
Pricing:
Starts at $49/user/month
Are you looking for a CRM-powered help desk solution? I suggest you look no further than Salesforce Service Cloud.
This offering from the renowned SaaS company Salesforce combines the power of their CRM (Sales Cloud) and customer support (Service Cloud) solutions into one package.
Salesforce Service Cloud, in particular, is designed for small businesses and packed with features that helped us become more efficient and responsive in customer service. We could create a single, dynamic view of every customer, giving agents all the information they needed for personalized assistance.
You can customize the console to match your unique support processes and the specific needs of our support team. Also, I suggest you deploy AI-powered chatbots to assist customers even when your team isn't available.
What you'll like:
Setup assistant and in-app tutorials to get started quickly
Field service agents can access and update data anytime with the Salesforce mobile app
You can bring all your business data – from sales, marketing, customer service, etc. together in one place.
Salesforce Service Cloud seamlessly integrates with GetFeedback, Talkdesk, Five9, and other tools
What you won't like:
The Starter Plan does not offer omnichannel capabilities
There is no feature to merge duplicate support tickets
Pricing:
Starts at $49/user/month
9. HelpDesk – Best for Effortless Ticket Organization
After exploring HelpDesk's free trial, I was in awe of this tool's simplistic design. What really stood out was its ability to smoothly convert email conversations into tickets, which streamlined our customer support process.
HelpDesk is all about making ticket management effortless. Your support agents can easily group tickets based on specific filters, and they've even created custom ticket lists to improve overall ticket visibility. I think improved ticket organization can make a big difference in how your team handles customer inquiries.
Another fantastic feature is the seamless integration with LiveChat, allowing customers to pick their preferred channel when reaching out to a business. More communication channels mean more convenience for them!
What you'll like:
The 'New tickets heatmap' feature can help you spot peak times when you get more messages than usual
Delivery Status to understand if a customer received and opened their message
Reports and analytics to calculate first response time, ticket satisfaction, and other metrics
Pre-made email templates to achieve faster response times
What you won't like:
HelpDesk's customer support team isn't responsive at times
The Jira integration can slow down your system significantly
Pricing:
Starts at $29/user/month
10. Spiceworks – Best for Online Customer Portal
Packed with a robust ticketing system, Spiceworks lets users create a dedicated customer portal in no time. If you choose Spiceworks, I recommend you make the most of this feature to promote self-service and reduce your ticket load.
An online self-service portal will allow your customers to submit new complaints or requests and track the progress of their existing tickets without having to contact you constantly. You can even create a Knowledge Base to store answers to commonly asked questions and save everyone's valuable time. Sounds amazing, right?
I used this tool for a few months when my team was working remotely during the COVID-19 pandemic. The best part was the Spiceworks' mobile app that offered us the latest ticket updates via email and push notifications on our smartphones, helping us support customers from our homes.
What you'll like:
Spiceworks offers both on-premise and cloud-based help desk solutions to users
Ticket rules to automatically assign tickets to your experts
Agents can start a secure remote support session from any ticket
Custom fields to include additional details about support tickets
What you won't like:
Due to its free pricing policy, the interface is full of advertisements
Spiceworks offers limited integration options which can impact your workflows
Pricing:
Spiceworks is free for all users (comes with limited support and data security)
Which Is the Best osTicket Alternative?
So, out of all the options mentioned above, which is the best osTicket alternative? I wish there was a straightforward answer to this question, but that won't be fair.
I understand that every business is unique, and the perfect alternative for you will depend on your budget, team size, and a dozen other factors. To further help you out, here are my top 3 picks:
Option A: ProProfs Help Desk
If you wish to make your support heroes work in sync and make every interaction count, you can invest in ProProfs Help Desk. As a complete customer support suite, you get a robust ticketing system, live chat, knowledge base, and surveys to meet customers on their favorite channels.
Option B: Zoho Desk
If your agents are operating from outside the traditional office environment, Zoho Desk can be a good option. The mobile app lets agents manage support tickets on the go and monitor key metrics from anywhere. Additionally, the tool can be used to create an online knowledge base for customers and employees, empowering them to find solutions independently.
Option C: Salesforce Service Cloud
A magical combination of Salesforce Service Cloud and Salesforce CRM can prove to be a game-changer for your team. The tool can give your agents a comprehensive customer view for personalized assistance. Also, you can deploy AI-powered chatbots for round-the-clock customer assistance.
In the end, I would recommend ProProfs Help Desk for its sleek design, internal collaboration features, and robust automation capabilities. But you don't have to buy what I say. Feel free to take a free trial of the alternative that ticks all the right boxes and decide for yourself. If you have further questions, scroll down to read this small FAQ section.
Learn More About osTicket Alternatives
Q. What is the cost comparison between osTicket and its alternatives?
osTicket starts at $12/user/month, which is considered an affordable pricing option. If we look at its top alternatives, they more or less fall in the same price bracket. For instance, ProProfs Help Desk costs $20/user/month, whereas Zoho Desk starts at $14/user/month.
Q. Why should I consider alternatives to osTicket?
osTicket has its share of demerits, making users actively look for alternative solutions. Here are some popular cons of osTicket:
An outdated and slow interface
Lack of mobile application
Basic reporting and analytics
Absence of chatbot feature
Q. What alternative is best for a large enterprise with complex support needs?
For a large enterprise, I would recommend Zendesk. It is a powerful solution that can be scaled to match the demands of growing and large enterprises. However, if you find Zendesk expensive, you can go for ProProfs to meet your advanced ticketing needs.
Q. Which alternatives offer on-premises hosting like osTicket?There are many vendors that provide on-premise solutions. Some notable names include Spiceworks, Deskpro, SupportPal, etc. However, one major drawback of on-premise tools is that you will be solely responsible for data security, maintenance, software development, and backups. You can read this blog to learn more about the different types of help desks: Types of Help Desk Software & Which One Should You Choose?
Do you want a free Help Desk?
We have the #1 Online Help Desk Software for delightful customer support