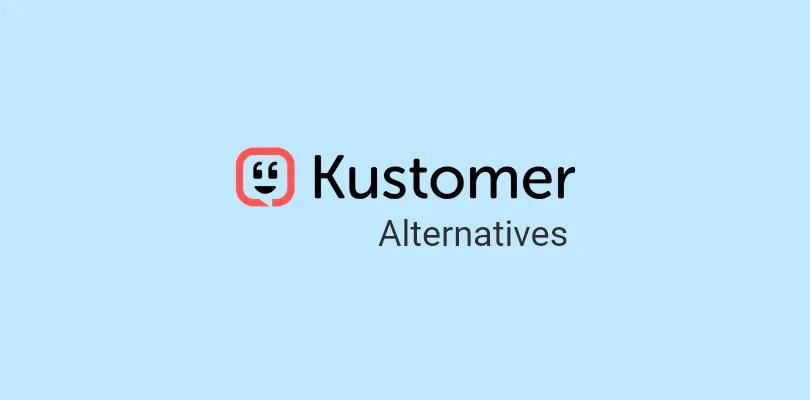 Kustomer is a cloud-based customer service platform that can help you manage customer service conversations on multiple channels. In addition, you can create a self-service portal to reduce ticket volume and build chatbots to automate service without hiring an army.
But is "Kustomer the king?"
Not really. There are multiple drawbacks that make people search for the right Kustomer alternatives. For example, the tool is heavily priced compared to its competitors, offers an outdated UI, and does not come with a mobile app.
So how do you find the right alternative to Kustomer? Don't worry, as we have done the heavy lifting for you. Whether you are an existing user of Kustomer who wants to explore more options or someone looking to invest in the best help desk software, this blog is for you.
We will start by understanding some of the merits and demerits of this tool and, later, explore the top 10 Kustomer alternatives that deserve to be a part of your customer service strategy.
Let's go!
What Is Kustomer?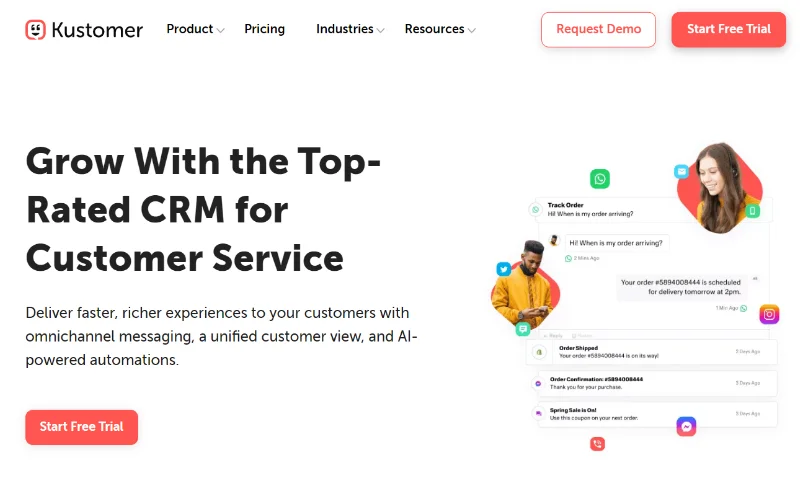 Kustomer gives your customer service agents a comprehensive view of every customer. They can easily view support conversations taking place on email, chat, and social media channels.
The tool allows you to add a searchable and SEO-friendly knowledge base to your website or app in simple steps. This will help you reduce your ticket volume and empower customers to resolve their common issues on their own.
So how much does Kustomer cost? The tool offers four subscription plans: Starter ($29/user/month), Business ($49/user/month), Enterprise ($89/user/month), and Ultimate ($139/user/month).
Why Look for Kustomer Alternatives?
Like any other tool, Kustomer has its serious downsides that can make existing users doubt their decision.
We have listed some of the common drawbacks of Kustomer that you need to know before you invest a single dollar. Let's discuss them one at a time.
Expensive Pricing: Kustomer's pricing starts at $29/user/month and goes up to as high as $139/user/month. If you compare this with other popular help desk tools available in the market, the pricing seems quite expensive. It's very easy these days to get a powerful solution starting at $10-$15/user/month.
UI Needs Improvement: Many Kustomer users have complained online about its bland user interface. The tool offers just two themes to choose from which can be a problem for those looking for a creative solution.
Does Not Come With a Mobile Application: It has become really important for SaaS businesses today to offer a mobile app for their users. Kustomer does not offer a mobile app on Android and iOS platforms. This simply means that your field service agents will have a difficult time communicating with each other and with customers when they are not at their desks.
What Are the Top Features That Kustomer Alternatives Should Have?
So what are some of the features that you should look for in your help desk alternative? We have jotted down some must-have features that every Kustomer alternative should bring to the table. Let's discuss them briefly.
Shared inbox to allow support reps to access multiple team inboxes (support@, contact@, etc.) in one place.
Simple user interface and dashboard that can be easily set up in minutes and requires minimal training.
Internal collaboration features to allow agents to communicate with each other in real-time. For instance, internal notes can be used to discuss issues, share feedback, and provide context to team members.
In-depth reporting and analytics to track customer service performance, customer satisfaction, and other relevant metrics.
Tool automation capabilities to avoid manual and repetitive processes, for instance, automated ticket assignment, automated CSAT surveys, etc.
Our Selection Criteria for Kustomer Alternatives
Finding the perfect product alternative can be quite a struggle, even for experts. There are dozens of product review websites you need to visit, lots of product features to identify, prices to compare, and the list goes on.
However, we have saved you the trouble by compiling this top pick list. In order to make it on our list, the alternatives to Kustomer had to meet the following criteria:
Primary Help Desk Features: All the top Kustomer competitors should offer primary help desk features such as ticket management, multichannel support, help desk reports, etc.
Listed on Top Review Platforms: The help desk alternatives should be listed on popular software comparison platforms such as Capterra, Getapp, and Trustradius.
Minimum 10 User Reviews: The alternatives should have a minimum of 10 user reviews on the above-mentioned software review websites. Online reviews can help you understand the common drawbacks or merits of the tool.
10 Best Kustomer Alternatives and Competitors in 2023
If you have outgrown Kustomer, don't worry, as we have some great options for you. Here are some of the best alternatives that you can consider for your team this year: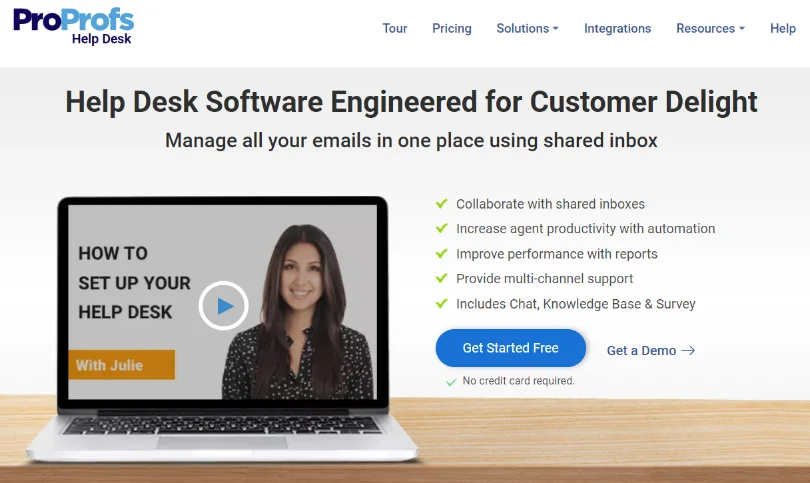 ProProfs Help Desk is the best alternative to Kustomer as it offers the same features at quite an affordable price. With the shared inbox feature, your team can manage multiple team inboxes, such as support@, contact@, etc., in one place.
Powerful automation features also give this an edge over other Kustomer alternatives in the market. For instance, you can automatically assign tickets to agents, keep them updated about ticket progress with alerts, and develop powerful chatbots to assist customers 24×7.
Top Features of ProProfs Help Desk:
Use canned responses for consistent and faster replies
Resolve issues on the move with a dedicated mobile app
Use expert-designed templates to build an online knowledge base
Share automated CSAT surveys with customers to get immediate feedback
Invite customers to chat based on the time spent on your website
Price:
Starts at $10/user/month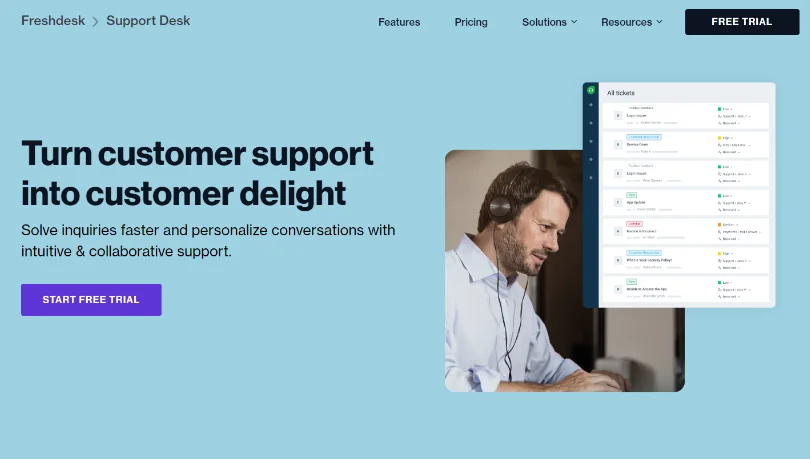 Freshdesk offers all the features your team needs to resolve issues faster. From a shared dashboard, agents can prioritize urgent issues, categorize them with tags, and assign new tickets to other team members for enhanced efficiency.
As a popular Kustomer alternative, Freshdesk empowers your support team with time-saving automation features. For instance, you can configure ticket routing, create chatbots, and build a rich knowledge base to automate your customer service process.
Top Features of Freshdesk:
Set different SLAs for ticket response and resolution times
Use pre-formatted response templates to share faster replies
Automatically display help center articles as pop-ups for customers
Save time by merging related support tickets together
Schedule help desk reports to receive them directly in your inbox
Price:
Starts at $15/user/month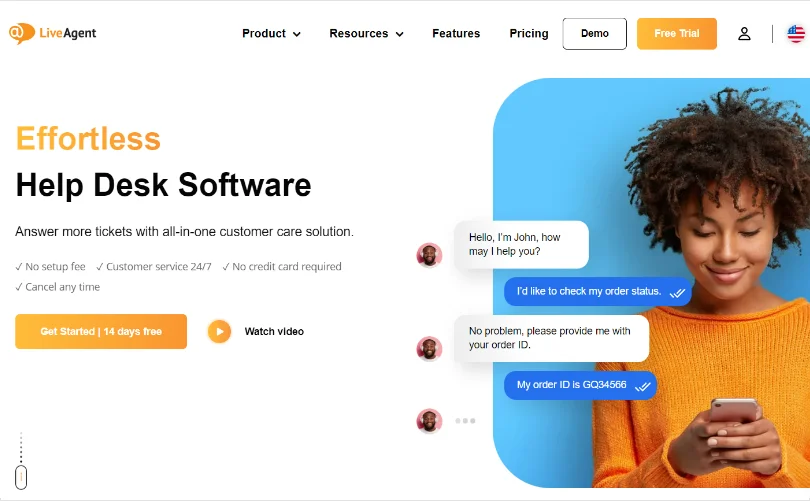 LiveAgent is a popular Kustomer competitor that is designed to meet the customer support needs of small to medium-sized businesses. In a few simple steps, you can create a customer portal to empower customers to track the progress of their ongoing tickets.
When it comes to social media support, LiveAgent does a great job. You can assist, engage, and grow a loyal customer base on leading social media platforms like Facebook, Twitter, and Instagram.
Top Features of LiveAgent:
Capture relevant ticket details with customizable contact forms
Create different email templates to share consistent replies
Perform mass actions on tickets for enhanced productivity
Monitor which pages visitors are browsing and reach out accordingly
Set up a powerful IVR to reduce your ticket volume
Price:
Starts at $9/user/month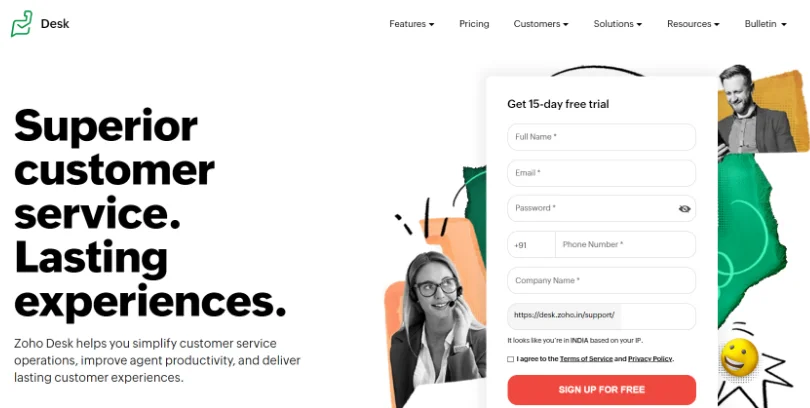 LiveAgent is an all-in-one customer support suite that equips your team with all the features they need to be accessible to customers and offer quick resolutions.
With Zoho Desk's Android and iOS mobile apps, your agents can get a bird's eye view of all support conversations and close tickets on the go. Moreover, you can embed a live chat widget on your help center to assist customers who need further assistance.
Top Features of Zoho Desk:
Improve your social media presence right from your help desk
Create rules to automatically identify and tag support tickets
Build an online community of visitors, prospects, and customers
Integrate with Zoho CRM to access customer information in one place
Monitor unassigned, on hold, and overdue tickets
Price:
Starts at $12/user/month
Kayako's help desk software comes with powerful features to make it easier for customer service teams to manage a huge influx of support requests and issues. You can easily track ongoing communications on email, live chat, and social media channels.
Kayako offers a live chat tool that can be easily integrated into your website or Android and iOS mobile applications. This will allow agents to have instant and personalized conversations with website visitors and app users.
Top Features of Kayako:
Automatically assign issues to the appropriate person on your team
Build multiple help centers for your different brands
Manage customer conversations on Facebook and Twitter
View who is working on a ticket to avoid duplicate work
Proactively engage website visitors based on their behavior
Price:
Get in touch with the company for a quote.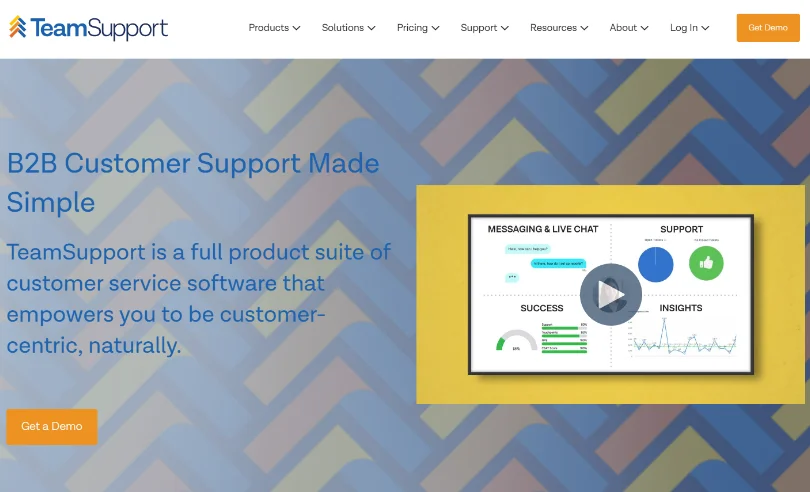 TeamSupport is a popular customer service software designed for B2B companies. The tool creates the right platform for your team to collaborate with external stakeholders and manage high-complexity issues easily.
TeamSupport also helps you monitor the customer lifecycle to build meaningful relationships with them. You can receive proactive notifications and alerts about churn, upcoming renewals, and customer expansion opportunities
Top Features of TeamSupport:
Measure and improve your customer health score (CHS)
Use messaging and live chat to increase customer satisfaction
Create and track customer journey milestones
Encourage self-service with a knowledge base and online communities
Quickly access support metrics to understand how your team is performing
Price:
Starts at $49/user/month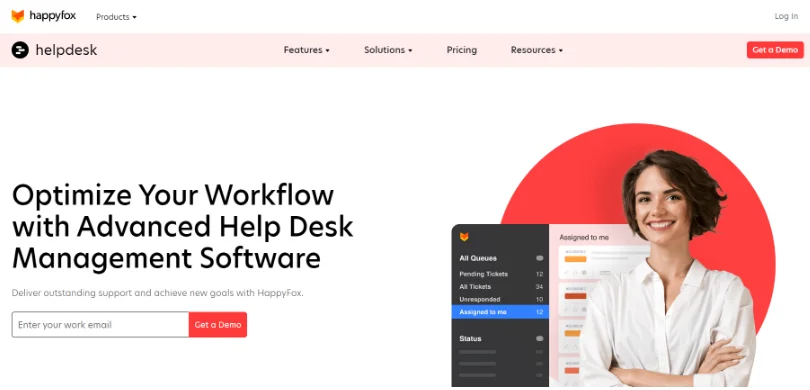 HappyFox is a powerful yet practical customer service solution that deserves to be on your list. With a robust ticketing system, online knowledge base, and community forums, you can take your support process to the next level.
The best part about this tool is that it comes with multiple integration options to enhance productivity and team collaboration. You can integrate HappyFox with other popular business tools, such as Salesforce, Jira, Twitter, Facebook, and Shopify.
Top Features of HappyFox:
Create custom ticket fields to include additional information about tickets
Share satisfaction surveys with customers to capture valuable feedback
Create agent scripts based on common customer requests
Improve performance by building internal and external knowledge bases
Track your company-wide assets using asset management capabilities
Price:
Starts at $26/user/month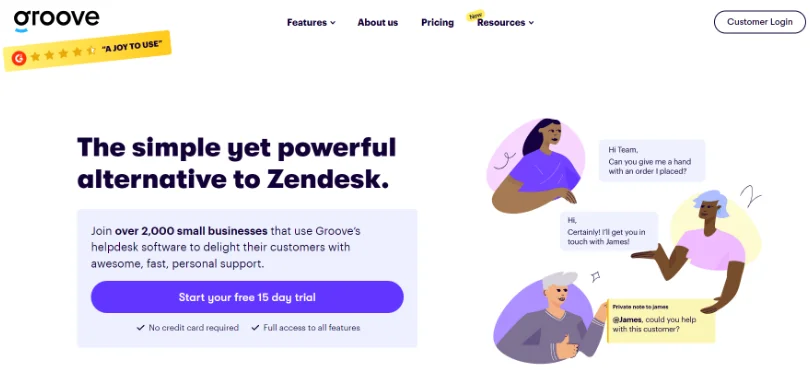 Groove offers a powerful shared inbox with multiple team collaboration features. For example, agents can use internal notes to have private discussions with other team members.
The tool helps you customize different elements of your live chat window – notification sounds, colors, avatar bots, and more. In addition, you can use Groove's mobile apps for Android and iOS to respond to customers even when on the move.
Top Features of Groove:
Create multiple automation rules to speed up your workflow
Avoid sending duplicate replies with the agent collision detection feature
Keep agents in the loop with real-time Slack notifications
Integrate Groove with Shopify, Stripe, Instagram, and other tools
Monitor the customer experience by tracking CSAT scores
Price:
Starts at $20/user/month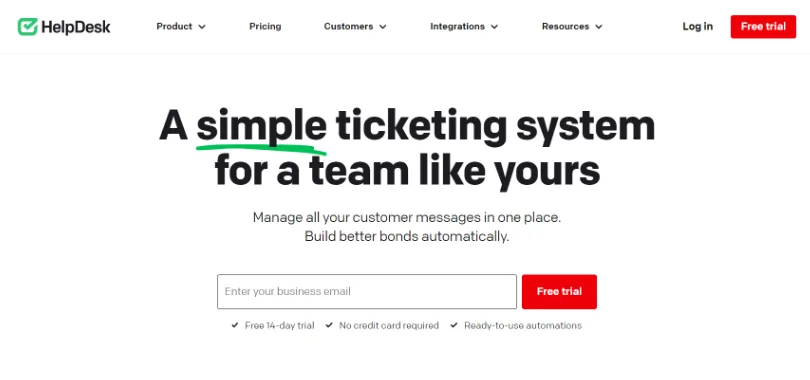 HelpDesk is another alternative to Kustomer that comes with a simple and intuitive interface. You can bring all communication channels on a single dashboard and view past conversations to provide a personalized experience.
HelpDesk comes with multiple automation capabilities to help you speed up your customer service process. For example, you can resolve low-priority tickets automatically and perform bulk actions on similar tickets.
Top Features of HelpDesk:
Categorize tickets using statuses and priorities
Create personalized email signatures to build trust with your recipients
Use canned responses to offer consistent replies to customer questions
Customize reports and share them with key stakeholders
Integrate HelpDesk with HubSpot, Jira, Salesforce, and other tools
Price:
Starts at $29/month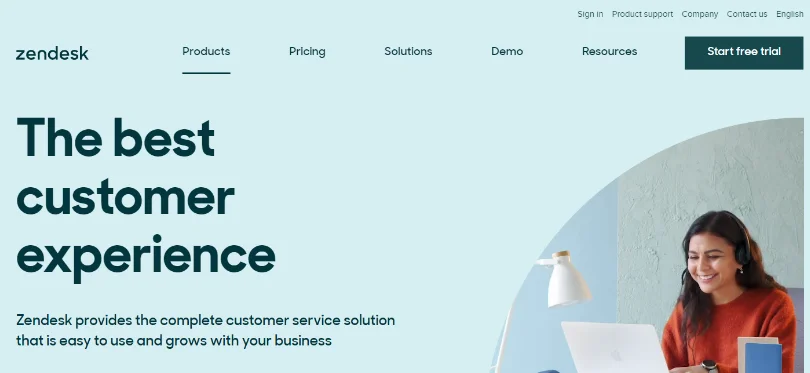 Zendesk offers a great customer service solution that is well-suited for enterprises and large corporations. Your team can manage customer communications across various channels such as email, chat, phone, and social media.
Zendesk Support Suite includes tools for ticketing, knowledge management, self-service support, and customer engagement analytics. Moreover, you can integrate with Zendesk CRM to give agents all the customer information they need under one roof.
Top Features of Zendesk:
Enable intelligent ticket routing to distribute work automatically
Create separate reports for chat, phone, and email tickets
Allow customers to resolve issues at their own pace with an online help center
Share instant answers with customers using AI-powered chatbots
Make the most of over 100+ integration options
Price:
Starts at $49/user/month
Read More: Zendesk Alternatives for 2023
Comparison of Best Alternatives of Kustomer
| Software | Price | Ticket Management | Shared Inbox | Multi-channel Communication | Alerts & Escalations | Live Chat | Self-Service Portal | IT Help Desk |
| --- | --- | --- | --- | --- | --- | --- | --- | --- |
| ProProfs Help Desk | $10/month | Y | Y | Y | Y | Y | Y | Y |
| Freshdesk | $15/month | Y | Y | Y | Y | Y | Y | N |
| LiveAgent | $9/month | Y | Y | Y | Y | Y | Y | N |
| Zoho Desk | $12/month | Y | N | Y | Y | Y | Y | N |
| Kayako | Not Mentioned | Y | Y | Y | Y | Y | Y | N |
| TeamSupport | $49/month | Y | N | Y | Y | Y | Y | N |
| HappyFox | $26/month | Y | Y | Y | Y | Y | Y | Y |
| GrooveHQ | $20/month | Y | Y | Y | Y | Y | Y | N |
| HelpDesk | $4/month | Y | N | Y | Y | Y | Y | Y |
| Zendesk | $49/month | Y | Y | Y | Y | Y | Y | Y |
| Kustomer | $29/month | Y | N | Y | Y | Y | Y | N |
Final Verdict: Which Kustomer Alternative Should You Go For?
Kustomer is a simple customer service tool that helps your team:
Monitor customer conversations on multiple channels
Create an SEO-friendly knowledge base
Provide instant answers with chatbots
Track team performance with custom reports
Despite these features and capabilities, the demerits, such as expensive pricing, outdated UI, and absence of a mobile app, make people search for the right alternatives. All Kustomer software alternatives shared in this blog are industry leaders, well-trusted, and have been a popular choice among businesses of all sizes.
If you wish to go for an all-in-one customer service platform that comes at an affordable price point, you should consider ProProfs Help Desk. If you are a B2B business looking to support your clients, TeamSupport could be a good option. Similarly, if your focus is on improving the quality of IT services, Zendesk can be exactly what you need.
Do you want a free Help Desk?
We have the #1 Online Help Desk Software for delightful customer support