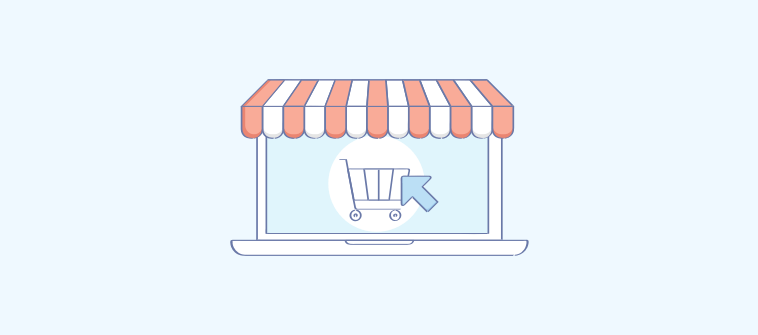 As modern customers demand more options, competitive pricing, and ease of shopping, the retail landscape is changing fast.
But, despite the rise in online shopping, brands are in a crisis.
E-commerce entrepreneurs have to deal with rising customer churn, cart abandonment rates, and diminishing traffic and repeat purchase rates.
As a solution, you can look to improve the e-commerce customer experience so that customers can have a memorable online shopping experience. When customers can easily find what they wish to buy, receive assistance in real-time, and make the most of ongoing promotions, they are bound to stay loyal.
Moreover, happy shoppers will act as brand ambassadors and bring more shoppers to the store. In this blog, we will understand the rising role of CX in e-commerce and explore 10 powerful ways to improve e-commerce customer experience.
Let's go!
What Is E-commerce Customer Experience?
E-commerce customer experience refers to all the interactions a customer has with your online store. It starts from the awareness stage, when a customer is made aware of your website, and goes on to the purchase and advocacy stages.
Let us understand this better with the help of suitable examples. The e-commerce customer experience covers everything from buying your favorite pair of jeans from an online fashion store to paying the subscription fee for a streaming service. It even includes the experience of seeking assistance from a support representative after purchase.
When visitors land on your website, their experience with website navigation, product search, customer service, payment, etc., should be as effortless as possible. Otherwise, they will not think twice before switching to a competitor.
Read More: 10 Surefire Ways to Improve Customer Experience With Help Desk
Why Is Customer Experience Important for Online Businesses?
A solid customer experience strategy is critical to the sustained growth of any e-commerce business. The main goal should be to make every interaction personalized, memorable, and hassle-free. But what happens when you achieve this? Hint: great results.
84% of businesses that work to improve their customer experience report a significant increase in their revenue.
Brands that offer improved customer experience bring in 5.7 times more revenue than competitors that lag in customer experience.
73% of customers claim a delightful experience is key in influencing their brand loyalties.
In 2021, 44.5% of companies said they perceive customer experience (CX) as a primary competitive differentiator.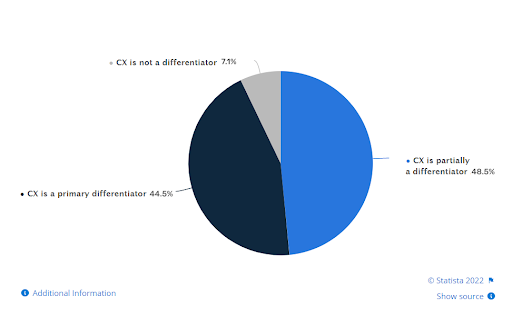 It is true that most leaders of e-commerce businesses will not invest a single dollar without proof. However, the above statistics highlight the increasing role of CX in e-commerce growth and should be enough to convince you to drive change.
10 Proven Strategies to Improve E-Commerce Customer Experience
As discussed above, an investment in CX can boost business revenue and customer loyalty. Here are 10 tips on how to improve e-commerce customer experience:
1. Easy Navigation
Navigation is the most important thing to look at when you want to enhance ecommerce customer experience. In other words, figure out if customers can easily find what they are looking for.
Easy navigation enables website visitors to move from page to page in order to enjoy a seamless shopping experience.
Here are some factors you can consider for website navigation:
Does the site load quickly? Are there any images that won't load or slow down the site? For reference, you should be aiming for a load speed of 0.5 seconds.
Searchability: a customer should be able to find the product or service they are looking for and that too, quickly. Further, make sure your product descriptions are helpful and are tagged with keywords that will show up on a Google SERP.
Look for and fix any broken links, as they can hamper the CX.
Intelligent customer support bots can monitor a user's behavior and offer their assistance if and when it looks like a customer is having difficulty.
Create a mobile AMP version of your website or ensure you have a responsive version of your website which works seamlessly and loads quickly on mobile devices. You can even offer a discount for mobile users.
2. Delight Customers With Automated Service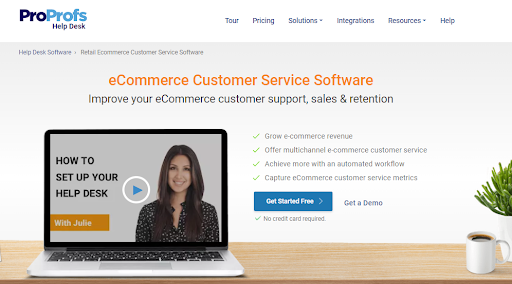 This tip might seem a bit obvious, but there are always more ways to improve customer support, such as by using eCommerce customer service software. Taking care of any issues that your customers have with your product or service will go a long way in ensuring customer loyalty and happiness.
52% of respondents said they had made an additional purchase from a brand after a positive customer service experience.
Here are some tips to offer delightful service to online shoppers:
Offer live, 24×7 support to your customers. You can either hire a team to do this, or set up a powerful chatbot to answer frequently asked questions.
Ensure that the team of customer support agents your hire have relevant experience and requisite skills to boost your online business. You could also arrange regular training sessions for these employees to improve their communication and soft skills.
If scaling your customer service team isn't a feasible idea, you must create an online knowledge base. Customers can access FAQs on refund policies, return terms and conditions, delivery schedule, and more.
Read More: 10 Best Practices for E-commerce Customer Service
3. Optimize Your Store for Mobile Devices
Does your online store appear perfect when opened on a web browser but take years to load on mobile? To improve the e-commerce customer experience, you need to optimize your site for mobile devices.
Statista states mobile e-commerce sales in the US exceeded 360 billion U.S. dollars in 2021. By 2025, this figure is expected to grow twofold, amounting to 710 billion U.S. dollars.
So in simple terms, if your online business isn't mobile-ready yet, you might be missing out on millions of potential customers. If your site takes too long to load on a mobile device, a lot of visitors will switch to your competitors. You might have to exclude some fields or buttons to improve your page speed.
Moreover, make sure all your pages, product images, and descriptions are optimized to fit easily into a smartphone screen. If you use WordPress to create your site, consider choosing responsive themes and plugins.
4. Update Your Website's Security
Your customers should be sure that your website is secure and that their payments are made safely.
According to a study, only 45% of small to medium-sized companies said that they are prepared for a cyberattack.
An easy way to earn your customer's trust is to display the type of security you have deployed on product pages, in the shopping cart, and when they are checking out.
As you take steps to improve customer experience in e-commerce, prevent your website from getting hacked. There are a few simple ways to do this. Perform regular backups of your website and use software or security plugins to protect it against malware and spyware.
5. Display Relevant Offers Using Popups
At first thought, you might think popups are annoying. However, the truth is that they don't have to be.
An eCommerce popup refers to a promotional message that appears over your website's content to grab the visitors' attention. When shared at the right time, popups can help you generate leads, recommend products, and boost sales.
Popups can be used to enhance the customer experience for eCommerce websites. For example, if a visitor isn't able to find what they are looking for, you can share a popup that displays images of top-selling products.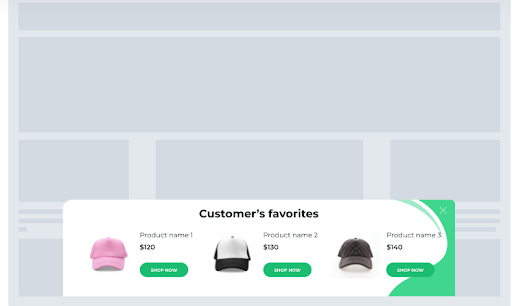 Similarly, you can even communicate about your ongoing offers or special discounts with website visitors. A compelling message and CTA will help ease the online shopping experience and drive revenue.
Read More: 14 E-commerce Popup Examples to Grow Revenue & Email Subscribers
6. Build an Online Community of Passionate Members
If people love what you sell, they deserve a platform to talk about it and meet like-minded people. This is what an online community is all about.
An online community is a forum where people who use your products can view updates, share their experiences, raise questions, and hold meaningful discussions.
However, you need to monitor the discussions in your community closely. For example, suppose a customer posts the question, "when will feature X be launched?" Your team can jump in and share the appropriate answer. This will further encourage prospects and customers to share their queries and concerns.
In addition, you must encourage customers to share their unique experiences. This will help you grab the attention of prospects who are already interested in your products or services. For example, Tripadvisor.com has a community of travelers who can post about their escapades to different destinations around the world.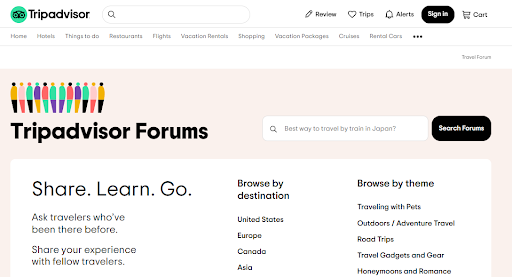 Read More: 10 Best E-commerce Help Desk Software to Support Online Shoppers
7. Give Wings to Your Content Strategy
When you sell your products or services on the internet, you need solid content to promote your business and educate customers.
"Content builds relationships. Relationships are built on trust. Trust drives revenue." – Andrew Davis
There are multiple ways you can create, use, and share content to help online shoppers solve their problems. Based on your audience, you can create blog posts, product walkthroughs, unpacking videos, case studies, infographics, etc.
For example, if you are an online fashion brand, you can create content that offers your audience styling tips, the latest fashion trends, and more.

Similarly, if you sell electronic items, you can create fun product walkthrough videos to educate and engage your audience. As a best practice, make sure your content is SEO-optimized so that it can be easily discovered by the people you want to target.
8. Focus on Transparency
There are millions of people who shop online. Then billions of those are still skeptical due to a lack of trust.
When customers visit your online shop, they don't want to see a trick of smoke and mirrors. Instead, they expect your brand to be transparent by offering reliable images and information.
Here are some strategies you can use to create transparency and establish trust:
Share both good and bad product reviews: Good reviews convince other prospective buyers to complete their purchases, whereas poor reviews help you work on products that need modifications or improvements. Either way, enabling customer reviews benefits you and your business.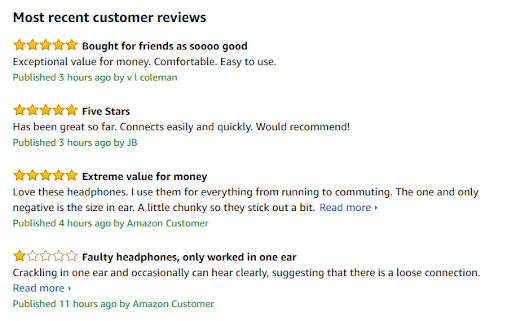 Display transparent pricing: Don't we all hate it when we realize a product costs way more as soon as we proceed with payment? When it comes to product pricing, there should be no surprises at the end. Ensure the price you display along the product is inclusive of all taxes, shipping fees, or other hidden charges.
Be clear with promotions: Promotions are meant to grow your sales, not to dupe customers into buying something they thought was on sale. Clearly outline your ongoing promotions and offers. In fact, if there are some hidden terms and conditions, you can create a separate page describing the same.
9. Emphasize Simple, Yet Visually Appealing Design
Your product might be the best in the market. However, a poor presentation can kill your product and stop it from reaching its full potential. A stellar product may be overlooked if the website that sells it is poorly designed or has displeasing aesthetics.
When asked which website design elements they value the most, 40% of respondents said images, 39% said color, and 19% said typography.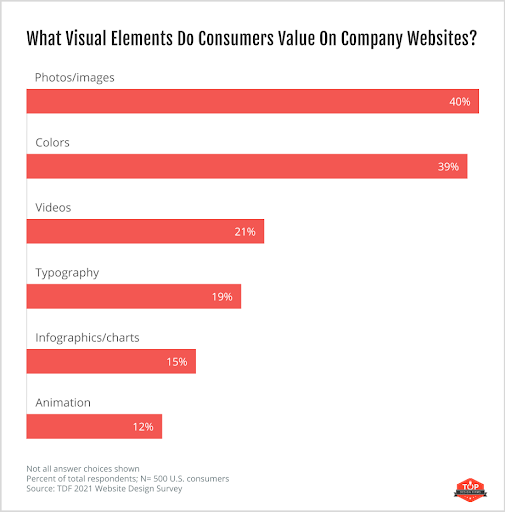 A picture is worth a thousand words, and they are visually stimulating. So pepper them throughout your site. Several pictures of the product will always instill more trust than a single one.
Consider color psychology. For example, if you are selling high-quality, luxurious items, you might consider purple or gold as your color theme, as they symbolize elegance, class, and wealth.
Keep the design elements minimal to avoid confusing your online buyers. Too much text or too many images placed haphazardly can seem aggressive and lead to stress, which isn't conducive to making purchases.
10. Streamline the Online Checkout Process
To improve customer experience on an e-commerce website, you cannot afford to neglect your checkout process. When customers land on the checkout page, two factors are crucial: page speed and complexity.
According to Baymard Institute, a long or complicated checkout process is the reason why 26% of shoppers abandon their carts.
For example, a website that requires a new customer to spend ten minutes setting up a new account may discourage them from finalizing their purchase. Make sure their shopping cart is easily accessible, where items can easily be modified or removed. Here are some simple strategies to streamline your checkout process:
Provide a variety of payment options such as Paypal, credit card, or EMI.
Allow your users to sign in or create accounts via social media platforms.
Offer a variety of shipping options.
Remember your customers' preferred method of payment.
Improve E-Commerce CX to Boost Online Sales
Whenever you look to shop online, you will find yourself caught in the "same products" trap. Too many companies are offering nearly identical products and services. In such a scenario, how do you stand out in this sea of sameness?
An undivided focus on the e-commerce customer experience can prove to be a differentiating factor. To delight online customers, optimize your store for mobile devices, display relevant offers using popups, build an online community, and offer transparent information on your site.
In addition, how quickly you respond to customers in need can be the difference between abandoning and loyal customers. ProProfs Help Desk is a powerful customer service tool that can help you assist customers via live chat, manage complaints in a centralized place, and monitor customer satisfaction from time to time.
Do you want a free Help Desk?
We have the #1 Online Help Desk Software for delightful customer support