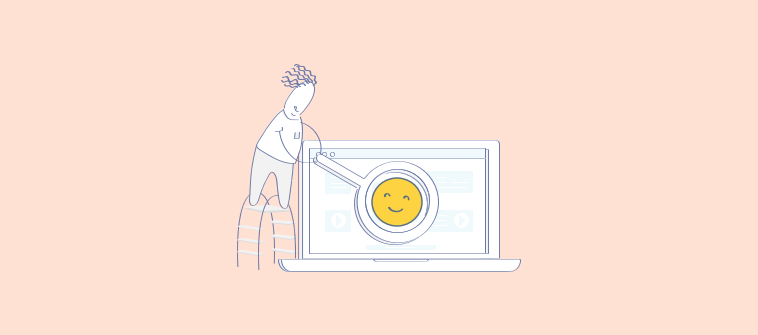 Asking why customer service is important is the same as asking why profits are important for any business.
Whether it is about retaining your existing customers, resolving issues instantly with customer support software, or lowering attrition among your support team, excellent customer service can do wonders for your business.
Don't believe us yet? Take the likes of brands such as Amazon, Apple, Disney, or Starbucks that are known better for how they treat their customers rather than what they sell.
But what happens to brands that succumb to poor customer service?
According to a study by NewVoiceMedia, poor customer service is costing businesses more than $75 billion a year. But that's not all. Around 39% of all the surveyed customers said they would never use the company again after just one poor customer service experience.
No matter if you are a customer success manager at a Fortune 500 company or the CEO of a small startup, this blog will help you discover the 20 benefits of customer service.
It's time to leave mediocre customer service behind and delight customers!
Why Customer Service Is Important for a Business
Besides bolstering your brand's position in the market, unrivaled customer service brings many attention-grabbing benefits. Let's look at the top reasons why customer service is important for any business today.
1. Improves Customer Retention Rate
When you acquire a new customer, it costs you five times more than retaining an existing one.
Modern businesses are focusing on customer retention more than ever before. The reason is simple- it is easier and cost-effective to keep your existing customers than attract new ones to buy your products.
When you master not just acquiring new customers, but retaining your existing ones, it sets a solid foundation for your entire organization.
Why does customer service play an important role in customer retention?
Customers are ready to repurchase from a business that offers impeccable customer service. According to a study, 52% of consumers say they have made an additional purchase from a company after just one positive customer service experience.
Therefore, it is clear that customer retention carves the clearest path to business longevity and success.
Read More: How to Build a Customer Retention Strategy
2. Builds Better Brand Equity
Your customer service process should be representative of your brand image, mission, vision, and values. Acquaint your customers with what your brand represents and the best people to do so are in your customer support department.
It is your representatives who directly communicate with customers to convince them of your brand's strengths over those of your competitors. So it makes sense to engage your employees and let them act as your brand influencers.
When your customer support team treats customers well, addresses, and resolves their queries faster, you strengthen your brand equity. The team should also be well-versed in your company's ethics, history, and values.
Nothing harms the reputation of your business more than delayed responses or ignored customer messages. To maintain brand reputation and ensure better customer engagement, you must equip your team with the right tools. For instance, with the automation capabilities of the help desk ticketing system, you can track customer requests from multiple channels and ensure they never get piled up.
3. Reduces Employee Attrition Rate
According to a report by Gallup, companies that have happier employees show 147% higher earnings per share than their competitors.
Employee engagement is critical to reducing the employee attrition rate. Your employees will treat you in the same way as you treat your customers. This may read a bit weird, but your employees pay careful attention to how you behave with your customers.
Value your customers like gold and refrain from engaging in any cheap sales tactic. Don't train and urge your staff to discount or undercut customers with the sole purpose of beating your competitor.
As you stop playing sales and marketing gimmicks with your customers, your employees feel proud to be a part of your organization. They wish to stick around and not leave the company.
Your employees won't get the urge to show up to work if they are under-appreciated.
Remember, for most businesses, their employees are also the first people who get to buy or test their products or services. If they are happy with your offerings and your service, you can be sure customers will feel the same way.
Read More: Want to Keep Your Employees Engaged at Workspace? Here's How!
4. Boosts Lead Generation
One of the major causes why customer service is important to your business is that it helps in boosting lead generation.
After all, why will your customers buy from you if they are not served well?
As your customer service reps assist them in making better purchase decisions, they start feeling valued and won't even plan to switch brands.
Consider this scenario.
Choosing a health insurance plan online can be tricky since there are several options, and a visitor may need a lot of information to make the right decision. Imagine that's your business and how helpless a visitor can feel when they arrive on your website.
In such a situation, if they chat with your operator or your operator shows help when the visitor is on your website, you can close the sale quickly.
By leveraging a customer support software that comes with a live chat integration can help you offer real-time assistance, generate genuine leads, and upsell your products.
5. Encourages Word-of-Mouth Marketing
When you think of the number one factor that not only makes people think of your brand but also recommend it to others, customer service is what comes to mind.
As your customers feel delighted and are comfortable with your brand, they are sure to refer it to others. In fact, you don't need to pay them for that or even make any lucrative offers.
You can find tons of review websites where your customers and prospects like to review your product/service and share their experiences. It is your excellent customer service that pays off. These customers are your existing customers. They make repeat purchases from you and serve as your brand advocates.
To be honest, they fall in love with your brand and want their loved ones to experience this magic.
Businesses realize the growing significance of word-of-mouth marketing. This is the fastest means of generating leads that are sure to convert for your business.
Remember, people trust their friends and acquaintances more than they trust you, and if they find that their friend is happy with a brand, they will definitely give it a try.
6. Gives a Competitive Advantage
No matter what product you sell or what service you offer to your target audience, you must have close competitors. Competition in the business world is inevitable and in order to survive, you need to stand out, not blend in.
There was a time when businesses used to compete on crucial factors such as product quality, design, or pricing. However, things have taken a drastic turn in the last couple of decades. At present, excellent customer service is the factor that helps you gain the upper hand over business rivals.
As per the report by American Express, 33% of US customers decide to switch to other brands after a single instance of bad support experience.
When customers have more options than ever before, it becomes all the more important to keep them happy through delightful customer service.
7. Amplifies Customer Lifetime Value
Customer lifetime value (CLV) is a very important aspect, from the business's point of view, because it is related to growth. It is easy to comprehend that when your customers are connected to your brand for a long time, more and more sales opportunities come your way.
According to reports making rounds on the internet, the probability of selling to an existing customer is around 60 – 70%, while chances of encouraging new ones to buy are just 5-20%.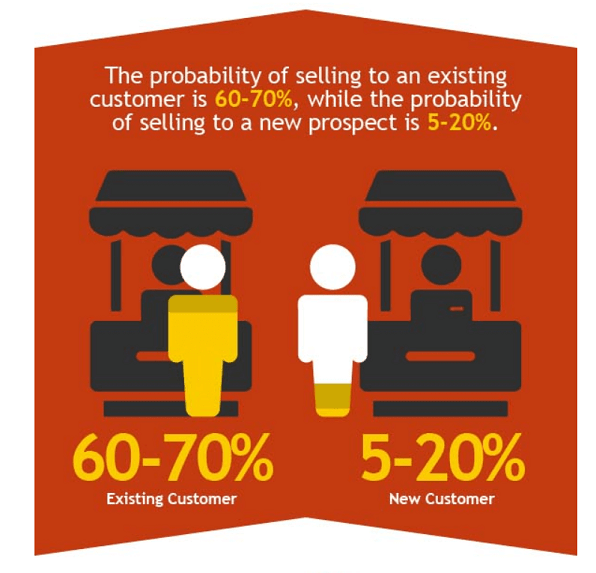 To reap the maximum benefits of customer service and keep your customers for a lifetime it's important to resolve their issues as and when they come. With a help desk tool such as ProProfs Help Desk, you can keep track of every issue, prioritize urgent tickets, monitor customer service performance, and ensure customers have a delightful experience every time.
8. Unlocks Marketing Opportunities for New Offerings
It may come as a surprise to you how customer service can unlock marketing opportunities for upcoming products and services. To make this possible, you obviously have to go the extra mile for customer delight.
In simple words, strive for proactive customer service. Just analyze your data to identify the most reported issues and, after that, create a central repository of resolutions i.e. knowledge base. It will help your customer support agents in the pursuit of creating delightful service experiences.
As per the research by Coleman Parkers, 91% of customers prefer to use a knowledge base (If available) when they seek solutions to product/service-related issues.
You can even make the FAQ section live on your website, so your online customers can resolve trivial issues on their own. And when you empower them in that manner, they are unlikely to be annoyed when you contact them and market your new offerings.
9. Preempts Business Failure
Businesses lose $75 billion/year due to inferior customer service," revealed by a post published on Forbes.
Customers have always been the pillar on which businesses stand. And that's why companies come up with different marketing strategies to acquire new customers.
Simply put, both customer base expansion and business growth go hand-in-hand.
Besides offering feature-rich products, you must offer phenomenal customer service to dwindle the odds of business failure. Taking this lightly could result in customer defection. Plus, the number of brand detractors would increase, which will make the customer acquisition tougher.
In a nutshell, your business will be a goner, unless you decide to focus on your valuable customers.
10. Bolsters Company Culture
The difference between growing and struggling companies is the dedication they show when customers report an issue in a product or service. If you follow customer-oriented practices, your business will rise above the competition.
By valuing customers and serving them when they need you the most, you create a business culture of helpfulness. Believe it not but culture is contagious. Team members, managers, and departments soon embrace this culture and work together to live up to customer expectations.
Besides, when your employees see how much you're dedicated to serving customers during unpleasant scenarios, they feel proud of working for you. Apart from reducing turnover possibilities, your employees will try to raise the bar while assisting unhappy customers. In brief, the whole company culture improves when you aim for customer delight. This is one of the top reasons why customer service is important for your business.
11. Reduces Customer Acquisition Cost (CAC)
It wouldn't surprise you that adding up new names to the list of customers is the key to business expansion. But the fact that would bring your interest in this pointer is bearing customer acquisition cost (CAC) isn't easy for every business.
As per one of the stats consolidated by Neil Patel, customer acquisition costs 7 times the capital required for retaining existing patrons.
This is disheartening for companies with a tight budget. However, there is a solution to reduce CAC, and it is to provide magnificent customer service. Don't be surprised by this, because when you deliver immaculate solutions during support interactions, then your existing customers automatically turn into brand advocates.
Consequently, they encourage their friends, colleagues, and relatives to do business with you. All in all, you get a myriad of potential customers without investing too much in the acquisition process.
12. Creates an Army of Loyal Customers
According to a Microsoft report, 96% of consumers say customer service is an important factor in their choice of loyalty to a brand.
It is clear that customers are likely to stay more loyal to a business that offers great customer service. Loyal customers can bring a lot to the table- they recommend your business to friends and family, join loyalty programs, and are willing to spend more.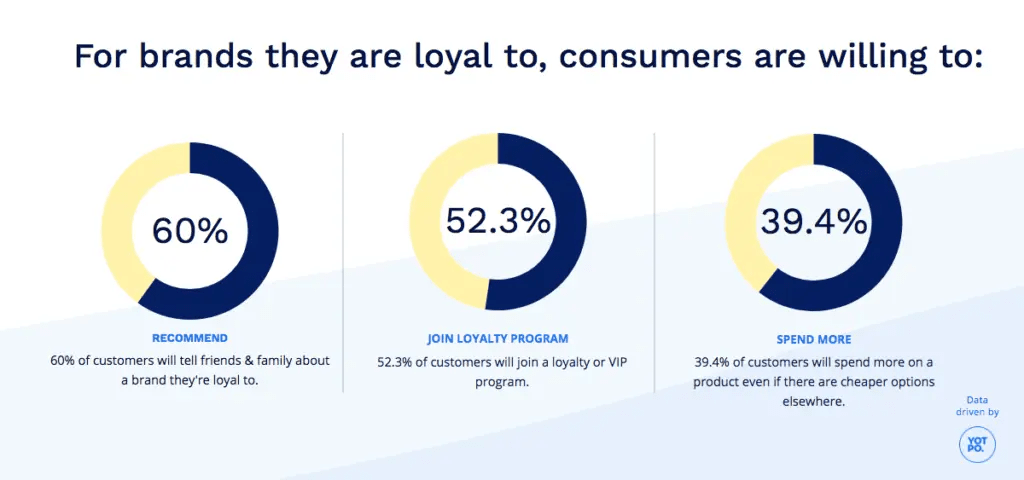 If you are still wondering why customer service matters, here is an example-
Do you know how an online brand like Amazon became worth hundreds of billions of dollars in such a short span of time? The answer goes back to Amazon's customer-first approach from the start.
Online shoppers have always been skeptical of online shopping- they are never sure if the product they receive will match the actual image or if it will be delivered on time.
However, through an undivided focus on its customers and by setting the bar of customer service high, Amazon created an army of loyal customers, and the rest is history.
13. Happy Customer Service Agents Lead to Happy Customers
Customer service agents who are satisfied and happy with their company are more motivated to serve customers with relevant information and enthusiasm.
According to Gallup, employees who are happy and engaged are more likely to improve customer relationships.
Well, if you look closely, this makes sense. If your happier agent is more informed about the product and presents the right solution to the customer with enthusiasm and positive energy, certainly the customer will love the interaction with a positive individual.
Human emotions, whether they are positive or negative, can be easily transmitted from one to another. Ensure that the only emotion your agents are communicating with your customers is positivity.
No wonder it is a great idea to invest in the happiness of your employees and will be paid back with happy customers who want to buy from you again and again.
14. Great Customer Service Creates New Opportunities
For any business, the importance of good customer service is undeniable. When you strive to reach customer service excellence and treat your customers with the utmost care and love, you open doors for new opportunities.
When other customer-focused businesses see the value you put in the lives of your customers, they take notice and are motivated to repeat the same good deeds. For instance, your business might end up attracting new investors onboard who resonate with your vision.
You can even partner with businesses that sell complementary products and run creative marketing campaigns to reach a wider audience.
Whether you are a month-old startup or an enterprise, great customer service will pave the way for meaningful business partnerships, collaborations, and other opportunities.
15. Satisfied Customers Can Reveal What Customers Really Want
Do you know what is common between great businesses? They are always identifying improvement areas, working on them, and moving ahead in the game.
One important aspect of any customer relationship is taking feedback from customers using relevant surveys. No wonder that CSAT or NPS surveys have become important tools to gauge customer satisfaction and loyalty.

But why is customer satisfaction so important?
A satisfied customer can act as a benchmark for all team members. They can help you understand what customers really want- are they more intrigued by a knowledgeable customer service agent or are they happy because you have enabled a live chat window on your website?
The best way to do this is by sharing follow-up surveys that have open-ended questions. You can ask them questions like-" Hey! We appreciate your positive feedback. Kindly help us serve all our customers better by highlighting what factors led to an amazing experience."
Remember, one happy customer can hold the secrets to customer happiness. All you need to do is ask them directly.
16. Paves the Way For Customer Segmentation
Customer Segmentation is an effective process to know your customers better and understand what works the best for them. It is not about bifurcating your customers into good and bad but into well-defined segments so that your business can personalize interactions and market different consumers differently.
But how can customer service help you segment your audience?
When you communicate with your customers, you are not simply interacting with a faceless crowd. Every customer is unique and customer service interactions when monitored over a period of time can help you segment your customers in an effortless manner. You can understand aspects such as:
Common problems faced by customers aged 25-50 (Demographics segmentation)
Communication channels preferred by customers residing in cities (Geographic Segmentation)
Number of contacts made by high-value customers compared to low-value customers (Value-based segmentation)
In a nutshell, customer segmentation highlights the value of customer service and helps you get closer to your customers' needs and demands.
17. Improves Operational Efficiency
In business terms, efficiency simply means getting the most out of available resources. Customer service management includes many such components that help organizations improve their operational efficiency.
For instance, when your customer service department proactively communicates to customers about an ongoing issue such as "website under maintenance", all other departments can work in sync to resolve the issue at the earliest. The development team can pull up their socks to get the website up and running, while the sales team can encourage customers to shop offline for the time being.
Similarly, when we talk about IT support, IT assets management can ensure the most cost-effective strategies are applied for asset procurement and disposition.
18. Helps You Keep Up With the Latest Trends
If you are still wondering why customer service matters, a big reason can be that it allows your business to keep up with the changing trends. We all know how customer service standards are at an all-time high and are continuing to make it difficult for modern businesses to keep pace.
In fact, Microsoft studies show that Around 54% of all consumers globally say they have higher customer service expectations than they did just one year ago.
Therefore, adaptive customer service helps you embrace trends and meet customer expectations. For instance, you can look to invest in AI-powered help desk software, chatbots, and other key technologies.
Due to the COVID-19 pandemic, a lot of businesses that were once operating from the office, today have remote customer service teams spread across the globe.
Read More: 10 Latest Customer Service Trends for 2021
19. Increase Agent Accountability
Although customer service is known for qualitative aspects such as emotional connections, meaningful conversations, etc, there are quantitative aspects that can be measured from time to time.
With the help of customer service results or reports, you can measure individual performance and increase agent accountability. When agents know that all their efforts are being monitored in a transparent manner, it encourages them to perform well and set the right examples for others. You can even appreciate your top-performing agents with rewards and incentives.
For example, you can increase agent accountability by measuring their average ticket resolution time or monitoring how customers rate their support interaction with an agent.

There are many other critical KPIs and metrics you can track to make employees feel responsible for their actions, behaviors, performance, and decisions.
Read More: 15 Help Desk Metrics to Improve Customer Support
20. Proactive Communication Saves Your Business From Embarrassment
Proactive customer service happens when you offer solutions to your customers' problems before they start complaining. This could be in the form of an email to alert customers about outages, a knowledge base article, or a proactive news section on your website.
Whenever there is a problem at your end, proactively communicating the same with your audience can save your business from embarrassment and potential lash out on social media. Let's see how Netflix excels at proactive communication: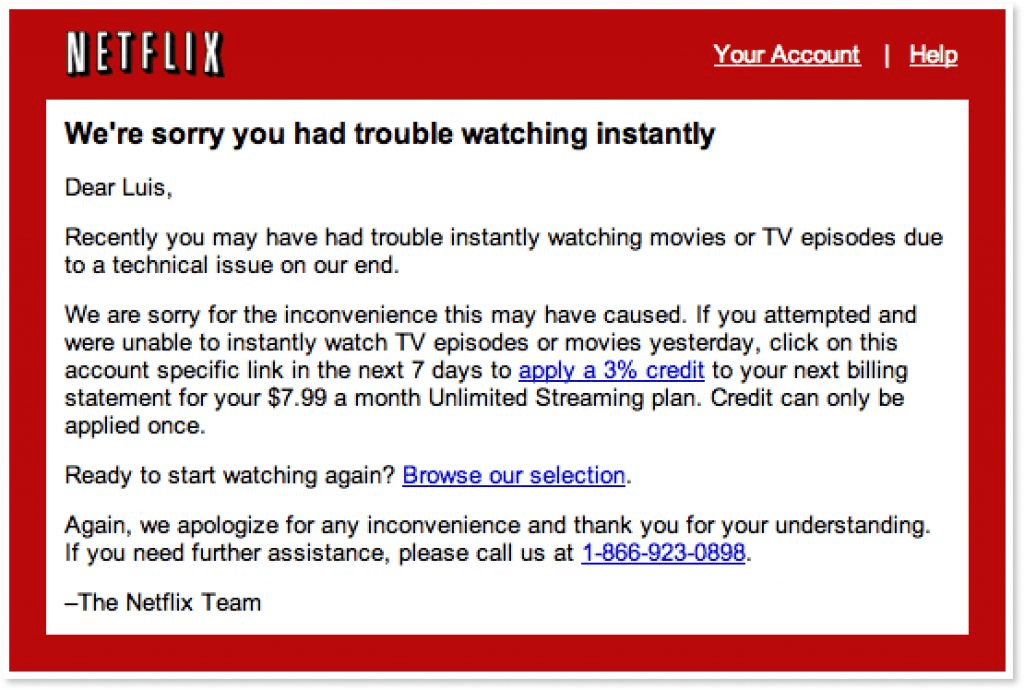 Video streaming issues are common among brands such as Netflix. The brand has been quick to identify the risk it posed to its business and takes proactive steps to communicate issues to customers. Whenever an issue is persistent at their end, Netflix proactively apologizes and in some cases, gives all users a credit on their accounts to make up for the lost time.
Well, Now You Know Why Customer Service Is Important
No matter how lucrative your product design is or how strategically you price it, nothing helps you retain your customers better than an excellent customer service culture.
Always remember the old adage- "customers remember the service for much longer than they remember the price." By now you must have understood why customer service is important for the overall health of your business. The stats, examples, and explanations offered in this blog should be good enough reasons for you to gear up and serve your customers like never before.
A well-trained, enthusiastic, and positive customer service team can make your business go for the sky. It's always a great idea to couple your human strengths with the right technology. ProProfs Help Desk can ease your workload and make every support interaction count.
Let's have a look at some faqs questions:
Q. How to improve customer service?
To improve customer service, understand the needs and desires of your customers. Personalize every interaction, empathize with their concerns, exceed their expectations, and offer delightful multi-channel support.
Brands like Nike and Starbucks promptly respond to issues in social media. An email that offers personalized and prompt responses have also been well-received.
Some customers prefer to have a good self-help knowledge base with practical FAQs. This allows them to resolve their issues without having to wait for anything to be handed to them. It also gives an impression of impeccable foresight for the company.
For major issues, it's usually best to provide an empathetic human touch through the phone or a live chat session with the patient and knowledgeable customer service representatives.
Uncommon but immensely memorable experiences too are physical efforts. These can be in the form of surprise deliveries where brands clearly extend extra effort to delight their customers.
In today's modern world, there is a multitude of ways to make customers happy. Pick one, a few, or try mixing them up based on what works best.
Q. How do you provide excellent customer service?
Here are certain tips to provide excellent customer service:
Resolve customer complaints in the earliest possible time
Create and embrace the right customer service culture
Train your team to develop both technical as well as interpersonal skills
Leverage the right technology
Apologize for your mistakes
Take regular feedback to improve your customer service
Q. How does good customer service contribute to the success of a business?
Here is a quick recap of why customer service is important for your business:
Improves customer retention rate
Builds better brand equity
Reduces employee attrition rate
Boosts lead generation
Encourages word-of-mouth marketing
Gives a competitive advantage
Amplifies customer lifetime value
Unlocks marketing opportunities for new offerings
Preempts business failure
Bolsters company culture
Reduces CAC
Q. How does customer service affect business?
It totally depends on the quality of the solutions you offer during customer service interactions. If you surpass all the expectations, your brand will emerge as a winner in the business world. Otherwise, it will struggle to survive.
Q. What is an example of good customer service?
Established brands have been setting outstanding examples of good customer service for more than a decade. But we would like to tell you an extraordinary example: Nordstrom, a Seattle-based company, once refunded the value of a tire to a customer. The jaw-dropping fact is that the company has never been in the tire-selling business.
It shows how much this company is customer-focused. Its entire staff says 'Yes' to customers, regardless of requests. Owing to this, there is mutual respect, which indirectly reveals the secret of their ever-lasting customer relationships.
Q. What are the 3 most important things in customer service?
To conduct customer service interactions in an ideal manner, you must take care of these 3 factors:
Empathy
Patience
Promptness
Do you want a free Help Desk?
We have the #1 Help Desk for delightful customer support starting at $0