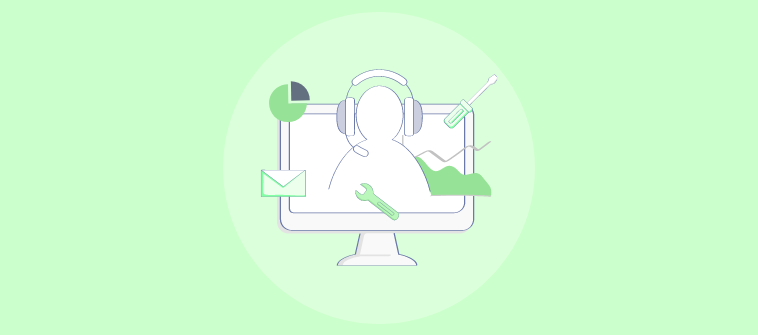 A help desk is no longer a stationary section in a retail store that assisted customers with their returns or exchanges. With the advent of help desk digital transformation, it has taken the shape of digital channels such as live chat, social messaging, AI-powered chatbots, etc.
For help desk teams, the digital transformation era has arrived. More and more businesses are looking to invest in cloud-based help desk tools that can help them automate mundane processes, enhance productivity, and capture the right data to delight customers.
But with great technology comes great responsibilities.
Even though technology has its own benefits, it's not easy to implement. There are obvious challenges related to costs, training, software deployment, and more.
Don't worry; we are here to help. If you are looking to learn how to use a help desk to fuel your digital transformation strategy, this blog is for you. We will explore the various tips and tricks, understand the role of automation, and much more.
Let's do it!
What Is Digital Transformation?
Digital transformation refers to incorporating digital technology into various aspects of a business. Fundamentally, it's about how you embrace technology to deliver value to your customers. Digital transformation is also considered a cultural change as it requires organizations to continually challenge their existing practices and experiment with the latest trends in digital technology.
In addition to enhancing team productivity, digital transformation can help you reduce customer efforts. A great example of this will be designing a mobile application that helps customers browse and shop for products right from their smartphones.
Why Help Desk Teams Need to Start Thinking "Digital"?
If you observe the world around you, you will notice that people have evolved how they interact with their friends, family, and colleagues in their daily lives. They choose social media and messaging apps to connect with their social circle.
In a similar manner, customers expect the same from the businesses they engage with. They demand more digital channels to connect with their favorite brands.
So for your team, help desk digital transformation is no longer an option but a necessary move to meet the rising customer expectations and grow your customer base. In fact, 35% of global executives consider "meeting customer expectations" as one of the top benefits of digital transformation.
Amazon, Zappos, and JetBlue – the global brands that are known for their best-in-class customer service have one thing in common. They all are using digital transformation to deliver their customers the best experience possible. For example, Amazon makes use of AI-chatbots to support customers 24×7. Similarly, JetBlue shares real-time updates about flights and travel information on its Twitter handle.
How Does Help Desk Software Help in Digital Transformation?
Help desk software can help your business achieve digital transformation goals in multiple ways. Let's explore some of them right away.
1. All Your Data is Secured on the Cloud
Storing your data in filing cabinets or on external storage devices is a thing of the past. Imagine the time and energy wasted if your agents had to sift through hundreds of documents to find what they needed.
Most businesses that have embarked on their digital transformation journey are storing their data in the cloud. In 2021, 50% of businesses choose to store their most important data in the cloud.
There is no shred of doubt that customer service teams generate a huge amount of data. Right from customer communications to performance reports, there is a lot that needs to be stored and made accessible.
With cloud-based help desk software, you can store and access all your data 24×7. In fact, help desk agents can use multiple devices such as mobile, tablets, PC, or laptops to get their hands on past customer queries, requests, or complaints. Automated data backups ensure every crucial information is safe and sound.
2. Manage Multiple Digital Channels in One Place
The last decade has witnessed an exponential growth in the usage of digital channels for customer service. While in-store service and traditional channels such as phone support will always be reliable options, modern customers are more interested in going digital.
According to a Microsoft study, 66% of customers have used three or more communications channels to contact a company's customer service team.
Digital communication channels may include any combination of live chat, text messaging, self-service help center, social media, and video for customer care. The best help desk ticketing system allows your team to manage all these channels from a single platform. This means that you no longer need to handle emails and live chat conversations separately using different tools or platforms.
But why do customers prefer a combination of digital channels? Well, different channels offer different flexibilities. For instance, with live chat, customers can seek instant assistance while they are shopping. On the other hand, social media sites give them a public platform to share their concerns.
Read More: Choose the Best Customer Support Channels for Your Growing Business
3. Automate Manual Tasks
Despite available technology, many businesses still use manual methods to manage customer service tasks. For example, they will manually jot down every support ticket, its status, customer information, and other details.
Manually managing your customer service is not only time-consuming but can also bring about human errors in the process. Imagine sharing duplicate replies to a customer complaint.
Automation technology is the reason behind help desk digital transformation success. Modern ticketing systems are designed to automate a majority of workflows and reduce agent workload. For example, you can enable the round-robin method to ensure all incoming support tickets get equally distributed among available agents.
Similarly, you can share auto-responses and alerts to keep help desk agents and customers well updated about the ticket progress.
Read More: 10 Service Desk Automation Ideas that Boost Performance and Quality
4. Put Chatbots to Win Over Customers
Customers usually have a love and hate relationship with chatbots. They are proud of instances when bots helped them confirm their appointment bookings and regretful of instances when the bots were of no help.
AI-powered chatbots offer game-changing technology to organizations to assist customers, engage website visitors, and generate quality leads. No wonder we are greeted by bots whether shopping for clothes on Amazon or ordering food via GrubHub.
According to a study, the chatbot market will grow over 34% between the years 2021 and 2026. In the same time period, the market is expected to reach $102 billion.
So what makes chatbots so special?
Once created, chatbots are operational 24 hours a day and 365 days a year. This allows your business to serve customers even while your team is away or busy doing other tasks.
Help desk tools allow you to create bots to have human-like conversations with website visitors. You might think making your own chatbot might take serious coding skills or weeks. However, that's not the case. You can get started in minutes using chatbot templates for customer service inquiries, lead generation, appointment scheduling, etc.
Read More: Top 15 Benefits of Chatbots for Your Business & Customers
5. Track Team Performance in Minutes
When it comes to finding your top performers or your average first response time, guesswork will not take you anywhere. Even if you create your reports manually, you can never be sure of how accurate the numbers are.
When customer service reports are created manually, it puts increased demand on your team as there exists a need to source, input, and present data.
As a result, creating and sharing automated reports should be an integral part of your helpdesk digital transformation process. Within a matter of seconds, support managers can dive into all the data points they need.
For example, you can see the total number of customers handled by an agent for any given day, week, or month. You can even track team performance metrics such as first response time, ticket resolution time, and more. The best part is that you can share these reports with key stakeholders in just a few clicks.
Read More: 15 Help Desk Metrics to Improve Customer Support
6. Monitor What Customers Feel About Your Digital Transformation
Are customers happy with your efforts towards help desk digital transformation? Are there expectations getting taken care of? There is only one way to find out – customer surveys.
When done over time, surveys can help you understand whether your efforts to improve customer service are being well received by your audience.
Here are some important questions that you can include in different surveys depending on your agenda:
Which customer service channels do you prefer to contact us?
Which support channel would you like us to add in the future?
Did our live chat operator resolve your query?
On a scale of 1-5, how would you rate your conversation with our chatbot today?
Do you prefer interacting with a bot or a human agent?
How easy or difficult was it for you to get your issue resolved?
Remember, the trick is to keep your surveys short and make them easy to complete. Customers would not want to spend hours completing a survey. Instead, they prefer short surveys that do not take more than 2-3 minutes of their valuable time.
Read More: Survey Question: 250+Examples, Types & Best Practices
Why Automation Will Be Crucial in the Coming Years
When people think of help desk automation they imagine robots handling customer chats, emails, and even phone calls. However, that is not likely to happen anytime soon.
The goal should be to automate repetitive tasks as much as possible while maintaining the "human touch" in every customer service interaction.
With an increase in customer spending power and e-commerce marketplaces, small businesses will look to cater to more customers. Now given the rising costs of hiring and training customer service staff, automating your process only makes sense if you wish to grow your business.
Customer service teams across the globe have welcomed automation with open arms. According to Deloitte, about 75% of businesses plan to invest in automation technologies such as Artificial Intelligence and process automation.
Even a simple automation feature such as automated ticket routing can save your team a couple of hours each week. However, on the contrary, rapid automation can cause stress among your team members. Let's how you can avoid this in the next section.
How to Support Your Team During This Transition
IT help desk digital transformation is not simply for your customers but for your team as well. Modern businesses get so blinded by building a "customer-centric culture" that they end up ignoring their support heroes.
So what can you do to make it a smooth transition for your team?
The moment you add a new tool to your customer service tool stack, make sure agents receive appropriate training for the same. Without the right training, help desk agents will not be able to make the most of the tool's features or advanced settings. The tool that is designed to reduce agents' time and workload will end up hampering their productivity.
In addition to rigorous product training, you need to take regular feedback from your employees. What new tools do they think can help your business automate the customer service process? Which digital support channels can be useful in handling more tickets in the shortest amount of time?
You also need to monitor your team's performance from time to time to check if they are moving in the right direction. Hold regular team meetings to discuss KPIs and track performance against set targets.
Read More: Ten Tips to Motivate Your Customer Support Team
Kickstart Your Help Desk Digital Transformation Journey!
If you are looking for a sign to digitally transform your help desk, this is it. The best help desk software can help your business achieve your digital transformation goals and delight customers.
By investing in the right tool, you can store all your data on the cloud, manage multiple digital channels in one place, automate manual tasks, and develop AI-powered chatbots in minutes.
There will be situations when digital technology is unable to assist customers with their issues or complaints. At this moment, it's up to your help desk team to resolve these issues with the least amount of friction. Remember, automation technologies are smart and intuitive, but they cannot replace real authentic communication.
You can use an AI-powered tool like ProProfs Help Desk to kickstart your digital transformation journey and deliver users a seamless, hiccup-free experience.
Do you want a free Help Desk?
We have the #1 Online Help Desk Software for delightful customer support